Words: Nathan Chadwick | Photos: Artcurial, Bonhams, RM Sotheby's
The 2023 European auction season kicked off in Paris, France, with three major sales based around Rétromobile between February 1 and 4. Across the sales there were some fascinating cars, interesting results and notable no-sales, too.
Although perhaps not quite to the same degree, the recent trend for big-hitting modern supercars seen at Arizona translated to Paris, but the trend for individual colours, rather than 'resale' colours, was also apparent. The Parisian sales – and Artcurial in particular – are distinctly European in flavour, which can be seen by the lot lists.
RM Sotheby's and Bonhams brought along a selection of pre-war European marque models, and found some of them – particularly Bugattis – tricky to shift. For example, both RM and Bonhams had Bugatti Type 55s, and neither of these examples sold. Artcurial had more sales success with its own Bugattis, with a 1929 Bugatti Type 35C selling for €2,216,800 against an estimate of €2.5m to €3.5m, and a 1931 Bugatti Type 43 Grand Sport 'Prima Donna' selling for €1,530,400 against an estimate of €1.2m to €1.8m.
It wasn't all smooth sailing for Artcurial, however, because the much-hyped Ferrari 250LM mentioned here didn't sell. Artcurial opened the bidding at what would have been a world-record price of €16m; bidding reached €20m and stalled, with the car declared a no-sale.
The other big news from the Paris auctions was the RM Sotheby's Bugatti Profilée, which broke the record price for a new car at a classic auction – you can read more about that here.
In the coming weeks we'll be taking a deeper dive into some of the pre-sale lots we've previewed, but firstly let's look at the gros frappeurs in Paris. Which one was your favourite?
Artcurial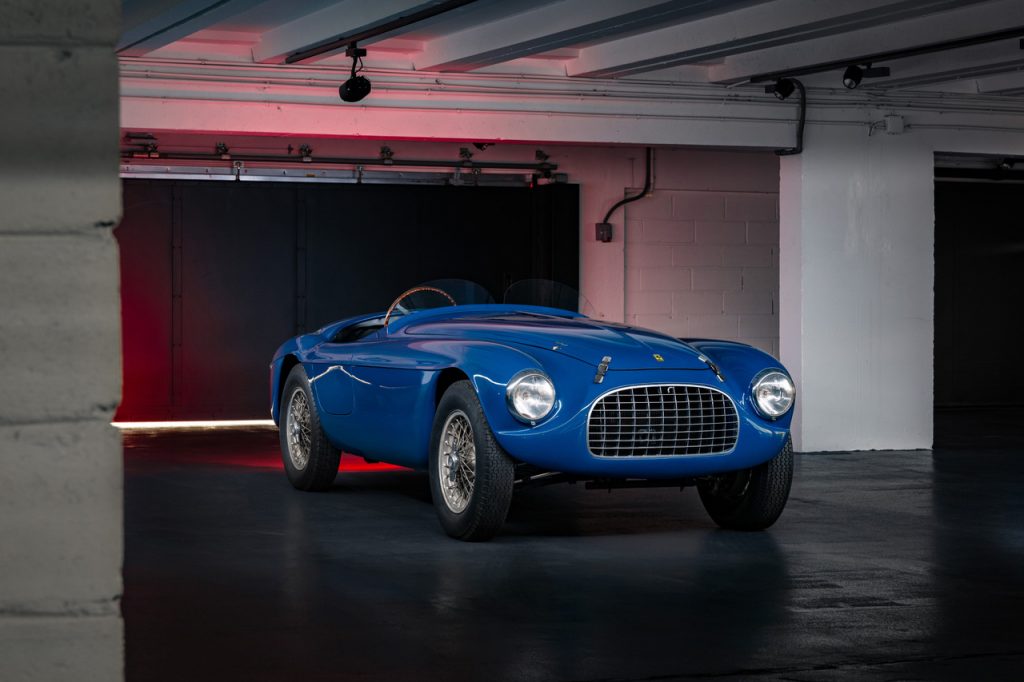 One of several models offered from the Bart Rosman collection, this 1951 Ferrari 340 America Barchetta was among seven cars built to Carrozzeria Touring specification, and the only one with a rear-hinged bonnet. However, its history is stellar. First sold to Edward Hall with Italian registration number MO25270, it was driven by Giuseppe Navone and Eddie Hall at the 1951 Le Mans 24 Hours. While challenging the leaders in third, the car made it to the morning before retiring.
Hall would team up with Mike Hawthorn for a crack at the Tourist Trophy at Dundrod later that year, but the attempt lasted just a lap before Hall came off the track. The car was then sold to William B Lloyd from Connecticut in 1953. He entered into the Sebring 12 Hours with Lloyd and Tommy Cole as named drivers, but engine problems in testing drew a halt to its race ambitions. It was then sold to William Spear, who subsequently sold it John Rutherford – World War One US Army veteran, hydroplane racer, aviator, property developer – and, as if that wasn't enough, handy racing driver.
With sponsorship from spark plug maker Champion and Sinclair Oil, he took on the challenge of the 1954 Daytona Speed Week, setting an average speed of 136.03mph (218.92kph). The car would pass through several American owners before joining the Bart Rosman collection in The Netherlands in 1975 for $1800. The car was restored by Hietbrink Coachbuilding in 2013. It sold for €5.076m against a €5m-€8m estimate.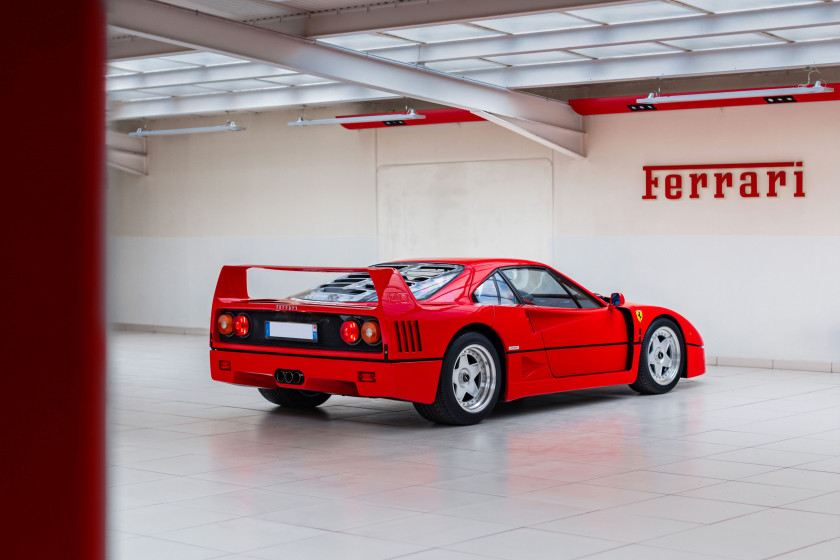 While the 250LM's non-sale grabbed the headlines, the strong performance of F40s throughout the three sales was notable – all three sold. Artcurial's car was a 1992 car, and as such was a catalysed example with active suspension, lowerable windows and air-conditioning. Sold originally to Italy, it had 24,300km on the clock and was Ferrari Classiche certified. It had recently received attention to its timing belts, air-conditioning system and Lambda system, and sold for €2,216,800 against a €2m-2.5m estimate.
Other notable sales included the aforementioned 1929 Bugatti Type 35C selling for €2,216,800 against a €2.5m to €3.5m estimate, and a 1964 Ferrari 250GT/L Lusso (previewed here) that sold for €1.702m against an estimate of €1.5m to €1.8m.
Bonhams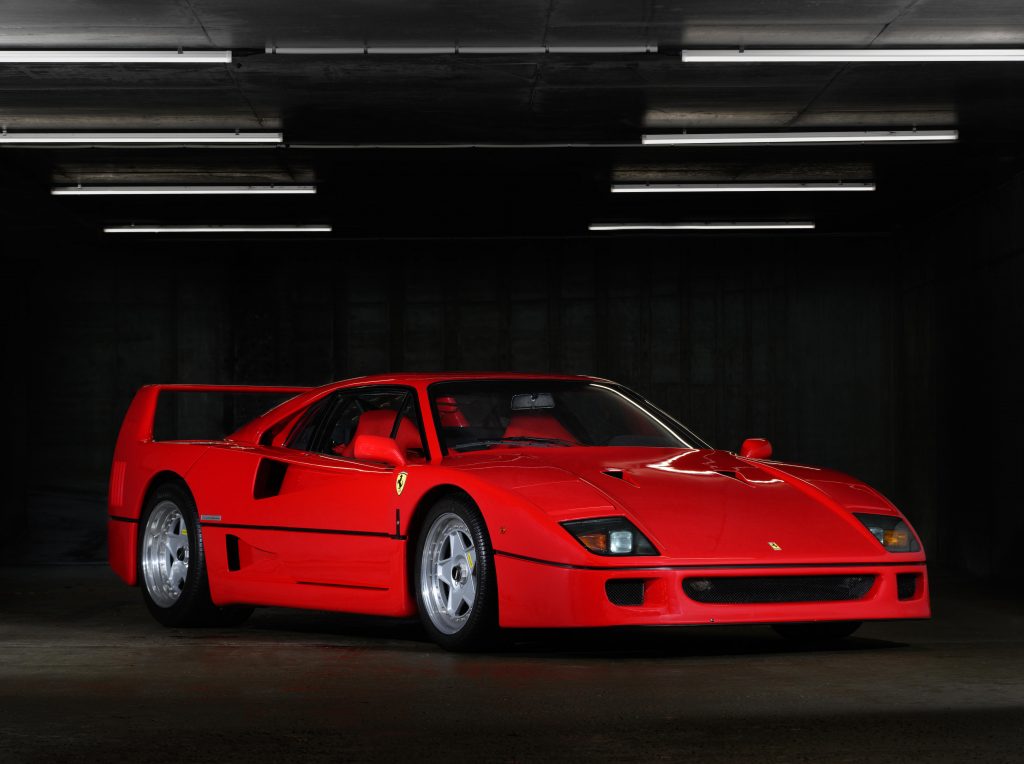 This 1988 Ferrari F40 was the 24th built, a desirable 'pre-series' model and, as such, a pre pre-catalyst car with non-adjustable suspension. Originally delivered to Ravenna, Italy, from 1997 it called the Netherlands home. Recent works had included new brake discs and pads up front, plus new fuel tanks and re-upholstering of the original seats, and it was Ferrari Classiche-certified. It sold for €2.185m.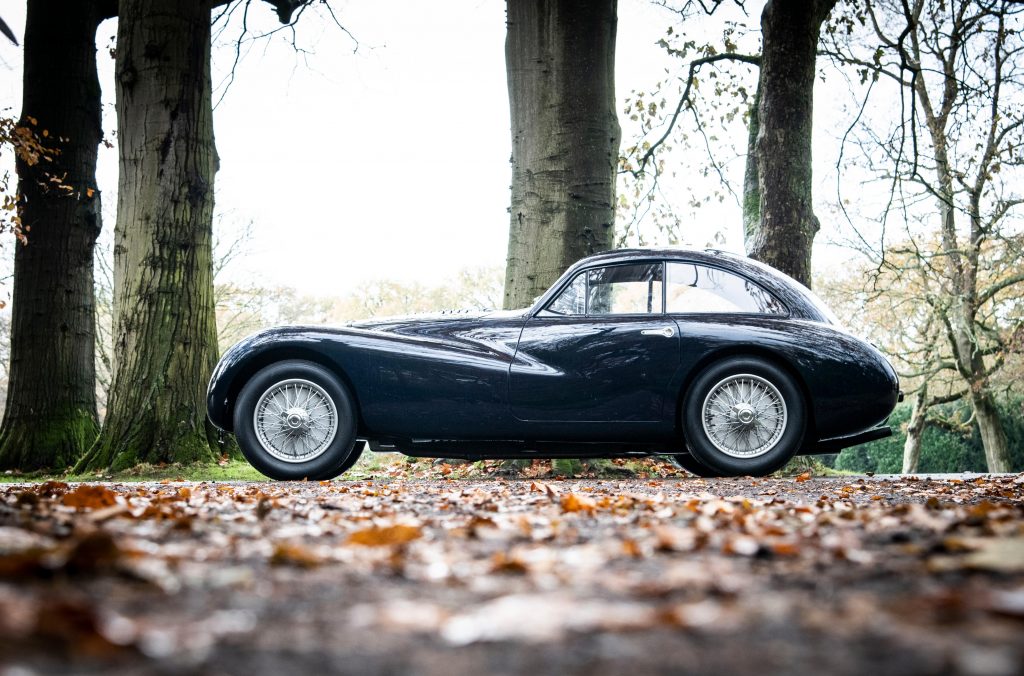 Tied at the top of Bonhams's sale was this one-of-36 1948 Talbot-Lago T26 Grand Sport Coupé, originally sold to André Chambas. We brought you part of the car's history here. Against a pre-sale estimate of between €2m and €2.5m, it achieved €2.185m.
Other notable results included a 1934 Aston Martin Ulster Two-Seater Sports, which sold for €1.552m, the 1991 Jordan-Ford 191 in which Michael Schumacher made his Formula 1 debut, which sold for €1.495m, and a 1993 Porsche 964 Turbo S Leichtbau that sold for €1.035m.
RM Sotheby's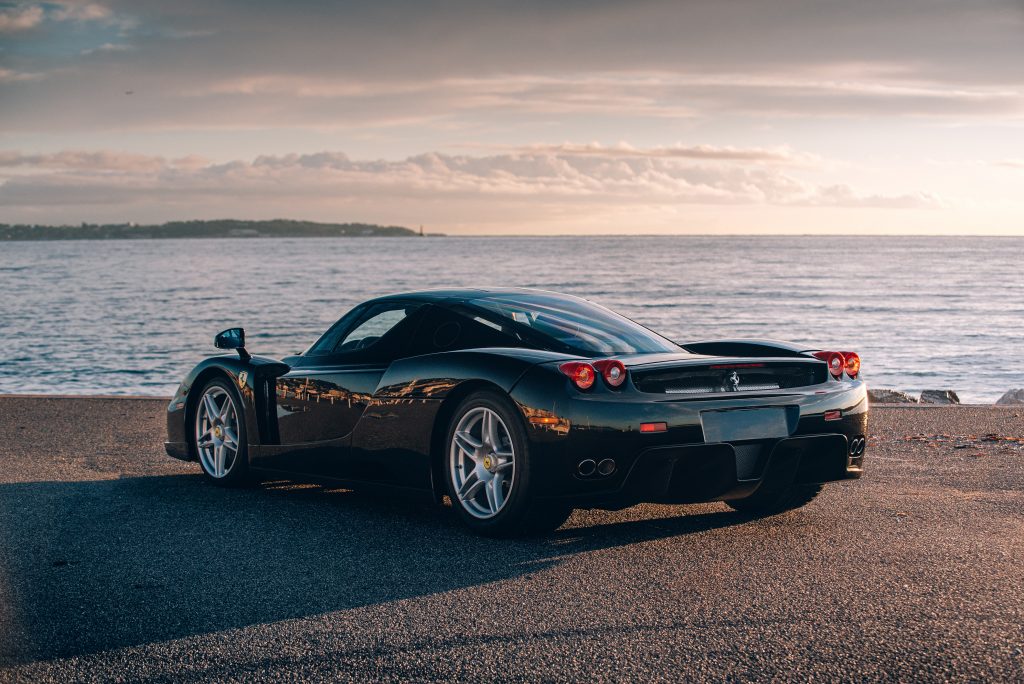 Over at RM Sotheby's the big news was, of course, the sale of the Bugatti Profilée, which you can read more about in our dedicated story here. However, there was a notable result for the Ferrari Enzo: Gooding & Co sold a silver Enzo for $4.130m at its Pebble Beach sale in 2022, a big step up over the $3m-$3.5m range seen previously. A similar silver Enzo failed to sell at Kissimmee in January, but any thoughts that Gooding's sale was a one-off was diminished when RM's black car hit €4.055m. If you've noticed a theme, its that none of them is, of course, red – adding further push to the clamour for rare colours. However, an example in that hue still holds the record ($6.050m), set in 2015 by RM for the 400th and last car built, originally gifted to Pope John Paul Il by Ferrari.
The first owner of this particular Enzo wasn't revealed, but it had led a sun-kissed life largely on the Côte d'Azur, had Ferrari Classiche Red Book certification and had recently had a full service, clutch replacement and new exhaust silencer.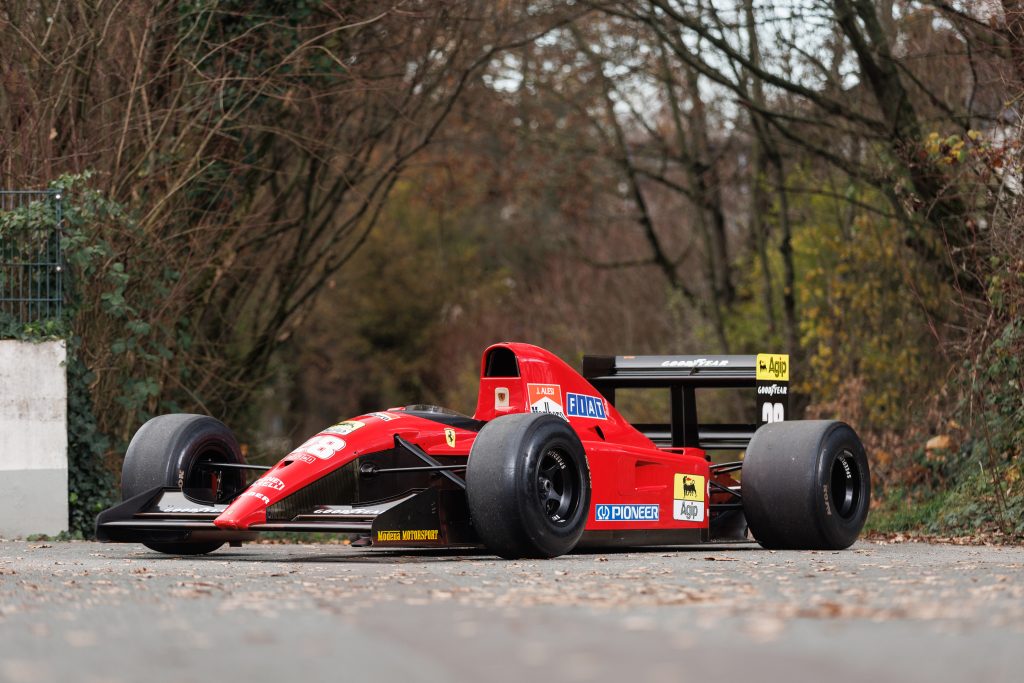 Don't worry, red fans – or those who believe Ferraris should only be that colour. RM Sotheby's second-placed classic sale could only be that hue. While F1 was hardly a happy place for Ferrari in the early 1990s, 1991 in particular ended in acrimony. Alain Prost criticised the car, which led to his sacking before the final race. Ferrari wasn't quite up to the might of the Williams or McLaren – between Alesi, Prost and the latter's replacement, Gianni Morbidelli, the Ferrari 642 and its mid-season development, the 643, failed to see the flag 15 times. It did, however, achieve podiums for Alesi and Prost on eight occasions.
The car sold by RM Sotheby's was 643 chassis 127, which Alesi used to take fourth place at the French Grand Prix, narrowly missing out on a podium after a last-lap lunge on Ayrton Senna. Its next outing was the British Grand Prix at Silverstone, again with Alesi at the wheel; the Frenchman was battling McLaren's Gerhard Berger when he tripped over Aguri Suzuki's Larousse-Lola while lapping him, putting the Ferrari out of the race. The car then served as the back-up in Germany, Hungary and Belgium, before being pressed into service for the final round in Australia.
Alain Prost had been fired at the previous round, and up stepped Gianni Morbidelli, who brought the car home sixth in a rain-shortened race. Following its racing career, it called South Africa home for several years, before returning to Europe in the care of a German enthusiast in 2016. It was fully refurbished, and took part in the 2020 Oldtimer Grand Prix at the Nürburgring. It sold for €3,661,250.
Other highlight results included another non-red Ferrari – a Grigio Argento 1967 275GTB/4, which sold for €3,098,750 – plus a 2020 McLaren Speedtail, which sold for €2,367,500. To give red Ferrari fans more cheer, however, a cat, non-adjustable-suspension 1990 Ferrari F40 sold for €1,917,500.
Further details