Words: Nathan Chadwick | Photos: Artcurial, Bonhams and RM Sotheby's
While Arizona marks the start of the classic car auction scene's year, Europe's show season really kicks off in Paris – and the French rarely disappoint.
From motor sport heroes and special displays, such as last year's seven-strong circle of McLaren F1s, to truly mind-popping wheeled weirdness, there's plenty for all tastes. This year, the focus is on the Le Mans 24 Hours' 100-year celebration, but you can expect plenty more surprises, too, across three halls, more than 620 exhibitors and 1000 exhibits.
However, if the sights and sounds of the display halls weren't enough, Artcurial, Bonhams and RM Sotheby's are hosting sales in and around the event. Here are some of our favourite lots among the cars consigned so far.
ARTCURIAL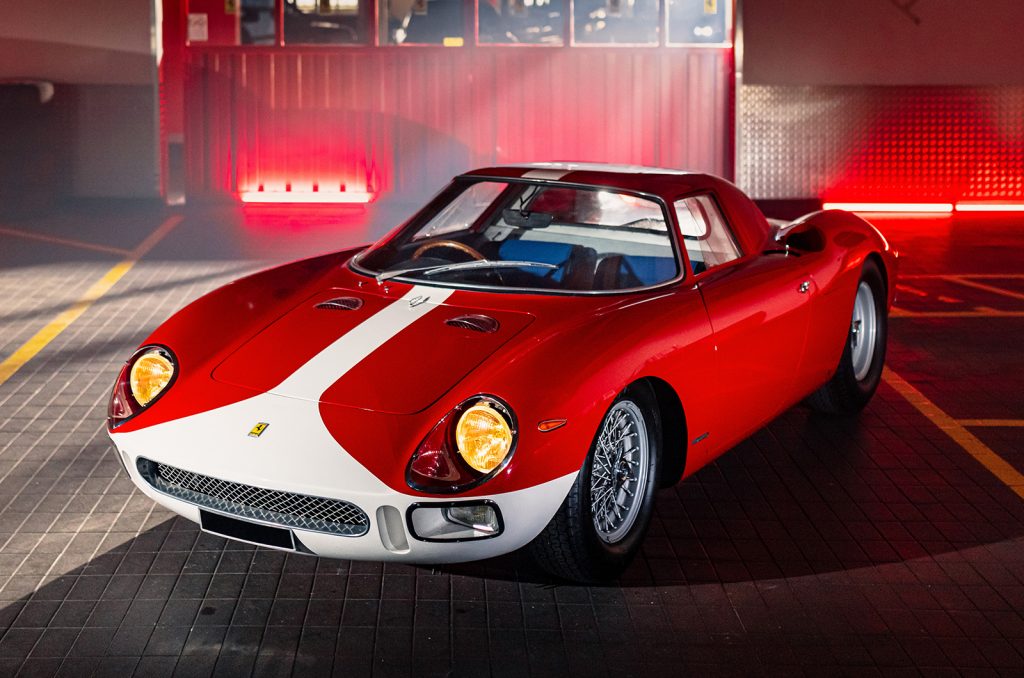 We've already highlighted a couple of fascinating Artcurial lots so far, such as a barn-find Lamborghini Countach P400 Periscopio and a Bugatti Type 57 Atalante, as well as a trio of pre-merger AMG-fettled Mercedes-Benzes, but there's plenty more to flex your flexible friend, starting with the above 1964 Ferrari 250LM.
The 250LM was the last Ferrari model to win the Le Mans 24 Hours, in 1965 with Masten Gregory and Jochen Rindt on driving duties, but this particular car has had a much quieter life. You're looking at chassis number no. 5901 – the tenth of 32 cars built, it's one of only two examples of the model never to see active competition, even though it was entered as the reserve car for the 1966 Daytona 24 Hours. As such, the chassis, engine, gearbox and body all have matching numbers.
After spending several decades in American collections, 20 years ago it came under the stewardship of a French collector, who treated the car to a sympathetic restoration from DK Engineering. The estimate is available on request to Artcurial.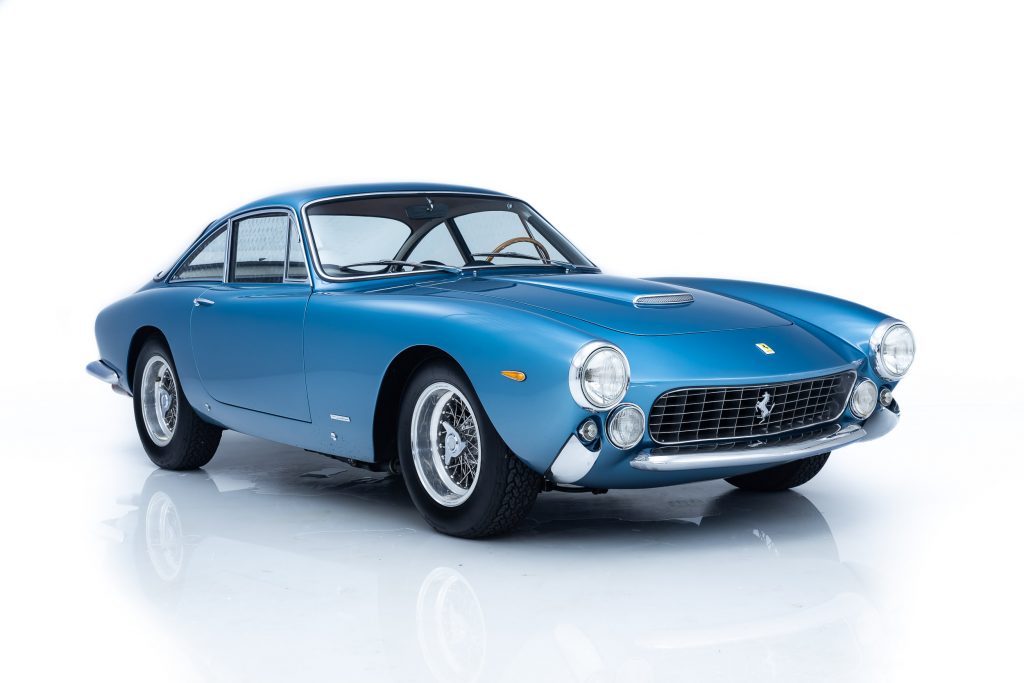 Keeping to the Ferrari theme, Artcurial will also be auctioning this Classiche-certified 250GT Lusso. It comes from a Dutch collection and benefits from full matching-numbers specification; it's estimated at between €1.5m and €1.8m. Artcurial's sale takes place on February 3.
Bonhams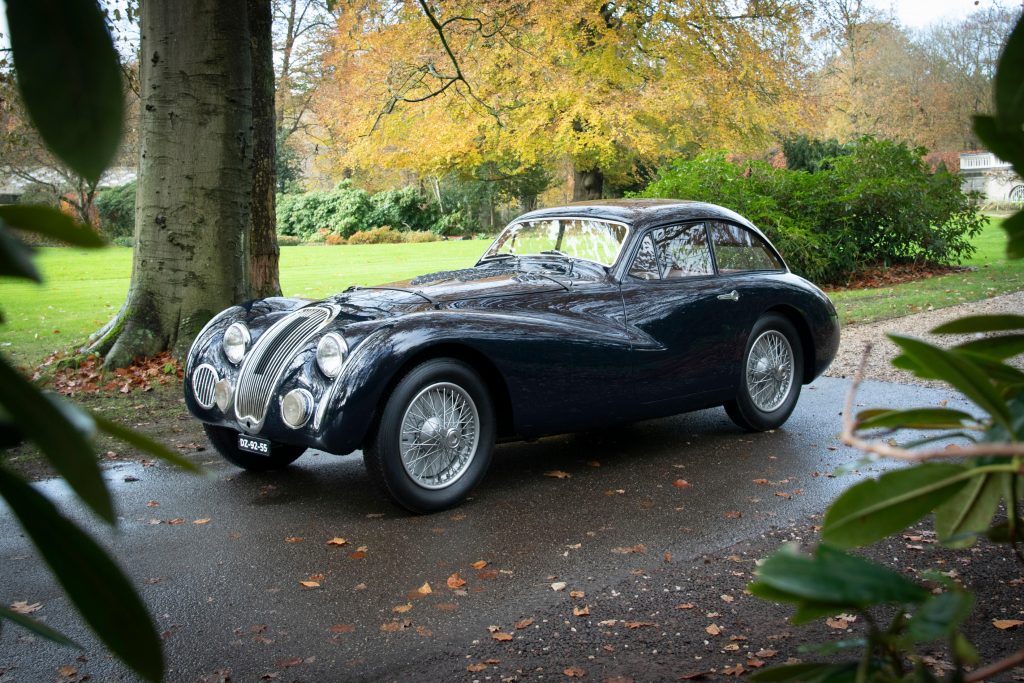 As befits a show with a Le Mans 24 Hours focus, several of the lots across the auction houses can count entries into the great race as part of their histories. Few cars, however, will have entered Le Mans quite as often as this 1948 Talbot-Lago T26 Grand Sport; chassis no. 110105 has been entered into the event five times.
Andre Chambas was a wealthy shoemaker and keen racer from Vienna, who ordered chassis no. 110105 from the factory and despatched to a fairly unknown coachbuilder by the name of Contamin. Chambas took the car to Le Mans wearing a lightweight coupé body in 1949, with André Morel as his driving partner. The duo finished the race in fourth place, having clocked up 222 laps, but were disqualified after running out of fuel on the lap of honour.
Undeterred, he returned for the next year alongside Morel, this time finishing in 13th place. Thinking he could do better with an open barchetta body, he returned in 1951, again with Morel, and finished 17th. The duo would pair up again for the 1952 event, but this time with a supercharged version of the straight-six engine, which resulted in a ninth-place finish. For the final attempt on Le Mans in 1953, Morel teamed up with French rally driver Charles de Cortanze, but their race was over after barely more than two hours. With the car's racing life finished, Chambas replaced the barchetta body with its original coupé panels, before selling the Talbot-Lago in 1957. In more recent years, the car has been seen at the 2017 Pebble Beach Concours d'Elegance and Chantilly Arts et Elegance, Goodwood Festival of Speed and Rétromobile in 2015. It's estimated at between €2m and €2.5m.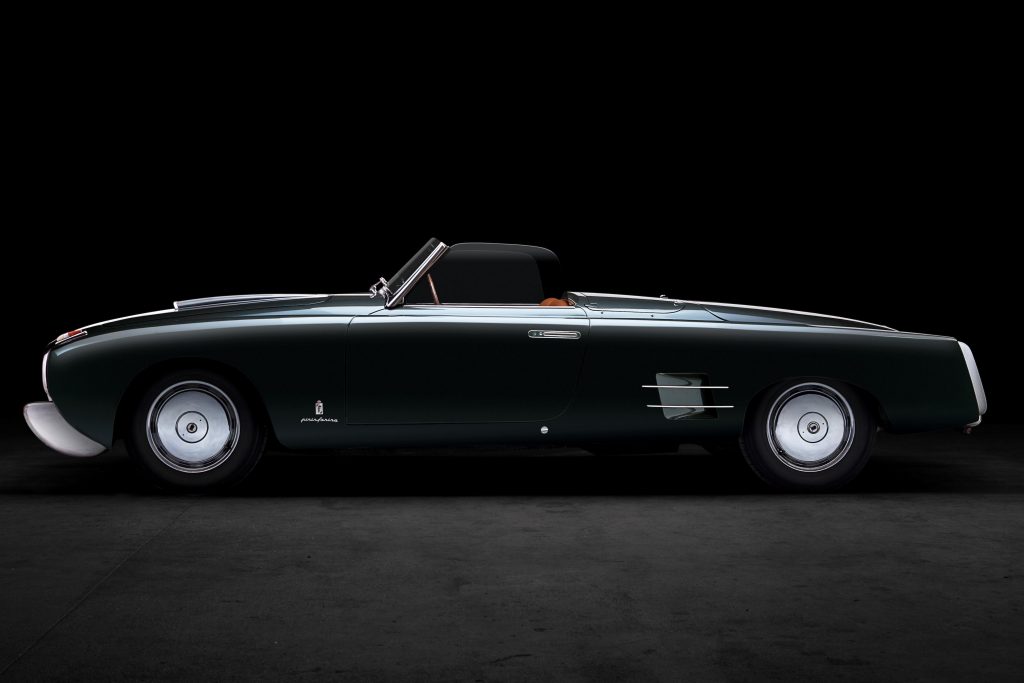 Just seven Lancia Aurelia Pf200s were built, and this is the first – and as such, it was seen at 1952's Paris, Turin and Roma Motor Shows. Inspired by American aircraft of the age, the car's distinctive Pinin Farina body was built on a Lancia B52 chassis, of which only 52 were built. The car was eventually sold to actor and singer Renato Rascel, who kept the car in Rome at the height of the Dolce Vita days. It's remained in Italy for much of its life, but is now due to be auctioned, along with the Talbot-Lago above, at Bonhams' February 2 sale. The Lancia has an estimate of between €800,000 and €1m.
RM Sotheby's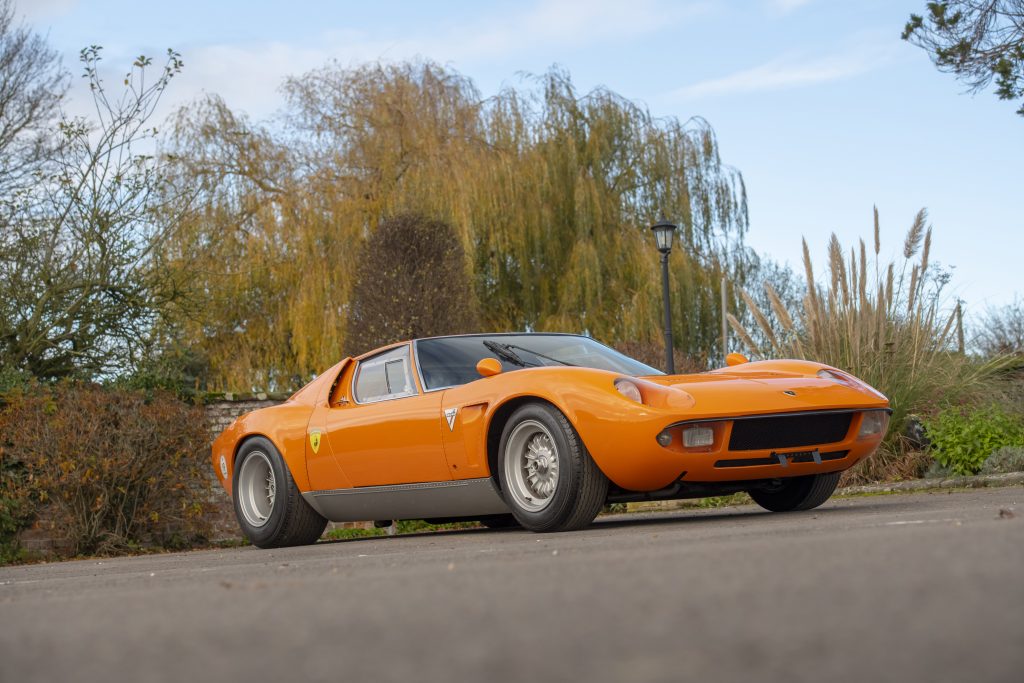 This 1969 Lamborghini Miura began life as an S model, with a Rosso Corsa exterior and a Nero interior – entirely fitting because the first owner was Stefano Fabbri, a leading light in cherry production. It was then shipped to Japan, where it would spend the next three decades, notching up another trio of owners along the way.
It was during this time that the engine was upgraded to 400bhp Jota specification (SV engine 30633), emulating the one-off Jota built by Bob Wallace as a stripped-back track-based model built to the FIA's Appendix J regulations. That car was destroyed in 1972, but several Miuras, including this one, have been built to that specification in homage.
It was sold again to another Japanese owner in 1998. He sought to finish the conversion to Jota specification by treating the Lamborghini to extensive body modifications over seven years and at a cost of around €430,000 in the 2000s. The car was also finished in Arancio Miura. Since then it's enjoyed a spell in a Swedish collection, and it currently calls the UK home. It's received recent servicing in the UK by Lamborghini itself; an estimate hasn't been released at the time of writing.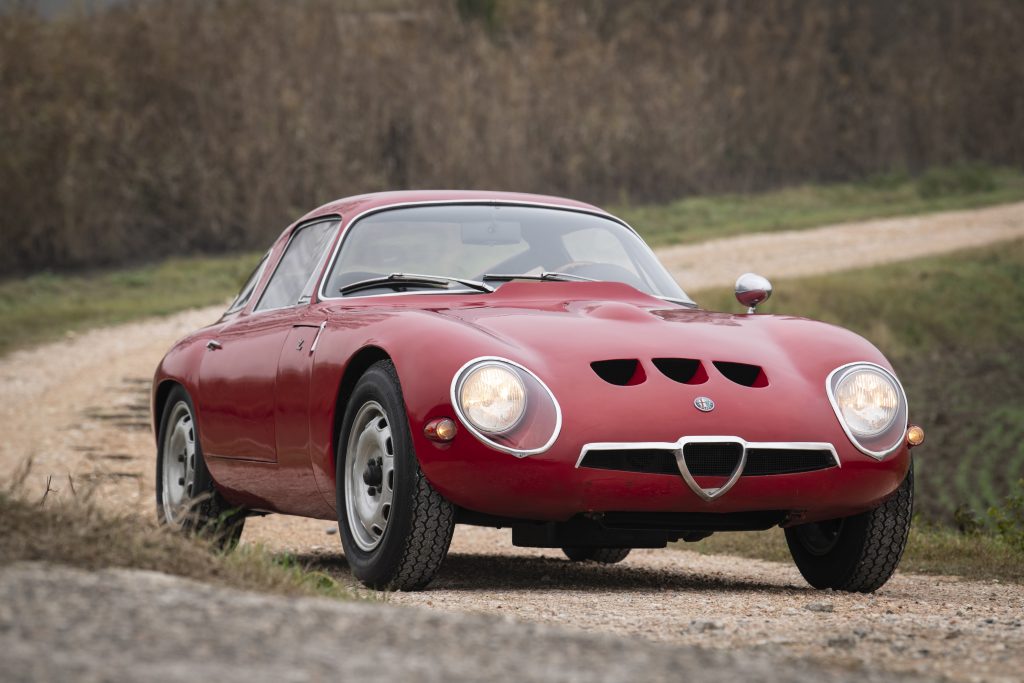 This 1965 Alfa Romeo Giulia TZ, chassis number no. 10511AR 750087, was originally sold via Alfa Romeo racing luminary Karl Foitek to Peter Schetty, another racer. Schetty would keep the car until 1968, with Uli Maurer taking stewardship briefly before selling it to James Bernard Fortmann. Racing under the Squadra Piloti Bardah banner, Fortmann gave the car its competition debut at the 1968 Nürburgring 1000km. He finished in 36th overall and fifth in the prototype 1.6L class alongside Urs-Peter Dietrich.
It was then used for the Montseny Hillclimb and then, a few days later, by Jean-Claude Ehinger, for the Hockenheim round of the ACS Swiss Championship. Urs-Peter Dietrich and Eric Chapuis would then use the car for the Gran Pemio de Mugello, but in practice damage to the right rear forced its retirement. Ehinger would then buy the car, yet an engine fire meant that the Mugello race would be its last contemporary competition entry.
Chassis no. 750087 was sold to Garage Spycher of Agno, which replaced the engine. The firm kept the car until 1983, when it was sold to Ernst Hugentobler, who'd keep it for 17 years before it returned to the previous Dutch owner. Another 16-year period of ownership followed; during this time, the incorrect-type engine was changed for an original TZ engine, Tipo 511, numbered 00034, from chassis no. 750066. According to RM Sotheby's, it features a tag stating it was tuned by Facetti, and has a twin-plug cylinder head.
The car is described as being in unrestored but mechanically well maintained condition, and has been certified by the Registro Italiano Alfa Romeo during the current owner's six-year ownership. An estimate hasn't been released, but the Alfa, along with the Lamborghini, will be auctioned by RM Sotheby's on February 1.
Auction details
Artcurial, February 3, Salon Rétromobile, Paris – more details here.
Bonhams, February 2, The Grand Palais Éphémère, Paris – more details here.
RM Sotheby's, February 1, Les Salles du Carrousel, Paris – more details here.