Words: Nathan Chadwick | Photos: Various
The late August, early September period has seen a cooling of the collector car market, at least on the British side of the Atlantic. Several UK auctions saw several widely tipped cars fail to sell, with many struggling to reach their lower reserve.
While some of the issues mentioned in our Monterey report can be applied – simply too many cars available, online auction/marketplace overload, the bear market afflicting the crypto/tech industry at the moment and the ongoing situation in Ukraine – there are perhaps some local reasons that apply more readily to the UK. Firstly, interest rates have been high for some time, making finance-supported purchases far more expensive than they once were. On the other hand, some analysts have suggested that the market has grown by just one per cent this year.
Others, such as Hagerty, reported that median sales prices at auction have dropped back to March 2020 levels – and it's important to bear in mind that demand, and hence prices, soared once lockdowns had ease due to pent-up demand. Meanwhile, the high UK interest rate is making traditional savings more beneficial than putting money in cars, and without the added costs of storage and maintenance a classic vehicle requires.
There are other factors that could be playing a part, including the fact that mainstream insurers are offering renewals of an average 48 percent more than previous premiums, thanks largely to an increase in personal-injury claims, the cost of repairs due to the energy crisis and inflation. While we've yet to discover much evidence of this affecting specialist classic-car insurers, the energy crisis will certainly be impacting on workshops.
Perhaps the biggest factor afflicting the UK market directly has been the rise of online auction portals. Traditional event auctions are fighting a 24-hour, 365-day cycle of sales, often with no sellers' fees. However, even here, there are signs that over-saturation is starting to be felt – Pistonheads, the UK forum/classified sales portal struggled to make early sales on its recently launched auction function. Is it simply a case of too many auctions and cars in a slump after the post-Covid rush?
There are signs that the situation could get better – average pay has increased by 6.5 percent in the UK's private sector, and the Bank of England has committed to lowering the interest rate and inflation. In a wider context, the growing knowledge base and awareness around alternative fuels for ICE cars has at least plotted a path to a long-term future for the hobby. However, there are some interesting trends, particularly the renewed popularity of pre-war cars, reflecting sales in the US.
We've pulled out some of the UK's leading recent auctions, with notable results, no-sales and interesting outliers below – let us know your thoughts on the UK market.
Silverstone Auctions (Iconic Auctioneers) Dawn of Motoring Sale (August 4, 2023)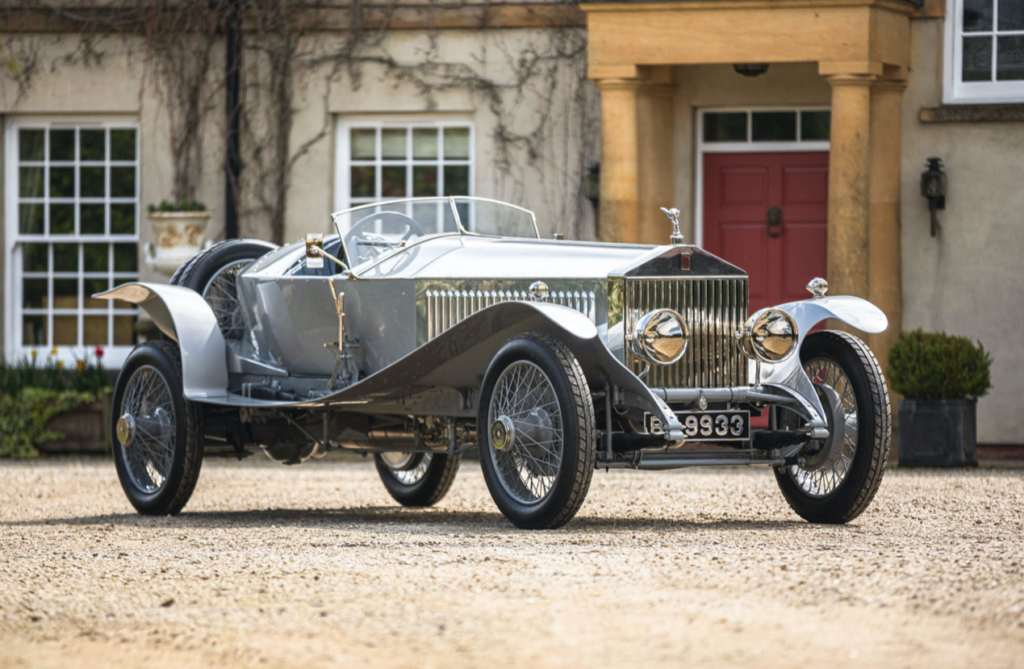 This was the last Silverstone Auctions sale before the rebranding to Iconic Auctioneers, focusing on pre-war cars. Although the leading car, a 1911 Vauxhall Prince Henry 20hp replica of the Works Russian Reliability Trial car of 1911, failed to sell against a £250,000-£350,000 estimate, the general sales indicated that the strong interest in the US toward pre-war cars this year has come to the UK, too.
This 1925 Rolls-Royce Phantom I was prepared by James Radley in Paris for King Mohammed V of Morocco. Radley was an experienced Rolls-Royce racing driver with wins on Alpine rallies. This car originally wore a Carrosserie L Gallé body, before it was replaced with another Gallé design originally intended for a Bugatti. It was owned by the King until 1932, and would be rediscovered in the early 1980s by Michael Forrest. He commenced a restoration, but he didn't finish it before his passing a few years ago; it was completed earlier in 2023. The Rolls-Royce sold for £129,375.
Anglia Car Auctions (August 19-20, 2023)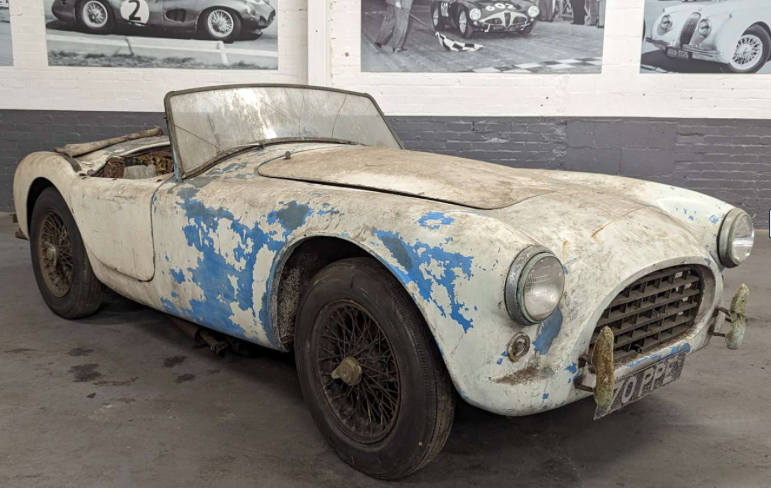 Anglia Car Auctions' collection of barn finds caused a vast amount of interest pre-sale. Comprising two Jaguar E-types, a Land Rover Series 1 and a trio of ACs, they had been rescued from a barn in southern England. All offered at no reserve, it was the AC Aces that garnered the biggest result. A blue 1966 car sold for £113,400, but the (largely) white car above went for even more. A 1957 AC Ace-Bristol, it was supplied new by dealer KN Rudd to an R Gauge, who later sold it back to Rudd. Rudd would then sell the car to Betty Haig, a British racing driver, in 1961. She'd compete in many hillclimbs undertaking testing duties for Pirelli tyres, before selling the car to Jacques de Wurstenberger, who in turn sold it to John Bentinck Speed. It was then purchased by Ian Peter Gridley, who sold it to the last owner in 1976. It sold for £156,600.
Iconic Auctioneers Silverstone Festival (August 25-26, 2023)
Iconic Auctioneers' first event since changing from Silverstone Auctions saw more than 200 road and racing cars up for grabs. Although more than £7m worth of lots moved, there were a lot of no sales. While most of the pre-sale focus was on the collection of Colin McRae road and rally cars – including a prototype Subaru Impreza 22B which eventually sold for £480,500 plus fees (a new record) – the biggest estimate was for this 1961 Jaguar E-type Roadster.
Chassis number 18 was one of the seven ZP537/24 factory competition E-types. It was originally used by Jaguar's motor sport boss Lofty England, before stewardship passed to Tommy Sopwith of the Equipe Endeavour racing team. It is one of four from that seven to still be in original configuration, and was raced twice by Jack Sears in 1961. Mike Parkes, the future Ferrari engineer, used UPM 400 as a daily driver in 1961 between races.
Despite this history, the car was a no sale with an estimate of £1m-£1.25m. Perhaps timing could have been the issue – the sale occurred a matter of weeks before Gooding's London sale, which featured two very early E-types (more on that later); or perhaps it reflects a general downward trend on E-type values overall?
Barons August Classic (August 26, 2023)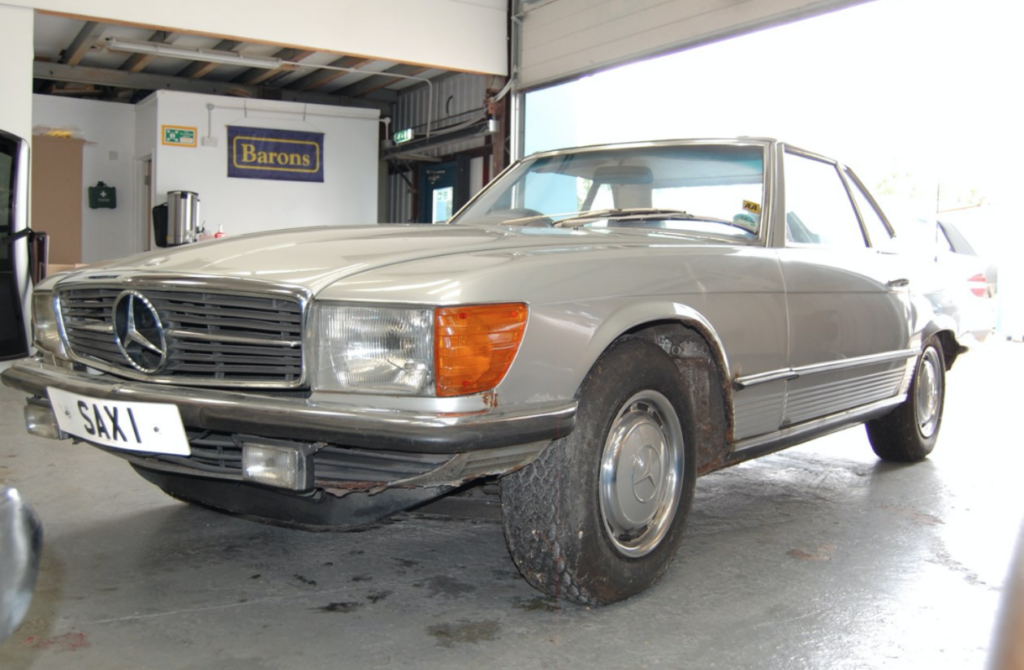 Barons had most of its sales success in the lower-priced echelons of its catalogue, and its higher-priced cars failed to sell. The top result was for this 1973 Mercedes-Benz 450SL R107 – or perhaps its numberplate. The figure achieved (£31,900) is about what you'd pay for a good, if not brilliant, example of the breed, and this one – as you can tell from the picture above – certainly required extensive bodywork.
Gooding London (September 1, 2023)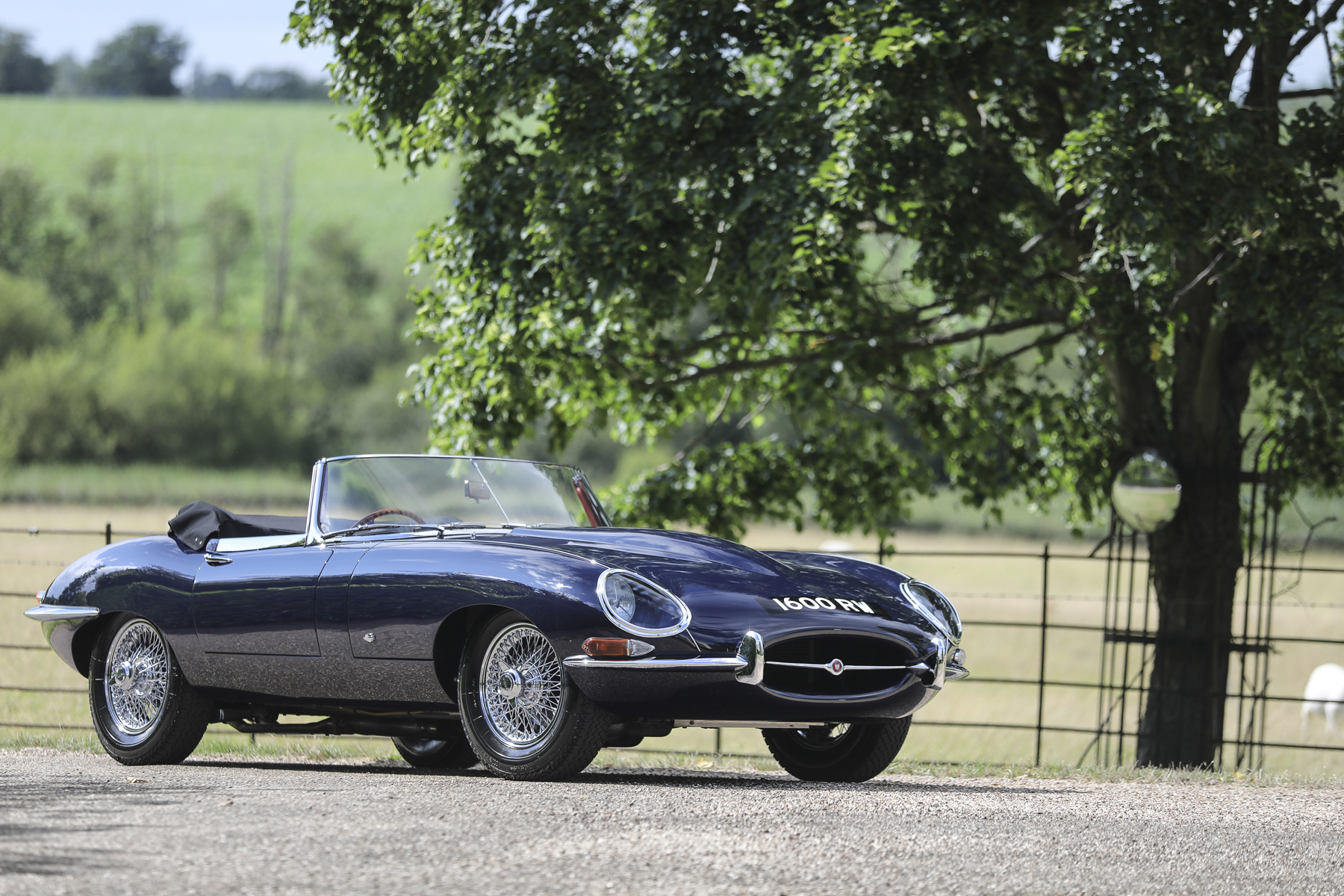 Gooding had a tough time at Hampton Court, with many no sales and trickling results. The total sales were just under £10m, with around £7.5m of that coming from five lots alone, including the ex-Rubirosa 1953 Ferrari 166MM/53 Spyder, which sold for £2,531,250. Gooding offered two very early Jaguar E-types; the Series 1 3.8 Roadster above, was the fourth right-hand-drive roadster built and was the personal vehicle of Lofty England, Jaguar's motor sport boss, and was later sold to Tommy Sopwith. It sold for £911,250 against a £900k-£1.2m estimate, but the other early E-type, chassis 860001, the first right-hand-drive (RHD) FHC and one of four RHD FHCs to feature early outside-latch handles, failed to sell against a £1m-£1.4m estimate.
Bonhams Beaulieu sale (September 2, 2023)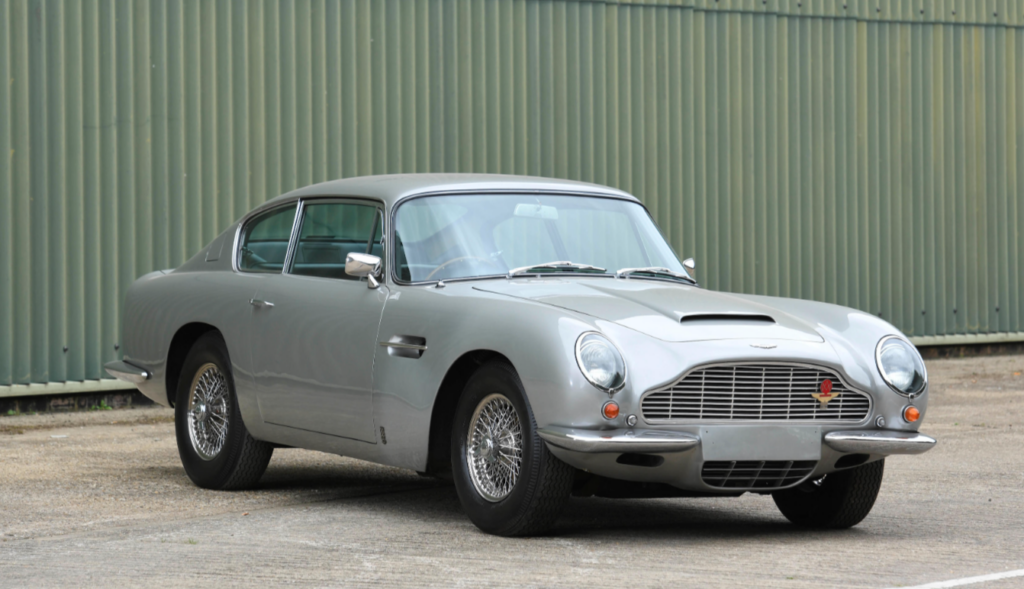 Bonhams' Beaulieu Autojumble sale offered a wide-ranging selection of cars and a good sell-through rate, in comparison to other sales. Some of the results did raise an eyebrow, including the above 1969 Aston Martin DB6. There has been a downward pressure on Aston values of this era for some time, and not even the anniversary year of the DB5 has seen much upward movement. This particular car, an automatic, was estimated at £80k-£120k and, although it had Aston Workshop history (a long time ago), it had spent an extended period in the Middle East and was in need of recommissioning. It was, however, the fourth-from-last Mk1. Offered at no reserve, it eventually sold for £135,700.
Other notable sales included a 1951 Talbot-Lago T26 project that sold for £74,750 and a 1951 Alfa Romeo 6C 2500 project that went for £57,500.
Bonhams Goodwood Revival (September 9, 2023)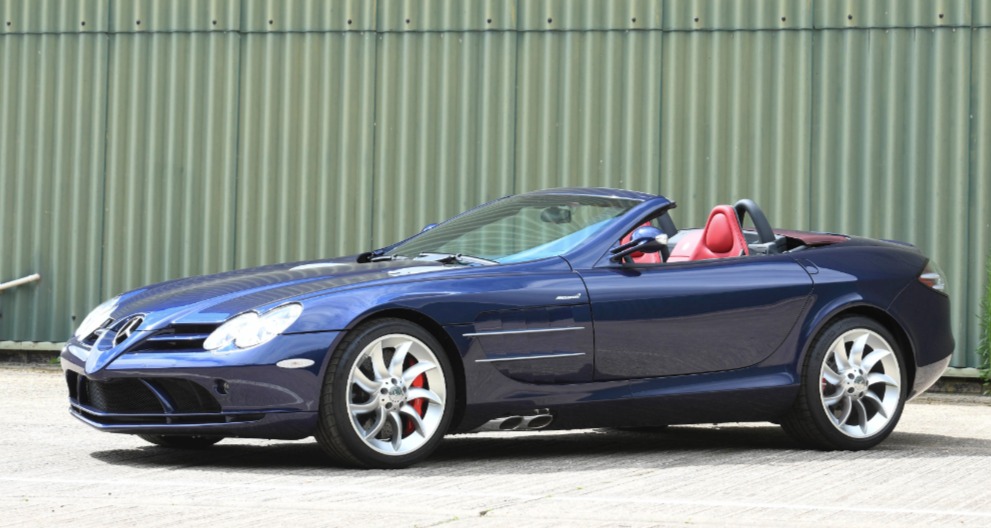 Bonhams' Revival sale didn't see the big-ticket car sell – the 1973 Porsche 911 Carrera 3.0 RSR Martini Works Team car driven by Herbert Müller and Gijs van Lennep to fourth place at Le Mans in 1973. Estimated at £3.75m-£5.75m, it failed to land – another victim, perhaps, of Porsche overload this year? That said, the only right-hand-drive 911 Carrera 2.7 RS Touring produced in Jade Green sold for £703,800 against a £650k-£750k estimate. Instead, the lead lot was a 1967 Toyota 2000GT that had spent three decades in Portugal after being originally sold to Mozambique. More recently, it has won Best in Show at the London Concours in 2021 – it sold for £799,000.
However, it was another German performance car that really caught the eye – the above 2007 Mercedes-Benz SLR McLaren Roadster. It was a special car: with Crystal Covellin Blue metallic paint and 175km on the odometer, it had been on static display for some time. Not much was known of the car's history, and Bonhams said: "Due to its period on static display the car may require recommissioning and is sold as seen."
Offered at no reserve, it had an estimate of £120k-£160k – but despite all the negatives, it finally sold for £408,250.