WORDS: ELLIOTT HUGHES | PHOTOS: AUTHOR
The last time I drove a Land Rover Defender was back in March, just as a cold snap had blanketed the UK under a thick layer of snow. On that occasion, I was tillering a Defender 90 up to JLR's off-road facility in Skipton, North Yorkshire, and I expected the inclement weather and 114-mile journey to provide a stern real-world test for the three-door Landie.
Four months later, I'm once again sitting behind the wheel of a new Defender, and in this instance, it's the gargantuan eight-seater 130 model. There's a slight feeling of déjà vu; a storm is battering the UK, and, once again, I'm about to embark on a long journey. My destination is the Goodwood Festival of Speed, some 200 miles away. Oh, and it's also 4.30am on a Sunday morning. A stern test indeed.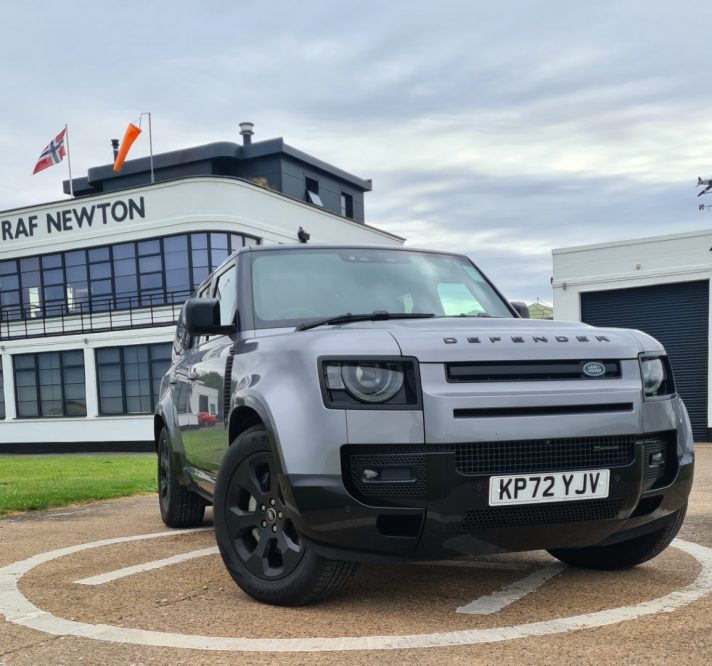 From the safety of the Defender, the sight of soggy Caterham drivers gallantly navigating through spray plumes is enough to induce guilt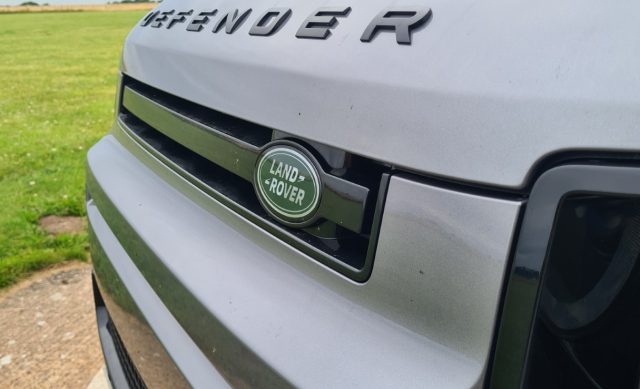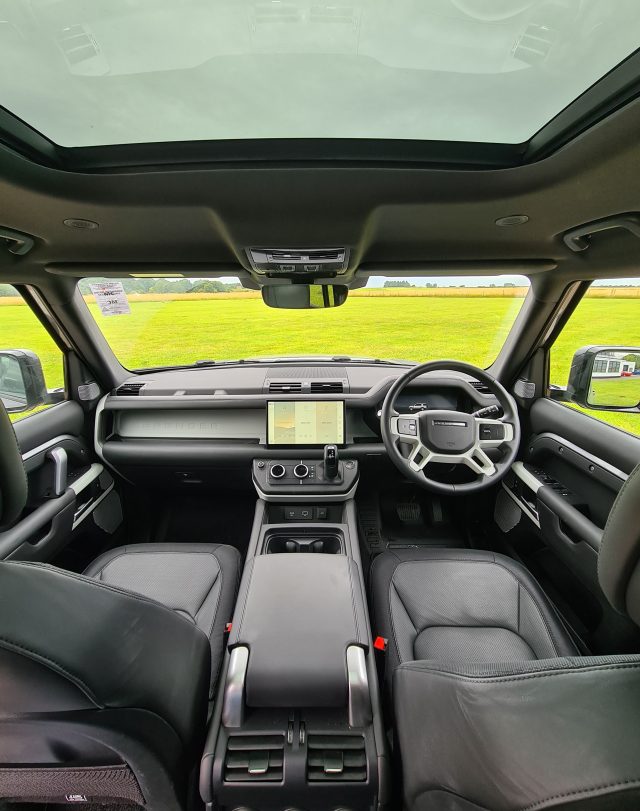 All too often, it's on occasions such as these that my romantic notion of peacefully soaking up the miles while being lulled by a gratuitously nerdy motoring podcast is swiftly shattered. The roads are busier than expected. Other drivers dangerously undertake, pointlessly jostling for position. Tiredness sets in. Before long, I'll be slumped in a Shell garage, drowning my sorrows with Red Bull.
So, with that perhaps melodramatic preamble out the way, it's time to take a deep breath, wrap my left hand around the stubby shifter and select 'Drive'. At least my new 'home' for the next few hours is comfortable and accommodating – the interior of this D300 HSE X-Dynamic model feels worlds away from that of the original Defender, which, in modern terms, had all the comfort and luxury of a Neolithic cave.
The shifter, seats, centre console and steering wheel are all trimmed in leather. Elsewhere, there's a combination of durable vulcanised rubber and soft-touch plastics. The cabin space is generous, too; there are plenty of cupholders, the door bins and centre console are cavernous, and there's a useful cubby that runs below the structural beam forming the dashboard.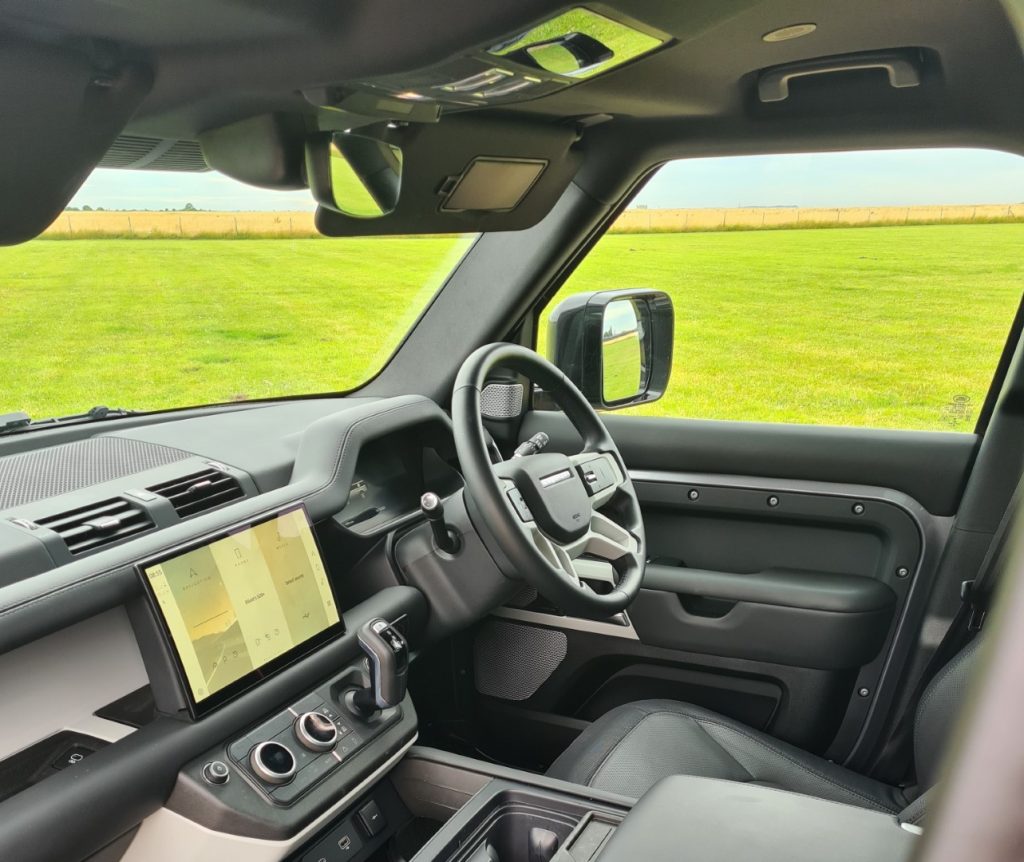 Another surprisingly useful feature on a morning such as this is the panoramic sunroof, which is standard on all 130 models. Not only does it brighten up the Landie's dark interior, but the added sunlight also helps trick my sleep-deprived body into some sort of wakefulness. All in all, the interior design treads deftly between functionality and luxury.
The only obvious drawback of this 130 model is that if you're using the rear row of seats, the boot space is inadequate for eight people. Fold them down, and there's an annoying bump in the boot floor, which makes loading and unloading more difficult than it should be. That said, each seat is genuinely usable, with more than enough room for my 6ft frame.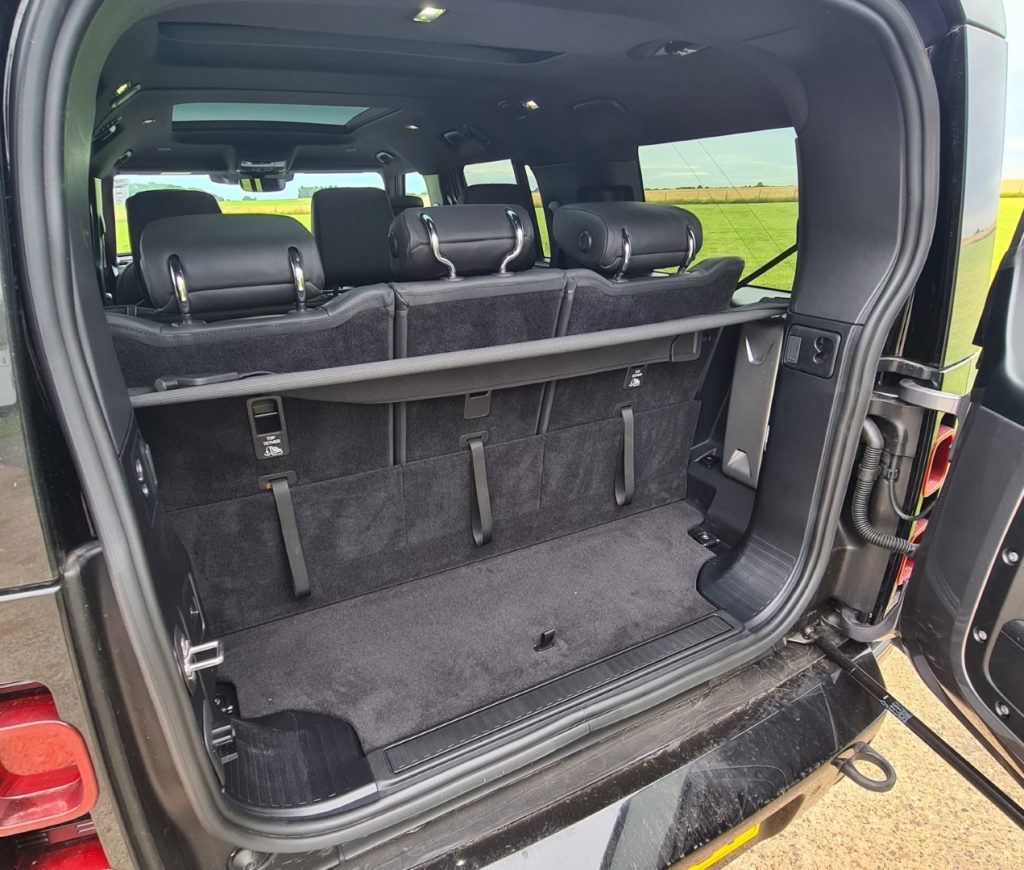 As I navigate through Nottingham, the city is deserted, save for the occasional staggering reveller looking somewhat worse for wear from the night before. The Defender, meanwhile, wafts through the eerily quiet streets, the shifts from its eight-speed ZF automatic transmission almost imperceptible. In town, the steering, brakes and ride feel very similar to those of the 90, and it's only when navigating junctions and mini-roundabouts that I become aware of this car's massive 5.3-metre length.
Once free from the constraints of the city streets, I allow it to stretch its legs for a long stint along the A46, before meandering onto the M40. The mild-hybrid diesel 3.0-litre straight-six develops 300bhp and 480lb ft, making it effortless to get up to motorway speed. Moreover, the turn of pace is surprising for such a big car that weighs 2664kg; 0-62mph is dealt with in 6.7 seconds, and the top speed is limited to 122mph.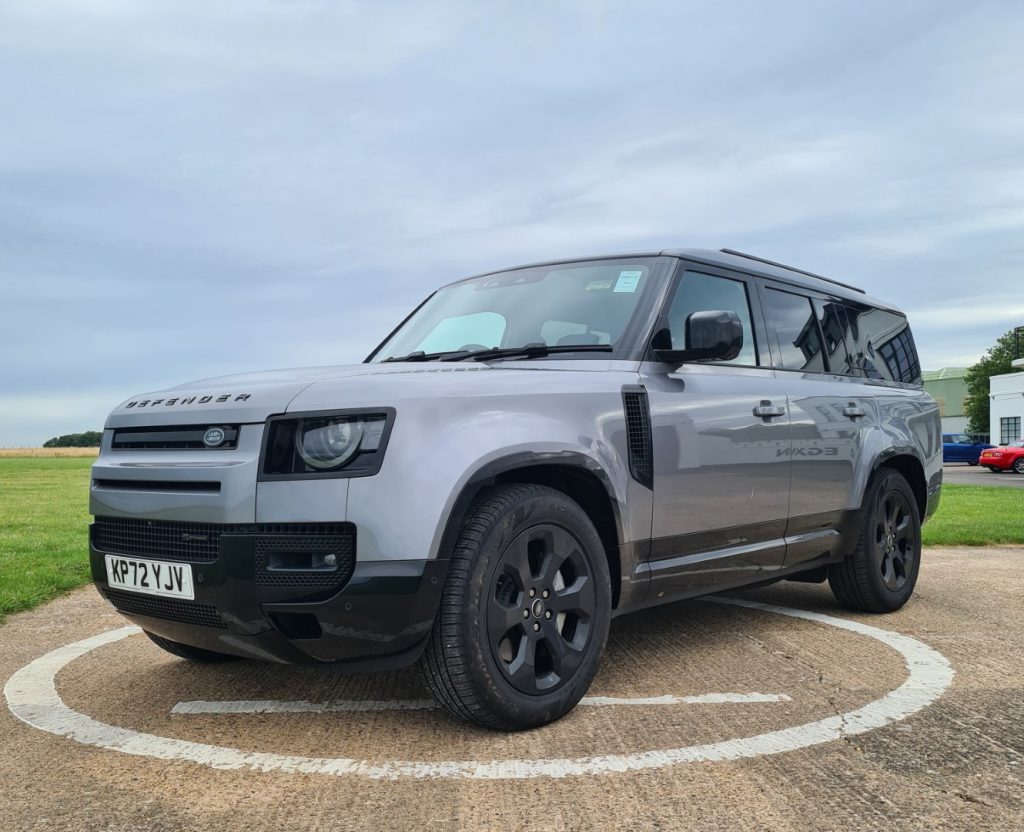 As the miles accumulate, it becomes clear that this is a surprisingly good machine for a long motorway slog. The seat is very comfortable, and you sit in a high, imperious position and can see the roof of virtually any vehicle. Fully independent air-suspension cossets you over bumps, radar-guided cruise control means you aren't constantly adjusting your speed, and blind-spot-monitoring wing mirrors prevent you from inadvertently wiping a low-slung car out of the middle lane.
A highlight of driving to the FoS at an ungodly hour is the array of interesting cars I see making the same pilgrimage; a replica C-type Jaguar, a Porsche 911 of 1960s vintage, all manner of supercars, JDM tuners, fast Fords and everything in between. From the safety of the Defender, the sight of soggy Caterham drivers gallantly navigating through spray plumes is enough to induce guilt.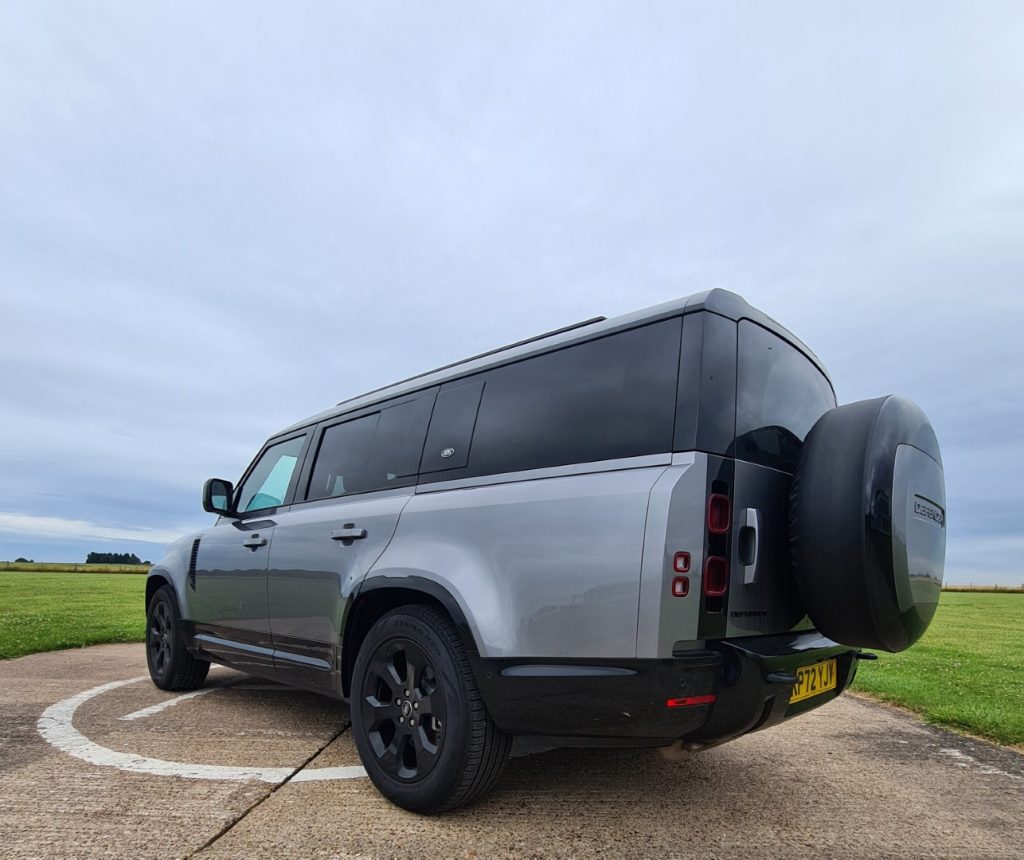 Unfortunately, I have no plans for actual off-roading during my weekend with the 130. Even so, the soaking grass field that comprises the car park still presents some sort of challenge – particularly as the weather was so bad yesterday, the Festival of Speed was actually cancelled for 24 hours. Shod in all-season tyres, the 130 doesn't flinch. Some lead-footedness on my part is enough to make the car squirm, but that's about as dramatic as it gets.
After parking up and setting off up towards the ticket office, two things become obvious. Firstly, I feel far fresher than expected after a five-hour journey and running on limited sleep. Secondly, it's clear that, as with the 90, this is a car with a breadth of abilities that few rivals can match; it's brisk, comfortable, refined, can carry eight people, can tow 3000kg, and is – I assume – very good off-road. It might not be the sharpest driving machine, but it's a compelling vehicle if you need something comfortable yet practical that can tow your classic car.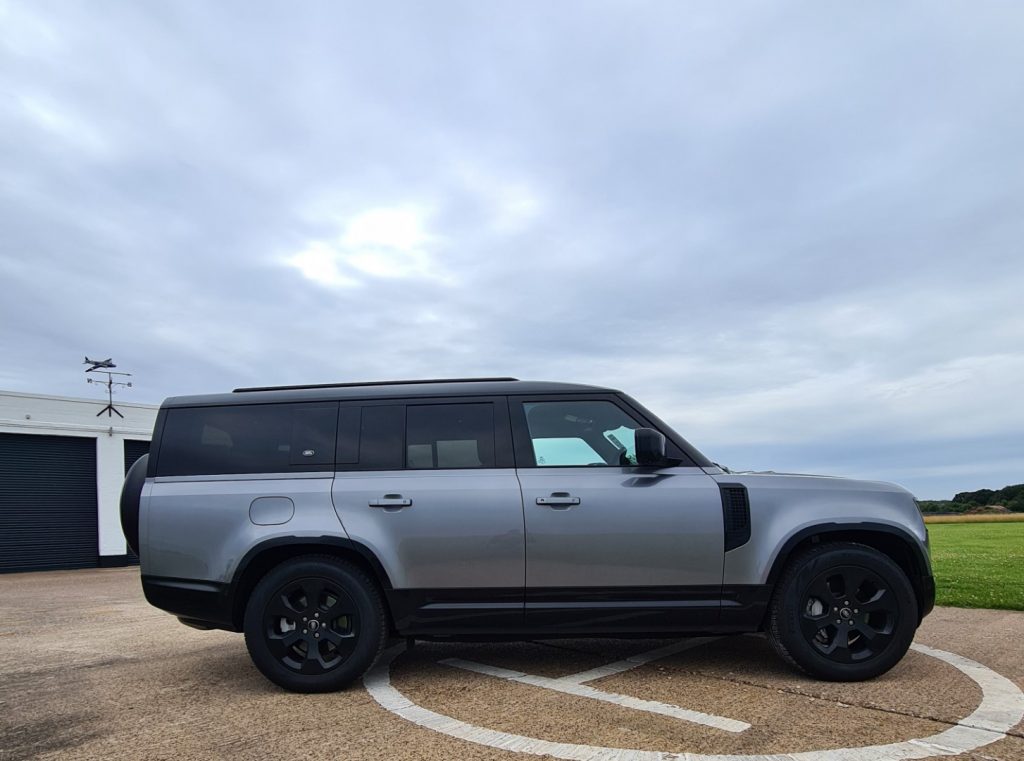 Another 200 miles back make it even clearer: the Defender 130 has passed the test.
The Land Rover Defender 130 D300 X-Dynamic HSE starts from £81,365.
For more information, click here.