WORDS: ELLIOTT HUGHES | PHOTOS: BOWLER
My chest is tight, and so is my grip on the Alcantara-trimmed OMP steering wheel. Wide-eyed, I'm braking too late and making superfluous steering inputs, trying to wrestle the 2165kg Bowler Defender to my will. I'm overdriving.
Despite my erratic first lap, the voice of my co-driver and sensei, Dave Marsh – head of Bowler Motorsport and veteran Dakar racer – calmly crackles over my headset as we mercifully trundle back to the service park unscathed: "You need to caress the car over the bumps," he says sagely. "Don't be so active with your inputs; be smooth and read the terrain." That last piece of advice is to prove particularly poignant, but more on that later.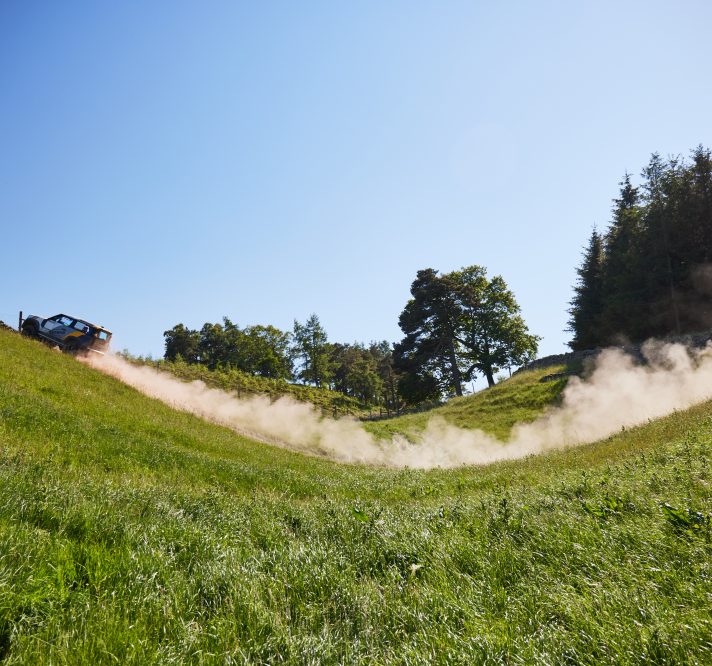 Don't be so active with your inputs; read the terrain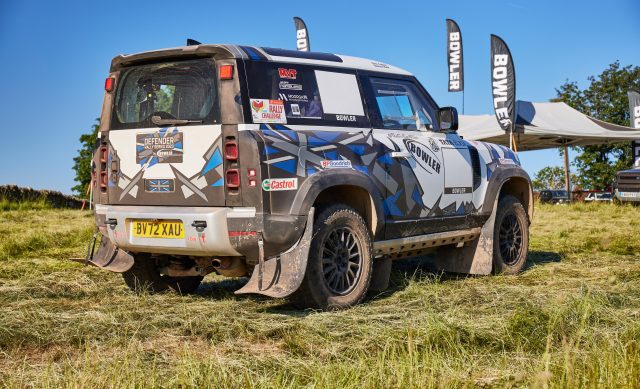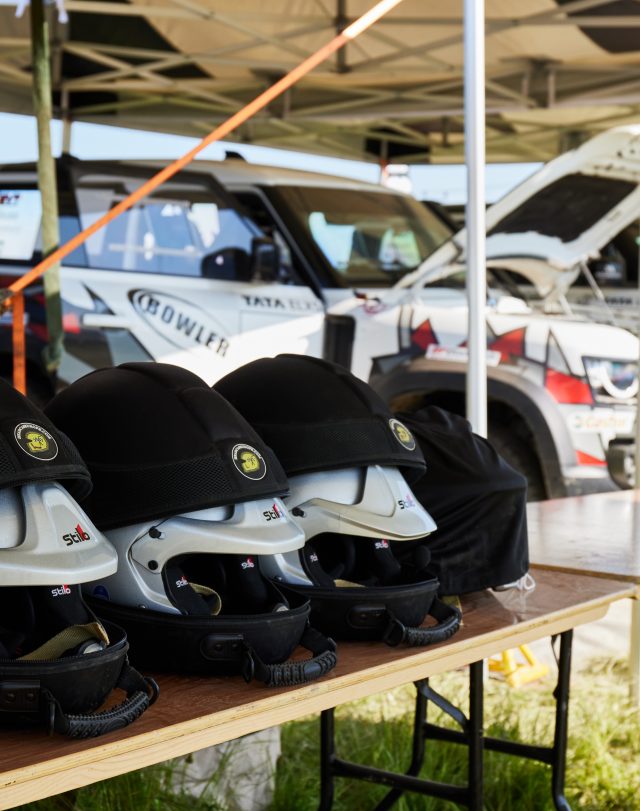 We are at the Glendearg Farm Estate in Galashiels, Scotland, where Bowler is holding a non-competitive special stage to demonstrate the capabilities of its 2023 Defender Challenge rally car. I'm one of five journalists, and we're joined by a pair of effervescent Americans who were invited to attend after winning the US Land Rover Camel Trophy.
The two-mile special stage is a classic Scottish hill rally, which means it's an extremely bumpy, boulder-strewn course laid out on a hillside, punctuated by narrow and jagged drystone-wall gateways, car-killing mounds and several big jumps. Your typical rally car – whether that's an Impreza, Escort or Lancer Evolution – would be mortally wounded before even completing a lap. It's rough.
There are a total of four Bowler Challenge cars lined up in the service park, and all started life as standard petrol-powered Land Rover Defender 90 P300s before emerging from the chrysalis of Bowler's headquarters in Belper, Derbyshire, as fully fledged rally cars. Founded by Drew Bowler in 1984, Bowler Motorsport is famous for creating bonkers rally-raid machines, often from Land Rover products.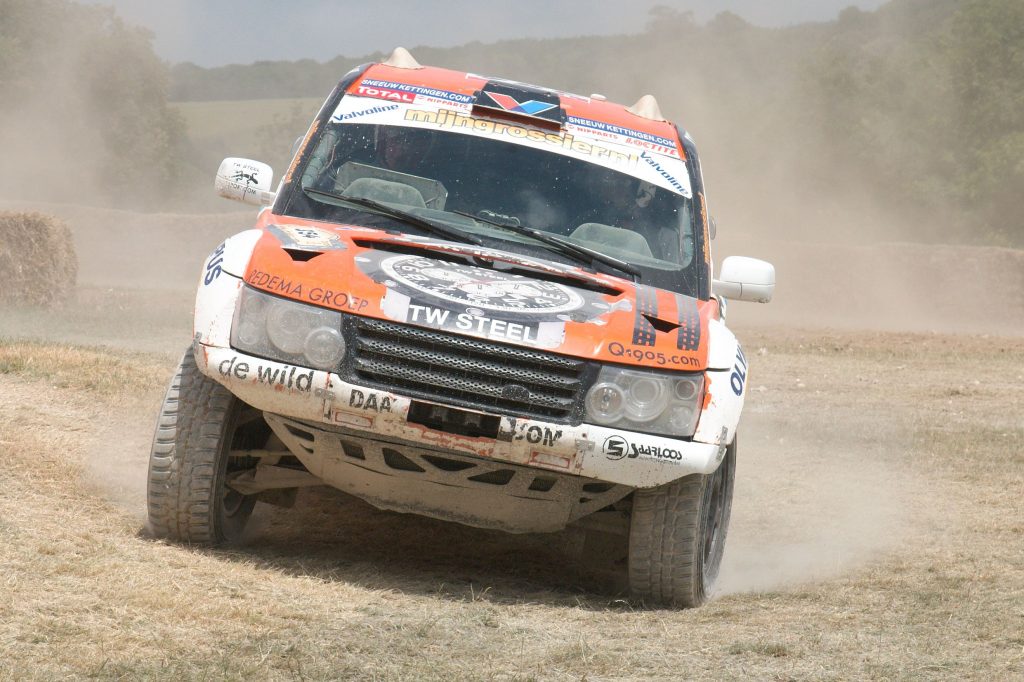 Drew Bowler sadly passed away in 2016, and his eponymous company almost went with him after passing through the hands of several owners before being acquired by Jaguar Land Rover in 2019. There was concern that the outfit would be compromised and diluted by corporatism but, happily, I'm assured that JLR has so far taken a laissez-faire approach. This has allowed Bowler to continue to do what it does best: build and develop rally cars, albeit with the welcome support of a major OEM.
On paper, the car seems underwhelmingly similar to a standard Defender P300. The powertrain remains largely unchanged: a 2.0-litre Ingenium four-cylinder sends 296bhp and 259lb ft of torque through a ZF eight-speed automatic transmission. On Tarmac, 0-62mph is achieved in 6.7 seconds, which, in modern terms, is best described as brisk rather than scintillating. But don't be fooled; much has changed, and that becomes evident as soon as you start taking a closer look.
Opening the driver's door reveals Bowler's raft of modifications. A bespoke FIA roll cage dominates the interior, which consists of two fixed-back Cobra bucket seats, five-point harnesses and an OMP steering wheel complete with a rally-spec paddle-shifter; push it away from you to shift down and pull it towards you for the next ratio.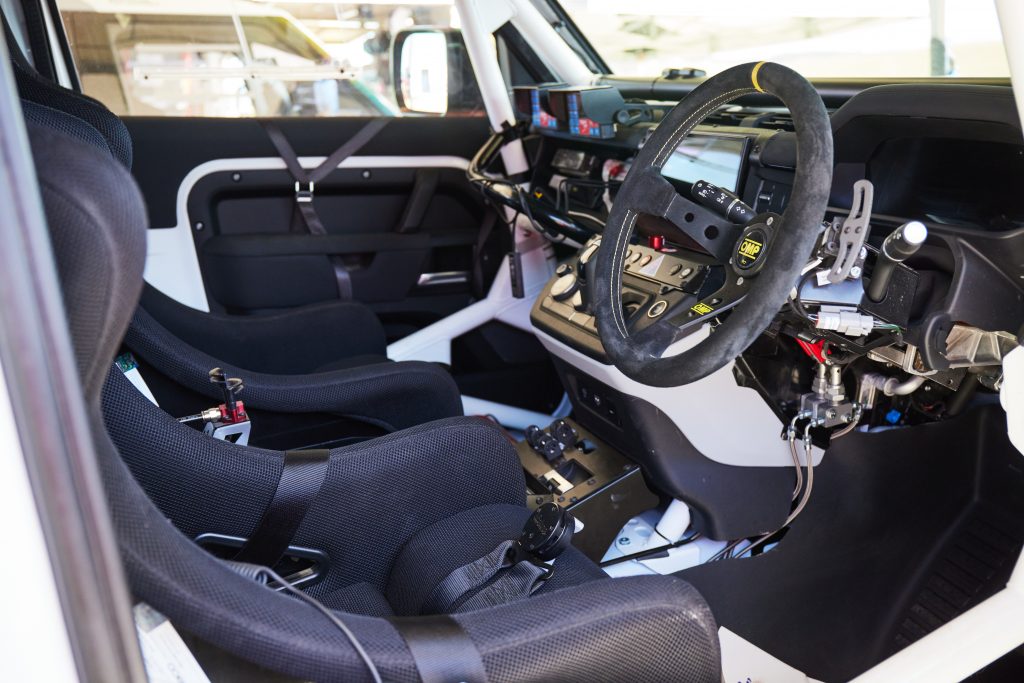 The doors have been shortened by 71mm, which allows aluminium underbody bash plates to shield the sills. The subframes, engine and gearbox mountings and suspension turrets have all been strengthened, too. Specially designed Fox dampers are found within those turrets, and Bowler's sports exhaust system adds more noise.
After putting on my helmet and HANS device, slipping on my gloves and climbing into the cockpit for the first time, I'm foolishly overconfident. I spent my childhood flinging cars, motocross bikes and quads around fields, and have also done plenty of karting and track driving, so I thought those things combined would stand me in good stead.
Foot on the brake, my gloved finger stabs at the dashboard starter button and the 2.0-litre inline-four erupts into life with a gruff chunter. The OMP steering wheel feels much thinner than the standard car's, but the Alcantara provides plenty of grip. It feels a little jarring to be sat so high, yet encased by a roll cage and tightly harnessed to a bucket seat. I pull the factory shifter into 'Drive', and crawl out of the service park to the startline.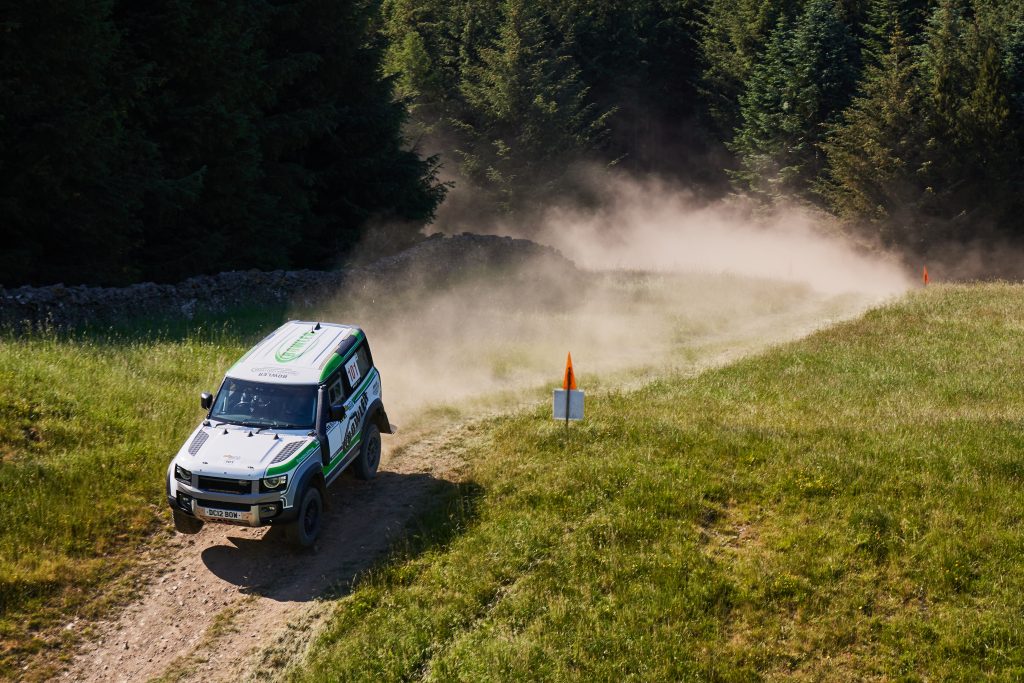 Things start to feel real as I stare at the rally start lights and Dave counts down: "Five… four… three… two… one… go!" With the Defender still in automatic, I plant my right foot into the carpetless firewall. There's a delay of a second or so before the transmission shifts down, and then… we're off!
That 296bhp is sent through all four wheels, which scramble at the sun-baked ground for grip – a reminder that traction control and ABS are both switched off. I'm on my own. Next, there's what looks like a simple straight before the next corner, which is a downhill 90º left-hander. If, like me, you're more used to driving on billiard-table-smooth circuits, then a straight is usually an open invitation to floor the accelerator and wait for the braking point. Not so in a hill rally stage.
Tufts of grass conceal vicious bumps and potholes that can easily unsettle the suspension, despite the brilliance of the pillowy yet supportive Fox dampers. It's identifying which parts of the surface contain all the grip, and where dangerous bumps and potholes lie, that is the art of reading the terrain. I brake too late into the left-hander, and the car begins to understeer towards an outside wall.
As I grit my teeth the Defender's front wheels mercifully grip up at just the right moment, and the first corner is now in the rear-view mirror, shrouded in a cloud of dust. Ironically, the car feels so refined despite the understeer that it can easily lead you into a false sense of security, inadvertently edging you ever closer to the absolute limit.
That's where Dave's expert advice comes in, as he calmly advises me to feather the throttle, brake earlier and account for the Defender's weight. "Look after the car, and the car will look after you," he advises. "Read the terrain."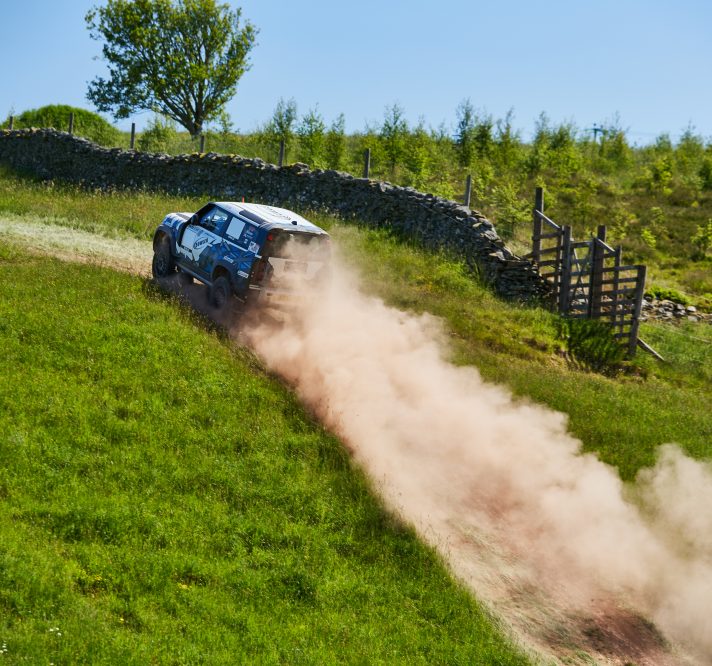 A rally stage is littered with booby traps ready to send you into the scenery at any moment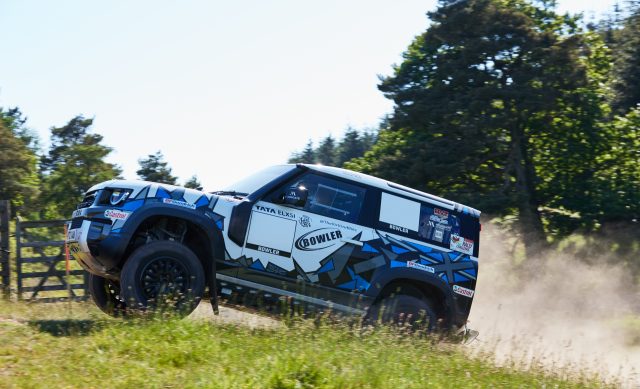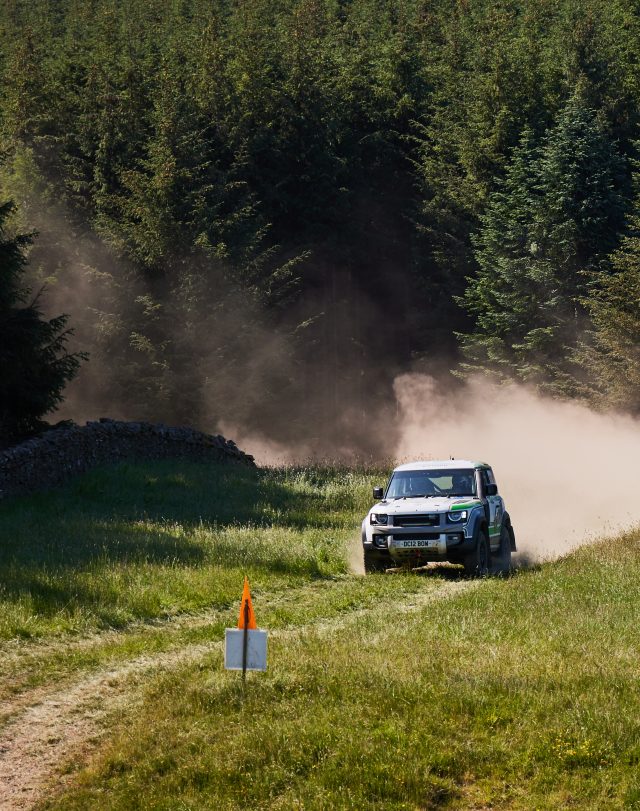 It's so easy to be overconfident, particularly in the modern era of hugely powerful cars that come festooned with flattering driver aids and electronics. And, compared with a circuit, a rally stage is littered with booby traps ready to send you into the scenery at any moment. I am soberly reminded of that when one of the other cars runs over a rock, punctures its tyre and scarily careens backwards down a slope. Luckily the only damage is a scuffed bumper, and no one is injured.
Yet after just one lap, my driving has drastically improved, thanks to Dave's wisdom and the car's friendly and capable dynamics. Squeeze the accelerator, take advantage of the light steering and waft over the bumps, and your confidence and trust in the car grow. Interestingly, the more you drive, the more you can feel the DNA of the standard car beneath, which is testament to the factory Defender chassis.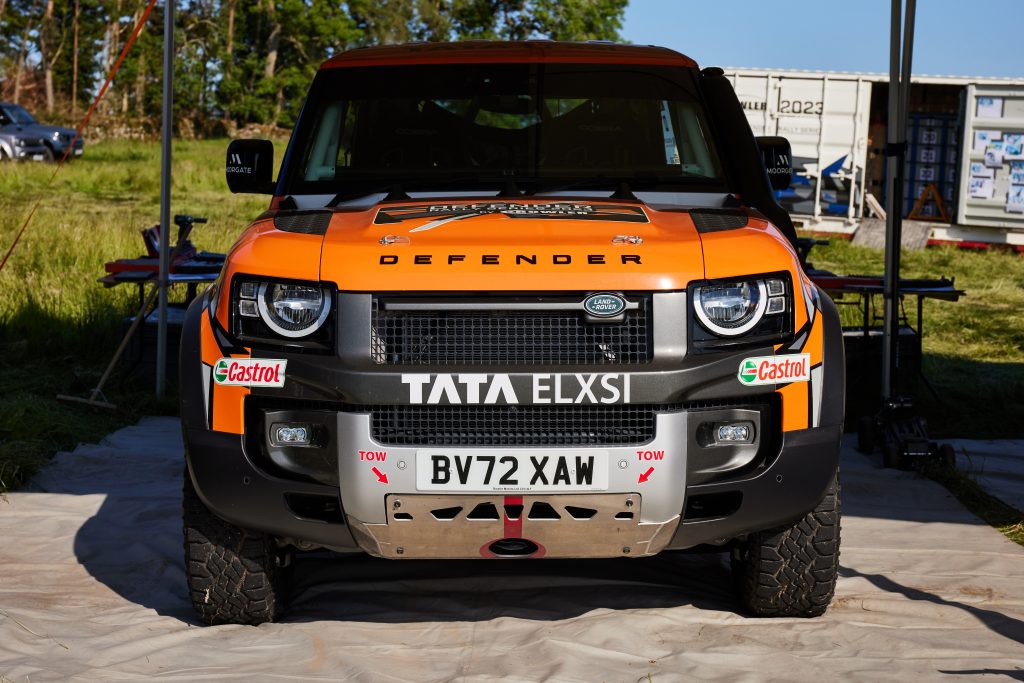 As a car created to take part in the one-make Bowler Defender Challenge, it's the perfect companion for which to start an ascent up the off-road motor sport ladder towards Dakar – or for the gentleman driver who wants a sense of adventure and camaraderie that's often absent from circuit racing.
So, for £118,000, budding rally drivers can secure their car and a place in the seven-round championship with a fully supported Works team, race technician and race engineer, as well as spare parts, logistics and catering all included. Think of it like a hairy-chested, off-road version of the one-make Ginetta GT Academy for circuit racing. That seems like an excellent deal, especially when you can call such a fun and capable car your own.
For more information, click here.