Words: Nathan Chadwick | Photos: Artcurial/Peter Singhof
One of four Bugatti Type 57 Atalantes built with an original factory sunroof is to be put up for auction with Artcurial Motorcars at its annual Rétromobile sale, which takes place on February 3, 2023.
The car dates from 1936, and is one of just 33 examples to be made. Its first owner was Charles Olivero, a jeweller from Marseille, who used it to compete in events such the Rallye Monte-Carlo, Liège-Rome-Liège and Rallye des Alpes. He would drive the Bugatti for three years, and when he decided to buy a new car – a one-off Bugatti bodied by Gangloff – he used his Atalante to make the 1400km round trip to Colmar to see it in production most weekends, according to a history file produced for Bugatti Revue by one of its owners, Kees Jansen.
In 1939 the car passed to Léon Givon, director a chief pilot of the Marignane airport near Marseille, and was enjoyed as a daily driver – but by the time World War Two had ended, the car ended up in the care of Rudi Cloos, an industrialist from Luxembourg.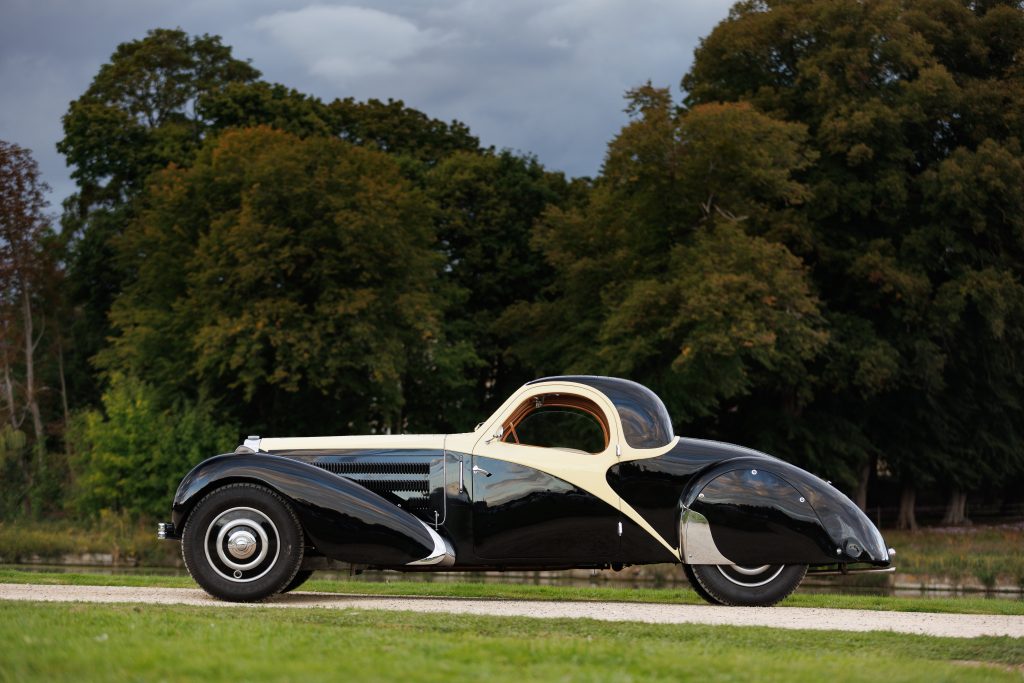 In 1950, the Bugatti was acquired by a Belgian Bugatti collector and architect by the name of Albert de Lay. De Lay moved to the Congo in the early 1960s to work on several government construction projects. He brought his beloved Bugatti with him, and would use it on a regular basis. During this time he began to encounter engine troubles. Local mechanics couldn't solve the issues, so it was sent back to Molsheim for a rebuild. It duly was recomissioned, but de Lay still found the car hard to start.
Start it would need to, and sharply, because in 1960s the newly independent Congo fractured into civil war; by 1963 the prime minister had been executed and rebels had taken over the capital. More than 70 Belgians would lose their lives in the violence, so when the rebels entered the street in which de Lay and his wife lived, they chose to flee. It was a choice between a brand-new MGB and the Bugatti, and despite all the issues with the car starting, it fired up immediately – Albert, his wife and his dog escaped to Zambia at a speed of 140km/h. However, he had lost everything apart from the Atalante, and on his return to Belgium the car was sold back to Rudi Cloos to provide funds for Albert to get back on his feet.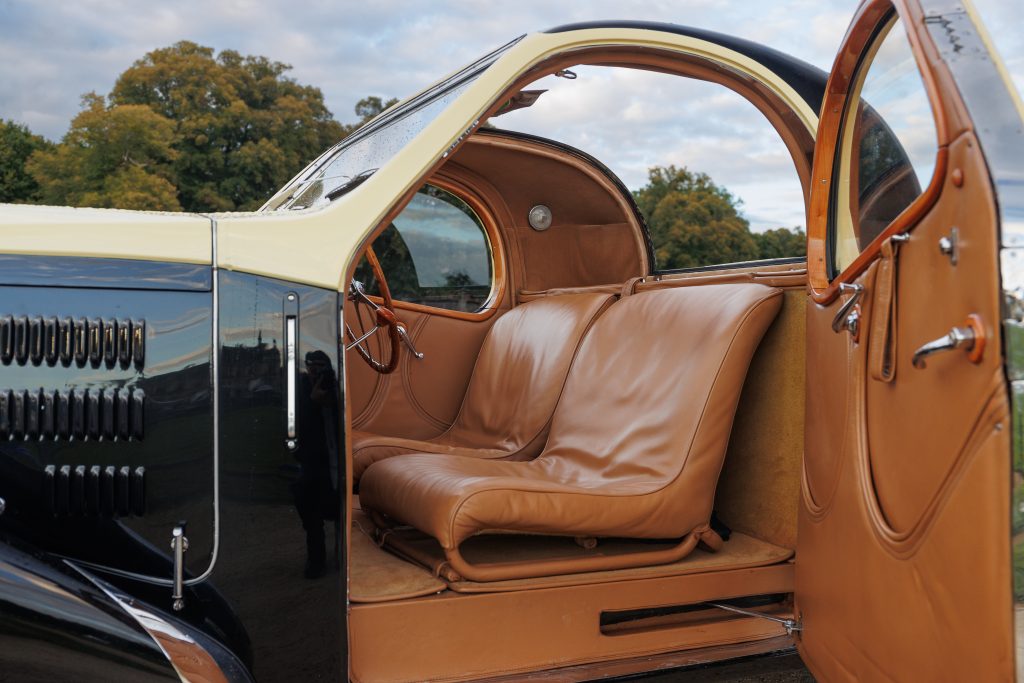 Cloos would keep the car until 1973, when he sold it to Gaston Greven, the owner of a nightclub called Bugatti Royale. Cloos part-exchanged the Atalante for Greven's Jaguar to avoid a long waiting list. Greven would compete in rallies with the car, fixing a gearbox problem along the way. On one such rally, he met a secondhand car dealer by the name of Lucien Mette, who asked him whether he could buy the car. According to Jansen: "Gaston jokingly replied: 'I am married to my wife Addy and not to the Bugatti' and quoted – in his view – an exceptionally high price, expecting Mette to drop the case. Gaston asked 1.2 million Belgian francs for the car. However, the next day Lucien stood in front of his hotel door with the money, cash in hand. Lucien had two big and threatening accomplices flanking him. Immediately Gaston regretted having promised this, and wanted to withdraw. Lucien Mette, however, did not accept his withdrawal, and proclaimed: 'Sold is sold, and I have two witnesses here to confirm your statement.'"
Feeling threatened, Greven agreed to sell the car, something he immediately regretted. According to Jansen: "After the sale he went back to his hotel room filled with sorrow. He drank a full bottle of whisky and decided that he deserved a punishment: to quit smoking 'cold turkey'. He has never lit up a cigarette again!"
Mette was acting on behalf of Maurice Teisserenc, who took stewardship in 1974, and was restored by Colin Crabbe in the 1980s. It was up for sale again in 1988, and was bought by Bernard Merian, who – according to Jansen's history notes – made his fortune selling his erotic-telephone line business. He commissioned a full restoration with engine duties by Pailler, the body by Jean Claude Tisserand and the mechanics by Bernard Afchain, and it was subsequently put on display at the Musée de l' Automobiliste in Mougin.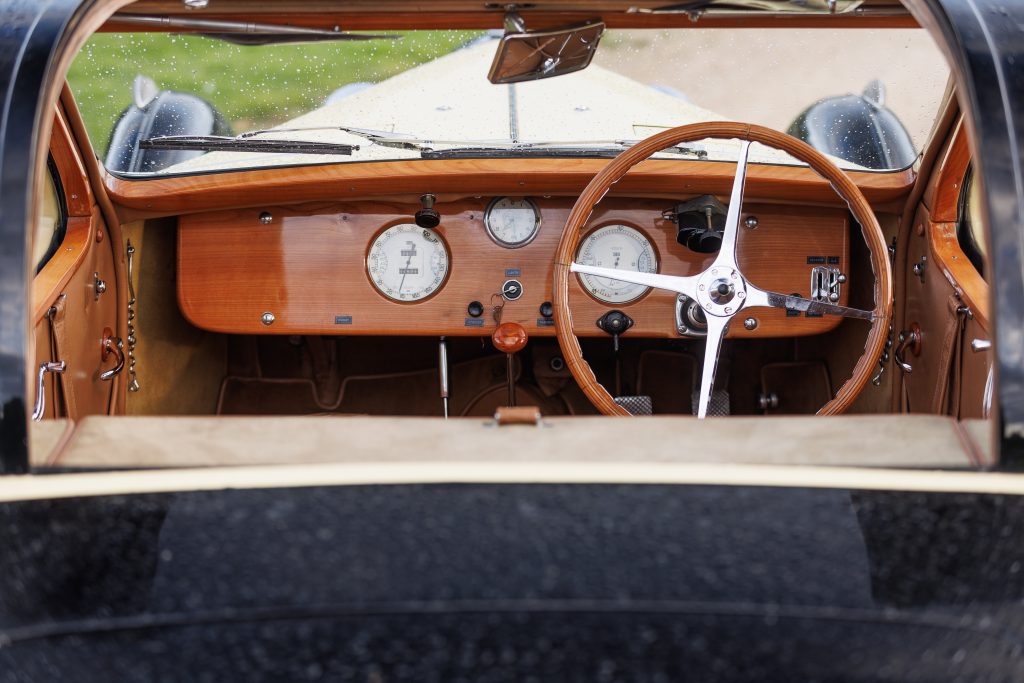 It was later bought at auction by Victor Müller, who displayed the car at Pebble Beach, the Goodwood Festival of Speed and Villa d'Este. It was sold again, to Kees Jansen, in 2003, who has continued to show the car and found the fault that caused the starting problems for Albert de Lay. According to Jansen, "This was due to the suppressors of electromagnetic interference on the ignition cables, which had become obligatory in the 1950s, and were still on in 2003."
The current owner has covered many miles in the car on various rallies and events. Artcurial has placed an estimate of between €2m and €3m on the Bugatti, and it will be put up for sale at its Retromobile sale. More details can be found here.