Words: Nathan Chadwick | Photos: Bonhams/Broad Arrow/Gooding & Co/RM Sotheby's
With the shifting sands of auction demographics apparent during the Scottsdale sales, and again during Rétromobile week, could the power of 1980s and '90s icons be a theme of the Amelia auctions in just a few weeks' time?
We've already brought you a few previews so far, but this week we're focusing on the RADwood-era cars. Although these largely aren't the big-hitters at the highest point of the auction-value pyramid, over recent years record results for models such as the Lancia Delta HF Integrale Evo and the Toyota Supra MkIV have caused inter-generational strife on discussion boards, Twitter threads and, ultimately, much of the classic car internet bandwidth.
As we look in at Amelia, could we see some special results coming through from the likes of Bonhams, Broad Arrow, Gooding & Co and RM Sotheby's? We've pulled out some of the more intriguing lots that are on the way – which ones will have you pulling for your paddle come Amelia week?
Bonhams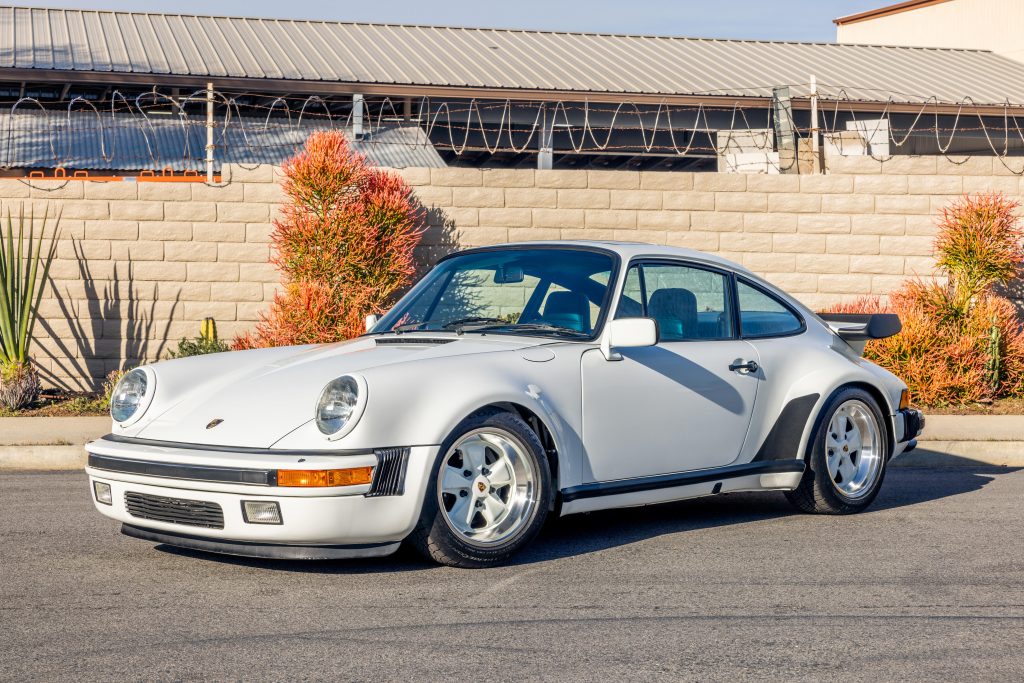 The Amelia week has a vast selection of ultra-rare Porsche 911 variants from the modern-classic era to choose from: Flatnose, Carrera RS and GT3 RS models, a 964 Turbo 3.6; you name it, one of the auction houses will have at least one example. Gooding even has a big collection of Rufs, which we've brought you more details of here.
However, this lot from Bonhams raises the eyebrows due to the attentions of legendary tuner Andial. Formed in 1975 by three German entrepreneurs living in California, the workshop became synonymous with US Porsche racing in the 1970s and '80s, even producing engines for the Porsche's privateer Group C racing machines.
The company also tuned road cars, which is where this 1982 930 Turbo comes in. It was treated to Andial's 3.5-litre 'Stroker' specification, which included a new Andial crank, pulley, pistons and cylinders. Carrera camshafts were also installed and the cylinder heads were machined and ported to 36mm with angle-cut valve seats. All-new rocker shafts and arms, bearings, guides and head studs were fitted, along with an upgraded oil pump while the build was being performed. A twin-plug distributor utilising dual coils and CD units, an Andial Sport intercooler and a k27/11 turbocharger finished off the engine tuning.
To contain the extra oomph, the gearbox was overhauled and fitted with a custom gear-set, an 8:39 ring and pinion, and all new thrust bearings and synchros. The chassis was beefed up with bigger anti-roll bars, and the suspension was dropped to the European ride height and corner weighted. A Ruf front splitter was fitted to cover the new oversized oil cooler, while the interior was treated to an Andial boost gauge in place of the clock, a VDO boost gauge, voltage gauge and cylinder-head temperature gauge, and an Andial digital intercooler-telemetry gauge. Its current owner has looked after the car since 1992, and it's covered just 32,000 miles. It's estimated at between $130k and $170k.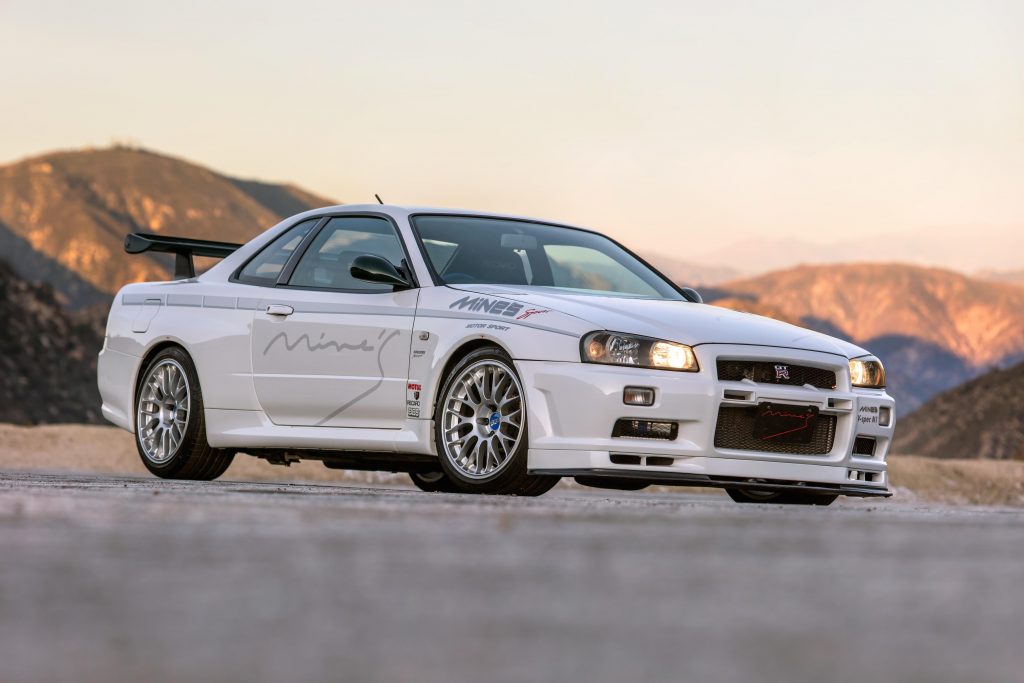 One of two Nissan Skyline GT-Rs that Bonhams has for sale, this is the one we're tipping for something special. Not only is the 1999 example one of just 56 R34 V-Spec N1 models ever built, but it is USA NHTSA Show or Display eligible.
The N1 models were built as a homologation special for the Super Taikyu N1 racing series, and as such are the lightest and most powerful production R34s created, albeit in tiny numbers. Just 56 are believed to have been sold to the public, with such engine modifications as a stronger N1 engine block, forged engine internals, higher-flowing factory-ported N1 exhaust manifolds and larger R34 N1 turbos. The water pump is bespoke to the N1 model, while a higher-pressure N1-specific oil pump feeds an N1-specific cooler located behind the passenger-side front bumper; however, this example features a secondary oil cooler on the driver's side, along with an extended Mine's 8.0-liter baffled sump and Reimax pump.
Most interior luxuries were stripped out in the name of weight saving and lowering the car's centre of gravity, although this car's first owner opted to retain the air-conditioning. It features lightweight N1-specific rear glass, no rear wiper and no rear foglight, while the brake discs were upgraded over the standard car's. All N1s were finished in single-stage QM1 White, although this example has been carefully built as a part-for-part recreation of, and tribute to, the Mine's Motorsport N1 demo car.
That process began in 2016, after the Skyline was imported from Japan. The owner went to the Mine's factory on a research trip, beginning a six-year development of the car. Many out-of-production parts were sourced and assembled – notable items include an era-correct Mine's Stage II complete engine and drivetrain, Mine's carbonfibre aero package, Mine's BBS magnesium wheels and a limited-production titanium strut-tower bar.
The engine has been dyno tuned to 650bhp on 100-octane fuel, but if the next owner wants to return the car to standard specification, the original 24U numbers-matching N1 long block, N1 turbos, carbonfibre rear diffuser, bonnet, front bumper, rear wing, seats, steering wheel, shift knob, strut-tower brace, air-inlet duct, speedometer, spare tyre, service booklet, warranty booklet, N1 ECU for the vehicle and Mine's-tuned ECU for the installed engine are all included. The paint is largely all original, as are the body parts; while the front bumper, GT-R V-spec II carbonfibre bonnet and rear wing are not authentic to the vehicle, the original parts are included with the sale. It's estimated at between $400k and $500k.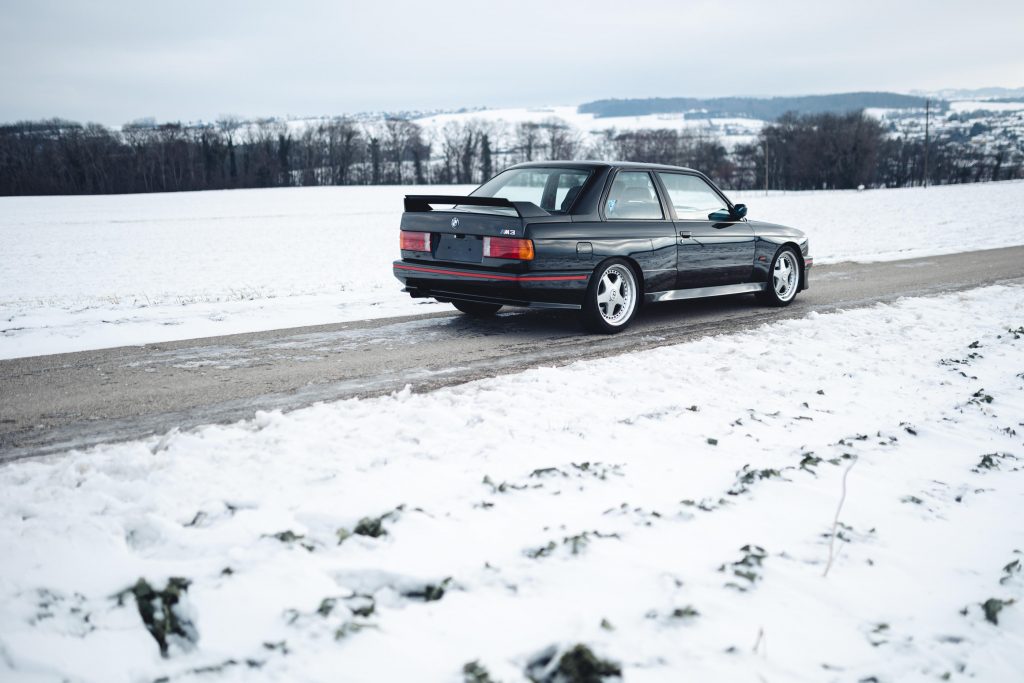 The BMW M3 E30 has been the poster child of the RADwood era, alongside the Lancia Delta HF Integrale, with significant price rises. The homologation specials have the weight of motor sport success on their side, brought to life by computer games that help foster their legends in the US, even if they weren't widely available there back in the day.
This particular E30 M3 is rather more special than most, because it represents the ultimate version of the breed – the Sport Evolution. The engine was bored and stroked to 2.5 litres over the standard 2.3, with further refinements including larger intake valves, sodium-filled exhaust valves, a revised exhaust header, more aggressive camshaft profiles and additional oil nozzles for improved piston cooling. This meant a dizzying 235bhp at 7000rpm. The suspension was thoroughly upgraded, too, with revised spring and ampler rater, anti-roll bars and a wider track.
This car is the 90th of 600 built, and is one of four sold new in Switzerland. It was specified with a sunroof, rear sunshade, leather, M-branded leather Recaro seats and air-conditioning (the latter now removed). It's been treated to careful upgrades such as a front strut-tower brace, braided stainless-steel brake lines and adjustable Eibach dampers. Having covered 78,000km, it's estimated at between $200k and $300k.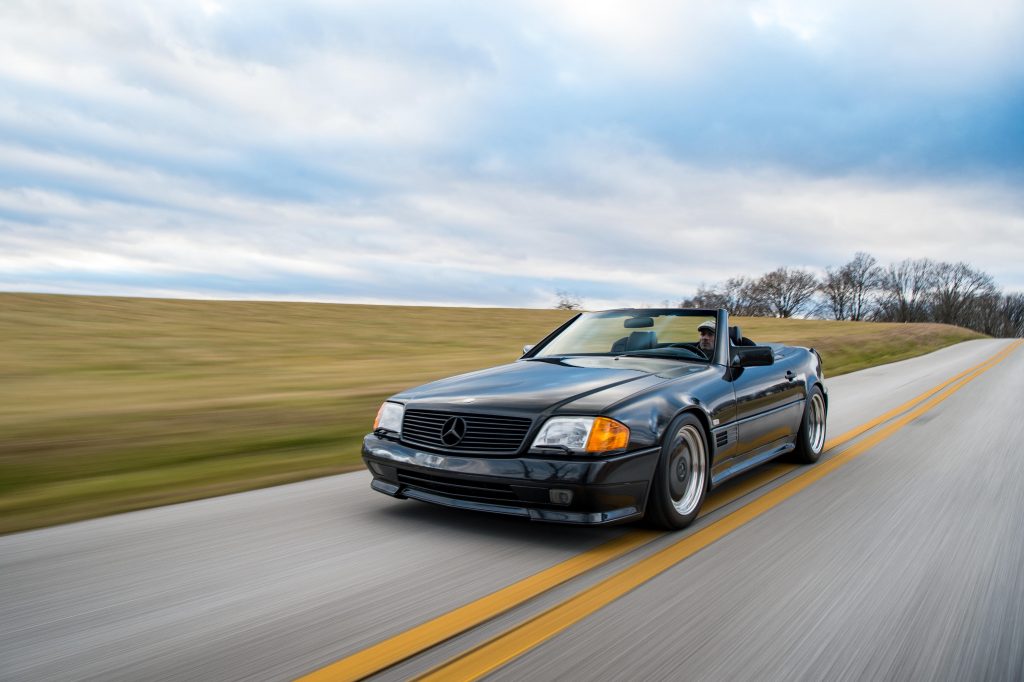 This R129 Mercedes-Benz SL is from the era before AMG had become fully ensconced within the Mercedes-Benz firmament, dating from 1990. As such, it was built using a German-market car at AMG's HQ, rather than converted by an AMG distributor. The original commission came from a Japanese businessman, who ordered the fitment of a 381bhp 6.0-litre AMG V8.
It left Japan in 2012, living in Canada for three years before moving to the US. The current owner bought the car four years ago, and restored it to 'as-delivered' condition with OZ/AMG Aero II wheels, complete pre-merger AMG bodykit (all with proper 'HWA' part numbers), correct pre-merger square-tip exhaust and more besides. It's estimated at between $130k and $160k.
Broad Arrow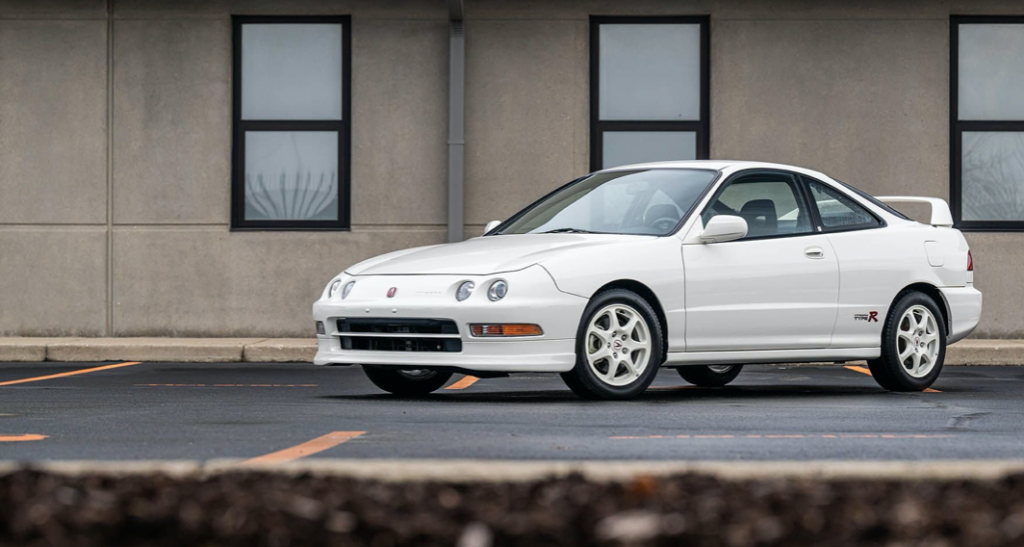 Broad Arrow has by far the biggest and most varied range of RADwood-era cars at The Amelia, from a Ford RS200 S to a Porsche 964 Turbo 3.6. However, its selection of Japanese modern classics might provide the biggest barometer of the year so far on what the shifting sands of classic ownership have in mind. We begin with a car that pretty much set the internet alight a few years ago with an eye-popping result for a US model – the Honda Integra Type R DC2.
At the time, the hoo-ha was for Barrett-Jackson's 2019 result of $63,800, but last year one sold for $112k via BringATrailer. This particular example is one of just 320 built for the US, and has covered 6200 miles; it's done only 30 in the past three years. That's a shame, because this car really comes alive at the 8400rpm red line. It's estimated at between $90k and $120k.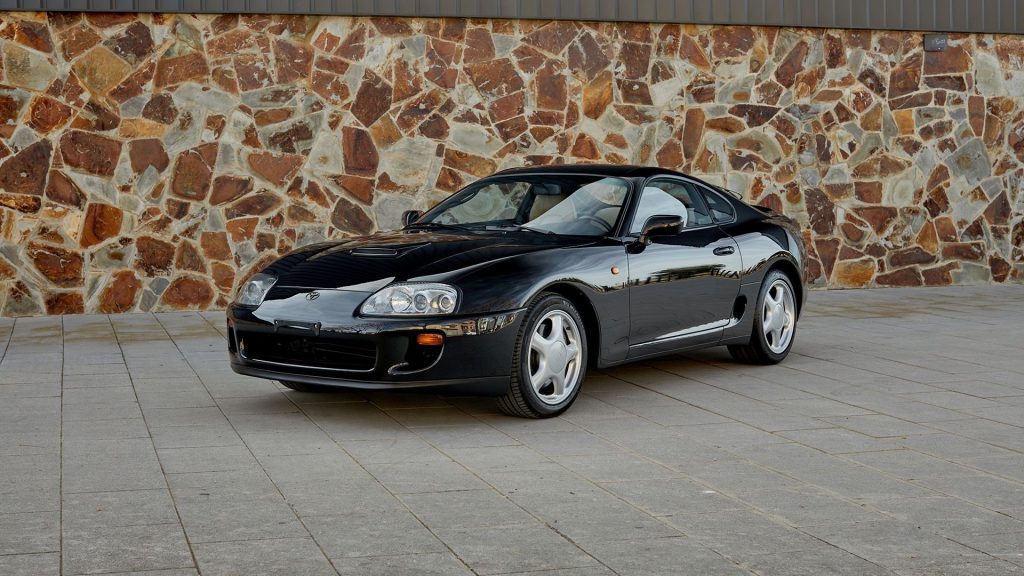 Another car to stir the inter-generational bile is the Toyota Supra MkIV – and Broad Arrow is offering a particularly niche variant; note the lack of rear wing.
This example, built in 1995, is one of just 12 delivered to Spain. It was built to Southern Europe specification, which meant a higher level of standard kit than for other countries. This included a limited-slip differential with a differential-cooling system, a hood scoop directing air onto the exhaust manifold, driver and passenger airbags, leather seats, chip-resistant glass headlights and 17in wheels to fit larger, four-piston brakes as standard. It was also delivered with option 035I – no rear wing – and this, alongside the specification of Astral Black over Ivory leather, plus a manual gearbox, is believed to make this car, chassis 27190, unique. The model was acquired by the vendor in 2022, and treated to a bare-metal respray in Astral Black.
While this car features the desirable manual gearbox, will the lack of signature rear wing hold it back? Having covered 32,157km, it's estimated at between $175k and $225k.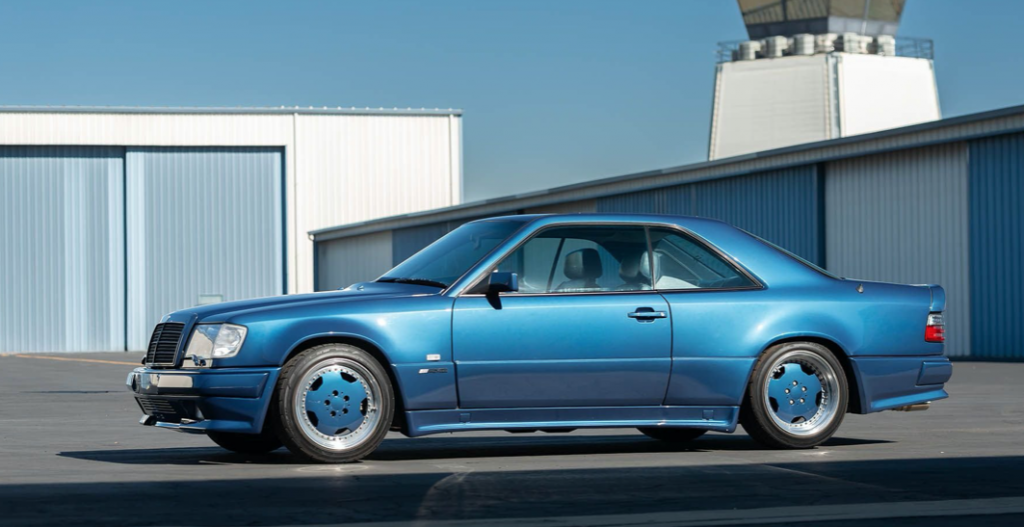 One of two AMG W124s in Broad Arrow's sale (we brought you details on the other one here), this particular car is believed to be AMG Japan's show car, and is one of very few of its type to bear an official AMG chassis number. The base 1991 300CE's straight-six was junked and replaced with the M119 V8 found in the 500SL and 500E, and given the AMG treatment, most notably, being bored out to 6.0 litres for 375bhp. The rear suspension was upgraded to cope with the extra power, along with the fitment of a Torsen limited-slip differential. Its aesthetics were honed with wider bodywork to house OZ AMG Aero III 17in alloy wheels, while the interior was treated to custom leather work throughout. It's covered 36,701km and was brought to the US in 2022. It's estimated at between $750k and $850k.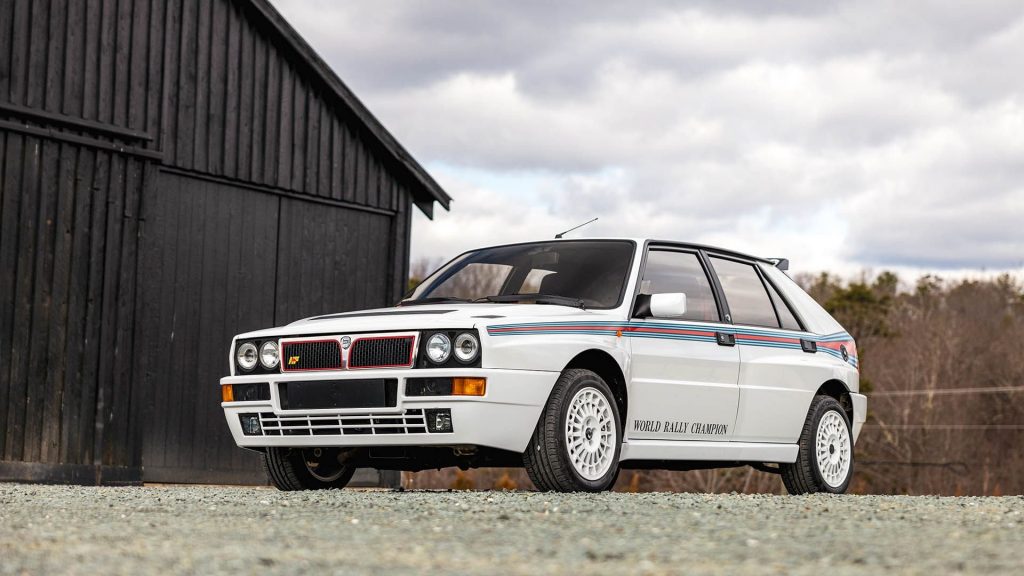 As mentioned above, one of the stars of the modern-classic era, in terms of pricing, is the Lancia Delta HF Integrale – in particular the Evolution models. Special-edition versions, specifically the Finale model, have shot past the $200,000 mark, with each of the many special editions across the two Evolution eras drawing significant collector interest.
One of such special edition is the Martini 5, built to celebrate five consecutive manufacturers' titles in the World Rally Championship for the Martini-Lancia rally team. Just 400 were built, with white paint, Martini livery, a black spoiler and bonnet vents, plus white wheels. Inside, the high-back Recaro seats were finished in black Alcantara with red stitching, which matched the red seatbelts.
This particular car is number 131, and has recently been treated to an engine tuning and gearshift update at Delta specialist Karlhofer in Germany prior to its importation to the US. Showing just 2500km on the clock, it's estimated at between $200k and $250k.
Gooding & Co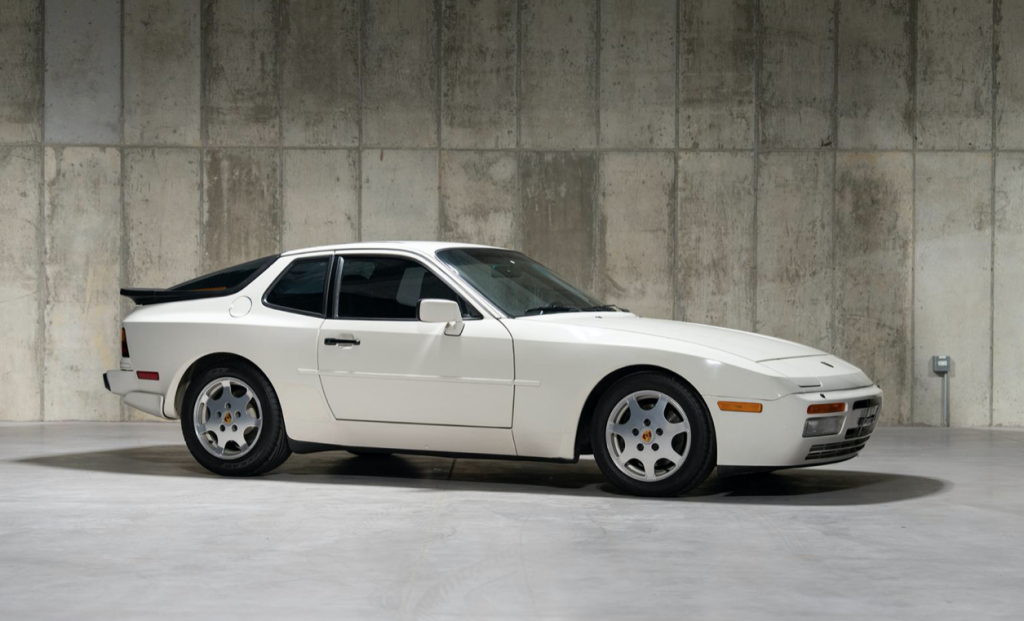 Gooding & Co has a vast selection of special Porsches – in addition to the aforementioned Rufs, you can find a 993 Carrera RS and a 964 Turbo 3.6. However, we've singled out this 944 Turbo – not only is the model a RADwood icon (arguably more than a 911?), but this particular 944 Turbo is rather special.
This 22,000-mile 1989 example comes from the last year of production, and as such features the upgrades from the previous year's Turbo S as standard; this includes a 250bhp engine, a reinforced five-speed transaxle with oil cooler and a 40 percent locking limited-slip differential. One of 1385 cars built for the US in 1989, it was fitted with the M030 sport-suspension package, electric sunroof and a Blaupunkt stereo system with equaliser. Offered at no reserve, it's estimated as between $65k and $85k.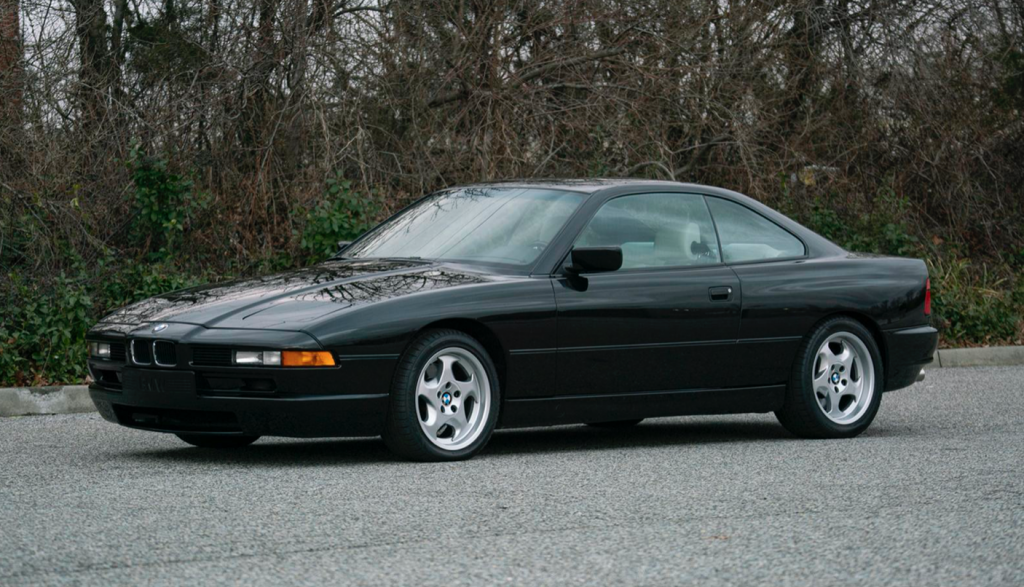 A new record was set for a BMW 850 CSI late last year, with RM Sotheby's taking €263,750 at its Munich sale. That, however, was a pre-production car that had covered fewer than 9000km. The most recent 850 CSI to breach the $200k mark was again a special car; a one-of-one display model for North America that sold via RM at Amelia Island last year.
This particular car could provide a more reliable test of where the market is for this model, the closest we got to an 'M8', other than the prototype – it has an M-tuned, S-designation V12. One of only 255 850 CSIs built for the US, it has covered fewer than 37,000 miles over its 29 years and three owners. Offered at no reserve, it's estimated at between $125k and $150k.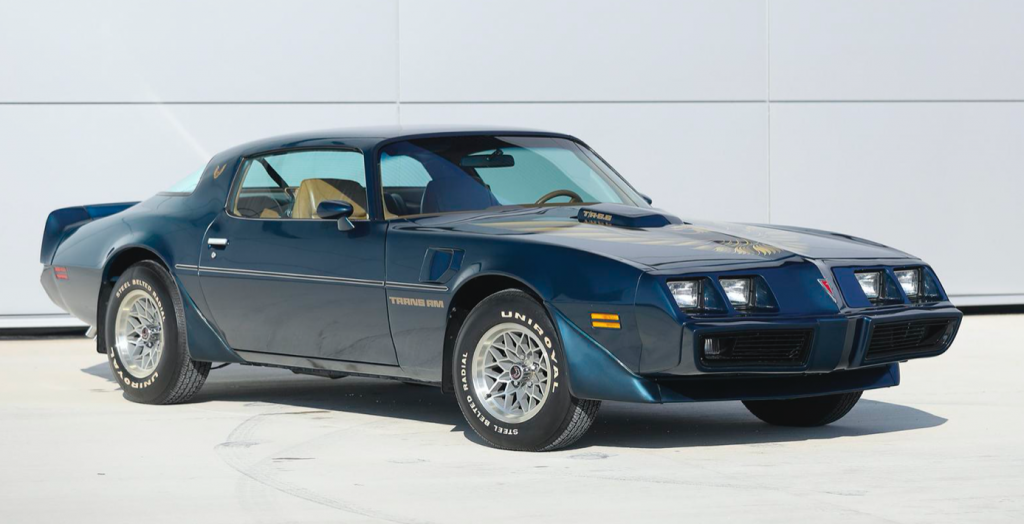 Of course, there's more to RADwood than European metal, and there's an affection for the US metal of the era. One of the more fascinating lots in Gooding & Co's sale is this 1979 Pontiac Firebird Trans Am. It was specified with the W72 big-block 400ci V8 and Borg-Warner T10 four-speed manual gearbox, along with the WS6 handling package, which comprised sportier springs and dampers, along with a constant-ratio steering box and larger rear anti-roll bar. It's covered just 41 miles, and is estimated at between $75k and $125k.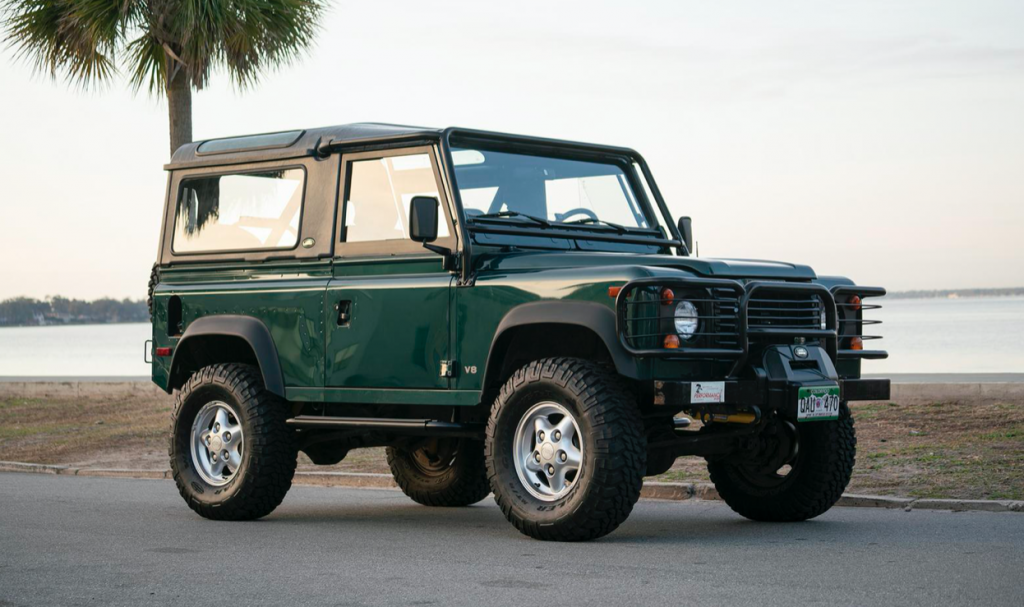 It's two years since Gooding & Co achieved $165,200 for a similar NAS Land Rover Defender; arguably the most coveted and collectable among the Defenders available to US buyers. The NAS 90 featured an aluminium body, short wheelbase, solid-axle drivetrain and, critically, for the final year of US production, an upgraded 4.0-litre V8 and ZF four-speed automatic gearbox. This particular example has been fitted with a front winch, brush bar, running boards, rear lamp guards and trailer hitch. Subsequent upgrades include an alarm system, dealer-installed removable hardtop, performance catalytic converter and suspension lift. Offered without reserve, it's estimated at between $80k and $110k.
RM Sotheby's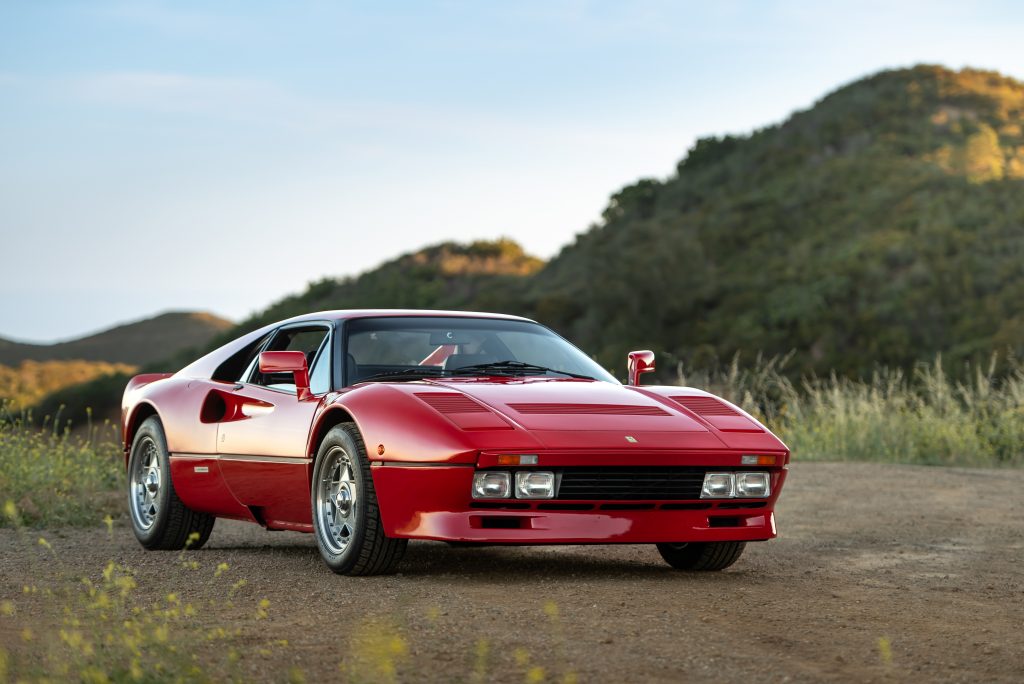 RM Sotheby's has largely gone super high-end for its modern classic collection, with heavy-hitting Ferraris mixing it with Porsches and Lamborghinis. Given the clamour for F40s this year, it's unsurprising to see one in the lot list, but our eyes are drawn to the much rarer 288GTO you see above.
This particular example is a US-market car, first delivered to Lake Forest Sports Cars in June 1985 and optioned with red seat inserts, air-conditioning and electric windows by its first owner, Donald Schaff. Chassis 56773, one of 272 288GTOs built, would cover 3388km in three years before being sold to Cavallino Imports of Dixie Hills, New York. The next owner was Dennis Farrey of Dani Investments in San Carlos, California in 1996. He kept the car for four years, selling it to the current owner in 2000. The model was Ferrari Classiche certified in 2022, and has covered 7989km. It's estimated at between $4m and $4.5m.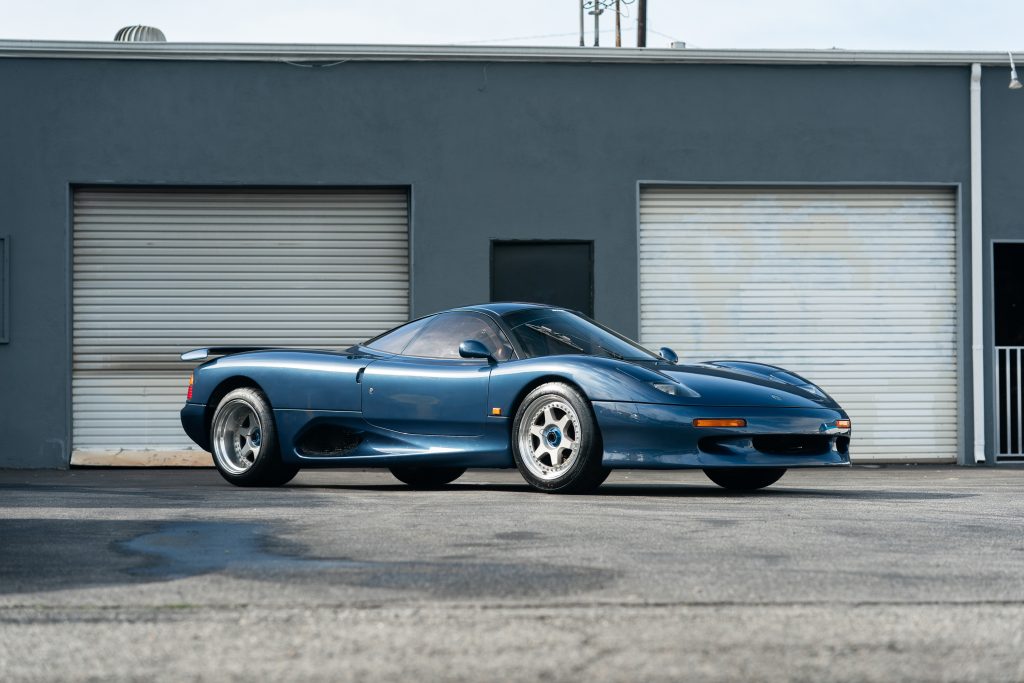 The Jaguar XJR-15 was the first road-going car to use carbonfibre in the construction of its body and tub, which housed a 450bhp naturally aspirated V12 derived from the XJR-9 and XJR-12 sports prototypes. A mere 53 were built, and this one is one of just 27 built to road specification, among 53 in total. Chassis 042 was delivered new to an Asian collector in July 1991. It stayed with them on static display for the best part of two decades, covering 153 miles in the process, until it was shipped to the US in late 2022. It has not been started, driven or been seen in public since it left the UK in 1991, according to RM Sotheby's, and needs a mechanical service before being pressed into service. Several spares have been accumulated before the sale, including an OEM fuel bladder and fuel pumps from model specialist Don Law Racing. It's estimated at between $1.2m and $1.5m.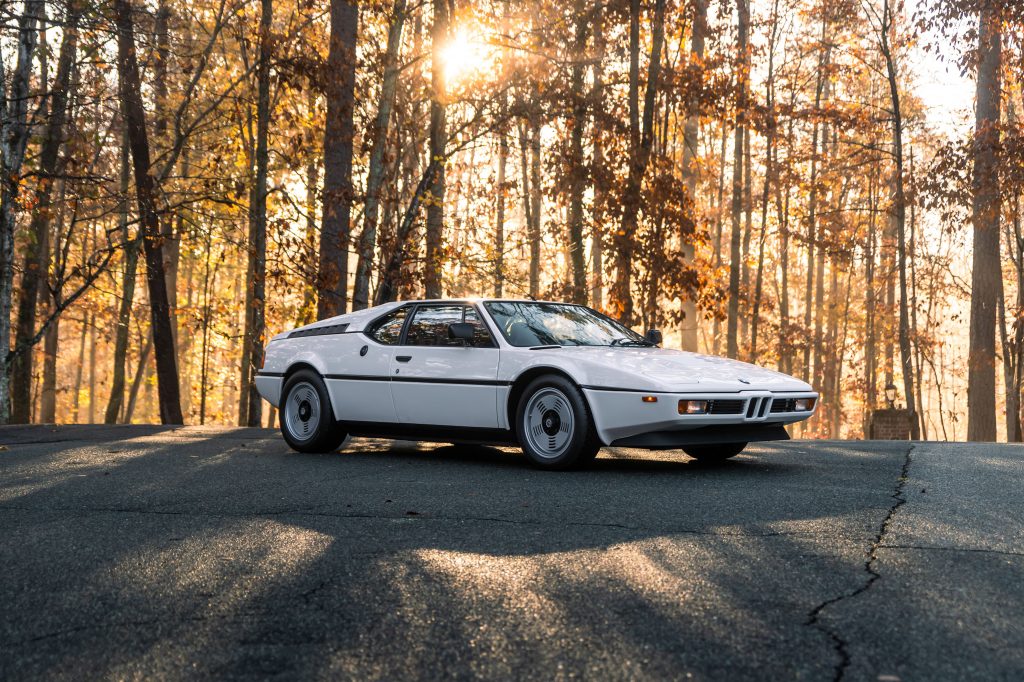 Just 339 road-going BMW M1s were ever built, and very few made it to the US. This particular example was delivered new to the Bay Area in California, and remained in single-family ownership until 2019. Originally blue, it was finished in white during this time. In 2017, Canepa refreshed the wiring harness, alternator, fuel system, suspension bushings and brakes, while the interior received new carpets and original-equipment cloth seat inserts. The BMW returned to Canepa in 2019 for further work, which saw attention paid to the exhaust system. Additional effort went into refinishing the wheels, fitting new tyres, tuning the engine, installing new coolant hoses, an air-conditioning service and a change of all fluids. The M1 is estimated at between $550k and $750k.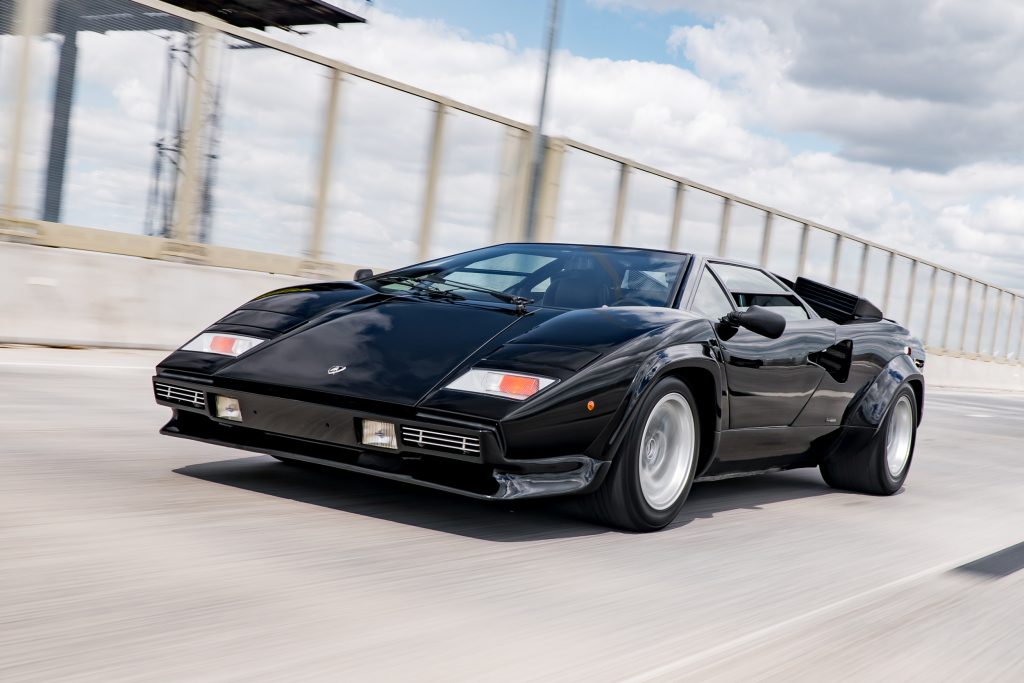 This 1983 Lamborghini Countach 5000 S is one of just 321 built and only 38 delivered to the US. It's notable for being one of just two originally finished in Blue Acapulco over Champagne leather trim, although it is now finished in black over black. Its first owner is believed to have been Walter Payton of the Chicago Bears; it's thought the Lamborghini was gifted to him by sponsor KangaROOS upon setting the NFL all-time record for career rushing yards in 1984.
In later life, the car was sold to Texas before being exported to Europe in the 1990s. Around ten years ago it was fully restored in Germany with a complete engine rebuild and repaint in black, while the US-specified side reflectors were filled in for a European-spec appearance. More recently, the engine and gearbox were serviced by Lamborghini of Copenhagen in Denmark, before the car was imported back to the US in August 2022. It was then a featured RADwood Royalty car at the RADwood show during the Detroit Concours. It's estimated at between $625k and $675k.
Further details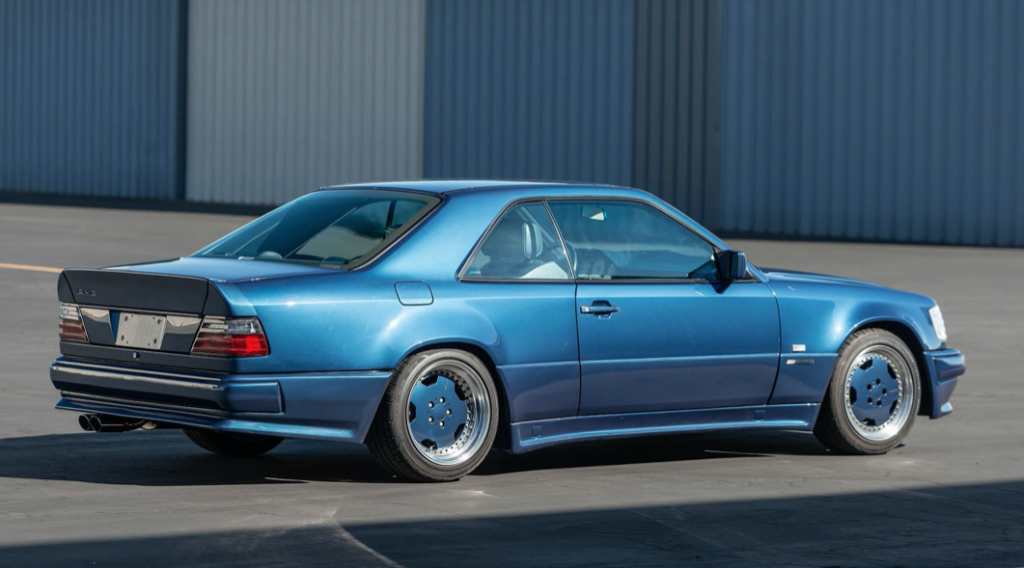 Bonhams: March 2, Fernandina Beach Golf Club. More details here.
Broad Arrow: March 4, Ritz-Carlton. More details here.
Gooding & Co: March 2-3, Racquet Park. More details here.
RM Sotheby's: March 4, 4171 Amelia Island Parkway. More details here.