Words: Nathan Chadwick | Photos: Gooding & Co
A four-strong collection of Ruf automobiles is to be put up for grabs by Gooding & Company at its Amelia Island auction next year.
The four-strong collection offers rarities in the already singular world of Ruf. The one-owner collection consists of a 1998 Ruf Turbo R, a 1998 Ruf Turbo R Cabriolet, a 1997 Ruf BTR2 and a 2007 Ruf RK Coupé. "In recent years, collectors have begun to recognise the significance of the Ruf marque, particularly the W09-serial numbered cars built in-house in Pfaffenhausen," said David Brynan, Gooding & Company senior specialist. "Not only are these cars extremely rare, but they also exemplify the exceptional attention to detail and engineering excellence that have become synonymous with Ruf."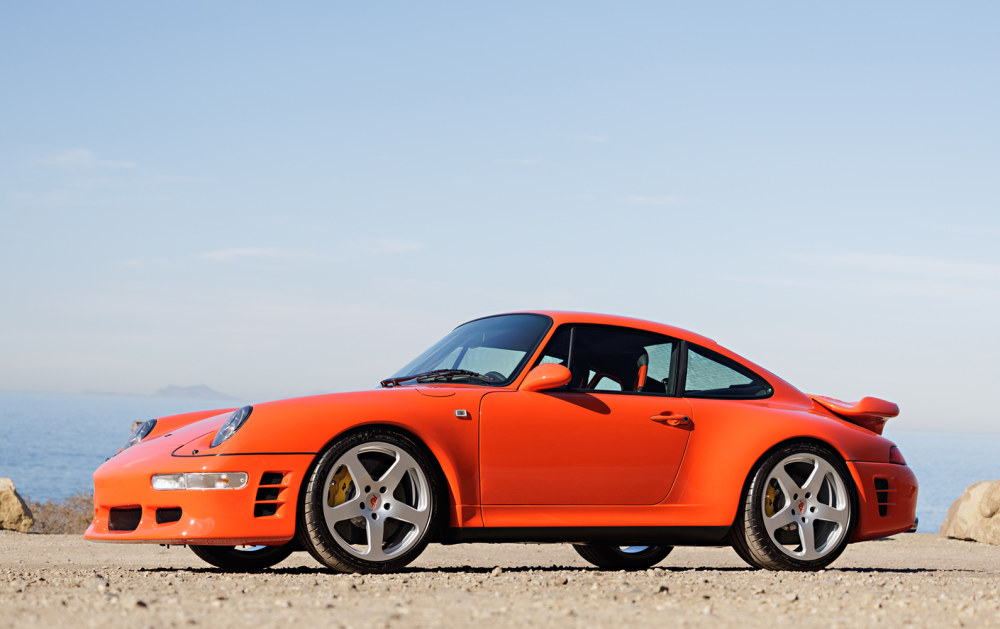 Based on the 993-era Porsche 911 Turbo, the Ruf Turbo R saw the base car's power boosted to 490bhp and 650Nm, delivered to thread via a computer-controlled all-wheel-drive system and a six-speed manual gearbox. The suspension was tweaked with firmer springs and chunkier anti-roll bars, while the brakes were replaced with Ruf-spec items. The result was a car that could hit 0-62mph in just 3.6 seconds and 124mph around nine seconds later. This particular Ruf Turbo R, one of just 15 built, was originally sold to Heinz-Jürgen Hartmann of Reiskirchen, Germany, in 1998. It spent some time in Sweden before passing to its third owner, who took it back to Ruf for "extensive refreshening".
These works included upgrading the car to the Turbo R Limited specification of 2016, which featured the latest Ruf advancements in technology. The result was around 560bhp fed to the road via Bilstein PSS10 adjustable coilover suspension and kept in check by carbon-ceramic brakes. Aesthetically, the original 18in alloy wheels were replaced with 19in Ruf items, while the front and rear bumpers were replaced with CTR2-specification items with extra venting slats. It's covered 13,800 miles.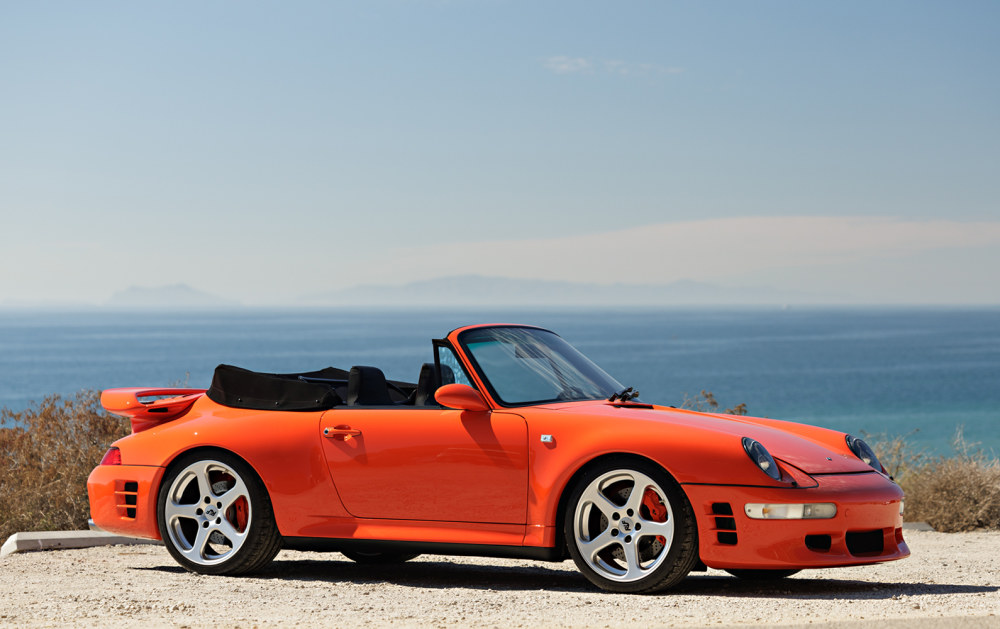 Of the 15 Ruf Turbo Rs built, just one was produced as a Cabriolet – and here it is. Built for regular Ruf patron Colonel Mark Haselton of Alpharetta, Georgia, it featured the same original 490bhp-specification engine as the tiptop version seen above. It's been further modified with a Ruf front facia with vents ahead of the front wheels, 18in Ruf alloy wheels, aerodynamic mirrors, sports seats and a Ruf steering wheel, as well as Ruf VDO instrumentation. Its second owner was Porsche and Ruf collector Brent Martini, who displayed it at the Petersen Automotive Museum in 2021. Now on its third owner, it's covered 10,223 miles.
The BTR2 was the successor to RUF's first production car, and based on the 993-generation Porsche 911 – bringing turbocharging to the 993 two years before Porsche itself. Based on the Carrera, it was only available with rear-wheel drive, narrow bodywork and a single-turbo set-up that produced 414bhp at 5000rpm. The turbo itself ran 11.6psi of boost and an intercooler, while Ruf reworked the camshafts, plus added an auxiliary oil-cooler and a new exhaust system. The compression ratio was lowered to 8.4:1, and a Bosch Motronic engine-management system was deployed to keep everything in check. It also featured stiffer, 30mm-lower suspension, stiffer anti-roll bars, a limited-slip differential and larger brakes, as well aesthetic changes, such a fixed whale-tail rear wing. The result was a car that could blast from 0-62mph in 4.1 seconds.
This particular model is chassis number 001 of ten BTR2s built, and was originally delivered to Japan in 1998. It then spent a short time in the UK before ending up in the stewardship of Andy Cohen of Beverly Hills, California. Cohen was the founder of the Beverly Hills Motoring Accessories company, and had Ruf convert the car to US specification and perform an engine service. It's since had one other owner before joining the vendor's collection. It's covered a smidge under 26,000 miles.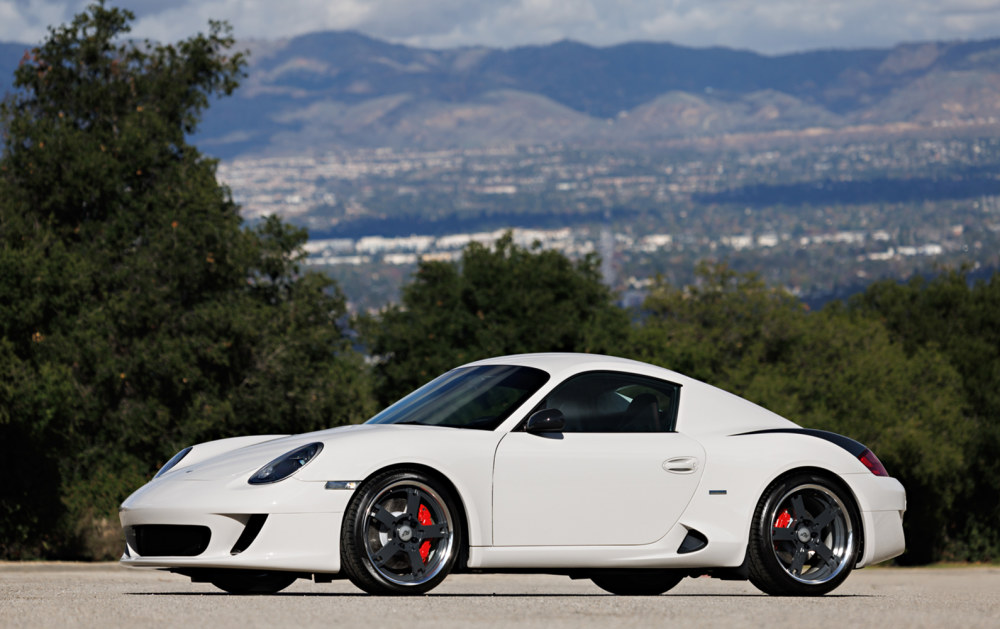 For the 2007 RK Coupé, Ruf teamed up with Italian design house Studiotorino – the only time the former has used an external coachbuilder. The car uses a Cayman as its base, but with a 3.8-litre flat-six engine from a 997-era 911 providing the motive power. The engine was supercharged to produce 434bhp at 7000rpm and 470Nm of torque at 5500rpm, to provide a 0-62mph time of 4.5 seconds. Studiotorino adapted the bodywork with redesigned nose and hindquarter sections, integrated door latches, forged-aluminium exhaust and filler cap, redesigned roofline that removed the rear-quarter hatch, new rear hatch to replace the sloping back glass with a smaller upright piece and 'flying buttresses' that aped the existing pillars. The plan was for 49 coupés and 49 spyders, but just two coupés were ever made – one still resides in the Studiotorino museum in Italy, and then there's this one.
Bought by the vendor from its first and only German owner, it's finished in Marmograu (similar to Heron or Dolphin grey) over black carbonfibre bucket seats. It's covered 6642 miles.
All four cars will be put up for sale by Gooding & Company at its Amelia Island sale between March 2 and March 3. No estimates have been released at the time of writing, but more details are available here.