Words: Nathan Chadwick | Photos: Bonhams, Broad Arrow, Gooding & Co, RM Sotheby's
The Amelia is less than a month away, and – as you'll probably expect – the auction houses are revealing ever-more tantalising, special and alluring destinations for your hard-earned cash as we get closer to the week surrounding the concours d'elegance.
We've previewed the event itself here, including some of the auction highlights so far, but more cars have been added by Bonhams, Broad Arrow, Gooding & Co and RM Sotheby's since. Let's take a look at the latest four-wheeled reasons to worry your asset manager and immediate family.
Bonhams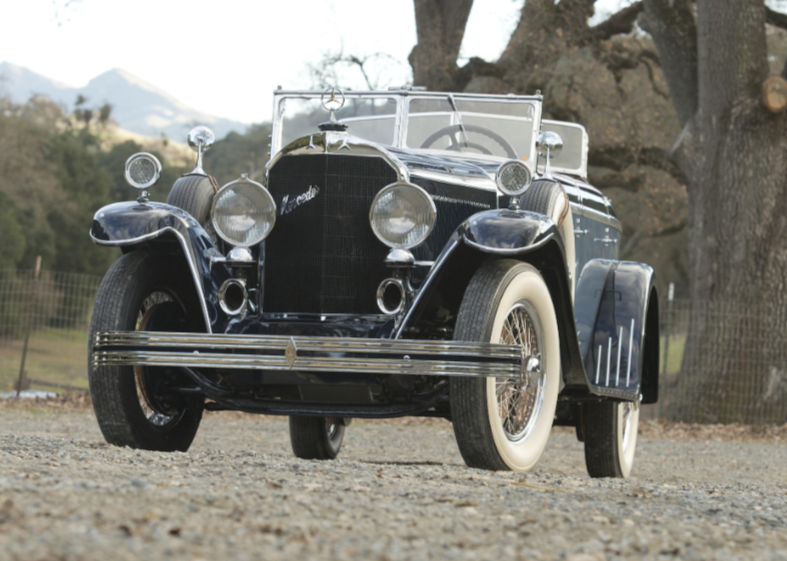 At the time of writing, Bonhams has 110 lots lined up. The auction house has a high proportion of pre-war cars on offer, perhaps buoyed by its recent success with the record-breaking Simplex from its Scottsdale sale (as mentioned here). One of the highlights is this 1928 Mercedes-Benz 630K, bodied by Saoutchik in La Baule Torpedo Transformable form.
Chassis 35813 is believed to have been ordered by a US client, because its known history begins in the midst of World War Two. It was one of two 630Ks owned by Pacific Auto Rentals, the supplier of automobiles to Hollywood film studios. Indeed, it appeared in the 1943 film Above Suspicion.
Its next owner was ML 'Bud' Cohn, a California businessman and foremost collector of Mercedes-Benz cars. It featured in a 1964 issue of the Mercedes-Benz Club of America magazine, which detailed his collection. In it, Cohn revealed he'd performed a complete frame-up restoration of the car. He also claimed the first owner was the "French ambassador", which Bonhams believes was Paul Claudel, the poet, dramatist and diplomat, who was the ambassador to the US from 1926 to 1933.
In the early 1970s the car entered the possession of the Craven Foundation of Ontario, which put it on display in a public museum in Toronto. In the early 1980s it entered the Blackhawk Collection of Danville, California, whereupon it was restored to its current aesthetic and displayed in the Blackhawk Museum for many years. It entered the Howard Fafard collection in 2016, and is now offered with an estimate of between $800k and $1m.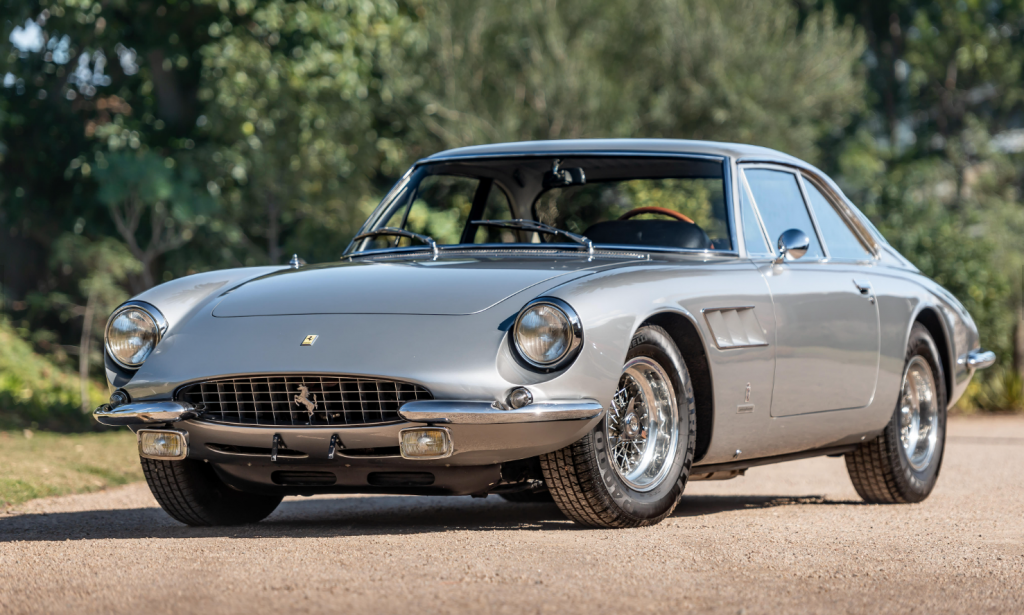 This 1966 Ferrari 500 Superfast Series 2 was originally sold to the US via Luigi Chinetti, and it is one of only 12 five-speed Series 2 models made. It's also believed to be the 36th and penultimate Superfast.
Chassis 8817 was originally bought by John R Winter of Napoleon, Ohio, but he would keep the car only until the early 1970s, when it passed to collector and auctioneer James C Leake of Muskogee, Oklahoma. It would change hands again in 1974 via a Christie's auction in Texas, calling Long Island home until 1979.
It then entered the collection of John Mozart of Palo Alto, having been repainted red. He kept it for 12 years, selling it via a Brooks auction in Monaco. Here, Nicholas Seydoux of France would take stewardship until the mid 1990s, when it was offered for sale via Germany. Its next buyer was Emilio Gnutti of Brescia, who repainted the car in its original silver-grey hue. After a short period in the Guikas collection in 2007, it entered the ownership of the current keeper. In 67 years the car has covered just 14,269 miles, and it is being offered with an estimate of between $1m and $2m.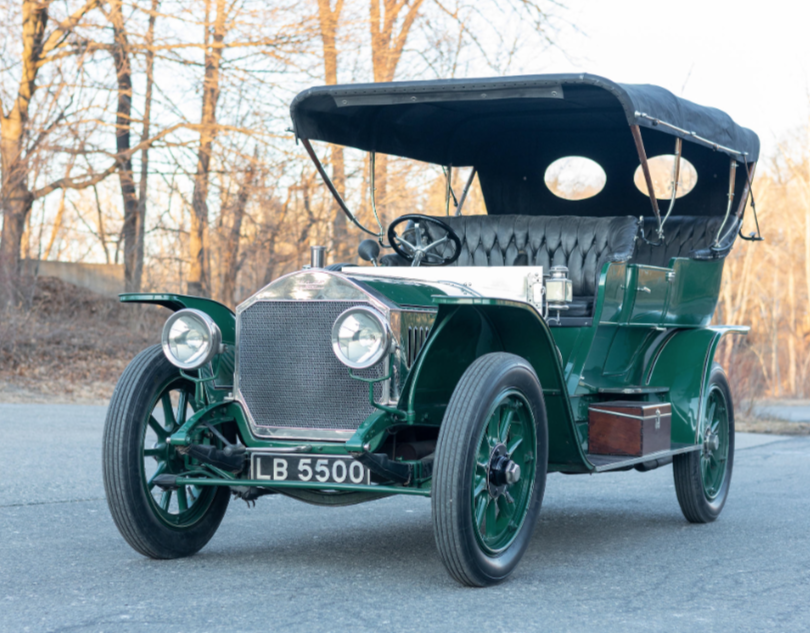 This 1908 Napier Type 23A 45HP Tourer – chassis 4134 – was sold to the US for use by Eben Jordan Junior of Boston, the son of the Jordan Marsh department store co-founder. He was a frequent Napier buyer who owned the firm's Boston showroom and garage facility, and he is believed to have financed Napier's US production facility in West Roxbury, Massachusetts.
The car stayed in the Jordan family for many years, before passing to the president of the VMCCA, Roderic M Blood, who loaned it back to the Jordans to display in the Napier store window. Blood is perhaps better known for his Packard collection, and upon his 1966 death, the cars were dispersed. The Napier entered the collection of the UK's Peter Black, where it stayed for around 30 years. It was sold in 2007, and during this time the car was restored back to its original configuration, with traditional Napier Green paint. It was sold again in 2014, to the current vendor, and is offered with an estimate of between $800k and $950k.
Broad Arrow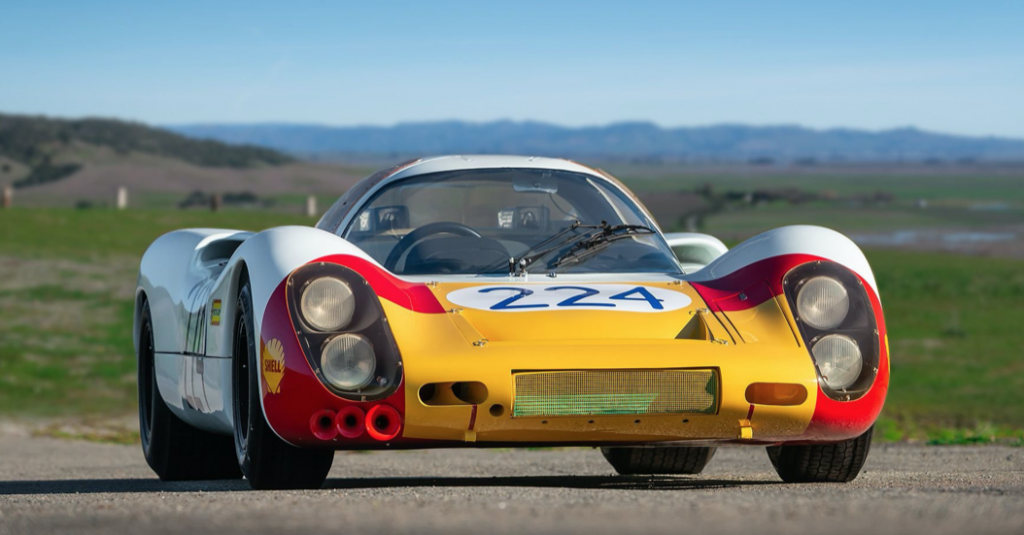 Broad Arrow is now the official auction partner to The Amelia, and it is serving up a more modern-classic-themed selection of lots, with plenty to tempt RADwood devotees.
However, the standout lot is this 1968 Porsche 907K, entered by Porsche System Engineering in the 1968 World Endurance Championship. Chassis 907 025 began its competition career at the 1968 Sebring 12 Hours, with Ludovico Scarfiotti and Joe Buzzetta behind the wheel. After qualifying eighth and climbing to fifth, the Porsche lasted just 20 minutes before retiring with a loss of power.
Its next outing was the Targa Florio, with Vic Elford and Umberto Maglioli on driving duties. Discovering that a centre-lock wheel nut had come loose, removing the rim from its spline, Elford pulled over. Spectators swarmed on the car, lifting it up so he could retighten the wheel. However, the wheel nut soon loosened again, breaking the wheel and puncturing a tyre, and again the spectators came to Elford's aid, allowing the fitment of a space-saver front wheel and a retightening of the troubled wheel nut. Despite this inauspicious beginning, Elford and Maglioli would set a blistering pace to lead by three minutes at the end of the race, establishing a record time of six hours, 28 minutes and 47.9 seconds.
After the Targa Florio the car passed to Siefried Lang, who entered it into the Monza 1000km, ending in a DNF. It would compete in several spring and hillclimb events, notching up several victories in 1969. After a crash on the Ollon-Villars hillclimb, Lang sought out Porsche to have the car rebuilt as a Spyder for the 1970. He won the opening two races of 1970, but died following a crash at Eggberg.
Chassis 025 then passed to French racer Gérard Cuynet, and then to Pierre de Siebenthal, a former racing pilot and race-car preparer. In 2000 Porsche prototype specialist Dale Miller discovered the vehicle, and it came to the US to join Dr Julio Palmaz's collection of Porsches. It was entrusted to Patrick Scalli of of Gloucester, Massachusetts, for a full restoration to coupé form. At the time, Gustave Nitsche rebuilt the engine to its original specification. After its two-year restoration, the car joined Palmaz's collection and was a two-time winner at the Amelia Island Concours d'Elegance.
In 2012 the car joined the Fica Frio collection, before joining the current owner's collection in 2015. It's estimated at between $4.5m and $5.5m.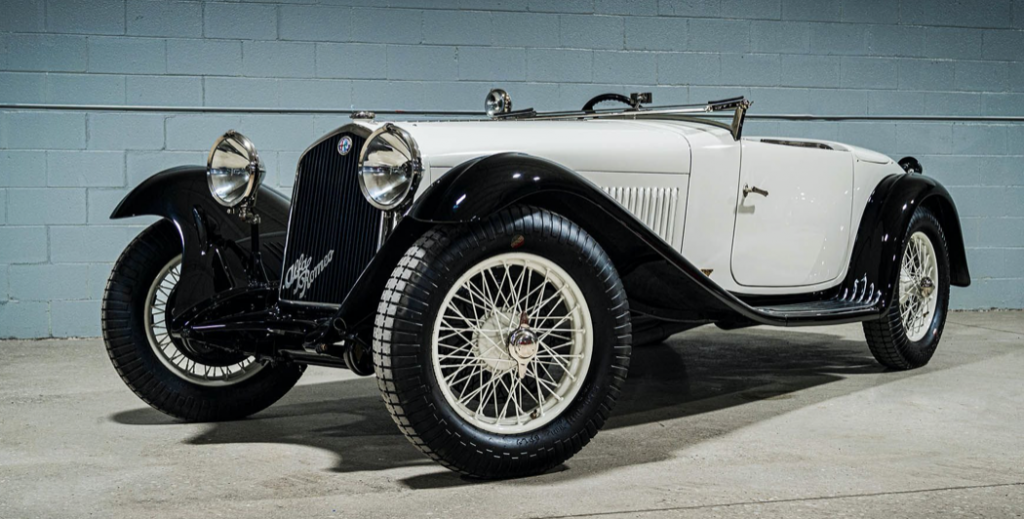 Few Alfa Romeos were bodied by Figoni, but this car, chassis 10814377, was one of them. One of the 30 or so Series V Gran Sport chassis produced in 1932, it features the French coachbuilder's Phaeton Sport roadster body. It also has other particularly Parisian quirks, such as French language data plates, an Alfa Romeo Paris radiator badge and French-language wheel knock-offs. It also has adjustable dampers.
It's believed the car first belonged to Pierre-Louis Dreyfus, an 11-time Le Mans 24 Hours entrant. The car is believed to have remained in Paris until August 1934, before briefly moving to Toulouse for its next owner. After a couple of months it was sold back to Paris, and re-registered with the number plate 9084 RJ 4. It stayed in Paris until late 1947 before moving to Cannes, where it was briefly owned by Yvonne Chassagne. It was then owned by David L Jayet, an engineer who lived in the area, who kept it until around 1953.
The car eventually wound up in Florida, passing through three owners until 1974. It was then acquired by Bugatti collector Gene Cesari of Allentown, Pennsylvania, who kept the car for two decades. In the mid-1990s the Alfa was part-restored by Chris Leydon, before a change of ownership in late 1997, to Sir John Venables-Llewelyn of Wales, saw Alfa specialist Jim Stokes finish off the work. In 2014 the car changed hands again, and was restored again by Patrick Balkeney-Edwards.
It entered the stewardship of the current owner in 2017, and has been displayed at the Pebble Beach Concours d'Elegance. It's estimated at between $1.5m and $2m.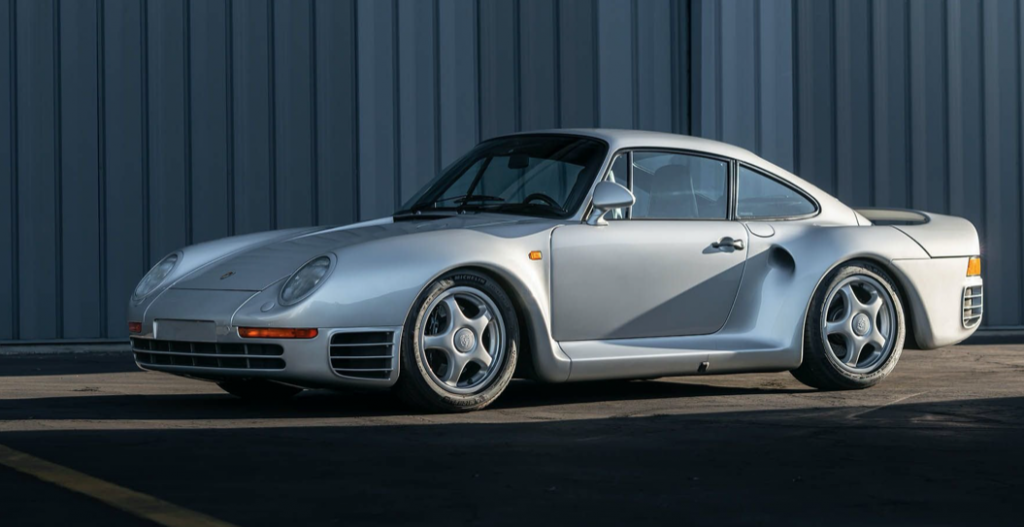 This 1988 Porsche 959 Komfort is one of just 292 production models made. Its European life is unknown; it came to the US in May 2002 via Canepa Design in California. While there, it was given Canepa's Stage One treatment: Garrett AiResearch twin turbochargers, upgraded wastegates, new engine-management and ignition systems, upgrades to the fuel set-up, alternator-charge system and battery module, with titanium heat shielding and a redesigned stainless exhaust. The result was a whopping 600bhp, and while at Canepa the hydraulically adjustable suspension was replaced with a 959 S-specification coilover set-up, too.
It changed hands in 2015 and again in 2020, and has recently received a light service and minor refreshment. It's estimated at between $1.75m and $2m.
Gooding & Co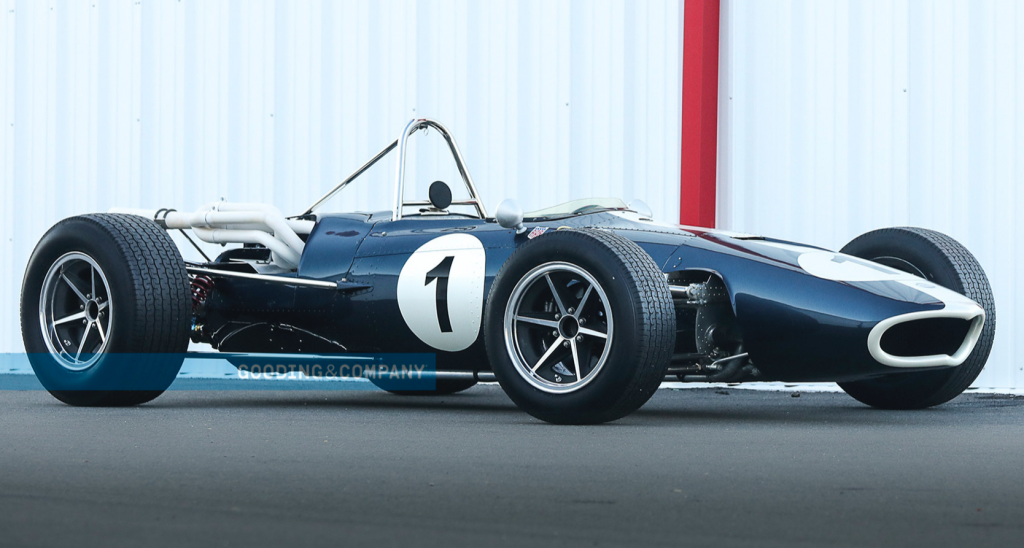 Gooding & Co is bringing a diverse selection of lots along, some of which you can read more about here. In all, 155 lots are due to be put up for grabs, with a selection of collectable motorbikes lining up alongside the cars.
Ferraris are a major theme of the Gooding & Co auction, but there are some homegrown highlights, such as this, the Eagle Mk1, chassis 101. The All American Racers team, set up by Carroll Shelby and Dan Gurney with funding from Goodyear, made its debut in the 1966 Formula 1 season with this very car. Developed from the Lotus 38 with its designer Len Terry, it was supposed to have a Harry Weslake-designed V12. However, because development of that would take some time, chassis 101 was fitted with a Coventry Climax FPF.
It was a year of teething troubles for the team, though the car posted seventh and last at the Belgian Grand Prix, fifth place at the French Grand Prix and seventh at the German Grand Prix. It would fail to finish in Britain and The Netherlands, and with the introduction of the Weslake V12 in chassis 102, the car was relegated to practice duties in Italy; Phil Hill tried to qualify it, but a lack of power on Monza's straights meant it failed to reach the grid. Chassis 101's next outing was the United States GP with Bob Bondurant behind the wheel, but he was disqualified on lap five. In Mexico, Gurney took chassis 101 to fifth place in its last competitive outing for AAR. After a non-championship event in South Africa for Dan, the car was sold to Canadian Al Pease. He'd enter the car into ten races, including three Canadian Grands Prix between 1967 and 1969.
In 1971 Pease sold the car to Donington Park circuit proprietor Tom Wheatcroft, who kept it in the Grand Prix Collection museum for 38 years. In 2009 it was sold to the current vendor, who entrusted it to J&L Fabrication in Puyallup, Washington for a sympathetic restoration. The original engine was removed from the car for preservation, and a reproduction 2.7-litre Climax FPF was sourced from Crosthwaite & Gardiner (the original engine comes in the sale). It was then driven at the 2014 Monaco Classic Grand Prix; it's also been signed by Dan Gurney. It's estimated at between $3m and $4m.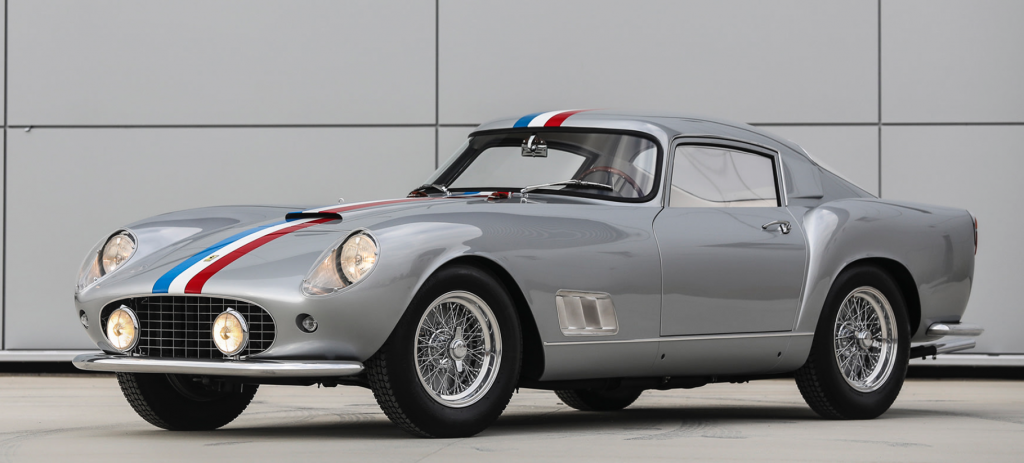 One of several big-league Ferraris in the Gooding & Co auction, this is chassis 0909 GT, the seventh of 36 TdFs built in the single-louvre style, and one of a handful with covered headlights.
Its first owner was Walter Lambert of Grenchen, Switzerland, who – when not running his mechanical-engineering firm – enjoyed competing in the European Hillclimb Championship. He duly raced 0909 GT in several events, taking class and overall wins in 1960. Lambert moved onto a new competition-prepared 250GT SWB in 1960, selling the TdF to Tommy Spychiger of Langenthal, Switzerland. He'd compete in several European hillclimbs with the car throughout 1961, before selling it to Cox Kocher, the first of several Swiss owners over the next decade or so. It would then end up in the stewardship of Reinhard Sammueller of Munich, Germany, who'd keep the Ferrari for ten years, entering it into several Historic events. It would return to Switzerland in the hands of Heinrich Kaempfer in 1986, who then sold it to Dr Juerg Heer of Zurich three years later. During Heer's ownership, the car was restored by Carrosserie Klaeger; it was then sold to German collector Dieter Holthausen in 1994.
It then passed through the hands of Nicolaus Springer and Carlo Vögele;, during which time it was certified by Ferrari Classiche. Two further owners would take the car to 2017, when it was bought by the current American owner, who had Motion Products Inc (MPI) of Neenah, Wisconsin undertake a full-scale restoration over two years. It's since been displayed at the Pebble Beach Concours d'Elegance, Cavallino Classic and other Ferrari-themed events. It's estimated at between $6m and $8m.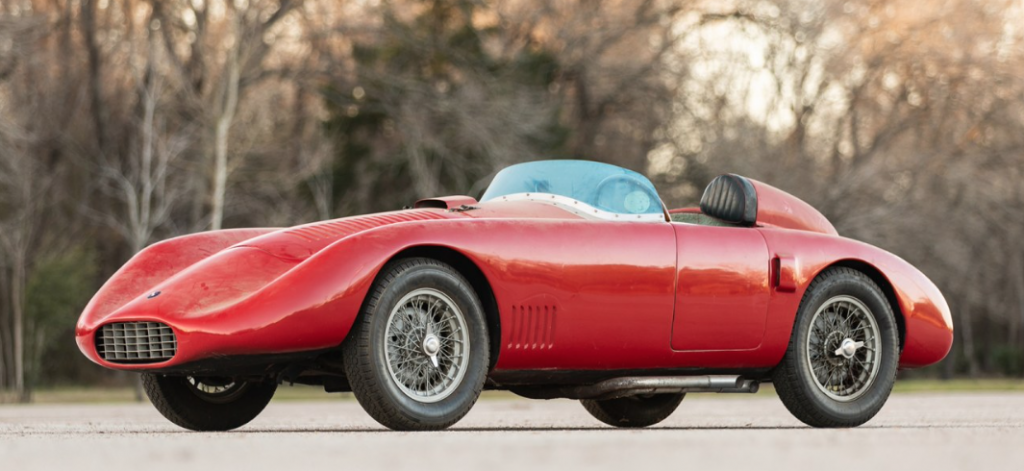 This OSCA MT4 2-AD is chassis 1124, which was delivered to the firm's North American agent Edgar Fronteras with a 1350cc engine, to be used by Briggs Cunningham. It was competitive right off the bat, taking first in class and eighth overall at the MacDill Air Force Base in Tampa, Florida. Cunningham, paired with Bill Lloyd, would repeat the class victory at the Sebring 12 Hours the month after, finishing fifth overall.
As Cunningham moved to building his own cars, in late 1953 chassis 1124 was offloaded to Henry W Wessells III, who used it for several SCCA races over the next two years. During this time, it went through the first of two Alfa Romeo engines, and was redesigned to do without headlamps.
The car subsequently had several Californian owners, before moving to Medford, Oregon, in the hands of Michael Adams. He kept the car from the late 1970s until 1986, when it was sold to the current owner at auction. He had grand plans to return the car to the racetrack, but it ended up being put into storage for 40 years, and it was never shown publicly – until now. It's estimated at between $700k and $900k.
RM Sotheby's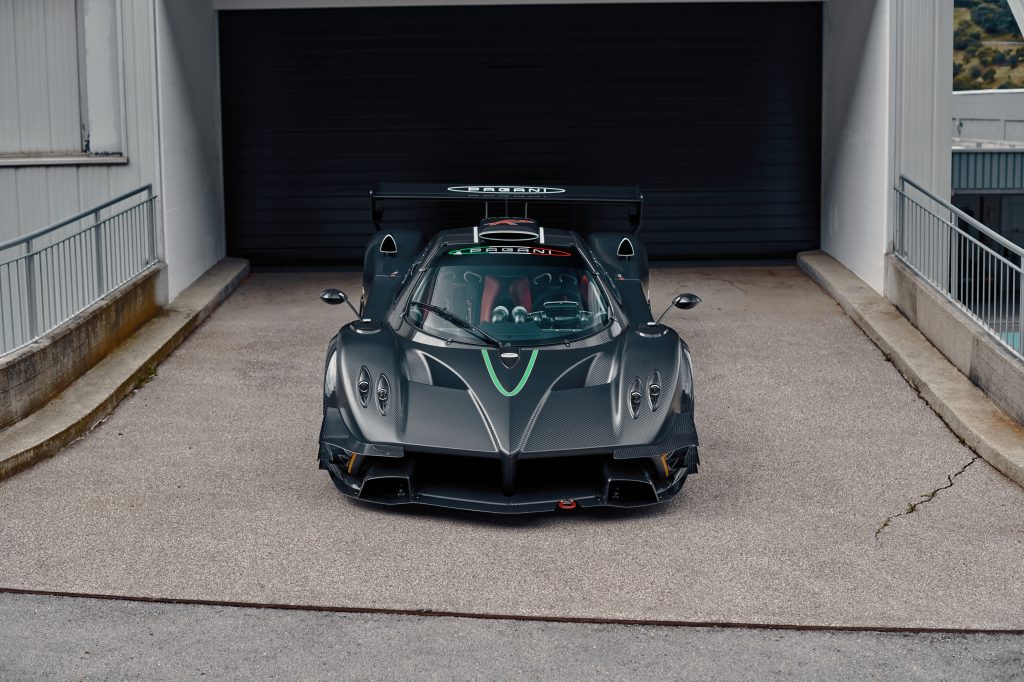 RM Sotheby's has 95 lots lined up for its sale, with a varied mix of cars from pre-war gems to modern hypercars; there's also rare chances to buy a Ferrari F50 and 288GTO. However, an entirely different – and even rarer – car from just down the road from Maranello really caught our attention.
The fifth of ten Zonda R models built by Pagani between 2009 and 2011, this track-only hypercar was upgraded to Revolución Specification in 2014. This equates to engine modifications that add an extra 30bhp (to around 800bhp), Öhlins dampers, lightweight magnesium-alloy wheels, a smaller secondary rear wing underneath the standard wing and additional dive planes on the front corners. It's recently been serviced by Pagani of Beverly Hills at a cost of $27k, which included new Pirelli tyres, fuel tank and a fuel-system flush, as well as an engine service. It also received a driveshaft upgrade from Pagani. It's estimated at between $4.8m and $6.8m.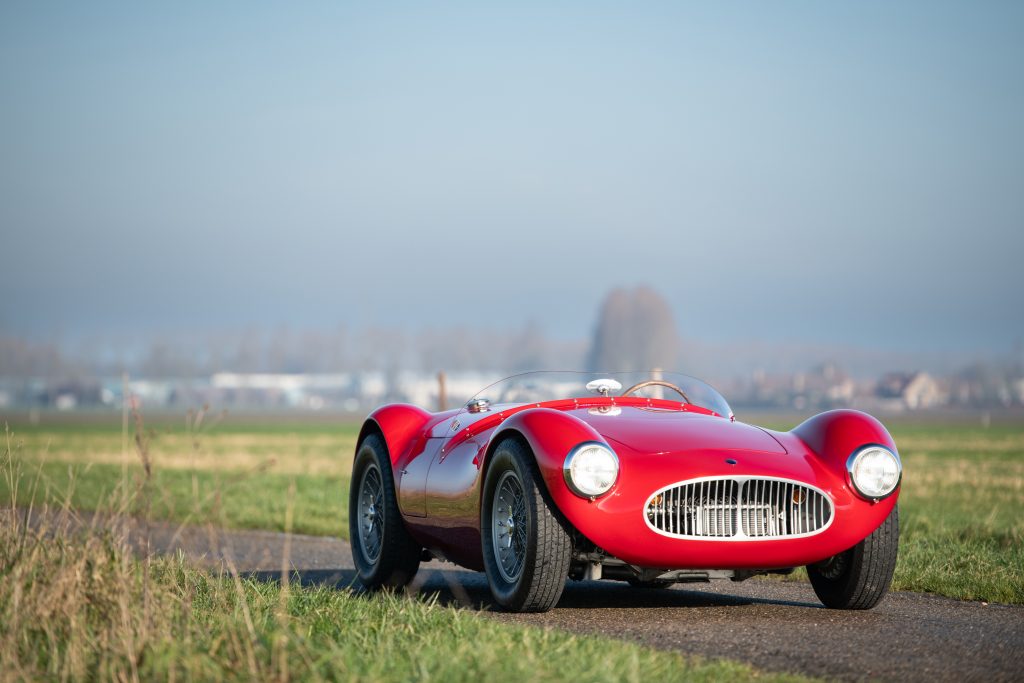 This 1953 Maserati A6GCS/53 Spyder is chassis 2053, the 11th car built in 1953 specification, and ordered by American importer Tony Pompeo as a demonstration car. In December 1953, Pompeo invited journalists and potential clients to Thompson Speedway in Connecticut, where the Maserati was put through its paces by Juan Manuel Fangio. It was then displayed at the World Motor Sports Show at Madison Square Garden.
Two months later chassis 2053 found its first private owner, a Donald McKnought of Cranford, New Jersey. He entered the car for the Sebring 12 Hours, sharing driving duties with William Eager. That bid ended in a non-finish after 66 laps, following a minor's crash. It would then race at Andrews Air Force Base in Washington, finishing sixth, and in the President's Cup, achieving eighth overall. Bill Lloyd then drove the Maserati to second place at Suffolk County Air Force Base in New York, and in July McKnought took the car to a class victory on the Giant's Despair Hillclimb in Pennsylvania.
In 1955 the Spyder was sold to Fritz Koster, who kept it until 1958. It was then sold to brothers Ben and James Diaz, who added a roll cage and external rear-view mirror with a plan to return the car to competition. Ben Diaz took it to a class podium at the Marlboro Motor Raceway in April 1958. It would then become a regular at the Vineland Speedway over the next couple of years, picking up several podiums. It was during this time that the engine and transmission were replaced with Corvette items.
The car then passed to Gus Buscham of Iona, New Jersey, without its engine. In 1965 it was sold to a teacher named Louis Casazza, who fitted another Chevrolet V8. He'd keep the car for 24 years, selling it to Maserati guru Frank Mandarano in 1989. He installed a purpose-built replacement Maserati engine, before selling it to a Japanese collector called Hiroshi Kobayashi, who'd have the car restored by Nino Epifani in Northern California. It was then bought by Dr Julio Palmas in 1998, who had further work done by Epifani, including replacing the Chevrolet transmission with an appropriate A6GCS/53 transmission and a fresh, correct-specification rear axle.
The Maserati was sold in 2004, passing through several American collectors, and it has had a correct A6GCS/53 engine fitted. In more recent years it's been enjoyed on several European events; it's estimated at between $2.8m and $3.4m.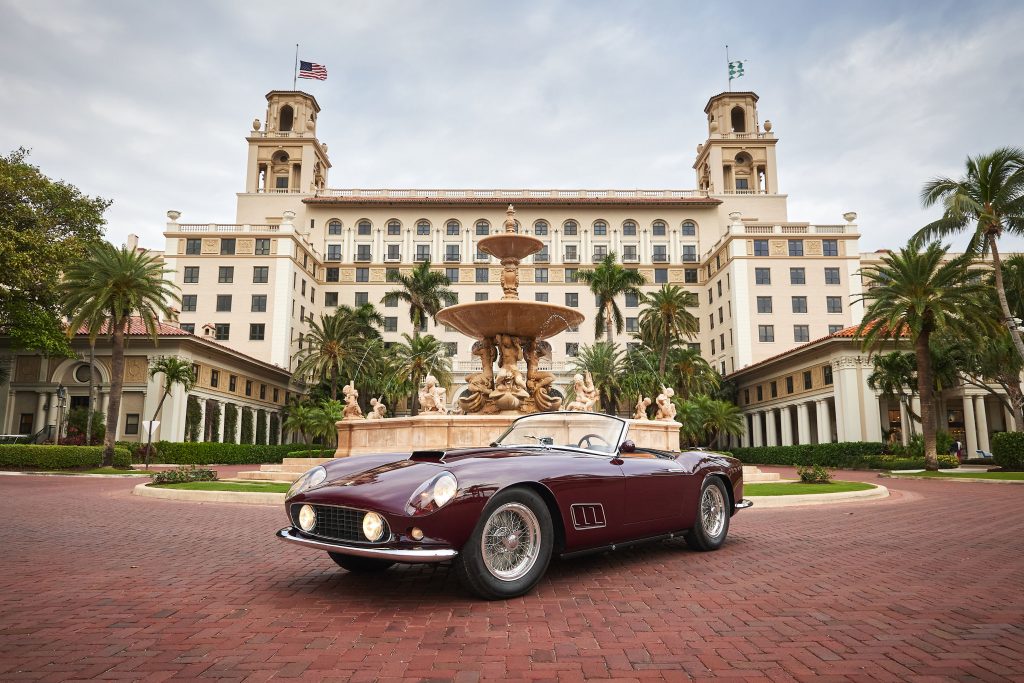 Say hello to Ferrari chassis number 1203 GT – a 1959 Ferrari 250GT LWB California Spider. The 17th of 50 long-wheelbase California Spiders built, it is one of 30 steel-bodied cars with covered headlamps. It was originally finished in Blu Genziana and specified with a competition engine, and it was sent to Luigi Chinetti to be sold to 18-year-old Harvey Schur of Scarsdale, New York. The heir to a button-manufacturing empire, he was well known for thrashing his California Spider around town and taking on all-comers at local drag strips. He lent the 250GT to Sports Car Illustrated for the September 1959 issue, where it was used in a profile of Enzo Ferrari's models, alongside a Tour de France Berlinetta.
Schur sold the car back to Luigi Chinetti in 1960, who then sold it to Alan Newman, who toyed with the idea of entering it into the Sebring 12 Hours. That didn't happen, and in 1965 the car ended up with Gary Wales of Detroit. He repainted it in red and in 1968 sold it to Roger Adkins of Goodrich, Michigan. He'd keep the car for 15 years, after which it would pass through the hands of several notable US collectors, such as Tom Price, Bob Baker, Pat Ryan and Ron Spangler.
In 2011 the car was bought by Nigel and Sarah Allen of Surrey, England, who commissioned Barkaways to refurbish the mechanicals and O'Rourke Coachtrimmers to refinish the exterior in Amaranto and the interior in Saddle leather. The car was then certified by Ferrari Classiche, and featured heavily in the press. It was bought by the current owner in 2017, and has been displayed at The Quail, A Motorsports Gathering, Cavallino Classic and Pebble Beach Concours d'Elegance. RM Sotheby's has estimated the car at between £9m and $11m.
Further details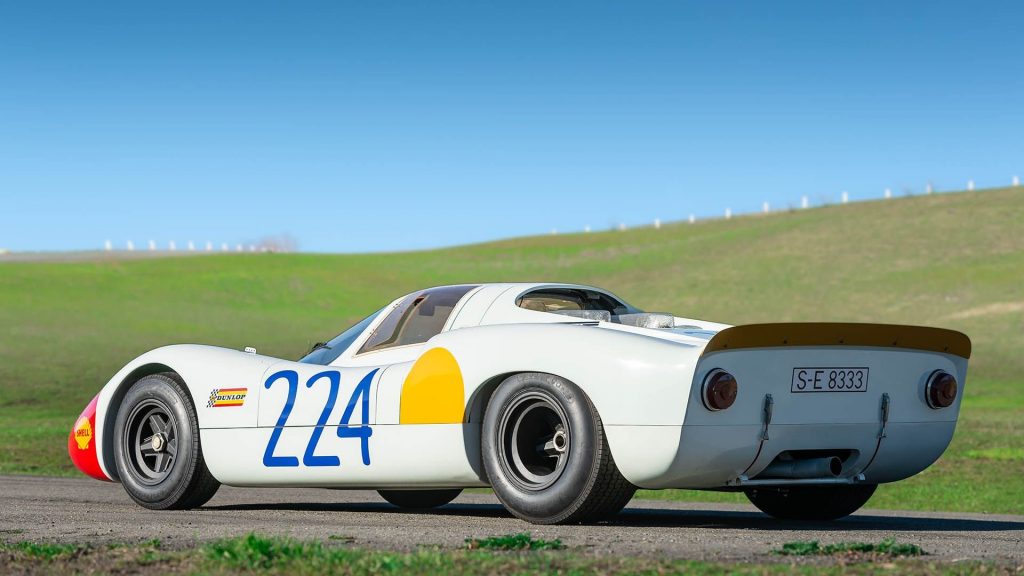 Bonhams: March 2, Fernandina Beach Golf Club. More details here.
Broad Arrow: March 4, Ritz-Carlton. More details here.
Gooding & Co: March 2-3, Racquet Park. More details here.
RM Sotheby's: March 4, 4171 Amelia Island Parkway. More details here.