WORDS: ELLIOTT HUGHES | PHOTOGRAPHY: beaulieu national motor museum
The special Bond In Motion – No Time To Die exhibit has been a boon for The National Motor Museum at Beaulieu, in Hampshire, UK. It has drawn thousands of visitors since it was dramatically launched in true 007 style by Lord Montagu, who drove an iconic Aston Martin DB5 Goldfinger Continuation into the building to mark the occasion.
Dressed like James Bond himself, in a black tuxedo, Lord Montagu unveiled a treasure trove of authentic cars, costumes and gadgets from the critically acclaimed film, alongside 007 special effects supervisor Chris Corbould (click here for Magneto's exclusive Q&A with Chris about the making of No Time To Die).
The new exhibition offers a rare opportunity for the public to see much of the ephemera from the film first-hand against a backdrop of large screens showing action sequences from the recently released blockbuster film.
"The exhibition sums up everything we did in the film," Corbould says. "The original vehicles are all there in one place to see – from the classics to up-to-date and even state-of-the-art cars. It's a wonderful collection."
Bond's iconic Silver Birch-finished Aston Martin DB5 Goldfinger Continuation is a centrepiece of the display, complete with sensor-activated Gatling guns and rotating LED number plate. Newport Pagnell built just 25 DB5 Goldfinger Continuations in 2020 for £2.75m ($3.77m) apiece.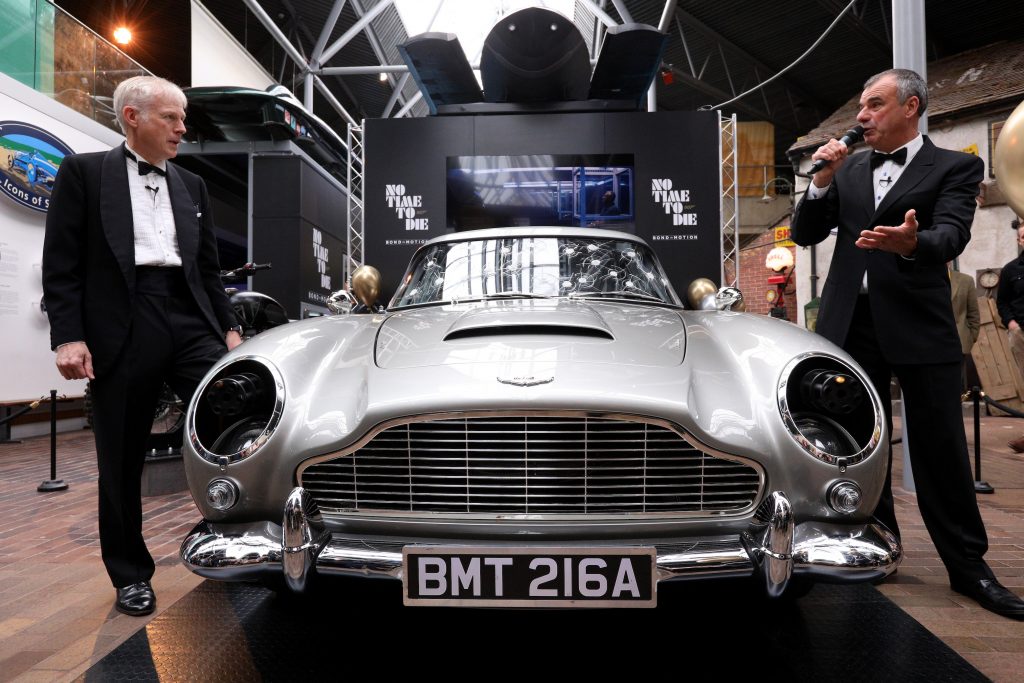 Although the DB5 Continuation isn't strictly a classic, the Aston Martin V8 that was last seen in The Living Daylights (1987) and the Chevy Bel Air that are included in the exhibition most certainly are.
The Aston Martin DBS Superleggera driven in the film by new agent Nomi is sure to delight enthusiasts with a penchant for more contemporary Astons, while Land Rover fans will be delighted by Bond's Series III and Defender 110.
The cars are complemented by several of Bond's two-wheeled counterparts, including a Triumph Scrambler motorcycle and Royal Alloy Scooter.
Another evocative piece included is the submersible 'Stealthy Bird' glider provided by Q. The glider was designed for No Time To Die by Tim Browning, who stood with fellow guests at the exhibition's launch as his craft perched above.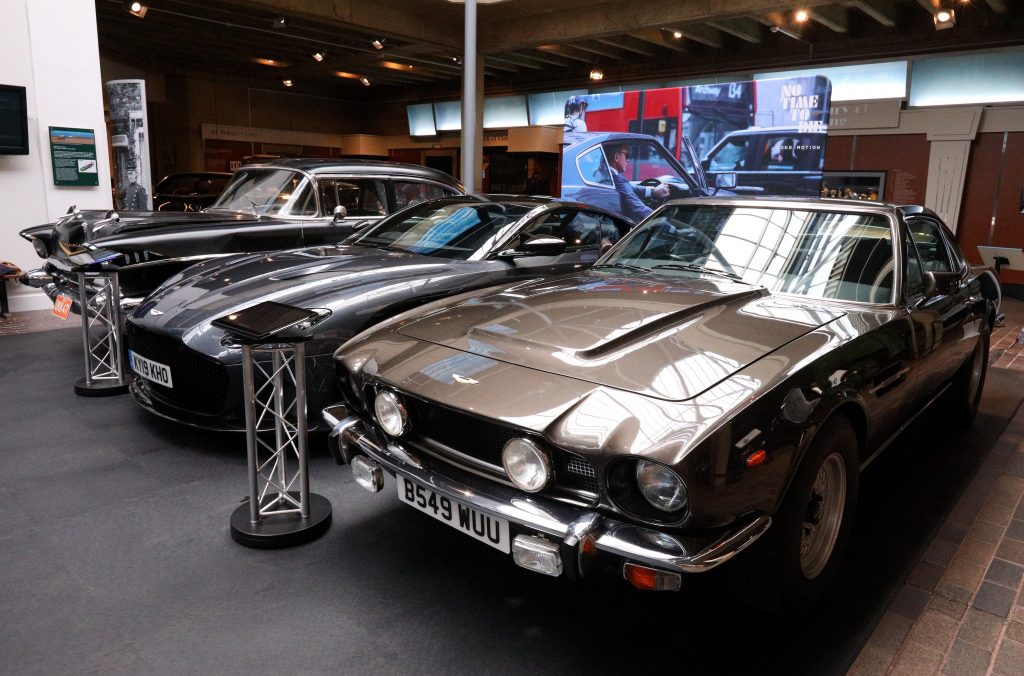 Smaller but equally captivating attractions include Bond's Q-enhanced Omega Seamaster Diver 300M watch, as well as vehicle design blueprints and weapons. There are also several costumes worn by Bond and Primo in the film.
Bond In Motion – No Time To Die is the second 007-themed exhibition held at Beaulieu's National Motor Museum, following the original Bond In Motion display of ten years ago, which showcased 50 original vehicles to celebrate 50 years of the Bond franchise.
Lord Montagu said: "Exhibiting Bond cars in the Beaulieu National Motor Museum is a great way of combining our subject – the history of motoring right up to the present day – with one of the best-known themes from the world of entertainment. I am delighted that Eon has given us the opportunity to stage this exhibition, as I feel sure it will be very popular with our visitors."
Beaulieu National Motor Museum's Bond In Motion – No Time To Die will conclude on November 22, while a range of 007-themed merchandise is available to purchase from Beaulieu's gift shop as well as 007store.com.
For more information and to pre-book tickets, click here.
If you liked this, then why not subscribe to Magneto magazine today?