Bizzarrini has announced the completion of its all-new UK-based manufacturing facility, marking a "new facility for a new era" of the evocative Italian marque. Bizzarrini was resurrected by Pegasus Brands in 2020 – an international dealer that operates for Aston Martin Lagonda, Koenigsegg and Rolls-Royce Motor Cars, among others.
The new facility spans 1500 square metres and will be used for the build of the planned 24 examples of the Bizzarrini 5300GT Revival Corsa Continuation car. The completion of chassis 000 will mark the end of over two years of preparation: the company says it will be the first true Bizzarrini built in 16 years.
The marque's latest model was blueprinted from an original 5300GT Corsa from the 1960s using three-dimensional scans along with more than 1000 period drawings and documents from the company archives.
With the required information amalgamated, Bizzarrini will use traditional techniques to capture the curves and surfaces first penned by Giorgetto Guigaro. Additionally, each of the 24 new cars will include "specific details" from chassis 0222, the famous race car that won its class at the 1965 Le Mans 24 Hours.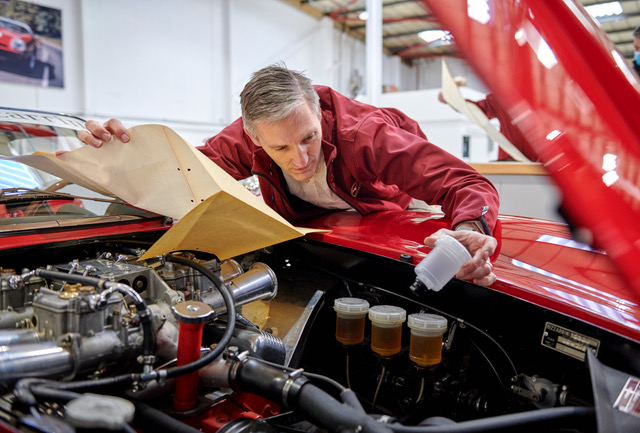 The original design and specifications will only be deviated from where required for racing homologation eligibility, in a similar philosophy to the recent Jaguar C-type Continuation.
"The Revival Corsa will be a true Bizzarrini," says CEO Christopher Sheppard. "To see chassis 000 come together alongside our 1965 car has been both emotional and inspiring. The extremely high quality of workmanship is evident in every single bespoke component we are creating."
Bizzarrini's focus on FIA homologation gives credence to the company's claim that the car is being engineered for "safe, dynamic and high-speed track use".
"Light, aerodynamic and powerful, the car will be fully eligible for historic racing, where we believe it will be a truly competitive machine," Sheppard asserts. "We are engineering the Revival Corsa to meet Appendix K FIA regulations, but we can satisfy the desire of any customer who wishes to drive this spectacular car on the road."
Bizzarrini company owner Rezam Al-Roumi is as enthused as Sheppard about the latest development in the marque's storied history. "We are naturally extremely excited to bring the Bizzarrini marque back to life, as well as work closely with our customers to deliver a machine that honours the legacy of this brand and celebrates the rare art of hand-crafted manufacturing techniques and bespoke engineering."
The first customer deliveries of the 5300GT Revival Corsa are slated for April 2022. More information can be found here.
If you liked this, then why not subscribe to Magneto magazine today?