WORDS: NATHAN CHADWICK | PHOTOS: SIMON THOMPSON/ALFA ROMEO
The new Alfa Romeo 33 hypercar has divided opinion since its reveal a few weeks ago.
Designed and built in just 16 months using the chassis of the Maserati MC20, the Alfa 33 will use either that car's conventional 3.0-litre twin-turbocharged V6 or an electric powerplant. Just 33 are being built, and all have been sold at a rumoured – but unconfirmed – £1.7m apiece.
It's the first model from a new specialised workshop within Alfa Romeo that's dedicated to special projects, known internally as the Bottega. The 33, which is being built by Carrozzeria Touring Superleggera, located just a stone's throw away from Alfa Romeo's historical home in Arese, Milan, kicks off a series of cars inspired by those of the 1960s and 1970s, with the next one due in 2026. The Bottega project will also produce exclusive artwork based around the Alfa Romeo legend, as well as stand-alone shield grilles and helmets.
Magneto sat down with three of the key players in the project: Alejandro Mesonero-Romanos, head of Alfa Romeo Design; Cristiano Fiorio, head of Strategic Projects; and Jean-Philippe Imparato, Alfa Romeo CEO.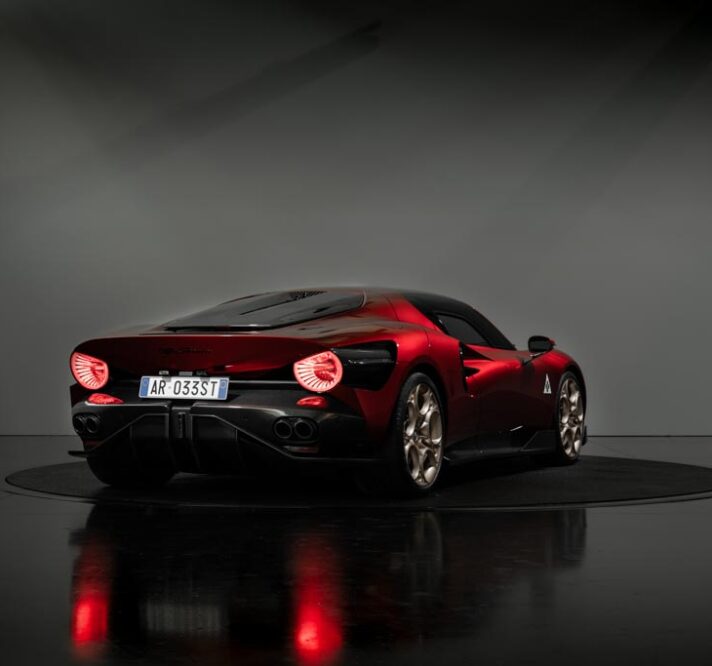 I wanted to keep the purity and sophistication of the original car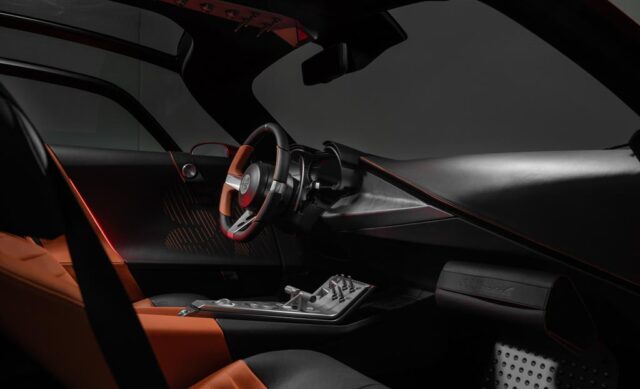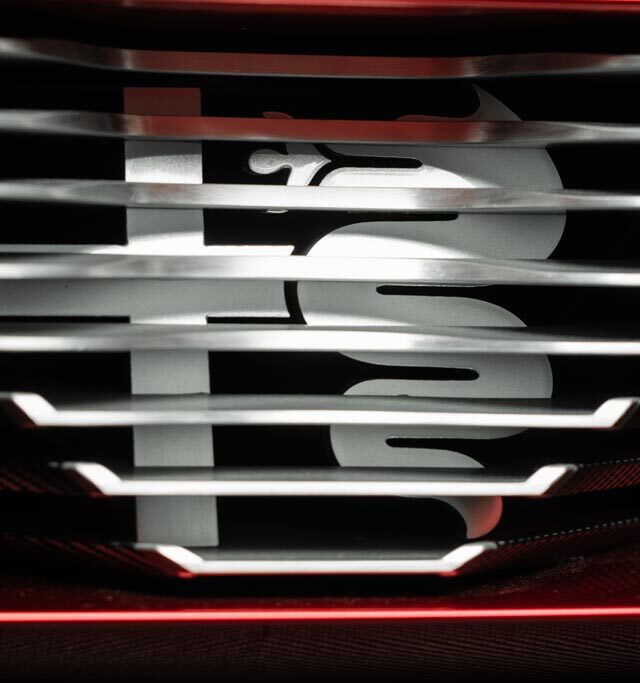 Alejandro Mesonero-Romanos, head of Alfa Romeo Design
"We started in a very simple way, with a conversation almost two years ago," Alejandro Mesonero-Romanos, head of Alfa Romeo Design recalls. "We started to think about what we should do to help the brand immediately – we felt we needed to do something."
Alfa Romeo's Giulia and Stelvio models had been warmly received, although this hasn't translated into a huge sales success, particularly in Europe. While Alfa Romeo is now profitable due to optimising the product line and sales of the new Tonale, a halo car was needed. Mesonero-Romanos concedes that there was some scepticism about the project among the designers, however. "They were a little bit 'are they really going to do this'?" he chuckles.
Sketches were revealed just prior to the 2022 Italian Grand Prix at Monza for potential customers. "The reaction was fantastic," Mesonero-Romanos says. "Immediately three customers committed to buying just from a few sketches, and were really positive about it."
A 3D model was built, and more possible customers were contacted – and there was no doubt that the Maserati MC20 would form the basis of the project. "Two plus two was four," says Mesonero-Romanos. "We said if we were bringing this to market, we wanted to bring it quickly, and the only platform we have in the [Stellantis] group to deliver the characteristics was the Maserati MC20, so we took the lower part of the chassis, the monocoque."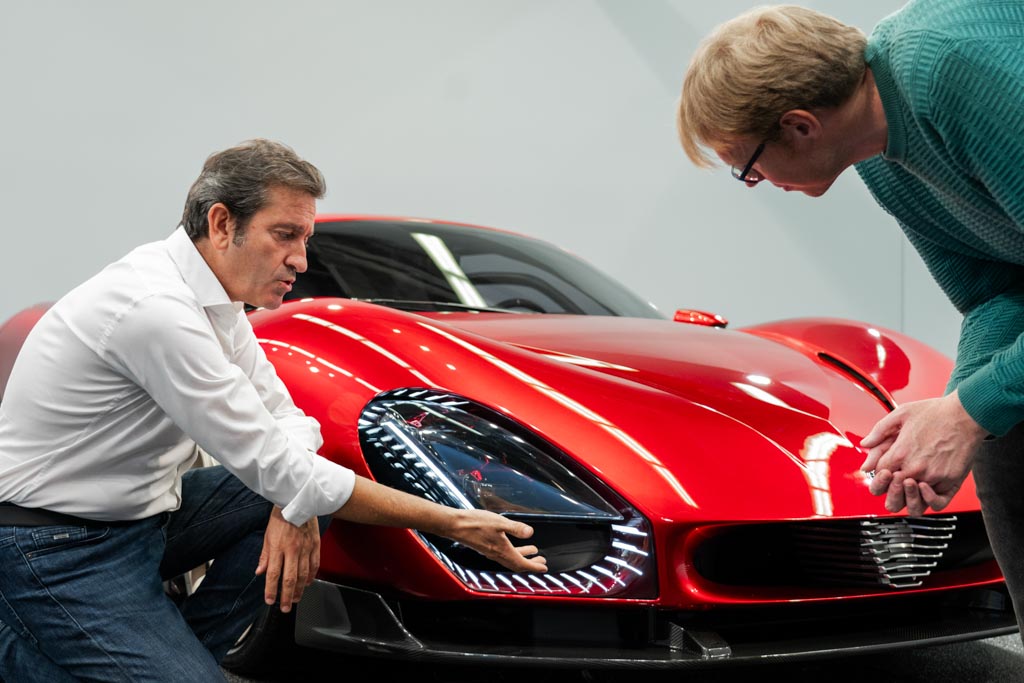 Customers were involved with the project throughout, something that proved to be a great pleasure for Mesonero-Romanos. "We did a really good job picking the customers for this project – all of them understand cars, and they love Alfa Romeo," he says. "Every time we brought them sketches, their points were really good; I agreed with 99 percent of their suggestions."
One of these points was the grille. Originally it was designed to be more like that of the original 33/2 Stradale, but a new interpretation – as seen in the pictures – ended up being loved by the customers. Some even wanted to have the grille as an independent sculpture, although customers are being given the opportunity of choosing both. There are also several wheel designs, some more obviously inspired by the 1960s original, and while the car was originally going to be available only in red, the palette has increased somewhat to match the models in the collectors' garages, which include the original car. "We started to open the field, and then we came up with an open bar where everyone was happy," he laughs. "I helped configure the cars with the owners, and it was so much fun."
The interior also draws design cues from the original car, but it was important not to copy it like-for-like, or to overload it with features, Mesonero says. "Our customers have a lot of cars, some for day-to-day use. From the beginning most of them said all they wanted was to drive fast, and enjoy it, because this is the model they'll take out once a month to go around the lake. So it has the minimum functions needed to drive it, nothing else. Some wanted navigation, but we've kept that completely hidden."
Looking at the finished design, Mesonero-Romanos is pleased that it was able to retain a spoiler-free purity. "There was a lot of work this little baby in the wind tunnel to make sure the downforce front and rear was balanced," he smiles. "I think the low front end is beautiful, and there was a lot of work on the mirror, which also acts as an air deflector."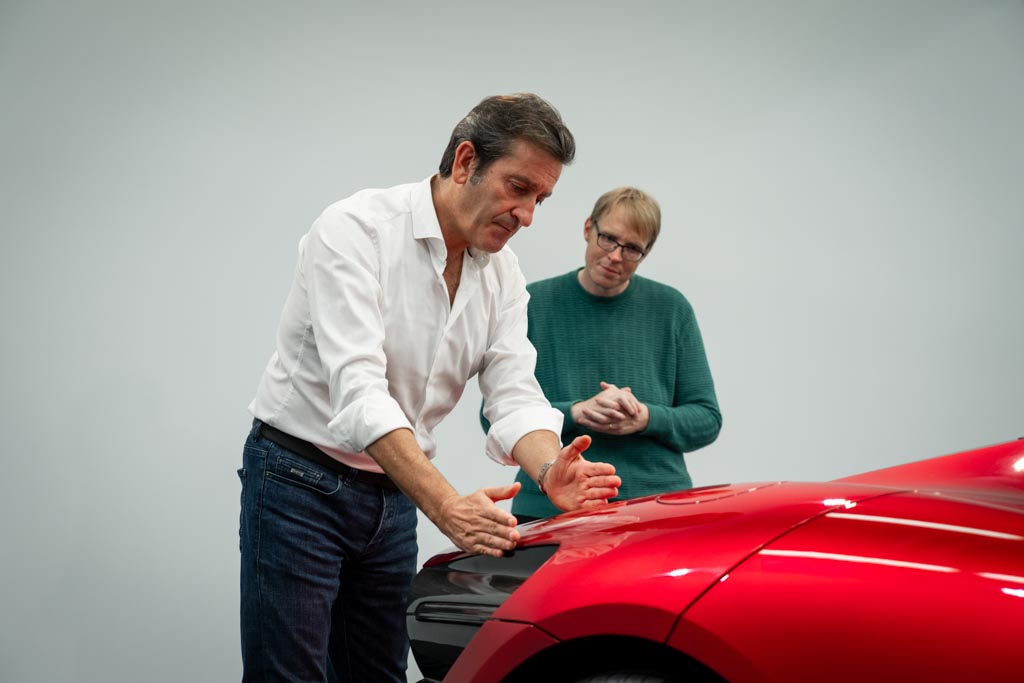 The low nose of the original 33 Stradale that acted as this car's inspiration would have been impossible to replicate with today's crash regulations. However, Mesonero-Romanos's team was able to balance the proportions to take account of the new car's larger size. "We are 4.6 metres, but that's the normal inflation of life, everything gets bigger," he says. "This was a challenge because I wanted to make the car as compact as possible. A lot of work went into the fenders, how the lines run to the cabin and so on – I said, let's keep it simple. Supercars today have many over-complicated lines that are a bit messy – I wanted to keep the purity and sophistication [of the original car], so we took this project as an exercise in simplification, taking away everything that was not really necessary but also adding some stuff that will be interesting in a few years' time."
The new car also previews design cues that will be seen in future mainstream production cars. "It was complicated, it was a fourth-dimensional way of working," he laughs. "I really wanted to have a very 'directional' style at the front, which is something we shall see in the future. It's something that cannot be German, because the Germans will never allow themselves to think like that – this is very Italian."
"If you look at the car on the body, there is no 'freeze line' on the side, it's nothing to do with crash or aerodynamic requirements," he explains. "We have carbonfibre on the bottom of the car, but the rest of the body is one surface – there is no stop. The fenders are the same, they're just pure, although we added just little lines to help guide the light when it hits the body – it's very subtle. It's like a trouser – we need a line to build, otherwise we look like a cube."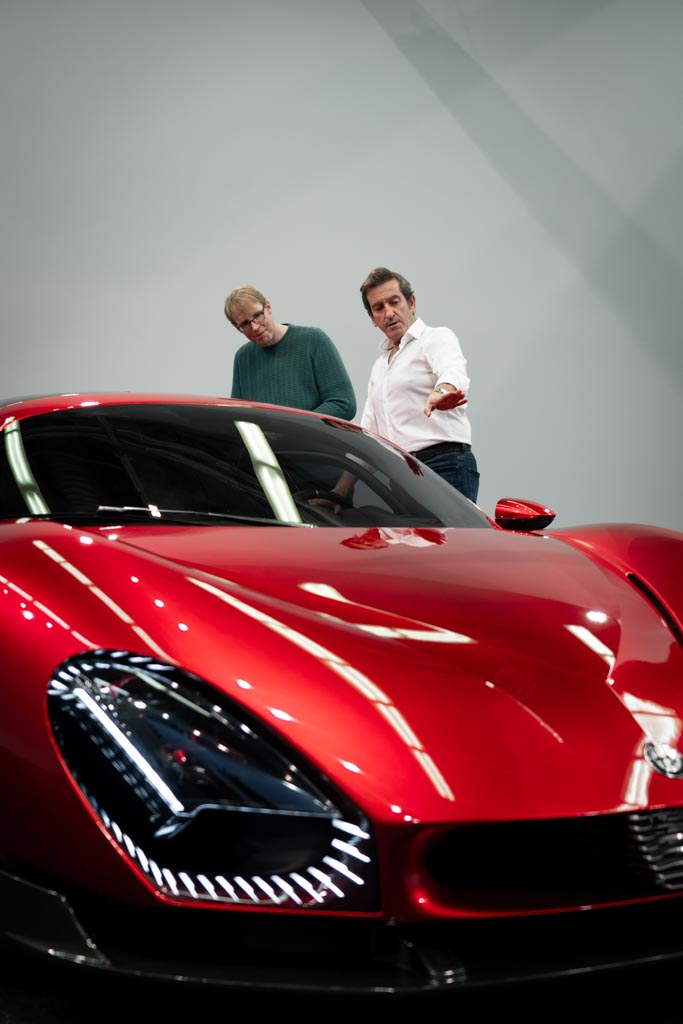 Pressed on his favourite part, however, and it comes down to the headlamps. "The light replaces the original car's chrome, because we were not looking for a retro design," he says. "It's a part that has three functions; there's the light itself, but it also makes up the front and side. It's only 15cm from the ground to the light, which is very close to the road for a supercar, and unique these days."
Although the project was centred on aesthetics, Mesonero-Romanos was adamant that it had to work aerodynamically, and not just be a pretty design. "The thing for me was top speed – we needed to get enough air at the back of the car to get full power," he says. "This is the beauty of our job, to have this challenge, because you really have to work to find the solutions."
Mesonero-Romanos set key aerodynamic targets that led to some deviation from the original sketches. "The side air intake went out of the body by 35-40mm, and then [during wind-tunnel testing] we found the air was slipping around," he says. "We came up with the idea of a carbonfibre bonnet spoiler that sticks out of the car's volume and channels the air inside."
Speaking more generally about Alfa Romeo's style, Mesonero-Romanos defines it as a mind-set. "It's about art, it's about beauty, it's about passion, which is very easy to say but difficult to describe," he says. "I think any of us, when we feel something that we like, we feel passion. This is the important part of our job, to make sure that when people see a car, they have this feeling.
"It's also about history and sporting history – it has to have the right proportions and muscles, features that inspire speed, power and character," he continues.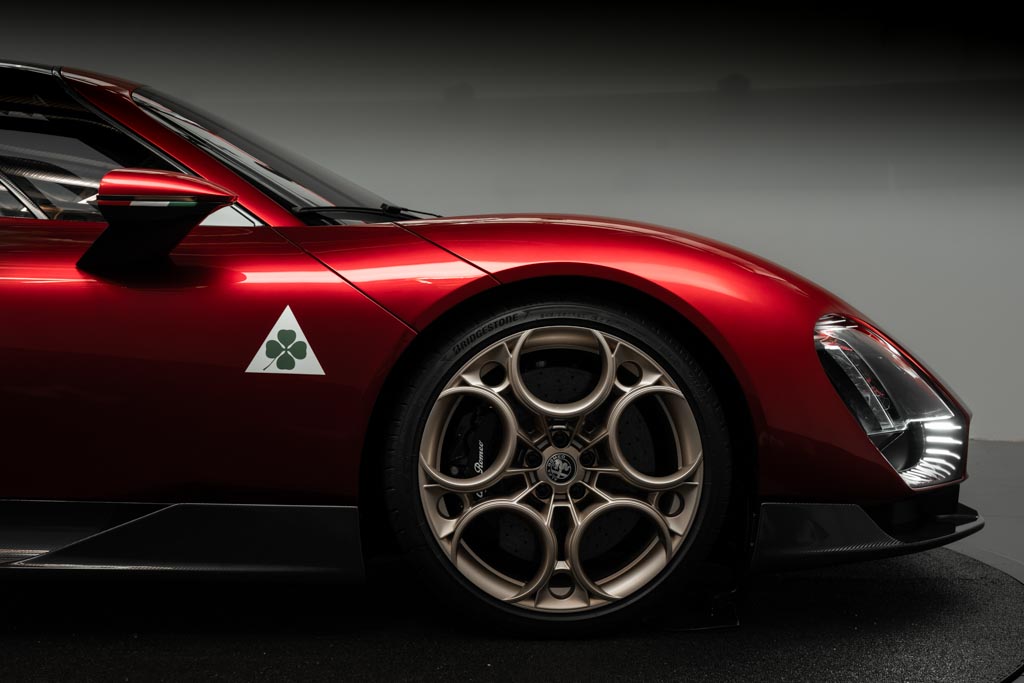 Translating these brand values into a future of electric propulsion is a persistent challenge. "It has never been more difficult to be a designer than now," he says. "I've been in the business for 30 years, and it's getting very hard because of new regulations and going from ICE – it completely changes the architecture of a vehicle.
"We get cars with a huge wheelbase because this is where the batteries are – higher cars, small overhangs and pretty flat to not make them look huge. However, there are a lot of opportunities, because we can transform problems into solutions," he adds.
The big challenge facing the design world is increasing battery range – it's not about saving money or petrol, but arriving at a location. "We're starting on a line-up of cars next year, looking into the mid-term, that in terms of our dynamics is a revolution," Mesonero-Romanos says.
Cristiano Fiorio, head of Strategic Projects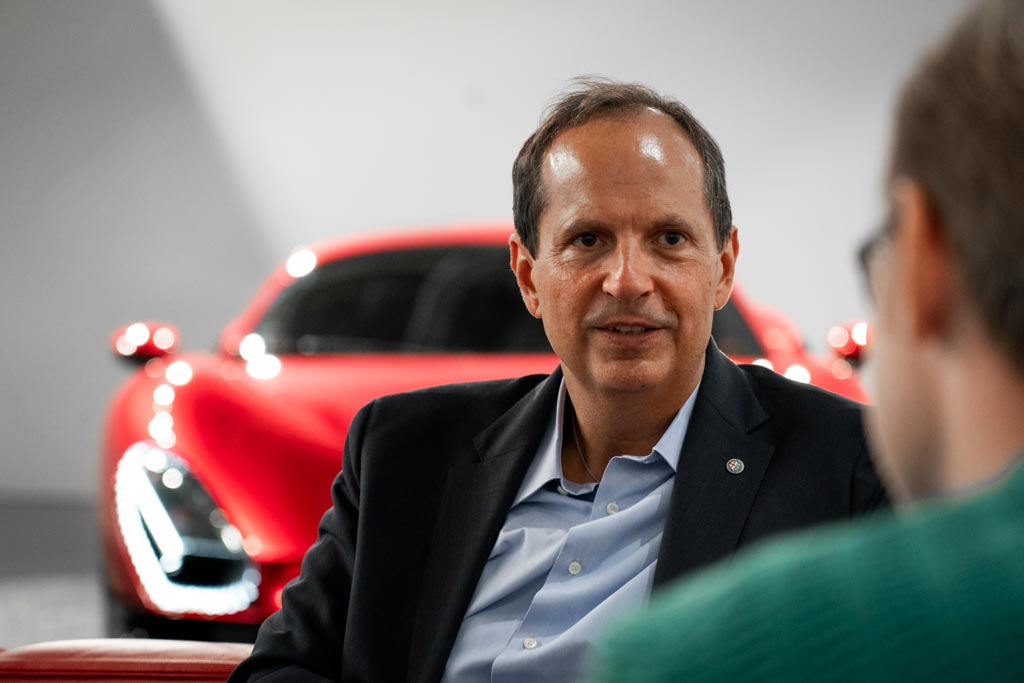 "There was no doubt we needed a bridge from the internal-combustion-engined cars to our fully electric future in 2027," says Cristiano Fiorio, head of Strategic Products. Launching a car with an ICE option and an EV alternative is a challenge, but this halo car had to reflect the past and future. "The choice was right there from the start."
Sourcing the owners involved consultation with the Alfa Romeo Museum's heritage department as well as senior company figures. "I also oversee the Formula 1 activities, travelling around the world, and have a good opportunity to meet enthusiasts. I had a list, and we started to speak with them, and then started talking to our regions, telling them about the car's path forwards."
The appetite for the car was so strong that it was sold out within only a few weeks – however, despite the possibility to make more variants on the 33/2 theme in a manner similar to the 8C Competizione and Spider, it's not something that Alfa Romeo will pursue. "We won't be doing a convertible version based on the 33, because we want it to be credible to those involved in the project," he says. "The idea is to make another car – this project has given birth to other ideas of concepts."
Pressed on whether those projects will involve cars based on the 33 prototypes such as the Iguana, Fiorio was unable to comment. "The idea was to start the project, and then, if we have good feedback, we'll go for a complete plan – and this is what's happening now," he explains. "We are opening the Bottega project – but we have to decide what it will be."
An exchange of ideas is being formed between Alfa Romeo and the clients – a special club that Jean-Philippe Imparato will explain more about below – but Fiorio says there is not one path currently agreed. "There are two or three, so it might go in one direction or the other, but we'll always abstract ideas from our history."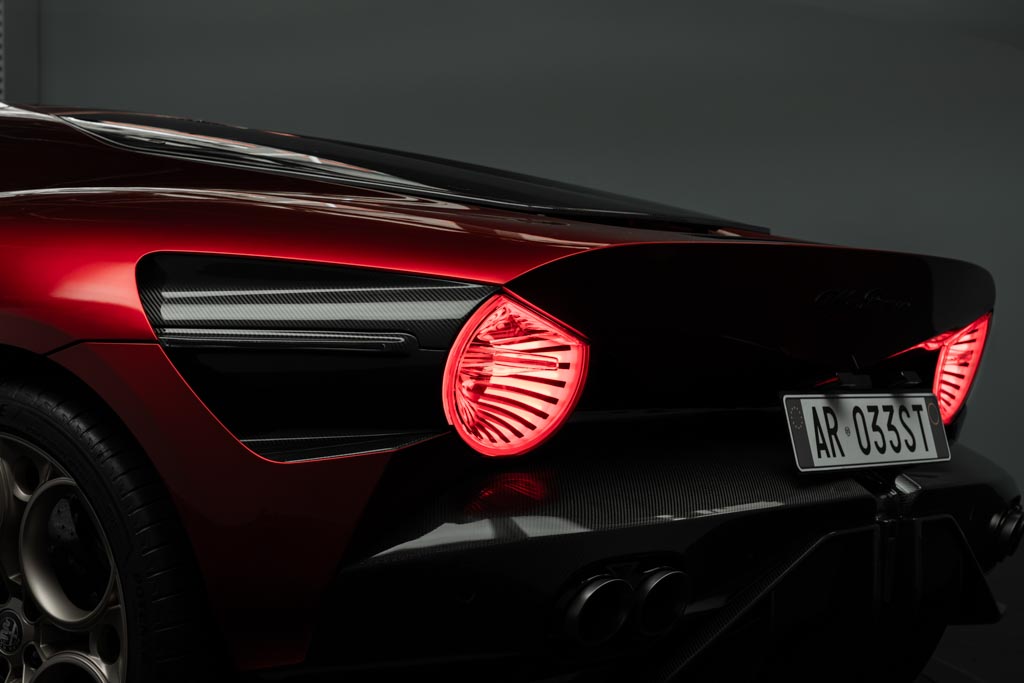 However, will these future cars continue to be a mixture of EV and ICE, or the former only. "In five years' time, I don't think there will be a choice, but if we are thinking a little earlier, it could be a mix," he says. "It depends on when we're going to launch – but the reality is we have to execute the current project in the best way. We have to build the cars with the level of excellence we have in mind. We have to be sure we've set up the process for sales and aftersales properly."
Alfa Romeo's Bottega team is currently made up of 49 people, which means other projects – such as a Continuation Alfa Romeo car in the manner of the Aston Martin DB4 Zagato, as hinted at in Magneto's interview with Andrea Zagato last year, is unlikely to happen. "That's not our focus – we have to be selective about what we do, but you can never say never," Fiorio says. "That doesn't mean we aren't working to maintain our heritage and our museum – we've recently launched a certification programme (as reported by Magneto here)."
Returning to the new 33 and the plans for the future, given the demand for the car it might have been tempting to build bigger production runs for future projects – but that's not going to happen. "We did that already with the Giulia GTA and GTAm, but they were derived from production cars. For models such as the 33 the number should always be under 100, because for us it's not a question of business, it's a question of perfection in execution. We're not pretending to make a division that will become a competitor to anyone – we just want to do it because we want to do this in a very limited way for very few people in the best possible way."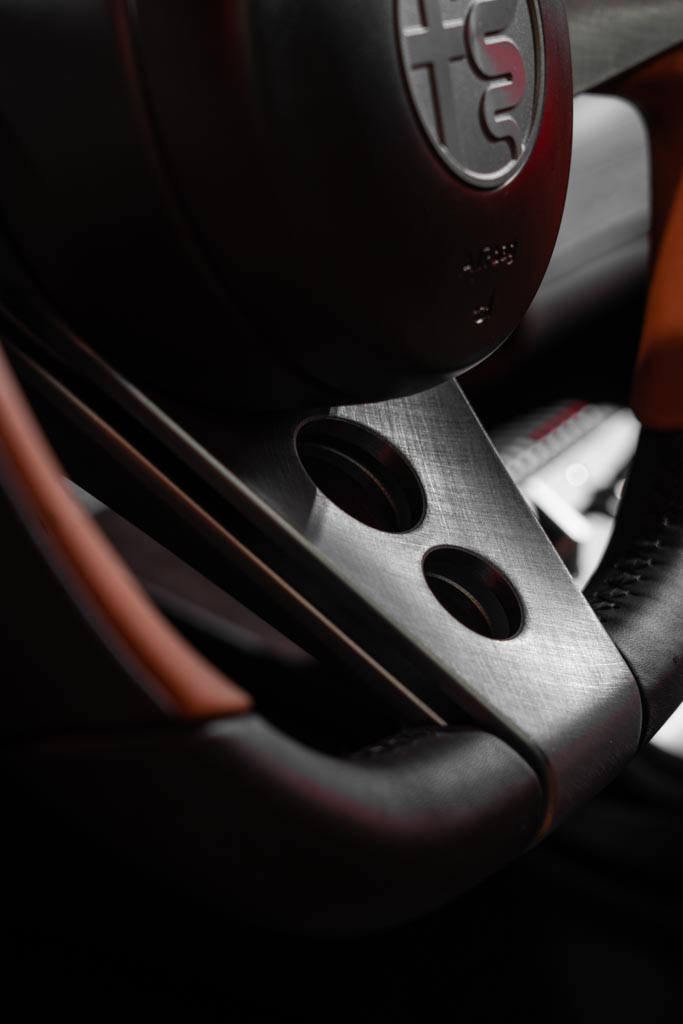 Fiorio is full of admiration for the 33 enthusiasts who took the plunge. "The co-operation with the clients has been the spectacular part of the project, because involving them in its co-creation is a dream for them and an asset for us," he says. "We wanted to capture ideas, and they had great ideas. I believe one of the essential parts of the project was to keep not only the family feeling of the car, but also the mix of sensuality and brutality of the old model. If you look at it from behind, it is very brutal and aggressive, but if you look at it from the front, it's a very sensual and feminine car – this was the hardest part of the design, the biggest challenge. Every feedback we received from the clients during the creation was key."
Jean-Philippe Imparato, Alfa Romeo CEO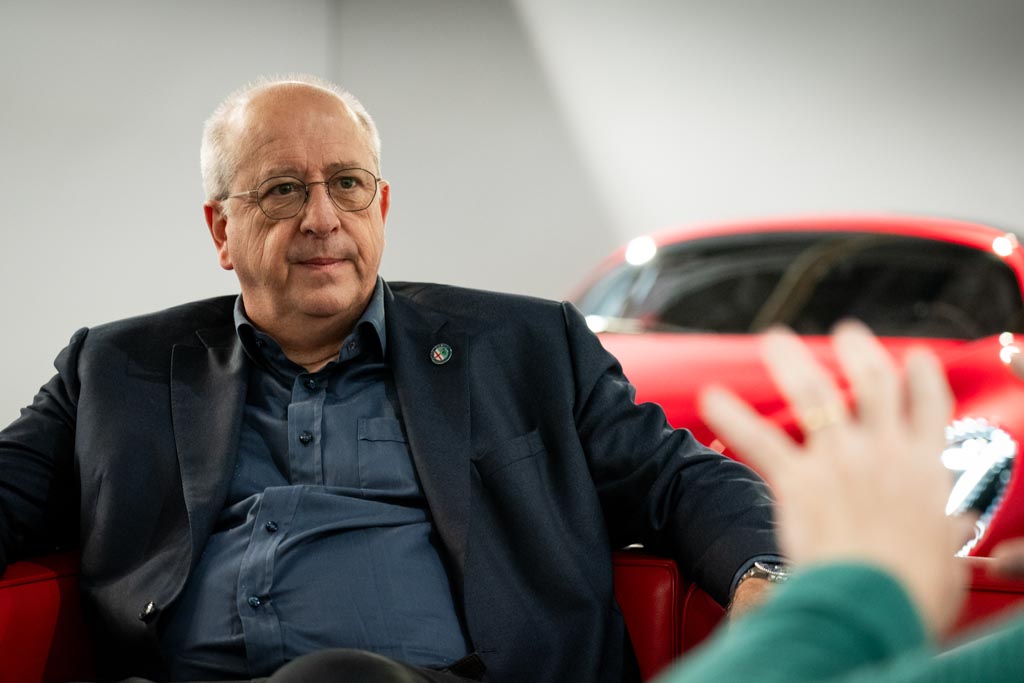 "Pride!" – that's Jean-Philippe Imparato's primary emotion when discussing the project. He was fresh from a global executive committee meeting when we spoke, where Stellantis boss Carlos Tavares was warm and supportive for the project. "He said he was proud to be part of a group that could say yes to such a project in a world that's changing at such a speed – we are a seven-million car group, more or less, and we are still able to manage a small-unit project. The start-up spirit can be protected and promoted in this company."
Getting the idea off the ground wasn't a simple yes or no. "We needed to convince people that it was possible to do it, and be cash positive," he says. "Day one on this project means that you have to sell the car before building the car – so we had to find the customers able to say 'yes' based on a PowerPoint presentation. Because of Alfa Romeo's impact, and the fact that we were honest, direct and no bullshit, they followed us. The customers, by the way, were expecting this moment for the past 56 years."
Imparato then had to set out to convince the finance, planning, engineering and purchasing departments that it was feasible; it took four times to convince the global executive board to produce 33 cars. The car was revealed to clients at Monza in 2022, and finally signed off in April 2023. As for the future, the key is to maintain the rapport with the 33's customers, developing the project in conjunction with Alfa Romeo, the heritage department and other key players.
"These guys will decide what the next project will be, around the end of 2024," he says. "I was to set a benchmark in terms of reliability of the programme and perceived quality."
On that point, he's keen to differentiate the project from other low-volume products: "Despite the fact that they are named supercars, the level of perceived and effective quality of some big guys is far from having serious life expectation.
"I don't want that – the 33 is not a torture instrument," he says. "You will not be at 40 degrees in the cabin, the air-conditioning will work and you will be able to drive this car as if it was a normal GT – I want people to be totally comfortable in it."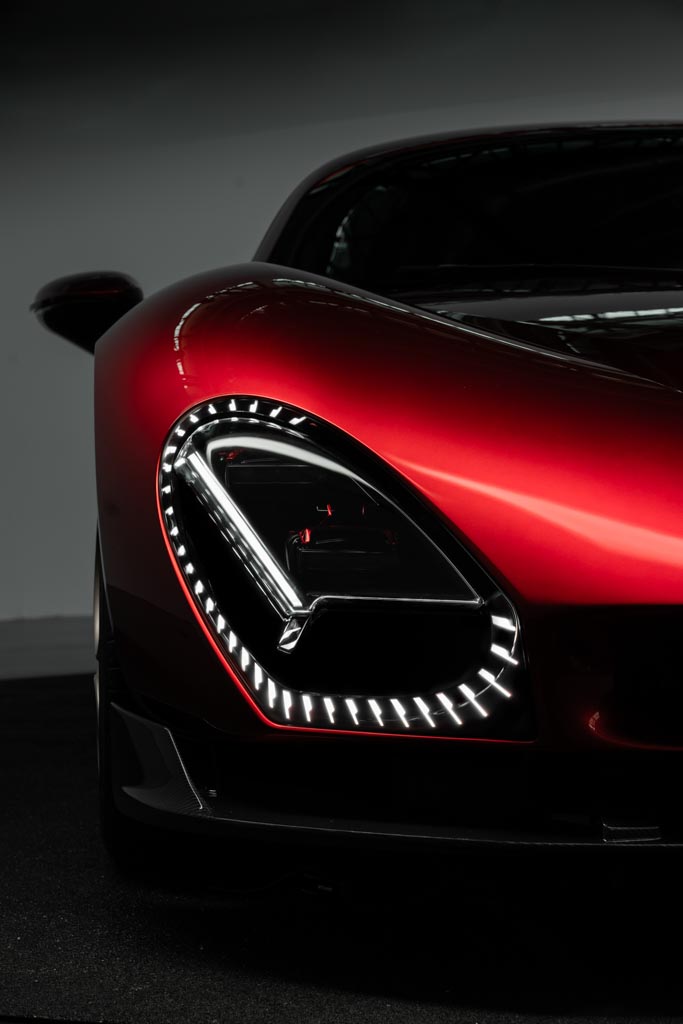 Pushed on whether Alfa Romeo will follow other manufacturers down the route of a track-only hypercar, he believes it will be put down to a vote. "I'll respect that vote, as well as probably ask to see some more newcomers on the waiting list," he says. "We will also check the compatibility of the proposal with the evolution of the brand equity – there has to be a link to the design codes people will see in 2025, 2026 and 2027. There must be a link between what we say and what we put on the street. I would love to bring a Spider onto the road, but if the guys in the programme have another story, it's another story."
Ah, the Spider – a key part of Alfa Romeo lore and one that, for many, defines the marque. However, the last open-topped Alfa was the 4C, and despite persistent calls from the Alfisti for another, generally it's a market segment that's been in decline for some time; BMW is struggling to sell its Z4. "There is no business case – you might sell 80,000 in the first year, then you sell 40,000 the next and then 20,000. Say you sell 20,000 Spiders in this period of everybody talking about how to optimise the cost of pathways [to production] and onboard software – you cannot do that if you don't connect the car with a sedan or a hatchback. You have to take that as a variable of expense on a car that is providing enough volume to absorb the cost of the investment. The only way for us to make it profitable is to use or re-use a part [of another car] to limit the amount of investment."
Bringing the Alfa Romeo DNA to an EV world is a pertinent challenge – Alfisti have an expectation of how their cars should drive, whether they be supercars or superminis. Silent propulsion and EV platforms present a particular challenge. "I have three things to say, because this world is coming," Imparato says. "Firstly – we already have the power. 1000bhp, 2000, 3000 – push the button, you have the power – but after that the question is of design, Italian design. Then there's the 'Italianity' of Alfa Romeo itself, and thirdly, the technical side."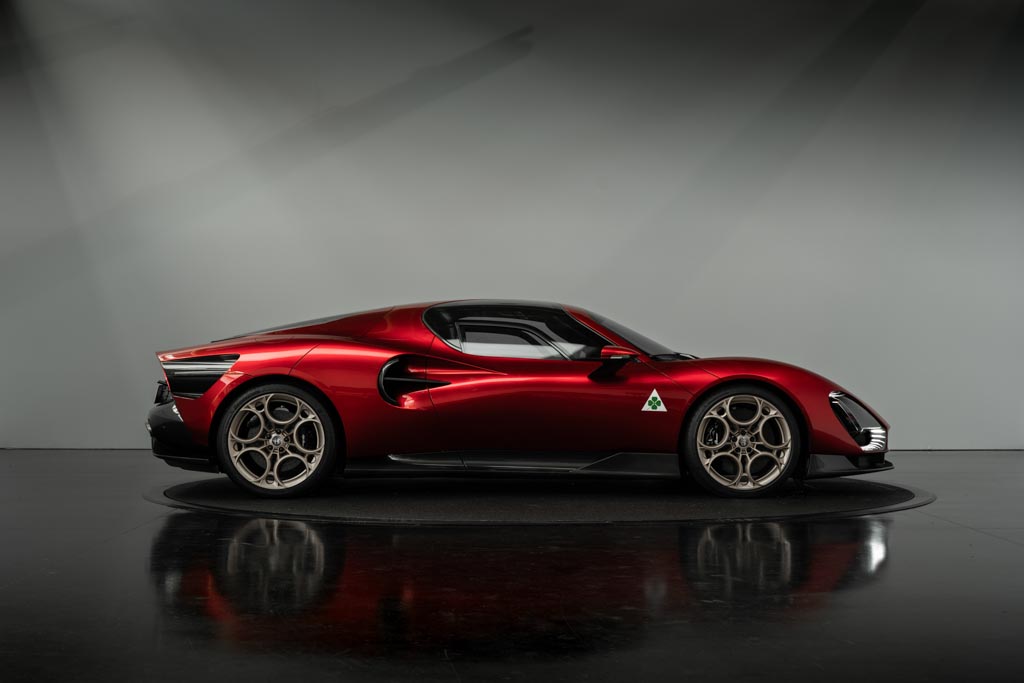 The key to Alfa Romeo's future is dynamics, he believes: "I want to drive; if you don't want to drive, and have autonomous driving, you'll be able to select it depending on your mood. What we [Alfa] have that the others don't have is to put a car on the road with a fantastic road ability. I'll work until I sweat on making customers recognise it's an Alfa Romeo when they drive it." To that end, the team behind the Giulia GTA and GTAm will be put to work on developing future products.
Creating cars that are desirable to look at and drive is one thing, but making people believe in the brand is another. Going back to the Giulia/Stelvio programme, several spin-offs were rumoured and planned under prior management, but they didn't arrive. Imparato's approach will be different. "We need stability and quality – when I say that we'll launch one car per year, we must see one car per year on the road."
That's backed up with his commitment to an EV future for Alfa Romeo, despite other elements of the Stellantis empire taking a wait-and-see approach, or even reintroducing ICE-powered cars due to demand. "I'm black or white on this, I cannot be grey," Imparato says. "If I go flat-floor to free the space for the customer, I cannot have an ICE engine – I'd have to change the platform. Everybody told us we have to move to electric. I hope that one day they will not say, 'hey, we were probably too pushy'."