WORDS: ELLIOTT HUGHES | PHOTOS: RM SOTHEBY'S, H&H, BONHAMS, GOODING AND COMPANY, ARTCURIAL
The last time we ranked the top 50 most expensive cars ever sold at auction was back in 2021 for Magneto issue 10. In the two years since then there have been plenty of momentous results in the collector car auction world – most notably the record-breaking Mercedes-Benz 300 SLR Uhlenhaut sale that dominated headlines in 2022.
So what better time than to bring our top 50 feature up to date? The buoyancy of the market over the past couple of years has meant that plenty of cars have tumbled off the list, while the newest additions point to the hottest commodities of the near future. Remember, there will be some private sales that exceed these prices – most notably the reputed near-$80m paid for Ferrari 250GTO 4153GT.
50: 1934 BUGATTI TYPE 59, $12,666,600, GOODING AND COMPANY, LONDON, 2020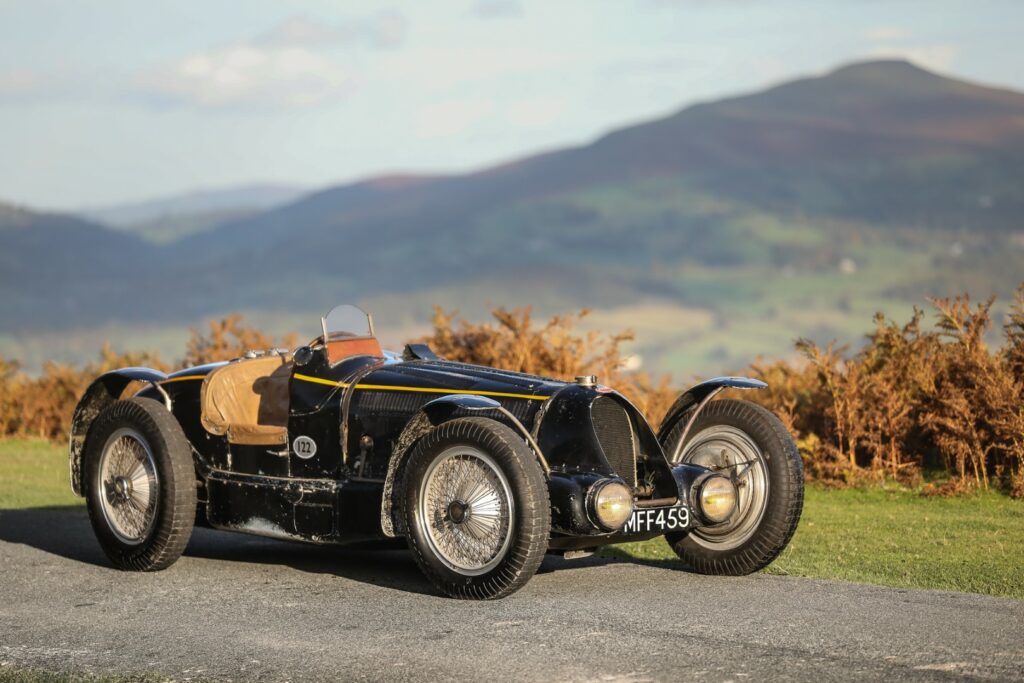 This works GP car raced in 1934 and '35, taking victory at Spa and third at Monaco with René Dreyfus. It has a supercharged straight-eight and is entirely original. One of its five previous owners was King Leopold III of Belgium, further reinforcing this rare Bugatti's provenance and desirability. It eclipsed the previous $1.8million record set for a Bugatti Type 59 back in 2005, selling for nearly ten times that amount at Gooding & Co's Passion of a Lifetime auction in 2020.
49: 1953 FERRARI 340/375MM BERLINETTA, $12,812,800, RM AUCTIONS, 2013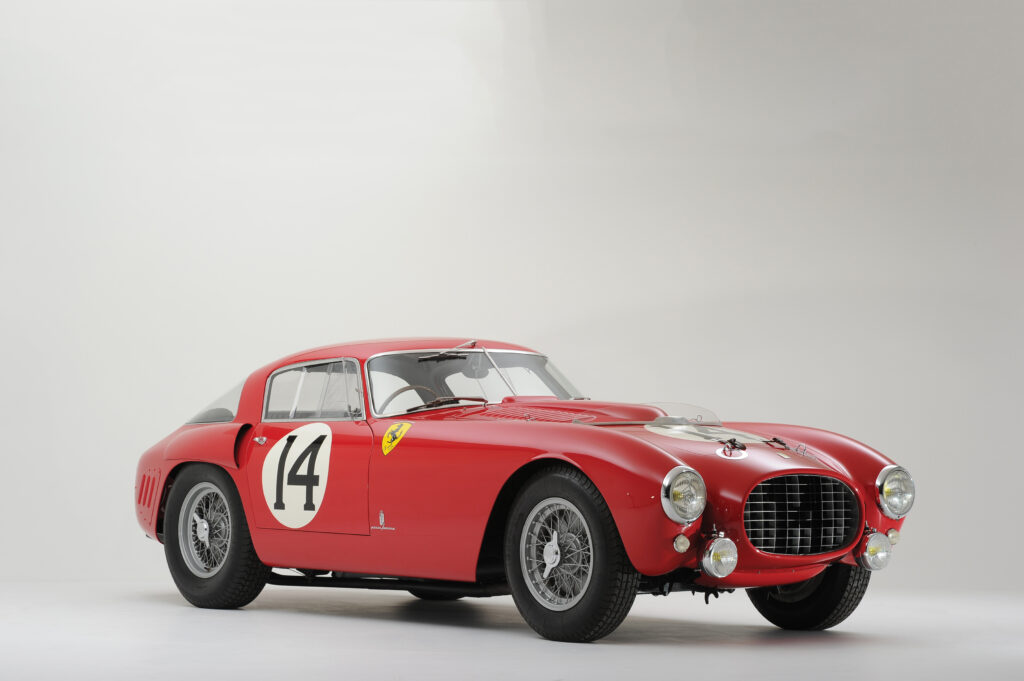 Driven by three World Champions – Alberto Ascari, Giuseppe Farina and Mike Hawthorn – this 375 was one of three entered into the 1953 Le Mans by Scuderia Ferrari. Unfortunately, it was disqualified after running as high as second place because of an illegal pitstop fluid change. The car also entered the Carrera Panamerica, Spa 24 Hours and Pescara 12 Hours. After the 375MM's racing career was completed it was imported into the US, where it spent time with a number of collectors. It was fully restored and had its racing livery reapplied in 2006, and was sold at the Concorso d'Eleganza Villa d'Este for more than double RM Auction's estimate thanks to its racing heritage.
48: 1972 FERRARI 312PB, $13,033,720, RM SOTHEBY'S, VILLA ERBA, 2023
Chassis 0886 delivered the last of Ferrari's 15 World SportsCar Championship titles in 1972, winning two races that year with Ronnie Peterson and Tim Schenken. In fact, various 312Ps won ten of 11 races that year, with the exception being the Le Mans 24 Hours. After its racing career, chassis 0886 passed into the hands of former NART driver Harley Cluxton. Since then, the highly original matching-numbers racer took its place in various private collections, before being consigned in 2023.
47: 1956 FERRARI 250GT TOUR DE FRANCE, $13,200,000, RM SOTHEBY'S MONTEREY, 2015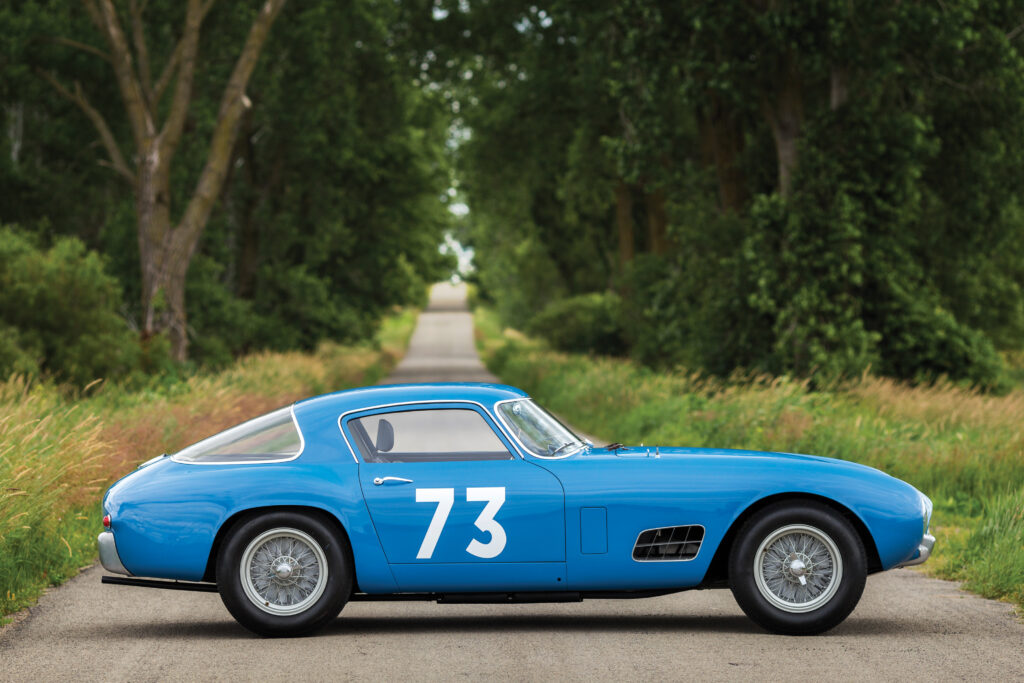 Following the tragic accident that shook the motor-racing world in 1955 at Le Mans, the FIA renewed its emphasis towards dual-purpose grand tourer racing cars. The new rules inspired Ferrari to commission Scaglietti to create a series of 250GT competition cars. This one, 0557GT, is the fifth of just seven Scaglietti-bodied first-series competition Berlinettas built. With the legendary Alfonso de Portago behind the wheel, it won the 1956 ten-day Tour de France Auto – meaning it's the very car to institute the TdF name. It went on to win the 1956 Rome GP. The car was restored in the early 1990s, and subsequently won the 1994 Pebble Beach Concours d'Elegance and the Platinum Award at the 2004 Cavallino Classic.
46: 1953 JAGUAR C-TYPE, $13,200,000, RM SOTHEBY'S, MONTEREY, 2015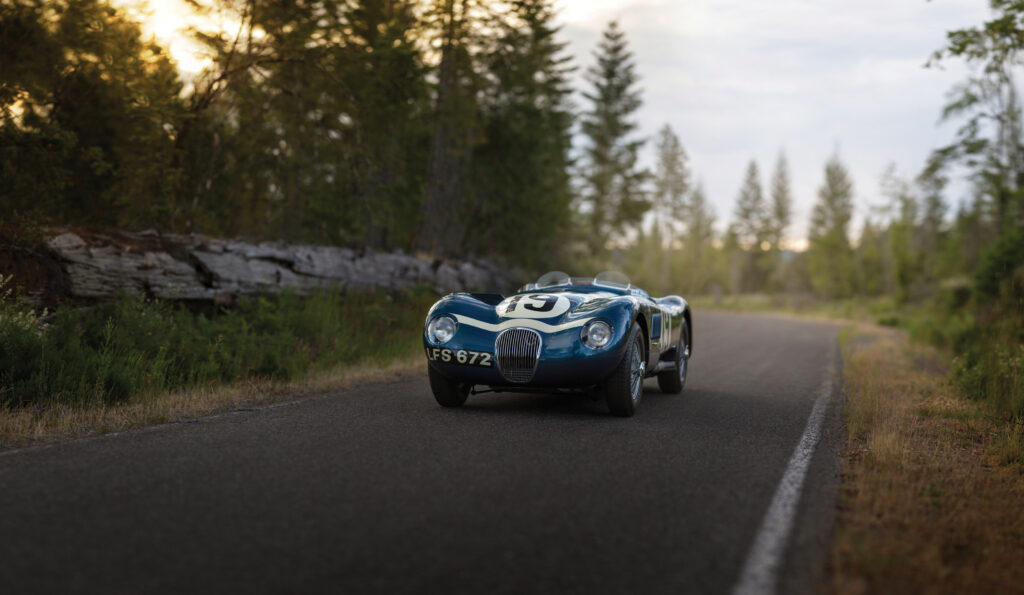 Scottish privateer outfit Ecurie Ecosse famously secured two victories at Le Mans with the Jaguar D-type, in 1956 and 1957. The team created the foundations of its successes with C-type XKC 052. It was the second of three final racers built for the 1953 Le Mans, complete with a few upgrades over their 1952 counterparts. As the apex of C-type development, it's one of three 'lightweights', built from thin-gauge aluminium. Ecurie Ecosse took the car to fourth in '53, before it was retired from racing in 1959 and restored with a new body the following year. It was auctioned in concours condition with its original XK straight-six.
45: 1957 JAGUAR XKSS, $13,205,000, RM SOTHEBY'S, MONTEREY, 2023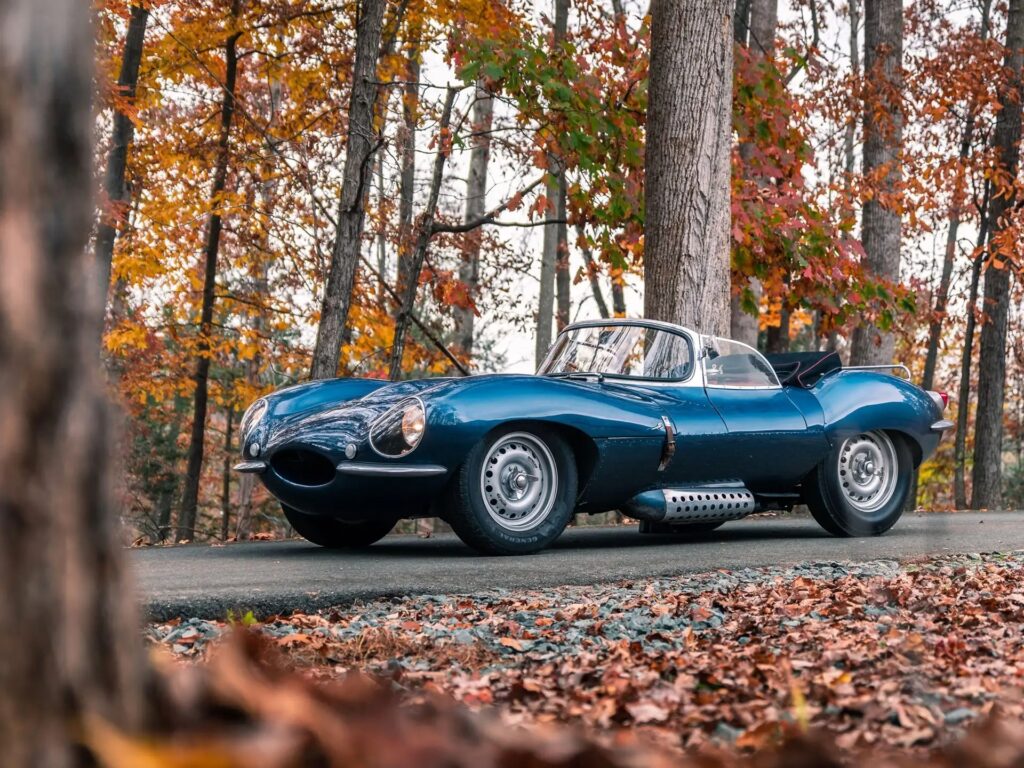 XKSS 707 is one of just 16 original Jaguar XKSS road cars built in 1957 from surplus D-types occupying the marque's factory in Browns Lane, Coventry. This particular example started life as D-type XKD 564 and was ordered new by Ferrari racer Lou Brero Sr, who was tragically killed before taking delivery. It was subsequently imported to the US before briefly joining Lord Bamford's collection in the UK. After several more owners, it passed into the ownership of I.G. Campbell McLaren of Glasgow. The XKSS competed in the first Le Mans classic in 1978, and also competed in the 2004 Mille Miglia.
44: 1961 ASTON MARTIN DB4GT ZAGATO, $13,315,899, BONHAMS, 2018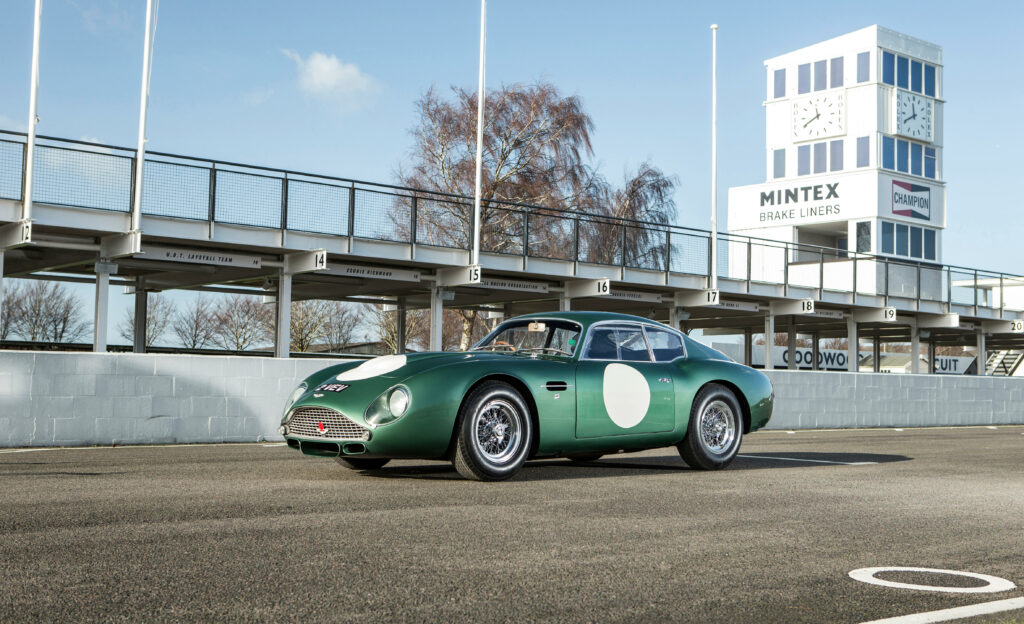 This Aston, 2 VEV, topped the 2018 Goodwood Festival of Speed auction, and was the seventh British car ever to breach the $10m threshold. Of 19 DB4GT Zagatos built, just three were in the DP209 lightweight racing spec; this is one of them. It competed at Le Mans in 1961 for John Ogier's Essex Wire Racing Team, alongside its sister car; both retired with engine issues after three hours. Jim Clark raced it at Goodwood in 1962, where he crashed into the Ferrari 250GTO of John Surtees. This Zagato raced into the late '60s before retiring. Following a road accident in 1993, it was restored to 1962 spec before finally being sold by Bonhams.
43: 1937 TALBOT-LAGO T150-C-SS TEARDROP COUPÉ, $13,425,000, GOODING AND COMPANY, AMELIA ISLAND, 2022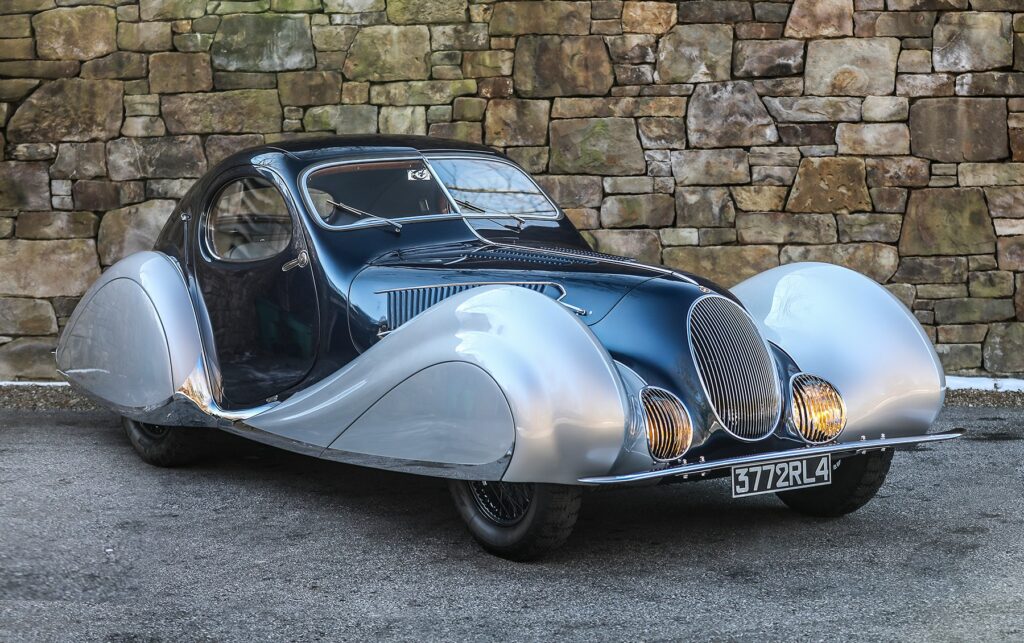 The $13.42m paid for this beautiful Talbot-Lago at Amelia Island made it the most expensive French car ever sold at auction. Just ten Teardrop Coupés such as this one were built on the T150-C-SS chassis. This particular example, chassis 9220, is one of only two built that included the most dramatic features of the design, with all-aluminium coachwork and fully enclosed and skirted front fenders.
It was displayed at the Concours d'Elegance Fémina in Paris, 1938, where it won the Prix d'Excellence, and has passed through the hands of several of the world's most influential collectors since then. The car was restored to its original specification and displayed at Pebble Beach in 2005, before winning Best of Show at Amelia Island in 2007.
42: 1960 FERRARI 250GT SWB COMPETIZIONE, $13,500,000, GOODING AND COMPANY, MONTEREY, 2016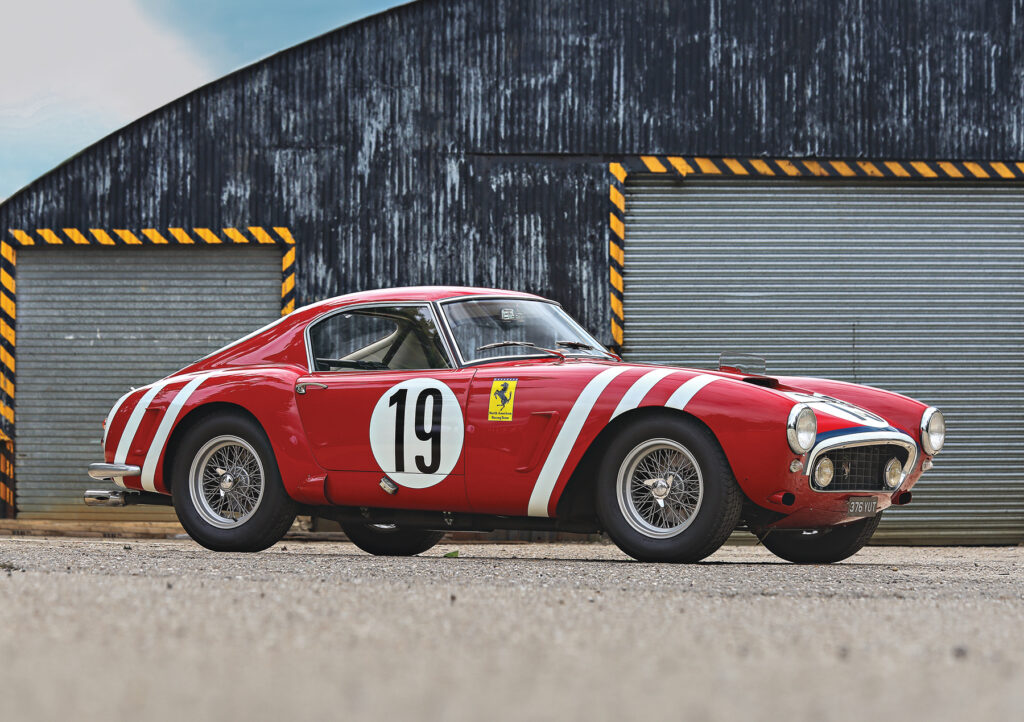 Built between January and March 1960, chassis 1759GT was one of the first Ferraris SWB competition Berlinettas and was designed to race in the Le Mans 24 Hours, where it finished seventh. Prior to its entry, the car was tested by Ferrari's factory drivers including Phil Hill, Wolfgang von Trips and Richie Ginther. After Le Mans, it went to a Dr Schur in the US, before making its way through various owners up to the 1980s. During this time it competed in the Ferrari club's Hillclimb in Virginia City and raced at Laguna Seca in California every year from 1975-80. The car was fully restored in 2005, when it was finished in its Le Mans livery, before being entered into many events including the 2007 Cavallino Classic.
41: 1998 MCLAREN F1 (LM SPEC), $13,750,000, RM SOTHEBY'S, MONTEREY, 2015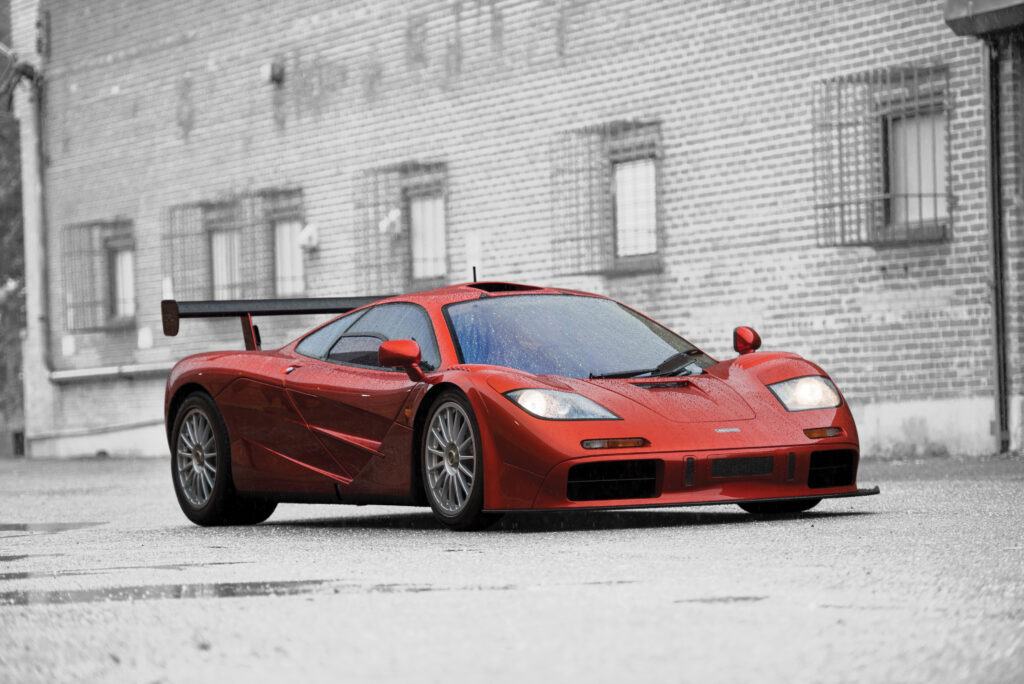 While not originally an F1 LM, chassis 073 was one of two F1s that were converted to LM spec by McLaren Special Operations (MSO), making it one of the most desirable F1s around. MSO set out to create the ultimate example of Gordon Murray's masterpiece by improving the engine with parts derived from the F1 GTR racing car and enhancing the wheels, suspension and interior, and fitting high-downforce bodywork. The finishing touch was a transmission tunnel signed by Murray. This car was the penultimate example of 64 road-going F1s, and had covered a mere 13,048 miles from new when it was auctioned in 2015.
40: 1962 SHELBY COBRA 260 ROADSTER, $13,750,000, Montery, 2016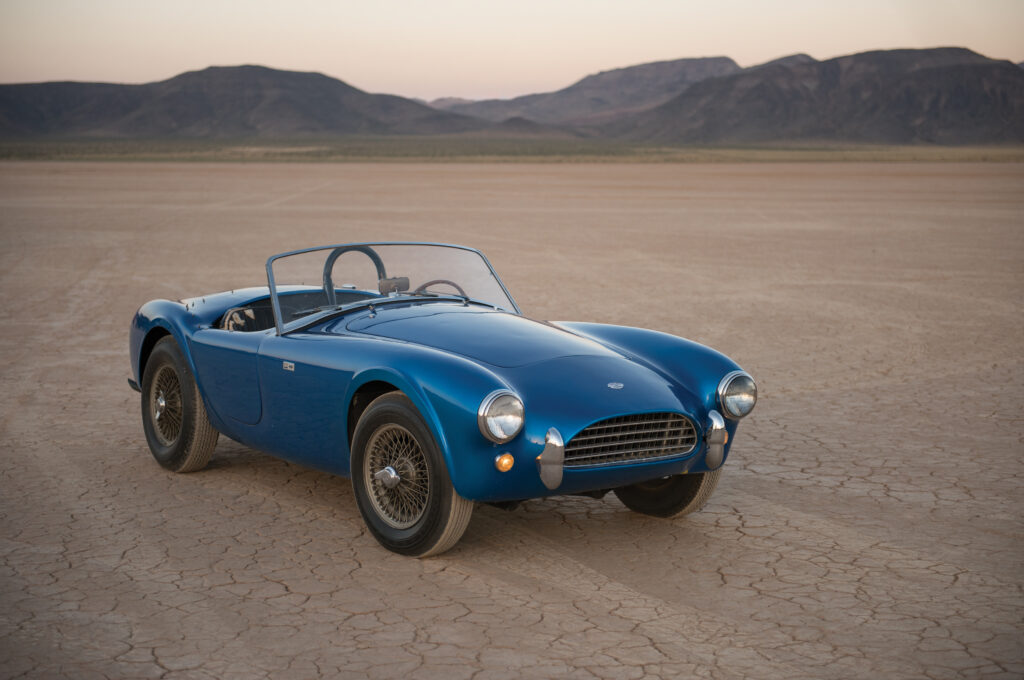 Its official description as "the most important American sports car in history" may sound like hyperbole, but the fact that this car is chassis CSX2000 makes such a statement very difficult to disagree with. Why? Because it was the first Shelby ever created, and was the catalyst for the marque's place in automotive legend. It was built by Carroll Shelby after health concerns finished his highly successful racing career; CSX2000 was the result of his dream to build his own model and compete successfully on the world stage. For a while it was the only Shelby car in existence, it was simply resprayed during its time as a press model in order to mislead the automotive world into thinking the firm had a fleet of Cobras available. As per Carroll's wishes, the car was offered to RM Sotheby's to raise funds for the Carroll Hall Shelby Trust after five decades in its ownership.
39: 1970 PORSCHE 917K COUPÉ, $14,080,000, GOODING AND COMPANY, MONTEREY, 2017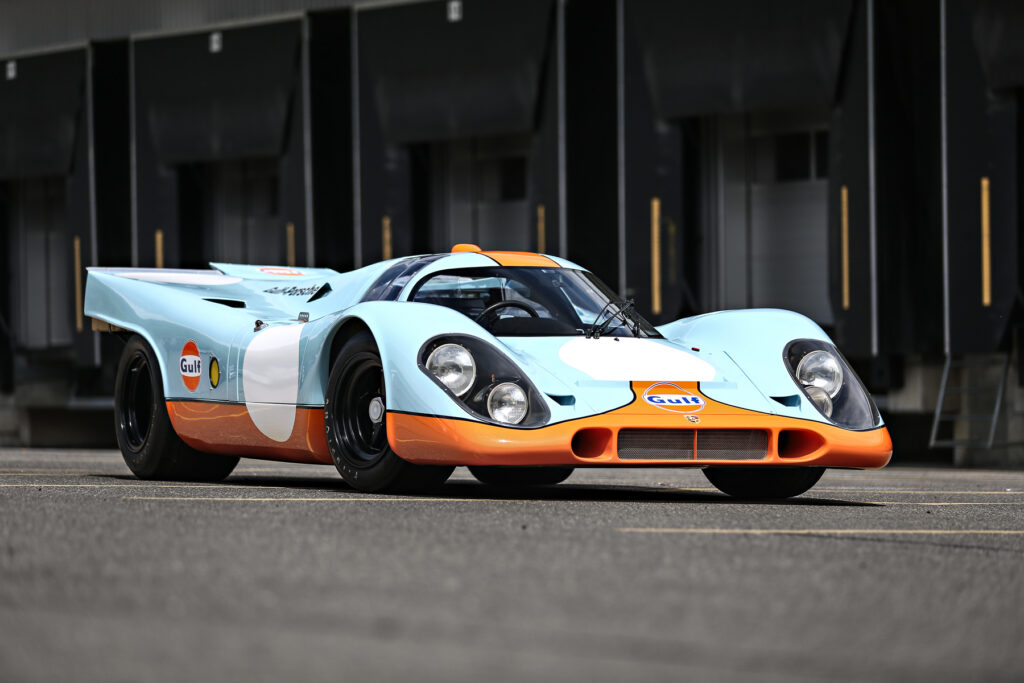 This Porsche 917 (chassis 024) was built in 1969, and by February 1970 it had been wrecked and subsequently scrapped. No.024 rose from the ashes in April 1970, when Porsche needed a Le Mans training car for that year's event. Mike Hailwood and Brian Redman drove the 917 during its first test session, with Redman setting the fastest time.
The car's history became even more interesting when, after buying it from Porsche, Jo Siffert leased the 917 to Steve McQueen's Solar Productions in 1971. It took a starring role in McQueen's Le Mans, where it was filmed battling Ferrari 512s and was famously used as a camera car. Following Siffert's death in 1971, it was eventually sold to Pierre Prieur of Saclay, France. It was then stored in a warehouse outside Paris for several decades, before being discovered in 2001 in original condition still wearing its famous Gulf livery. A Swiss individual bought the car in 2002, and had it fully restored by marque specialists before selling it to its current owner in 2017 after 15 years of ownership.
38: ASTON MARTIN DB4GT ZAGATO, $14,300,000, RM SOTHEBY'S, NEW YORK, 2015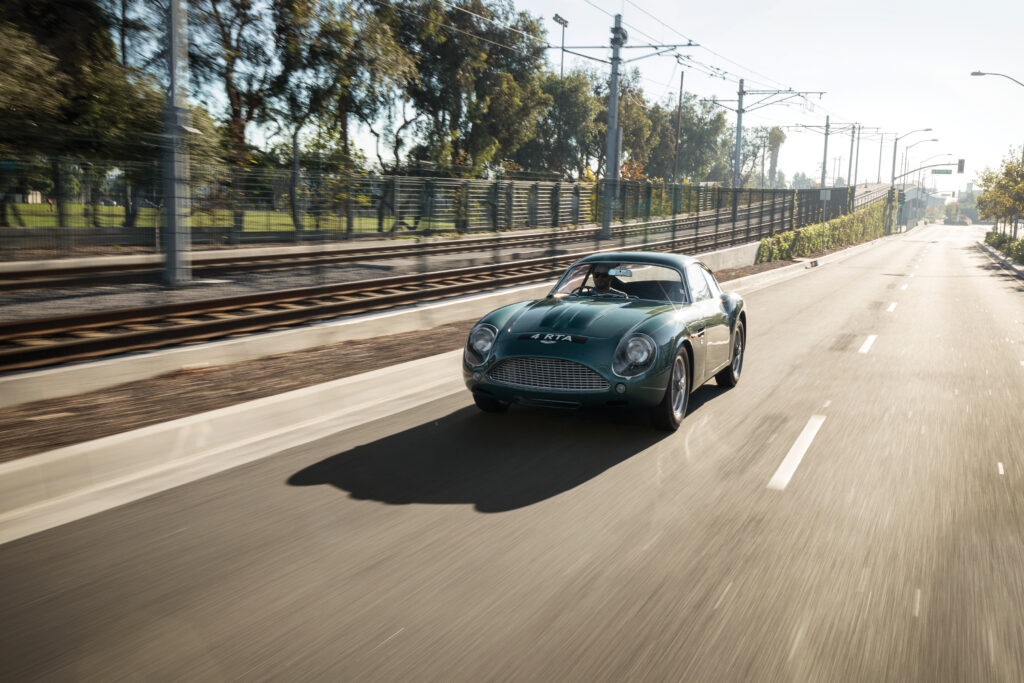 Chassis 0186R may not have a racing heritage as extensive as the previous DB4GT Zagato on this list, but it is still one of the most desirable of the 19 examples in existence. The car was originally shipped to Sydney, Australia in 1962, where it enjoyed a short but successful racing career. It finished no lower than fourth overall aside from one DNF, and it won six times including a first overall in the 1962 South Pacific GT Championship.
However, 0186R really made a name for itself after it retired from racing. It was purchased by Peter Read who, with the help of Zagato, decided to fully restore the car over two years to its factory specification.
After this, the Aston picked up a hoard of coveted accolades on the international concours circuit, including at the Louis Vuitton Concours and Bagatelle Concours d'Elegance in 2002. Awards were also forthcoming at the 2007 Villa d'Este, Pebble Beach and Niello Concours, as well as at the San Francisco Presidio Concours and Carmel-by- the-Sea Concours in 2009.
37: 1964 FERRARI 250LM COUPÉ $14,300,000, RM AUCTIONS, NEW YORK, 2013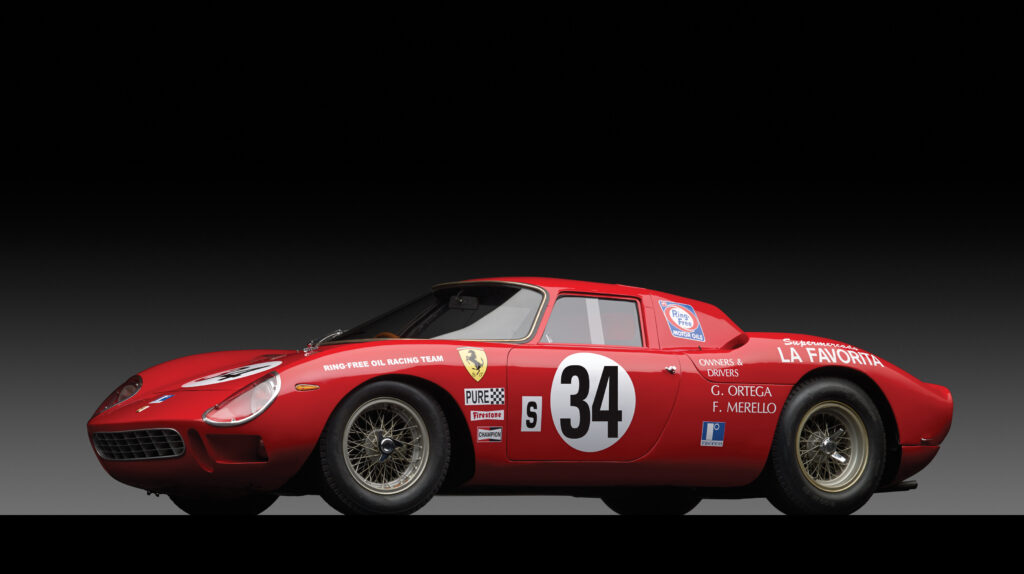 This Ferrari single-handedly accounted for 22 percent of the total value of RM Sotheby's 2013 Art of the Automobile Auction, for what was at the time a world-record price for this model. The 250LM Coupé was the 24th of 32 examples constructed, and bears the chassis no.6107. Uniquely for this competition-focused model, the original 1964 owner did not intend to use the car for racing, and so it spent its early life cruising the open roads of California.
However, this doesn't mean it has never seen the asphalt of a circuit; its racing career started in 1968, when it was entered into the Daytona 24 Hours in a new, deep-red livery. The car finished eighth overall and first in its class. It retired from racing in the mid-1970s, before making its way into the hands of a Japanese collector in 1983. The car was then unseen for decades, before finally being offered for auction in 2013 in original but 'gently freshened' condition with 10,000 original miles on the clock.
36: 1966 FERRARI 275GTB/C, $14,520,000, GOODING AND COMPANY, MONTEREY, 2017
The sixth of just 12 examples, there is no doubt that this 275GTB/C is very rare. Chassis 09051 has a rich racing heritage, having competed in Italy from 1966-70. It won its inaugural outing at the Mugello 500km for Round Eight of the Sports Car World Championship, and secured a further seven class wins in that year's nine remaining races. In 1967 and '68 it took victories in three Italian hillclimbs and the Trofeo Città di Orvieto.
After 1970 the Ferrari passed through several UK owners, before going to the US in 1993. In early 2007 it was given a show-quality renovation and returned to its original 1966 livery, before placing second in class at the Pebble Beach Concours. The car was restored a final time in 2013 prior to its sale by Gooding & Co in 2017, and was offered with extensive history and documentation by Marcel Massini.
35: 2003 FERRARI F2003-GA FORMULA 1, $14,880,000, RM SOTHEBY'S, GENEVA, 2022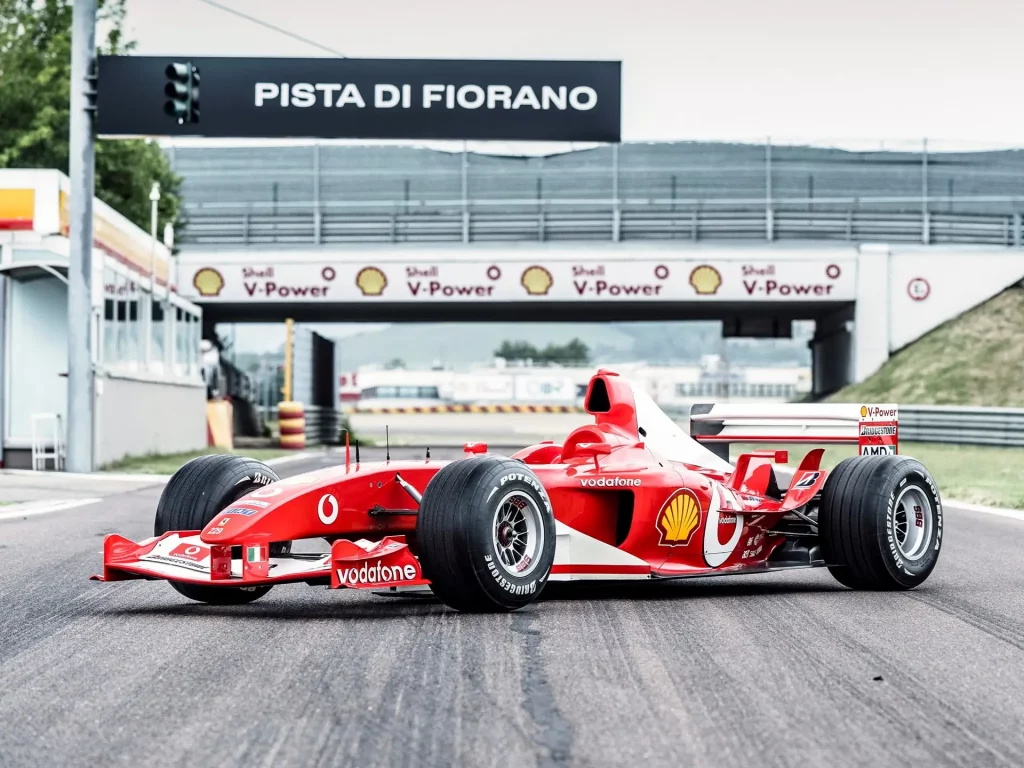 Driven by the legendary Michael Schumacher, F2003-GA chassis 229 is one of only four Ferrari F1 chassis driven to victory by the German on five or more occasions. Schumacher's title-winning car claimed wins at the Spanish, Austrian, Canadian, Italian and US Grands Prix.
Ferrari's Corse Clienti division subjected the car to a full mechanical overhaul in 2022, and it was subsequently tested by Schumacher's son, Mick, at Fiorano before being consigned in track-ready condition.
34: 1961 FERRARI 250GT CALIFORNIA SWB SPYDER (CLOSED HEADLIGHT), $15,180,000, GOODING AND COMPANY, MONTEREY, 2014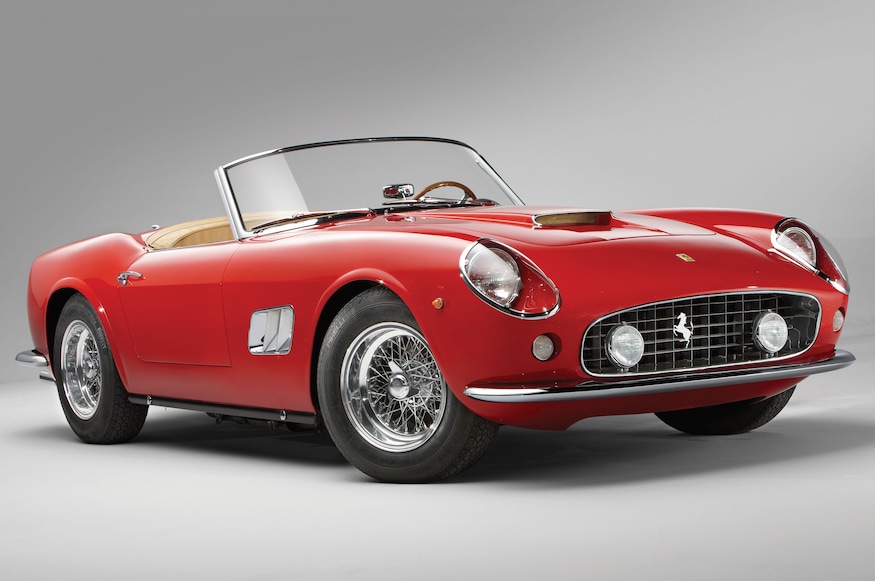 As one of just 56 SWB Cal Spyders, chassis 2903 GT was already a rare car – but this example is one of only 37 fitted with closed headlights, and one of an even smaller number with the optional hardtop. It debuted at the 1961 Salon de l'Automobile, before finding its way into the hands of its first recorded keeper in the late 1960s. American actress Barbara Hershey owned it for two years after it arrived in the US in 1970. During this time, the car went missing for a month; it was then sold shortly after it was recovered.
The 250 changed hands regularly following a decade of Spencer Stillman's ownership, until it was restored in the early 1990s while in the possession of actor Charles Wegner. He then entered 2903 GT into the Cavallino Classic and Monterey Ferrari Concours. The car was given Red Book classification in 2014, and its successful tenure on the concours circuit, history of famous past owners and mysterious month-long disappearance meant it was the most sought-after car at Pebble Beach in 2014.
33: 1995 MCLAREN F1, $15,620,000, BONHAMS, MONTEREY, 2017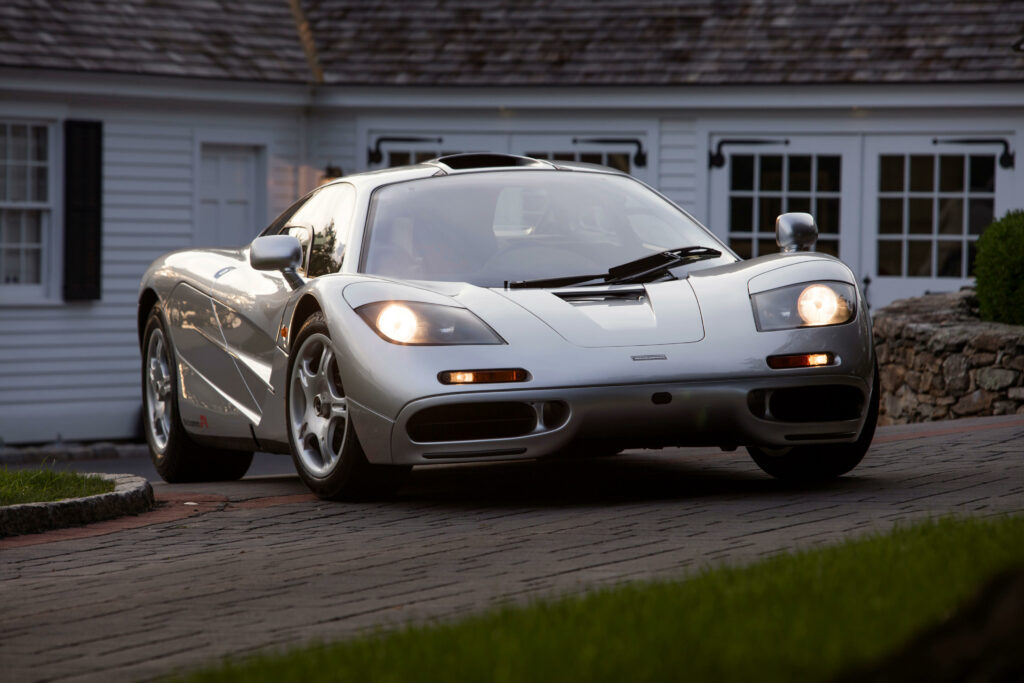 One of just seven McLaren F1 hypercars federalised for use in the US, chassis no. 044 (above) was the first to be imported stateside and the 37th of 64 road cars made. The winning bid at Bonhams' annual Quail Lodge Auction was reportedly secured by a "man with a very long history connected to F1". The chassis number is something of a giveaway as to who that might have been; it was none other than Sir Lewis Hamilton, who famously uses '44' as his race number.
The British hypercar has an enviable history file, having belonged to American business magnate Herb Chambers from new after he visited McLaren's Woking assembly line in 1996. The F1 held the coveted title of the fastest car in the world for an unprecedented reign of nearly 15 years, before being dethroned by the Koenigsegg CCR in 2005. This made it a perfect ownership prospect for a by-now-seven-time F1 World Champion.
32: 1957 FERRARI 250TR SPYDER, $16,390,000, GOODING AND COMPANY, MONTEREY, 2011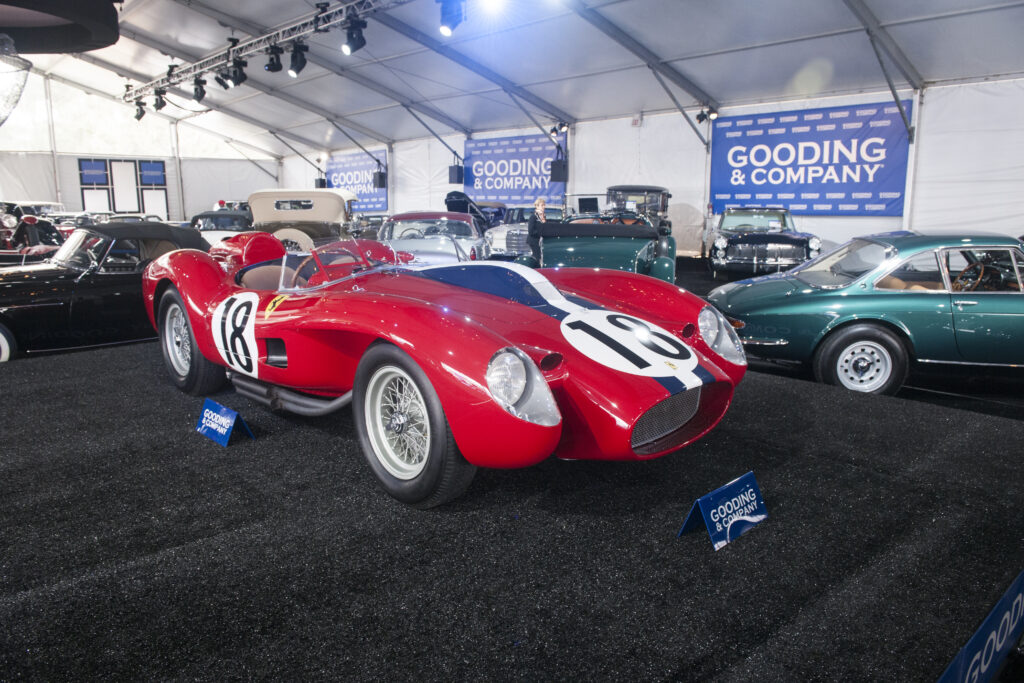 This Ferrari 250 Testa Rossa (chassis no. 0666), is the first prototype racing car that was built on the 290MM chassis. It debuted at the 1957 Nürburgring 1000km clothed in more conventional (but still gorgeous) Scaglietti bodywork similar in appearance to the Ferrari 500TR's. Masten Gregory brought the car home in tenth position, but this was just a taste of what was to come.
In late 1957 the Ferrari was reskinned in the iconic Scaglietti pontoon bodywork seen here, and would go on to achieve podium finishes at the Buenos Aires and Caracas 1000km races. Chassis 0666's two Le Mans 24 Hours entries and one-time participation in the Sebring 12 Hours were less successful, recording DNFs in each event, although its stablemates would win Le Mans three times, in 1958, 1960 and 1961.
31: 1962 FERRARI 250GT BERLINETTA SPECIALE, $16,500,000, GOODING AND COMPANY, MONTEREY, 2015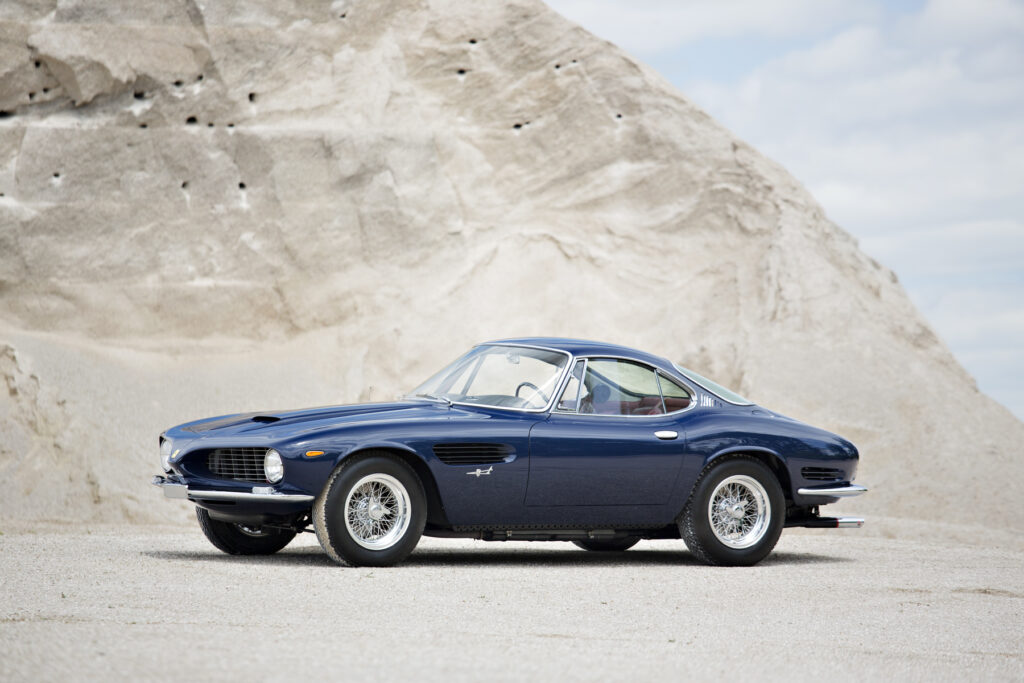 Bertone's legendary Giorgetto Giugiaro styled this unique member of the 250 family at just 21 years old. His design was inspired by the 'shark-nose' Ferrari 156 Grand Prix car of 1961, which Phil Hill drove to World Championship glory, as well as the TRI/LM and 246SP. The result is deservedly regarded by enthusiasts and collectors as an emblematic example of Italian automotive design, and a vehicle of unprecedented beauty and historical significance.
Car 3269 GT came about when Carrozzeria Bertone founder Nuccio Bertone purchased a 250GT SWB chassis from Ferrari, which he'd retain for his personal use. Nuccio was growing frustrated with Ferrari's continued commissioning of his main rival Pininfarina, and wished to demonstrate what his design house was capable of. The presence of Nuccio's name on this 250GT's documents amplified its provenance, as did the car's cameo in Marlowe, a film noir starring James Garner. The Ferrari has been restored twice; first in the 1980s, and then in the '90s when it was returned to its original specification. It won Best of Show in the 1996 FCA and 1997 Louis Vuitton Concours d'Elegance.
30: 1961 FERRARI 250GT CALIFORNIA SWB SPYDER (CLOSED HEADLIGHT), $16,830,000, GOODING AND COMPANY, MONTEREY, 2015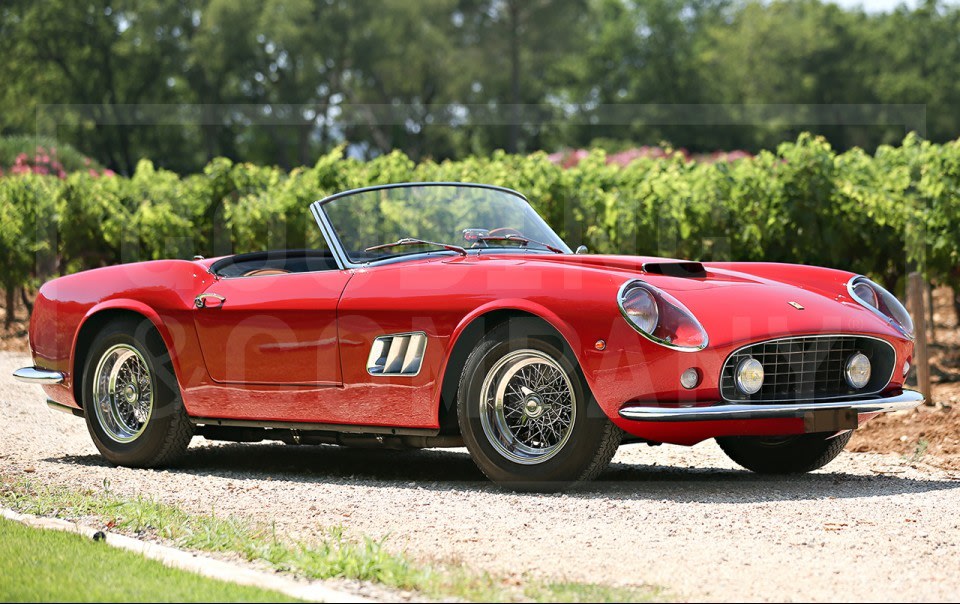 Chassis 3095 GT is cited as one of the most desirable non-alloy 250 California Spyders thanks to its entirely original condition and closed lights. Its only alteration was a repaint in Ferrari's iconic red, after originally being delivered in metallic blue.
The car has no particularly outstanding provenance, although it was rumoured to have once been owned by Gunter Sachs, the husband of Brigitte Bardot. It is believed the car was passed between European and US owners before eventually ending up as the centre-piece of the collection of Lord Laidlaw – one of Scotland's wealthiest citizens and a passionate collector.
In 2014, millions saw the 250 on television when it was used as Kimi Räikkönen's parade car before the Belgian Grand Prix, and then it was consigned at the Gooding & Co Pebble Beach auction the following year. With Ferrari Classiche certification and documentation by Marcel Massini, 3095 GT sold within its projected estimate of $16m to $18m.
29: 1961 FERRARI 250GT CALIFORNIA SWB SPYDER (CLOSED HEADLIGHT), $17,160,000, GOODING AND COMPANY, AMELIA ISLAND, 2016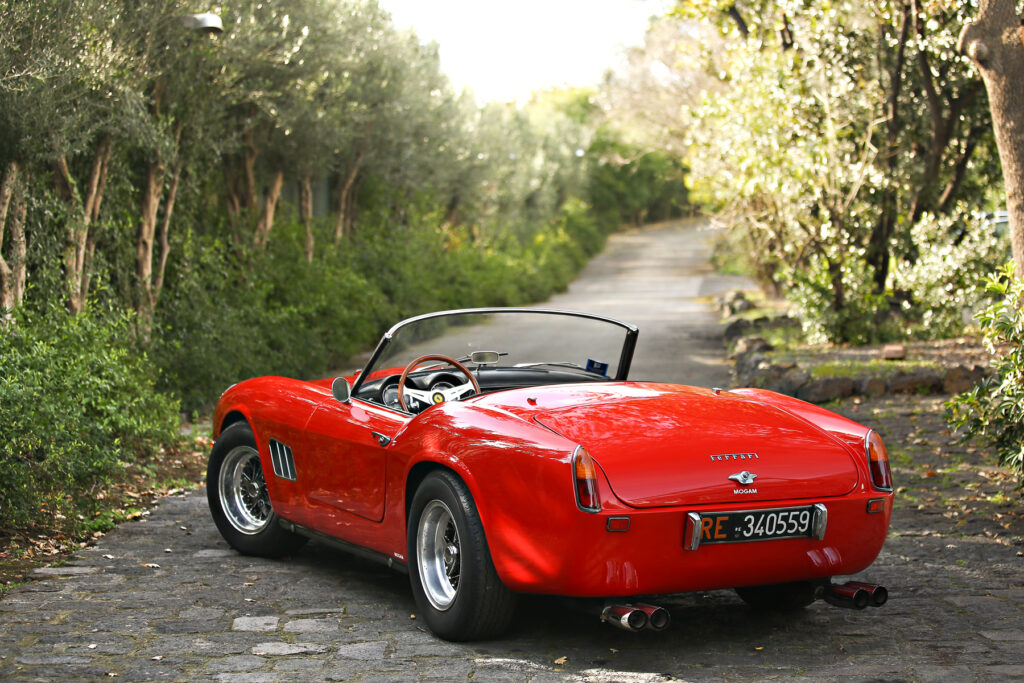 Last exhibited in 1983 at Auto Club d'Italia's Ferrari Days, 2871 GT had never been previously offered for public sale. It had just three Italian owners from new, including seminal '60s Italian industrial designer Gianfranco Frattini. Aside from a cameo in the 1963 Oscar winner Yesterday, Today, Tomorrow, the Ferrari was rarely exhibited publicly during its early life.
Frattini sold it in 1978 to artisan Terzo Dalia, who showcased it at the Raid Ferrari d'Epoca and Ferrari Days events. It was sold again in 1985, and kept by that owner until its 2016 consignment at Amelia Island.
Originally finished in Rosso Cina, this car was never fully restored, but instead kept in good working order and original condition.
28: 1964 FERRARI 250LM COUPÉ, $17,164,664, ARTCURIAL, PARIS, 2023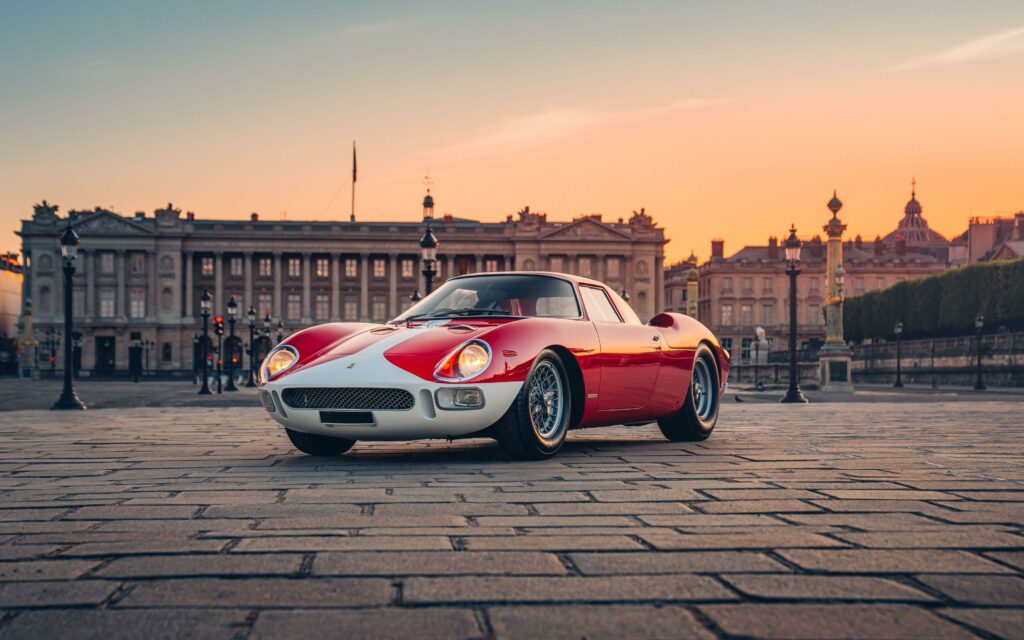 For almost 60 years, chassis 5901 was the last Ferrari to win Le Mans outright before the Prancing Horse triumphed at La Sarthe once again in 2023.
Chassis 5901 is the tenth of 32 examples built and was originally commissioned by Luigi Chinetti's NART outfit as a reserve car for the Daytona 24 Hours in 1966. As fate would have it, 5901 evaded use in competition and is consequently one of the most pristine examples with its original driveline, chassis and bodywork still intact.
The car has passed through the hands of various US collectors before returning to Europe in 1997. It was subsequently restored by DK Engineering and was under French ownership for 20 years until being offered at Rétromobile.
27: 1964 FERRARI 250LM COUPÉ, $17,600,000, RM SOTHEBY'S MONTEREY, 2012
This 250LM (chassis 6105) was ordered in 1964 by Ron Fry, a privateer racing driver and descendant of the Fry chocolate family. Fry's 250LM proved a capable companion, taking him to triumph in a multitude of events, including a victory at Castle Combe in 1964. So prolific were these racing successes that Enzo Ferrari himself presented the Briton with a medal of recognition for his efforts.
Fry sold the 250LM prior to the 1967 motor sport season, and it was subsequently purchased by David SD Skailes, who drove the car to sixth overall at the 1967 Kyalami Nine Hours in South Africa. The Ferrari's racing triumphs continued imperiously until 1984, when chassis 6105 made its way to Japan, where it would spend the next 11 years.
The car then had a brief three-year stint in the US, before finding its way back to Europe and returning to the track after a 30-year absence in the 2012 Le Mans Classic. Ferrari Classiche certification confirms that 6105 is still fitted with all its original components, and was offered by RM Sotheby's in an exceptional level of originality for a bona fide racing car.
26: 1959 FERRARI 250GT CALIFORNIA LWB ALLOY SPYDER, $17,990,000, RM SOTHEBY'S, NEW YORK, 2017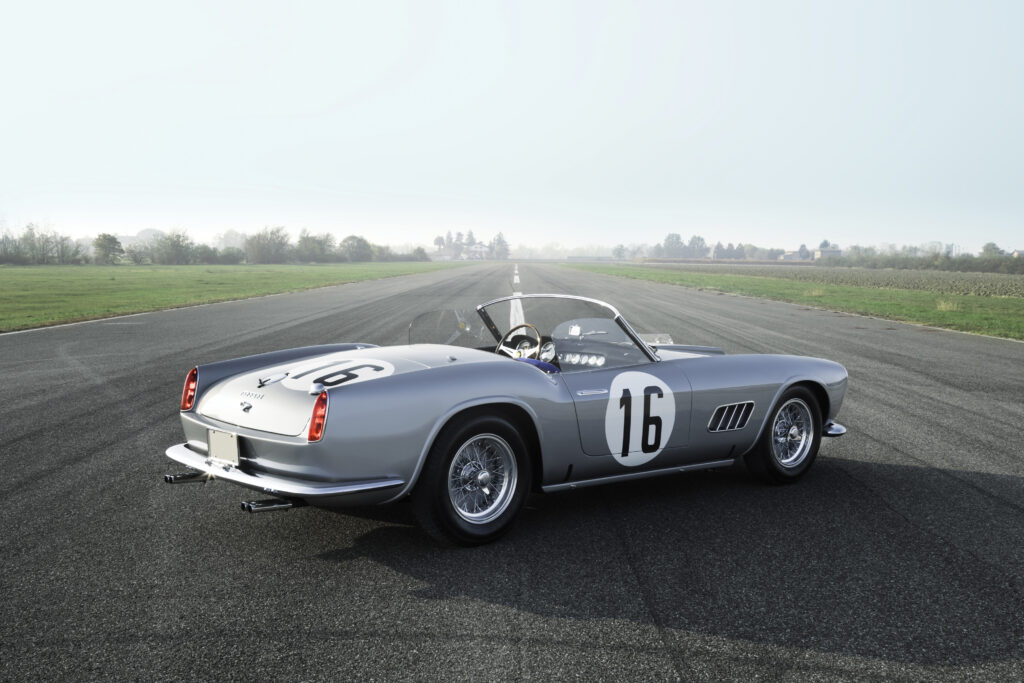 Chassis 1451 GT was the second all-aluminium California Spyder built, and was ordered by Luigi Chinetti – three-time winner of the Le Mans 24 Hours and founder of Chinetti Motors and the North American Racing Team (NART) – for US gentleman driver Bob Grossman.
Chinetti entered this car as one of a trio of Ferraris (the others being a 250 Testa Rossa and a 250GT LWB Berlinetta) set for the 1959 Le Mans. Its Competizione spec meant its lightweight Scaglietti body was complemented with the first outside-plug Tipo 128F V12 with high-lift cams, triple 40 DCL6 carbs and a comp-spec fuel system. Grossman drove 1451 GT to fifth place overall and third in class at La Sarthe.
The next phase of 1451 GT's life saw it pass between the hands of various US owners with whom it found success on the international concours circuit, notably winning Pebble Beach in 1984. In more recent times the car was fully restored to its original Le Mans livery, after which it was granted Ferrari Classiche certification..
25: 1962 FERRARI 250GT SWB CALIFORINA SPYDER (COVERED HEADLIGHTS), $18,045,000, GOODING AND COMPANY, AMELIA ISLAND, 2023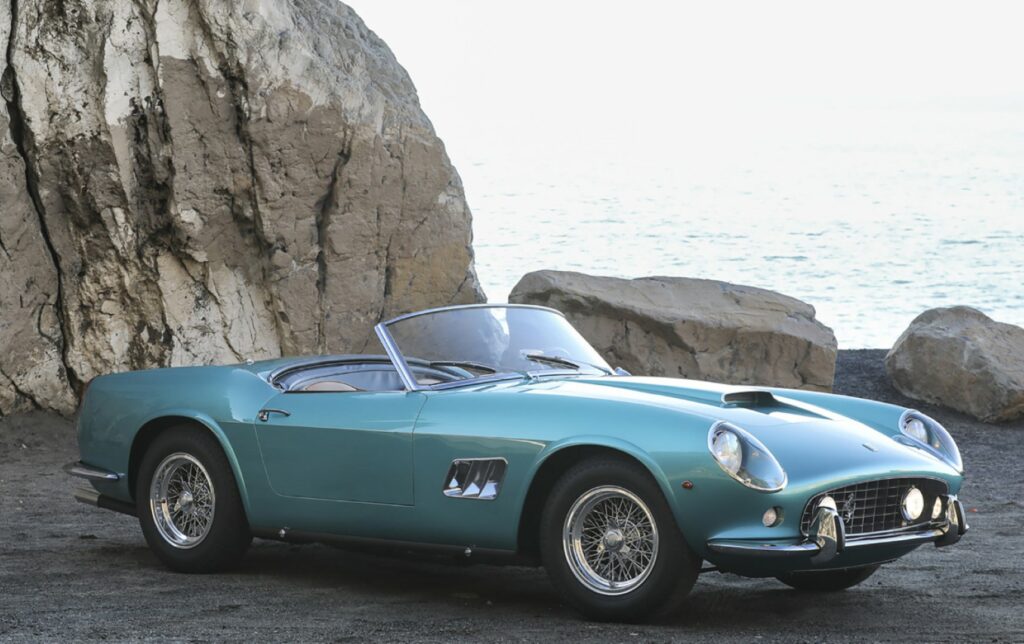 Chassis 3099GT accounted for roughly a quarter of the $72.67m in total sales Gooding and Company achieved at Amelia Island in 2023. It is one of just 37 SWB California Spyders sporting covered headlights, and was built for the 1962 New York International Auto Show. It is also the only example finished in eye-catching Azzurro Metallizzato paintwork.
The car spent the first years of its life in Hollywood, and was then crashed into a kerb in 1971, badly damaging its suspension, braking and exhaust components. It was purchased in this damaged state by Charles Betz and Fred Peters in 1972 for just $2400, and was subsequently repaired.
Betz and Peters had the car fully restored in the early 2000s, and their long stewardship of 3099GT continued until its consignment in 2023. It was offered with full Ferrari Classiche certification, and had won numerous concours accolades over the preceding decades.
24: 1959 FERRARI 250GT CALIFORNIA LWB ALLOY SPYDER, $18,150,000, GOODING AND COMPANY, MONTEREY, 2016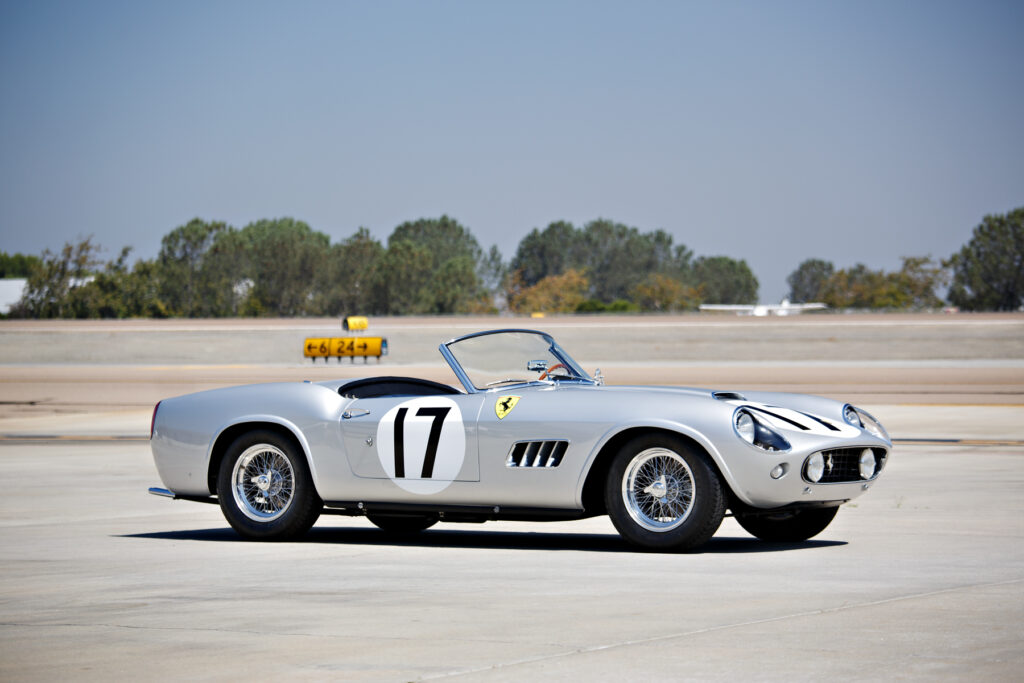 As car number 42 of 50, 1603 GT was one of the last examples built and is the most expensive LWB California Spyder ever sold at auction.
The first owner was George Reed of Midlothian, Illinois, who purchased it via Chinetti Motors. Between 1959-61 he campaigned 1603 GT in the Sebring 12 Hours, Nassau Trophy, Grosvenor's Trophy and at Road America. At Sebring in 1960 he finished third in class and fifth overall. Reed sold the car in 1964, and it was sold again in 1969.
In 1984 its newest owner, Brian Brunkhorst, restored it in dark blue with tan leather trim. The restoration yielded a first-in-class award at the 1989 Ferrari Club of America meeting. By 2001 the car was owned by Todd Morici, who participated in the Ferrari Challenge before having the California refinished in its Sebring Silver livery.
The car attained Ferrari Classiche certification during Morici's ownership, confirming 1603 GT's high level of originality. The 250 was lightly restored once more by the next owner in 2010, and won awards at Palm Beach in 2011 before being consigned in 2016.
23: 1954 FERRARI 375 PLUS SPYDER, $18,309,613, BONHAMS, MONTEREY, 2014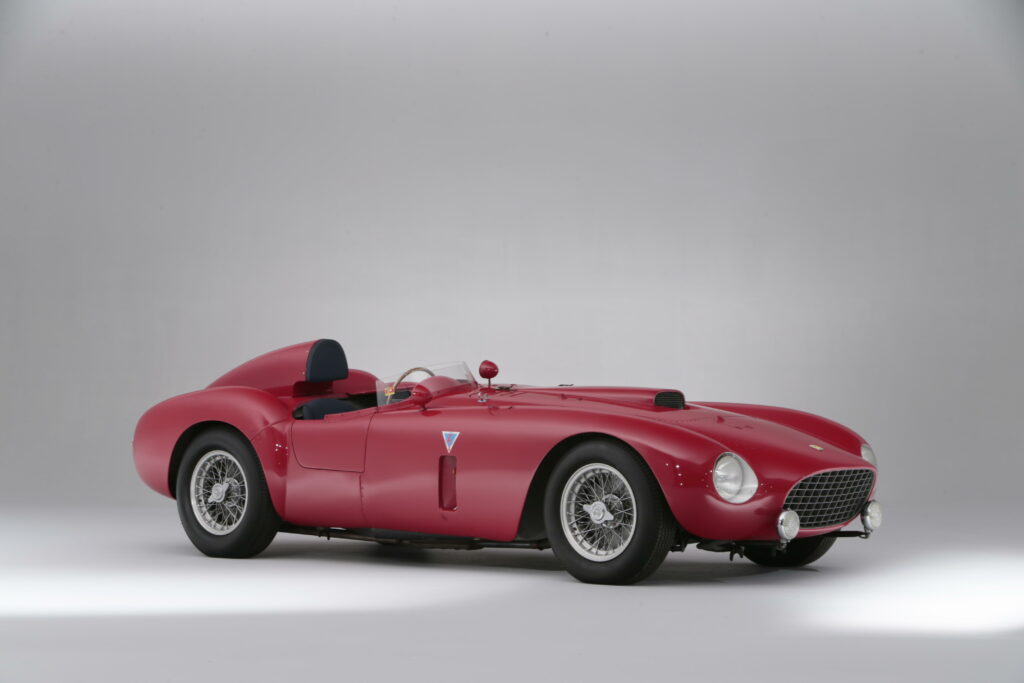 Known as the 'fearsome four-nine', the cool $18.3m this works Ferrari (chassis 0384) accounted for almost half the total $38.4m sales at Bonhams 2014 Goodwood Festival of Speed auction.
The nickname refers to the 4.9-litre V12 developed by Aurelio Lampredi, which had secured the Scuderia's first F1 victory at Silverstone in 1951, albeit in 4.5-litre form. Ferrari's first F1 winner, José Froilán González, won at Silverstone again in this car in 1954. Chassis 0384 also competed at Le Mans and the Mille Miglia in the same year. Jim Kimberly, Troy Rutman, Howard Hively and Umberto Maglioli drove it, too.
After a decade of competing in the world's most prestigious races, the car was neglected. Happily, it was retrieved and restored from the poor state it found itself in, by Belgian racing driver and Ecurie Francorchamps team owner Jacques Swaters. Thanks to his efforts, the Ferrari was fully restored and reunited with its original V12.
22: 1961 FERRARI 250GT CALIFORNIA SWB SPYDER, $18,405,440, ARTCURIAL, PARIS, 2015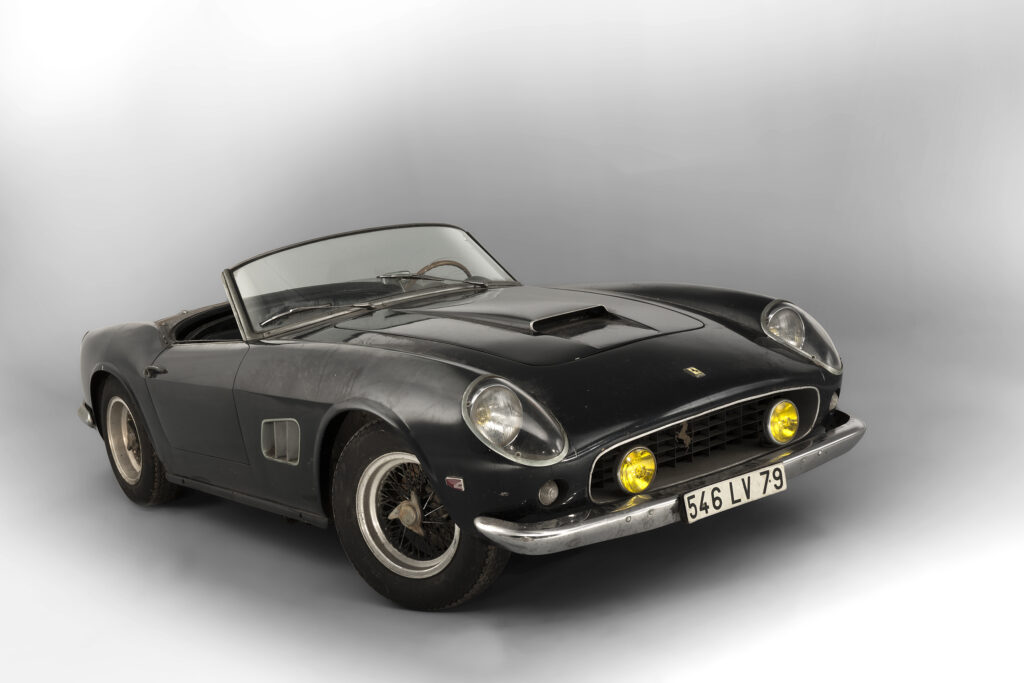 Selling for $18.4m, chassis 2935 GT cost the most of the nine 250 Californias here. The car was displayed by Ferrari importer Franco-Britannic Autos at the 1961 Paris Motor Show, where it was bought by French actor and director Gérard Blain. He promptly sold it to another actor, Alain Delon, who registered it in Monaco.
In 1964 Delon took the car to California, and then sold it on. Having passed through the hands of several actors, it ended up with lauded French collector Jacques Baillon in 1971, and only resurfaced in 2015 after decades in storage. This was the last closed-headlight SWB 250 California built at Maranello, and in its unparalleled level of originality it led Artcurial to describe it as "the Holy Grail of grand-touring Spiders".
21: 1939 ALFA ROMEO 8C 2900 B TOURING BERLINETTA, $18,563,605, ARTCURIAL, PARIS, 2019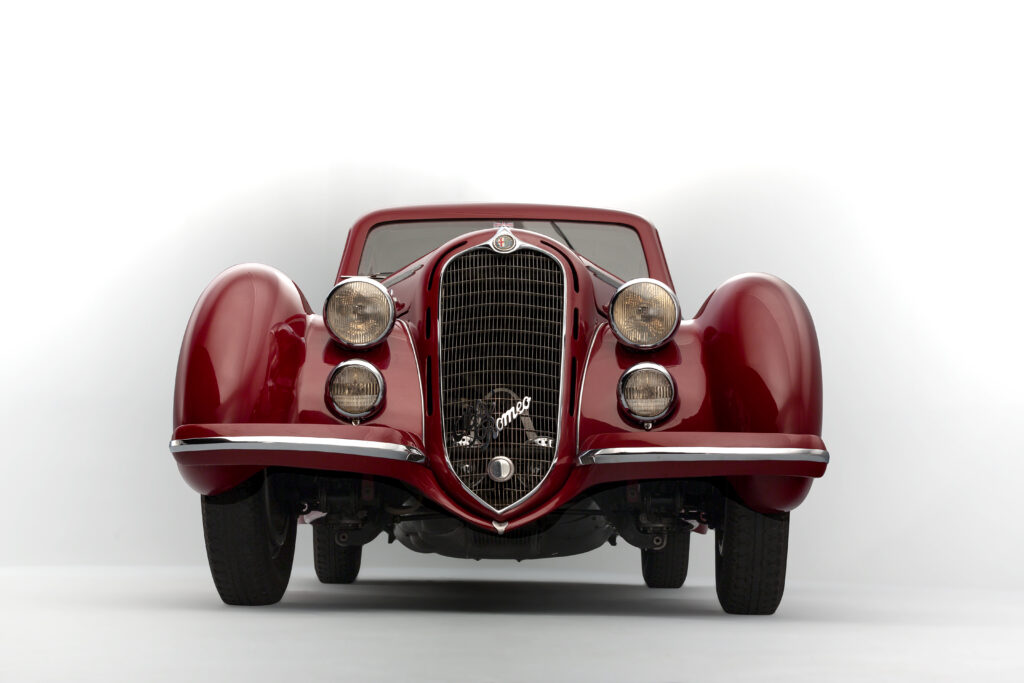 The second example of just five 8C 2900 B models built with Carrozzeria Touring Berlinetta bodies on the Lungo (LWB) platform, little is known of chassis 412024's early life.
Built in 1937 but not formally registered in Italy, the car's first owner is said to have been Italy's foreign minister and son-in-law of Benito Mussolini, Galeazzo Ciano. In February 1939, the Alfa was shipped to London Alfa dealer Jack Bartlett and advertised with blue paint and 5000 miles on the clock.
The spectre of war meant the 8C remained with Bartlett until it resurfaced in 1947, now finished in silver. After winning the 1947 Regent's Park Concours and 1948 Eastbourne Concours, its next custodians were Lord Ridley (who kept it until 1964) and Nigel Mann, who painted it red and then sold it to Jan Martens in 1976.
Jan owned it until it crossed the block in 2019. The Alfa was sold in stunningly original condition save for a few colour changes, and won the Most Elegant Closed Car award in 2001 and 2018 Best of Show awards at the Pebble Beach Concours d'Elegance.
20: 2013 MERCEDES-AMG PETRONAS F1 W04, $18,815,000, RM SOTHEBY'S, LAS VEGAS, 2023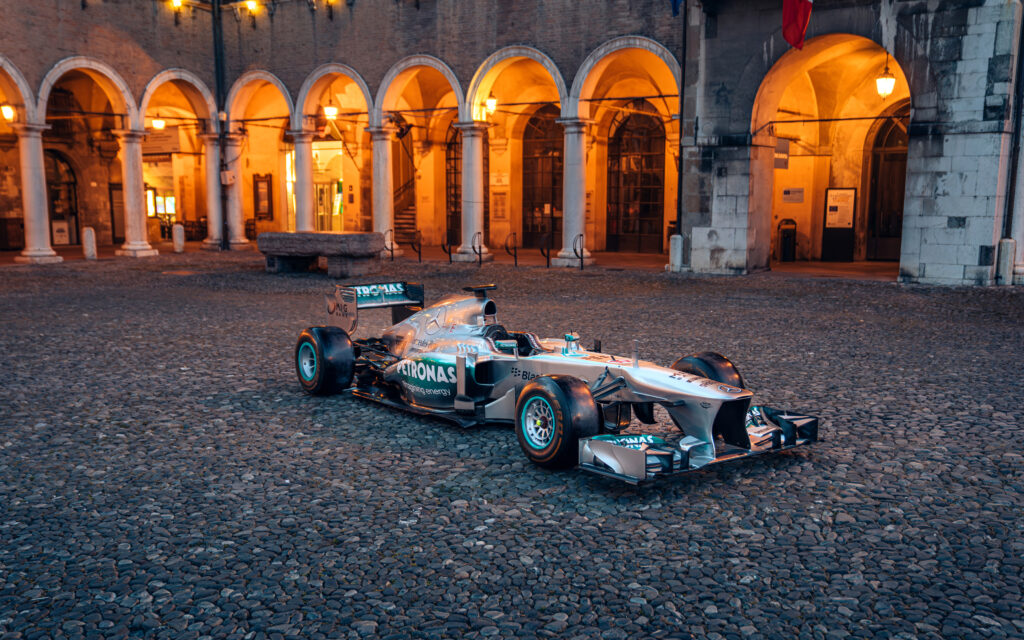 Lewis Hamilton's 2013 Mercedes-AMG Petronas F1 W04 was auctioned for $18.8m (£15.1m) in RM Sotheby's Las Vegas sale on November 17, 2023. Prior to the sale, the car was estimated to cross the block for between $10m (£8m) and $15m (£12m).
Demarcated as chassis F1W04-04, the car was driven by Hamilton in 14 of the 19 races on the 2013 calendar, with the Briton using it to claim victory at the Hungarian Grand Prix ahead of Kimi Raikkonen. Hamilton also secured another four podium finishes in the car, paving the foundation for his domination of the sport during the rest of the 2010s.
Still wearing its period livery, F1W04-04 is believed to be the only modern Mercedes Grand Prix car that is not owned by the company, Toto Wolff or Hamilton himself. Further adding to the car's desirability is the fact that it retains its original 2.4-litre naturally-aspirated powerplant, allowing its owner to bring the car out of hibernation and drive it on track.
19: 1939 ALFA ROMEO 8C 2900 B LUNGO TOURING SPIDER, $19,800,000, RM SOTHEBY'S, MONTEREY, 2016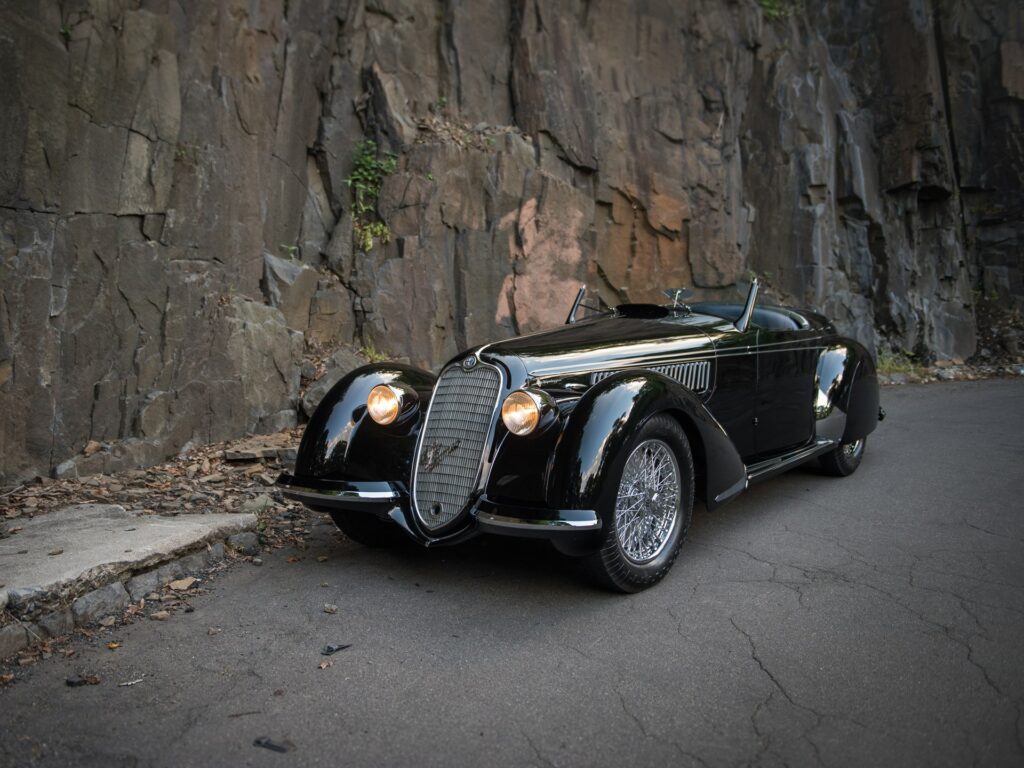 This car's complicated history proved to be no obstacle on its path to becoming the most sought-after and expensive Alfa ever sold at the time. One of just seven Lungo Touring Spiders built, its known heritage extends only around a decade into its life and was uncovered by acclaimed Alfa Romeo historian Simon Moore.
The car was imported from Italy to Brazil in 1949 by amateur racing driver Mario Tavares Leite, who replaced the entire bodywork (except the grille) and won races with it in 1949-50. After this, the Alfa disappeared. Some time later, the chassis was shortened and a Chevrolet Corvette V8 was installed for racing purposes.
Miraculously, the car was reunited with its elegant Touring bodywork after having its chassis re-lengthened and its original driveline reinstalled in 1997, four decades later. Tony Merrick's award-winning restoration won the model second in class at Pebble Beach in 1999. Then, in 2016, it won Most Elegant Car at the Cavallino Classic.
The restoration was ordered by Sam and Emily Mann, famous American automobile collectors who had acquired the pre-war Alfa Romeo when it became available in 1994.
18: 1994 MCLAREN F1, $19,805,000, RM SOTHEBY'S, MONTEREY, 2019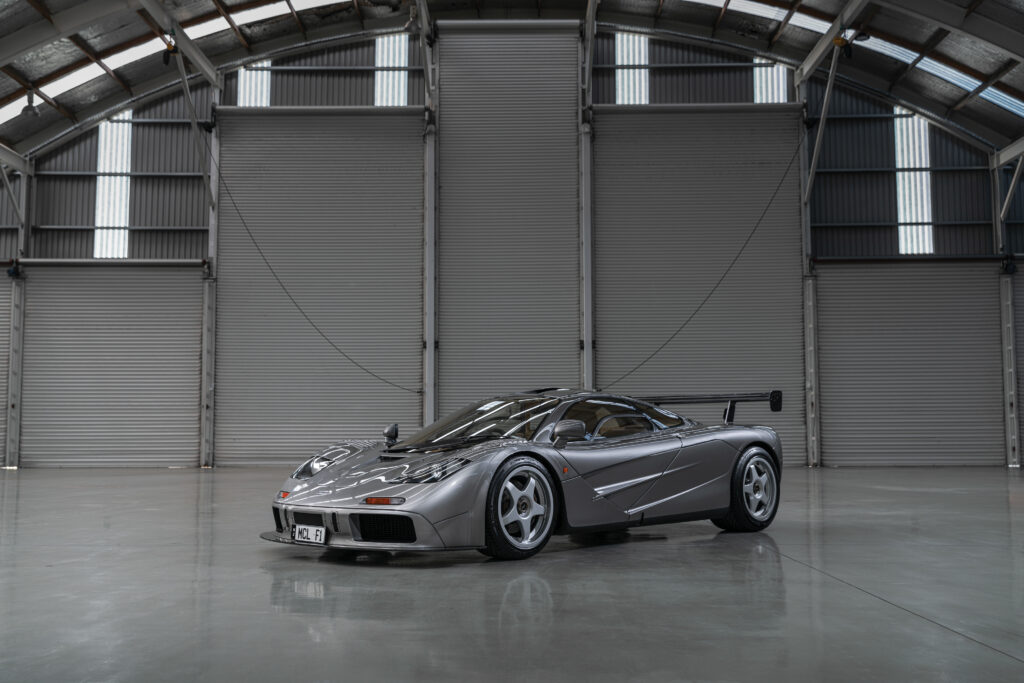 The second of the two road cars that McLaren Special Operations (MSO) converted into LM (Le Mans) specification, chassis 018 commanded the highest price ever paid for Woking's 240mph supercar when it was auctioned in 2019 at Monterey.
During the model's infancy it was finished in Midnight Blue Pearl with black trim, when it was shipped to its first owner in Japan back in 1994. In 1999, 018 was sold to a collector in Germany who commissioned MSO to carry out the LM-spec upgrades. MSO equipped the car with Extra High-Downforce bodywork, GTR-spec 6.1-litre V12, two extra radiators, a transmission cooler, revised suspension, 18-inch GTR wheels, a new exhaust and upgraded headlights. The finishing touches? A lashing of Platinum Silver Metallic paintwork and a retrimmed beige leather interior.
In 2004 the car made its way East to a new owner in Singapore, and by 2007 it was thousands of miles from home, in New Zealand. Despite this, it was regularly serviced by MSO and had covered only 13,352 miles when it was consigned.
17: 1963 ASTON MARTIN DP215, $21,455,000, RM SOTHEBY'S, MONTEREY, 2018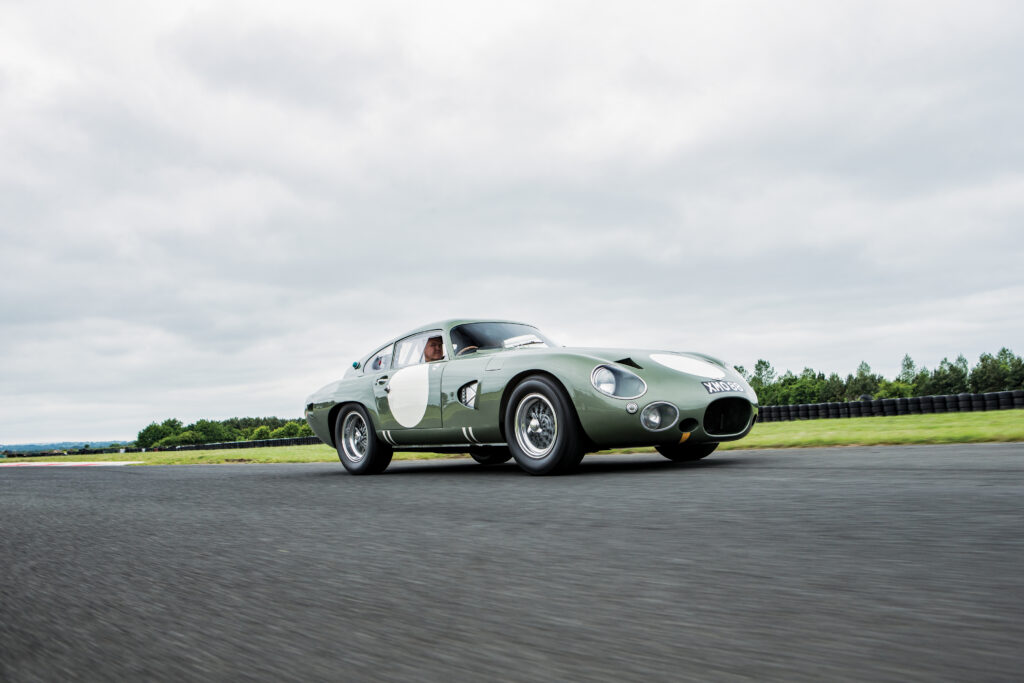 Aston Martin was riding high after winning the World Sportscar Championship in 1959, although its F1 programme was rather less successful. With nothing left to prove, David Brown halted all motor sport operations in 1960 so the company could focus on its latest road cars.
Dealers were dismayed by the decision, and implored Brown to return to the circuit in order to sell more cars. This Design Project was the result. One of four DB4GT- sourced 'project cars', the DP215 was a 1963 Le Mans Works entry, having been developed from its DP212 and DP214 predecessors.
Drivers Phil Hill and Lucien Bianchi clocked a scarcely believable 198.6mph on the Mulsanne Straight, but unfortunately the car retired after two hours. It then bid farewell to racing, and after Aston Martin sold it in 1974 it underwent a long-term restoration spanning several owners.
This was only fully complete when the DP215's then owner rebuilt a new, period-correct transmission, having traded the car for a Formula 1 Ferrari in 2002. In recent decades the Aston has run at Goodwood and the TT Revival.
16: 1995 MCLAREN F1, $20,465,000, GOODING AND COMPANY, MONTEREY, 2021
Offered with just 245 miles on the clock, this 1995 McLaren F1 (chassis 029) broke the all-time record for the model when it crossed the block in Gooding and Company's 2021 Pebble Beach Auction. The car was originally estimated to sell for $15m. Adding to its desirability is the fact that chassis 029 was the only example finished in Creighton Brown with a Light Tan and Dark Brown leather interior. The car spent years under the ownership of a Japanese collector and was offered with several original accessories, including the FACOM tool chest, a titanium tool kit, a custom luggage set, a special TAG Heuer timepiece and a copy of the Driving Ambition book that accompanied each new F1.
15: 1955 JAGUAR D-TYPE, $21,780,000, RM SOTHEBY'S, MONTEREY, 2016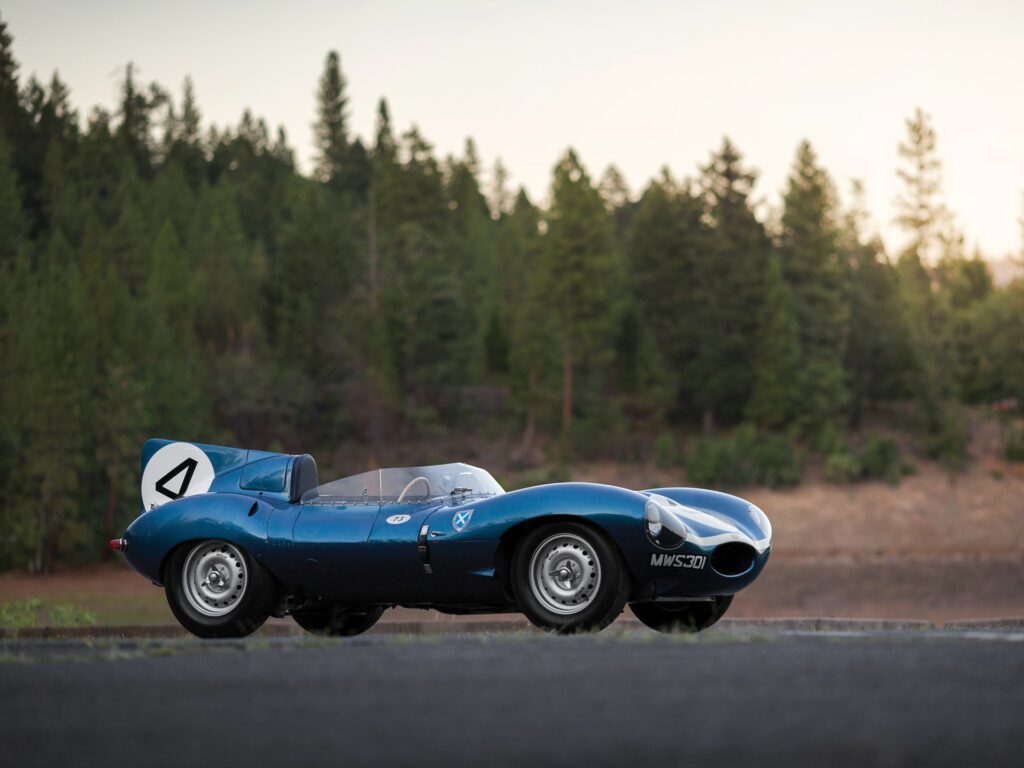 With a revolutionary aluminium monocoque construction, all-round disc brakes and a Malcolm Sayer-designed aerodynamic body, the D-type was one of the most progressive and celebrated racing cars of all time. Jaguar's mission was always to win Le Mans, and it did so – three times.
This car (chassis XKD 501) was the first D-type to cross the Circuit de la Sarthe's finish line in first place, painted in the iconic blue of the Scottish Ecurie Ecosse privateer team, and driven by Ninian Sanderson and Ron Flockhart at an average speed of 104.47mph.
After its time in the limelight, XKD 501 recorded a handful of DNFs including at the 1957 Mille Miglia. It was eventually bought by Sir Michael Nairn in 1970, who had it sympathetically restored to its Le Mans specification.
It was purchased by an American collector in 1999 and showcased at Pebble Beach in 2002, winning the Jaguar Competition class and the Road & Track Award. Offered for sale by only its third owner in 2016, XKD 501 achieved the highest price paid for a British car at auction at the time.
14: 1935 DUESENBERG MODEL SSJ LAGRANDE CONVERTIBLE, $22,000,000, GOODING AND COMPANY, MONTEREY, 2018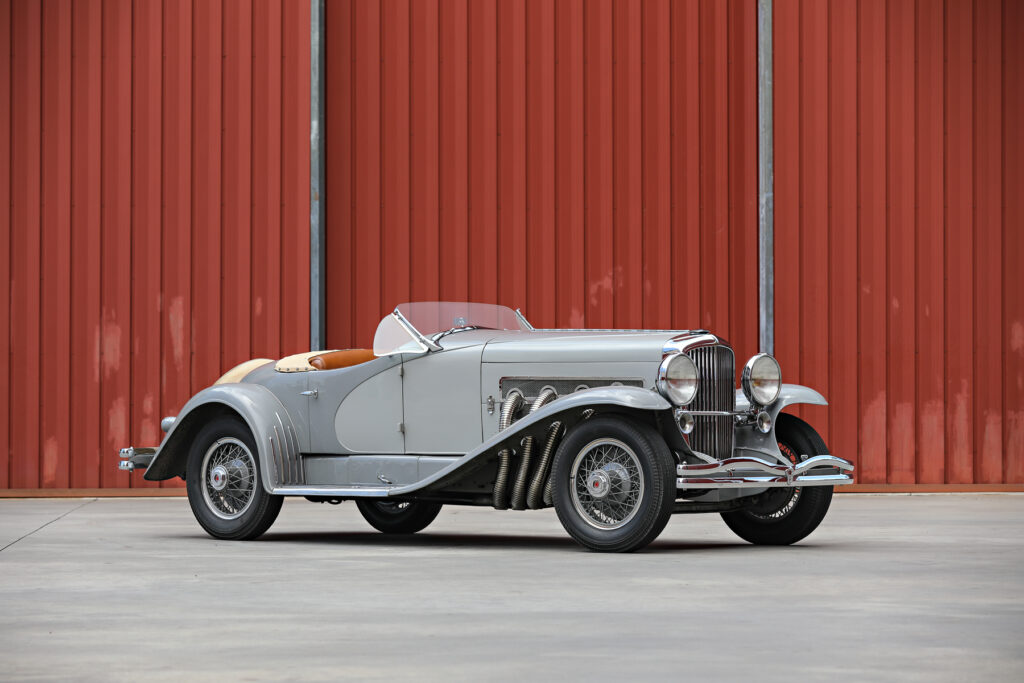 This entry represents the highest auction price ever paid for both a US and a pre- war car. Still reeling from the Great Depression and the death of Fred Duesenberg, chassis 2594 was one of the last Duesies built. It was also one of two special SSJs made for Clark Gable and Gary Cooper as part of a PR exercise designed to reverse the ailing firm's fortunes.
Cooper is said to have kept it until at least the late 1930s. 'SSJ' refers to two special features: short-wheelbase and supercharged. The blown 7.0-litre straight-eight develops 400bhp; staggering for a 1930s road car.
From 1949 the SSJ had two owners, Briggs Cunningham and Miles Collier, who bought the car as part of Cunningham's collection in 1986. The 2018 Pebble Beach Auction was the first time it was offered publicly in almost 70 years.
13: 1956 FERRARI 290MM, $22,005,000, RM SOTHEBY'S, LOS ANGELES, 2018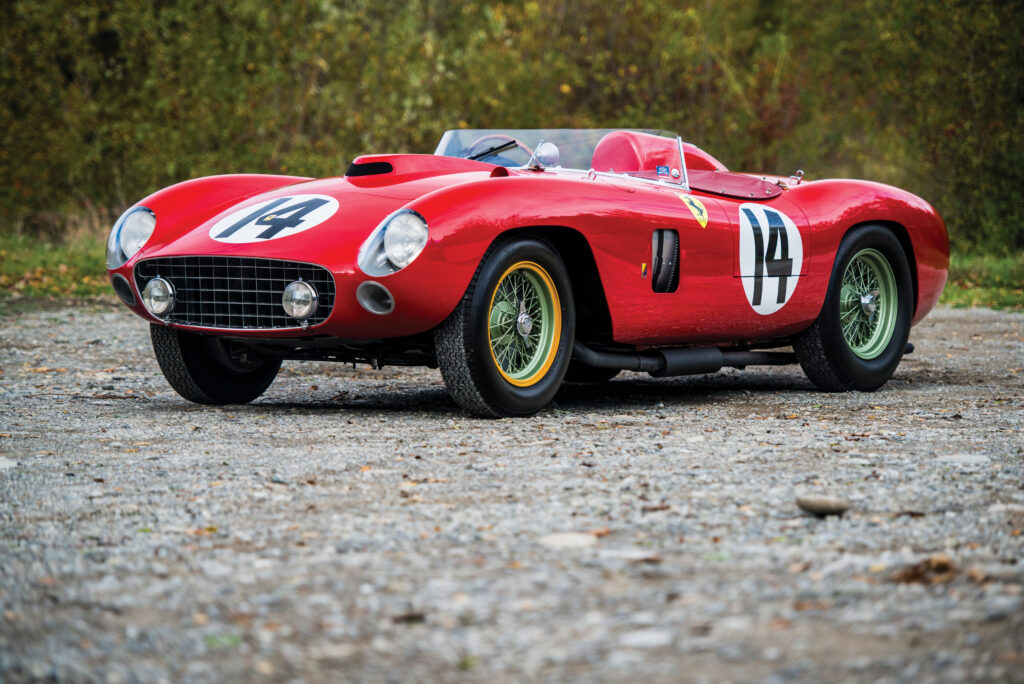 Chassis 0628's provenance is highly impressive. Its first outing was as a Scuderia Ferrari Works car at the 1956 Mille Miglia, piloted by Louis Klemantaski and Peter Collins. It finished second behind Eugenio Castellotti, with Luigi Musso in third and Juan Manuel Fangio in fourth, all driving Ferraris.
Later that year, it raced in the Nürburgring 1000km and Targa Florio, recording a DNF and fourth respectively. Fangio and Castellotti drove its final race of the season, the Swedish GP. Unfortunately engine problems led to another retirement.
In 1957, the car came third in the Buenos Aires 1000km and retired from the Sebring 12 Hours, in what would be its last Works outing. It then raced as a privateer entry and took part in Historic racing, rallies and concours through into the millennium. In 2011 it was restored and certified by Ferrari Classiche.
12: 1955 FERRARI 410 SPORT SPIDER, $22,005,000, RM SOTHEBY'S, MONTEREY, 2022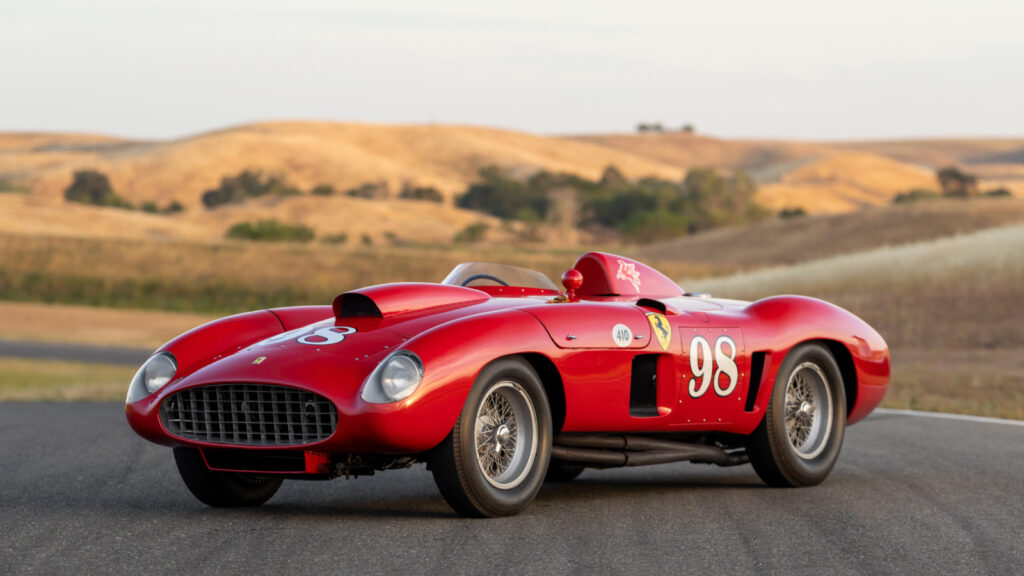 Ironically, this Ferrari (0598CM) is made particularly special by the fact it was raced by Maranello's arch-rival Carroll Shelby, who drove it to more race victories than any other car in his career. The auction also included the trophy from the Shelby's first and last wins in the car in 1956 and 1958 respectively.
0598 was one of just two 410 Sports built specifically for the 1955 Carrera Panamericana – a race that never happened due to the fallout from the Le Mans disaster. Instead, the car made its motor sport debut in the 1956 World Sportscar Championship, driven by Juan Manuel Fangio and Eugenio Castellotti.
After making its debut in Argentina, the car returned to Maranello for a refit before being sold to US privateer outfit Edgar Racing, for whom Carroll Shelby was racing. 0598 was also driven by the likes of Phil Hill, Richie Ginther, Masten Gregory and Joakim Bonnier.
11: 1956 ASTON MARTIN DBR1/1, $22,550,000, RM SOTHEBY'S, MONTEREY, 2017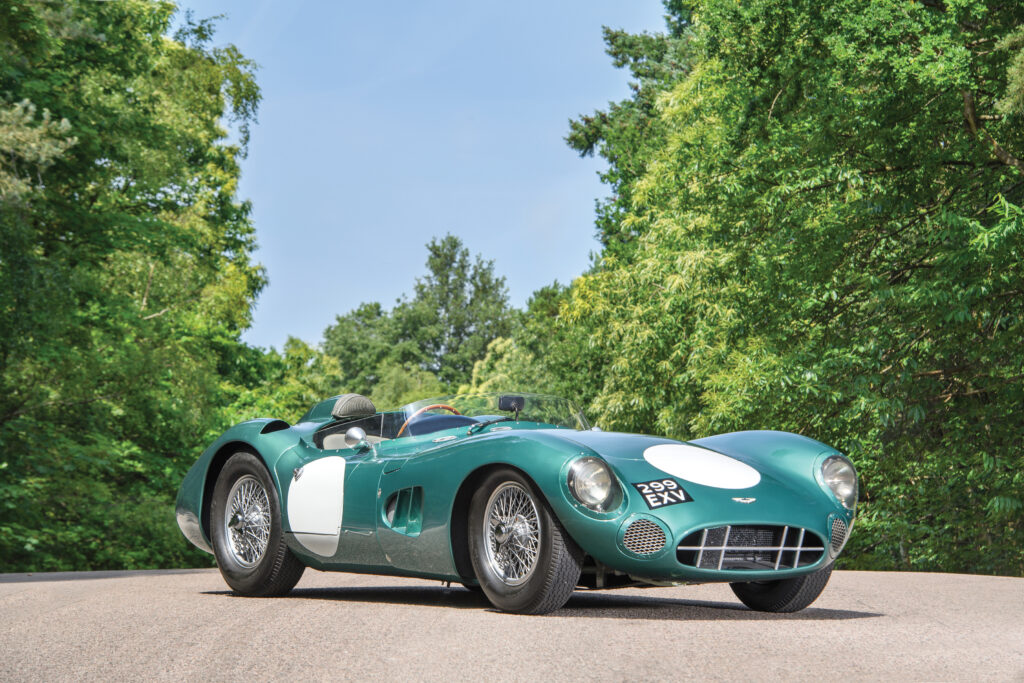 The DBR1 is regarded as the pinnacle of Aston's storied history of legendary racing machines. It was born after the sports car rules were changed in 1955; entrants were no longer required to use cars that were road legal or based on such models.
Seeing this as an opportunity to build on the successes of the DB3S of the early 1950s, David Brown ordered a team of engineers led by Ted Cutting to create a purpose-built racer to take the fight to Ferrari and, ultimately, win Le Mans. DBR1/1 debuted at the 1959 Nürburgring 1000km, and etched itself into motor-racing lore in the process.
Stirling Moss's co-driver, Jack Fairman, made a mistake and had to push the car back onto the track from the lead, dropping the duo to fourth. Once Moss returned to the cockpit he won the race by a colossal margin, beating his personal best time set in a Mercedes 300SL by over a minute. Three weeks later, sister car DBR1/2 would realise Brown's dream and take victory at Le Mans. When this icon crossed the block at Monterey in 2017, it became the most valuable British car ever sold.
10: 1964 FERRARI 275GTB/C COUPÉ, $26,400,000, RM AUCTIONS, MONTEREY, 2014
Ferrari's 275GTB had the unenviable task of succeeding the legendary 250GTO. It arrived in 1964 with several improvements over its predecessor, including independent rear suspension, a trans-axle, fully synchromesh gearbox and Tipo 213 3.3-litre – the final evolution of the Colombo V12.
Three Speciale versions were made for homologation purposes, and chassis 06701 is one of them. Speciales all had lightweight aluminium bodywork, more power, a bonnet scoop and ducts for cooling the brakes.
After a short stint with Ferrari and a few European owners, the car was sold to Michel Pobrejeski of Boulogne-Billancourt, France, where it stayed for 25 years. Next was Ferrari collector Brandon Wang, who entered the car into Historic races and restored it over several years, finally completing it in 1998.
The 275GTB was rarely seen in public after this, save for appearances at the 2002 Ferrari Club of America National Concours, the 2005 Cavallino Classic and at Laguna Seca for the Monterey Historic Races.
9: 1967 FERRARI 275GTB/4 NART SPYDER, $27,500,000, RM SOTHEBY'S, MONTEREY, 2013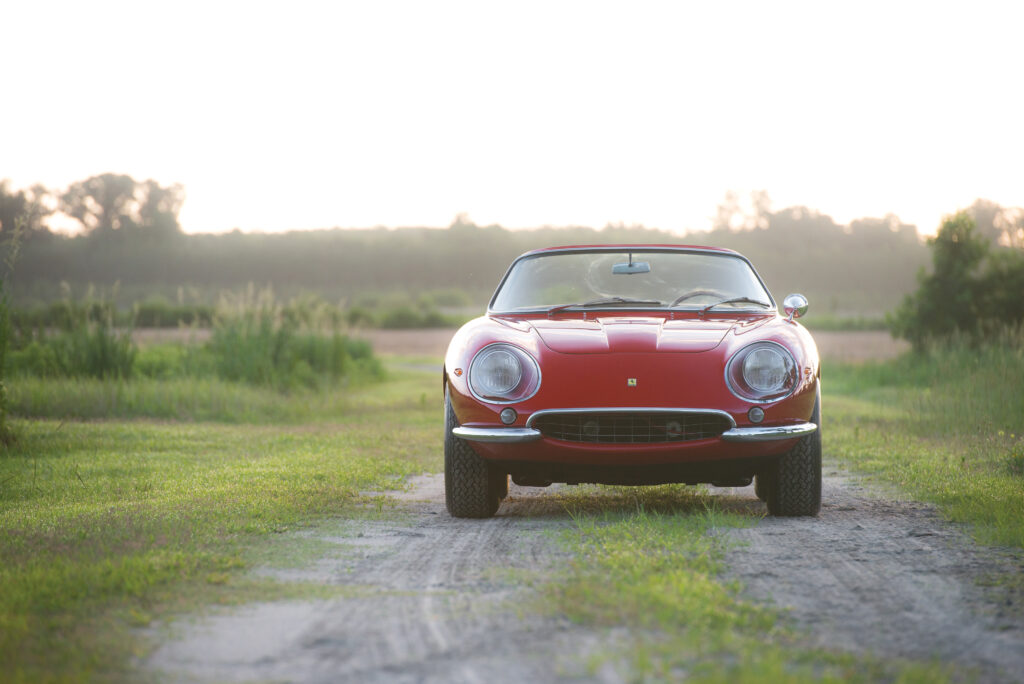 The extraordinary story of this car begins with American businessman Eddie Smith Sr, whose preference for convertibles meant he took possession of one of the world's most desirable Ferraris.
US marque importer and racing driver Luigi Chinetti had convinced Enzo Ferrari to build convertible versions of the 275GTB Berlinetta, and he contacted Smith straight away once they became available. Chinetti convinced Eddie to purchase the car on the assurance that the latter could have his money back for the 275 Berlinetta he had just bought; Smith took delivery of the car in 1968.
Steve McQueen owned the very first of ten NART Spyders built; he then attempted to buy Smith's car after his own was rear-ended, but to no avail. This was the first of many attempts from the rich and famous to prise the car from Smith Sr's possession, but none was successful – it remained in his possession until his passing in 2007. Six years on, Smith Jr felt the car had been 'imprisoned' in the family garage, so he consigned it and donated the auction proceeds to charity, in tribute to his late father.
8: 1956 FERRARI 290MM SPYDER, $28,050,000, RM SOTHEBY'S, NEW YORK, 2015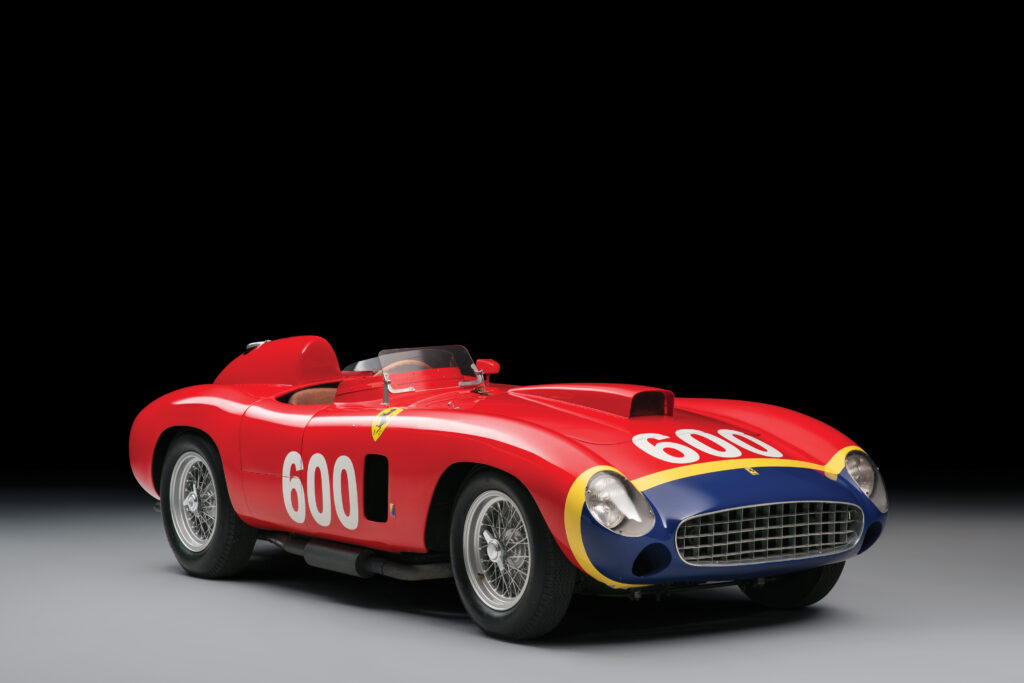 Ferrari monopolised the new World Sportscar Championship in 1953 and '54, but lost out to Mercedes- Benz in 1955 after the 300SLR dominated the series. Enzo Ferrari's response came in 1956 with the 290MM.
It was built from the ground up as a Works prototype racer, with the sole aim of recapturing championship glory for Italy and Scuderia Ferrari. To ensure the car's success, Il Commendatore enlisted a star-studded cast of drivers to race his machine during its career, including Juan Manuel Fangio, Phil Hill and Wolfgang von Trips.
The drivers' collective efforts brought the 1956 championship back to Maranello, with a fourth place at the Mille Miglia, third at the Nürburgring 1000km and second at the Swedish Grand Prix. In 1957 Masten Gregory, Eugenio Castellotti and Luigi Musso drove the car to championship glory once again.
After its Works racing career, chassis 0626 was imported to America by Luigi Chinetti, and it was then shipped to France in 1970 where it resided in Pierre Bardinon's renowned Collection Mas du Clos for 33 years. In 2003 the car was sold on, and the owner then consigned it in 2015.
7: 1954 MERCEDES-BENZ W196, $29,650,095, BONHAMS, GOODWOOD, 2013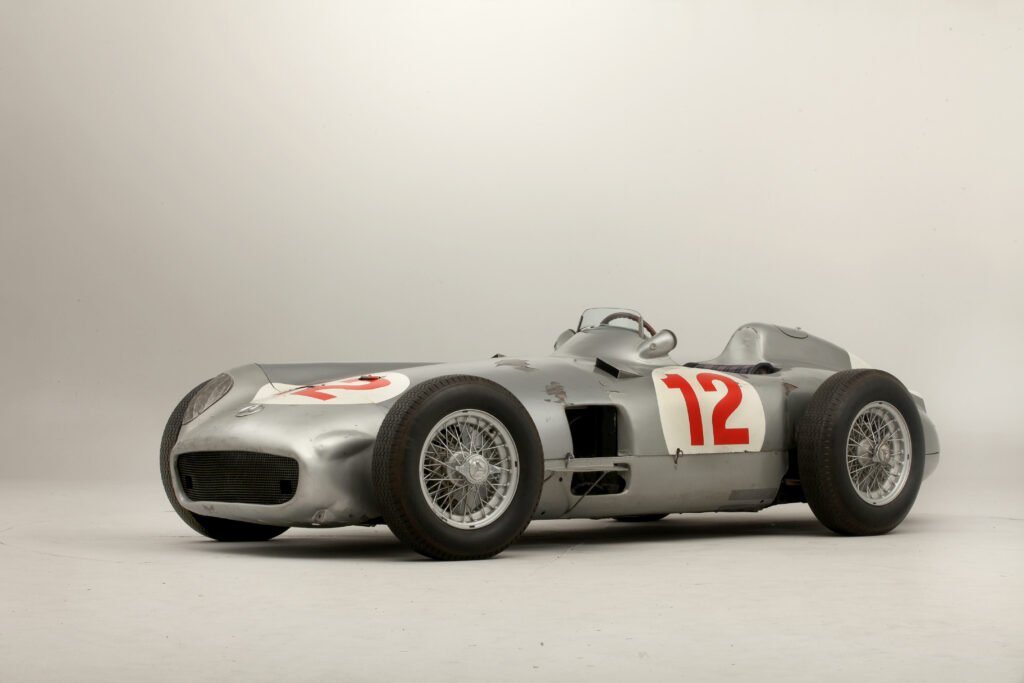 In 2013, the Silver Arrow that took Fangio to the second of his five championship titles became the most expensive car ever sold at auction. Today, it remains simultaneously the most valuable Formula 1 car and most valuable German car ever sold.
Chassis 00006 was the first open-wheel 'slipper-body' Mercedes F1 model to win in the post-war era, when it took Fangio to victory at the German GP. It then won the next Grand Prix in Switzerland, making it the only surviving W196 to have won two championship-qualifying races. Karl Kling drove 00006 in its last race, at Monza in 1955, after which it was used by the Daimler-Benz Exhibition Department at various events until the decision was made to sell the car some years later.
Since then, the Mercedes-Benz spent many years out of view, except for cameo appearances at the 1999 and 2000 Monaco Historic GPs. At time of sale in 2013, its desirability was further increased by the fact that out of the ten remaining W196s, it was the only one not owned by Daimler-Benz or an international museum.
6: 1967 FERRARI 412P, $30,255,000, BONHAMS, MONTEREY, 2023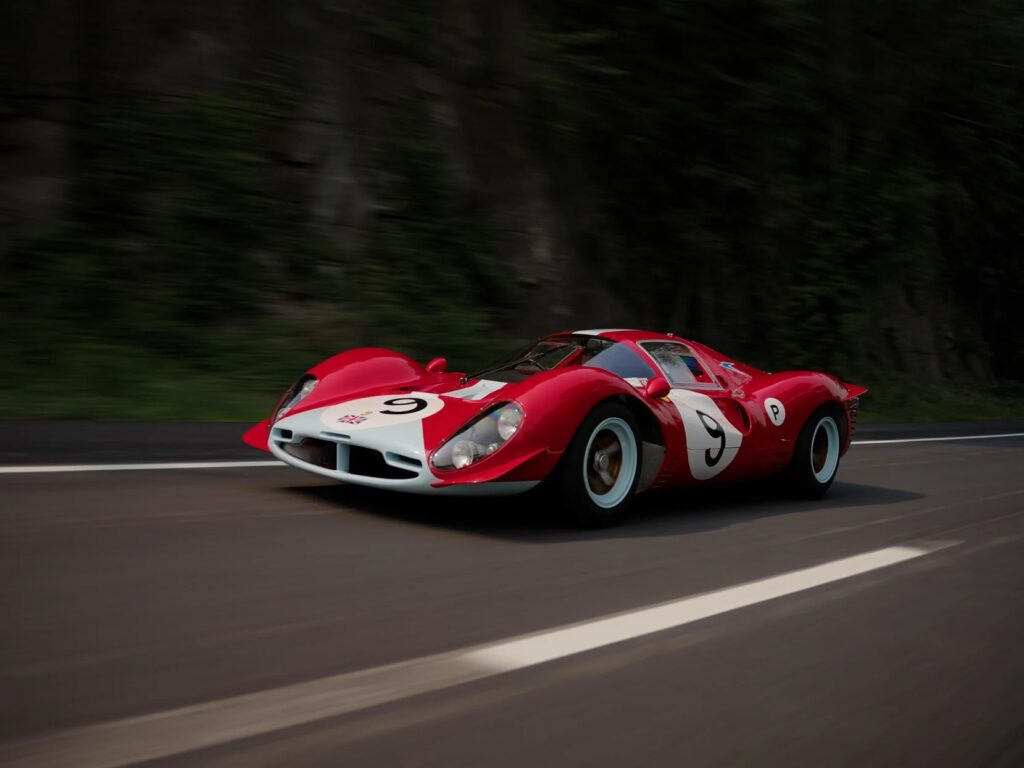 The $30.25m paid for chassis 0854 at The Quail, A Motorsports Gathering, made it the fourth most expensive Ferrari ever sold at auction. Indeed, 2023 marked the first time a 412P had crossed the block in a quarter of a century. Even so, that figure was significantly down on the $40m it was predicted to sell for, with its sale coinciding with the market cooling after years of buoyancy.
Nonetheless, chassis 0854 remains among the most significant competition Ferraris ever offered in a public auction. It is also the only 412P still fitted with its original bodywork, driveline and chassis.
It was originally delivered to Colonel Ronnie Hoare's Maranello Concessionaires, and was campaigned by the likes of Richard Attwood, Piers Courage, Lucien Bandini, Jo Siffert and David Piper at races such as the Le Mans 24 Hours, Paris 1000km and Swedish Grand Prix. It is one of just four examples ever built.
At the East London 500km in 1969, the car was damaged by a fire caused by a fuel leak, but fortunately the original bodywork was unscathed because lightweight GRP bodywork had been fitted before the race.
The consignor purchased the car in 2005 and had the original alloy bodywork refitted during a meticulous nine-year restoration. It has since appeared in the 2015 edition of The Quail, and at the Pebble Beach Concours d'Elegance in 2019.
5: 1957 FERRARI 335 SPORT SPYDER, $35,763,848, ARTCURIAL, PARIS, 2016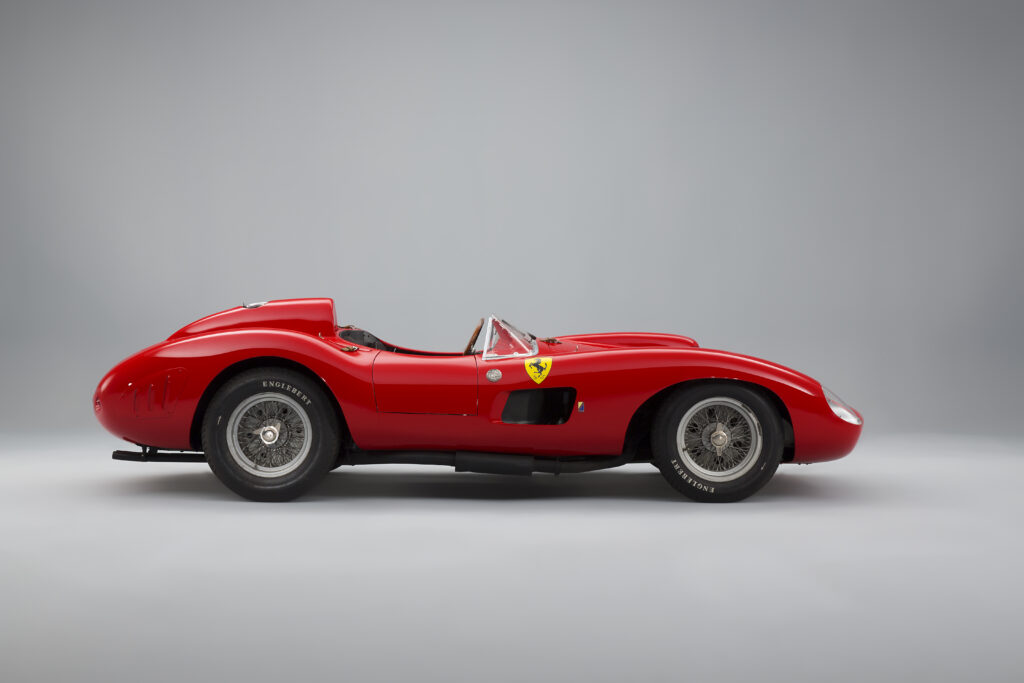 This 335 Sport Spyder, one of just four made, holds the all-time record for a car sold at auction in Europe, after going under the hammer at Rétromobile.
Works chassis 0674 was built in early 1957 as a 315S and entered into the Sebring 12 Hours, where it finished sixth. This dress rehearsal stood it in great stead for what would come next; the Mille Miglia. Wolfgang von Trips drove the car to second place in the famous Italian race, but its result was tarnished by the death of Alfonso de Portago.
0674 was then converted to 335 Sport specification and entered into the Le Mans 24 Hours with Mike Hawthorn and Luigi Musso. Unfortunately it retired with mechanical problems, and the race was won by Ecurie Ecosse's D-type. Nevertheless, the car would take fourth in the Swedish and second in the Venezuelan GPs later that year, helping the Scuderia secure the 1957 Constructors' Championship.
In 1958 the Ferrari was sold to American Ferrari importer Luigi Chinetti. It would win the Cuban GP with Stirling Moss and Masten Gregory, and participate in US sports car racing. With a glittering motor sport career behind it, and having been driven by some of history's greatest drivers, the car was bought by Robert N Dusek in 1960.
Dusek sold it to Pierre Bardinon in 1970, who in 1981 had the car restored to its original bodywork and livery configuration by Fantuzzi in Modena. 0674 remained in Bardinon's esteemed collection of rare racing Ferraris until its record-breaking consignment in 2016.
4: 1962 FERRARI 250GTO S1, $38,115,000, BONHAMS, MONTEREY, 2014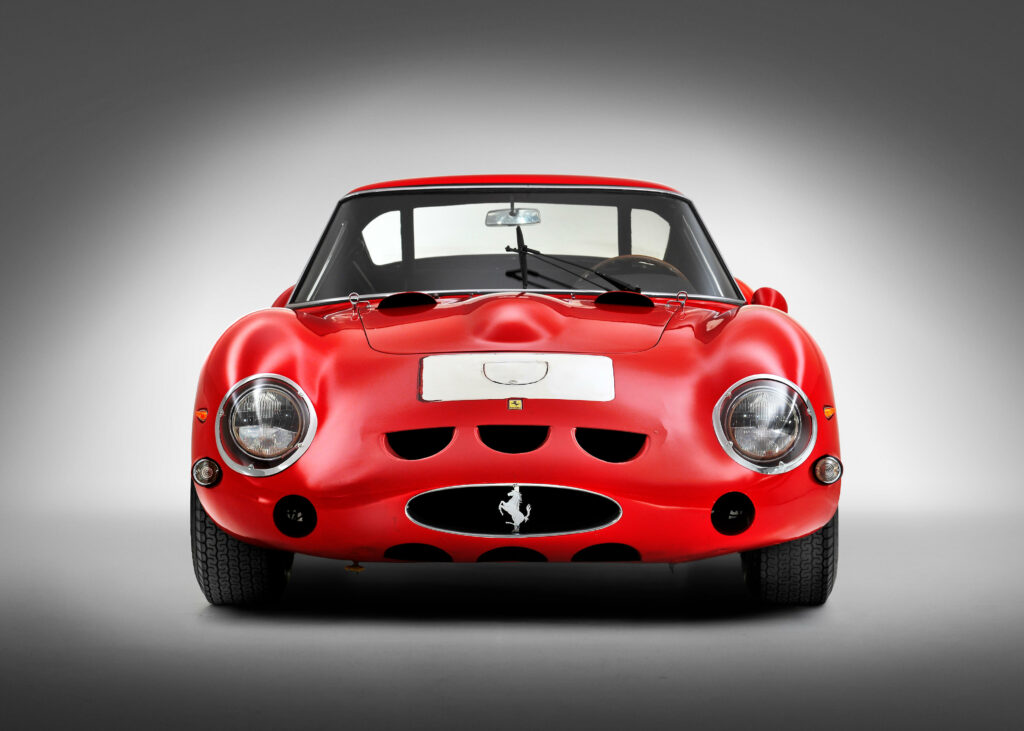 Maranello homologated 39 250GTs between 1962 and 1964 to lock horns with the Shelby Cobra, Aston Martin DP214 and Jaguar E-type in Group 3 GT racing. Enzo commissioned Carrozzeria Scaglietti for the coachwork and enlisted a team headed up by Giotto Bizzarrini and Mauro Forghieri to create this icon.
Their efforts would coalesce in one of the most desirable cars ever built. Chassis 3851 GT was the 17th 250GTO built (19th if you count the two 4.0-litre V12 330GTOs) and was ordered by French privateer Jo Schlesser. He and his co-driver, top skiier Henri Oreiller, took second at the Tour de France Automobile, but Oreiller was killed at Montlhéry shortly afterwards. After this, Ferrari rebuilt the wrecked car, and it was sold to Paolo Colombo, who drove it in 14 national Italian hillclimbs in 1963, winning 12 of them.
The car was next bought by another Italian gentleman driver, Ernesto Prinoth. He raced it throughout 1964-65 before rolling it at Monza when driving in the Coppa Inter-Europa GT, a support race for that year's Grand Prix. Thankfully, the damage was largely cosmetic, and the car soon returned to the track. Prinoth then sold it to Fabrizio Violati; founder of Ferrari Club Italia and owner of one of the world's most important historic Ferrari collections, he used 3851 GT until his death in 2010, making it one of the most raced 250GTOs in existence. It remained in his estate until its record-breaking sale at Quail Lodge in 2014.
3: 1962 FERRARI 250GTO S1, $48,405,000, RM SOTHEBY'S, MONTEREY, 2018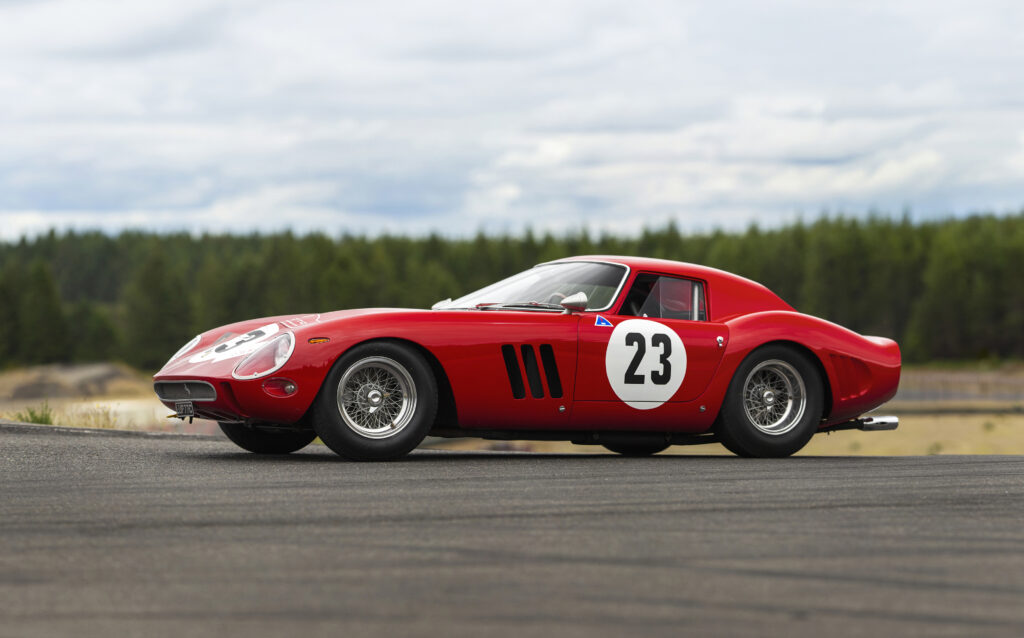 This remarkable 250GTO – chassis 3413, the third example built – made history at Monterey in 2018 when it comfortably became the most expensive car ever sold at auction, with bidding opening at $35m. In just ten minutes, three collectors' telephone bids pushed up the final price for the anonymous winner to just under $50m after fees. This car was the first to wear the Series I Scaglietti coachwork, distinguishable by its narrow brake ducts, small radiator intake, bonnet fasteners and sail-panel vents.
Chassis 3413 was originally intended for testing by US World Champion and multi-Le Mans winner Phil Hill, for the upcoming Targa Florio. After this, it was purchased by the wife of Italian privateer Edoardo Lualdi-Gabardi – a personal friend of Enzo Ferrari. Gabardi won nine of ten national events in the car, his lowest position being second in class, making him 1962 Italian GP Champion. His final victory came in '63, when 3413 would also win the other two races it entered with its second owner, Gianni Bulgari; the Targa Florio and Coppa FISA at Monza.
In 1964, it brought home silverware again, winning the Targa Florio and Bologna- Raticosa Hillclimb, and taking third at the Mugello 500km with Corrado Ferlaino. Next, London-based dealer Dan Margulies purchased the car and made modifications to the nose to incorporate twin vents to cool the brakes. David Piper drove the car in its last period race, the 1965 Redex Trophy at Brands Hatch. He finished first. After Margulies sold the car in 1967, it would go on to star in Historic racing and concours events in the hands of world-class collectors such as Lord Anthony Bamford, Yoshiyuki Hayashi and Sir Lindsay Owen-Jones.
At the turn of the millennium, 3413 was bought by Dr Gregory Whitten, founder of software company Numerix. He exhibited it at the Cavallino Classic, Shell Ferrari Historic Challenge and Monterey Historic Races. He also took the car to the 2011 Goodwood Revival and Pebble Beach Concours, where it was reunited with 17 other GTOs.
Prior to its sale in 2018, Whitten had it inspected by Ferrari Classiche and Marcel Massini. The latter's verdict was that 3413 was one of the finest examples in existence, thanks to its matching numbers, high originality and unparalleled racing heritage – and that is reflected in 3413's record-breaking performance.
2: 1962 FERRARI 250GTO S1, $51,705,000, SOTHEBY'S, NEW YORK, 2023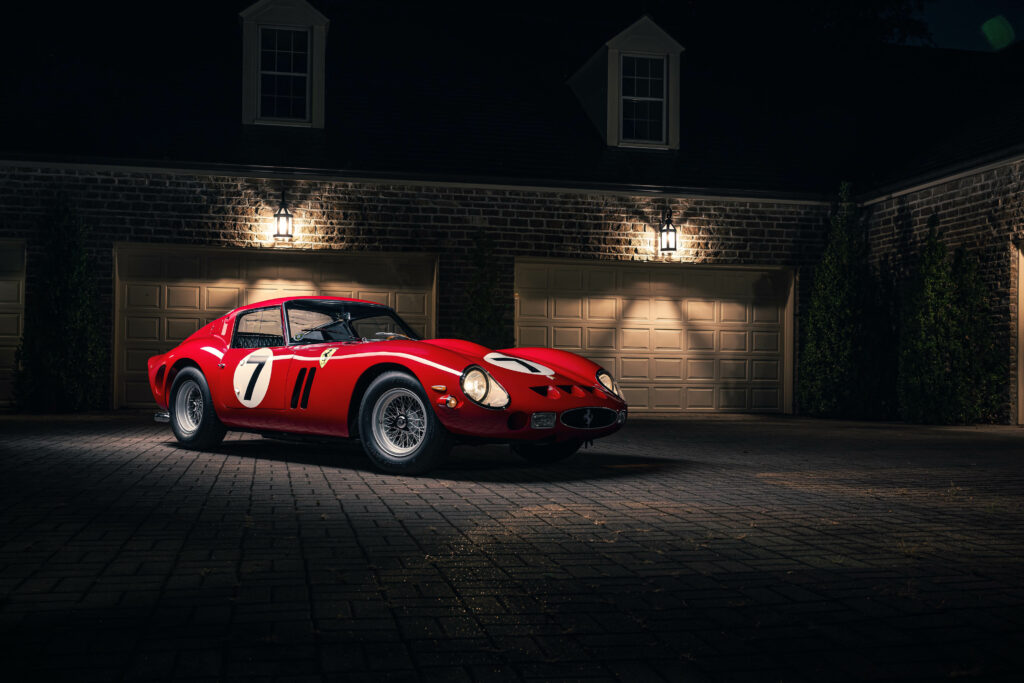 Chassis 3765LM was the only Ferrari 250GTO/330LM that was ever campaigned by the factory. Such provenance was enough to attract a winning bid of $51,705,000 (including fees) in Sotheby's 2023 Modern and Contemporary Art auction in New York. If it wasn't for the unprecedented 2022 sale of the Mercedes-Benz 300SLR Uhlenhaut, 3765LM would be reigning supreme as the most expensive car ever sold. As it stands, the car is still the most valuable car to wear Cavallino Rampante emblems, although it ironically fell short of optimistic pre-sale estimates that predicted $60m to change hands after the gaval fell.
This particular example was the ninth car built by date and was originally fitted with a 4.0-litre Lampredi engine with dry sump lubrication, special camshafts and three carburettors. It is the 14th of 24 examples built with the Tipo 1962 bodywork, and was pressed into service for the Scuderia for the Nürburgring 1000 KM on May 27. With Mike Parkes and Willy Mairesse on driving duties, the car came home in second place. Following the race the three-carb engine was removed and replaced with a six Weber 42 DCN carburettor-fed engine with about 390bhp on tap, and the bodywork altered slightly to accommodate the new engine and rectify some damage from the German race. The bonnet bulge was re-shaped and the triple triangular cooling vents above the grille, which had been blanked off for its trip to Germany, were opened up again for its next task: Le Mans.
One of four factory cars entered into Le Mans by SEFAC, it was the only 250 GTO to run under the company's banner, yet it was up against four privateer 250 GTOs. After qualifying fourth in class Parkes would start the race, and in the early pursuit of Graham Hill's Aston Martin the Englishman beached it at Mulsanne corner. After spending 30 minutes digging it out, it went back to the pits to be fixed. When co-driver Lorenzo Bandini rejoined the field they were well down the field but over the next five hours the duo got back up to 42nd place, but just before the sixth hour and 56 laps in, the engine overheated and the race was over.
Trieste resident Pietro Ferraro bought the car in November of 1965; Maranello fitted the car with a new 3.0-litre engine that had originally been used as a developmental engine for chassis number 0796 when the car was changed from a 246 Dino racing car into an early development car for the 250 P; it is this engine that's currently in the car. After being fitted with a five-speed gearbox and brought up to 330LM spec it was tested by John Surtees. Ferraro competed with the car in 1964's Trieste-Opicina hillclimb, finishing fifth, and would the sell it to Ferdinando Latteri of Palermo, Sicily.
After a DNF at the Targa Florio in May 1965, there were three overall wins, two second-overall finishes (both class wins), and one third in class in the 1965 Sicilian Hillclimb Championship. Latteri would notch up one more class win in 1966 before selling the car back to Ferrari in 1967. After being repainted yellow it was sold to California resident Mario Tosi. A year later it was sold again, this time to Jack Reuter of St. Louis, Missouri, who'd keep the car until 1974.
Its next owner was the manager of the American Motors Corp engine design team and chairman of the Ferrari Club of America, Fred Leydorf of Birmingham, Michigan. He would keep the car for the next 11 years, before selling the car to the vendor. It had a full restoration by at Shelton Ferrari in Fort Lauderdale, Florida and entered the concours circuit, winning several class awards and Best-of-Show award at the Amelia Island Concours d'Elegance in 2011.
1: 1955 MERCEDES-BENZ 300 SLR UHLENHAUT COUPÉ, $143,000,000, RM SOTHEBY'S, STUTTGART, 2022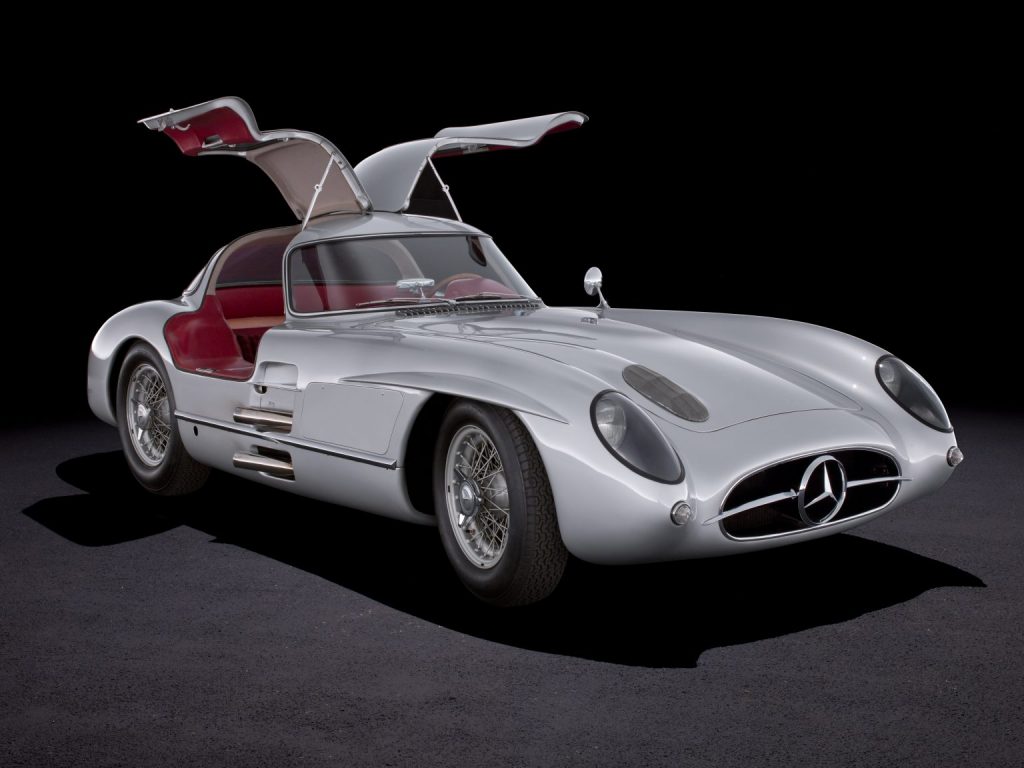 On May 5, 2022, a Mercedes-Benz 300 SLR 'Uhlenhaut' coupé became the most expensive car ever sold at auction, shattering the previous high-water mark set by the 1963 Ferrari 250GTO sold via RM Sotheby's at Monterey in 2018 by a near three-fold margin. It is also more than double the rumoured $78m paid for a similar GTO in a private sale during the same year.
The 300 SLR Uhlenhaut was the brainchild of Daimler-Benz racing engineer Rudolf Uhlenhaut, and was based on Juan Manuel Fangio's championship-winning W196R Formula 1 car. Just two prototypes were built, and for decades the consensus dictated that Mercedes would never sell either of them.
Both 300 SLR Uhlenhauts were built with the intention of competing in the 1955 Carrera Panamericana, which Mercedes had won in 1952 with its 300 SL coupés. The intention was for Stirling Moss and navigator Denis Jenkinson to race one of the coupés in the North American event, having already achieved a record-breaking victory in the Mille Miglia in an open-top 300 SLR.
However, fate intervened in the form of the 1955 Le Mans disaster, which saw the 300 SLR of Pierre Levegh cartwheel into the crowd, tragically killing 84 and inflicting non-fatal injuries on another 120. Mercedes-Benz withdrew from motor sport in the aftermath of the disaster, and it took the company 30 years to return to competition. Consequently, the 300 SLR Uhlenhaut is the last great Silver Arrow of the post-war era.
The example offered for sale in 2022 is the second-built of the two coupés, and known as number 8 or 'Red' due to the colour of its interior. The first built, number 7 or 'Blue', has a much more extensive history of both testing and racing, while number 8 has covered just 6045km in its lifetime.
Red was used by Rudolf Uhlenhaut as his company car, famously getting him between Stuttgart and Munich in under two hours. Red was used for demonstration drives around Europe in the following decades, before being fully restored in 1986 by expert Tony Merrick in the UK. After its restoration, the car was exhibited at various events, including the 1999 German Grand Prix, the 2001 Pebble Beach Concours d'Elegance and the 2010 Goodwood Festival of Speed.
Mercedes-Benz sought assurances that the buyer would be able to maintain the vehicle in accordance with brand standards, and used the vehicle's lack of historical significance as justification for the sale. The proceeds were used to establish a charitable Mercedes-Benz Fund, which seeks to provide educational and research scholarships in the areas of environmental science and decarbonisation for young people.
Should it ever come up for sale, another Mercedes-Benz – Stirling Moss's iconic W196S '722' – could demote its Uhlenhaut coupé sibling as the most expensive car ever. Colloquially known as "the most valuable car in the world", it is difficult to put a definitive estimate on 722, but the price achieved by the lesser-known Uhlenthaut means it would very likely be at least in the same ballpark.