WORDS: ELLIOTT HUGHES | PHOTOGRAPHY: ELECTROGENIC
Aside from the stickers on the doors, the Tartan Red 1994 Rover Mini Cooper looks just as it did when it left the Longbridge production line 27 years ago. Alec Issigonis's iconic silhouette, distinctive chrome grille and tiny wheels are all reassuringly present and correct.  
It's the same story in the interior, too. The dashboard and steering wheel are finished in walnut, there are three pedals, a patriotic Union Jack-embossed gearknob and period-correct dials and switchgear. The only anomalies appear to be an aftermarket Sony head unit and the factory-fresh condition of the leather and fabrics. Nothing to see here then, just a well restored classic Mini.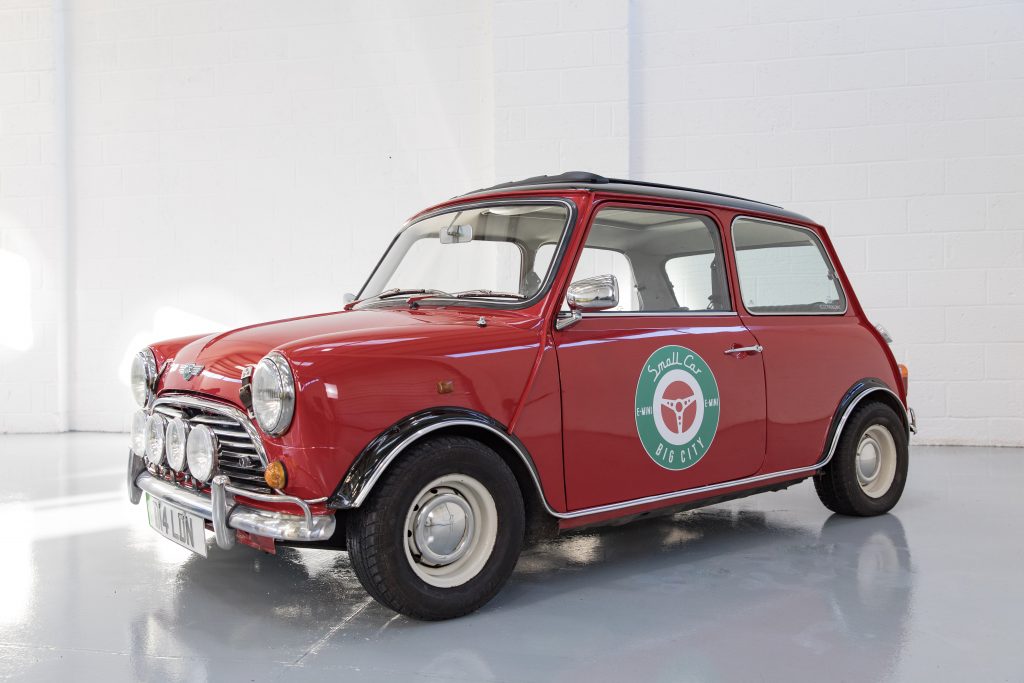 Not so fast… Undo the car's leather bonnet straps and you'll find that its characterful little 1.3-litre A-series engine is nowhere to be found. Instead, there's a 80Kw Hyper Nine electric motor paired with a five-speed Citroën C1 gearbox, a battery pack and an ancillary control unit, which have somehow been stuffed into the cramped engine bay. You'll find another battery pack wedged in the boot, too.
Meet Rosie, an EV-converted classic Mini created by Electrogenic, a burgeoning engineering company based near Oxford that specialises in transplanting electric powertrains into cherished classics. Rosie was commissioned by smallcarBIGCITY, a company that offers tours of London in classic Minis. With Rosie now complete, the rest of smallcarBIGCITY's fleet will soon be sent to Oxford for the same treatment.
Needless to say, some will cry sacrilege at the mere idea of removing the very heart of Britain's most loved car. But the sympathetic way in which Electrogenic carries out such conversions should somewhat allay purists' fears. Namely, that every conversion carried out by the company is entirely modular and installed without cutting into any metalwork.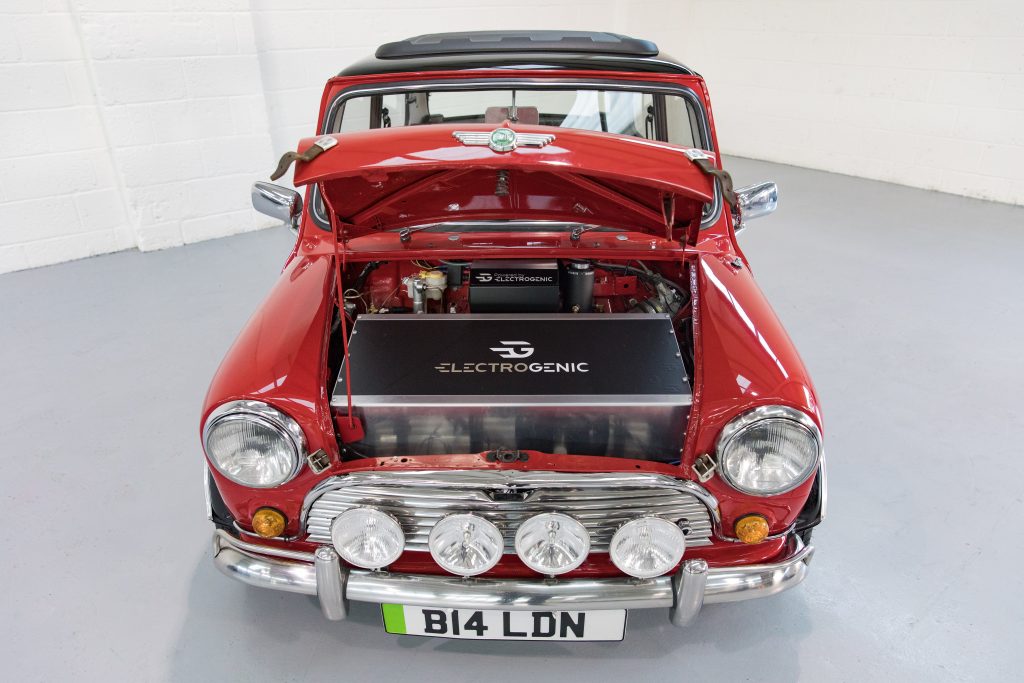 The modular philosophy of Electrogenic's powertrain also means that it is entirely reversible and can be installed into almost any model you can think of; the company has performed similar conversions on cars as varied as Land Rovers, Porsches, VW Karmann Ghias, Triumph Stags and Jaguar E-types, to name a few. Magneto even spied Lotus Elite and TVR Cerbera EV projects in the workshop.     
Another benefit of this approach is the sheer number of customisation options on the table. Fancy keeping your manual gearbox? No problem. If range is your priority, simply add batteries. More performance? Faster charging? Electrogenic has you covered – at a price, of course.
In this case, Rosie has been built to recreate the experience of the standard car as closely as possible, sending an identical 51bhp and 66lb ft of torque through the front wheels. As ever with EVs, one thing that hasn't stayed the same is the car's kerbweight and weight-distribution figures; it is now 95kg heavier (730kg total) and the batteries in the boot make for a slightly more even weight distribution than before, at 59:41, compared with 64:36 from the factory.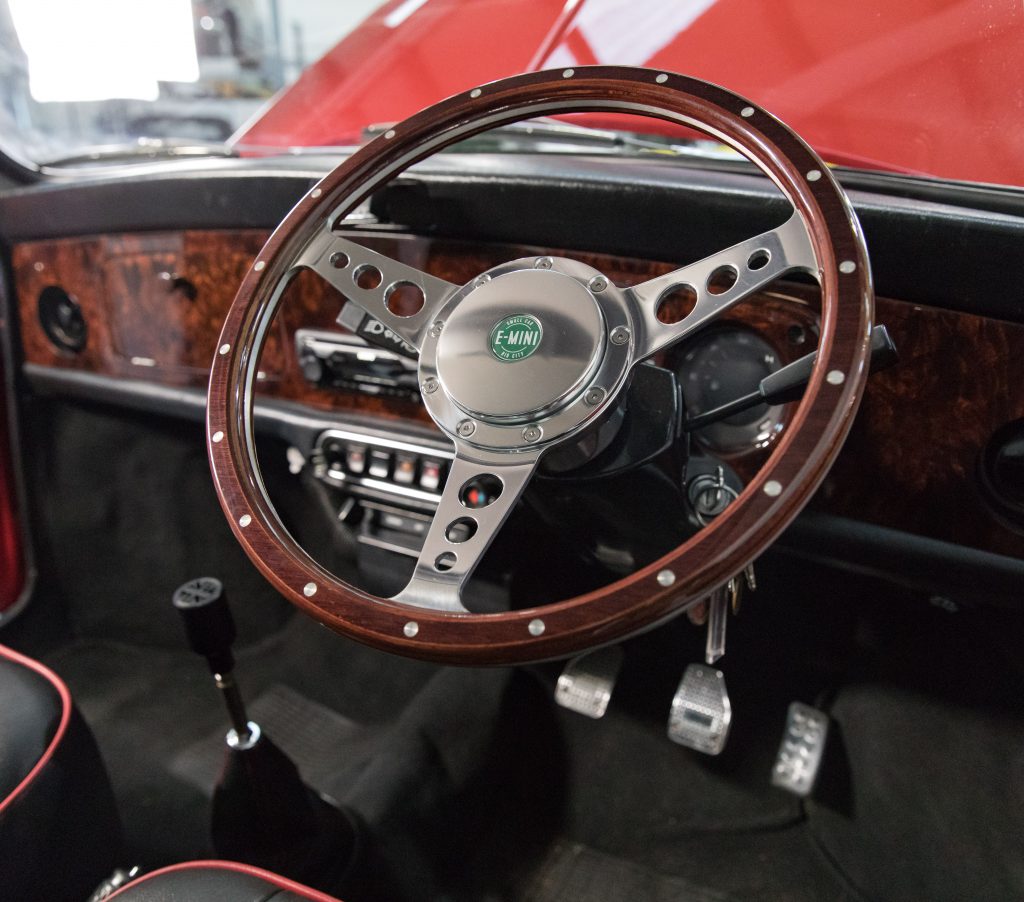 Rosie represents what customers can expect from an entry-level EV conversion, although power must be capped to the original figures so that the car can pass Transport for London's compliance testing to allow it to be used as a tour vehicle. Unrestricted, Rosie can generate around 130bhp and 171lb ftb of torque, making for a seriously quick car. The cost is £30,000 plus the donor model. 
The power figures may be the same, but a test drive on Bicester Heritage's test track reveals that the numbers don't tell the full story. Pull away hard in first gear and Rosie accelerates with more initial enthusiasm than an A-series-equipped car, surging on a wave of wonderfully accessible electric torque. 
Shift through the gears and you'll notice that the Citroën C1-sourced five-speed 'box is more pleasant to use than the original four-speeder. Not that you'll need to employ it… While rowing through the gears is fun, it simply isn't necessary, particularly on a short track such as this. It's far better to just leave the 'box in third ratio and ride that delicious wave of torque – particularly because the electric motor can also over-rev with fast, aggressive changes. 
Electrogenic says the torque has been mapped to recreate the power delivery of the original combustion engine, but there's no getting away from the fact that this is an altogether different powertrain; it is far more responsive and much more refined than a buzzy A-series. 
Don't be fooled into thinking that Rosie's character has been removed with her engine, however. The thrum of the A-series has been replaced with a surprising amount of motor noise that certainly enhances the experience, while the swelling whirr of the electric motor adds a real sense of speed and involvement that is surprising for an electric car. 
Engine noise is one thing, but what about handling? After all, much of the charm of the original car came from its lightness and giant-killing handling, something that is ostensibly under threat with a gamut of heavy batteries onboard. 
Flick the Mini into a corner and the car's trademark immediacy is still alive and well. The directness of the unassisted steering and pencil-thin wheel compounds the sensation – it feels incredibly agile, even when compared with more modern hot hatches. 
It's only as you really start to push the car hard that the differences bubble to the surface. Rosie has more grip than the original, especially at the rear, where the batteries act as ballast that presses the rear tyres into the asphalt. It simply refuses to break traction, even when purposely trying to provoke oversteer. It's hard to get away from the fact that the ICE-powered car is purer, livelier and more engaging at the limit, but Rosie still feels like a Mini should.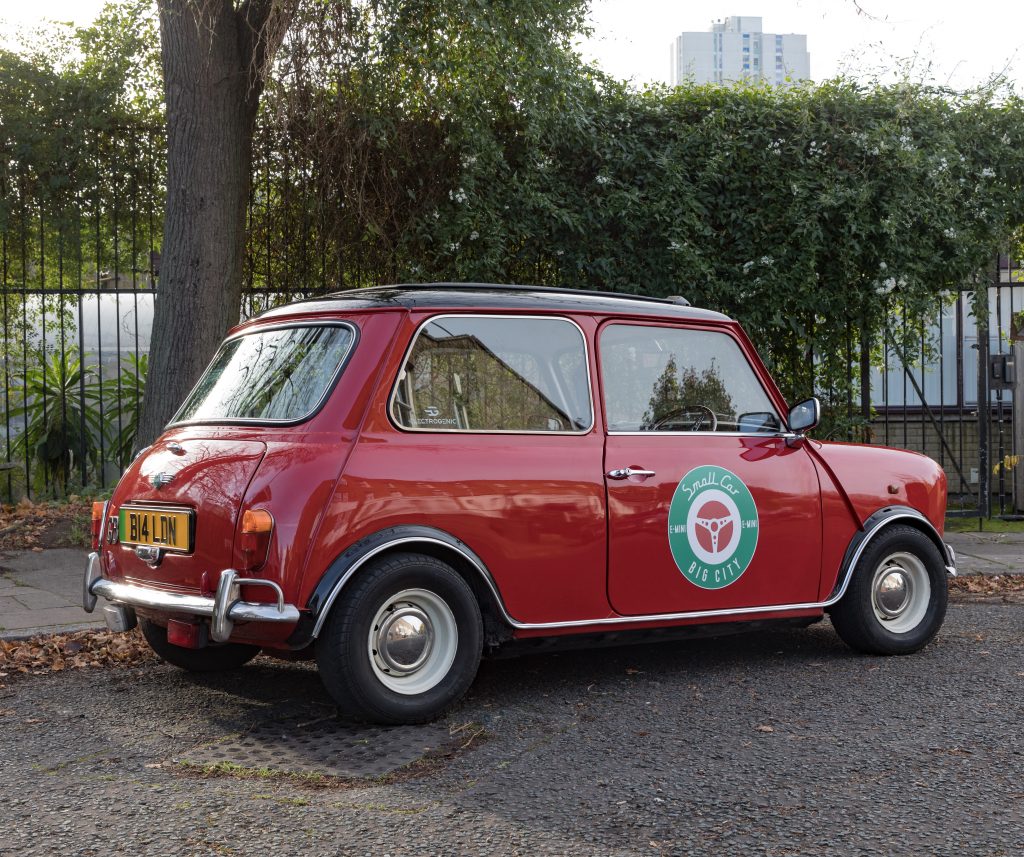 The suspension tells a similar story. The OEM set-up has the same bounciness for which Minis are famous, but it feels stiffer than before because of the additional weight. The brakes are left as standard spec, too, but they are more confidence inspiring than is usually the case thanks to the addition of regenerative braking, the aggressiveness of which can be mapped to your personal preference. 
Before long, you stop trying to identify the nuances of Rosie's new powertrain; you simply enjoy driving the car as hard as you can with a grin as wide as it would be in any other Mini. Before you know it, you've done 20 laps, you're hot, sweaty and giggling like a child – and surely that's what Minis are all about.  
There's a cliché that describes this car perfectly, and it thankfully has nothing to do with handling or go-karts (although that still applies): the more things change, the more they stay the same.
For more information on Electrogenic, click here.
If you liked this, then why not subscribe to Magneto magazine today?