WORDS: ELLIOTT HUGHES | PHOTOGRAPHY: ALVIS
The last-surviving Alvis Grand Prix car is being restored by the Alvis Car Company. Built in 1927, the Grand Prix racer was one of the first front-wheel-drive cars of its kind. It last competed in the 1927 Junior Car Club 200-Mile Race at Brooklands, having failed to start at that year's British GP.
With no conventional front axle, the race car is steered via a system of four elliptical leaf springs, while a powerful 1.5-litre supercharged straight-eight engine feeds power through a longitudinally mounted transmission.
The car's mechanical layout may certainly have been innovative, but it also, unfortunately, spelled unreliability. Bearing the number '2', the surviving car was one of a pair of examples entered into the 1927 British GP, yet neither made the start due to mechanical maladies.
Two weeks later, no. 2 made its first and only competitive outing at the JCC 200-Mile Race at Brooklands. The unconventional Alvis showed promise in the hands of George Duller, lapping the challenging banked circuit in excess of 120mph and qualifying in second place behind the sister car of Maurice Harvey. Duller snatched the lead from his Alvis team-mate at the start, but dropped back to third after a sparkplug change, and then retired altogether on lap 52 following an engine failure.
No. 2 returned to the Alvis factory in Coventry following its retirement, and its engine was removed and disassembled in order to diagnose the cause of the costly failure. A snapped conrod proved to be the culprit, and this resides today in Alvis' showroom in Kenilworth, Warwickshire.
As fate would have it, the car would never be powered by its original engine again, and the vehicle remained dormant and engineless in Alvis' possession for more than a decade. In the late 1930s the company needed to free up space, and so it unceremoniously sentenced no. 2 to the Roach Brothers breaker's yard in Coventry.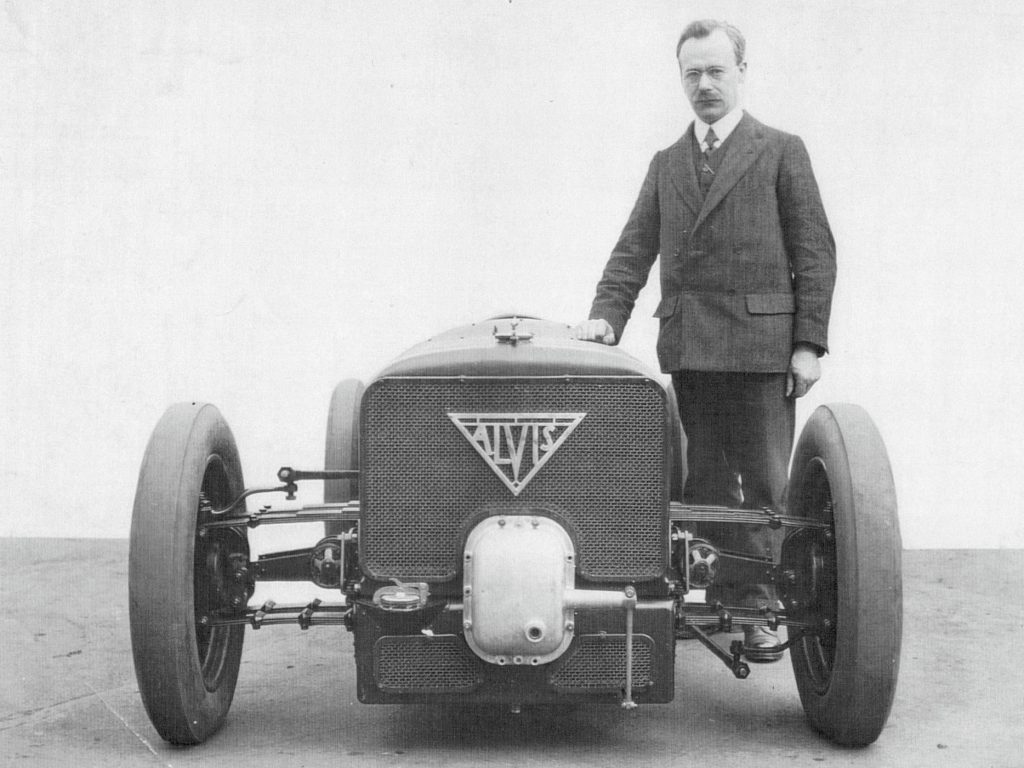 The Roach Brothers were given the car on the proviso that it was to be broken and could not be resold. Thankfully, the agreement was disregarded and the Alvis was sold to Bill Pitcher, a motorcycle dealer in Rugby.
Pitcher sought a replacement powertrain for the car, and settled on a 1929 engine that was originally used in one of the marque's Tourist Trophy or Le Mans models, mated to a transmission manufactured in the same year. Pitcher's idea was to redevelop no. 2 into a rear-engine, rear-wheel-drive machine, which, thankfully, never materialised.
When Pitcher's motorcycle business folded in 1955, he was forced to sell no. 2 to its next custodian, Alvis enthusiast Nic Davies. The car remained in Davies' ownership for almost half a century, and was displayed around the world in locations including Papua New Guinea, Australia and Florida. It stayed in the condition left by Pitcher throughout this period, until Davies embarked on an ambitious reassembly project in 1990.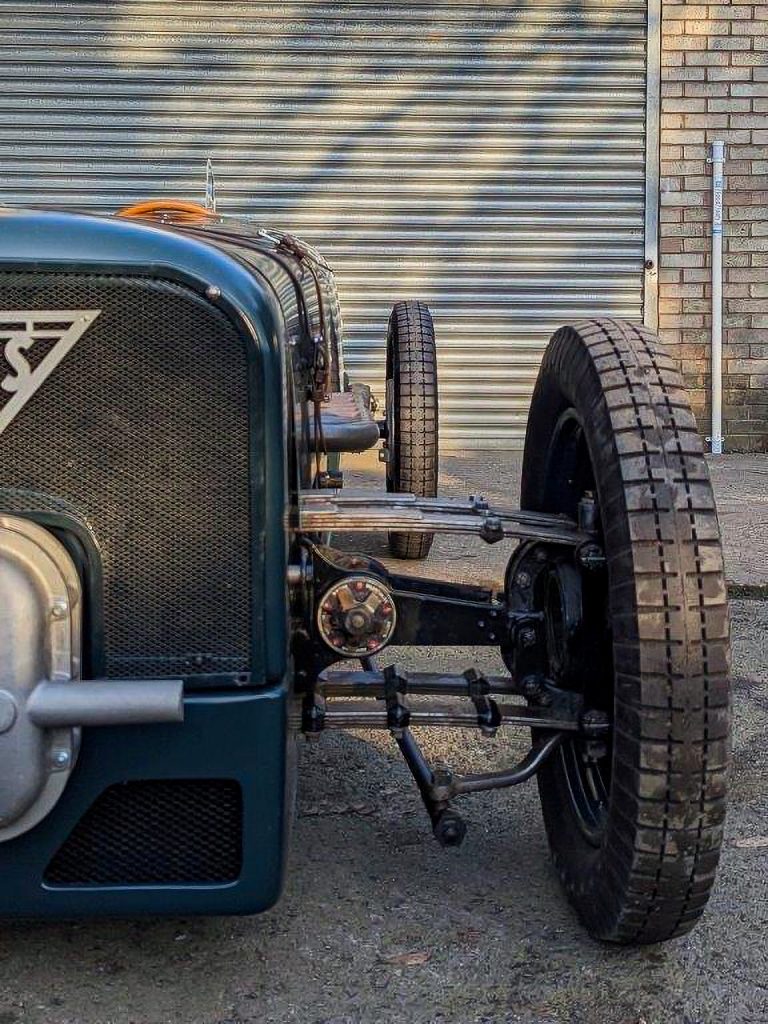 Davies' efforts were rewarded when the car ran under its own power for the first time in over 75 years on April 19, 2003. Yet the project was far from complete. No. 2 entered the stewardship of Alvis Car Company owner Alan Stote and Alvis front-wheel-drive expert Tony Cox in 2006. Under the guidance of Stote and Cox, the car's arduous restoration process began in earnest.
For the project, historic images of the vehicle in race trim were collected, as well as period engineering drawings, which were critical for restoring the car to its original, factory state. Archival materials were reverse engineered via CAD scans, allowing Alvis and its UK-based suppliers to accurately remanufacture components that have not been produced in almost 100 years. To ensure authenticity, a new, period-correct engine block and gearbox casting replaced the similar but incorrect units Pitcher had sourced decades ago.
"The lack of historical information presented a key challenge during the restoration process, but at the same time has made the project more intriguing, and one that has been a journey of discovery," Stote explained.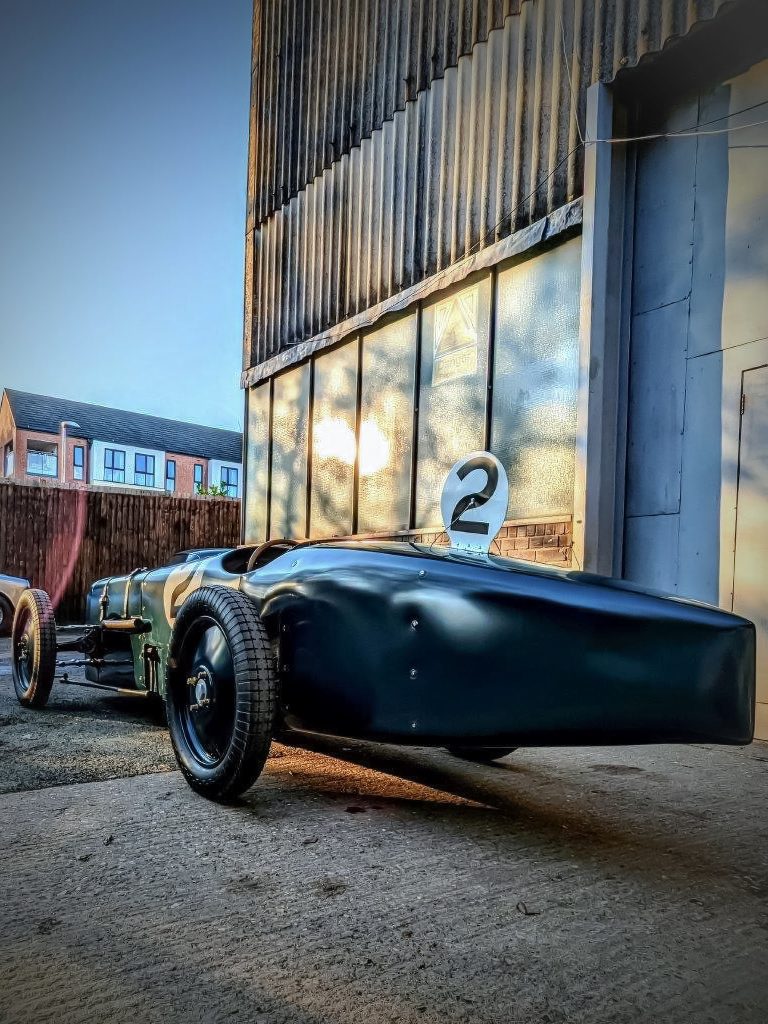 No. 2's restoration follows the marque's range of six Continuation Series road cars. The Alvis Car Company also continues to offer new handmade models, as well as parts, sales and servicing for existing cars alongside sister company Red Triangle. Magneto was given an exclusive look inside Alvis for a feature in issue 6.
The restored Alvis Grand Prix car was publicly unveiled at the Automobile Council on April 14-16 in Chiba City, Japan, as a complete rolling chassis. The powertrain is expected to be completed later this year, in anticipation of a series of demonstrations and displays at major motoring events. Alvis' ultimate goal is to return the car to Brooklands in 2027, 100 years after the model's competition debut.