WORDS: ELLIOTT HUGHES | PHOTOGRAPHY: goodwood
Jenson Button knows better than anybody that Formula 1 is as much a technological arms race between the world's greatest engineers as it is a gladiatorial battle-royale between elite drivers. After all, his 2009 F1 title was a product of both his prodigious talent behind the wheel and the double diffuser fitted to the rear of his Brawn GP 001.
But if any modern Grand Prix driver is pre-ordained for success in Historic racing, it's Jenson. On paper, his urbane, silky-smooth driving style is an elixir to notoriously obstinate Historic racing cars that characterise Goodwood Revival grids. Watch any onboard greyscale footage of drivers from yesteryear, and you'll see they massage and tease speed from the car, rather than manhandling it.
Nevertheless, when we caught up with Jenson on his Radford stand, he was the first to admit that driving wheel-to-wheel in cars with cross-ply tyres, manual gearboxes and steel brakes was a stark contrast from the cutting-edge carbonfibre, wing-clad missiles he made his name in.
"It's really bloody tough," Jenson said with a smile. "I drove the track yesterday morning, and I expected it to be a little more difficult than what I'm used to, but it took me a long time to adapt. Qualifying in the E-type for the Stirling Moss Trophy this morning was tough; I was super slow."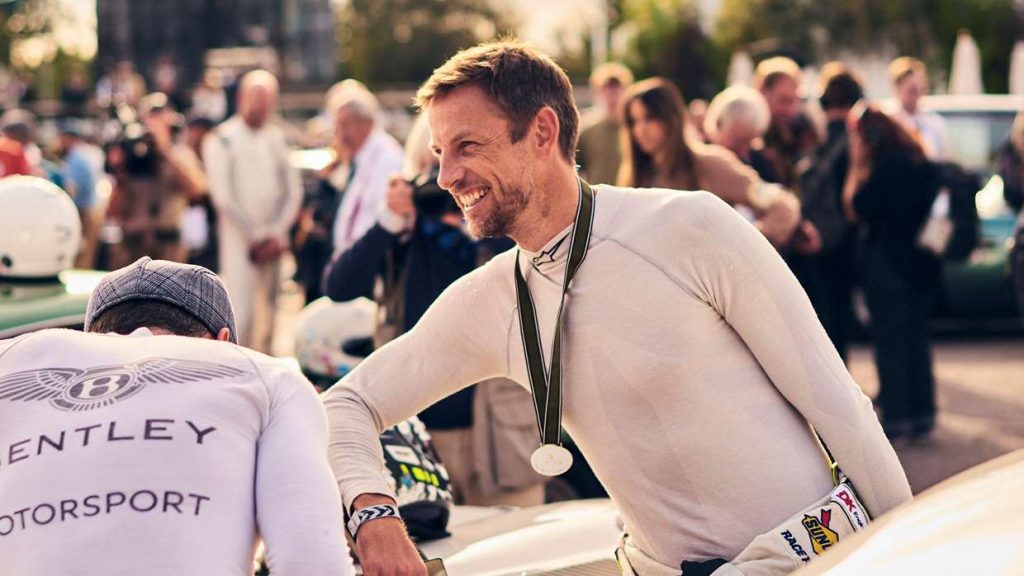 Despite his qualifying struggles, Jenson seemed relaxed and certainly looked the part, dressed in a tailored double-breasted suit and Trilby hat.
"I love to dress up, it really makes the Revival what it is. The driving for me is sort of a bonus – I love walking in wearing a cool suit – seeing everyone dressed up is wonderful."
Enjoying a little sartorial elegance is one thing, but we're more interested in how the World Champion and his teammate Alex Buncombe fared from their lowly 19th position grid slot.
"The race was super competitive, but we finished seventh! I'd never driven the car at speed before this weekend, so I'm really happy with that," Jenson opined.
Adapting to the idiosyncrasies of the debonair, wire-wheeled E-type would have been an impressive achievement in its own right, but that wasn't the only machine Jenson was tasked with racing at the Revival. The other was a notoriously tail-happy 1960s Shelby Cobra, which Jenson also hadn't driven in anger before.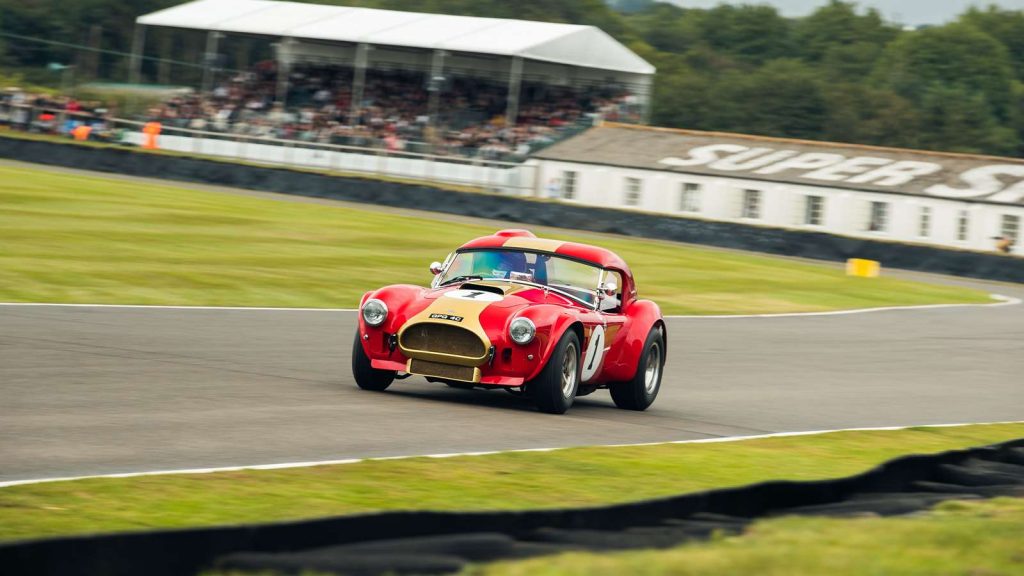 "Everyone says the Cobra is much harder to drive than the E-type, but I didn't find that to be the case. The E-type has a lot of roll and I'm not a fan of roll. The Cobra is much stiffer."
It's easy to see why Jenson has such a contrary opinion on the Cobra's dynamics when the context of his racing career is taken into account. No one would describe an F1 car as a wayward, wallowy machine. An F1 car is remorselessly stiff, light, powerful and unforgiving – just like an old-school Cobra. Even so, the brutish Cobra isn't blessed with modern luxuries of power steering, paddle-shift and heaps of downforce.
"There's shed-loads of power and the torque is unreal, it's just wheel spinning all the time. The stiffness and power mean that it wants to slide, but you understand where it's going," Jenson explains.
Jenson's oneness with the Cobra was evident with the third place he achieved in qualifying for the RAC TT Celebration, which boasts a field of elite drivers as one of the Revival's headline races: Martin Brundle, Jean-Eric Vergne, André Lotterer, Romain Dumas and Derek Bell, to name a few.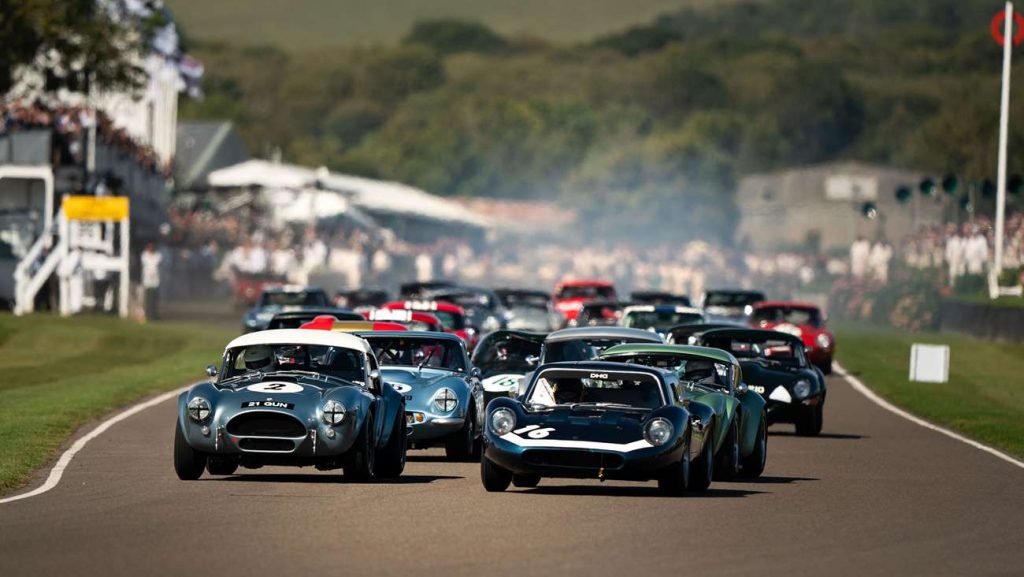 Unfortunately, a dominant charge to victory from the second row of the grid wasn't on the cards. Jenson's start to the RAC TT Celebration was let down by a poor start, having mis-shifted from first to fourth gear off the line, relegating him to ninth by the time he reached Madgwick. His special talent behind the wheel was clear, but so was the fact that in Historic racing, he's very much a rookie.
A determined climb through the field and a fastest lap followed, but sadly the car was stricken by a persistent misfire and retired shortly thereafter. Not that Jenson seemed to mind – his foray into the world of Historic racing had clearly left a lasting impression.
"There's just so many cool cars here, it's amazing – they're beautiful. The Cobra is just so aggressive, it's so sexy looking. Then there's the lines of the E-type Lightweight which are just stunning. For me it's not single-seaters that are the highlight of the Revival, it's the GTs, the touring cars and road cars," he says with a twinkle in his eye.
We have a feeling Jenson might be returning for a sophomore Goodwood Revival appearance when it returns on September 16-18, 2022. Tickets go on sale from November 8, 2021, and can be purchased here.
If you liked this, then why not subscribe to Magneto magazine today?