Words: Elliott Hughes | Photography: Radford
Jenson Button would probably attest that many of the most memorable things in life come as a total surprise – he has an unlikely 2009 Formula 1 World Championship to prove it.
So, it's appropriate that Jenson joined Ant Anstead of Wheeler Dealers fame, designer Mark Stubbs and ex-rockstar and lawyer Roger Behle to deliver one of the biggest shocks of 2021: the revival of Radford, an extinct British coachbuilding company from the 1960s.
We caught up with Jenson and Ant at the Goodwood Revival for the global debut of the Radford Type 62-2 JPS, which is the most extreme version of the new Type 62-2 supercar developed with Lotus Engineering. Radford's new Exige-based car is built from the Exige platform and pays homage to the Lotus Type 62 of 1969, of which just two were built.
"Radford was founded in 1948 by Harold Radford. Ironically, it was launched at the Earl's Court Motor Show, and we're here at the Earl's Court exhibit at the Revival. The first car was a Rolls-Royce, but the brand became well known and gained a cult following for creating bespoke Minis," Ant says, gesturing to the two examples behind him.
"The Beatles had Radford Minis; this one [one of several historic Radfords on display] was Ringo Starr's. The reason the back is shaped like that is so that he could fit a drum kit inside. The other one used to belong to Paul McCartney." Ant smiles. "They belong to Geri Halliwell – that's Ginger Spice to you and me – who lent them to us for the show."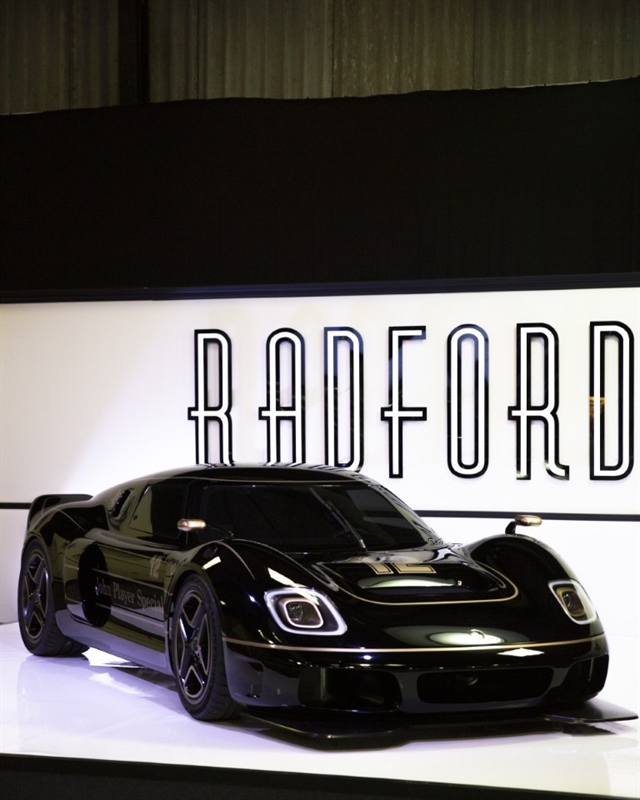 Sitting across from the ex-Beatles Minis is an original Radford-built Aston Martin DB5 Shooting Brake. "Radford made 11 Aston Shooting Brakes because David Brown liked to go hunting with his dogs and he wanted a car he could take them out in."
As incredible as it is to see some of Radford's most legendary cars from the 1960s in the metal, the real star of the show is sat proudly on its plinth in the middle of the stand. It's safe to say that the photos and renders of the Type 62-2 that have been drip fed onto the internet over the past few months fail to do the car justice.
The bodywork's fusion of modern design and classic '60s styling result in a car that looks well proportioned, low, curvaceous and elegant. Meanwhile, the JPS-spec splitter, wheels and iconic gold-and-black livery add a touch of menace. Radford describes the design as "timeless", and other than from a few angles at the rear, it's hard to disagree.
"It's wonderful, and I think the great thing is that our designer Mark listens to our opinions. The back end was a lot higher before – more like a breadvan – because that's what the original Lotus Type 62 was like. We had to bring the back down a little bit because the proportions just didn't look right on a modern car on this chassis," Jenson says.
"But if you look at the B-pillar next to that of an original Type 62, you can see the design lineage; the DNA is obvious. And then we put some extra Radford hints into it, for example the GT40-style doors – it has a very Le Mans feel," Ant continues.
It's a little-known fact that Radford designed the Ford GT40's famous bodywork, and the way in which the Type 62-2 acknowledges that demonstrates an affection and passion for Radford's heritage. Other eye-catching features are the twin ducktail spoilers, carbonfibre wheel rims and what look like tiny F1-style wing mirrors.
"We wanted mirrors, but these are actually cameras," Jenson reveals. "The reason for that was that we wanted it to look like a proper car, and cars look weird without wing mirrors. Styling them like a single-seater racing car is very cool, and we put them so far out so that you get great visibility down the side and around the back."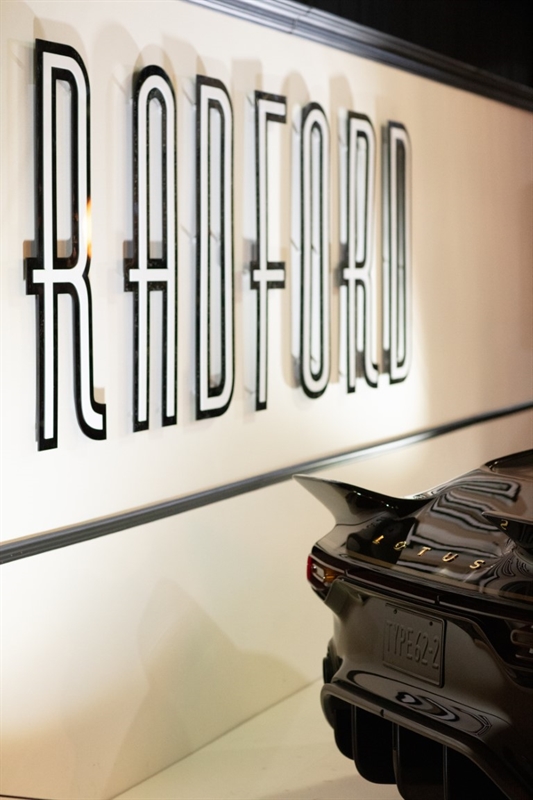 After drinking in the exterior, it was time to learn about what Radford and Lotus Engineering have developed underneath. And with that, Ant was keen to emphasise that the Type 62-2 is far more than simply a re-clothed Lotus Exige.
"Engineering-wise it's based on the Exige platform, so the B-surfaces are Exige, but the rest of it is basically brand new. It's longer and wider than the Exige, there's bespoke wishbones, uprights and arms, and new suspension. Then with the coachbuilt aspect, everything is carbonfibre – even the wheels on the JPS model."
The same goes for the engine; only the bottom end of the trusty supercharged Toyota V6 resembles what Lotus will sell you in an Exige. As a result, the JPS-spec Type 62-2 develops a whopping 600bhp thanks to uprated pistons, camshafts and conrods, a beefier supercharger and a more aggressive engine map.
The liberal use of carbonfibre means the car weighs just 1000kg, which puts its power-to-weight ratio at 600bhp per tonne; 110bhp more than for a Bugatti Veyron and just shy of the 621bhp per tonne achieved by the McLaren P1. Luckily, the JPS-spec's AP Racing carbon-ceramic brakes mean that the car should stop with as much enthusiasm as it accelerates.
With numbers and specifications such as that, it would be fair to assume that driving the JPS on the road would be a somewhat terrifying, masochistic proposition. Jenson says that's not the case: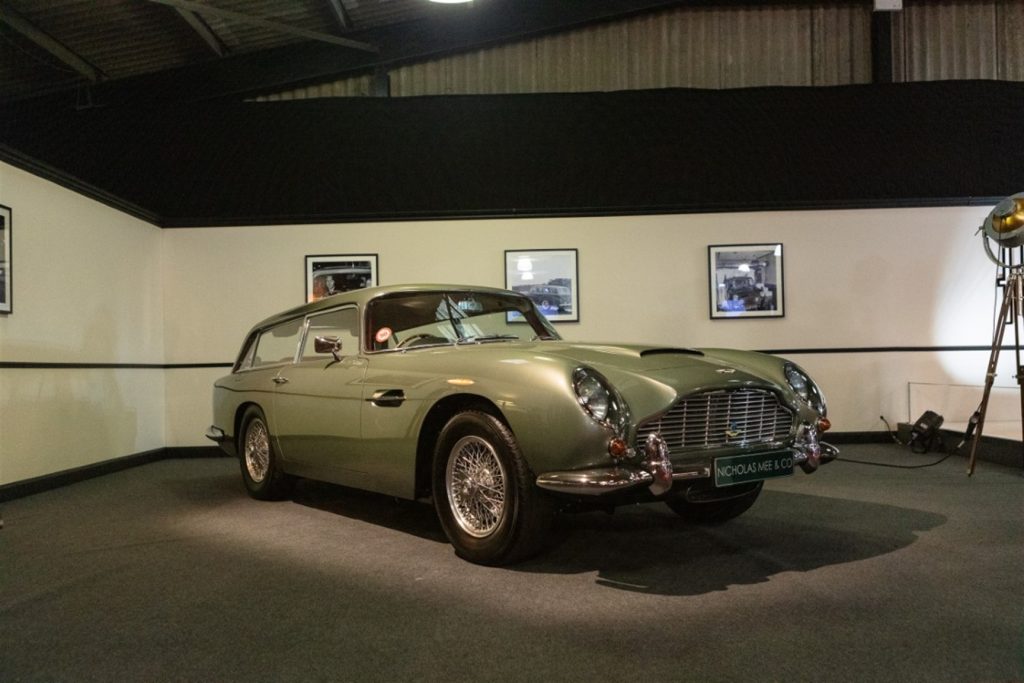 "There's always compromise with a road car. You don't want it to be just a circuit car or just a car that works on the motorway; it has to be good at both. I've done a lot of circuit driving and a lot of road driving to set up the car. You can't have it too pointy like a racing car, or people will end up in hedges.
"But it's also important that it's comfortable on a bumpy motorway. You don't want people thinking 'when I get to where I'm going, I can have fun with it, but the journey there will be tough'. It's about balance – the car should put a smile on your face every time you get into the cockpit, that's the aim."
The interior reveal later this year should shed more light on how far Radford has prioritised comfort in what looks to be a very focused car, particularly in JPS trim – but Jenson offered some early insight:
"The interior's finalised, it's just not in the car – but it's as good as the outside, it's very cool. We've worked with Bremont on the dials and Mason & Sons for all of the leathers and things inside the car."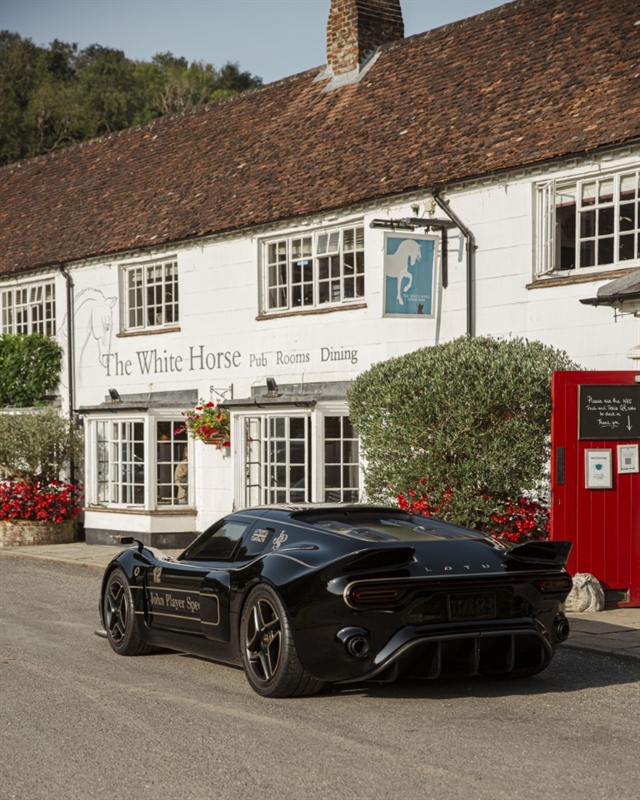 This being the Revival, the topic soon returned to motor sport. "We've talked about doing Pikes Peak next year and there is an obvious racing link with Jenson, Lotus and Radford, so I won't say anymore…" Ant said.
But that wasn't the only teaser that he had in store – there's an all-new car arriving next year, tipped for announcement in Q1 of 2022.
"We've had other OEMs that are contracted pen to paper, and we've already developed the second car, although I can't tell you what it is. What I can tell you is that it isn't a sports car, nor is it a Mini – that would be too obvious. The Brits are going to love it, that's all I can say." A Defender perhaps? Time will tell…
Judging by the successes of the Type 62-2 project, Radford looks to be in rude health and primed for the bright future that nobody would have predicted just one year ago. It's great to see such an iconic coachbuilder not fade into obscurity or used cynically. Jenson and Ant's enthusiasm for the marque is as obvious as it is infectious.
Radford is set to build 62 Type 62-2s in a "strictly limited" production run, and it expects to fill every build slot. Jenson confirmed that his name is on the waiting list for a JPS-spec model, of which just 12 will be produced.
If you liked this, then why not subscribe to Magneto magazine today?