WORDS: ELLIOTT HUGHES | PHOTOGRAPHY: MULLIN MUSEUM & GUGGENHEIM MUSEUM
The Guggenheim Museum in Bilbao, Spain, is displaying two of the world's most prized pre-war automobiles for its new Motion, Autos, Arts and Architecture exhibition, which runs until September 18, 2022. The exhibition covers more than 100 years of automotive design and explores the car's relationship with the visual arts and architecture. 
The automobiles in question are a 1936 Bugatti Type 57SC Atlantic and a 1939 Delahaye Type 165. Both are being loaned from the Mullin Automotive Museum in California, providing a rare opportunity for Europeans to see these special cars on their home continent.
Widely regarded as Ettore Bugatti's magnum opus, the exhibited Type 57SC is one of just three remaining examples and was the first production Atlantic to emerge from Bugatti's factory in Molsheim. Known as the Rothschild car, it was originally sold to Lord Philippe de Rothschild of London in 1936. The Type 57 was then returned to the factory by a subsequent owner in 1939 so that it could be fitted with a supercharger and converted into true 57SC specification.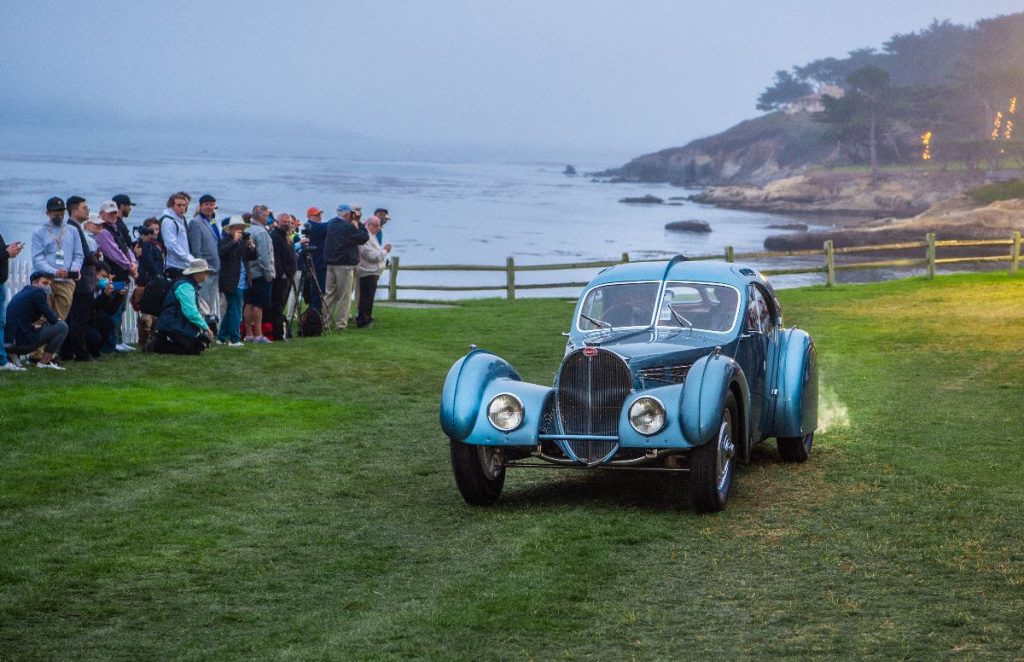 After the war, the Bugatti was drastically modified before being purchased by Peter D Williamson in 1971, who restored the car to its original 1936 specification. It has since been awarded Best of Show at Pebble Beach Concours d'Elegance in 2003 and Most Elegant Closed Car at the event in 2021. 
In the context of the Guggenheim exhibition, the Type 57SC embodies high-end automotive design in the flamboyant Art Deco era that saw engineers' growing understanding of aerodynamics, legislative freedom and bold experimentation converge to inspire incredibly sculptural and flowing designs.
The red 1939 Delahaye Type 165 is one of just five ever built, and boasts a similarly voluptuous, elegant profile to the Bugatti Type 57SC. The car was built to represent France at the 1939 New York World's Fair, but it would remain there for another eight years as Europe was plunged into World War Two following Germany's invasion of Poland. As such, the Delahaye is one of the last examples of pre-war, Art Deco automotive design, due to six years of conflict changing popular culture, art and engineering dramatically.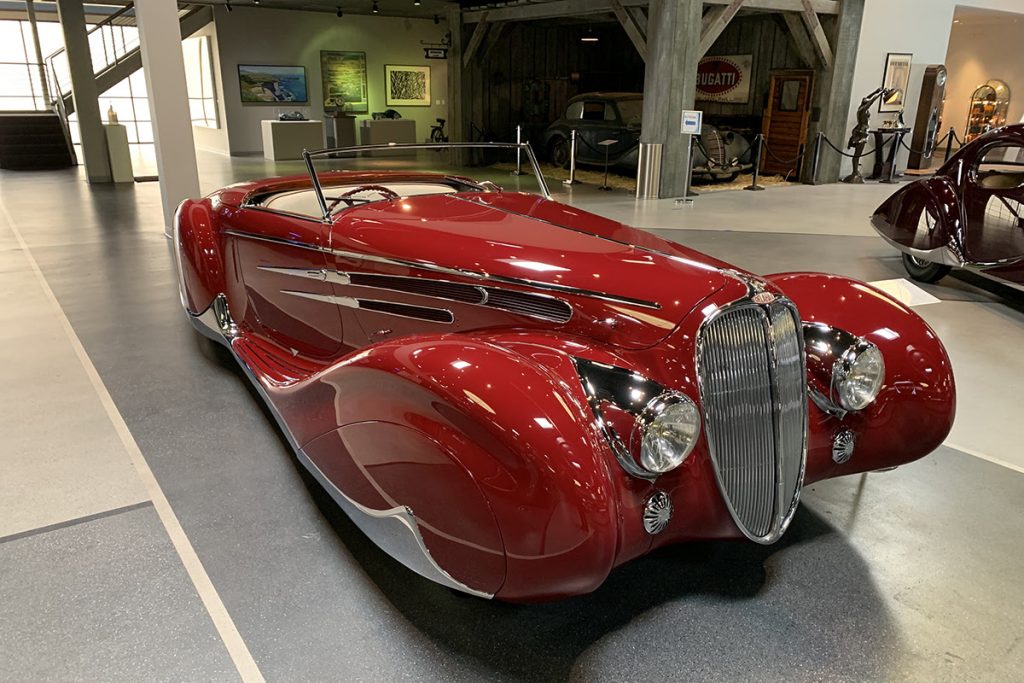 "The Atlantic and Type 165 are from a period when French automotive design was at its peak," says Mullin Automotive Museum founder Peter Mullin. "Cars of that era were more about expressions of design, individuality and art than strictly function. Having them at the Guggenheim is an honour and a recognition of the influence of automotive design on other artistic and creative forms."
Automotive design's wider influence on art is demonstrated by the exhibition's display of Futurist artwork by renowned artists such as Giacomo Balla and Umberto Boccioni. The Futurist style's emphasis on speed and technology is the perfect demonstration of the affinities shared between the automotive and artistic fields.
Further complementing the cars and Futurist artwork is the exhibition's inclusion of several of René Lalique's famous glass sculptures. The three sculptures curated for the display are Vitesse, Victoire and Longchamps Horse Head-Single Mane, which are also being loaned from the Mullin.