WORDS: JEREMY TAYLOR | PHOTOS: MI ELFVERSON
It's now officially summer, and the well heeled streets of Knightsbridge are awash with supercar exotica. Ferrari, Lamborghini, Bugatti – owners are happy to pay big just to get noticed.
They could be missing a trick, though, because of all the cars I've driven this year, nothing has garnered more show-stopping attention than an electric motorhome conversion, by Sussex-based specialist Love Campers.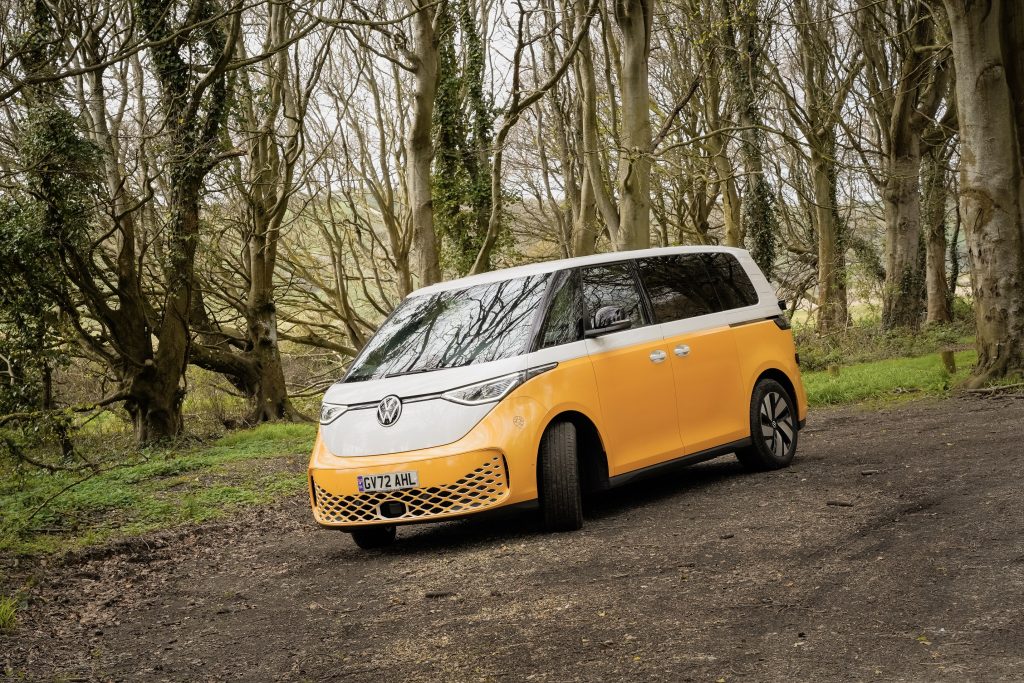 This particular Volkswagen ID. Buzz has been built for travel company Wild Drives as a holiday hire. The classic white-over-yellow, two-tone paintwork of the Love Buzz trumps everything else on the road, apart from an original split-screen Type 2, of course.
Based on a standard, short-wheelbase Buzz Cargo commercial, the Wild Drives microbus costs £49,539, including the plug-in grant and VAT. Then add a further £20,400 for the conversion work. That's roughly £10,000 more than a combustion-engined VW California.
What makes the Love Buzz so special is the retro styling and that single, 77kWh battery pack driving the rear wheels. Combine the two, then add the camping capability, and the Love Buzz should become an uber-cool home on wheels.
Which is what I discovered on a weekend away in the West Country – the VW is an instant hit with old and young alike. Whether you're a '60s love child or a moaning millennial, a V-Dub camper van has the ability to turn anyone into a happy hippy.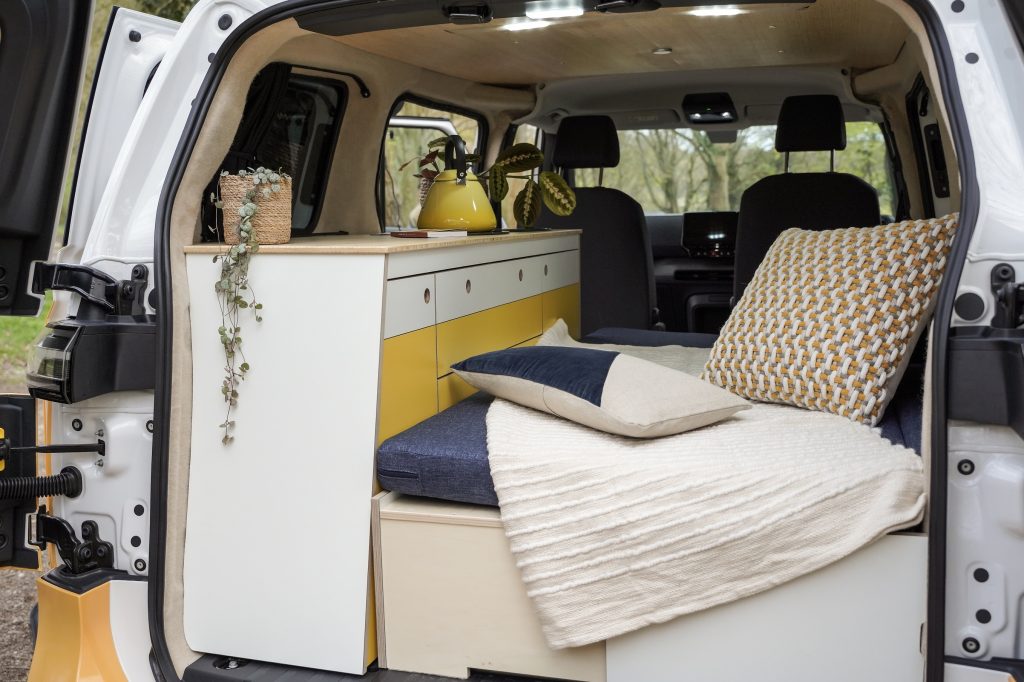 With a real-world range of around 200 miles, lashings of style and plenty of feel-good factor, the only surprise is that VW says it will be 2025 at the earliest before a camper conversion of the Buzz is delivered to showrooms.
That 'official' model will be based on a long-wheelbase platform, which is a key point because the back of a Buzz Cargo only offers so much space – a problem Love Campers has tried to rectify with limited success.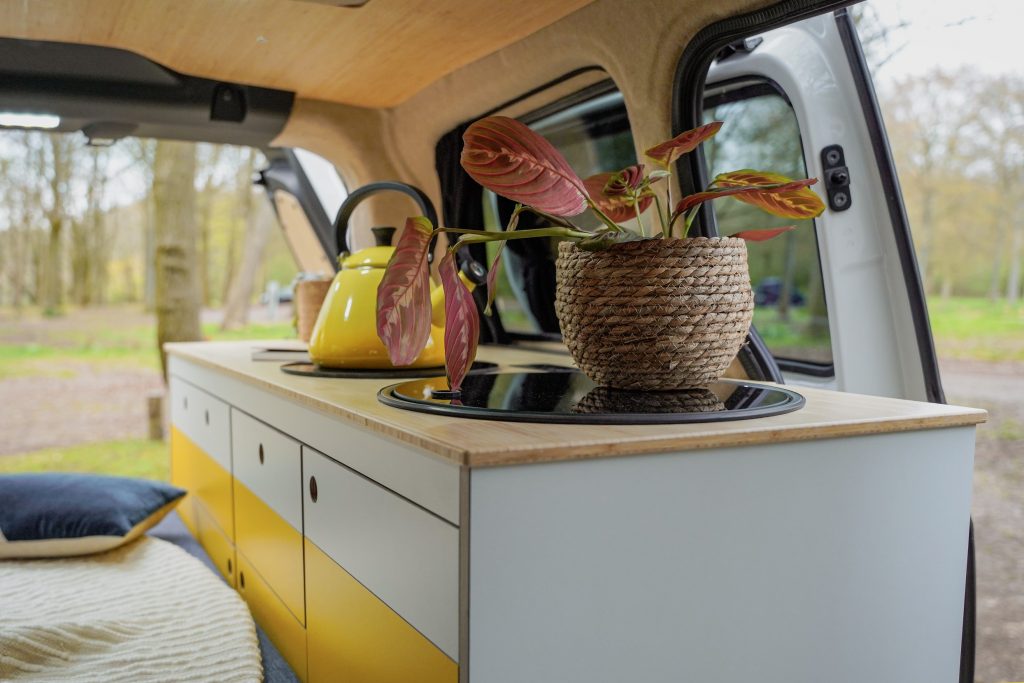 The front cab of the Cargo conversion remains intact, but the rear now offers a space-saving, slatted bench down one side, with a kitchenette on the other and narrow walkway in between. However, even the vertically challenged will struggle with only 4ft of available headroom. A pop-up roof is sorely missing.
Without that extra height and potential for a roof sleeping area, passengers need to extend the side bench into the middle of the floor to create a bed, which measures a measly 80 by 63 inches, barely enough for any couple who hope to be still talking to each other the morning after.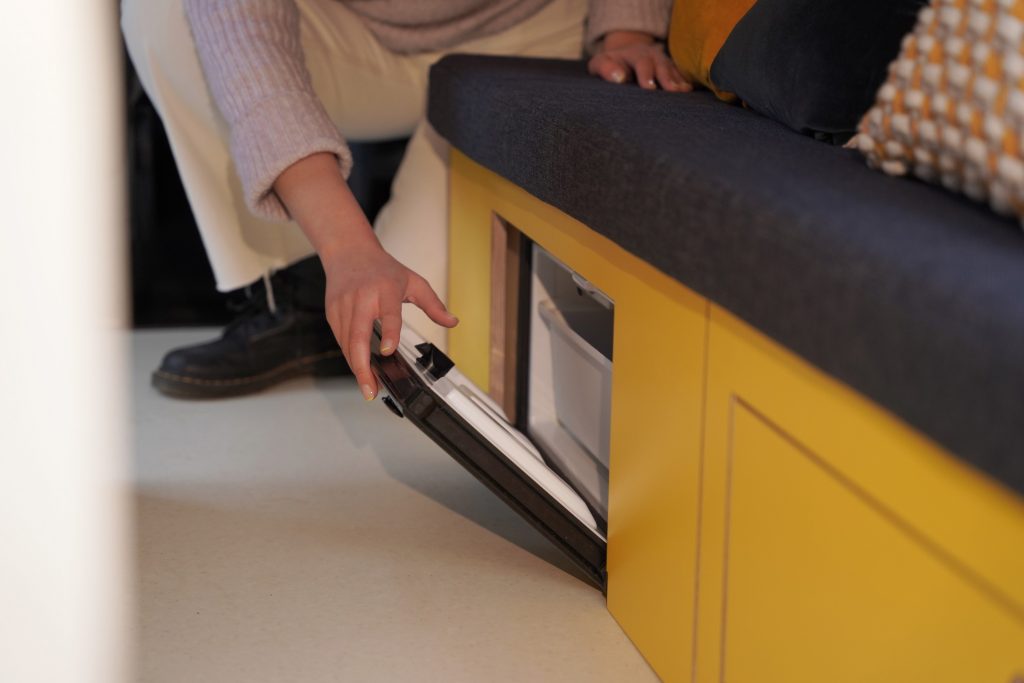 The kitchen area features a fast-heating induction hob, sink and cupboard space galore, including a matching yellow kettle. Ideal for a morning cuppa, except the fridge is under the pull-out bed, so to find the milk, the bed has to be reconfigured back into a bench.
All-in-all, the Love Buzz is a decent first attempt, but the designers need to find the extra room for improvement. Swivelling captain chairs upfront would utilise cabin space, a pop-up roof seems non-negotiable, while a smaller kitchenette, placed at the rear, might help.
Despite this, the Buzz remains one of the most desirable electric vehicles on the road. As a live-aboard it offers huge potential, and Love Campers will no doubt be working hard on an upgraded version already.
The electric Love Buzz is available to hire from £150 a day at wilddrives.co.uk.