WORDS: ELLIOTT HUGHES | PHOTOGRAPHY: GOODING AND CO.
Gooding and Company's Geared Online Bugattiana Automobilia event will see one of the world's most significant collections of Bugatti automobilia head for sale in a no-reserve, online-only auction from November 7-18.
The eclectic collection of over 350 items – some of which have never before been offered for public sale – includes factory records and personal effects that belonged to company founder Ettore Bugatti and his son Jean.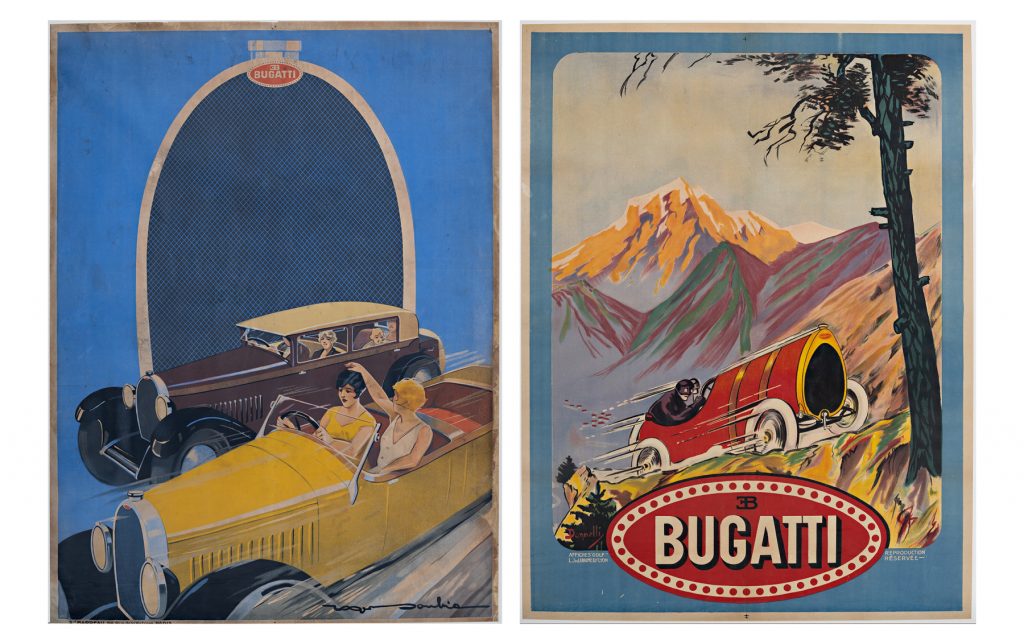 Gooding's Bugattiana Automobilia catalogue was exclusively sourced from a significant Bugatti enthusiast who began collecting shortly after joining the Bugatti Owners' Club as a teenager during the 1950s.
The consignor has taken stewardship of several of the marque's most significant models since then, and has worked diligently to assemble a world-leading collection of artefacts that chart more than a century of Bugatti's history.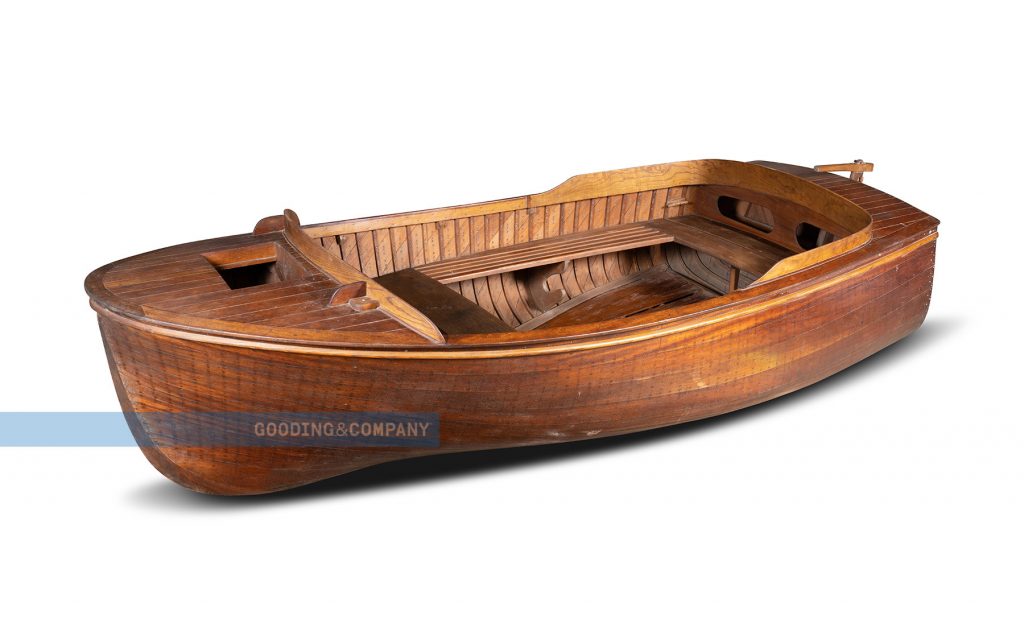 One of the sale's headline lots is a rare Bugatti Type 75 You-You Boat from circa 1946. The boat was designed by Ettore Bugatti and crafted in his Maisons-Laffitte shipyard shortly after WW2. Production of the boats ceased after Ettore's death in 1947, and it is estimated that less than 30 were ever built. Only a handful are extant today.
Another item showcasing Bugatti's artisan workmanship is an original 1933 Bugatti Type 52 Bebe that belonged to Richard 'Dick' Teague, vice president of styling at American Motors. The desirable electric half-scale Bugatti is offered with its original tyres, vintage children's goggles, the original factory wiring diagram plus photographs of Teague and his son with the car.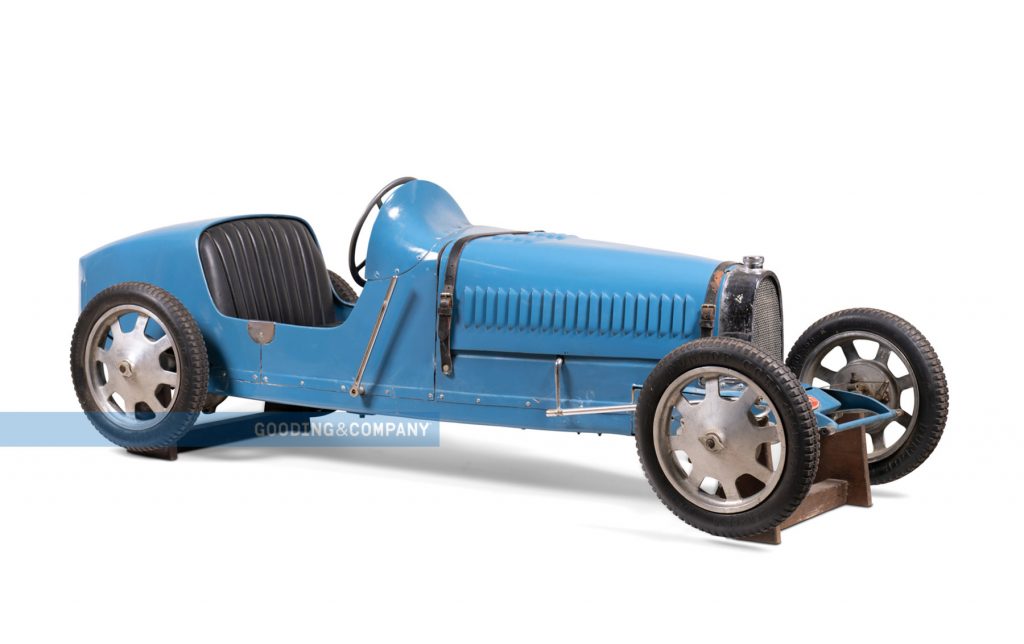 The No.22 Bugatti Type 41 Royale Engine – one of the last built for the planned 25-car run of Royales – is another exciting consignment that is sure to draw interest from the world's leading collectors. With only seven Bugatti Royales making it off the production line, the surplus engine was used in a Bugatti Autorail train before being exhibited at the Musée Pichon in Clères, France.
A Motsch Fils Top Hat owned by Ettore Bugatti is being offered with its original box, with Ettore's name and address included on the label. Ettore's initials can be found inscribed inside the crown as well.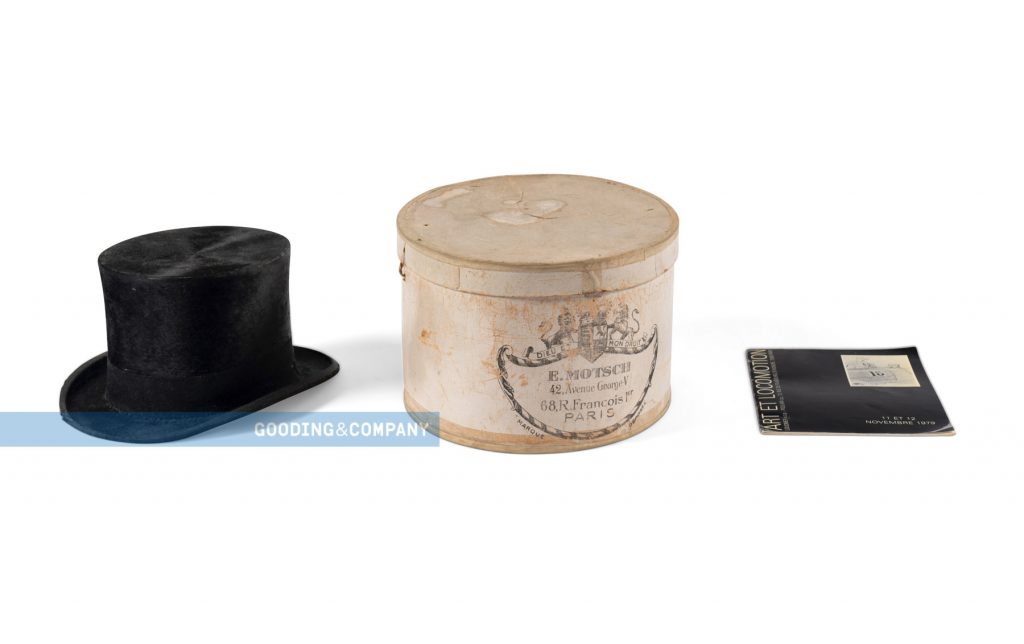 Also included are original handwritten sections of Ettore Bugatti's Memoir, dated November 20, 1944 and February 24, 1945. Both sections were reportedly acquired by the consignor from Ettore's daughter and eldest child, L'Ebé Bugatti.
Other exciting lots include a Breguet Chronograph Clock that was commissioned by Ettore for the Bugatti Royale, the 1937 Le Mans 24 Hours winner's trophy, the 1928 ACF Grand Prix Trophy and the 1930 Monaco Grand Prix photo album that was presented to Bugatti driver René Dreyfus.
"This is truly a museum-quality collection, carefully assembled and curated over a span of decades by one passionate Bugattiste," said Gooding and Company senior specialist David Brynan.
"This is a singular opportunity to acquire important, never-before-seen pieces, many of which have ties to the Bugatti family and legendary drivers of the period, such as René Dreyfus and Elizabeth Junek."