WORDS: ELLIOTT HUGHES | PHOTOS: RM SOTHEBY'S, BONHAMS
Have you ever dreamed of owning a real Formula 1 car? You're not alone. Experiencing the raw, unbridled performance that's distilled in the race cars at the pinnacle of motor sport is something on the bucket list of countless enthusiasts.
For those with the means, however, owning one of these uncompromising single-seaters is a real possibility, ranging from scary, post-war challengers driven by the likes of Fangio, to the turbocharged monsters of the 1980s and the V10 and V8 screamers of the 2000s.
As the desirabiltiy and values of such machinery is only increasing, here's a run-down of the ten most expensive Grand Prix racers ever sold at public auction.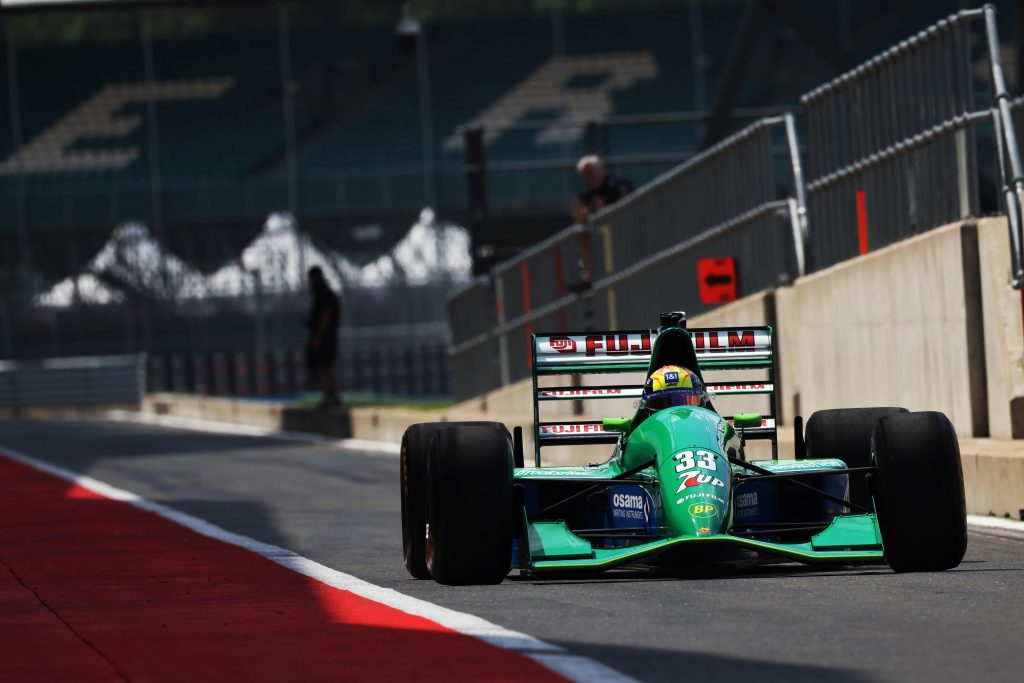 10. 1991 Jordan 191 sold for €1,495,000 (£1.29m) in 2023
The Jordan 191 was the first car Eddie Jordan's eponymous team fielded after breaking into Formula 1 in 1991. The 191 was declared the Best-Looking F1 Car of All Time by The Daily Telegraph in 2018.
However, its significance goes beyond its appearance. The reason the 191 earned a spot in our top ten is because it served as the first Grand Prix car steered by seven-time World Champion Michael Schumacher. The German was awarded the drive for the 1991 Belgian Grand Prix following the imprisonment of Bertrand Gachot for aggravated assault.
In his debut appearance, Schumacher made an immediate impact. Despite being unfamiliar with the winding layout of Spa-Francorchamps, he announced his arrival by qualifying in P7 for the race.
Regrettably, Schumacher's race was cut short as a clutch problem forced him to retire on the opening lap. He was then poached by Benetton for the remainder of the 1991 season, with whom he would win his first two titles in 1994 and 1995.
The car was sold in a Bonhams auction earlier this year for €1,495,000 (£1.29m) including premiums.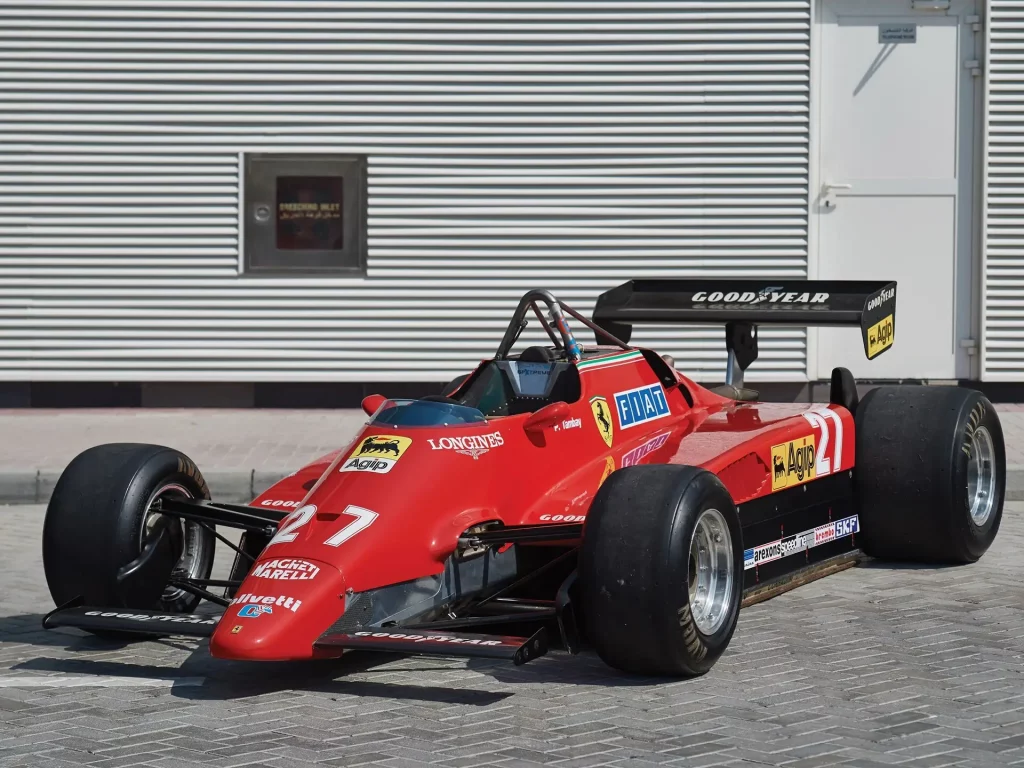 9. 1982 Ferrari 126C2 sold for $2,143,750 (£1.65m) in 2019
The only Ferrari on this list not driven by Michael Schumacher is the last remaining 126C2 of the seven built for the 1982 season.
This particular chassis, no.061, was driven to victory in the 1982 German Grand Prix by Patrick Tambay before claiming a podium finish in that year's Italian Grand Prix in the hands of Mario Andretti.
Unfortunately for Ferrari, these results were the highlights of a lacklustre 1982 season that culminated in fifth place in the World Constructors' Championship, 62 points behind the victorious McLaren team.
The high price paid for the car is reflective of its rarity and the growing value of Formula 1 cars from the 1980s, 1990s and 2000s.
Having previously been owned by renowned Ferrari collectors Jacques Setton and Michael Willms, the car was sold by RM Sotheby's in 2019 for $2,143,750 (£1.65m).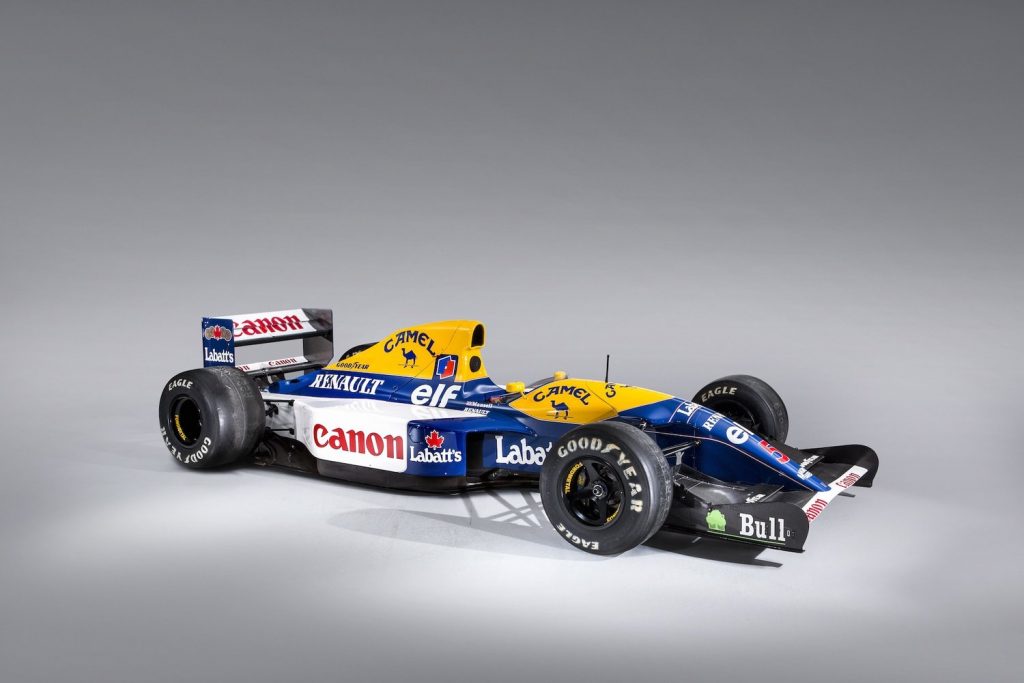 8. 1992 Williams FW14B sold for £2,703,000 ($3.41m) in 2019
This extraordinary car that Nigel Mansell drove to his sole World Championship title is testament to the genius of current Red Bull designer Adrain Newey.
Colloquially known as 'Red Five,' this particular chassis (FW14/08), was driven by Mansell in the first five rounds of the season, claiming pole position and victory in each of those races.
Halfway through the season Mansell agreed to swap chassis with his teammate Riccardo Patrese, who drove FW14/08 from the British Grand Prix through to the season finale in Australia.
The car was purchased by four-time F1 World Champion Sebastian Vettel at Bonhams Festival of Speed sale at Goodwood in 2019. Vettel recently showcased Red Five at the 2022 British Grand Prix, where it was run on sustainable fuel to underline Formula 1's commitment to achieve carbon neutrality by 2030.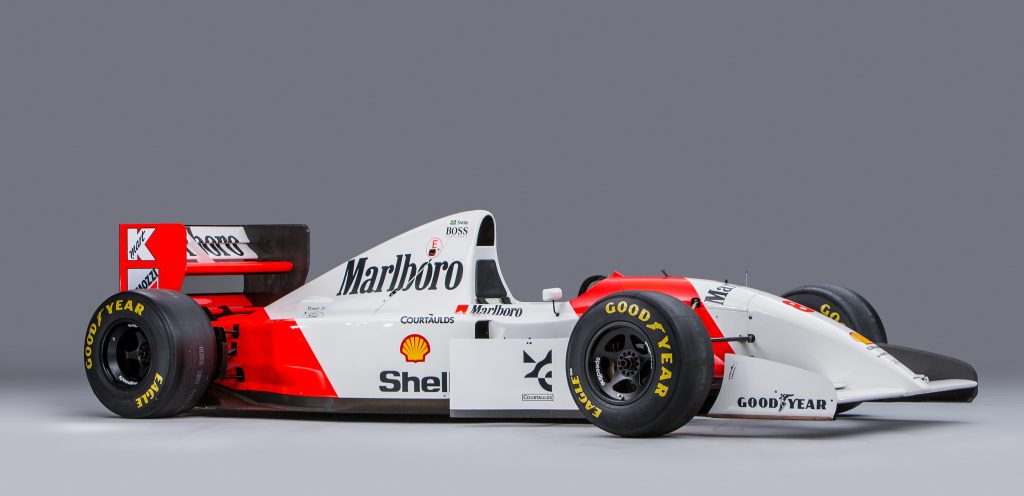 7. 1993 McLaren MP4/8A sold for £3,645,109 ($4.79m) in 2018
Surprisingly, this Ford-powered McLaren MP4/8A is the only car on this list that was driven by the great Ayrton Senna.
This iconic car, with its striking white and red Marlboro livery, was the last McLaren Senna drove before the Brazilian opted to move to the Williams team for the 1994 season, during which he tragically lost his life.
Senna claimed five victories in chassis MP4/8-6, including his record-breaking sixth win in Monaco. Despite the raft of victories, Senna would ultimately lose the title to teammate and bitter rival Alain Prost.
The car sold for £3,645,109 ($4.79m) during Bonhams Les Grandes Marques a Monaco sale in 2018.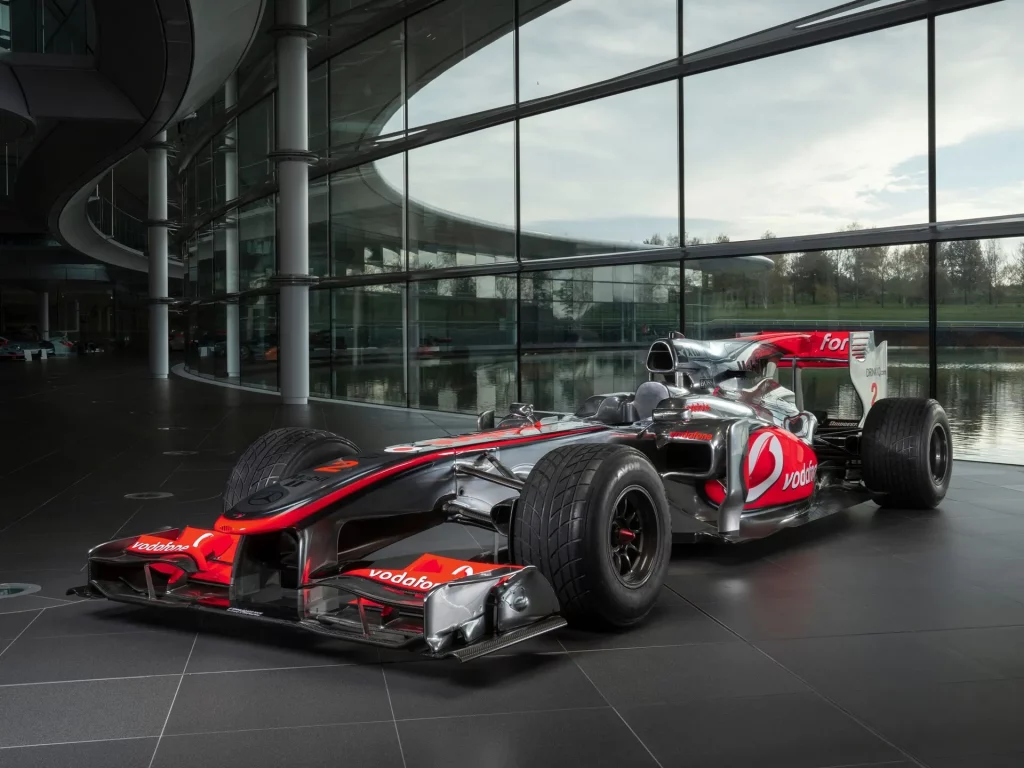 6. 2010 McLaren MP4-25A sold for £4,730,000 ($6.53m) in 2021
Chassis 25A-01 holds the distinction of being the first ex-Lewis Hamilton F1 car ever offered for public sale. Notably, this McLaren was also driven by Hamilton's esteemed teammate Jenson Button, who made his debut for the Woking squad as the reigning World Champion following his famous victory with Brawn GP in 2009.
Hamilton won the 2010 Turkish Grand Prix in 25A-01, holding off his charging teammate after the leading Red Bulls of Sebastian Vettel and Mark Webber collided. Hamilton had his first wheel-to-wheel battle with Michael Schumacher in this very chassis at the Chinese Grand Prix, in which he finished second behind Button for a 1-2.
RM Sotheby's offered in 'ready to drive' condition in 2021 for £4.7m, following an overhaul by McLaren Racing Heritage and Mercedes-AMG High Performance Powertrains.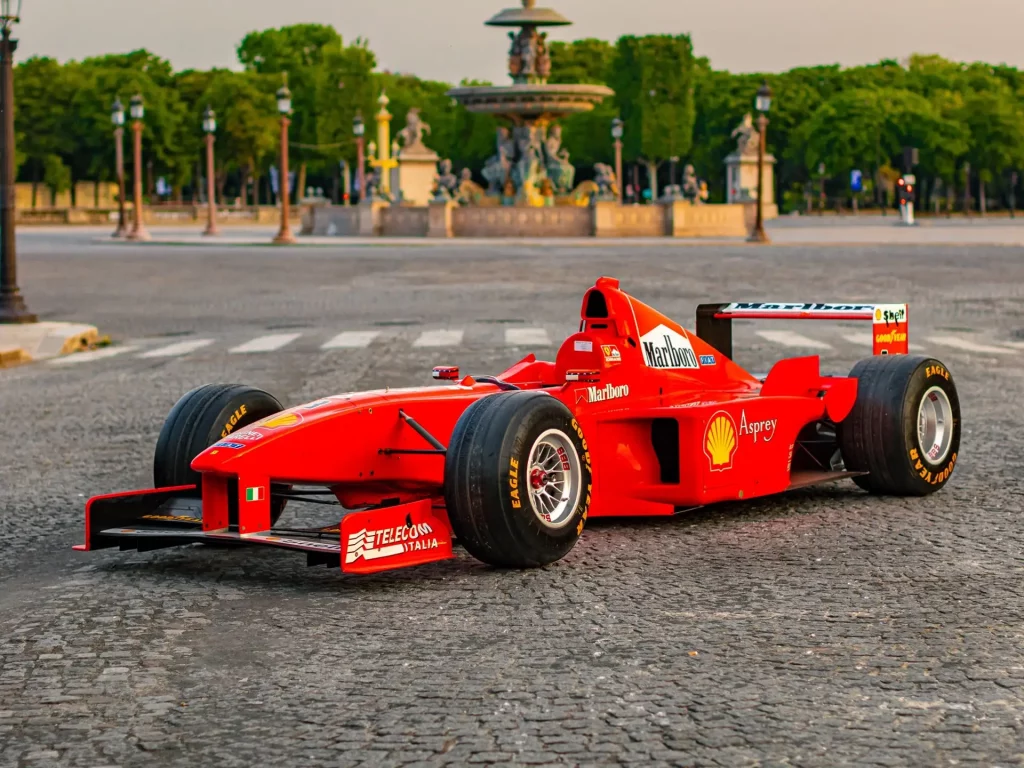 5. 1998 Ferrari F300 sold for £4,997,638 ($6.01m) in 2022
Although it never won the World Championship, the F300 represented the dawn of the Schumacher-Ferrari era of dominance in the early 2000s. Schumacher was in his second season with the Scuderia in 1998, following a controversial campaign in '97 that ended with the German intentionally crashing into title rival Jacques Villeneuve at Jerez.
The F300 put Schumacher back on an upward trajectory, and this particular chassis, number 187, took first place in Canada, France, Britain and Italy. Chassis 187 is, in fact, the only Ferrari F1 chassis to have entered at least three races and achieved victory in every event it took part in.
Schumacher's former challenger was sold by RM Sotheby's auction in Monterey in 2022.
4. 2002 Ferrari F2002 sold for $6,643,750 (£5.12m) in 2019
As the star of RM Sotheby's and Formula 1's first official sale in 2019, chassis 219 became the second-most expensive F1 car ever sold at auction.
And for good reason; the F2002 is one of the most successful F1 cars of all time, taking 15 victories, 11 pole positions and 15 fastest laps from 19 races. Schumacher used chassis 219 to claim victories at the San Marino, Austrian and French Grands Prix, as well as pole position at the Spanish Grand Prix in Barcelona.
The F2002 allowed Schumacher to claim his fifth World Championship, bringing him level with Juan Manuel Fangio for the most by a single driver.
It sold at a Sotheby's auction in Abu Dhabi, 2019.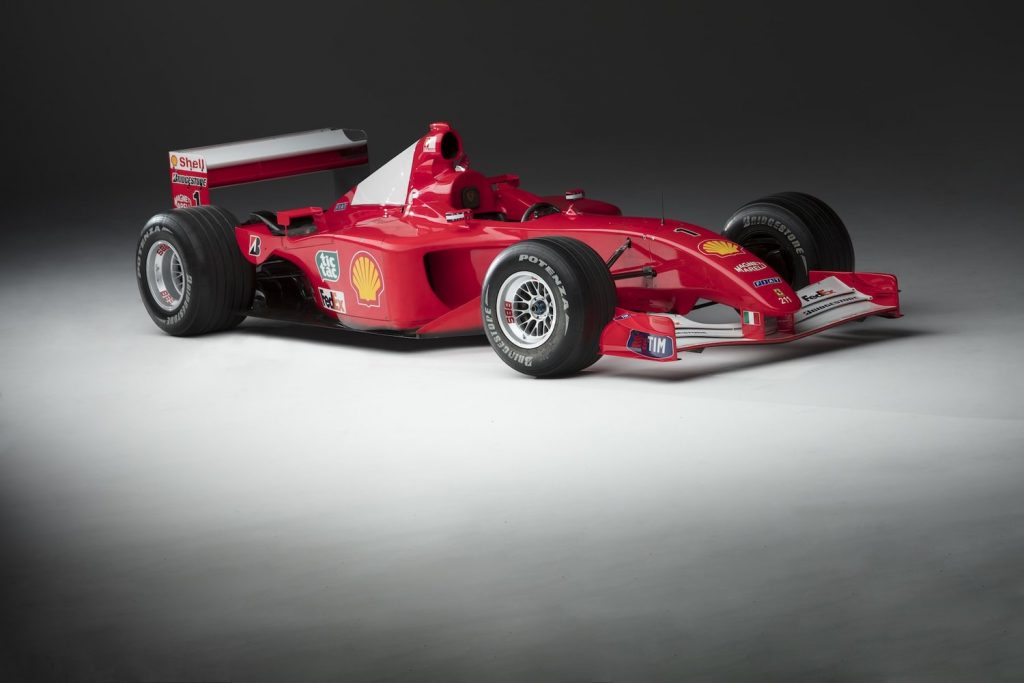 3. 2001 Ferrari F2001 sold for $7,504,000 (£5.64m) in 2017
This particular chassis won the Hungarian and Monaco Grands Prix in Michael Schumacher's hands in a year that saw the German claim nine victories and successfully defend his inaugural title with Ferrari in 2000.
As one of the most successful cars in the Scuderia's storied history, it's unsurprising that this F2002 is the third-most expensive F1 car sold at auction, with a winning bid of £6m back in 2017 via Sotheby's.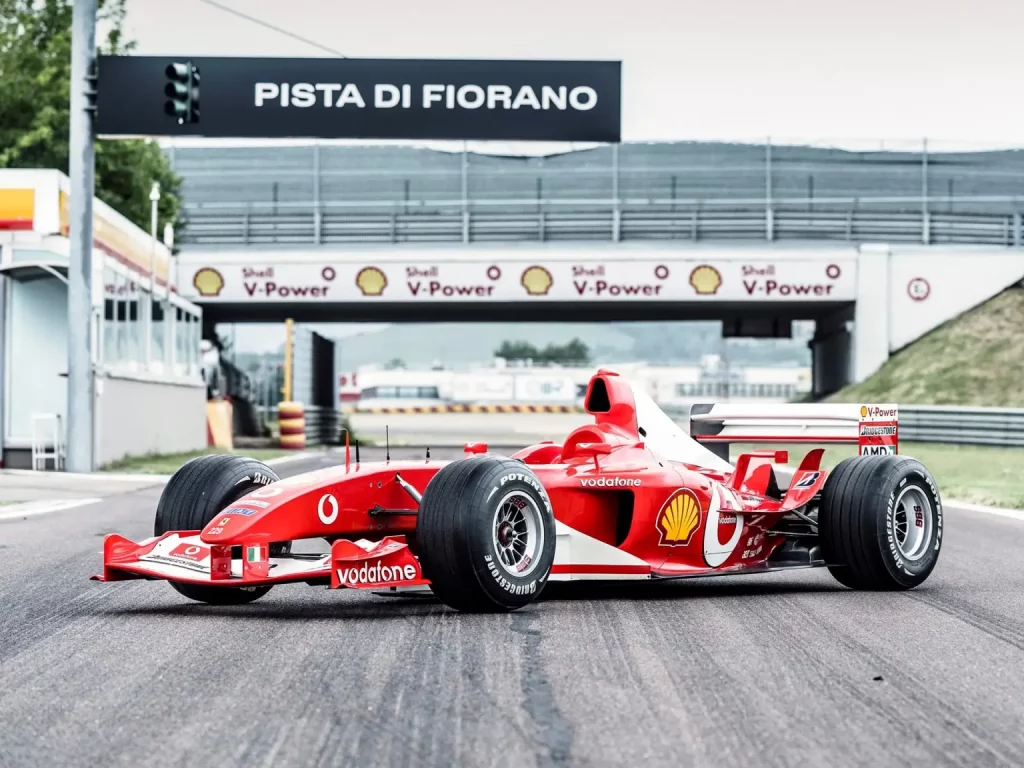 2. 2003 Ferrari F2003-GA sold for CHF14,630,000 (£12.7m/$14.7m) in 2022
Several of us at Magneto watched in amazement as Schumacher's F2003-GA smashed its pre-auction estimate to reach CHF14,630,000 with premiums at Sotheby's Luxury Week sale in Geneva in 2022.
The winning bid made chassis 229 the second most expensive F1 car ever sold at auction, and one of only four Ferrari chassis with five or more Schumacher victories.
Designed by Rory Byrne and Ross Brawn, F2003-GA was introduced at the fifth round of the 2003 season at the Spanish Grand Prix. The 'GA' suffix was designated as a mark of respect to the former head of Fiat, Gianni Agnelli, who passed away before the car's debut.
Schumacher put Chassis 229 on pole at the Spanish Grand Prix, before narrowly taking victory ahead of Fernando Alonso. The German followed this up with wins in the Austrian, Canadian, Italian and US Grands Prix on his way to his penultimate drivers' title.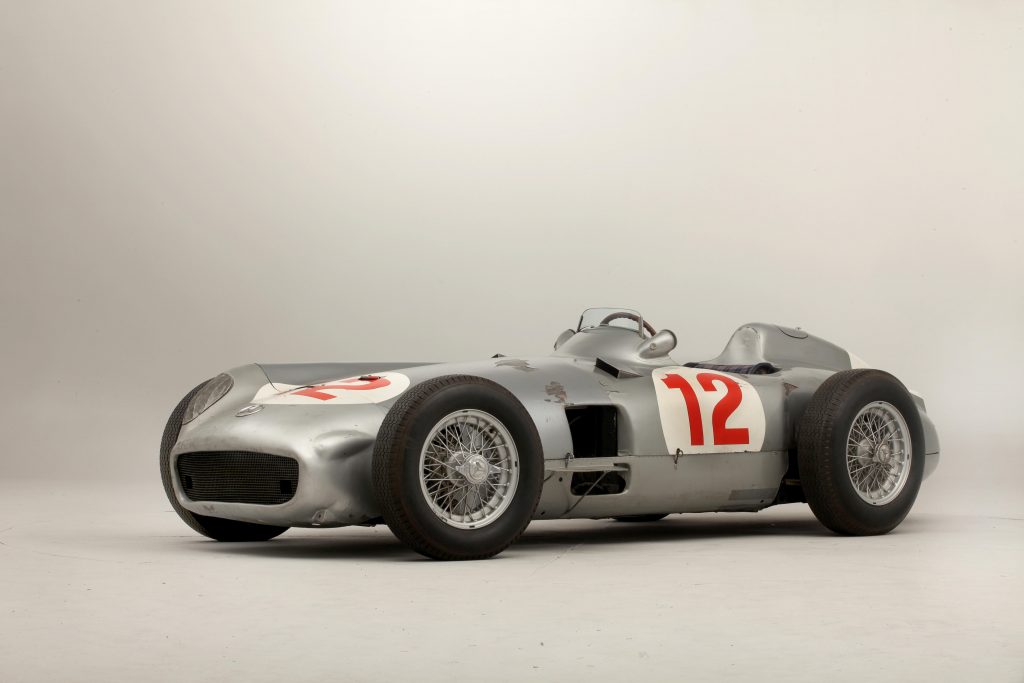 1. 1954 Mercedes-Benz W196 sold for £19,601,500 ($29.8m) in 2013
2023 marks ten years since the W196 (chassis 00006) driven by Juan-Manuel Fangio became the most expensive Formula 1 car ever sold at auction. For a while, it was the most expensive car sold before being toppled by a 1962 Ferrari 250GTO S1 in 2014.
Chassis 00006 was the first open-wheel 'slipper-body' Mercedes F1 model to win in the post-war era, when it took Fangio to victory in the German GP. It then won the next Grand Prix in Switzerland, making it the only surviving W196 to have won two championship-winning qualifying races.
Karl Kling drove 00006 in its last race, at Monza in 1955, after which it was used by Daimler-Benz Exhibition Department at various events until the decision was made to sell the car some years later. Since then, the Mercedes-Benz spent many years out of view, except for cameo appearances at the 1999 and 2000 Monaco Historic GPs.
At the time of its sale by Bonhams in 2013, its desirability was further increased by the fact that out of the ten remaining W196s, it was the only one not owned by Daimler-Benz or a museum.
*All currencies have been historically converted