WORDS: ELLIOTT HUGHES | PHOTOS: PEBBLE BEACH, RM SOTHEBY'S, RM AUTO RESTORATION
Over the past couple of weeks, headlines have been awash with the stunning 1937 Mercedes-Benz 540K Special Roadster that was awarded Best of Show at this year's Pebble Beach Concours d'Elegance.
The pre-war Mercedes is owned by Jim Patterson, a renowned collector who now has three Best of Show wins to his name; a "triple crown", as he puts it. Yet behind every Pebble Beach winner is a world-class restoration team, and Jim's 540K is no exception.
RM Auto Restoration of Ontario, Canada has now got eight Pebble Beach winners gracing its enviable portfolio. Magneto spoke with company president Don McLellan, who revealed the fascinating story behind the meticulous restoration project.
We were able to mix preservation and restoration at a pretty high level, and we had fun with it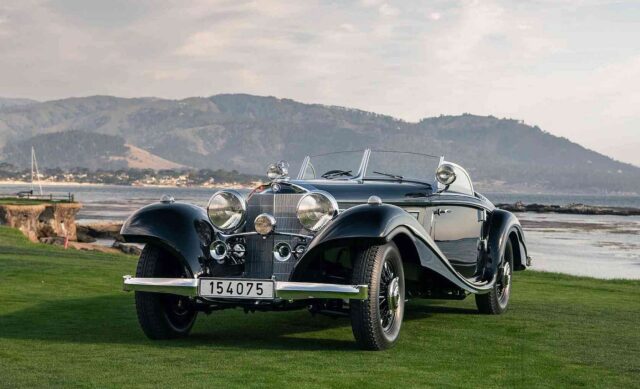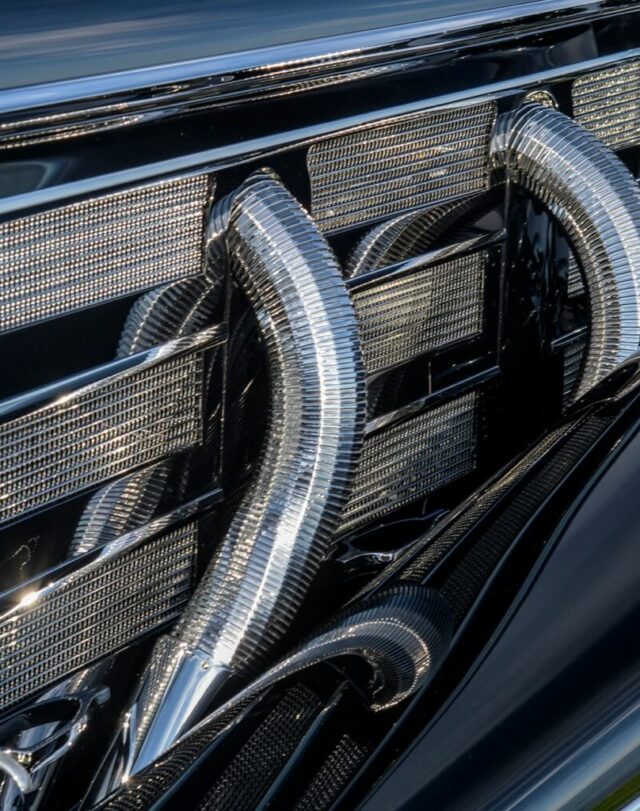 "The car was actually in very good condition," Don explains. "I don't think it had ever seen a rainy day, because there was no corrosion to speak of. It must have been kept in a dry climate, indoors, because all of the wood and the internal structure were nearly perfect. A rare pleasure."
That's not to say the restoration didn't throw up more than a few surprises for Don and the restoration team. Yet the 540K's remarkably well preserved condition can be traced back to the earliest years of the car's lifetime. It was delivered new to a young King Mohammed Zahir Shah of Afghanistan in 1937, before being hidden away in the Afghan Embassy in Paris during World War Two.
After the war the Mercedes was sent to the UK, before then finding its way into the collection of Vernon D Jarvis of Illinois, where it was exhibited in the Early American Museum. It has remained in the States ever since, and was purchased by Jim in 2022.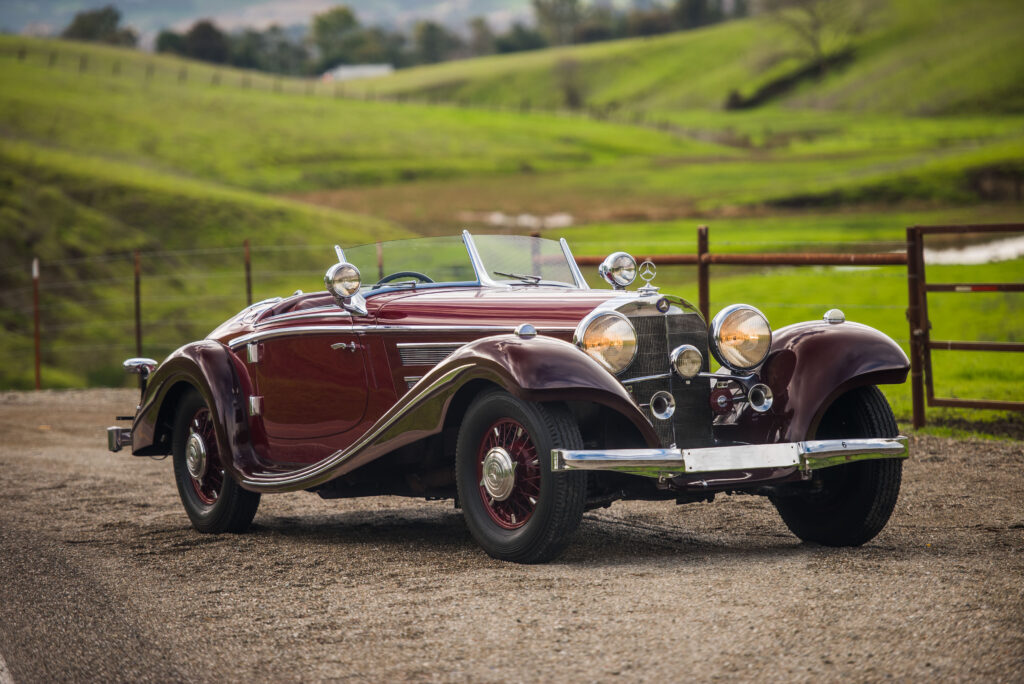 "The question is always, 'should you do a restoration?'" Don says of the car's condition. "This 540K was so good; it was running and driving, but its suspension was worn out and leaking. Normally, we would have preserved the car, but it had already been painted two, or possibly three, times.
"It was originally black – we have the build sheet from Stuttgart. The paint-stripping process was like cutting down a tree and seeing the rings of the finish; you could see layers of red and then black. That's the reason we decided to go through with a full restoration."
With the plans in place, Mercedes-Benz's fastidious approach to stamping parts with serial numbers – which was unusual for the time – revealed just how original the car was. "When we took anything off, there was a three-digit serial number stamped into it: the chrome spears on the body, the door handles, the windscreen post – everything."
This discovery led Don and the team to take photographs of every serial-numbered part removed from the car, and that's when they decided to involve Mercedes-Benz with the project. "The car was so good that we contacted Mercedes Classic in Stuttgart, and we were talking to them about the restoration for several months. They then sent three of their guys to the shop, and they spent nearly a week with us, getting their hands dirty while the car was coming apart.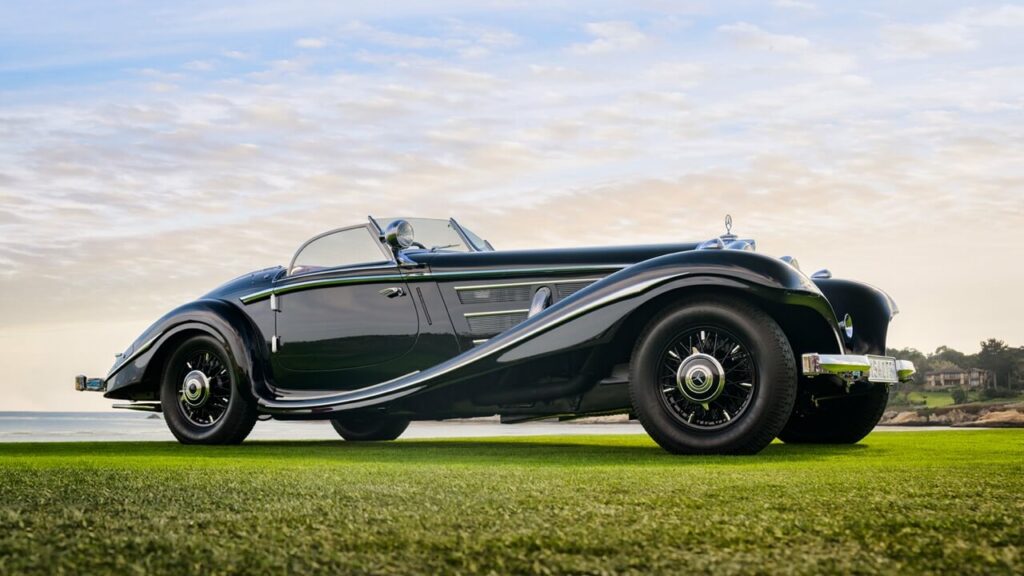 "They were able to document everything. Normally, when a car is certified, the restoration is already finished, so you wouldn't be able to see all of these little hidden numbers. There were hundreds of them – even the rings and pinions had a chassis-build and series number – not just a part number.
"All the information about how these cars were numbered was fed back into their archives to build a database so that this car can be used as a reference for vehicles restored in the future. People can now contact Mercedes Classic and get real answers about what actually belongs on their car. It was a great thing for Mercedes and RM, and we have become great friends with them."
RM discovered another surprise when the time came to refurbish the interior. "Some of the original leather was still in the car and had not been replaced," Don reveals. "The front seat leather had already been replaced, and so had the carpets and parts of the door panels. But the leather on the rumble seats was still original. The seat had never really been opened very much.
"So, we decided to preserve that and agreed to keep it quiet. The plan was to clean off the rear section as best we could and treat it with a moisturising chemical to protect the leather. We then sent a small piece of the original leather off to a friend of mine who runs a tannery, so that we could restore the front seats. We have done business with him for a long time, and he's German, coincidentally.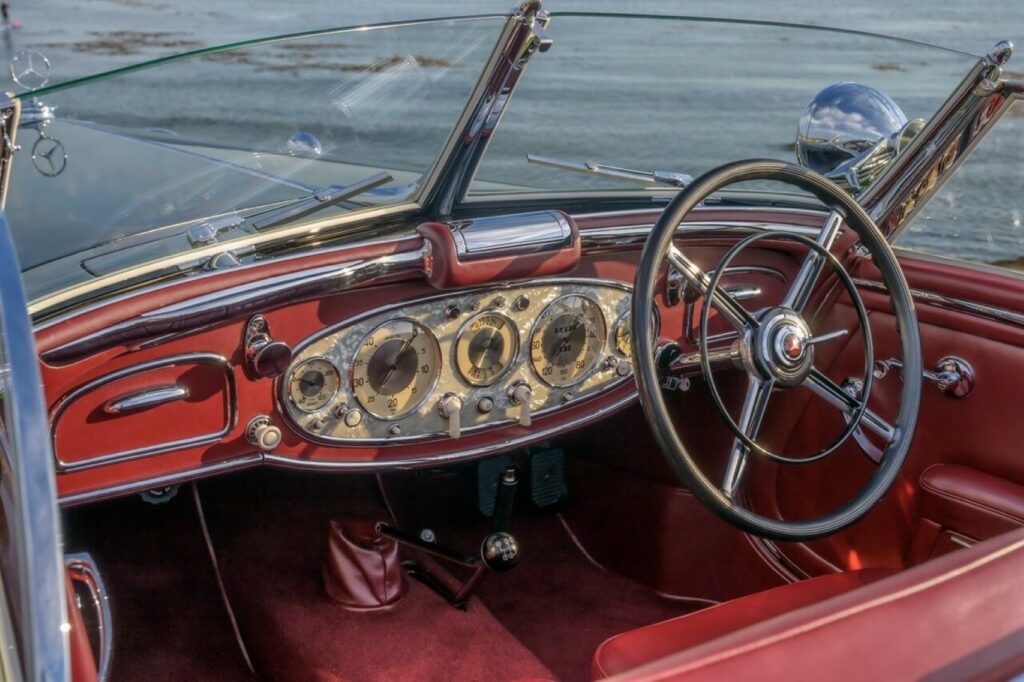 "He took it as a personal challenge to perfectly match the original leather – and so he did. He sent us ten hides that all looked exactly the same as the original rumble-seat leather. During the judging process at Pebble, it was a lot of fun to go through all the mechanical parts of the car with the three judges. Judging is very intense at Pebble; even the clock has to keep time, and the judges seem to know more about the car than you do.
"At the very end of the judging, we said: 'We have something very special to share with you.' Then, we showed them the original rumble-seat leather. When the judges saw that, they were floored. I've never seen a face on a judge as wowed as that. I think that's one of the reasons we won. We were able to mix preservation and restoration at a pretty high level, and we had fun with it."
Despite such an emphatic reaction from the judges, Don and Jim never expected to win the top prize: "There was a lot of buzz around the car just because of how beautiful the thing is, the flowing lines – it's gorgeous from every angle. We had high hopes, but you never know when you're going to Pebble, you just literally never know…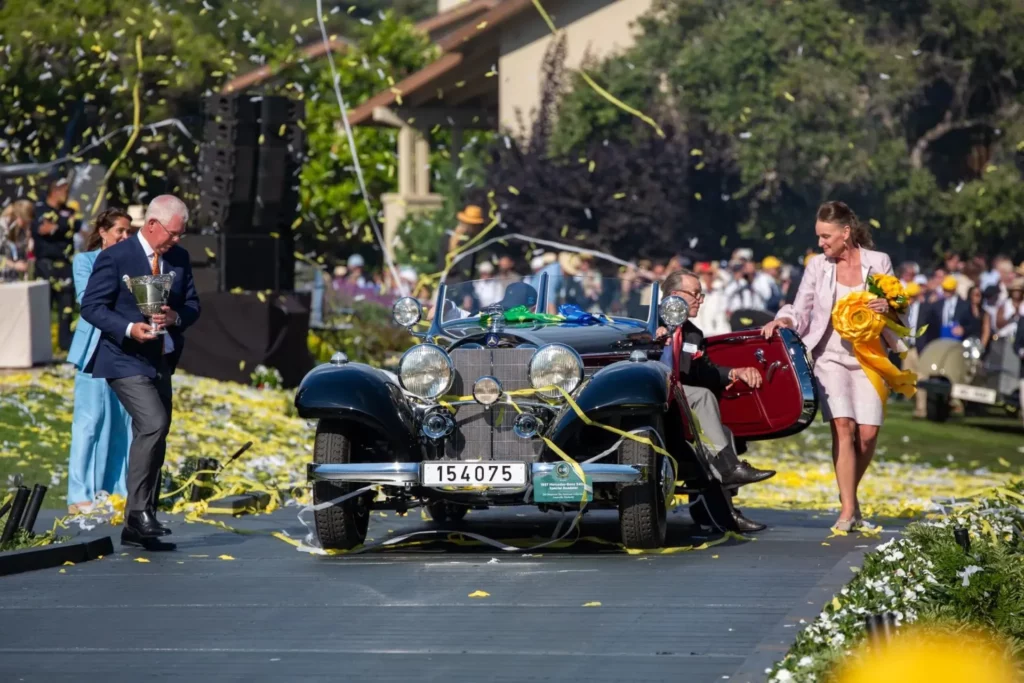 "Before the car went up to the stage, we had already won the class and the Mercedes Star Award. But, after that, we didn't think we were going to be nominated for Best of Show, because we hadn't been called for a long time. We thought we were out.
"Then, at the last minute, they called us to the stage. We were up against a Delahaye 165 Figoni et Falaschi Cabriolet, a wonderful unrestored Alfa Romeo 8C 2300 Corto Figoni Cabriolet and another really great Mercedes, an open-top 710 SS Special Roadster.
"When the music comes up, you get all excited, the cars are four abreast, and everybody is saying 'good luck' to each other. Then the lady made the announcement, and as soon as she said '1937', I knew it was us. It was euphoric and great for Jim – he has had a great car-collecting career.
"It was an intense restoration, and it came down to the final days because there was so much work to do. We had up to 15 guys working on the car and doing jobs concurrently," Don concludes.
Only Bugatti and Mercedes-Benz now have more Best of Show titles than RM Auto Restoration, and the company looks sure to bag its ninth in the not-too-distant future.