Words: Nathan Chadwick | Photos: Roman Rätzke
In an ever-changing world, Alpina's dedication to turning BMWs into luxurious, hyper-speed GT cars seemed to be a comforting mainstay.
Although a long-time collaborator with BMW's infamous racing department, developing its competition cars at Alpina HQ in Buchloe, Germany, the family-run firm eschews track times for the deeper sensations of high-speed comfort and refinement on the road. It's a recipe that's come good over the past few years – there's been true sales success to match the critical praise, with sales doubling to around 2000 cars per year.
Earlier in 2023, Alpina announced that BMW had purchased the rights to the brand, with the switch taking place in January 2026. Alpina in its current form will stop making new cars, and dedicate itself to Alpina Classic (more on that in a future issue of Magneto). 
It makes sense for Alpina – as BMW moves to electric powertrains, the six- and eight-cylinder petrol and diesel engines are being phased out of production. Alpina believes that the EVs simply cannot provide the long-range, high-speed transport that the brand was built on. This means the B5 GT and GT Touring that sat before me at Zandvoort are the last of great lineage of 5-Series-based Alpinas.
The current B5, based on the G30 5-Series, was first released at the 2017 Geneva Motor Show. For those new to Alpina, this is so much more than a 'tuner special': take a BMW M550i and go to town on it with a bigger intake, uprated pistons and a brace of new twin-scroll turbos. 
Over the years the B5 has been tweaked and updated, but the final GT is the final fling; just 250 have been built, and all have been sold. Although this initially surprised Alpina, it's expecting demand for all its ICE cars to be strong right until the end.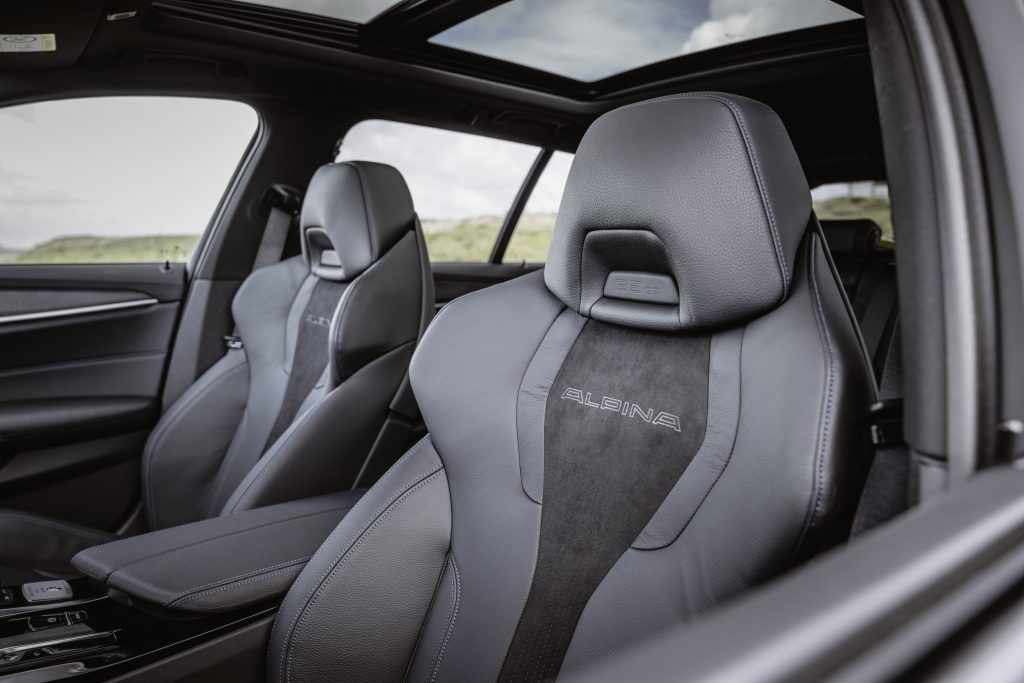 In bald terms, the changes to the B5 recipe aren't major – it still uses the twin-turbocharged 4.4-litre N63 V8, and the spring and damper rates haven't been altered. The active anti-roll bars and rear steering remain as was, and the Drexler-built mechanical limited-slip differential is now standard fitment. However, in very hairy, real terms, this is the most powerful Alpina ever produced.
Power has risen from 612bhp to 625bhp, with torque up 49lb ft to 627lb ft courtesy of a revised intake system and ECU programme. To put that into context, that's enough torque to out-thump the Ferrari Roma and, perhaps more pertinently, the BMW M5 CS. And while Alpina quotes 205mph as the top speed, unofficially the car will run out of revs at 220mph. And yes, you can order one in estate form – indeed, 70 percent of the orders are for would-be dog wagons. We'd exercise caution on full-throttle launches if your faithful hound is in the rear – the Touring will smack 0-62mph in 3.4 seconds, just 0.2 seconds slower than the saloon; pack sick bags just in case. And do remember to shut the split tailgate, lest your pooch flies out the back…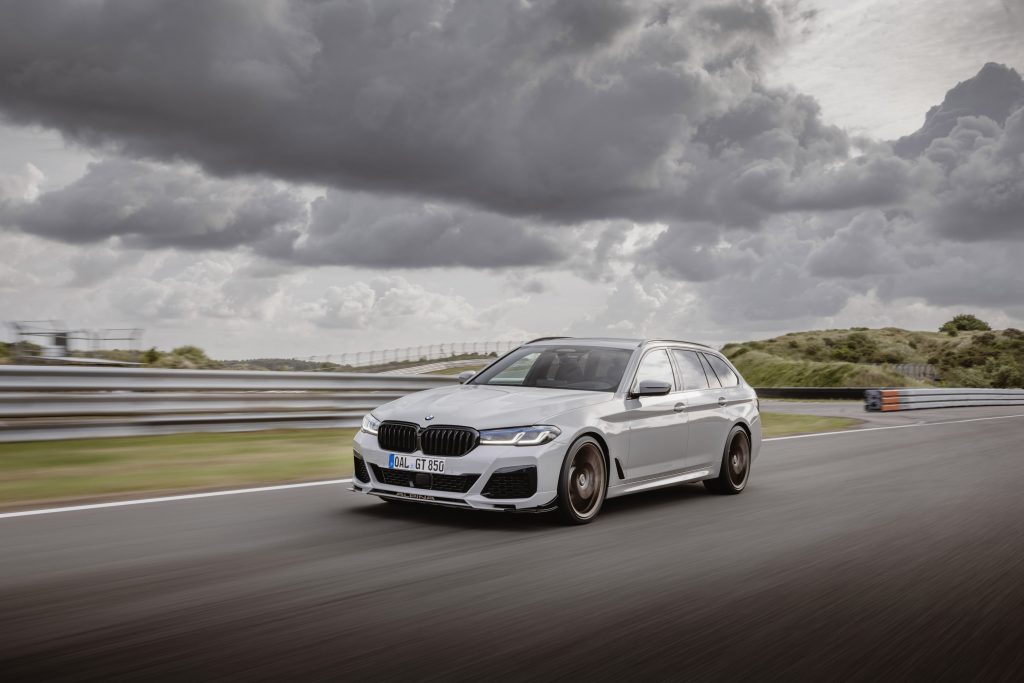 While Alpina has kept the founding principles of long-term comfort strong, with minimal changes to the suspension set-up, the GT has been tweaked to provide a more dynamic edge. There are new bump stops to even out body roll in extremis, and the ride height is slightly lower at the back. Alpina's engineers have also beefed up the bulkhead with new struts between it and the front suspension domes to add extra bite to the steering.
For a car so attuned to maximum on-road performance, ride and handling, it seemed a little odd to go to a Formula 1 racetrack to find the benefits of Alpina's way of thinking. After all, aside from the occasional smattering of sand, and some kerbs, Zandvoort is billiard-table smooth, and perhaps not the greatest place to demonstrate how 1980kg of car can provide swift, long-range comfort. It was bloody good fun, though.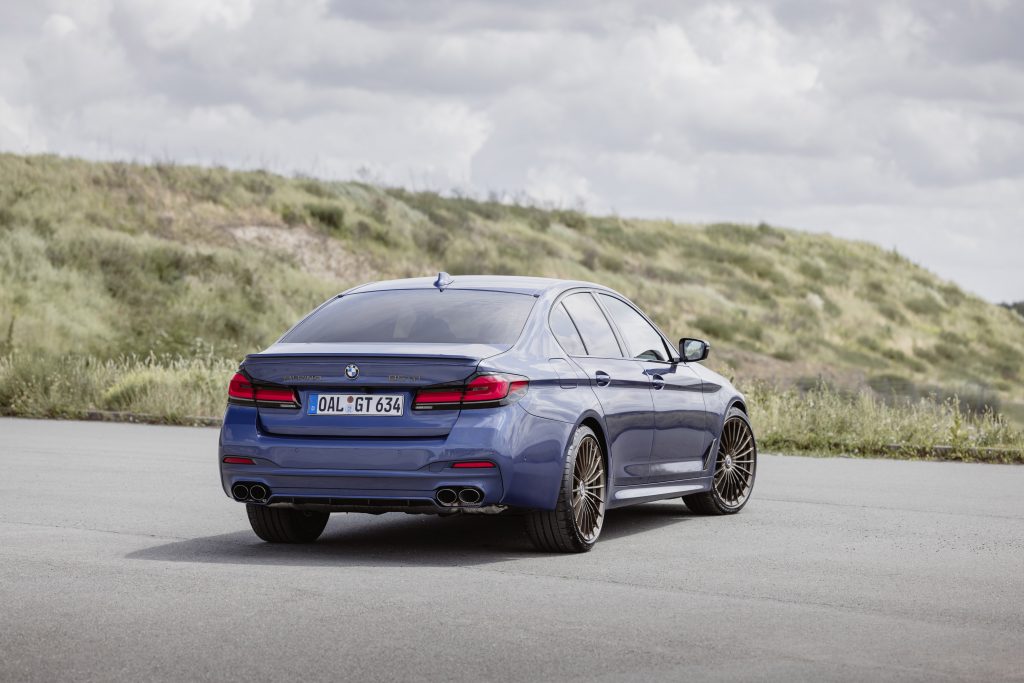 That's perhaps the biggest surprise from the B5 GT; while an M5 CS will undoubtedly be more dynamically set up for such environs, the Alpina is playful and perhaps a little more forgiving; the mechanical diff inspires more confidence than an electronic one, especially if you're a Luddite such as I. Turn-in is reasonably sharp for such a big car, and while there isn't a huge amount of feel through the thick steering-wheel rim, there's enough to place the car with precision, and hold it in position when the rear Pirellis start to give up. They only do that when you're really trying – even in Sport Plus there's plenty of grip – and when it does happen, it's a smooth, gentle progression into oversteer.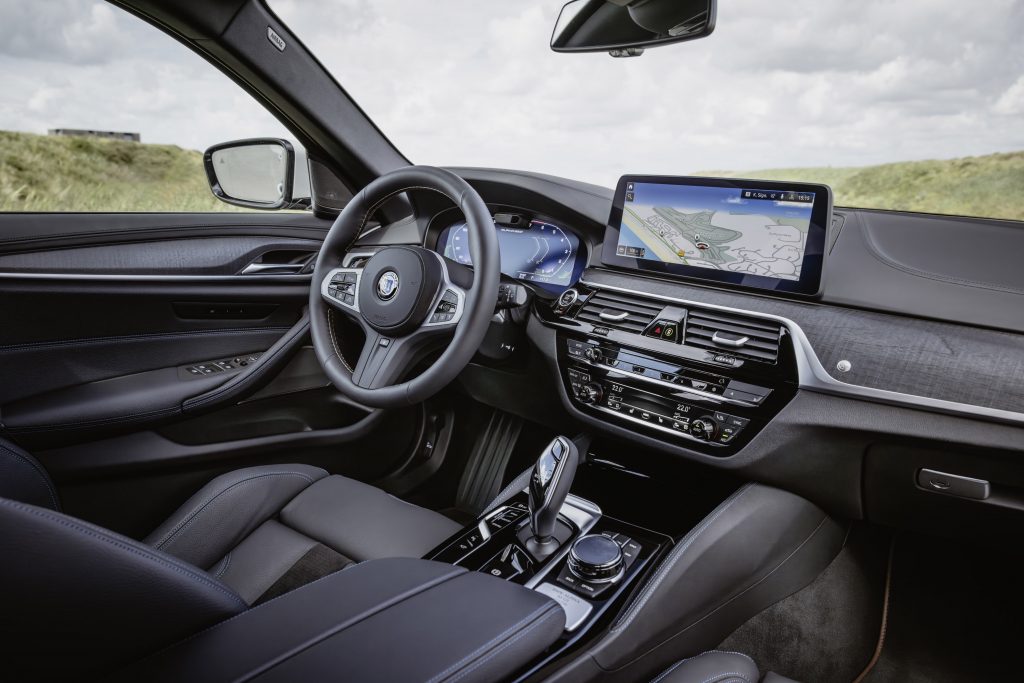 It's such an easy-going car that shifting through the eight ratios here seems a moot point; there's so much torque throughout the rev range, it makes more sense to leave the 'box in third and concentrate on painting pretty Pirelli pictures. While undoubtedly great fun, it's unlikely that this car will see such action – and once calmed down and purposefully taking the lumpy route over some kerbs, the Alpina magic comes to the fore.
Even in Sport+ mode the ride is untroubled, smoothly moving over the most oikish ridges. This, plus a 450-mile range, would make crossing the average continent very easy; fuel economy is around 24mpg on the combined cycle (European). Of course, the big test would be on UK roads, and all the craters and corrugations they currently offer – although it feels as if it would cope with it all.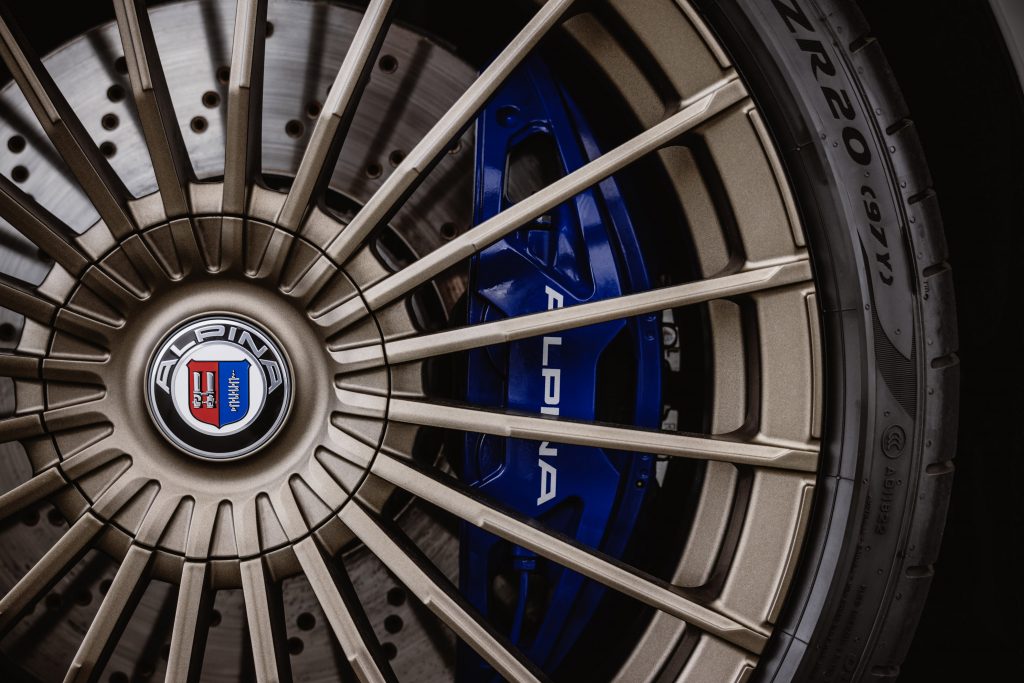 Some of the trim detailing is a little harder to cope with. The 20in multi-spoke wheels are finished in Marron Volcano, and are the only style available. It's an acquired taste, but you can choose to have the similarly coloured Alpina lettering and stripes deleted. That aside, the interior quality is not far off Bentley levels. Our test cars were specified with the B6 GT Bespoke upholstery (a £4500 option), which matches plush leather with Alcantara. However, you can also choose Lavalina leather, which offers a truly bespoke level of finish when it comes to colour choice. This option costs £14,700, and 80 people have taken this choice; they'll have to wait until the back end of 2024, because Alpina's trimmers are perfectionists and need to take their time. 
The seats are based on BMW's architecture, and while they didn't keep me pinned quite as much as I'd have liked on Zandvoort's daunting banking, it's unlikely most owners will venture that far from the horizontal; these are wonderfully comfortable chairs, with endlessly tweakable options to get your positioning just so.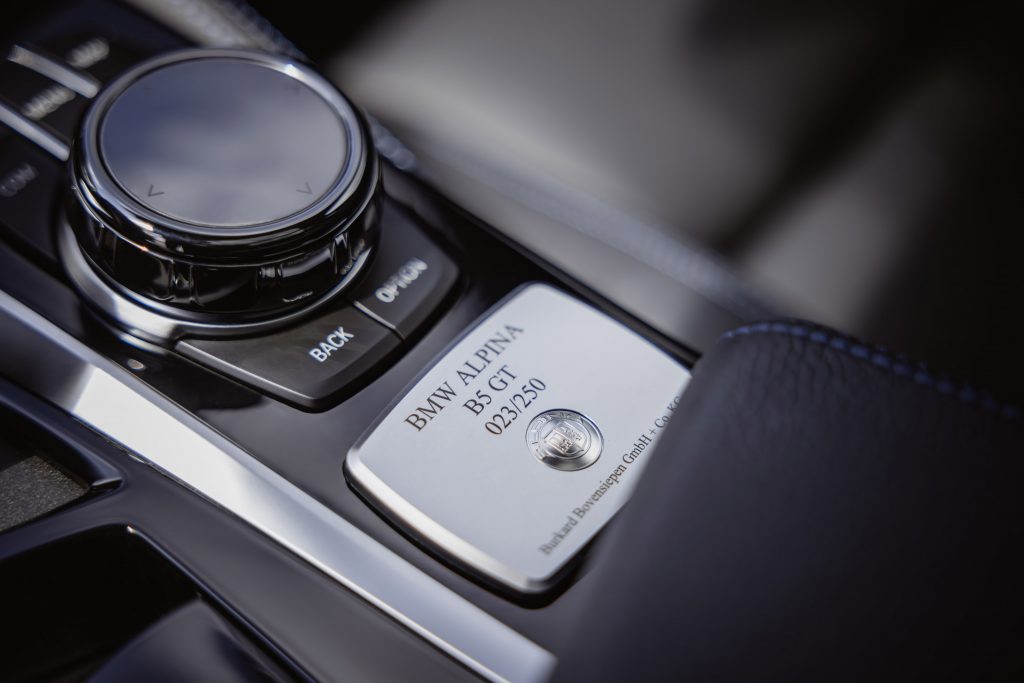 'Just so' is an apt summation for this car. The Alpina will never attack the senses like an Audi RS6 Avant or the newly announced BMW M5 Touring, but it will iron out most journeys, and indeed most countries, into long-legged, high-speed flicks of the throttle in maximum comfort. While this model is perhaps not quite the Q-car that Alpina aficionados might believe it is – I refer you back to the 20in alloy wheels, plus the enormous tailpipes – the B5 GT is a glorious send-off to Alpina's take on the 5-Series. 
It's what a grown-up performance car should be; refined, luxurious and comfortable to use everyday, but with supercar-scaring performance. In that sense the B5 GT delivers on its promise, and lives up to the Alpina way of thinking. We'll miss it when it's gone. Auf Wiedersehen, old chum…