WORDS: NATHAN CHADWICK | PHOTOGRAPHY: RM SOTHEBY'S
RM Sotheby's has announced the addition of The Aurora Collection to its Villa Erba sale in Italy. The 14-car selection, largely consisting of Ferraris, will be put up for auction with no reserve on May 20, to coincide with the Villa d'Este Concorso d'Eleganza held nearby.
The collection is headlined by a 1961 Ferrari 250GT SWB Berlinetta (seen above), first sold to the US via Hollywood Sportscars in Las Vegas, and then on to Bill Harrah's Modern Classic Motors in Reno, Nevada. Its first owner was Jack Nethercutt, who would keep it for just two years. The 250GT would then have a succession of American owners until it crossed the Atlantic, entering the collection of David Piper. An engine was sourced from a 250GTE, and within a year it was sold to John Pearson and then, in 1982, to a Mrs Elfrida Chamberlain as a present for her son. It would stay in his possession until 1985, when it moved to France, ultimately in the possession of Jean Claude Tripier. In the 1990s, the car was reunited with its original engine.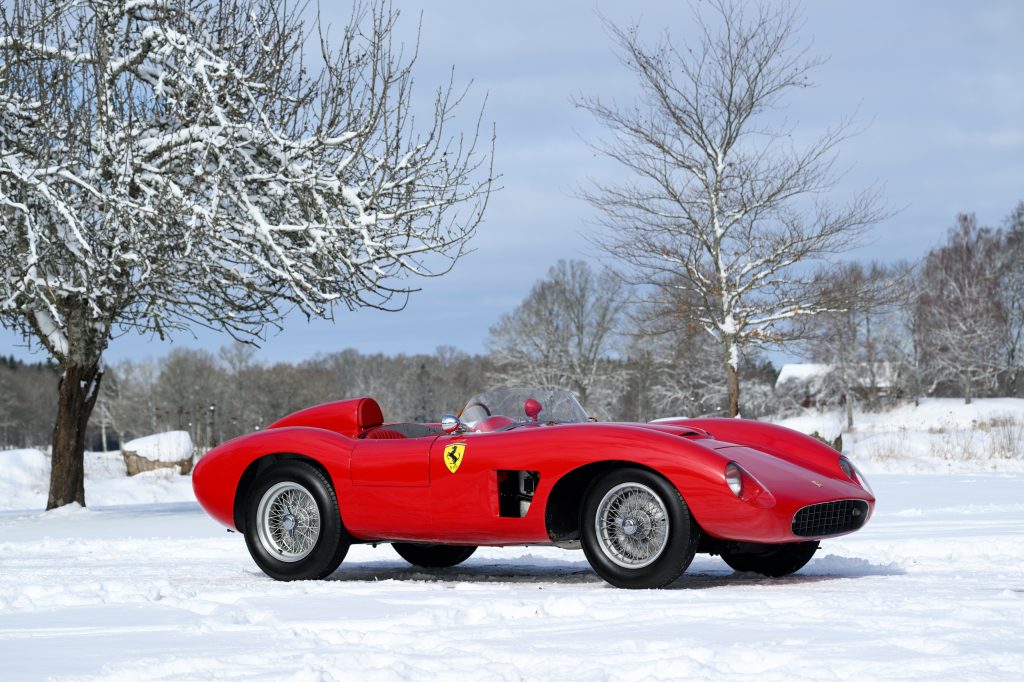 The second star lot is a 1956 Ferrari 500TR Spyder, chassis 0610 MDTR. Originally bought by Gaetano Starrabba, Prince of Giardinelli, it was used for competition for much of the 1956 season in a variety of Italian races, with second at the Circuito di Caserta in Napoli being the highlight. In early 1957 it was sold to Swede Tore Bjurström. At this point it was painted light metallic blue, and was mainly raced by Curt Lincoln and Lars Finnilä. In 1958 the car was badly crashed by Fred Geitel while practising for the Helsinki GP. It's believed that just the back wing and tip of the rear bodywork survived, and that a new body was fabricated by Helsinki's Autokoriteollisuus Oy in a matter of days. Ferrari mechanic Aldo Bertani was dispatched from Maranello to inspect the car, and it would compete at the Helsinki GP after all, with Geitel finishing fifth in class and tenth over all. In 1959 the Ferrari was sold to Swede Holger Normann, who'd compete with it until 1961.
Between 1962 and 1970 the 500TR called a Stockholm parking garage home, seemingly forgotten; it was sold to Åke Andersson to cover storage fees – the princely sum of 3000SEK – and eventually entered the collection of Frenchman Marc Nicolosi. In 1974 it was purchased by Annick Baverey of Lyon, who subsequently sold it to nearby Maurice Sauzay in 1978. He'd have the engine renovated in Modena, and would compete in several events, such as the Mille Miglia, over the next ten years.
After a five-year period with Antoine Midy in Paris, the 500TR entered the collection of Giancarlo Galeazzi, and it would compete in the Ferrari Maserati Historic challenge for the best part of 20 years.










Further highlights include a 1967 275GTB/4, a 1973 365GTS/4 Daytona Spider, an ex-Chinetti Motors 1965 275GTS and a 1961 250GT Cabriolet Series II. Newer Ferraris include a 2019 Monza SP1, 2002 360 Spider, 1997 550 Maranello, 1986 Testarossa, 2001 550 Barchetta and 2011 SA Aperta.


Away from the Ferraris, the Aurora Collection features two Mercedes-Benzes – a 300SC Roadster and a 300SL Gullwing. Information on these cars, plus the more modern Ferraris, was not available at the time of writing. More details on the RM Sotheby's Villa Erba sale can be found here.