WORDS: Jonathon Burford | PHOTOS: sOTHEBY'S
(Extract from issue 15)
It is remarkable that in 1961, when Russian cosmonaut Yuri Gagarin was orbiting 350km above the earth, man had yet to explore more than 70 metres beneath the ocean's surface. And it does make one wonder why Rolex decided to produce a commercial dive watch with a 600m-plus rating.
Part of this, one suspects, is ego. NASA had recently selected the Omega Speedmaster as the official astronauts' watch, and Rolex may have felt the need to burnish its exploration credentials by focusing on the deep blue below rather than above. The launch also coincided with a boom in sea exploration by the likes of the oil industry. While Rolex had been producing submariner dive watches with 200m depth ratings for a while, something a little more complex was required to accompany these divers as they pushed ever deeper into the ocean.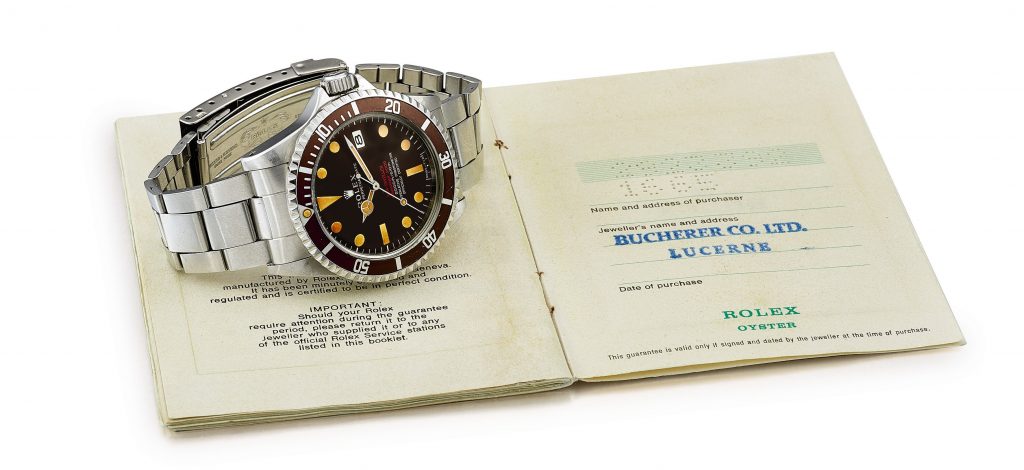 Deep-sea specialist COMEX had pioneered a method of saturation diving that involved breathing hydrogen, helium and oxygen. This let divers work at greater depths for longer, requiring the decompression process only once at the end of their entire dive schedule.
COMEX also found that small helium molecules could force their way past a seal into a watch, so the pressure inside would equalise that of the chamber. However, during decompression, pressure in the watch would be unequal to that in the chamber, forcing its crystal out at great speed. So Rolex invented a Helium Escape Valve (HEV) set first on the left case flank of a standard Ref 5513 and then to a special Ref 5514 from COMEX.
The first commercially available Deep-Sea by Rolex (Mk1) was Ref 1665 and arrived in 1967. The first batch was made in low numbers, prior to the issuing of the patent for the Gas Escape Valve. These watches wear this proudly, with 'Patent Pending' heavily engraved on the outside of their case back.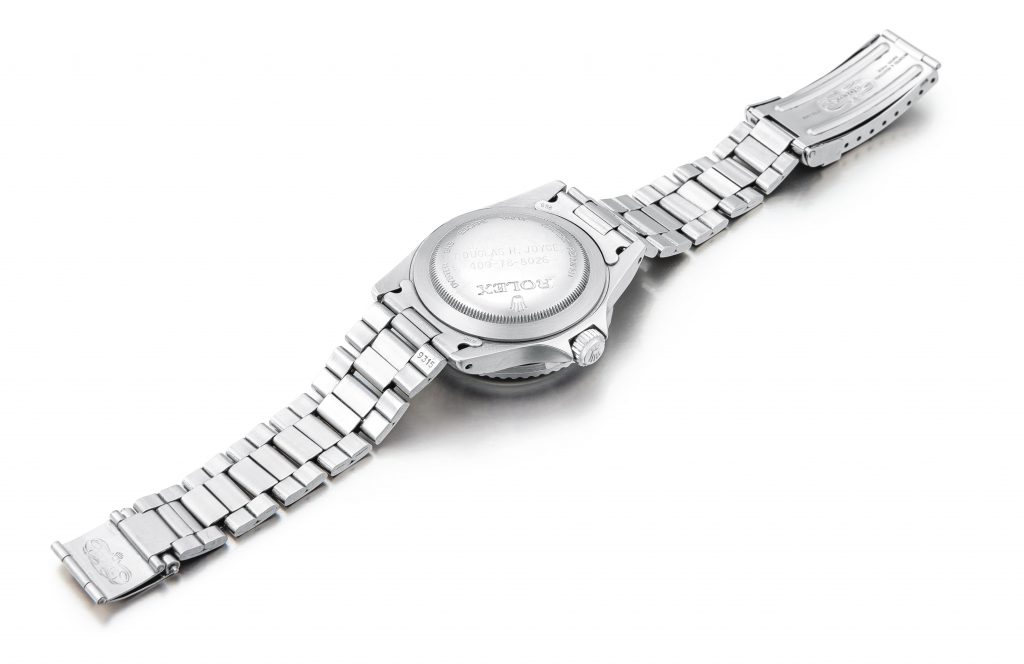 On the dial, the 'Sea-Dweller' and 'Submariner 2000' text below the hands are printed in red, giving the model its 'Double Red' moniker (the print on these has often faded to pink). In addition they feature a date window, but without an acrylic crystal 'cyclops' magnifier.
Between 1968-77, Rolex made three additional regular versions of the Double Red Ref 1665, all now featuring Rolex Patent Oyster Gas Escape Valve case backs. Here's the easiest way to distinguish them:
Mk2: 'Submariner 2000' text is smaller, coronet is the same (short fingers) as on the 'Patent Pending' and early 'Patented' versions. 'D' in 'Sea-Dweller' lines up with 'I' in 'Submariner 2000'.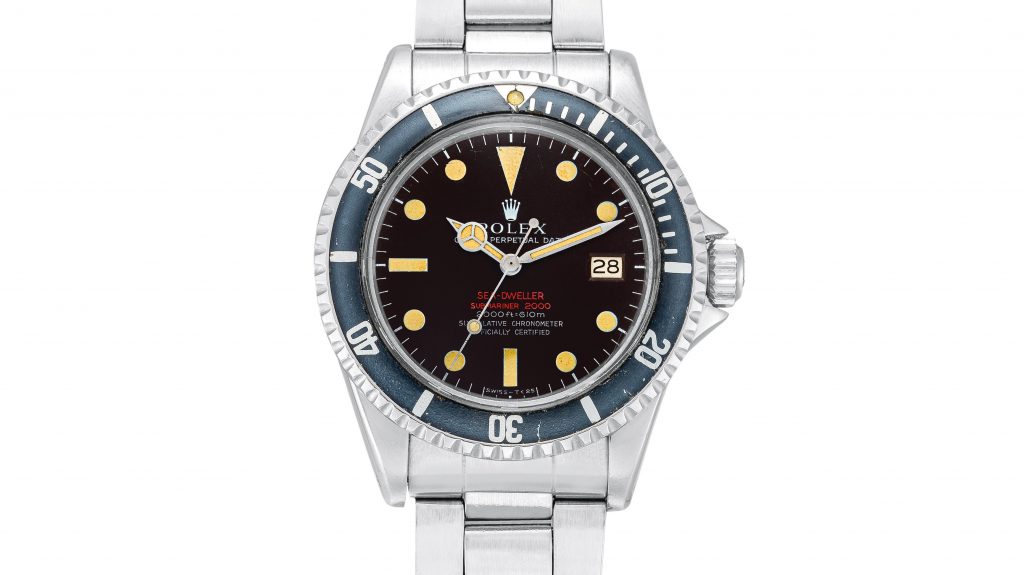 Mk3: Red-printed text remains similar to Mk2's, but with heavier print to the depth rating. Coronet is more pronounced and elongated with a flatter bottom. The 'D' in 'Sea-Dweller' lines up with the 'R' in 'Submariner 2000'.
Mk4: The final version of the original dials again has a slightly heavier print in both red and white. The coronet has broader fingers and a more pronounced opening.
The extra dial variants (Mks 5, 6 and 7) are usually associated with service dials, and so are much less desirable (a discount of at least 60 percent). With the early Mk1 and Mk2s, the dials' lacquer reacted to UV light over time, and a larger number than usual have turned a warm brown, or 'tropical'. These versions are highly desirable, with their contrasting red text popping against their brown dial plates.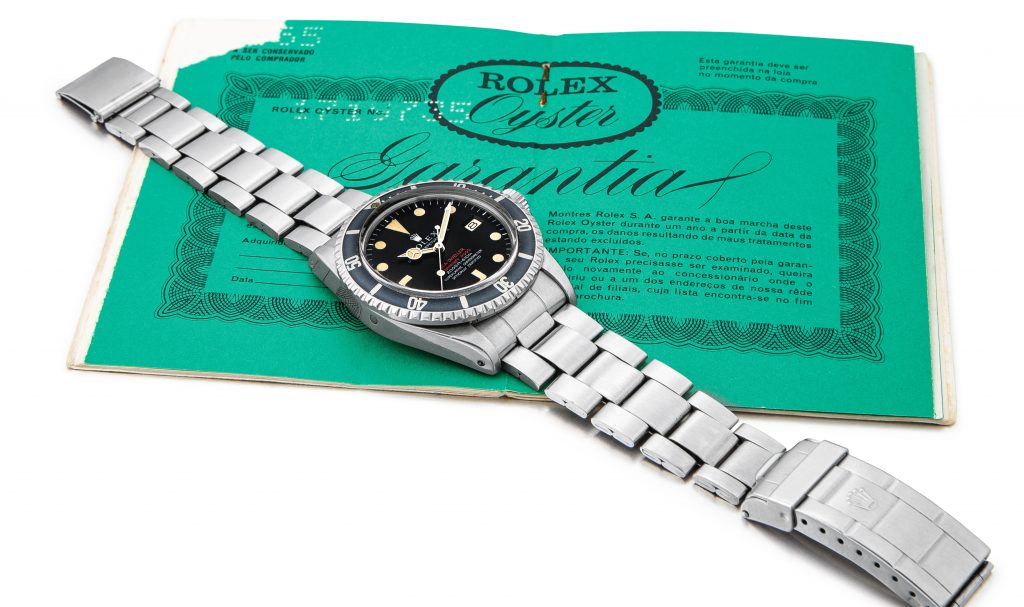 As with all vintage Rolexes, originality and rarity are the key drivers of price. Good Mk1 'Patent Pending' variants have recently been selling at $125,000-$200,000, while prices slide to $45,000- $50,000 for a Mk4 'watch only'.
Unpolished examples are rare; remember, these were workhorses for divers and the like, and most Deep-Seas reflect the life they have lived. In fact, if you find a watch that has sharp case definition and defined lug facets, proceed cautiously; some examples have had their case recut or lasered.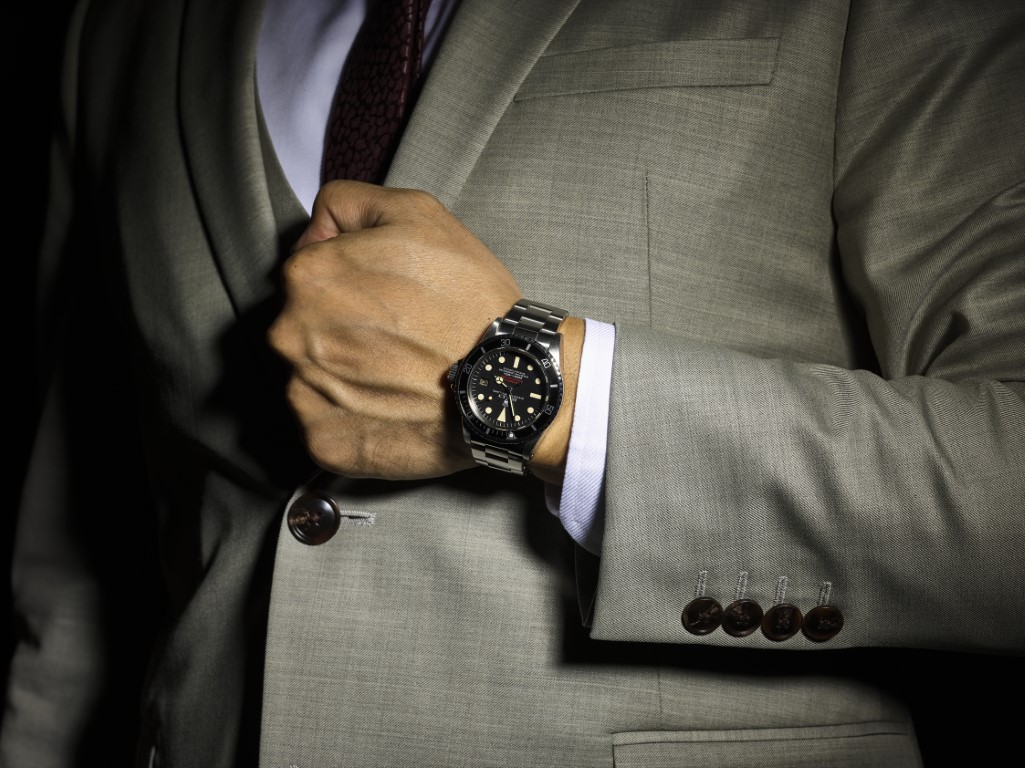 Given the small numbers and the interesting types of people who first bought these watches, if you have a little extra to spend, do go for one that still has its original papers. Knowing where and when it was originally purchased makes a difference. Similarly, expect to pay a small premium for an example with an original but faded (ghost) bezel insert, while for a legitimate tropical-dialled version, a premium of up to 50 percent can be required.
My pick would be a tropical Mk2. Although slightly more prevalent than a Mk3, it retains the Mk1 case dimensions and dial layout, but without that model's premium. Having said that, given the multiple dial and case variants, the Ref 1665 Double Red Sea-Dweller has something for all vintage Rolex fans.
(Extract from issue 15)