Words: Elliott Hughes | Photography: Rolex
Three Formula 1 World Championships, 27 race wins, 47 podiums and a top-three finish at the Le Mans 24 Hours. Then came activism for improvements in safety, lucrative and pioneering brand-ambassador roles for Rolex and Heineken, and more recently the founding of the Race Against Dementia charity. Sir Jackie Stewart is truly a titan of motor sport – a man who needs no introduction.
Despite such a venerable array of sporting, human and business achievements, Sir Jackie's rise to the top was as fast, unconventional and unpretentious as the man himself. It seems bizarre today given his synonymity with motor racing, but Sir Jackie's first sport of choice was clay pigeon shooting, winning the European Coupe des Nations championship twice, before competing for Britain in the 1960 Summer Olympics.
But the seeds of his racing future were sown when he made his first fateful appearance at the Goodwood Motor Circuit in 1953. The young Jackie was there to support his older brother, Jimmy, who was competing in the Nine Hour race. "I was 14, just a wee boy. My brother was driving a C-type Jaguar, and he won the race – I still have his trophy, it's up on the wall."
If watching his brother triumph wasn't enough to have an indelible impact on the young Scotsman, then meeting his heroes after the race surely was. "I got everybody's autograph," he smiles. "Moss, Fangio, Farina, Villoresi, Taruffi – I've still got them now. Goodwood was my introduction to motor sport down south."
Eight years later Jackie was at Goodwood once again, although this time he was driving. Jackie repeated his brother's achievement, winning the race in a Cooper T49 – his second victory south of the border. The Flying Scotsman had arrived.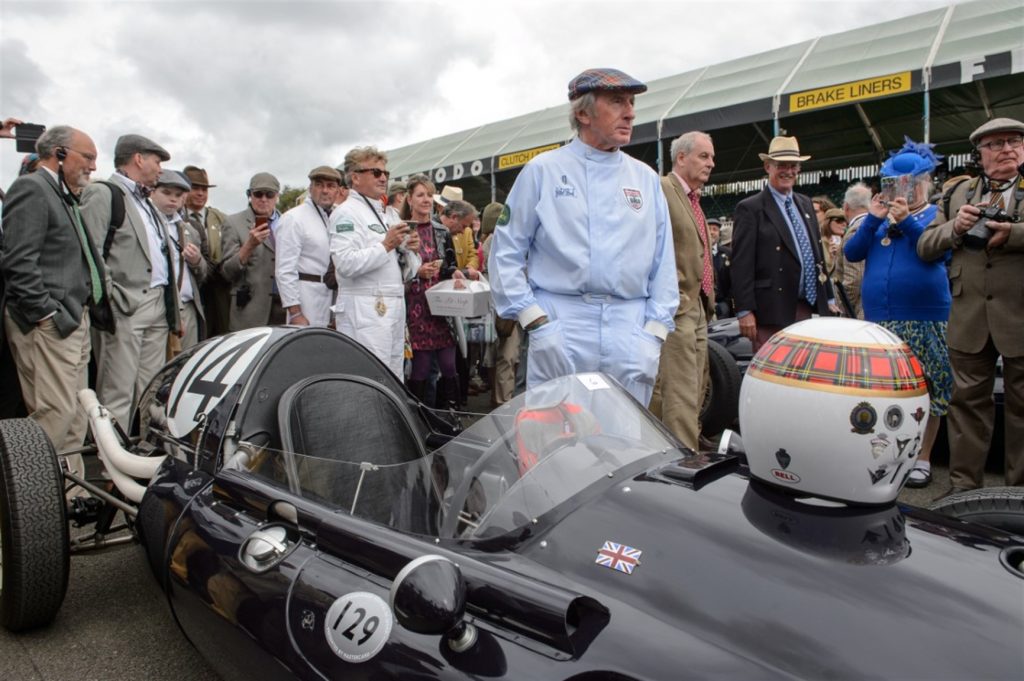 Understandably, Sir Jackie has a fondness for Goodwood, although it isn't all happy memories. "I wasn't here when Stirling had his accident in 1962, but it was obviously well televised. I was shocked; he truly was a superstar."
Sir Stirling was on everybody's mind at the Revival. Fans, drivers, friends and family all bid an emotional farewell to the legendary Mr Goodwood himself, after being denied the opportunity for so long thanks to the scourge of the pandemic. And Sir Jackie played an instrumental part, clearly saddened by the loss of his great childhood hero, and friend.
"I was out on the track parade with his son, I'm his godfather. It was really nice to see Stirling's wife and family driving around – I was driving behind them for Stirling. I'm a huge Stirling Moss fan; I spent a lot of time with him right until the end. He was a truly great Brit."
The humility and affection in Sir Jackie's words speak volumes about his character, as do the accomplishments that followed his spectacular career as a racing driver. Chief among which is his lifelong commitment to improving the safety of his sport, despite enduring robust resistance and criticism for doing so early on.
Unfortunately, the catalyst for Sir Jackie's safety campaigning was a career that was tinged with sadness and tragedy. In 1968 in a German Formula 2 race at Hockenheim, his close friend Jim Clark was tragically killed, leaving Jackie stricken with grief. "Jim Clark – fellow Scot – he was head and shoulders above anyone, except for Fangio. Jimmy taught me an enormous amount, and we were good friends." If someone with the preternatural abilities of Clark could die in a racing car, then it could happen to anyone – and to Jackie, that was unacceptable.
Sir Jackie's dedication to improving safety standards through his involvement in the GPDA, working with race organisers, circuit management and manufacturers, has clearly paid dividends – fatal accidents are thankfully a rare occurrence in modern motor sport. Sir Jackie unquestionably set the precedent for today's attitudes towards safety standards, which inspired recent life-saving innovations such as the halo, gloves equipped with heart-rate monitors, and advanced fire-retardant materials, to name a few. These safety additions have saved several drivers' lives recently – including that of Sir Lewis Hamilton, whose head was protected from Max Verstappen's wayward tyre by the halo at this year's Italian Grand Prix.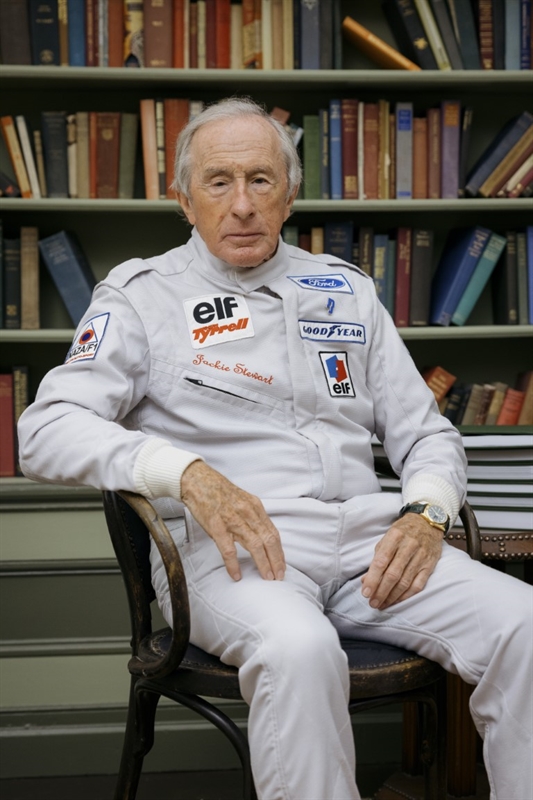 The Flying Scotsman proved to be a trailblazer away from the world of motor sport, too. In 1965, Sir Jackie purchased his first Rolex with prize-money he won at the Indy 500: a yellow gold Day-Date. This started a 50-year-plus relationship with the iconic Swiss watchmaker, with Sir Jackie becoming a Rolex Testimonee in 1968. In doing so, he helped pioneer the modern ideal of a sportsman turned brand ambassador.
"A company such as Rolex only want to be associated with the very best, because they are the very best," Jackie says. Unfortunately, his first Rolex disappeared after a flight to the French Grand Prix in the late 1960s. "I lost it," he laments. "We'd just landed, and I'd left the plane and was washing my hands, and I suddenly realised that my watch had gone. It was still there in the cabin. I went back to the plane and never found it."
Although he lost his first Rolex, Jackie famously still possesses the Rolex Daytona gifted to him after winning the Monaco Grand Prix – a race he won three times.
"If you could win only one race, Monaco would be the one. My first Monaco win was in Formula 3, and the big deal about that day was that the first man to shake my hand was Fangio – my biggest hero! In those days you got paid more for winning Formula 3 than you did for second and third in Formula 1 – a big day for a wee Scotsman."
Sir Jackie's most recent endeavour is certainly one of his most important. His wife, Lady Helen, was sadly diagnosed with dementia in 2014, inspiring him to found the Race Against Dementia charity, which strives to find a cure for the insidious disease and support those affected by it. Even at 82, Sir Jackie responded to this latest personal tragedy in a similar manner to how he dealt with the death of Jim Clark: positivity and pragmatism.
"There are more people dying in Britain of dementia than any other illness. Of those born today, one in three will be diagnosed with dementia. They've been working on it for over 40 years in the medical field yet there's no cure – for some reason, the brain gets left behind. So, we've hired the best PhDs from the best medical universities, we have the best people you can find, a great board, great trustees. We've got all the right ingredients, but we need more money. Any contribution, no matter how modest, would be enormous."
Sir Jackie is investing £1m ($1.36m) of his own money into the project, and hopes to use the innovative, fast-paced philosophies of motor sport engineering in medicine to help fast-track humanity's way to a cure.
"A truly great Brit," is how Sir Jackie describes his late friend Sir Stirling Moss, but such a characterisation could just as easily be used to describe him. The title of his autobiography, Winning is Not Enough, couldn't be more apt.
If you liked this, then why not subscribe to Magneto magazine today?