WORDS: ELLIOTT HUGHES | PHOTOGRAPHY: williams racing
With nine constructors' titles and seven drivers' championships, Sir Frank Williams' eponymous team is the second most successful Formula 1 constructor of all time, trailing only Ferrari. So, it's easy to forget that the great Grove-based outfit once conducted business from a telephone box and was operating from an old carpet warehouse in Didcot, Oxfordshire. 
But those who doubted Williams because of its inauspicious beginnings had discounted the major factor behind its success: Sir Frank Williams himself. The late Sir Frank ascended to the status of a motor sport legend over the course of his 55-year career, overcoming personal tragedy and hardship on the way to historic successes. So, in tribute to Sir Frank, Magneto has selected ten of his team's greatest moments.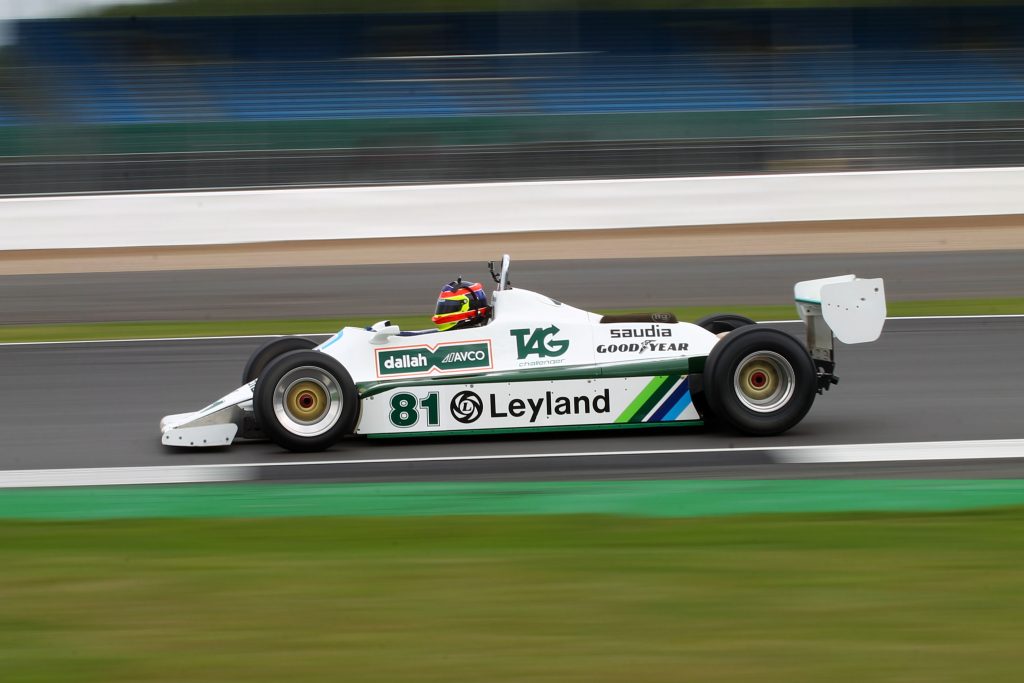 Win one of 114
The modern Williams outfit started as Williams Grand Prix Engineering in 1977 after Sir Frank found himself marginalised from Frank Williams Racing Cars after selling a 60 percent stake in the team to Canadian oil millionaire Walter Wolf in 1976. 
Frustrated but undeterred, Sir Frank started another team in his own name, and vindication for his trademark resilience and determination arrived in fairytale fashion at Silverstone in 1979, with Australian driver Alan Jones bagging pole position and teammate Clay Regazzoni delivering Williams' first victory. Far from a flash in the pan, the team's first P1 was a precursor to unprecedented success over the next two decades.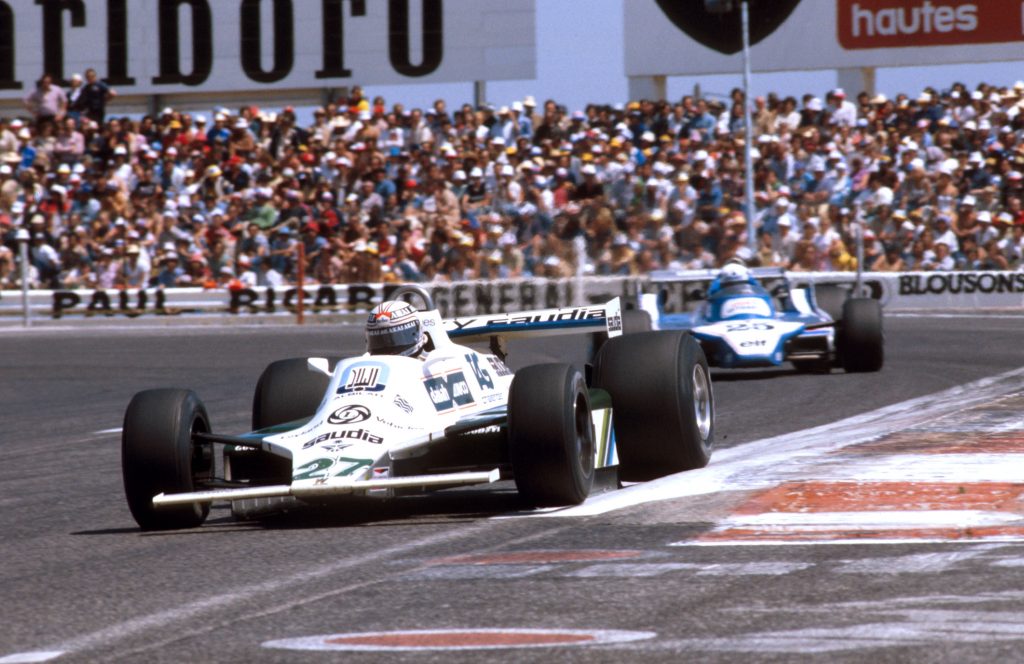 First championship double
In the following season in 1980, Sir Frank's team vanquished the likes of McLaren, Brabham, Lotus, Tyrell and Ferrari to win its first championship double. Doing so, however, was a far-from-easy task. Alan Jones was one point adrift of title rival Nelson Piquet heading into the penultimate round in Montreal, and the Brazilian qualified nearly a second ahead of the Williams driver. 
Thankfully, Williams and Jones had the racing gods on their side, because Piquet retired with an engine issue on lap 24. Even so, Jones still had to win the race to secure the championship, and looked unlikely to do so with Didier Pironi bearing down on Jones' damaged Williams FW07. Pironi was slapped with a one-minute penalty for jumping the start, paving the way for Jones' victory with teammate Carlos Reutemann in P2. Alan Jones remains the only Australian driver ever to win a World Championship.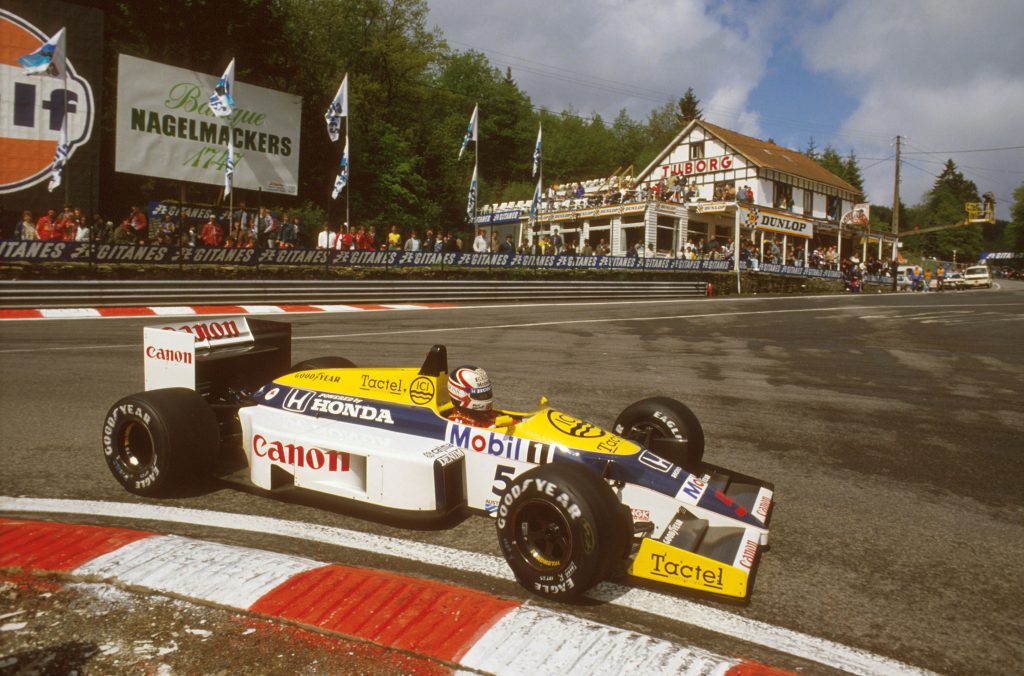 Partnership with Honda
Williams' 1980 triumph was almost repeated in 1981, but Brabham's Piquet pipped Reutemann to the championship by a single point. Alan Jones finished just behind them in the standing,s and retired at the end of '81 to make way for Keke Rosberg, who then narrowly secured the '82 title for Williams. Sir Frank's desire to land a major manufacturer as a partner heralded the arrival of Honda in 1983, and by 1985 the partnership started to flourish as Rosberg and Nigel Mansell split four wins between them.  
Williams' former rival Piquet then joined the team in 1986, as the team began to look like bona fide title contenders once again. By now, Sir Frank's diligence was beginning to pay off: Williams had world-class drivers, a major OEM partner, ample funding and a competitive car. Unfortunately, fate intervened and permanently altered the course of Williams history.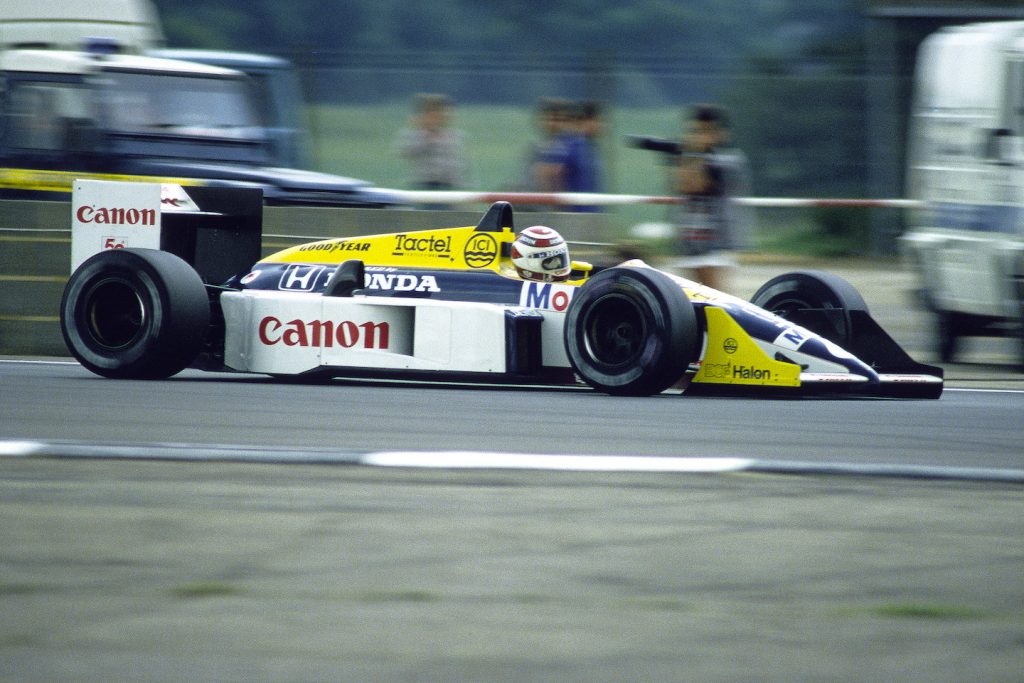 Returning from a devastating road car accident to lead Williams to the 1986 Constructors' title
On March 6, 1986, after a test at Paul Ricard circuit, Sir Frank was rushing to the airport in a Ford Granada with sponsorship manager Peter Windsor. Sir Frank lost control of the car in windy conditions on a bumpy French road, and plunged 2.5 metres into a field. He broke his neck and was almost killed. He survived, but was rendered tetraplegic from the accident after a lifetime of being active and committed to fitness. 
Sir Frank's wife Virginia was instrumental in his survival and recovery from the accident, and Patrick Head was left to steer the team in Sir Frank's absence. Remarkably, Sir Frank returned to the paddock just four-and-a-half months later, for the British Grand Prix at Brands Hatch. His valiant return to the fold was poetically rewarded with a 1-2 finish with Mansell and Piquet. 
Williams went on to win that year's Constructors' title, but the Drivers' Championship was lost to McLaren's Alain Prost, largely because of the acrimonious relationship between Mansell and Piquet, which Head struggled to contain while Sir Frank recovered. The team's last championship double was secured in the following season with Sir Frank back at the helm and Piquet becoming the team's third World Championship-winning driver.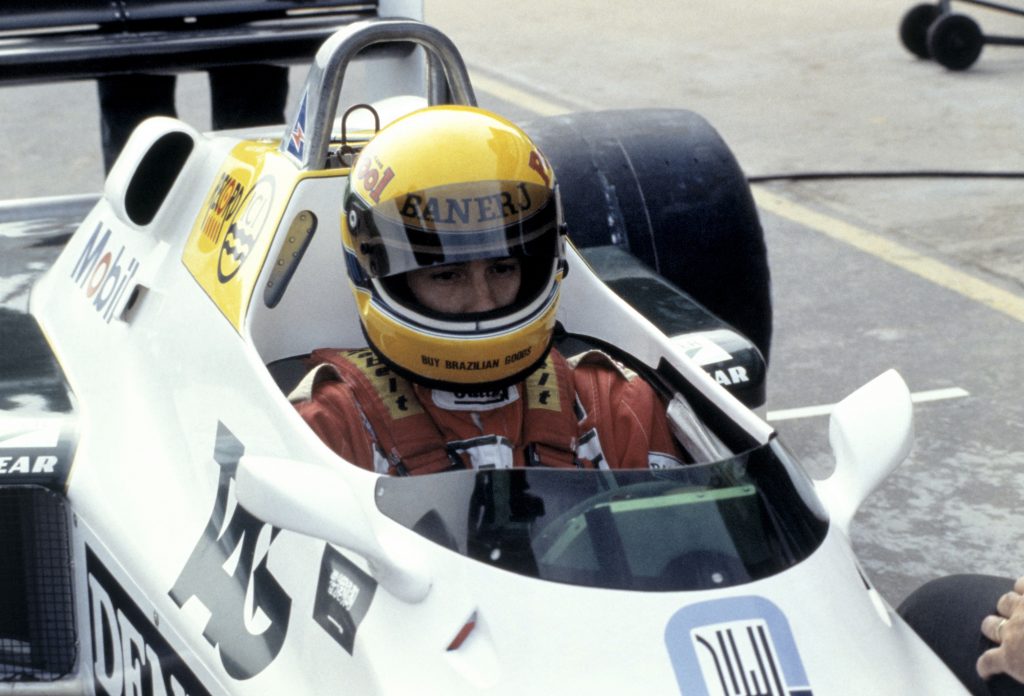 Senna's first Formula 1 test
Williams' affection for the legendary Ayrton Senna is well documented, and Sir Frank gave the Brazilian his first F1 test in 1983 in a Williams-Cosworth at Donington. Peter Windsor recalls that Williams could have cheaply signed Ayrton after the test from Formula 3 before he became an international superstar. "But that didn't enter Frank's head," Peter says. "Frank had already contracted Keke Rosberg and Jacques Laffite, and he didn't want to break the contracts. That says a lot about Frank and his ethics, his moral code and the way he went about his racing."  
Instead, Sir Frank waited patiently until 1994 to get Senna into one of his cars, but fate cruelly intervened. Senna was killed while leading at Imola in just his third race for the Williams team, and a devastated Sir Frank was dragged through the Italian courts before being exonerated. Every Williams Formula 1 car since then has worn the iconic Senna 'S' logo in tribute to the triple World Champion.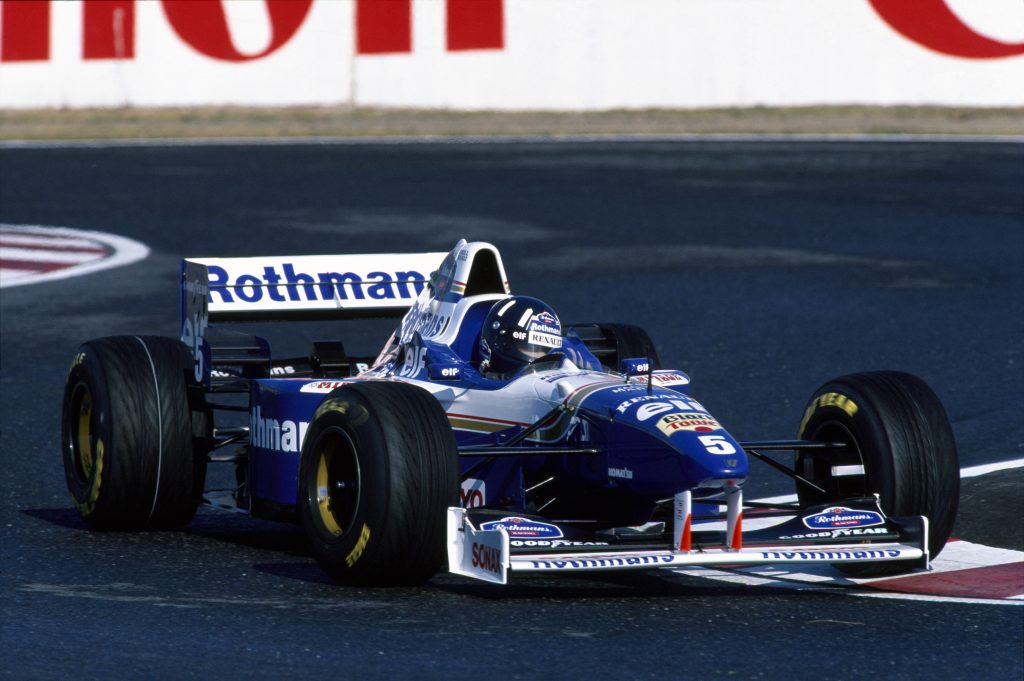 1990s domination
Sir Frank's refusal to sign Satoru Nakajima for '88 led to Williams' divorce from Honda, with the Japanese company moving to McLaren and star driver Piquet moving to Lotus. These developments hurt the team in the short term but set the stage for a series of decisions that led to the most successful period in its history. 
First came the recruitment of genius designer Adrian Newey from Leyton House, who would go on to create one of the most successful F1 cars of all time for the team: the advanced FW14B. Newey's car revolutionised Formula 1 with cutting-edge features including active suspension, semi-automatic transmission, traction control and anti-lock brakes. The hole left by Piquet was then filled by Mansell's return in 1991, spectacularly coming out of retirement following a turbulent couple of years with Prost at Ferrari. 
Mansell's domination of the 1992 season in the Newey-designed FW14B is now etched into Formula 1 legend, preceding further championship-winning seasons for Williams in '93 with Prost, '96 with Hill and '97 with Jacques Villeneuve.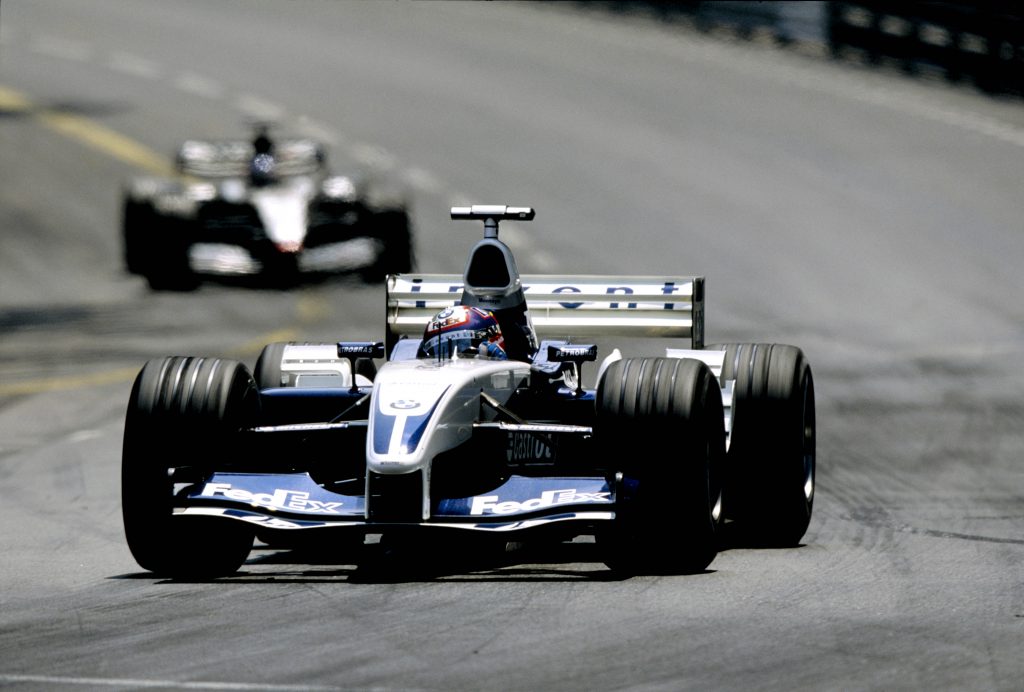 Partnership with BMW and challenging Ferrari
Renault withdrew as the Williams works engine partner at the end of the 1997 season, forcing the team into several years running Mecachrome and Supertec 'continuation' customer engines. Sir Frank then brokered a deal for a new alliance with BMW from the 2000 season, although Williams had the misfortune of losing Newey to McLaren that same year. Sir Frank has since reflected that losing Newey was "arguably, a mistake".
Even so, the BMW partnership showed promise, launching a serious title challenge in 2003 with Juan Pablo Montoya at the height of the Ferrari-Schumacher dynasty. The ingredients for success were all there, but unfortunately the marriage to BMW failed to return Williams to title-winning glory. Sir Frank's refusal to sell a controlling stake to the German manufacturer led to the formation of BMW Sauber in 2006, and Williams was once again rendered a customer team.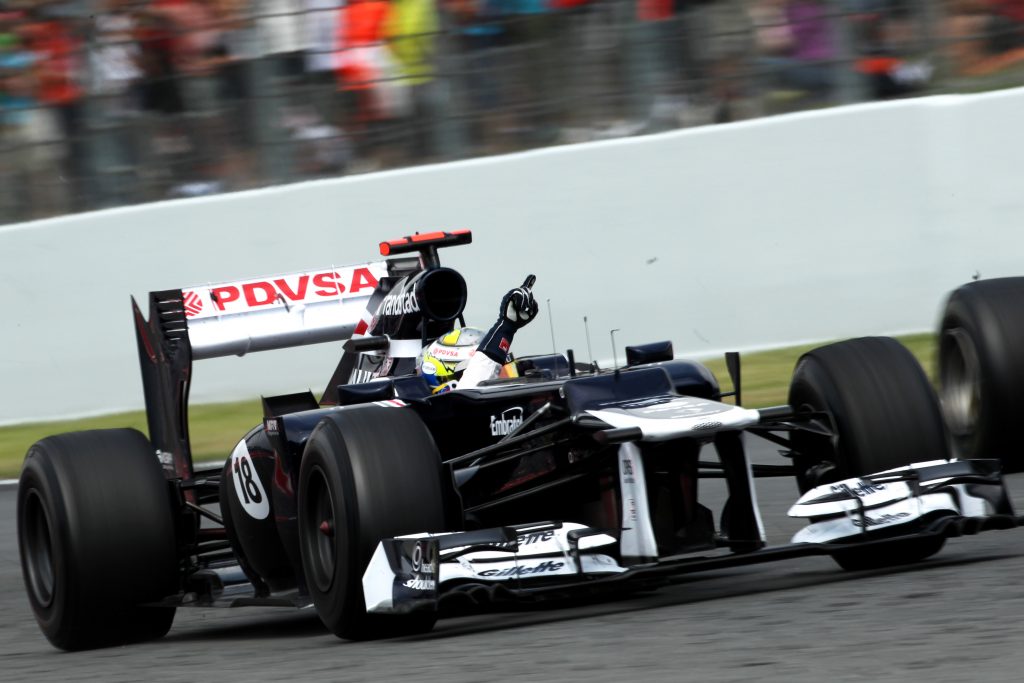 Barcelona 2012
The 2012 Spanish Grand Prix is one of the most memorable races in recent memory for several reasons. The most obvious of these was Pastor Maldonado's unlikely victory in his rapid Williams FW34, despite immense pressure from a charging Fernando Alonso in his Ferrari. It was undoubtedly the best race of the notoriously accident-prone Venezuelan's career, and was a much-needed glimmer of hope after years of floundering in the mid-field with various engine partners. The race victory was made even sweeter by the fact that it came on the weekend of Sir Frank's 70th birthday celebrations. But a fire in the Williams garage after the race curtailed the celebrations as personnel from every team battled to extinguish the flames. Thankfully no one was hurt, but the weekend was a microcosm of Williams' fortunes.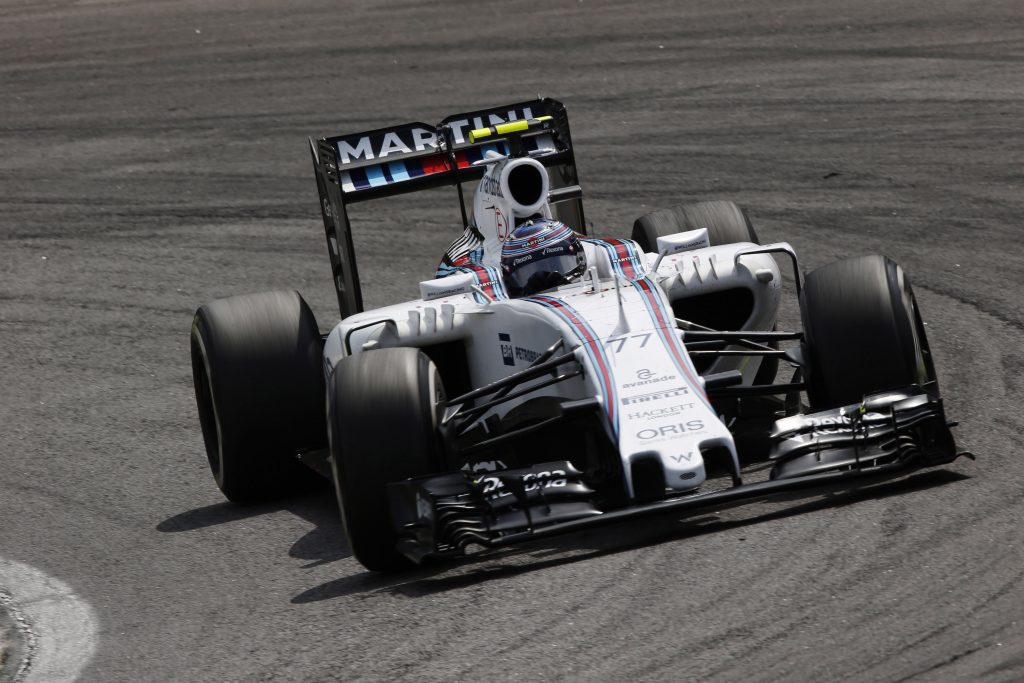 Passing the baton
Sir Frank's appearances at races began to dwindle as 2013 rolled on. By this point, Williams stood alone as F1's last true privateer entry, and new commercial terms agreed from 2013 onwards put the Grove squad at an inherent competitive disadvantage. Sadly, Sir Frank's last season as the sport's longest-serving team principal was underwhelming, as the team finished a lowly ninth in the Constructors' Championship. The priority was the team's survival. 
Claire Williams, Sir Frank's daughter, took over the reins as defacto team principal as the sport entered its current V6 turbo-hybrid era in 2014, and the foundations for success laid by Sir Frank over the previous years came to fruition. Williams signed an engine deal with Mercedes for 2014 and brought in Martini as its title sponsor. With financial security from a major title sponsor and the inspired choice of Mercedes power, Williams ascended up the order and was competitive once again. 
Teammates Valtteri Bottas and Felipe Massa scored a combined seven podiums in 2014, and Williams bagged third in the Constructors' standings ahead of Ferrari, McLaren and Lotus. The team repeated this feat in 2015 before sinking down the order over the following seasons. Despite the team's late resurgence after Sir Frank's retirement, the plucky privateer finally succumbed to its fate in 2020, as the pandemic and a lack of competitiveness meant the team had to be sold to ensure its long-term viability. Simply surviving for this long was a remarkable achievement. 

The Williams legacy
It's doubtful that Formula 1 will see another individual like Sir Frank Williams. There have been many other F1 team owners that have built great cars and won championships: Colin Chapman, Ken Tyrrell and John Cooper, to name a few. But arguably only Bruce McLaren, Enzo Ferrari and Sir Frank have created teams so evocative, successful and admired that their names have become a permanent feature of Formula 1's DNA. Sir Frank's determination, work ethic and passion for Formula 1 made him into an inspirational figure that has transcended the sport he loved. He will be sorely missed.
If you liked this, then why not subscribe to Magneto magazine today?