WORDS: nathan chadwick | PHOTOGRAPHY: singer
When Singer announces a new study, you know there is something interesting on the way. The Dynamics and Lightweighting Study (DLS) of 2018 gave us arguably the ultimate evolution of the naturally aspirated air-cooled Porsche 911, while the All-Terrain Competition Study, which arrived in 2021, produced a startling exploration of capabilities – and possibilities – on the rough stuff.
Understandably, both of these projects dominated automotive news agendas around the world. But there was one facet of 911 lore that was curiously absent – the Turbo. Until now, that is. Say hello to the Turbo Study, which not only adds forced induction to the Singer repertoire for the first time, but also marks an evolutionary shift in the bespoke restoration firm's design language. The classic pre-1973-inspired looks of the 911s reimagined by Singer have been swept away and replaced with an aesthetic fully rooted in the 1980s whaletail Turbo era, complete with extensive use of carbonfibre to aid lightness and stiffness.
As with all Singer restorations, the Turbo Study takes the Type 964 generation of 911s as its starting point and uses a new evolution of the famous Mezger air-cooled flat-six. Now in 3.8-litre form, the engine features twin turbochargers with an electric waste gate, while bespoke air-to-water intercoolers are mounted inside the intake plenums. To help keep everything from overheating, the shark fin on the rear wing has been cleverly converted into an intake, pumping cold air into the engine bay to enhance combustion and cooling performance.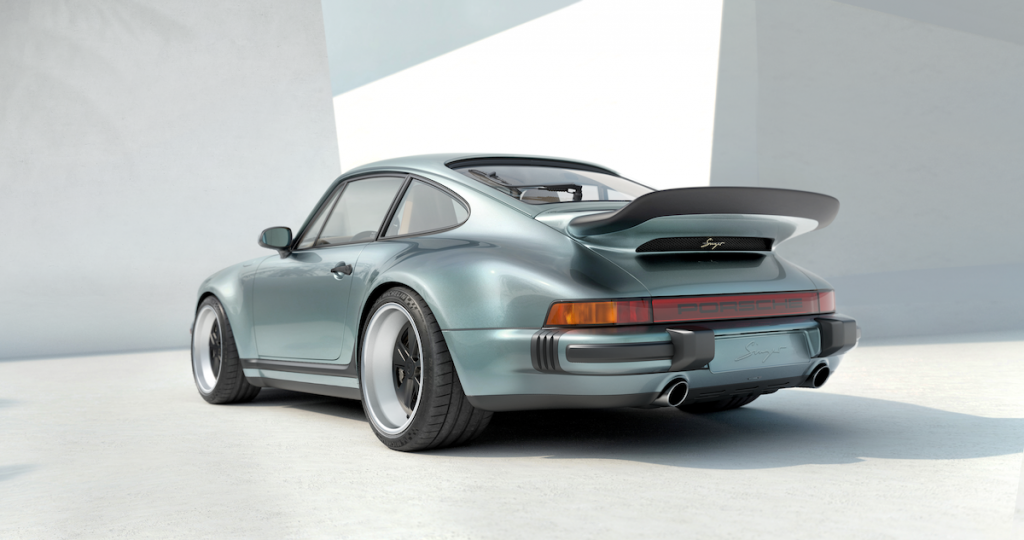 This particular study has been designed with long-distance grand touring in mind, but it is still impressively powerful – Singer quotes 450bhp for this Wolf Blue car. 
Keeping to the GT theme the Turbo Study has prioritised comfort, complete with compliant damping and suspension settings, while noise levels are said to be lower than those of some of the more raucous Singer restorations we've seen. Again this aids long-distance comfort, although future cars can be tailored to be more extreme. Singer says a fruitier exhaust and higher outputs are available, should an owner choose.
That configurability goes as far as the transmission. This car has a six-speed gearbox and rear-wheel drive, but following Singer's first four-wheel-drive road-car restoration in 2014, which used the transmission from a 993 911, the Turbo can also be built with power directed to all corners. You can also specify ABS carbon-ceramic discs and traction control – as this particular owner has.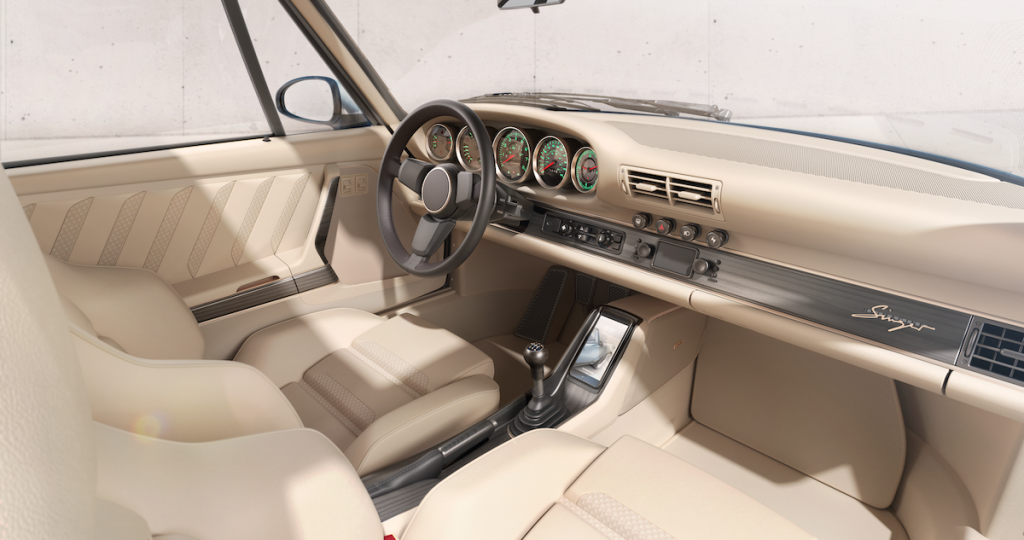 Inside the cabin, the focus has clearly been on luxury rather than the more spartan sportiness we have thus far seen from Singer. A fresh steering wheel and set of gauges kick off the alterations. The electrically adjustable seats are heated, while the car comes with inductive phone charging, cruise control and air-conditioning for long hauls. Bespoke Singer fitted luggage sits atop the folded-down rear seat back; if you're wondering, the trim is called Malibu Sand and the wood accents are Black Forest. 
It's clear that this is just the start of what's possible. Although no official figures from Singer suggest more than the current 450bhp, twin-turbocharged Mezger engines have been taken up to 850bhp and beyond in road trim by the traditional modification scene. As such, it will be fascinating to see how the car develops amid both Singer's rigorous testing and development programmes, and the whims of the company's customers.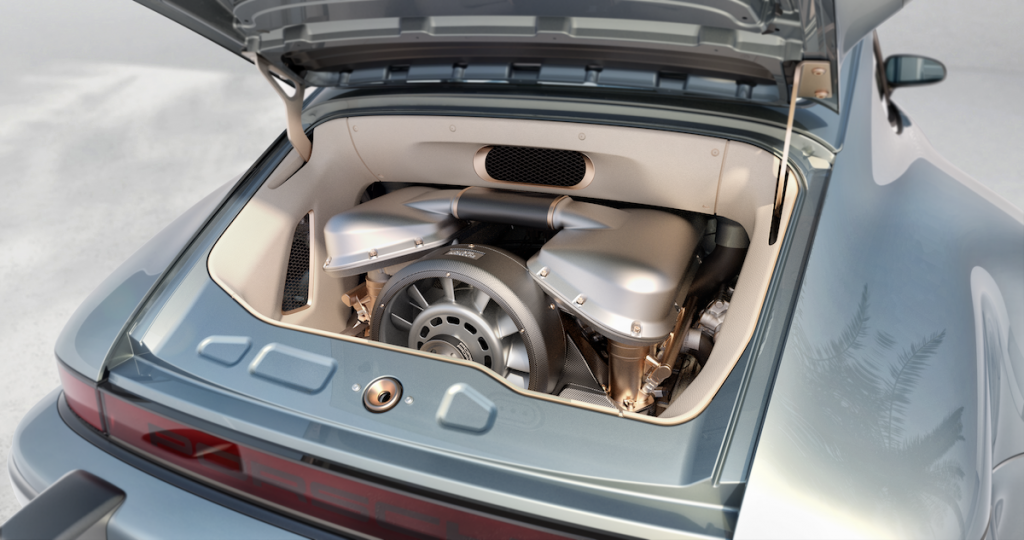 Singer's naturally aspirated engines include a 3.8-litre flat-six, originally developed with Cosworth, and a 4.0-litre evolution, developed with Ed Pink Racing Engines to develop 390bhp. The ultimate expression is the aforementioned $1.8m DLS, co-developed with Williams Advanced Engineering – its naturally aspirated 4.0 engine revs to 9000rpm and kicks out 500bhp, with the help of unique four-valve cylinder heads. Imagine that with two turbos to aid progress…
The Singer team is tight lipped on what its development plans are, but the first Turbo Study already looks suitably tasty, even without specific figures for its weight, performance and projected cost.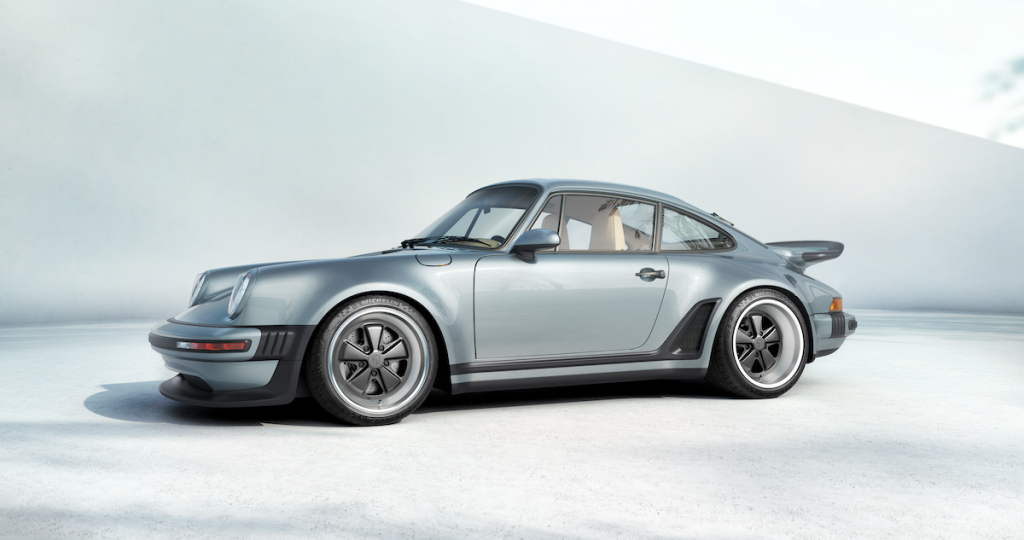 For Singer, it's a fine way to start 2022, after two years that have seen its sales double and US operations move into a new facility in Torrance, California, as work continues in the UK on the DLS restorations.
However, for Singer founder Rob Dickinson, the Turbo Study has a more personal resonance, as it completes a cycle started 45 years ago. "My first-ever ride in a Porsche 911, as an 11-year-old in 1976, left me dry mouthed and speechless. It was a black 930 Turbo with red tartan seats," he says, before turning his attention to his company's new creation. "I believe this is a fitting tribute to a car that changed my life and that of many others."
Find more details on the Turbo Study at www.singervehicledesign.com.
If you liked this, then why not subscribe to Magneto magazine today?