Words: Nathan Chadwick | Photos: Salon Privé
A 1937 Bugatti Type 57S by Corsica took Best of Show at Salon Privé – a suitable winner for a concours that continues to impress year on year. Alongside a varied and high-quality collection of cars, the likes of Aston Martin, Electrogenic and others chose the Aviva-presented event, held at Blenheim Palace in Oxfordshire from August 30-September 2, 2023, to preview fresh metal.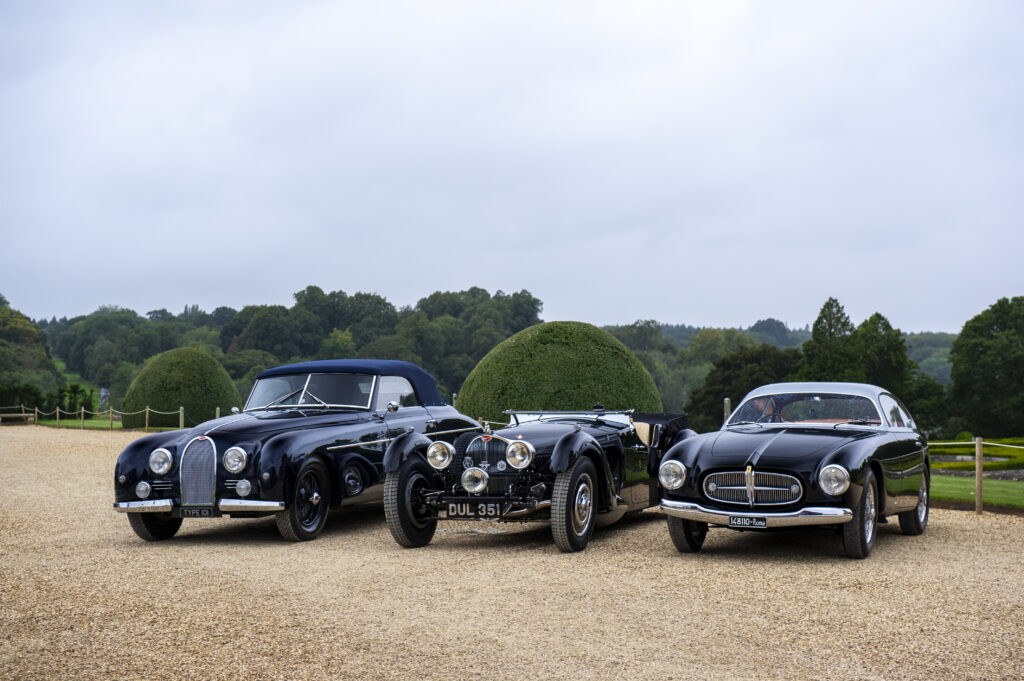 The Bugatti has formed part of JCB founder Lord Bamford's collection since 2020. He acquired the car from JCB employee Bill Turnbull, who'd owned it since 1969. As JCB's chief engineer, Turnbull helped develop the firm's first mini excavators. Upon his retirement in 1995 he set about restoring the Bugatti, which was one of the world's only remaining 'hidden' pre-war Type 57S models when it was eventually uncovered in 2020. Just 42 examples of the 57S were made, and this one features four-seater bodywork from Corsica Coachworks.
"This Bugatti, thought to be one of the three Le Mans-winning 'Tanks', is a hugely significant car, and hadn't been driven for over half a century before being restored to its former glory by Clark & Carter Restorations," said Salon Privé chairman Andrew Bagley. "Raced at Montlhéry, reaching top speeds of 111mph, the Bugatti is all original and one of the world's greatest pre-war sports racers."
Second place went to a 1951 Ferrari 212 Export with Vignale coachwork. Originally owned by Prince Vittorio Massimo, it was originally displayed at the 1951 Torino Auto Show on Vignale's stand.
Meanwhile, third place at Salon Privé went to Peter and Merle Mullin's 1951 Bugatti Type 101 Cabriolet. Bodied by Gangloff, this car was based on a pre-war Type 57 chassis and is the only 101 to receive the T57C's supercharged engine.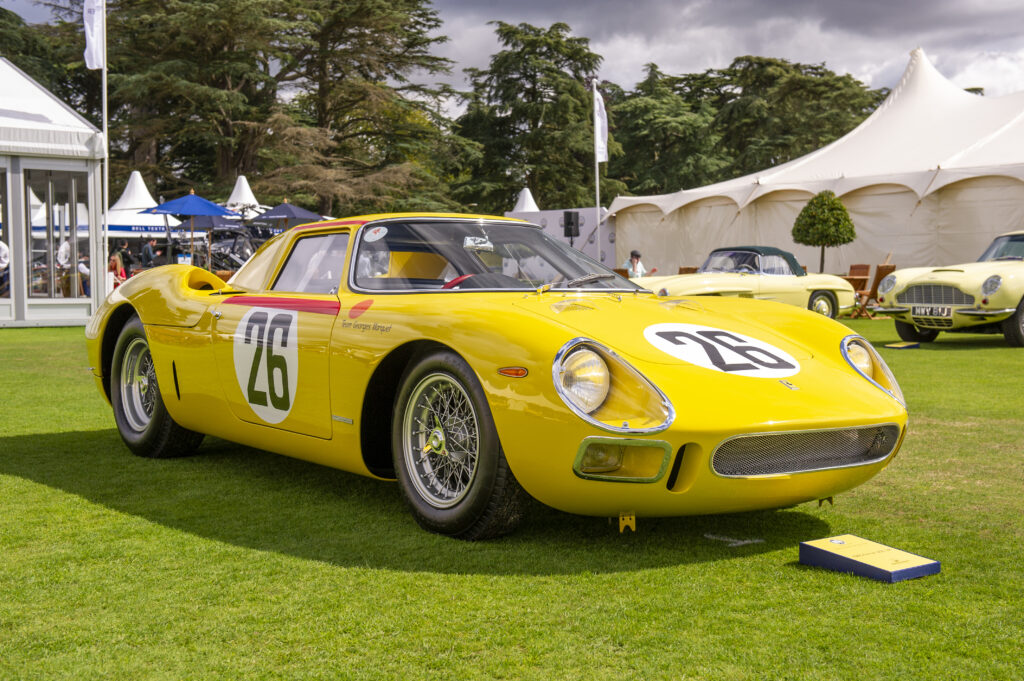 Other highlights of the concours included a varied selection of yellow cars, spearheaded by the 1965 Ferrari 250LM shown above, which also won Class F: Sports Racers. The Margaret Bagley Trophy was awarded to a 1900 Bardon Type A Tonneau, which features a single-cylinder engine with two opposing pistons, each connected to its own crankshaft and flywheel. The Chairman's Award went to the unique 1952 Hansgen Jaguar; when American racing driver Walt Hansgen couldn't get his hands on a Jaguar C-type, he turned his XK120 into a lightweight special (pictured below), cutting the weight from 1200kg to 950kg. He bagged several victories with the car, before selling it when he finally acquired a C-type. The Hansgen Jaguar still races to this day, in the hands of Bob Millstein.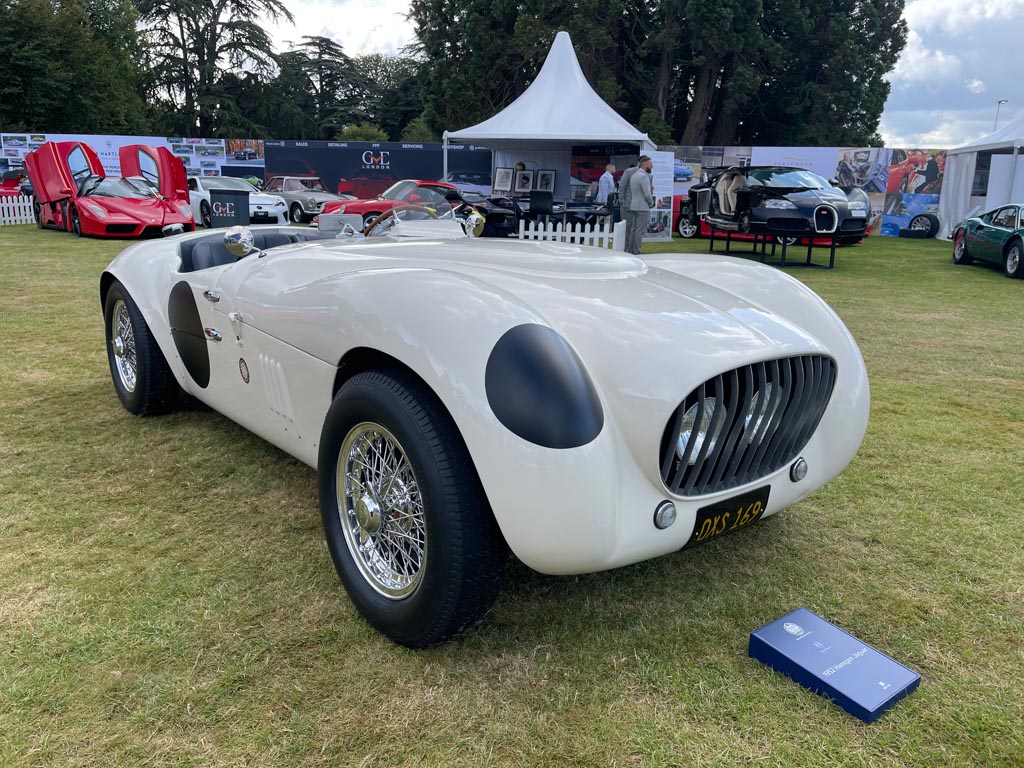 High-quality cars were everywhere, and some of the machinery had particularly hard-fought stories. Take the Jaguar XJ220C LM that formed part of the Le Mans line-up – this car won the 24 Hours in 1993 with John Nielsen, David Brabham and David Coulthard behind the wheel, but was later disqualified.
Sale cars were also fascinating – Tom Hartley Jnr's Ferrari 288GTO Evoluzione being particularly noteworthy.
Other fascinating models included Gerhard Berger's 1989 Ferrari 640 Formula 1 car, an Aston Martin Vantage V600 in a unique shade of green with a custom, glass-topped amplifier enclosure built in period, and a 1953 Lancia Aurelia 2000 B52 bodied by Vignale.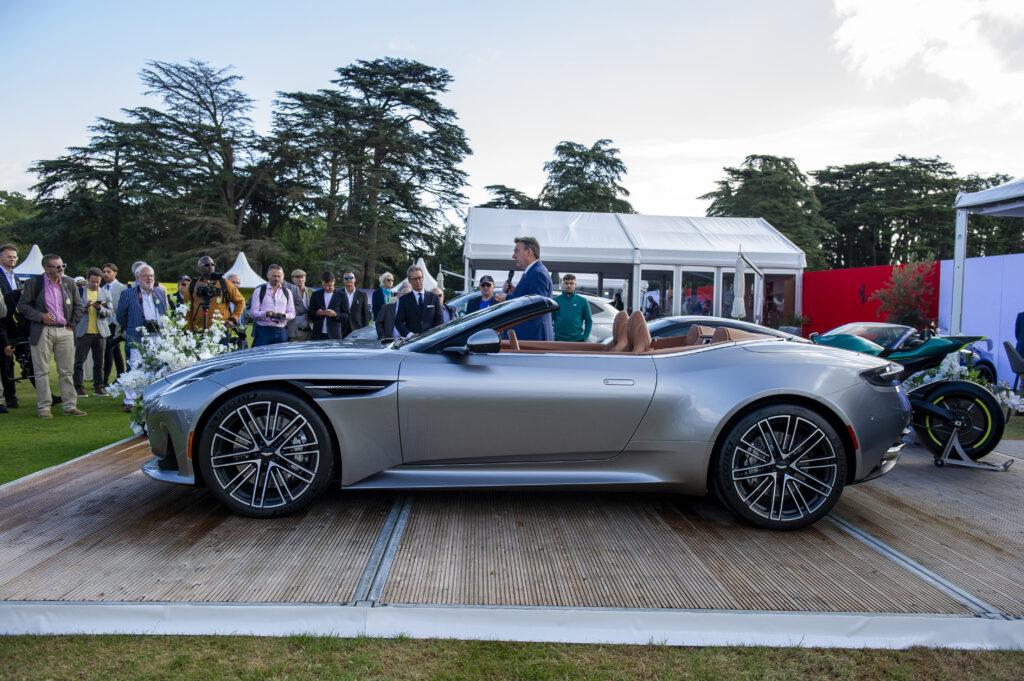 Away from the concours cars Aston Martin unveiled its new DB12 Volante, while Electrogenic gave the first public display of its all-electric 1929 Rolls-Royce Phantom II. Clive Sutton displayed its Shelby Cobra CSX10000, the first UK turn-key Shelby Cobra in almost 60 years, powered by a 5.0-litre V8 Cobra Mustang engine that provides 700bhp with a supercharger, and 460bhp without.
The Little Car Company chose the event for the European debut of its Bentley Blower Jnr, an 85 percent-scale recreation of Bentley's 1929 Team Car Number 2, while Jensen International Automotive showcased its pure-EV 1992 Range Rover. Theon Design presented its first UK Porsche 911 customer cars, one with a 3.8-litre engine and a colour scheme inspired by Steve McQueen's 911 in the Le Mans movie, and another with a 4.0-litre powerplant.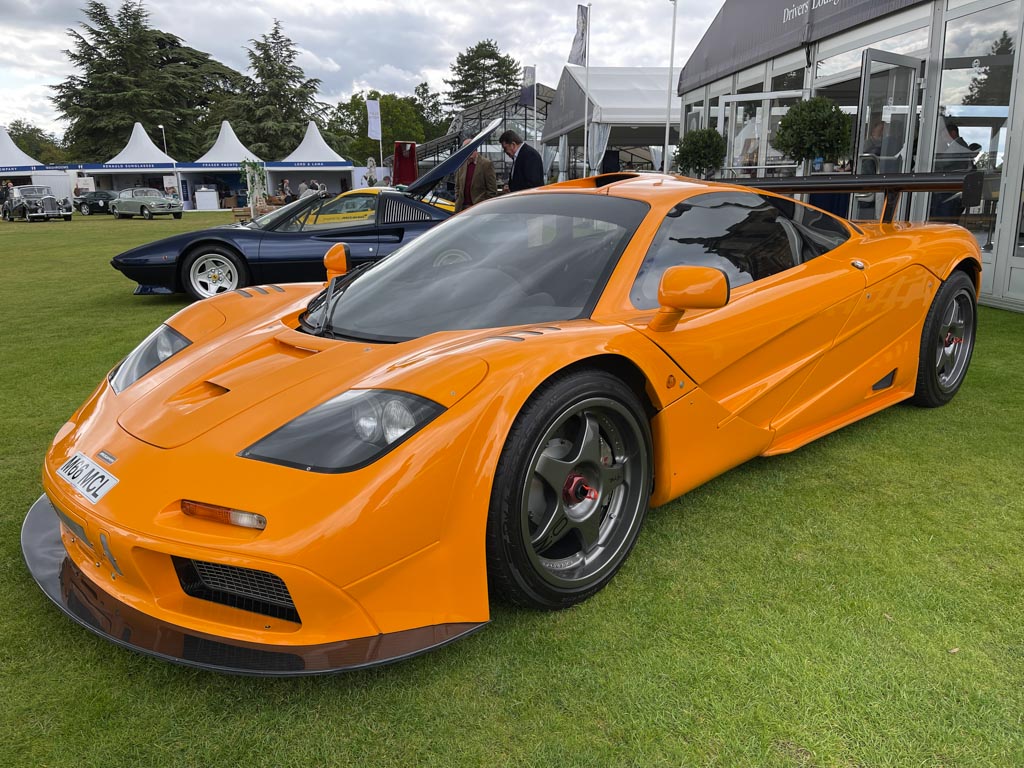 Overall, the wonderful location of Blenheim Palace provided an excellent setting, with a welcoming, sociable aspect and excellent hospitality options. Supercar Saturday saw 1500 club cars make the pilgrimage to the event for the Salon Privé Club Trophies presented by Lockton. The results follow the Concours winners below.
The event partnered with the Rainbow Trust Children's Charity, which provides emotional and practical support to families who have a child with a life-threatening or terminal illness; over the years Salon Privé has raised £1.1m for charity.
Salon Privé returns on August 28-31, 2024. More details are available here.
Winners of the 2023 Salon Privé Concours presented by Aviva
Best of Show: 1937 Bugatti Type 57S by Corsica
Best of Show Runner-up: 1951 Ferrari 212 Export by Vignale
Best of Show 3rd Place: 1951 Bugatti Type 101 Cabriolet by Gangloff
Duke of Marlborough Award: 1929 Rolls-Royce Phantom Sedanca de Ville by Windovers
Chairman's Award: 1952 Hansgen Jaguar
Class Awards
Class A: Veteran & Pioneers: 1907 Renault Type AI 35/45HP (Vanderbilt Racer)
Class B1: Pre-War British (Open): 1937 Alvis Speed 25 SC by Offord & Sons
Class B2: Pre-War International (Open): 1937 Bugatti Type 57S by Corsica
Class C: Pre-War Elegance (Closed): 1938 Bugatti Type 57C Atalante Roll-back Coupé
Class D: Post-War (Open): 1951 Bugatti Type 101 Cabriolet by Gangloff
Class E: Post-War (Closed): 1952 Lancia Aurelia 2000 BS2 Coupé by Vignale
Class F: Sports Racers: 1965 Ferrari 250LM by Pininfarina
Class G: Ferrari Classiche: 1951 Ferrari 212 Export by Vignale
Class H: Preservation: 1961 Jaguar E-type Roadster
Class I: Lamborghini 60th Anniversary: 1992 Lamborghini Diablo
Class J: Porsche 356 – Where it All Began: 1955 Porsche 356 Pre-A Coupé
Class K: Supercar Icons (Pre-2000): 1992 JaguarXJ220
Class L: Supercar Icons (Post-2000): 2005 Ferrari Enzo
Class M: Classic Formula 1: 1989 Ferrari 640
Special Awards
Spirit Award – The Margaret Bagley Trophy: 1900 Bardon Type A Tonneau
Most Exceptional Coachwork: 1987 Lamborghini Countach 5000 QV
Most Opulent: 1923 Rolls-Royce 40/50 Silver Ghost Cabriolet by Hooper
Coup de Coeur – The Matt Pearce Trophy: 1934 Bugatti Type 57 Stelvio by Gangloff
Best Interior: 1950 Ferrari 195 S Inter Coupé by Touring
Most Elegant: 1963 Ferrari 250GT Lusso by Scaglietti
Most Iconic – The George Barry Gregory Trophy: 1968 Porsche 911 T/R
2023 Salon Privé Club Trophies presented by Lockton
The Lockton SCC Trophy: Jaguar XJ220
The Lockton Driver's Union Trophy: Ferrari F12 TDF
The Lockton Club Trophy: Jaguar E-type S1 3.8 OTS
2023 Manufacturer's Trophy – Aston Martin Owners Club: Aston Martin One-77
2023 Manufacturer's Trophy – Ferrari Owners' Club: Ferrari 599GTO
2023 Manufacturer's Trophy – Jaguar Enthusiasts' Club: Jaguar E-type S1 3.8 OTS
2023 Manufacturer's Trophy – Lamborghini Club UK: Lamborghini 400GT 2+2
2023 Manufacturer's Trophy – Lotus Drivers Club: Lotus Exige 360 Cup
2023 Manufacturer's Trophy – Maserati Club UK: Maserati 3200 GT
2023 Manufacturer's Trophy – McLaren Owners Club UK: McLaren 720S
2023 Manufacturer's Trophy – Porsche Club Great Britain: Porsche GT4 Cayman
2023 Manufacturer's Trophy – Rolls Royce & Bentley Enthusiasts' Club: Rolls-Royce Corniche Convertible
2023 Secretary's Trophy – Aston Martin Owners Club: Aston Martin DB5 Volante
2023 Secretary's Trophy – Ferrari Owners' Club: Ferrari 365GT4 BB
2023 Secretary's Trophy – Jaguar Enthusiasts' Club: Jaguar XJ8 Super V8
2023 Secretary's Trophy – Lamborghini Club UK: Lamborghini Murciélago SV
2023 Secretary's Trophy – Lotus Drivers Club: Lotus Elise Club Racer
2023 Secretary's Trophy – Maserati Club UK: Maserati Mistral
2023 Secretary's Trophy – McLaren 765 LT
2023 Secretary's Trophy – Porsche Club Great Britain: Porsche 911 SC RS
2023 Secretary's Trophy – Rolls-Royce & Bentley Enthusiasts' Club: Rolls-Royce Silver Shadow