WORDS: ELLIOTT HUGHES | PHOTOGRAPHY: PRAGA CARS
It's unusual for a marque with a 114-year history to be so steeped in esotericism. Praga Cars was born in what was then Czechoslovakia in 1907, primarily as a manufacturer of automobiles, before moving on to motorcycles, firearms, trucks, tanks, buses and even aircraft.
Despite the early successes of its formative years, few would have expected a company with a distinctly Eastern Bloc-tinged back catalogue to become a major player in the world of international motor sport. However, as Magneto attends the company's new Cheshire-based HQ for an evening hosted for prospective buyers, media, and industry insiders, it's clear that's exactly what has happened.  
A brief scan of the room reveals the plucky Czech company's credentials. The likes of Jodie Kidd, Romain Grosjean and renowned designer Frank Stephenson mingle with guests, a cocktail shaker intermittently rattles from a sleek bar set up in the corner, and several Praga R1 sports cars bathed in neon proudly punctuate the room.
Kidd et al aren't the only famous names in the room, either – the remaining two have driven for Praga in this year's Britcar series and are on hand to share their experiences with guests on a stage resembling the set of a TV talk show. One is Jimmy Broadbent, a YouTube sim racer whose enormous social-media following and driving talent have facilitated a dream move to grids made of asphalt rather than pixels. The other is ex-SAS soldier and reality TV star Jay Morton. Jay was apparently pitched the idea of racing in Britcar while sharing a couple of can of lager on a park bench with Praga CEO Mark Harrison.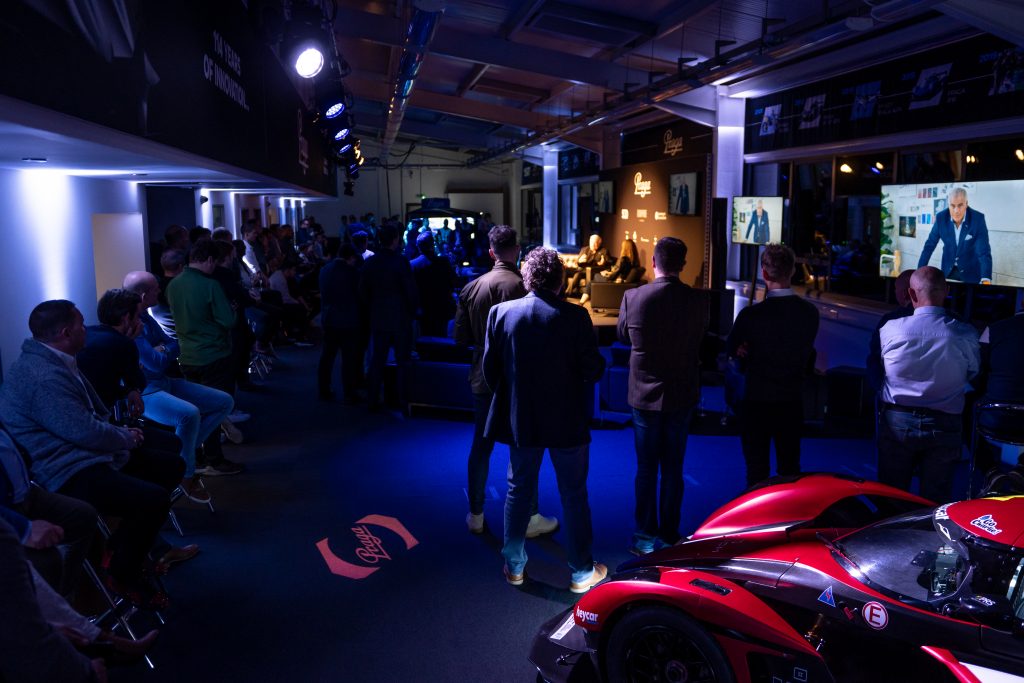 After the guests have enjoyed a few quick laps on the simulator – which is challenging even without the plentiful supply of cocktails – Jodie Kidd begins to invite her renowned guests to chat on the sofa positioned on the stage; first Frank, followed by Jay and Jimmy, with Romain 'The Phoenix' Grosjean representing the evening's grand finale.
Frank is as engaging as ever, with the conversation meandering from the wackiness of his upcoming lunar-racing and quantum-computing projects to some interesting anecdotes about his past design triumphs such as the Maserati MC12. But his relevance to Praga is his role in designing the livery adorning the R1 campaigned by professional racing driver Miles Lacey and his team-mate, YouTuber James 'Mr JWW' Walker.
"I was more into nature than cars when I was very young," Frank says. "I had posters of horses, cheetahs and fish… I grew up in Casablanca, Morocco in the 1960s, and there weren't a lot of nice cars around, but as I got into my teens I started taking an interest – in Formula 1 cars and Top Fuel dragsters in particular."
Frank then goes on to explain how his admiration for the natural world in his formative years influenced his design of the R1's striking white, blue and gold livery. "I always try to bring an element of biomimicry, because nature does it best and anything done by nature automatically looks beautiful. You've got these really sinuous shapes, it's a very athletic design," he says, gesturing to the R1's purposeful canards and pointed nose section depicted on a large projector screen.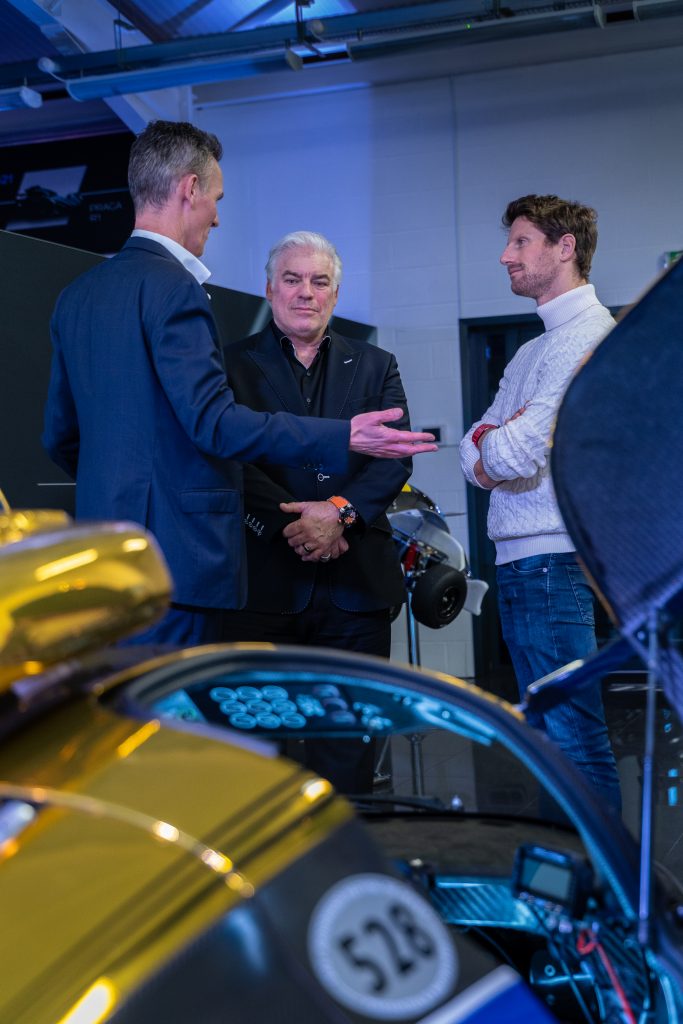 "This is the car with the opportunity to bring Praga back and represent the mother country, so that's reflected in the Czech colours in the livery. The objective was to make it look fast standing still, so we did that by adding these stripes to the surface that resemble the flow-vis paint used by racing teams in wind tunnels."
Frank's rationale behind the livery is certainly apt. The Praga R1 resembles a shrunken LMP car for a reason; it weighs just 640kg, develops 380bhp from its 2.0-litre four-cylinder Formula Renault engine, and can produce 1000kg of peak downforce – that's enough for cornering forces of up to 3G. Think of the R1 as a middle path between a single-seater and a full-blown LMP endurance racer.  
Next, it's the turn of Praga's rookie racing drivers to explain the daunting challenge of handling such an intimidating machine around some of the UK's most demanding circuits. Jay Morton and Jimmy Broadbent make an interesting contrast in this regard. As ex-special forces, Jay has an unfathomable level of bravery on his side and counts summiting Everest and participating in firefights among his past experiences. Jimmy, on the other hand, is theoretically adept in the nuances of car dynamics, racing lines and strategy, thanks to 1000s of hours of sim racing, but he had to acclimatise to the intimidation of high speed and G-force without a reset button.  
"I've always been into motor sport, and I have fond memories of helping my dad work on the engines of a couple of his Reliant Scimitars, because they were always breaking down. But to try to get into racing as someone in their 30s, where do you even start?" Jay says candidly.
Jodie then unflinchingly plays a clip of Jay's first race, in which he fearlessly pushed in torrential conditions and sent the car nose-first into the punishing embrace of Snetterton's barriers. "It was just torrential rain, and I'd done only around six races prior to Britcar – three Ginetta and three Clio Cup," Jay admits.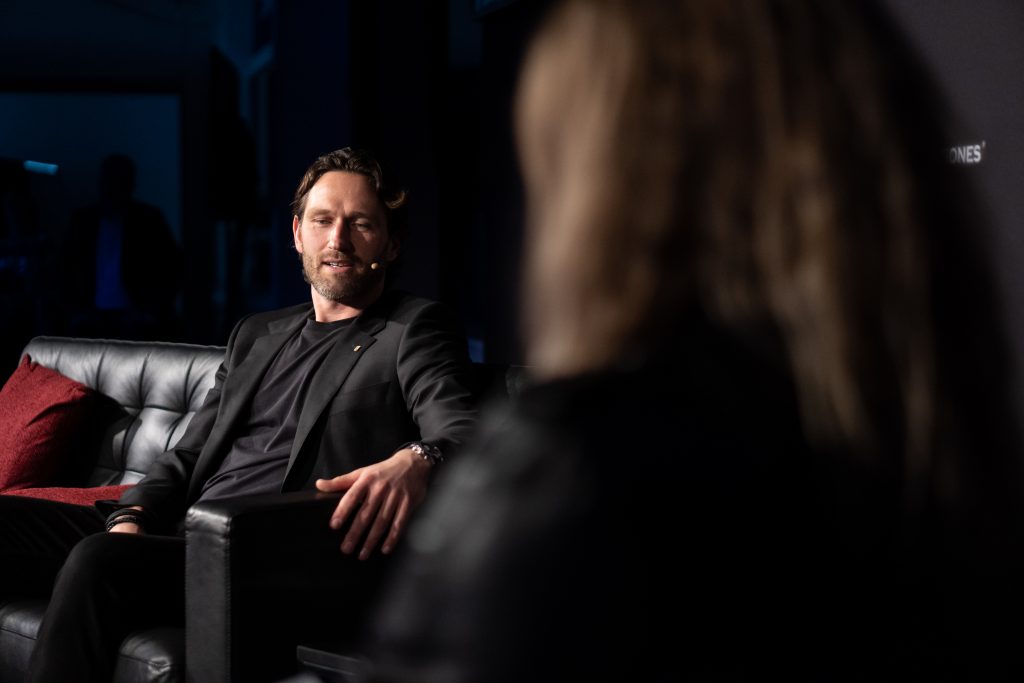 Despite the initial setbacks, Jay says his SAS training meant he could keep a cool head and continue to develop as a driver. "In the special forces you're thrown into stressful situations and constantly exposed to danger. It's all about managing stress. If you let those emotions take over and start flapping around, then you won't be able to make sensible decisions. Being able to transfer that into motor sport has been brilliant, I think."
Jay's mental fortitude culminated in more encouraging results as the season wound on, highlighted by two victories around the serpentine, undulating corners of Oulton Park. "I like the feel of Oulton Park. You carry massive speed into the corners, and the walls aren't too far away if you mess it up. It was a great race and everything went in our favour. It felt good to win. I can't wait for next year."
Jimmy's personality and journey onto the Britcar grid with Praga couldn't be more different to Jay's. A self-confessed "normal gamer-kid", he famously spent the early years of his career creating YouTube sim racing videos from the confines of a shed he was living in at the bottom of his mother's garden.
"Sim racing is just a way to get into racing in some way. As we all know, motor sport is quite expensive, and you have to know the right people. I had no affiliation to anybody in racing at all, so it was a way to pretend to be a racing driver, but without actually being a racing driver. I started back in about 2011/2012, and I don't want to think about how many hours I've spent in that one sweaty seat," Jimmy chuckles.
"I think the biggest challenge is letting myself transfer my ability in sim racing into the real world. Sim racing is the formula of driving, but there's a big gap. The main thing is fear – it's scary going into a corner at 140mph! You have to build up to it in real life, and that took a little bit longer than I would have liked."
Jimmy's humility belies his admirable performances over the course of his rookie season, taking two victories at the season finale and achieving four top-ten finishes. "It sounds like a cliché, but it really was a dream for me. My thoughts after winning immediately went to my grandad, who supported me a lot coming into racing. Unfortunately he passed away before the season started, and I always thought it would be really great to have him here, so to win in the last round was very special."
If Jimmy's story wasn't inspirational enough, the next driver to be welcomed to the stage is Romain Grosjean, fresh from a successful first season in IndyCar after suffering a horrifying, fiery Formula 1 crash at Bahrain in 2020.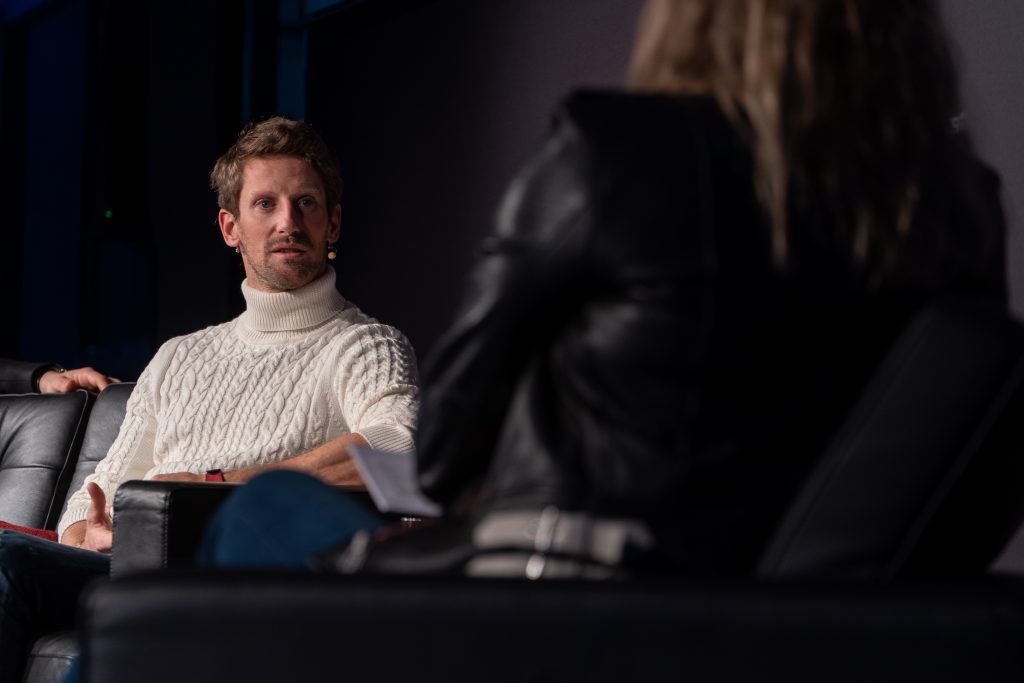 "I'm happy to be here," Romain says innocuously. "I've got a long history with Praga and have many friends here, obviously from the racing side, go-karts and so on."
Romain then recounts his journey up the motor sport ladder through to F1 and then IndyCar: "I always did it for fun until Formula 2 – I had no idea whether I was going to make it or not, the only thing I ever thought about was winning races and going up to the next level. Reaching Formula 1 was an incredible chapter in my life, I was so lucky to be able to make it. The first two years were great, we had many podiums. I obviously wish we had a better car in the past few years. There are only 20 seats in the world, and I was in one of them for ten years, so that was incredible – but I'm happy to start this new chapter in the US."
The room is gripped by Romain's words, and you can feel the tension begin to build as Jodie nears the subject of the collision that ended his tenure in Grand Prix racing. "There are no words I can really describe just as a viewer watching on TV. Millions of people's hearts stopped," Jodie says solemnly.
What Romain says next starts with humour before becoming unquestionably the most emotive and inspirational part of the evening. "I knew it was one of my last few races in F1, I knew I didn't have a chance to win, so I thought I'd find another way to have a big exit," he laughs. As the room settles down, he then delves into the impact such a traumatic ordeal has had on him.
"I have to thank my kids, because they're the ones who gave me the last push to get out of the fire. A lot of people ask me 'do you mind talking about it?' The answer is 'no I don't'; for me it's a positive experience. I have a scar on my left hand, I've had pain and so on, but I think it's made my life better. For me it's a positive experience. Every day is a bonus – I shouldn't be here. When you're that close to dying, you realise that life is actually beautiful."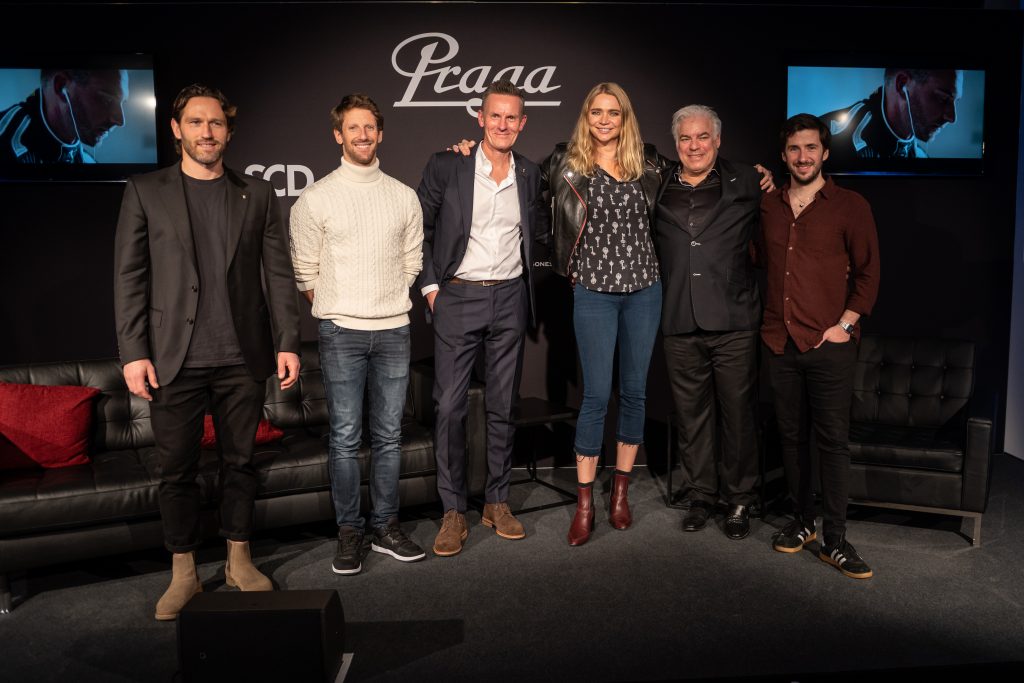 Since that fateful day, Romain has fearlessly put his stamp on the ultra-competitive and perilously dangerous IndyCar series, achieving his first pole position and a podium in only his third race. Two more podiums followed, and Romain also made a valiant debut in his first oval race at Gateway Park in August, finishing 14th. The Phoenix had arrived.
"The race at Gateway was 263 laps, it lasted for three hours! My head was spinning after the race, I felt so bad. It's totally different from anything I've done before – very, very different. The car doesn't want to go straight, it always wants to turn left – it's very strange."
Praga's varied group of supporters, from Formula 1 superstars to YouTubers, is as eclectic as the company's history, and speaks volumes about the direction in which it's headed. Praga will return to the Britcar series with Jimmy, Jay and company in 2022, while also adding its own one-make series with a grid of at least 16 R1s vying for supremacy.
Romain is set to return to the IndyCar series next year for his first full season and an exciting debut at the Indy 500; a few wins must be on the cards if his first season is anything to go by. With this level of success and exposure, it's hard to see Praga remaining so esoteric.
If you liked this, then why not subscribe to Magneto magazine today?