Words: Nathan Chadwick | Photos: RM Sotheby's
Newman/Haas has an enviable history in motor sport, let alone IndyCar – 108 wins and eight championship wins tells only part of the story of its success.
Founded by Carl Haas and Hollywood veteran Paul Newman, between 1983 and 2011 the team proved to be among the frontrunners in CART and IndyCar. On October 29, 82 lots will be put up for sale at no reserve that tell the history of this successful team, from memorabilia to racing cars. We've pulled out five of our favourite lots – but which is your favourite?
1. 1993 Lola-Ford Cosworth T93/00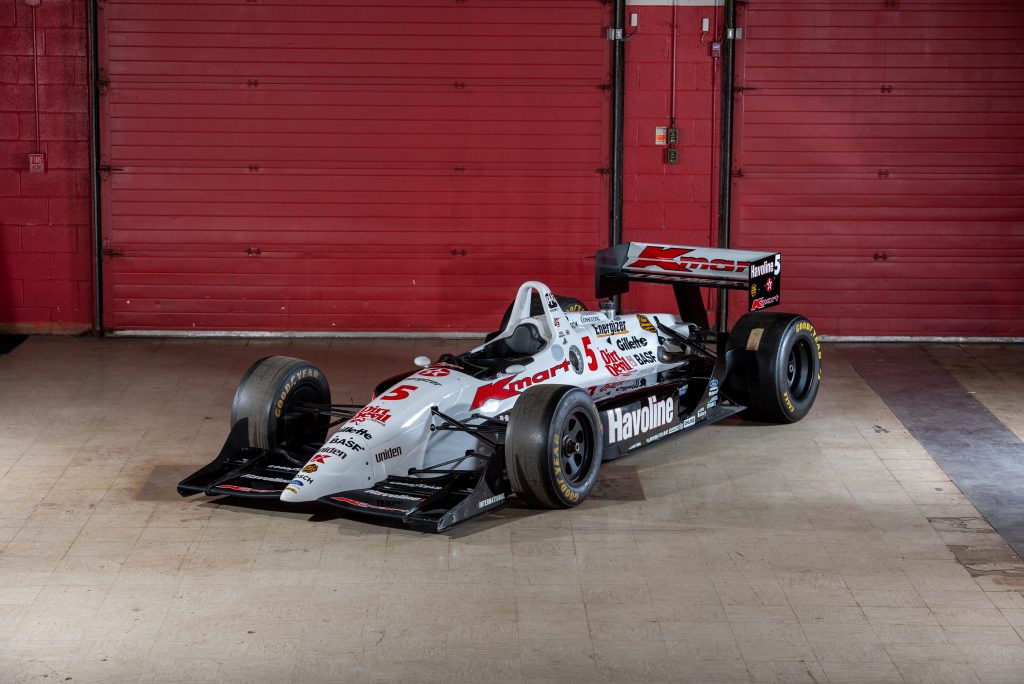 Red 5 has to be one of the most famous championship winners in the Newman/Haas stable. Nigel Mansell, fresh from winning the 1992 Formula 1 World Championship, set himself a new challenge: the street courses, ovals and road courses of the PPG IndyCar World Series. A year of controversies and crashes followed, but critically, a championship victory – and Mansell took this particular car to four of his five wins that season, notching up three pole positions along the way. Most memorable of all, it was the car he used to score a victory at the season-opening Surfer's Paradise in Australia, making him the first IndyCar rookie to win first time out.
The car itself was a development of the successful T92/00 package, but with aerodynamic tweaks. Constructed entirely from carbon fibre, it's powered by a turbocharged Ford XB engine.
Red Five would contest seven races in 1993, and would be the car used to clinch the title in typically gritty Mansell fashion. The Bosch Spark Plug Grand Prix at the Nazareth Speedway was the final oval race of the season, and Mansell would take the title if he won. He duly put the car on pole, but dropped to third off the start. He fought back to win, taking the title and in so doing became the first person to hold the Formula 1 and IndyCar championship titles at the same time.
2. 1984 Lola-Cosworth T800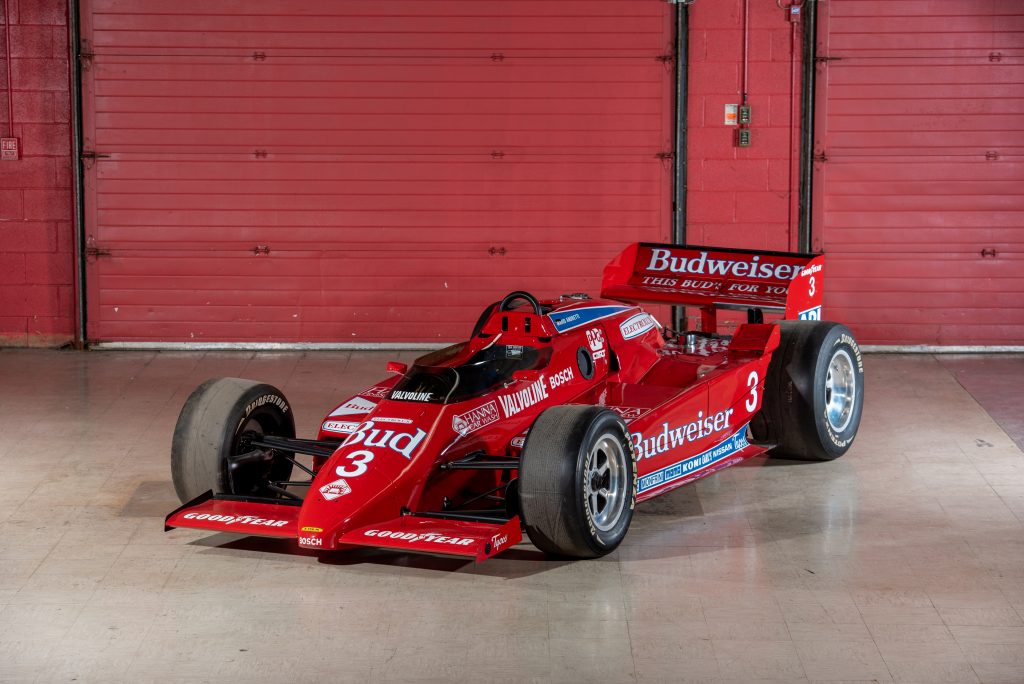 In the early 1980s, March was the constructor of choice in CART, but that changed thanks to this car. Newman/Haas Racing was one of the first teams to use a Lola chassis, and two wins in 1983 prompted Lola to develop the car further for the 1984 season. The new car, T800, featured an unusual gearbox design whereby the the cast magnesium casing was lowered to allow the fitment of the turbocharger, neatly lowering the car's centre of gravity as well.
The 2.65-litre turbocharged DFX V8 produced 800bhp, and this outright thrust, driver-adjustable suspension and dual master cylinder-actuated outboard ventilated disc brakes combined to deliver Mario Andretti's fourth IndyCar title and the first Newman/Haas CART championship. This is chassis H.U.2, one of five built, and one of two or three used by Newman/Haas in the 1984 season, and Andretti picked up six victories in 16 races, and became the first driver to lap the Brickyard at 212mph in the Indianapolis 500 qualifying sessions.
3. 1991 Lola-Chevrolet T91/00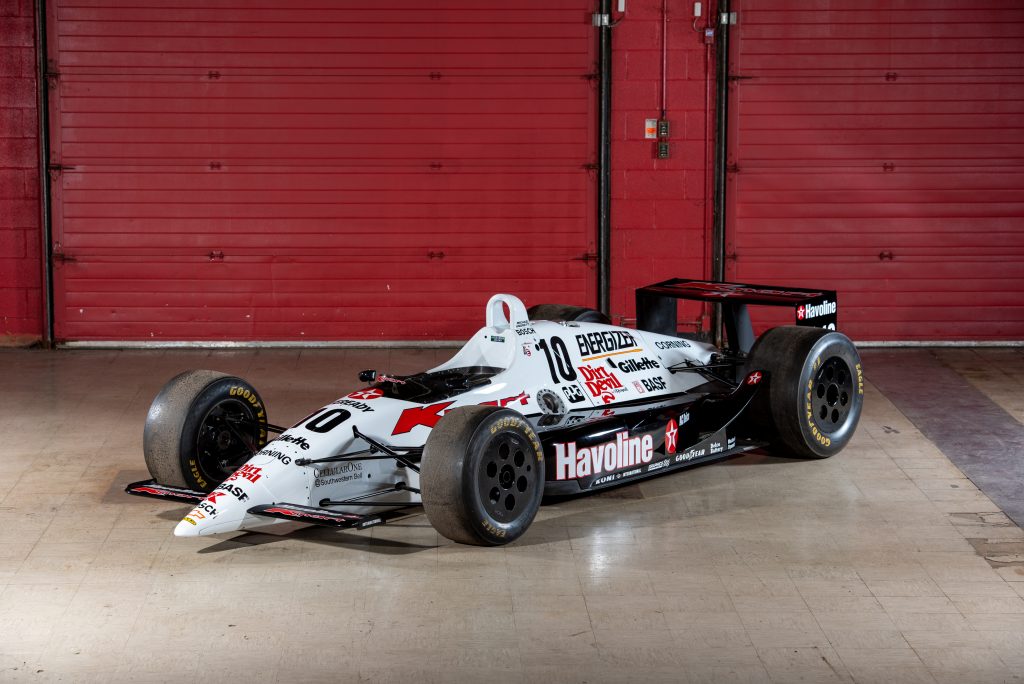 Michael Andretti had finished runner-up in 1989 and 1990, and was determined to take his first title in 1991. The Lola T90 had cleaned up during the previous year, with 13 victories out of 16 events, and provided an evolutionary basis for the T91. Power came from an Ilmor-Chevrolet-A 2.65-litre turbocharged V8, while the chassis was stronger than ever before thanks to Lola's new climate-controlled autoclave.
Michael Andretti's early-season form wasn't great, but he turned it around with a six-event blitz featuring two third places and four wins. Chassis 38 delivered victory for Michael at the Miller Genuine Draft 200 at the Milwaukee Mile oval in Wisconsin, where he shared the podium with father Mario and cousin John. Chassis 38 would also take Michael to victory at The Budweiser/G.I. Joe's 200 at Portland International Raceway in Oregon and then at the Molson Indy Vancouver.
4. 2004 Lola-Cosworth-Ford B01/00
The late 1990s had been a lean period of success for the Newman/Haas team, with 2001 marking eight years since the last championship victory. For 2001, the Lola chassis was paired with a Toyota V8, and chassis 01-14 – the car up for grabs – was assigned to Christian Fittipaldi. His best result was third place at the Freightliner/G.I. Joe's 200 at West Delta Park-Portland Raceway.
Fast-forward three years and CART had gone bust and was now operating under new owners as the Bridgestone Champ Car World Series. Chassis 01-014 was pulled out of storage, reprofiled aerodynamically, and fitted with a Ford XFE V8 engine. Behind the wheel was Sébastien Bourdais, who'd finished fourth in CART's final year. He would go somewhat better in 2004…
Bourdais took chassis 01-014 to five poles, five victories, two additional podiums, six fastest laps and 369 points, thus delivering the championship title – his first of four consecutive victories. After its winning 2004 year, chassis 01-014 was put on display in the lobby of Newman/Haas Racing's HQ, and still wears the 2005 McDonalds livery.
5. 2006 Lola-Cosworth-Ford B02/00
Most open-wheel racing-car chassis are retired after a year, maybe a couple, for readers more attuned to Formula 1. This car, chassis HU 03, was at the sharp end of competition for four years.
It was first used by Christian Fittipaldi during the 2002 CART season, at the time using Toyota V8 power. Of 16 races that season, Fittipaldi used this car 12 times, taking two second places and two third places on the way to fifth in the championship.
For 2003 engine supply changed to Ford-Cosworth, and HU 03 was used as a test car for Bourdais for the first half of the season, although it would also take him to victory at the German 500 at Lausitz in mid-May. In the latter part, HU 03 was thrust into action in the hands of Bruno Junqueira. Over six races the car picked up one victory and two third places; Bourdais would take the rookie of the year award.
For 2004, HU 03 was used exclusively by Junqueira and would garner two victories, two second places and two third places, netting the Brazilian second place in the championship behind Bourdais. Other than a brief testing regimen at Sebring, the car gathered dust for the 2005 season – but it would soon be thrust back into the thick of it.
For 2006, the HU 03 would be assigned to Bourdais for seven out of the season's 14 races. Along the way it notched up two third places and three victories, helping Bourdais to another championship title before entering permanent retirement.
These cars, plus 77 other lots – including a 1954 Jaguar XK120 Roadster, 2007 NASCAR, 1948 MG TC and 2000 MV Agusta F4 Series Oro – will put up for auction at no reserve on October 29. More details can be found here.