Words: Jeremy Taylor | Photography: Red Bull
The Team Principal of Red Bull Racing has his eye on a fifth World Championship – only Lewis Hamilton and Mercedes stand in the way.
Every morning as Christian Horner walks through reception at Red Bull headquarters in Milton Keynes, he is reminded of past triumphs. Grand Prix trophies are literally stacked to the ceiling, with little space for more.
Horner, 47, has had a hand in all of them. When he was brought in to manage Red Bull's fledgling F1 team in 2005, nobody would have guessed, not least him, that 17 seasons later the softly spoken motor sport enthusiast would still be at the helm.
"Nobody thought an energy drink maker from Austria, with no real experience in F1, stood a chance," recalls Horner. "We were up against Ferrari, McLaren and Williams. There were big characters, big egos – we were almost starting from scratch."
Success didn't come overnight, but from 2010 to 2013 Red Bull ruled the pitlane, with Sebastian Vettel winning four consecutive championships. The first was the most memorable, a victory in the final race of the 2010 season at Abu Dhabi, against Fernando Alonso and the might of Ferrari.
For the past seven years, Mercedes and Lewis Hamilton have proved the dominant force in F1 – until now. The bitter rivalry between the seven-time World Champion and Red Bull's Max Verstappen has provided one of the sport's most exciting seasons in years.
As the championship reaches its climax, Horner and his team are foot to the floor to bring another trophy back to Milton Keynes. Jeremy Taylor interviewed him before the Turkish Grand Prix.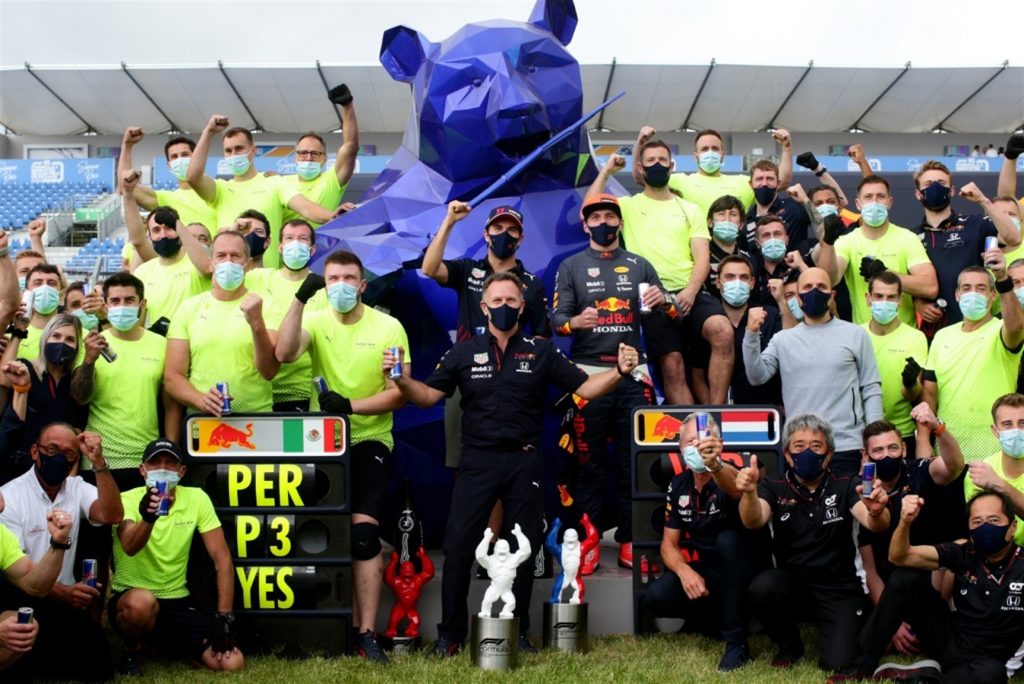 2021 has been a fantastic season – where do you expect the title to be decided?
Normally by this stage of the season the championship has been wrapped up, but not this year. I hope it doesn't go to the final race in Abu Dhabi on December 12, but I think it's inevitable. This championship will go to the wire, which is great for F1 but not much good for my sleep pattern.
At what point this season did you realise that the gloves were off on the track?
The British Grand Prix at Silverstone in July. That's the moment I really sat up and took notice – when Max and Lewis crashed on the first lap. I don't think many people realise the severity of a crash such as that at over 200mph. It was brutal. Max impacted at 51G – it actually broke the seat of his car. He was momentarily knocked out, and we couldn't reach him on the team radio. Your immediate focus is on the health of your driver.
What about the rivalry with your Mercedes equivalent, Toto Wolff?
I don't pay much attention to the Toto situation, even if the media like to build it up. The intensity of the competition is so fierce this year that one mistake could cost either team the title. This is also the first time Mercedes has been under this level of pressure in seven seasons – it will be interesting to see how they deal with that. Toto and I are not similar characters. He is a financial guy and I grew up in the industry.
Next season will see major changes to the cars. The big difference will be aerodynamics and the return to the ground-effect formula that allows underbody tunnels – a feature not used in F1 since the 1980s. How will that impact the sport?
Not relying on wings for downforce reduces the 'dirty air' affect, which currently prevents following drivers from getting too close to the car in front. Making the cars easier to follow will promote overtaking, and is a totally different philosophy to what we have now. It's a clean sheet of paper for everyone. Some will get it right and others won't.
Honda will stop providing engines to Red Bull from the end of this season, and leave F1 for good. How are your preparations going for the new season?
Red Bull Powertrains is a new company based at the Milton Keynes campus, increasing our payroll here to almost 1000 people. We spend a lot of time on engineering issues because the engine is the heart of any car. Building our own units in-house is a significant step and will make us masters of our own destiny from 2022 onwards.
This is your 17th season in F1. How much has the sport changed since you joined the newly formed Red Bull in 2005?
When I arrived, Bernie Ecclestone and Max Mosley were still running the show. Ron Dennis was at McLaren, Jean Todt was in charge at Ferrari, Frank Williams was hands-on at Williams and Flavio Briatore was the boss at Renault. They were huge names, but the one thing most of them shared was the ability to look beyond their own team and do what was best for the sport. If Netflix had been filming then it would have been some documentary.
Have you enjoyed watching the Drive To Survive, fly-on-the-wall documentary series?
It has given F1 a whole new audience, and helped broaden the appeal of the sport in America. Mercedes didn't get involved at the start because they wanted the series to focus solely on them, as World Champions. I think they were sulking a bit for the first year; Toto didn't think it was a good deal, it wasn't right, blah, blah, blah. Then they saw the impact and suddenly there's a lot more Lewis in the most recent two series.
Is Lewis Hamilton now the greatest driver of all time?
Statistically he is the most successful, but I would say Ayrton Senna would be my GOAT. His career was tragically cut short, and so the statistics don't reflect what his talent might have been capable of had he lived longer.
Do you still have that determination and passion to win after such a long time in the sport?
I think the tough years of not winning battle-harden you. It makes me more determined than ever to succeed, because I know the feeling of being a winner, too. Mercedes have been pretty much unbeatable until now, but if you keep pushing, keep believing in yourself then anything is possible. There's definitely room for more trophies.
If you liked this, then why not subscribe to Magneto magazine today?