WORDS: ELLIOTT HUGHES | PHOTOGRAPHY: PRODRIVE
UK-based motor sport engineering company Prodrive has announced that its all-new P25 will make its global debut at the Goodwood Festival of Speed on June 23, 2022. 
Inspired by the legendary Subaru Impreza 22B, the P25 marks 25 years since Prodrive unleashed the two-door Impreza Group A machine that campaigned in the World Rally Championship.
Just 424 examples of the 22B were produced in 1998, and the model has since become revered as the most desirable machine to bear the Impreza nameplate.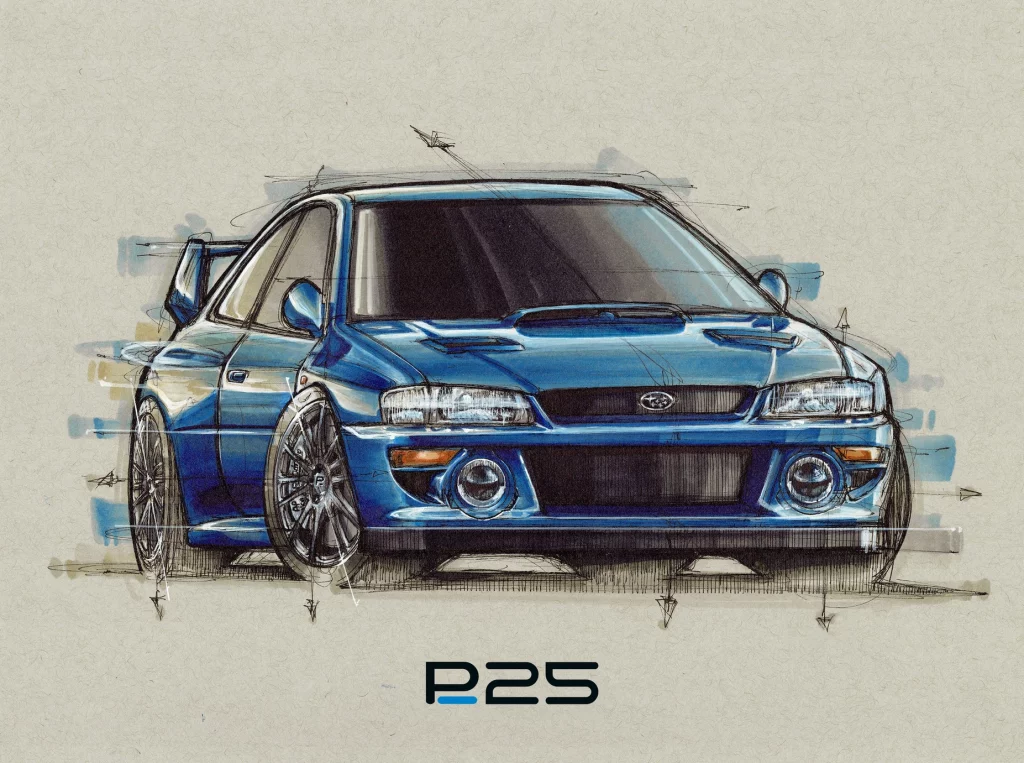 Happily, well heeled admirers of the 22B now have the opportunity to purchase a modern reinterpretation of the iconic model. Built upon the platform of an original two-door Impreza, the P25 has been designed and constructed using cutting-edge technology and materials, meaning it's lighter, more dynamic and more powerful than the original. 
Put into numbers, the P25's lightweight construction equates to a kerbweight of just 1200kg – 45kg less than the 22B. The P25's body is paired with Prodrive's latest 2.5-litre boxer engine, which sends 400bhp and 443lb ft of torque through a six-speed sequential transmission. Team this with WRC-derived launch control and anti-lag, and the P25 is capable of 0-62mph in a mere 3.5 seconds. 
Its lightness comes from the fact that the boot, bonnet, roof, sills, door mirrors, front and rear quarters, rear wing and bumpers are all manufactured from carbonfibre. Further kilograms are shed with the fitment of optional race seats, carbonfibre door cards and a lightweight lithium-ion battery.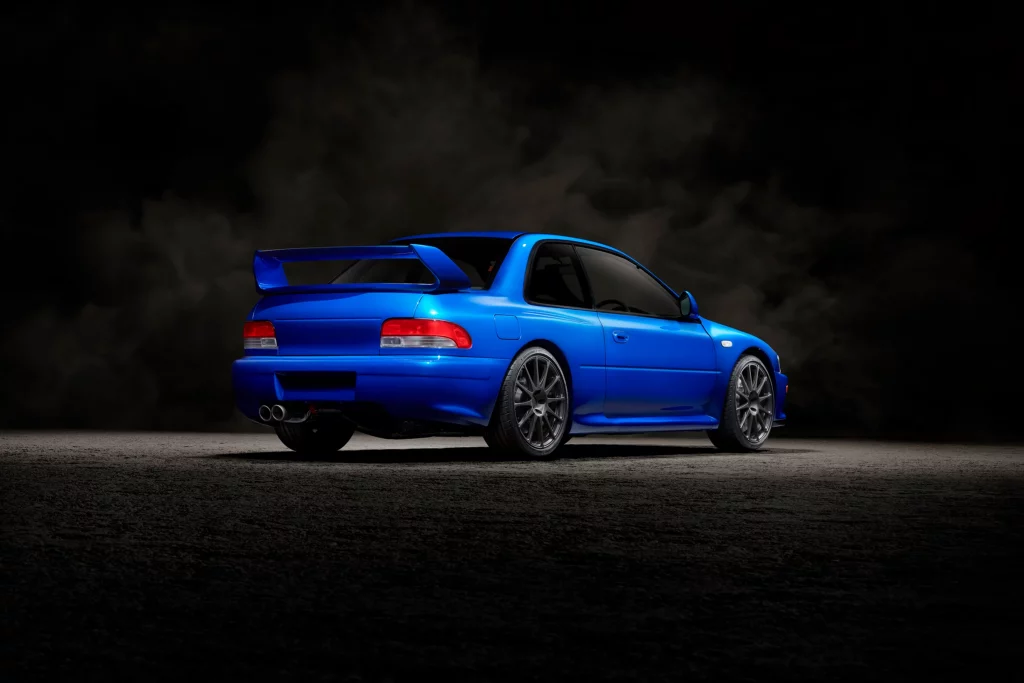 The P25's dramatic 124bhp increase over the 22B is testament to 25 years of engineering progress. Prodrive has achieved the 400bhp figure by increasing the displacement from 2.2 to 2.5 litres, as well as re-engineering the powerplant's internals with a range of bespoke components. 
These include new cylinder liners, pistons and conrods, and a valve train equipped with variable cam timing. The uprated internals are complemented by a Garrett motor sport turbo, high-performance intercooler and airbox, and an Akrapovic titanium and stainless-steel exhaust system. 
The car's transmission is a dramatic departure from the 22B's original five-speed manual. Usually the preserve of competition cars, the P25's six-ratio sequential 'box features helical-cut gears and can shift ratios in just 80 milliseconds via a paddle mounted on the steering column.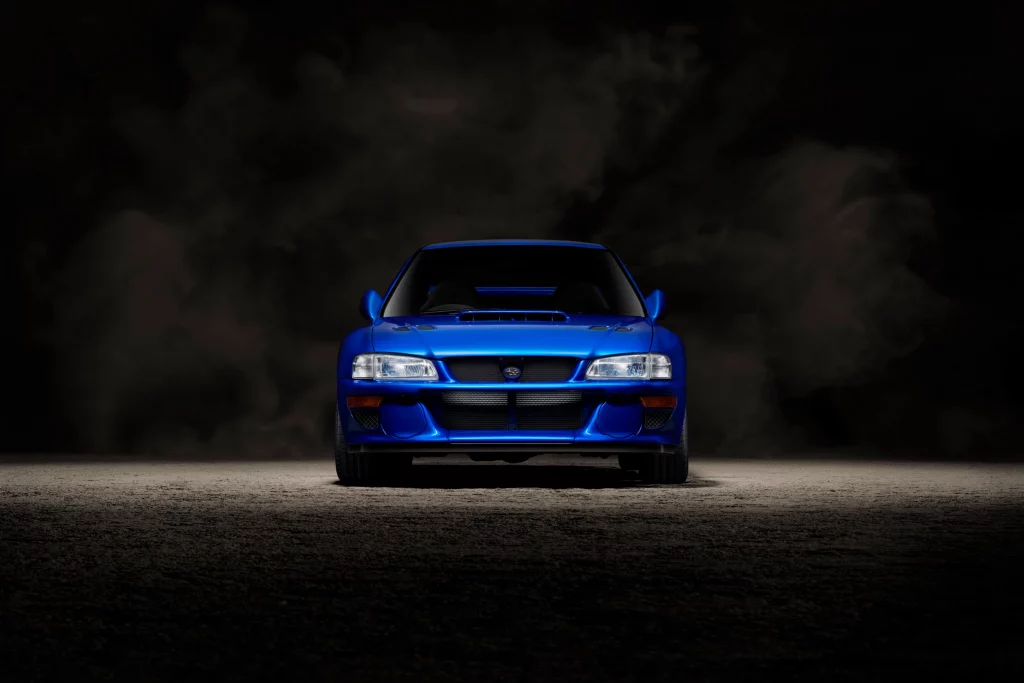 Power is sent through the transmission to all four wheels via an adjustable active centre differential and limited slip-differentials front and rear. The 22B's McPherson-strut suspension architecture has been retained at all four corners, albeit with machined aluminium uprights. The uprights can be tuned in combination with the car's fully adjustable Bilstein dampers and anti-roll bars so that the perfect set-up can be found no matter what surface the P25 is running on. 
Naturally, Prodrive has also turned its attention to the brakes, which are provided by AP Racing. Large 380mm vented discs and powerful six-piston calipers are found up front, complemented by a four-piston caliper, 350mm set-up at the rear. The brakes are shrouded by Prodrive 8.5 x 19 rims sheathed in Bridgestone Potenza 235/35/19 rubber.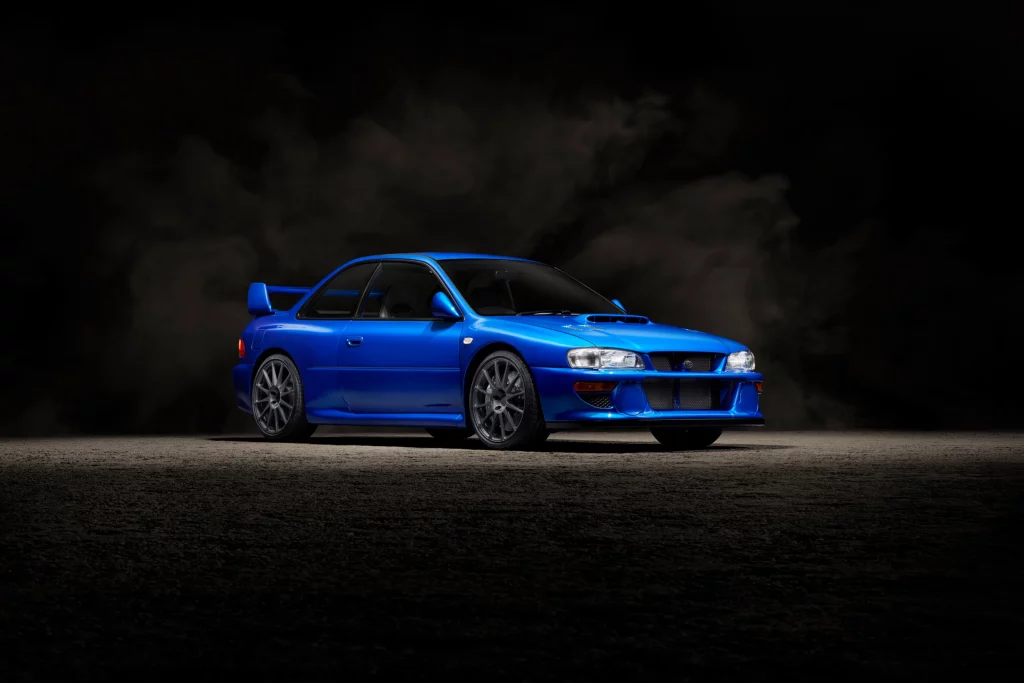 Those partial to nostalgia will be relieved that Prodrive has aimed to recreate an authentic 1990s Impreza interior for the P25, while updating the fit, finish and feature list for the 21st century. It has achieved this with a combination of leather, Alcantara and carbonfibre trim, while also including an electric parking brake in addition to the WRC-style fly-off hydraulic handbrake. 
As with many modern cars, P25 drivers are able to select from various throttle-response and engine-performance maps, while the dashboard is fitted with a full-width, high-definition, multi-page display with data logging. Driver-focused buyers can elect to have the rear seats removed for further weight savings, and a partial safety cage can also be installed. 
Prodrive chairman David Richards said: "The iconic blue Subarus bring back memories of an extraordinary era of the WRC, and it was the Impreza 22B that brought this rally-car performance to the road. By reimagining this car using the latest technologies and materials, the Prodrive P25 pays homage to its roots, and there will be little else to match its performance on the open road."
Just 25 examples of the P25 will be produced at Prodrive's UK headquarters in Banbury, and the first examples are expected to be delivered later this year.
The P25 is priced at £460,000 plus VAT. For more information, click here.