WORDS: ELLIOTT HUGHES | PHOTOS: PEBBLE BEACH CONCOURS D'ELEGANCE
A one-of-a-kind Duesenberg emerged as the Best of Show winner at this year's Pebble Beach Concours d'Elegance amidst a star-studded 220-car roster of rivals from 19 countries and 33 US states.
The car, a 1932 Duesenberg J Figoni Sports Torpedo, is the first American car to win Best of Show at Pebble Beach since 2013 and claimed the marque's seventh overall victory at the prestigious event.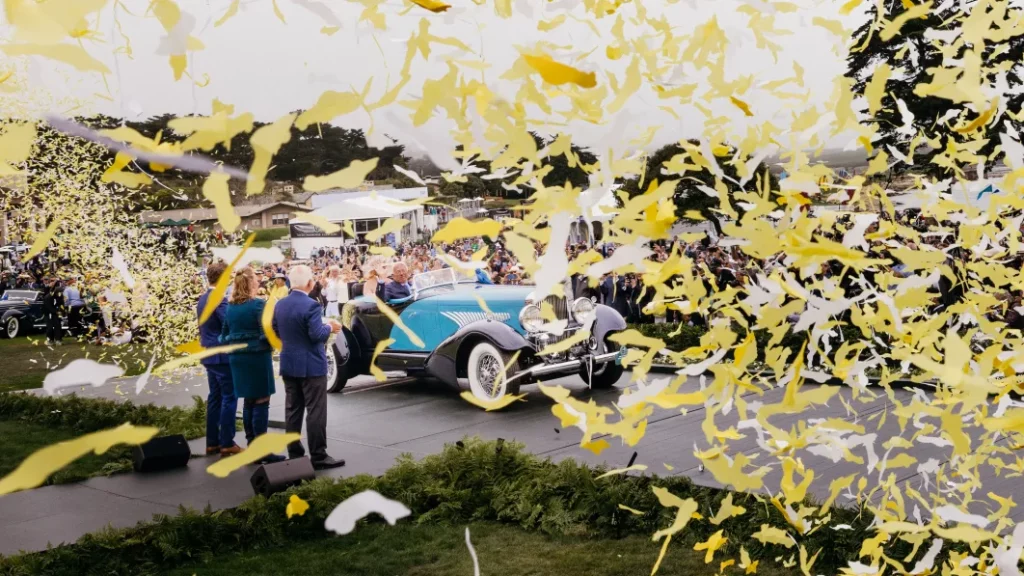 Belonging to Lee R Anderson Sr, the car's victory is made even sweeter by its fascinating backstory. Assigned chassis number 2509, the Duesenberg was shipped new without a body to Motors Deluxe in Paris – a common occurrence at the time.
Once in Paris the car was fitted with a one-off Sports Torpedo body by legendary coachbuilder Joseph Figoni and subsequently driven by Motors Deluxe owner E.Z Sadovich in the 1932 Paris-Nice rally. It was then delivered to its original owner, Antonio Chopitea, who was the heir to a Peruvian sugar enterprise.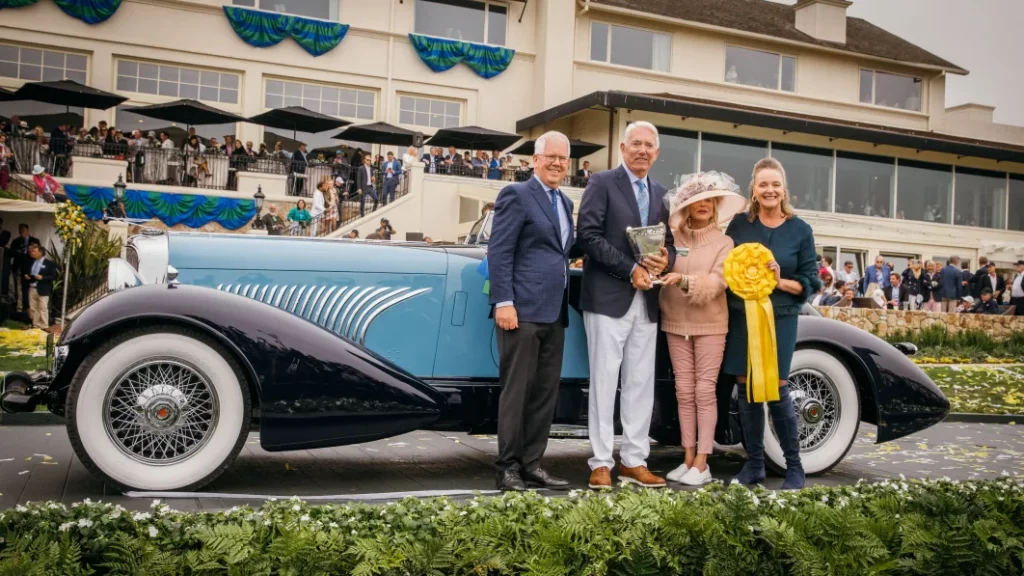 Chopitea's stewardship of the car saw it claim its first concours victory at Cannes later in 1932. A year later it was shipped to the United States in 1933; much later on, in the 1960s, it was separated from its unique coachbuilt body. 
The chassis was paired to a different body for decades while the original Figoni coachwork was mated to another Model J. Both cars were owned by well-known US-based collectors, with the histories publicly documented and understood. It was only when both cars were bought by Lee R Anderson Sr that the original chassis and bodywork could finally be reunited.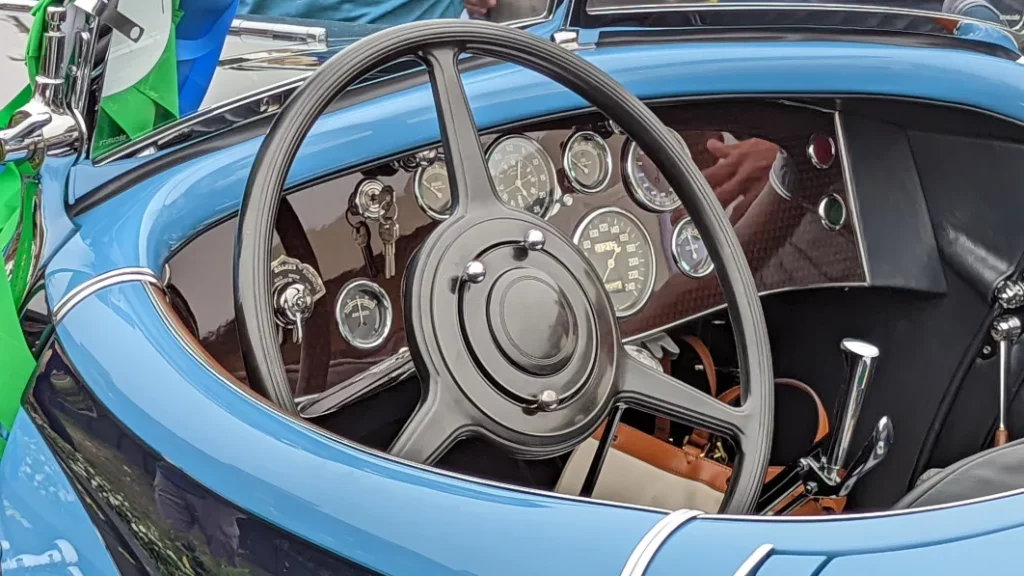 With both cars safely in his collection, Anderson commissioned RM Restorations to begin the long, painstaking project of rebuilding chassis 2509, ensuring no stone was left unturned in restoring the car to its factory specification. This included diligently tracking down the original crankshaft that had been installed on a car in Vancouver and refitting it to 2509's straight-eight engine. 
Thankfully, Anderson's work paid off as his car pipped its rivals to the Best of Show award. "We've been doing this for years, and we've come close in the past," said Anderson, "but we've never won… it's overwhelming. All the preparation – the story behind this car is just amazing. There's only one Figoni Duesenberg, and it's this one right here."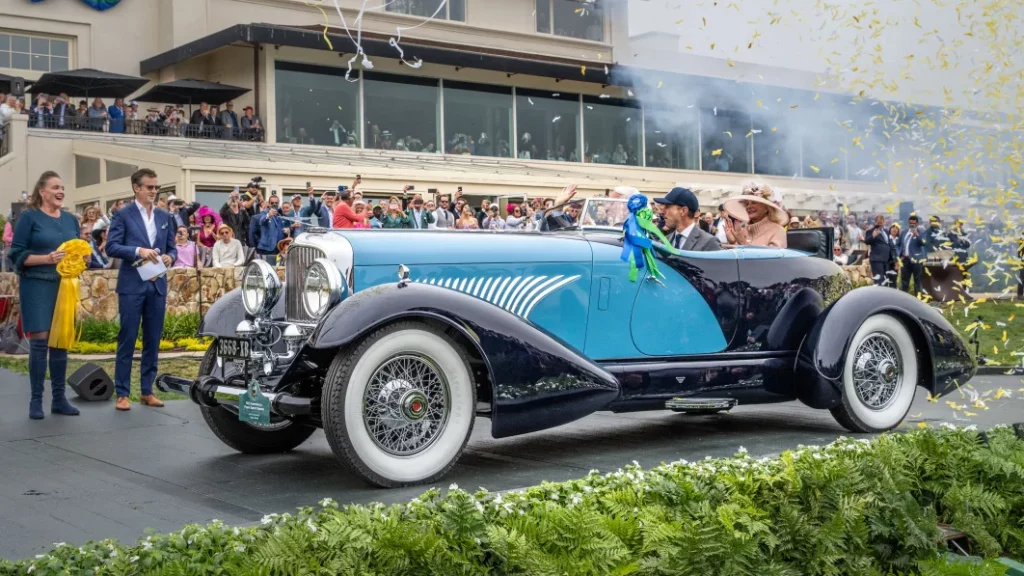 Other contenders for Best of Show included another Figoni-bodied car, a 1937 Talbot-Lago T150C-SS Figoni & Falaschi Teardrop Coupé, as well as a 1930 Duesenberg J Graber Cabriolet and a 1951 Talbot-Lago T26 Grand Sport Stabilimenti Farina Cabriolet. 
The 72nd Pebble Beach Concours d'Elegance, scheduled to take place on August 23, 2023, will honour Joseph Figoni as well as Spanish marque Pegaso. 
Full Concours results:
BEST OF SHOW
1932 Duesenberg J Figoni Sports Torpedo
Lee R. Anderson Sr., Naples, Florida
BEST OF SHOW NOMINEES
1937 Talbot-Lago T150C-SS Figoni & Falaschi Teardrop Coupé
The Pearl Collection/Fritz Burkard, Switzerland
1930 Duesenberg J Graber Cabriolet
Sam & Emily Mann, Englewood, New Jersey
1951 Talbot-Lago T26 Grand Sport Stabilimenti Farina Cabriolet
Merle & Peter Mullin, Los Angeles, California
ELEGANCE AWARDS
Gwenn Graham Most Elegant Convertible
1932 Lincoln KB Murphy Roadster
John & Heather Mozart, Palo Alto, California
J. B. & Dorothy Nethercutt Most Elegant Closed Car
1937 Talbot-Lago T150C-SS Figoni & Falaschi Teardrop Coupé
The Pearl Collection/Fritz Burkard, Switzerland
Jules Heumann Most Elegant Open Car
1932 Duesenberg J Figoni Sports Torpedo
Lee R. Anderson Sr., Naples, Florida
Strother MacMinn Most Elegant Sports Car
1957 Ferrari 250 GT LWB Zagato Berlinetta
Lee & Joan Herrington/The Herrington Collection, Bow, New Hampshire
SPECIAL AWARDS
Alec Ulmann Trophy
1921 Hispano-Suiza H6B Chavet Phaeton
Chuck Reimel, Villanova, Pennsylvania
Ansel Adams Award
1911 Rambler Model 65 Seven Passenger Touring
Joe & Janice Conzonire, San Marino, California
ArtCenter College of Design Award
1952 Siata 208CS Stabilimenti Farina Berlinetta
John & Sonia Breslow, Scottsdale, Arizona
Briggs Cunningham Trophy
1930 Packard 734 Speedster Eight Heaton Custom Runabout
Ted Davis, Oklahoma City, Oklahoma
Chairman's Trophy
1904 Fiat 75 HP Alessio Touring
George F. Wingard, Eugene, Oregon
Charles A. Chayne Trophy
1916 Owen Magnetic Model O-36 Rauch & Lang Touring
Western Reserve Historical Society, Cleveland, Ohio
Classic Car Club of America Trophy
1931 Duesenberg J Derham Convertible Sedan
The Du Coing Family, Newport Beach, California
Dean Batchelor Trophy
1932 Ford Lee Titus Roadster
Ross & Beth Myers, Boyertown, Pennsylvania
Elegance in Motion Trophy
1938 Packard 1601 Eight Graber Cabriolet
Anne Brockinton Lee/The Robert M. Lee Automobile Collection, Sparks, Nevada
Enzo Ferrari Trophy
1959 Ferrari 250 GT LWB Scaglietti Berlinetta
William H. & Cheryl K. Swanson, Pebble Beach, California
FIVA Postwar Trophy
1953 Fiat 8V Ghia Supersonic
Paul Gould, Pawling, New York
FIVA Prewar Trophy
1900 De Dion Bouton Tricycle
Rob Kauffman/RK Motors, Charlotte, North Carolina
The French Cup
1948 Talbot-Lago T26 Grand Sport Figoni Fastback Coupé
Robert Kudela, Chropyne, Czech Republic
Gran Turismo Trophy
1969 Autobianchi 112 Bertone Concept Car
ASI Automotoclub Storico Italiano, Turin, Italy
Lincoln Trophy
1938 Lincoln K LeBaron Coupe
Wayne Carini, Portland, Connecticut
Lorin Tryon Trophy
Fred Simeone
Lucius Beebe Trophy
1910 Rolls-Royce Silver Ghost Fuller Double Pullman Limousine
John Bentley, Harrogate, England
Mercedes-Benz Star of Excellence Award
1952 Mercedes-Benz W194 Coupe
Fastwelve, Bellevue, Washington
Montagu of Beaulieu Trophy
1952 Jaguar XK120 Ghia Supersonic Coupe
Bill Heinecke, Bangkok, Thailand
The Phil Hill Cup
1955 Jaguar XKD Le Mans Race Car
The JSL Motorsports Collection, Redwood City, California
Tony Hulman Trophy
1933 Alfa Romeo 8C 2300 Monza
Auriga Collection, Germany
The Vitesse ~ Elegance Trophy
1935 Voisin C 25 Aerodyne
Craig McCaw, Santa Barbara, California
CLASS AWARDS
Class A: Antique
1st: 1911 Lozier Type 51 Lakewood Touring, Charles Nearburg, Dallas, Texas
2nd: 1910 Rolls-Royce Silver Ghost Fuller Double Pullman Limousine, John Bentley, Harrogate, England
3rd: 1911 Rambler Model 65 Seven Passenger Touring, Joe & Janice Conzonire, San Marino, California
Class B: McFarlan
1st: 1923 McFarlan 154 Twin Valve Six Knickerbocker Cabriolet, The Nethercutt Collection/Helen & Jack Nethercutt, Sylmar, California
2nd: 1926 McFarlan Twin Valve Six Phaeton, Johnny & Christine Crowell, San Ramon, California
3rd: 1924 McFarlan 142 Twin Valve Six Roadster, Chris MacAllister, Indianapolis, Indiana
Class C: American Classic
1st: 1933 Chrysler CL Imperial Custom De Villars Cabriolet, Mary & Ted Stahl and Mark Hyman, Chesterfield, Michigan
2nd: 1933 Chrysler CL Imperial Custom LeBaron Dual Cowl Phaeton, Laura & Jack Boyd Smith Jr., Elkhart, Indiana
3rd: 1930 Stutz M LeBaron Torpedo Speedster, Larry Carter, Los Gatos, California
Class D: Packard
1st: 1938 Packard 1608 Twelve Rollston Town Car, Bob Tiffin, Red Bay, Alabama
2nd: 1930 Packard 745 Deluxe Eight Roadster, Joseph & Margie Cassini III, West Orange, New Jersey
3rd: 1930 Packard 734 Speedster Eight Roadster, Rob & Jeannie Hilarides, Visalia, California
Class E-1: Lincoln V-8
1st: 1928 Lincoln L Holbrook Fully Collapsible Cabriolet, Bill & Dee Kuettel, Capitola, California
2nd: 1930 Lincoln L-176A Sport Phaeton, Tom & JoAnn Martindale, Santa Cruz, California
3rd: 1926 Lincoln L Willoughby Berline Landaulet, Max Neary, Sherman Oaks, California
Class E-2: Lincoln V-12
1st: 1932 Lincoln KB Murphy Dual Cowl Phaeton, Beth & Ross Myers, Boyertown, Pennsylvania
2nd: 1932 Lincoln KB Murphy Roadster, John & Heather Mozart, Palo Alto, California
3rd: 1936 Lincoln K-330 LeBaron Convertible Roadster, Harry & Heather Clark and Hilary Barr, Paradise Valley, Arizona
Class E-3: Lincoln Zephyr and Continental through 1962
1st: 1956 Continental Mark II Hardtop Coupe, Leon Flagg & Curtis Lamon, Mequon, Wisconsin
2nd: 1962 Lincoln Continental Convertible, Academy of Art University, San Francisco, California
3rd: 1956 Lincoln Premiere Convertible, Ray Kinney & Jeff Wildin, Dallas, Texas
Class F: Unorthodox Propulsion
1st: 1907 Columbia Mark XIX Surrey, Mark Hyman, Saint Louis, Missouri
2nd: 1963 Chrysler Turbine Ghia Coupe, Mary & Ted Stahl, Chesterfield, Michigan
3rd: 1912 Rauch & Lang Electric Roadster, Audrain Collections, Newport, Rhode Island
Class G: Duesenberg
1st: 1932 Duesenberg J Figoni Sports Torpedo, Lee R. Anderson Sr., Naples, Florida
2nd: 1929 Duesenberg J Murphy Dual Cowl Phaeton, Valerie & Aaron Weiss, San Marino, California
3rd: 1929 Duesenberg J LeBaron Dual Cowl Phaeton, John D. Groendyke, Enid, Oklahoma
Class H: Rolls-Royce Prewar
1st: 1934 Rolls-Royce Phantom II Continental Kellner Drophead Sedanca Coupé, Off Brothers Collection/William Johnston, Richland, Michigan
2nd: 1925 Rolls-Royce Silver Ghost Willoughby Salamanca Town Car, Sandra Hansen/Hansen Collection, Valencia, California
3rd: 1933 Rolls-Royce Phantom II Continental Gurney Nutting Sports Saloon, Carl Soderstrom, Morton, Illinois
Class J-1: European Classic Early Open
1st: 1931 Bentley 4 1/2 Litre Vanden Plas Tourer, Joanie & Scott Kriens, Saratoga, California
2nd: 1927 Bugatti Type 38A Figoni Tourer, Gerald & Theresa Alexander, Irvine, California
3rd: 1930 Lancia Di Lambda Carlton Carriage Co. Drophead Coupé, Filippo Sole, Milan, Italy
Class J-2: European Classic Late Open
1st: 1933 Horch 780 Sport Cabriolet, Hugo Modderman, Monte Carlo, Monaco
2nd: 1933 Hispano-Suiza J12 Binder Phaeton, Stephen Brauer, St. Louis, Missouri
3rd: 1936 Bugatti Type 57 Gangloff Stelvio, Olav Glasius, Bennebroek, The Netherlands
Class J-3: European Classic Closed
1st: 1937 Talbot-Lago T150C-SS Figoni & Falaschi Teardrop Coupé, The Pearl Collection/Fritz Burkard, Switzerland
2nd: 1930 Bentley Speed Six Martin Walter Sports Saloon, William Medcalf, Hill Brow, England
3rd: 1937 Railton Hudson Deluxe 8 Rippon Brothers Estate Limousine, Chris & Laura Maloney
Class K: Talbot-Lago Grand Sport
1st: 1951 Talbot-Lago T26 Grand Sport Stabilimenti Farina Cabriolet, Merle & Peter Mullin, Los Angeles, California
2nd: 1948 Talbot-Lago T26 Grand Sport Saoutchik Fastback Coupé, The Cussler Family, Arvada, Colorado
3rd: 1948 Talbot-Lago T26 Grand Sport Franay Coupé, Munday Auto Collection, Austin, Texas
Class L-1: Prewar Preservation
1st: 1921 Hispano-Suiza H6B Chavet Phaeton, Chuck Reimel, Villanova, Pennsylvania
2nd: 1932 Alfa Romeo 6C 1750 GTC Stabilimenti Farina Cabriolet, The Keller Collection at the Pyramids, Petaluma, California
3rd: 1931 Cadillac 452 Fleetwood Imperial Limousine, Jim Callahan, Oakland, California
Class L-2: Postwar Preservation
1st: 1964 Porsche 904 Carrera GTS Coupe, Audrain Collections, Newport, Rhode Island
2nd: 1948 Lincoln Continental Cabriolet, Kirk Wentland & Lawrence Camuso, San Jose, California
3rd: 1957 Ghia Chrysler 400 Superdart, John H. White, Lincoln, California
Class M-1: Ferrari Grand Touring
1st: 1967 Ferrari 330 GTC Pininfarina Speciale, Peter Kalikow, New York, New York
2nd: 1948 Ferrari 166 MM Touring Barchetta, Anne Brockinton Lee/The Robert M. Lee Automobile Collection, Sparks, Nevada
3rd: 1951 Ferrari 340 America Ghia Coupe, Jack & Debbie Thomas, St. Louis, Missouri
Class M-2: Ferrari Competition
1st: 1955 Ferrari 410 S LWB Scaglietti Spyder, Brian Ross, Cortland, Ohio
2nd: 1951 Ferrari 340 America Vignale Berlinetta, Jack & Kingsley Croul, Corona del Mar, California
3rd: 1962 Ferrari 250 GTO Scaglietti Berlinetta Series II, Harry Yeaggy, Cincinnati, Ohio
Class N: Alfa Romeo 8C 2300
1st: 1933 Alfa Romeo 8C 2300 Monza, Auriga Collection, , Germany
2nd: 1933 Alfa Romeo 8C 2300 Brianza Monza, The Pearl Collection/Fritz Burkard, Switzerland
3rd: 1934 Alfa Romeo 8C 2300 Figoni Cabriolet Décapotable, Robert Bishop, Palm Beach, Florida
Class O-1: Postwar Racing
1st: 1953 Aston Martin DB3S Race Car, Wayne & Ruth Gray, Fife, Scotland
2nd: 1963 Shelby Cobra Team Race Car, Peter Klutt Legendary Motorcar Company Ltd., Halton Hills, Canada
3rd: 1955 Porsche 550 1500 RS Wendler Spyder, Robert Ingram/The Ingram Collection, Durham, North Carolina
Class O-2: Postwar Touring Open
1st: 1963 Apollo 3500GT Intermeccanica Spyder, Dennis & Susan Garrity, Green Bay, Wisconsin
2nd: 1955 Maserati A6GCS Frua Spyder, Jonathan & Wendy Segal, San Diego, California
3rd: 1956 Maserati A6G/54 Frua Prototype Spyder, Brendan Gallaher, Wilson, Wyoming
Class O-3: Postwar Touring Closed
1st: 1949 Lancia Aprilia Ghia Supergioiello Coupé, Nigel Churcher, Toronto, Canada
2nd: 1959 OSCA 1600 Michelotti Berlinetta, Peter T. Boyle, Oil City, Pennsylvania
3rd: 1952 Jaguar XK120 Ghia Supersonic Coupe, Bill Heinecke, Bangkok, Thailand
Class P-1: Graber Coachwork Early
1st: 1930 Duesenberg J Graber Cabriolet, Sam & Emily Mann, Englewood, New Jersey
2nd: 1938 Packard 1601 Eight Graber Cabriolet, Anne Brockinton Lee/The Robert M. Lee Automobile Collection, Sparks, Nevada
3rd: 1939 Delahaye 135 MS Graber Cabriolet, Peter Kappeler, Walchwil, Switzerland
Class P-2: Graber Coachwork Late
1st: 1953 Bentley Mark VI Graber Drophead Coupé, John Miller/John R Miller Enterprises, Salt Lake City, Utah
2nd: 1961 Alvis TD21 Graber Special Coupé, Ken Swanstrom, Doylestown, Pennsylvania
3rd: 1954 Aston Martin DB2/4 Graber Drophead Coupé, Gene Ponder, Marshall, Texas
Class R-1: 24 Hours of Le Mans Centennial Early
1st: 1962 Ferrari 250 GTO Scaglietti Berlinetta, David MacNeil, Fort Lauderdale, Florida
2nd: 1953 Jaguar Lightweight C-type Race Car, Time to Drive Collection, Charlottesville, Virginia
3rd: 1937 BMW 328 NSKK Race Car, Stephen Bruno, Boca Raton, Florida
Class R-2: 24 Hours of Le Mans Centennial Late
1st: 1979 Porsche 935 K3 Coupe, Bruce Meyer, Beverly Hills, California
2nd: 1965 Alfa Romeo TZ2 Zagato Competition Berlinetta, The William Lyon Family, Newport Beach, California
3rd: 1964 Alpine M64 Coupé, Mitch McCullough, Pompton Plains, New Jersey
Class S: Otto Vu
1st: 1953 Siata 208CS Balbo Coupe, Larry & Jane Solomon, Palo Alto, California
2nd: 1954 Fiat 8V Zagato Coupe, The Cultivated Collector, New Canaan, Connecticut
3rd: 1953 Siata 208S Motto Spider, Scott & Jamie Cielewich, Winter Park, Florida
Class V: 1932 Ford Historic Hot Rods
1st: 1932 Ford Bob McGee Roadster, Bruce Meyer, Beverly Hills, California
2nd: 1932 Ford Pacific Gunsight Special Roadster, Kim McCullough, Pompton Plains, New Jersey
3rd: 1932 Ford Ian Cusey Roadster, Robert Owens, Wellington, Texas