Words: Paul Chudecki | Photography: Paul Chudecki and BRDC
Renowned touring car ace, multiple Le Mans class winner and World Endurance Championship C2 victor, and successful sports-prototype manufacturer and businessman, Gordon Spice has died aged 81 after losing a battle with cancer.
Born in Enfield, Middlesex on April 18, 1940, his first successes came in 1963 with a Morgan Plus 4. However, it was in the mid-1960s driving a Downton-tuned Mini Cooper S in the British Saloon Car Championship that he began to really make his mark, taking his first BSCC class title in 1968 with an Equipe Arden 999cc S, which led to a works seat in a Britax-Cooper-Downton Cooper S the following year.
Several outings in a Ford GT40 also came in 1969, the highlight third place in Jarama's Six Hours. Eyeing F1, another direction change saw 'Gordy', as he became universally known, campaign a Kitchiner K3A-Chevrolet in the 1970 European F5000 Championship. Despite good results, including fourth at Monza, lack of cash curtailed his season, although two more ensued, in a McLaren M10B-Chevrolet and the Kitchmac-Chevrolet.
Disillusioned by poor results, Gordon briefly toyed with retirement to focus on his thriving eponymous motor-accessory business, but only until offered a Capri 3000GXL for 1973 production races by Wisharts Garage; top results included runner-up to James Hunt's Chevrolet Camaro Z28 in the inaugural Tour of Britain.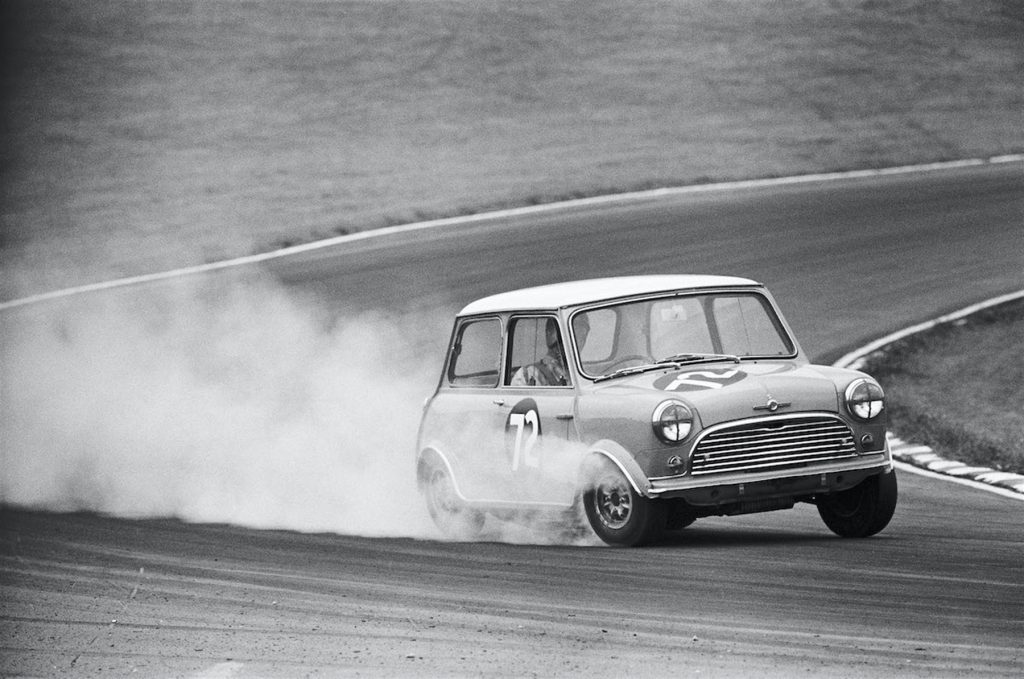 A hugely successful association with Capris thus began – bar 1975 with a F5000 return in a Lola T332-Chevrolet, Gordy taking his first major international victory at Oulton Park, before test crash injuries necessitated a long convalescence. The team switched to the BSCC in 1976 with a Capri II 3.0S and winning the class title (plus fifth/first in class in the Spa-Francorchamps 24 Hours), marked Gordon's first of five consecutive class victories, four in Gordon Spice Racing-prepared Capris, and all topped by winning outright 1978's Spa-Francorchamps 24 Hours.
A Le Mans 24 Hours return also came in 1978 (both 1964 Deep Sanderson and 1970 Ferrari 512S entries retired) with a Porsche 911 Carrera RSR, yielding 14th/second in class, followed by third overall in both 1980 and 1981 with works Rondeau M379B-Ford and M379C-Ford (first/second in GTP).
It was Ford cancelling a deal to run its C100 in 1983's WEC, and racing a Tiga GC83-Chevrolet that year, which led to the Tiga GC84-Ford for 1984, and the creation, with Ray Bellm, of Spice Engineering; the Spice-Tiga GC85-Ford ensued, the duo's wins, including Le Mans, netting the WEC C2 Teams and Drivers titles. The latter was repeated in 1986 with the first all-inhouse Spice, the SE86C-Ford, a year that saw the marque also enjoy IMSA success. With the SE87C-Ford, alongside Fermin Velez, Gordon again took the Drivers' C2 crown in 1987 and Spice the Teams', and at Le Mans (with Philippe de Henning) they not only won C2 but took sixth overall, one of Gordon's proudest moments.
With two works Spice SE88C-Fords for 1988, the marque's successes, and customer sales, ramped up, Gordon/Ray and Spice again taking the WEC's Teams and Drivers titles and Le Mans victory. The looming end of C2 after 1989 saw works Spices switch to C1 the same year, with Gordon retiring post-Le Mans to concentrate on his other business. A lack of funds, however, rendered the SE89C and SE90C-Fords uncompetitive, ultimately resulting in the marque's 1990 demise.
A great raconteur who enjoyed life, eschewed the gym and always enjoyed an eve-of-race drink, Gordon Spice, fiercely competitive on track and modest off it, leaves second wife Mandy and son Patrick.
If you liked this, then why not subscribe to Magneto magazine today?