WORDS: PAUL CHUDECKI | PHOTOGRAPHY: PAUL CHUDECKI AND MINI
British rally hero, successful racing driver and tireless motoring ambassador, the legendary and ever-in-demand Paddy Hopkirk has died aged 89.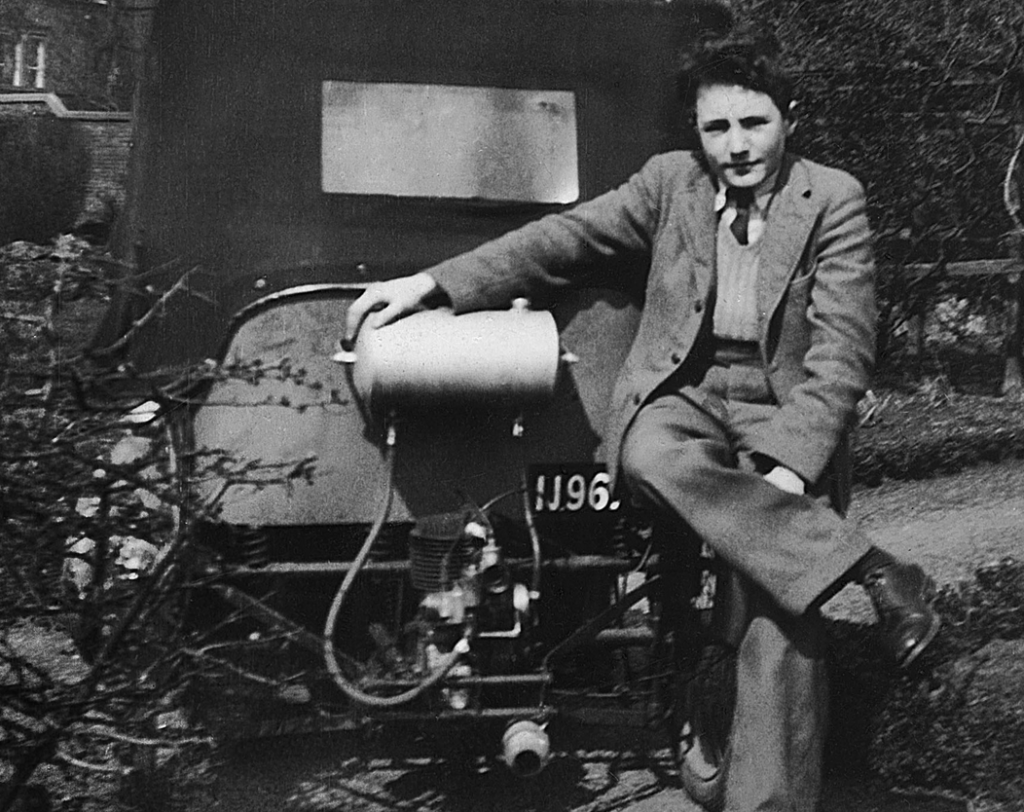 Following his sensational victory in the 1964 Monte Carlo Rally driving a Morris Mini Cooper S, Paddy shot to international stardom overnight, with his win in a diminutive 1071cc Mini against the might of Ford, Mercedes-Benz and Saab, beating a roll call of rallying's finest drivers, broadcast globally. And nowhere was it celebrated more than Britain, the Swinging 1960s embracing Hopkirk and navigator Henry Liddon with open arms, the timing perfectly capturing the cultural mood and firmly placing the Mini Cooper S on the global map. They celebrated with a smuggled tin of finest caviar, swapped by Paddy for nylon stockings at their Soviet Union starting point in Minsk, and which he'd planned to sell to a Monte Carlo chef.
Paddy became a household name overnight, receiving telegrams of congratulation from Prime Minister Sir Alec Douglas and The Beatles; the latter's – reading "It's nice be No.1 isn't it?" – was wired with a photograph signed with the message "You're one of us now Paddy!", after which he would be forever known as 'The Fifth Beatle'. Additionally, the mighty Mini was also hastily flown to London to join Paddy and Henry on stage for Sunday Night at the London Palladium, the hugely popular TV show hosted by Bruce Forsyth; Paddy was also immediately awarded The Freedom of Belfast.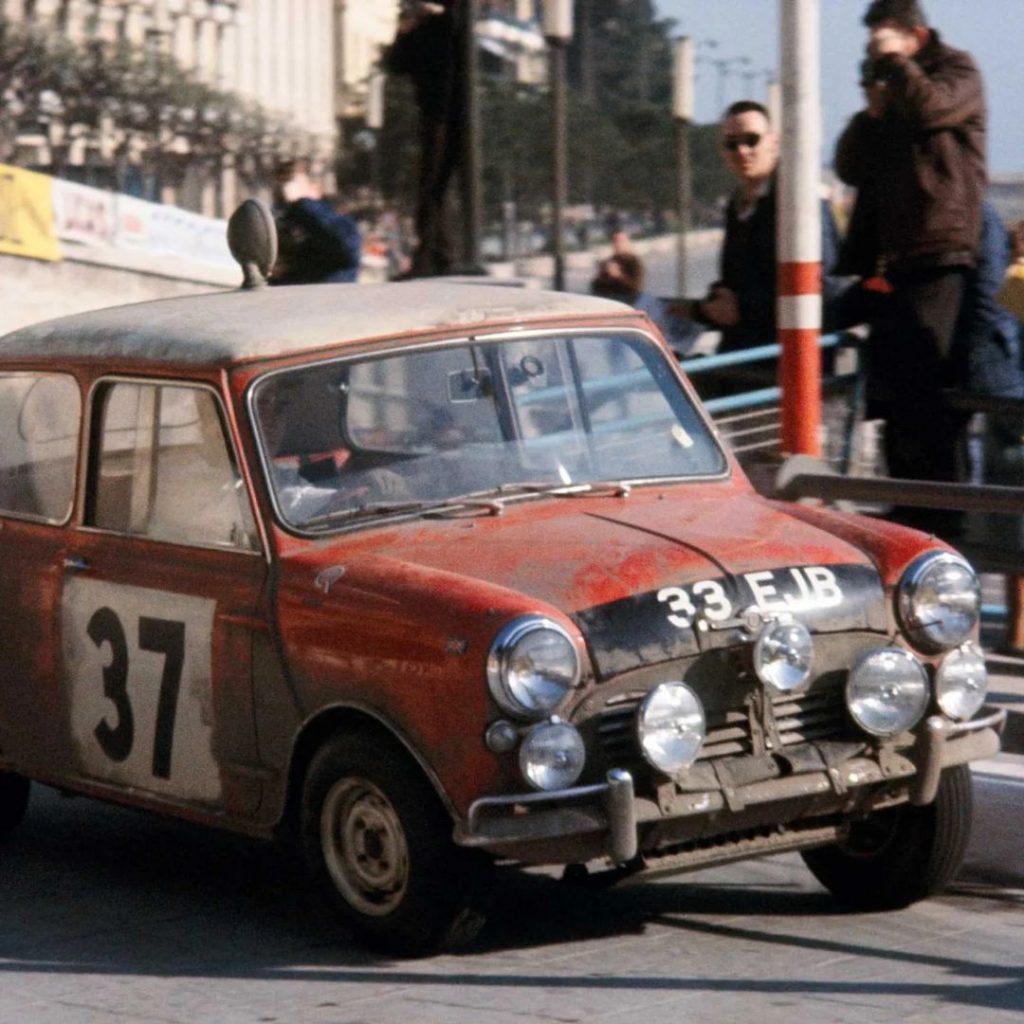 Born on April 14, 1933 in the Northern Ireland capital, Patrick Barron Hopkirk was educated at Clongowes Wood College, County Kildare, before studying engineering at Trinity College, Dublin. His passion for cars, however, was fuelled when aged nine he was bequeathed a Harding invalid tricycle with tiller steering, 250cc JAP engine and rear-only brakes, teaching himself handbrake turns on private roads. The Austin 7 that followed when he was 16 dictated a change of course; entering the Austin in rallies the bug bit, and after starting work as a salesman at Ireland's Volkswagen importer, he honed his skills with Beetles in rallies, hillclimbs and driving tests, dropping out of university in 1952 to devote all to rallying.
 A Triumph TR2 three years later led to greater success, outright wins and the 1955 Hewison Trophy for most successful Irish rally driver. Paddy's prowess led to a works-supported Standard-Triumph drive in 1956's RAC Rally in a Standard Ten. His skills in the initial driving teats on Blackpool seafront saw him lead the rally, but shortly after he retired with a smashed sump. A Works Tulip Rally drive in a Standard Eight ensued, his full potential confirmed by third overall, and in 1958 his maiden Circuit of Ireland victory in a TR3. His time at Standard-Triumph, though, was short lived; Alpine Rally retirement due to engine damage climbing Stelvio Pass with a flat tyre led to dismissal.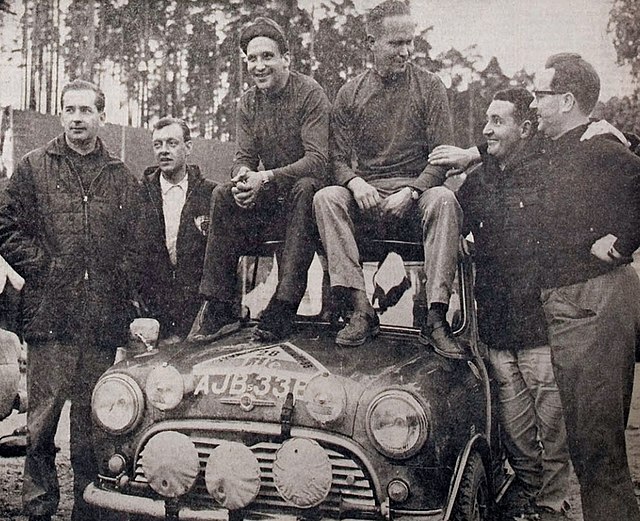 Paddy bounced back with a Works-supported East African Safari Rally drive in a Hillman Husky, retiring in the latter stages. A Sunbeam Rapier followed and 1961 Circuit of Ireland victory and second overall on the 1962 Monte. Later that year Paddy joined British Motor Corporation for his longest Works driver spell, debuting on the Liège-Sofia-Liège Marathon de La Route in an Austin-Healey 3000 but ultimately retiring; he would then finish second overall/first in class on the RAC behind Erik Carlsson's Saab 96; in 1963 his Mini Cooper S was fourth/second.
Although sampling Pat Moss's Big Healey had been the BMC lure, the Mini become Paddy's mainstay, as he preferred its front-wheel-drive, forgiving nature. The year before his famous Monte victory he had finished sixth/second with a Mini Cooper in rallying's jewel in the crown, as well as sixth/second in the British Saloon Car Championship with a Mini Cooper S; he and Liddon also finished third behind Jaguar Mk2 3.8s in the Tour de France's Touring Car Category. In 1964, too, Paddy's and Julien Vernaeve's 970cc Cooper S won its class in the Spa-Francorchamps 24 Hours.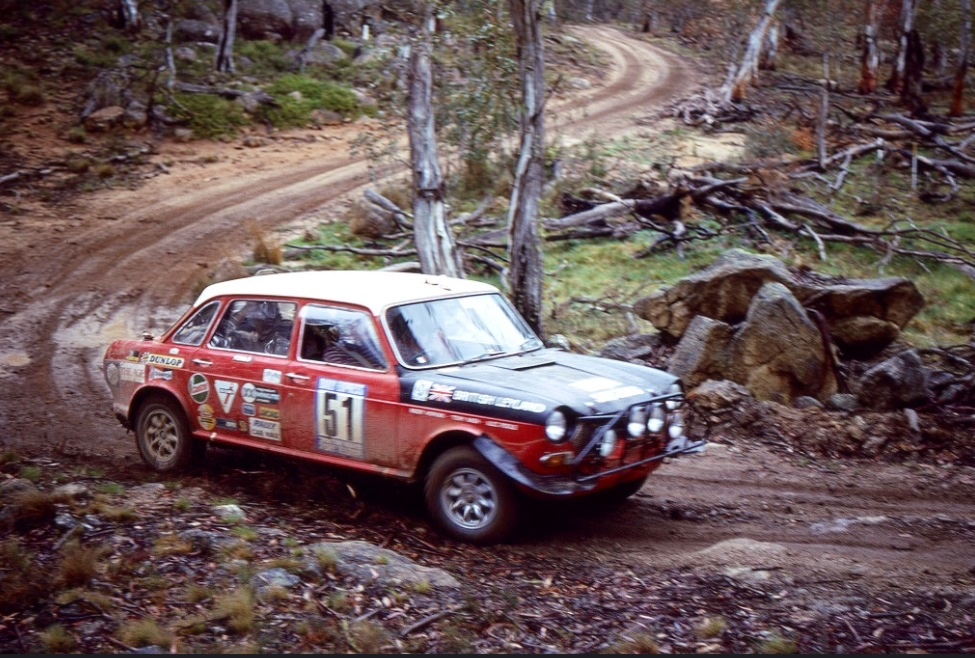 Numerous rally wins and podiums continued, including outright victory in the 1964 and 1966 Austrian Alpines, 1967 Acropolis and Alpine, and 1967 and 1969 Circuit of Ireland Rallies. In 1968 Paddy, with Alec Poole and Tony Nash, finished second overall in an Austin 1800S Mk2 on the London to Sydney Marathon behind the Andrew Cowan/Brian Coyle/Colin Malkin Hillman Hunter; stopping on the last day to haul Lucien Bianchi from his burning Citroën DS21 and diverting to alert police, they sacrificed a likely victory. Subsequently, Paddy, with Tony Nash and Neville Johnston, took fourth in 1970's London-Mexico World Cup Rally in a Triumph 2.5PI Mk 2, followed by third place, with Michael Taylor and Bob Riley, in a surprise comeback on the 1977 London-Sydney Marathon in a Works-supported Citroën CX2400.
At a time when the Monte, RAC, Alpine and Safari, Le Mans, Targa Florio and Sebring, were mainstream news, Paddy's track successes were often overlooked: six Le Mans 24 Hours entries, including 12th overall/first in class with Alan Hutcheson in 1963 and 11th/second in 1965 with Andrew Hedges in MGBs; seven Sebring 12 Hours, including 11th/third in a MGB GT with Andrew Hedges in 1967, the pair taking tenth/third the following year in a MGC GTS; and four Targa Florios, in 1965 with Hedges 11th/second in a MG Midget Jacobs Coupé, and with Timo Mäkinen and Hedges, respectively, ninth/third and 12th/second with a MGB GTS in 1967 and '68. Paddy also took seventh/first in class behind Jaguar MK2s at Silverstone's famous 1960 British Grand Prix-supporting saloon car race, while in 1961, after third places in Elva 200 and Lotus 18 Formula Juniors, he rejected a Works FJ drive with Ken Tyrrell.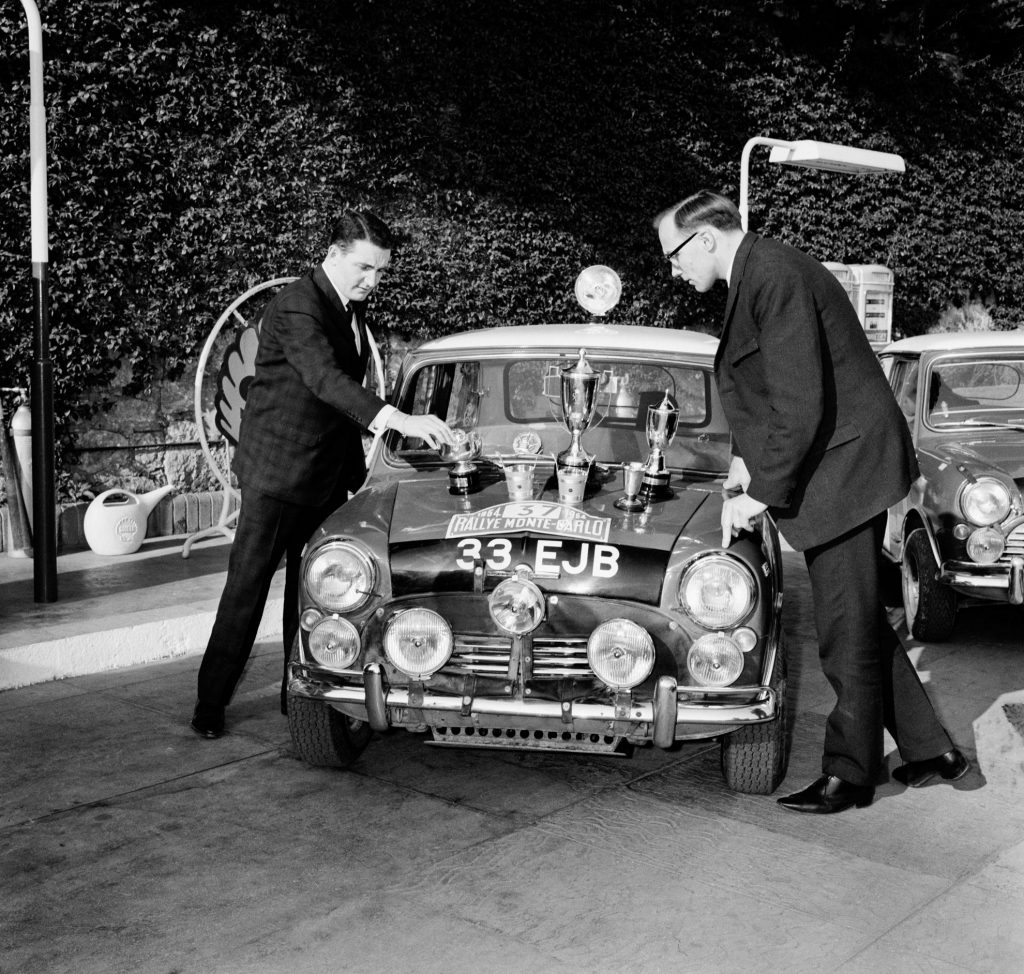 Despite all this, however, racing was not a discipline Paddy enjoyed; "I don't think I was ever aggressive enough," he told the author in 1988. "I find racing a very selfish sport, and at least in rallying you're competing only against yourself." After Lord Stokes closed the now British Leyland Motor Corporation's Competition Department in 1970, Paddy retired from competition, thereafter concentrating on his Toyota import business, his eponymous motoring brand/Mill Accessories Group and his growing family, having married Jennifer Manser in 1967. Two Mini Cooper S comebacks, however, ensued – in 1982, when he and Brian Culcheth won outright the RAC Golden 50 Rally, and in his 1990 Pirelli Classic Marathon victory with lifelong best friend Alec Poole, while he and Ron Crellin competed in the 1994 Monte Carlo Rally with a Works Rover Mini Cooper to celebrate victory 30 years earlier.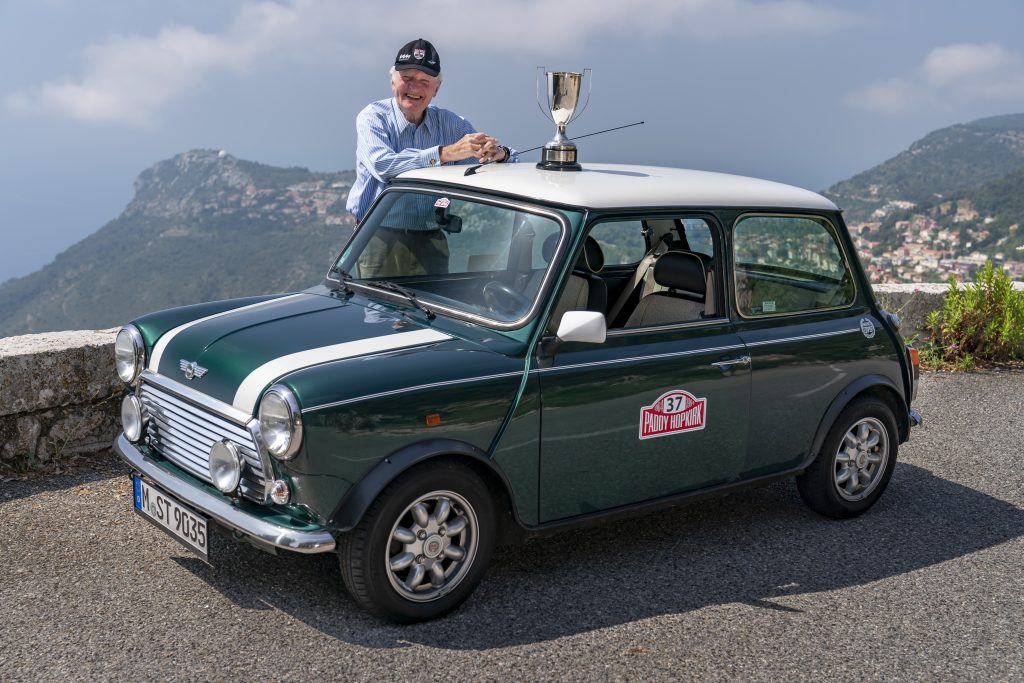 BRDC director and vice president from 1995 to 2002, president from 2017 to 2019 and a life member, Paddy Hopkirk was made an MBE in 2016 for his charity work. In 2011 he also co-founded the exclusive Irish Racing Drivers Club alongside Alec Poole, John Watson and Lord Inchiquin.
Charismatic, always with a ready wit, mischievous sense of humour and amiable nature, a great raconteur and great company, Paddy leaves Jennifer, children Katie, Patrick and William, and six grandchildren.