WORDS: ELLIOTT HUGHES | PHOTOGRAPHY: jaguar land rover
Jaguar Land Rover has unveiled the new fifth-generation L460 Range Rover. The new 2022 model is tasked with continuing the 52-year success story of the Range Rover nameplate, which pioneered today's wildly popular and hotly contested luxury SUV segment.
The launch of a new generation of Range Rover is always a momentous occasion, but the move to electrified powertrains and the planned release of a pure-electric model in 2024 are the headline developments as JLR continues its commitment to reduce its reliance on fossil fuels.
Consequently, a choice of sophisticated Ingenium 3.0-litre turbocharged and electrically supercharged straight-six petrol and diesel engines form the basis of Range Rover's move to electrification. The petrol P440e and P510e are the new plug-in hybrid (PHEV) options, and provide up to 62 miles of pure-electric driving, which Land Rover says is estimated to cover up to 75-percent of owners' journeys.

The D300 and D350 diesels and P400 petrol constitute the three mild-hybrid (MHEV) powertrains, which cannot drive on electric power alone but still use the electric motor to increase efficiency, lower emissions and harvest energy that is usually lost under deceleration.
Purists will rejoice that a full-fat petrol V8 will still be offered in the flagship P530 model. The new twin-turbo 4.4-litre V8 bucks the move to hybridisation adopted by the rest of the model line-up, but boasts a 17 percent improvement in efficiency over the outgoing 5.0-litre supercharged V8, while offering a superior 522bhp and 0-60mph in 4.4 seconds. All powertrains will be mated to a ZF eight-speed automatic with a twin-speed low-range transmission.
"The new Extended-Range plug-in hybrids represent the culmination of all our learning and experience of electrification, while the new twin-turbo V8 provides a traditional take on luxury SUV refinement and performance," says Range Rover product chief Nick Miller.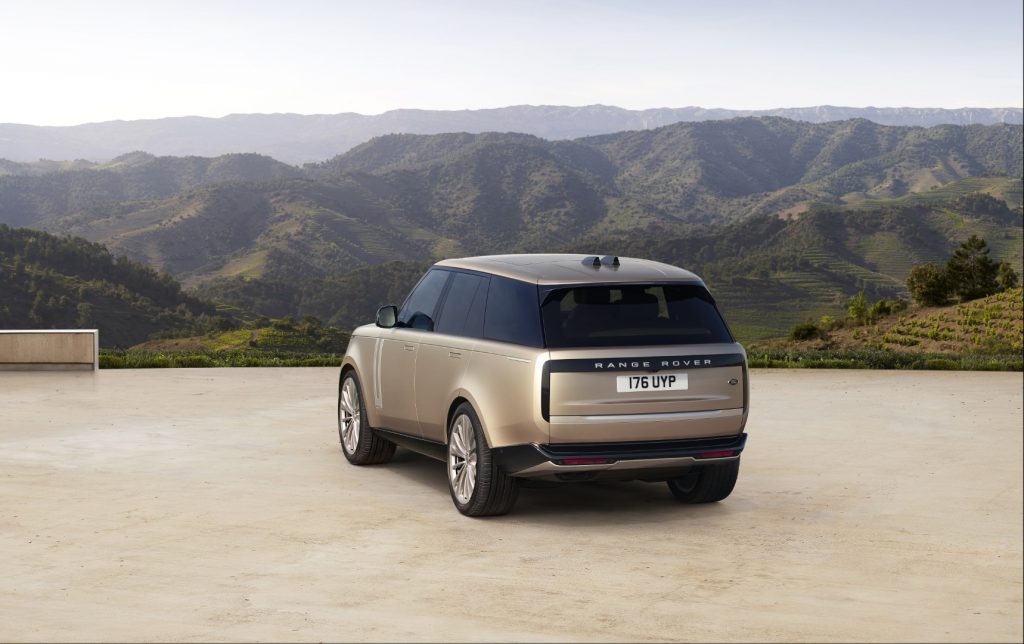 The outgoing Range Rover was the first to feature a predominantly aluminium monocoque chassis construction, and that design philosophy continues with the new car. The all-new MLA-Flex architecture is 50 percent stiffer than the current Range Rover's, and will form the basis of both standard and long-wheelbase bodystyles.
Land Rover claims the new chassis will provide "unmatched capability and agile handling", complemented by the introduction of All-Wheel Steering, torque vectoring and Land Rover's Integrated Chassis Control system, which tailors vehicle dynamics in real time.
JLR vehicle line director Rory O'Murchu describes Integrated Chassis Control as a "prime example of Range Rover's move from a mechanical world to a mechatronic ecosystem", which co-ordinates a "suite of predictive and reactive technologies that make this the most comfortable and agile Range Rover ever produced".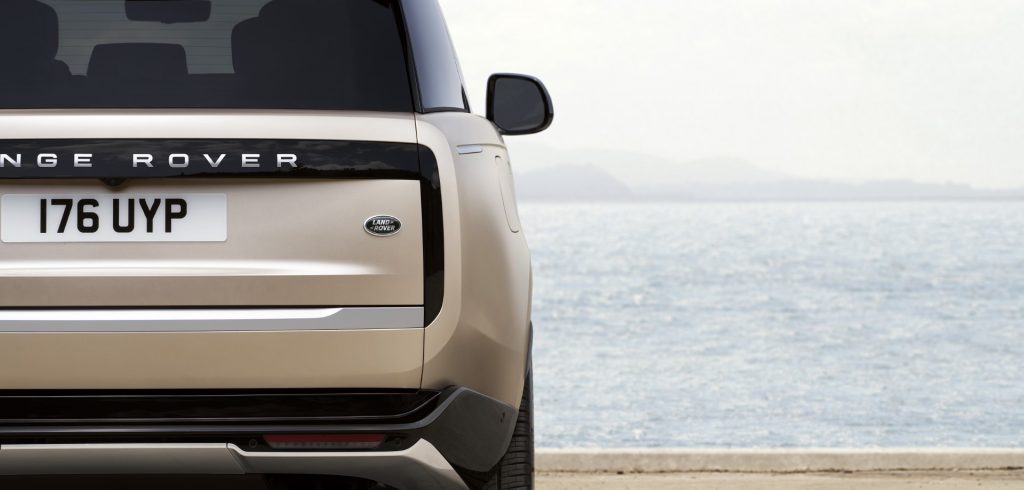 Data collected by this technology is fed to Land Rover's Terrain Response 2 system through over 70 modules. This optimises the vehicle's settings through the options of six driving modes which "minimise driver workload across all terrains", Land Rover claims. The driver can also use the system to manually create bespoke chassis settings with the Configurable Terrain Response system.
However, Land Rover is well aware that Range Rover's major selling point is its practical yet luxurious cabin. To that end, the fifth-generation model will be the first available as a seven-seater, with an emphasis on delivering comparable comfort to passengers in the new full-sized third-row seats.  
Whichever seat configuration buyers choose, Land Rover aims to blend avant-garde technology with high-quality and sustainable materials to create a "tranquil sanctuary". One way in which the marque's approach to sustainability is expressed is through its range of new leather-free upholstery options for a more "sustainable, responsible and progressive" interior. This also includes the floor mats, which are manufactured from recycled industrial plastics, fabric offcuts and reclaimed ocean plastics. Traditionalists can still specify a full leather interior, and there are also semi- and near-aniline leather options.
A large 13.1-inch curved touchscreen with haptic feedback dominates the centre of the dashboard and features Land Rover's Pivi Pro infotainment software, which comes with voice command functionality powered by Amazon Alexa. Pivi Pro's smartphone-inspired interface complements the car's switchgear in providing control of all major vehicle functions through its various menus. An even larger 13.7-inch customisable display sits behind the steering wheel in place of traditional analogue dials.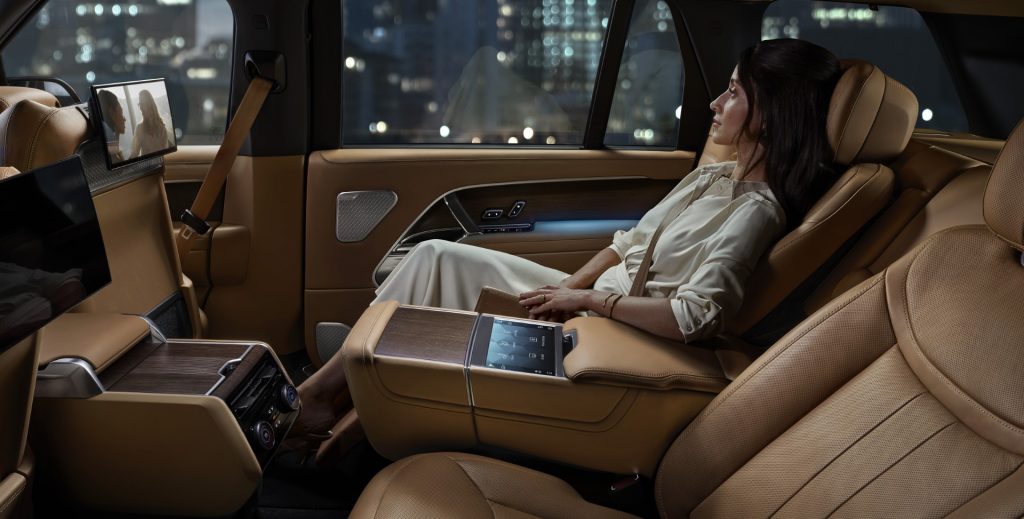 An advanced 1600W Meridian Sound System which features 20W speakers inside the four main headrests are installed to provide the infotainment system with excellent sound quality, as well as alleviating unpleasant road and wind noise with Land Rover's latest Active Noise Cancellation system. Speakers are also fitted inside the tailgate, so that those using it as a bench can enjoy music while doing so – there are even recesses in the tailgate trim for champagne glasses.
The new Range Rover's exterior styling is an evolution of the cues developed over the past four generations of the model's lineage. Various nods to this ancestry can be seen through several features around the car, including its clamshell bonnet, split tailgate, vent-inspired side graphic, steep windscreen, floating roof and short overhangs.
Range Rover's signature styling features have been modernised by emphasising a clean and elegant design language. The door handles, for example, sit flush with the bodywork, unsightly sensors are concealed, and the vertical rear lights have smoked lenses and are dramatically narrower than before.
The car's sleekness is accentuated by new 23-inch alloy wheels and a roofline that is 10mm lower than the current model's. Prospective owners will have the choice of 12 solid, metallic and premium metallic paint options, with the new additions of Lantau Bronze, Belgravia Green, Batumi Gold and Charente Grey.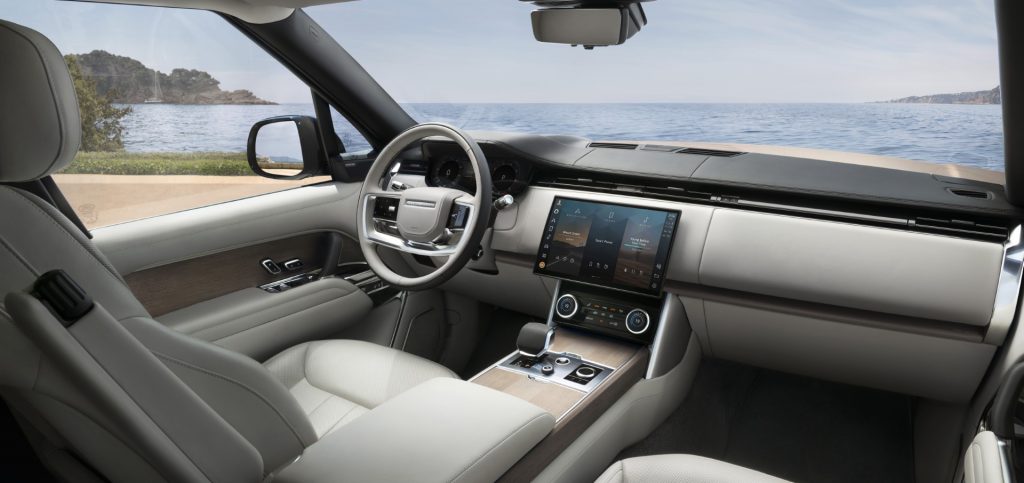 Sitting atop the new 2022 Range Rover model hierarchy is the new SV spec, which emphasises bespoke features and customisation from a choice of "exclusive design themes, details and material choices". SV cars are split into the Serenity and Intrepid design families, which emphasise passenger comfort and driver focus respectively.
Range Rover SV will be available with three powertrain options: the P530 V8, P510e PHEV (SWB only) and D350 diesel straight-six. Special Vehicle Operations managing director Michael van der Sande says that SV models are designed to "inject even more luxury into every part of the car". He continues: "With more choice than ever before, our customers will be able to create a new Range Rover SV that truly reflects their personality, their dreams, their desires."
The new 2022 Range Rover will be produced exclusively at Land Rover's Solihull Manufacturing Facility in the West Midlands, UK from 2022. It is available to order now via Land Rover's online configurator, and prices start at £94,400 ($130,000).
If you liked this, then why not subscribe to Magneto magazine today?