WORDS and photography: martyn goddard
Early one Sunday morning in September 2021, a couple of Mercedes-Benz Classic mechanics scanned the engine bay with their iPhone lights before Gert Straub fired up the 2.9-litre straight-six, spitting flames across Waterloo Place, London SW1.
The ex-Stirling Moss 300 SLR '722', winner of the 1955 Mille Miglia (among many other races that year), was being readied for a spirited drive around central London. It was to star in a video of its final tour of the streets of Mayfair and St James, finishing at the home of the late Sir Stirling Moss.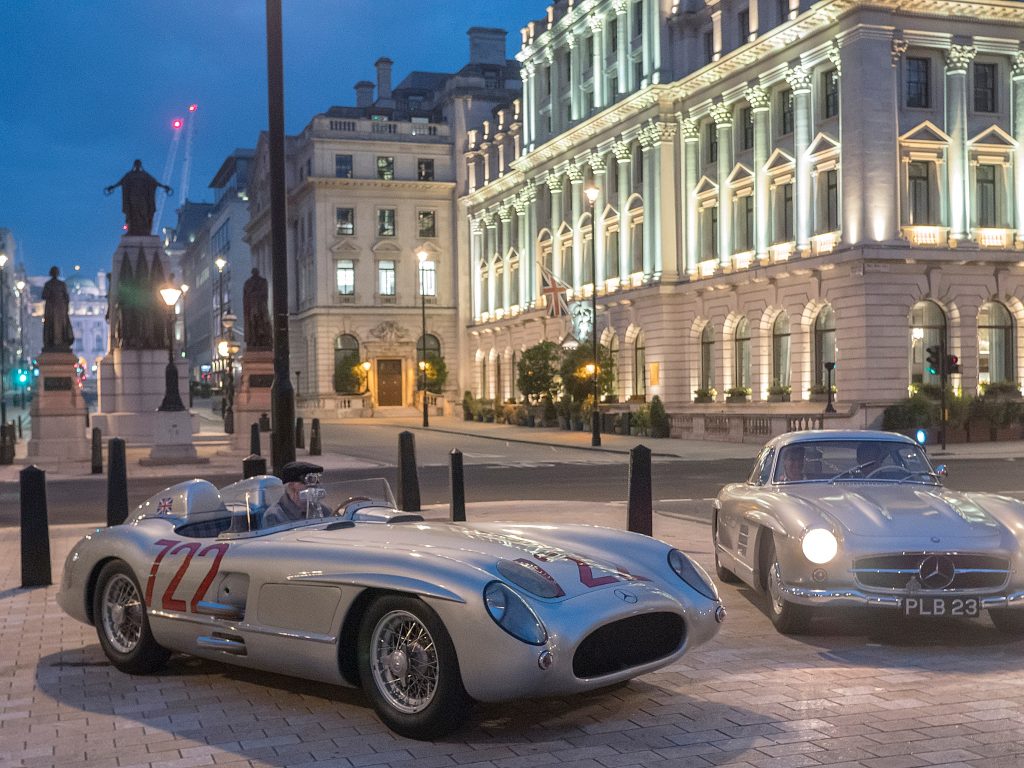 722 was assembled on location at dawn, accompanied by the 300 SL Gullwing coupé that Moss and Jenkinson used to scout 1000 miles of Italian public roads prior to the race. Six camera crews, a specialist tracking vehicle, seven Metropolitan police outriders, and a helicopter rigged with an HD camera were poised to take to the streets at daybreak, as soon as director Martin Derrick gave the green light for action.
The convoy sped off east towards Trafalgar Square, the growl from 722's sidepipes echoing off the buildings, surrounded by the blue flashing lights of the police escort. My assignment was to photograph the Mercedes as it passed by the Royal Automobile Club HQ on Pall Mall. Chenji, the doorman, had made the early start, dressed in full uniform in plenty of time before the 300 SLR passed the Club entrance. He would salute the Silver Arrow and its driver. Sir Stirling was a stalwart of the Royal Automobile Club; he was honoured with a life membership in 1954, and had one of the Club's restaurants named after him.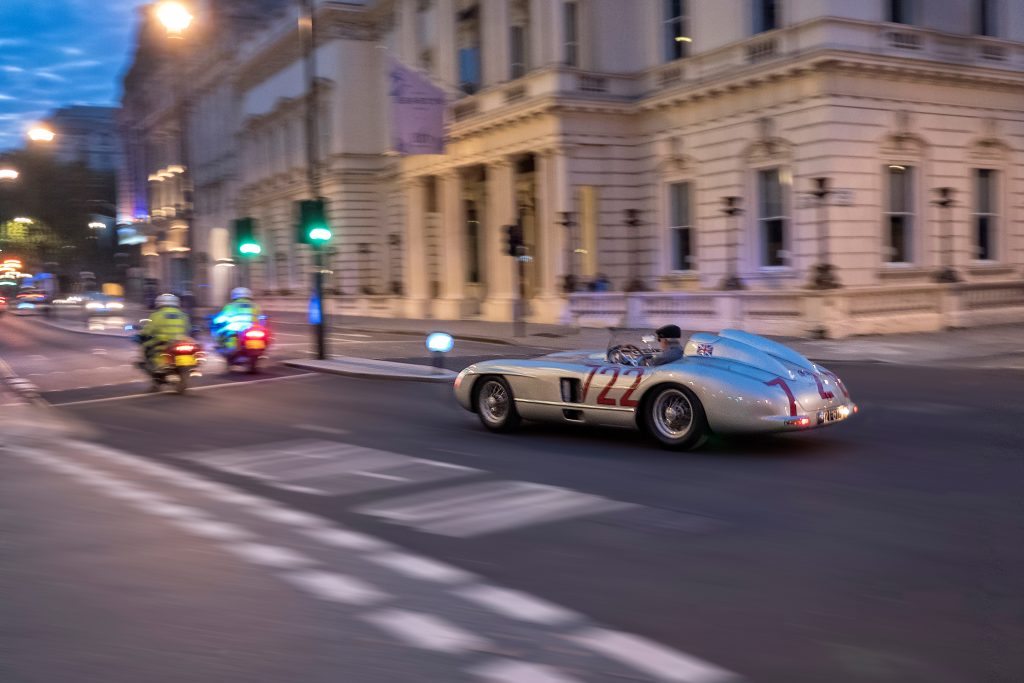 Timing was everything, and a clever phone app meant we could monitor the progress of the convoy as it made its way past various London landmarks. First came the helicopter, then the tracking vehicle, and finally the camera crew appeared on Pall Mall, where I was located. The car made six passes in all, so lining up my shots and hoping no other vehicle obscured my view was crucial.
There was an air of relief as the SLR safely returned to Waterloo Place. All had gone well; the car ran faultlessly, and the weather and light had been perfect to show off the silver automobile. Elliot Moss (son of Sir Stirling) and driver Straub posed for photographs with police officers around the car. The film crew then readied it to drive to Shepherd Street, Mayfair, the Moss family home. There, 722 crossed the finishing line, before being returned to the Mercedes-Benz Museum in Stuttgart, Germany, where it will remain on static display.
If you liked this, then why not subscribe to Magneto magazine today?