WORDS: ELLIOTT HUGHES | PHOTOGRAPHY: hagerty
The 27th annual Amelia Island weekend is upon us, and it's fresh from a rebrand after Hagerty's acquisition six months ago. Consequently, The Amelia's new owner is aiming to build on the event's reputation as one of the most important dates in the collector car calendar when it gets underway on March 3-6.
Despite the revamp, the concours d'elegance rightfully remains at the centre of The Amelia, although this year's displays will expand to feature an eclectic mix of over 225 historically significant and rare classic cars. As usual, the concours will act as the grand finale on Sunday, March 6. 
Special concours classes will make a welcome return this year, and they include the respective 60th and 70th anniversaries of the Daytona 24 Hours and Sebring 12 Hours, as well as the 75th anniversary of Ferrari, 100th anniversary of Lincoln and 90th anniversary of the 1932 Ford. There are also classes dedicated to the Davis Motorcar Company, Indy roadsters, aluminium Porsche race cars and Waterhouse Coachwork, among others.
In 2021, the Best In Show Concours d'Elegance Trophy was awarded to a resplendent 1926 Hispano-Suiza H6B, while a menacing 1974 Shadow DN4 Can-Am race car took the Best In Show Concours d'Sport Award. It will be fascinating to see if this year's expanded field of cars can trump last year's winning duo – stay tuned…
RM Sotheby's official Amelia Island Auction will take place on Saturday, March 5 for the 24th time. As one of the most important auctions of the year, it's unsurprising that 2021 sales totalled $42m (£36.97m) with a sell-through rate of over 95 percent. 
A 1929 Duesenberg Model J Torpedo Coupe topped RM Sotheby's 2021 sales rankings at $5.72m (£5.04m), but we wouldn't be surprised if both of those numbers are exceeded if the 2022 catalogue is anything to go by.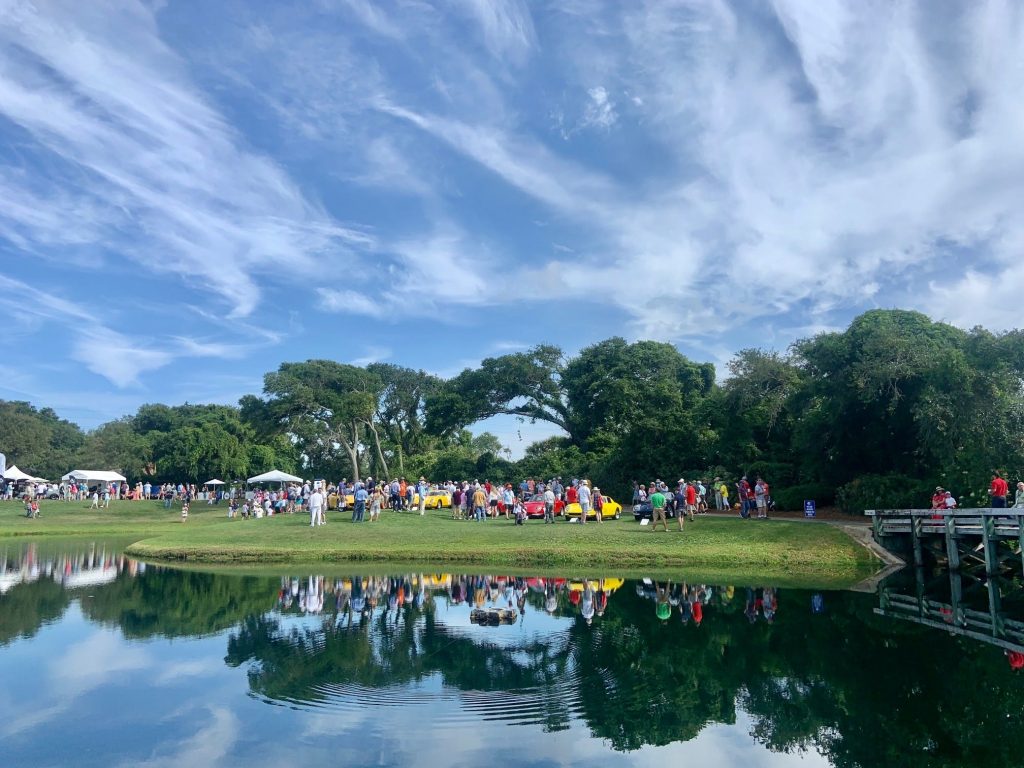 Holding the top pre-auction estimate is a 1934 Packard Twelve Individual Custom at $3.75m-$4.5m (£2.76m-£3.32m), but it's closely followed by a diverse range of similarly desirable lots such as a 2015 Ferrari LaFerrari, 1930 Duesenberg Model J Convertible Sedan, 1965 Ferrari 275GTS and 2020 McLaren Speedtail. Judging by the sales totals from the recent Arizona Auction Week, the Amelia Island Auction is expected to continue a year of strong auction results.
But RM Sotheby's will receive stiff competition on March 4 from rival auction houses such as Russo & Steele, Bonhams and Gooding & Co. to become the highest-grossing auction house of the weekend. For example, Gooding & Co. has attracted plenty of media attention with the most valuable car offered on this year's auction card: an incredibly rare and beautiful 1937 Talbot-Lago T150-C-SS Teardrop Coupé.
The Figoni et Falaschi-bodied Talbot-Lago is the sole survivor with fully enclosed front fenders, and its estimate of over $10m is reflective of its near-peerless quality and rarity. Further high-value models offered by Gooding & Co. include a 1991 Ferrari F40, Porsche 964 Carrera RS 3.8 Clubsport and 1954 Mercedes-Benz 300SL Gullwing, among a wide variety of other vehicles.
Putting the high-rolling collector auction world to one side, the beauty of Amelia Island is that there has always been something for everyone – and Hagerty has proactively looked to nurture this attribute since adding the event to its portfolio. 
This is exemplified by the launch of the new Cars & Community feature, which takes place on Saturday, March 5. Cars & Community contains a number of family-focused events that look to further the philanthropic efforts that have always been a part of The Amelia.
Main features of this year's Cars & Community are the 300 curated Cars & Caffeine machines, the 1980s and '90s-themed RADwood tribute, hilarious Concours d'Lemons and the debut of Amelia's Kids Zone with slot-car racing and simulators. A portion of the Cars & Community ticket proceeds will go towards a variety of local and national charitable organisations. The traditional Saturday night Gala has also undergone a refresh, and the hospitality and dining options have been expanded across the weekend.  
For more information and tickets to the 2022 Amelia, click here.