WORDS: ELLIOTT HUGHES | PHOTOGRAPHY: london to brighton veteran car run, Bonhams, rm sotheby's
The annual London to Brighton Veteran Car Run capped off a memorable 2021 London Motor Week on November 7, commemorating 125 years since the renowned Emancipation Run of November 14, 1896.  
The Emancipation Run came about after the British government passed the Locomotives on the Highways Act, which raised the speed limit from 4mph to 14mph and abolished the requirement for vehicles being preceded by a man on foot waving a red flag.
Consequently, the Veteran Car Run begins with the traditional tearing of the red flag ceremony at the start line. This year, World Land Speed Record Holder Andy Green OBE tore the flag with Ben Cussons, chairman of the Royal Automobile Club, which has been entrusted with organising the Veteran Car Run since 1930.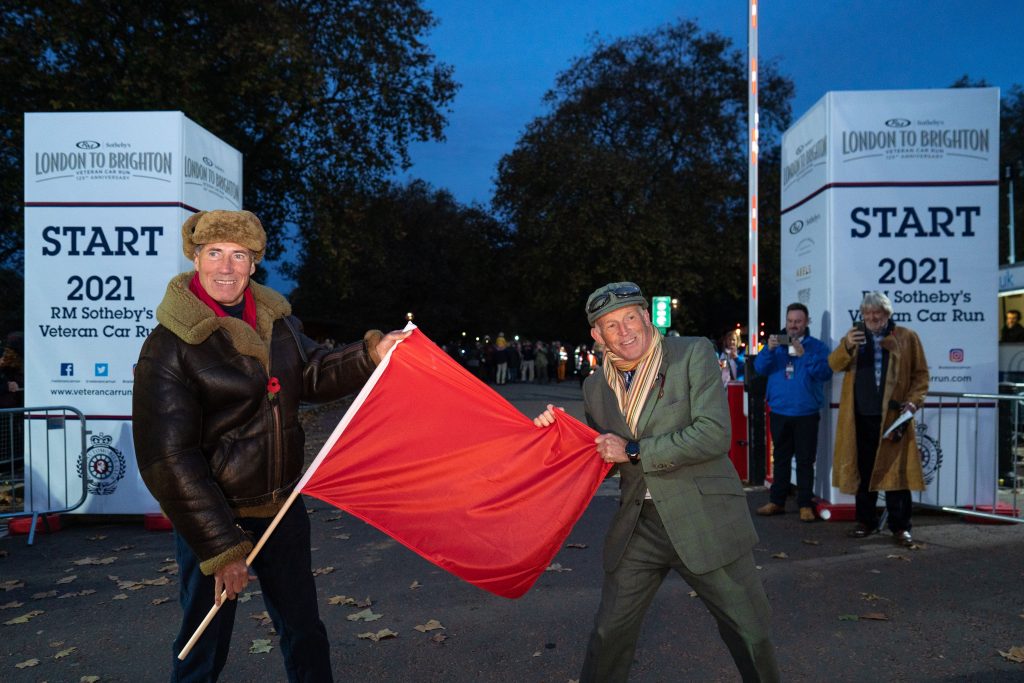 Green and Cussons also each participated in the 125th anniversary event. Green's car was a recently acquired 1904 Stanley Steam Car – a total contrast to Thrust SSC which took him across the sound barrier and on to a record 760mph in 1997.
"I've been lucky enough to have been a passenger on past Runs, but doing it in your own car gives you such an incredible sense of achievement," Green admitted. "The most remarkable thing about this event, though, are the crowds. There are hundreds and hundreds in Hyde Park to wave you off, thousands more on the pavements in London, and it's the same story in all the villages."
Cussons, who drove a 1901 Mors owned by the Royal Automobile Club in the event, echoes Green's positive sentiments. "It would be hard to imagine a more perfect day. The Veteran Car Run embodies the true spirit of motoring, and it is always rewarding to see that the passion and enthusiasm for these pioneer motor cars is as strong as ever."
Paul Cowland, known for his prominent role in TV's Salvage Hunters: Classic Cars, was another well known participant. Cowland was spotted aboard a 1903 Knox entered by specialist insurer and Run event partner Hagerty.
In total, 87 marques were represented over the 286-car field, with entries coming from as far as Hong Kong, the United States and South Africa. Many of the manufacturers have faded into obscurity, but some – Mercedes, Vauxhall and Renault, for example – are familiar today, and trundled past many of their modern descendants during the 60-mile journey to the South Coast.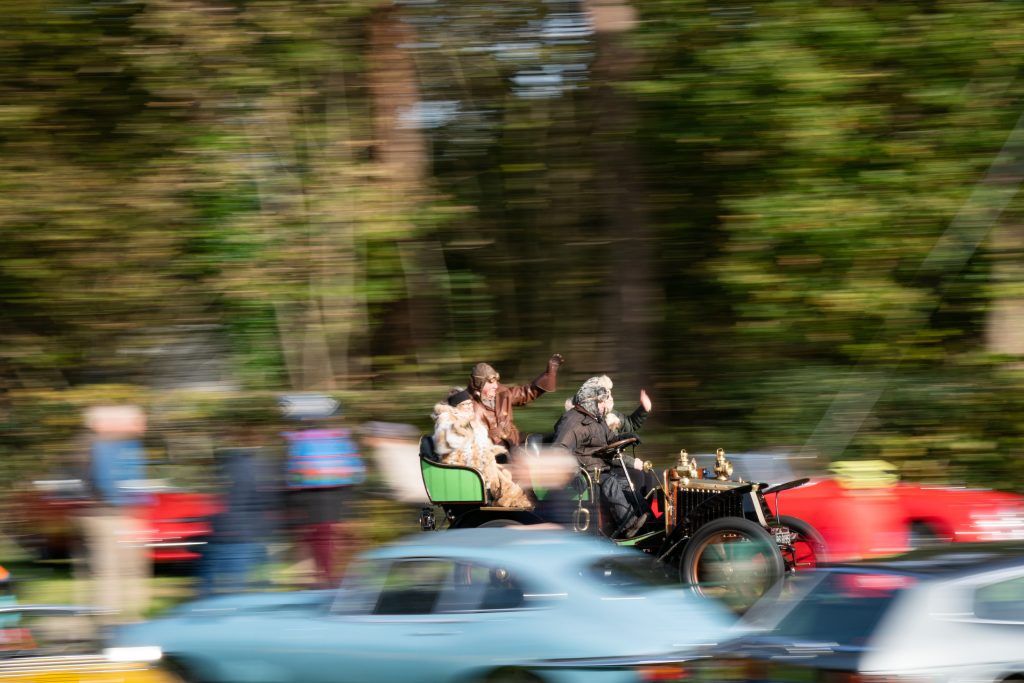 An ironic parallel with the present is apparent in the sheer diversity of the vintage cars' powertrains. Steam, electric and combustion-sourced propulsion were all experimented with during the motor car's infancy, and the automotive industry finds itself in a similar position 125 years later.
The first car to begin the journey from Hyde Park was also one of the oldest: a single-cylinder, 4bhp Lutzmann from 1896. The Lutzmann was followed by the world's last-remaining Raynaud, built in the same year, albeit with an additional cylinder and 8bhp.
Duncan Pittaway's Salvesen Steam Car was another noteworthy entry from 1896. Effectively a miniaturised train, the Salvesen Steam Car requires its crew to continually feed its boiler's furnace with coal. The Salvesen's distinctive choo-choo steam whistle proved as popular as ever with spectators lining the route.
A. Lange & Söhne's Regularity Time Trial added a competitive aspect to this year's Veteran Car Run, requiring drivers to adhere to a specified average speed for a 10.7-mile section of the route. The challenge is heightened by the drivers' need to overcome lacking or inaccurate sets of instruments, and a wide variety of control layouts, from tillers to steering wheels.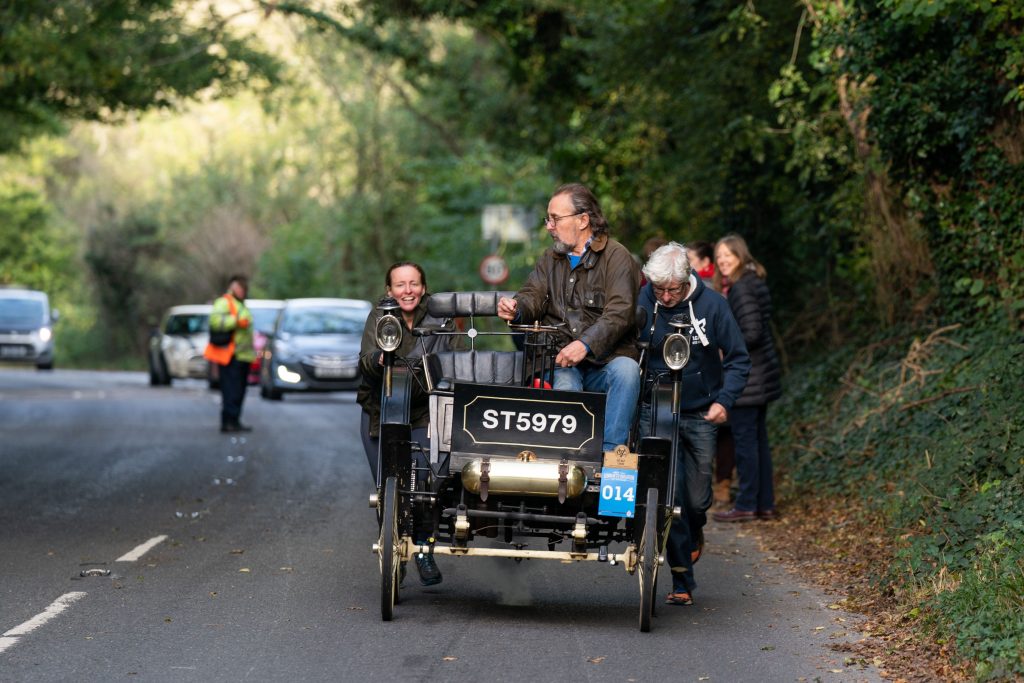 Austrian entrant Andreas Melkus emerged as the winner of the Regularity Time Trial, deviating a mere five seconds over his target time of 35 minutes and 45 seconds aboard his 1902 Oldsmobile.
Uncharacteristically warm weather was welcomed by participants and cars alike, with the vast majority of the 286 runners completing the pilgrimage to Brighton before the 4.30pm cut-off to be presented with an all-important finishers' medal. 
A 1902 Mors driven by Clive Evison was the first car to achieve this feat, completing the 60-mile journey in just under three hours. As promised, Evison was greeted at the finish line in Brighton with a warming hot toddy of Aberfeldy single malt whisky.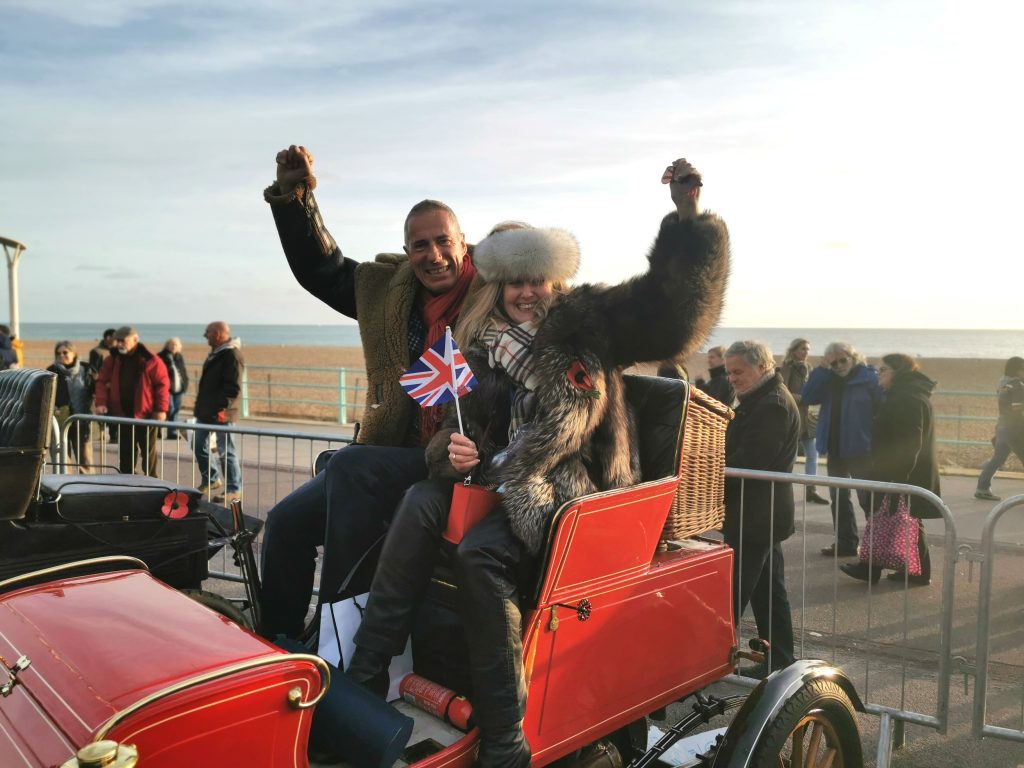 Two major auction events preceded the Veteran Car Run grand finale of London Motor Week. The Golden Age of Motoring Sale by Bonhams was the first of these to get underway on November 5. The sale's consignments were dedicated to "Veteran, Vintage and Post-Vintage Motor Cars and Automobilia", with everything from magnetos and toolkits to vintage cars on offer.
A 1904 Peugeot Type 67A 10/12hp Twin-Cylinder Swing-Seat Tonneau was Bonhams' most expensive lot, selling for £264,500 ($359,700) – well above its pre-auction estimate of £140,000–£170,000 ($190,300–$231,200). The pioneering Peugeot was purchased by a private overseas collector following an exciting six-way bidding war.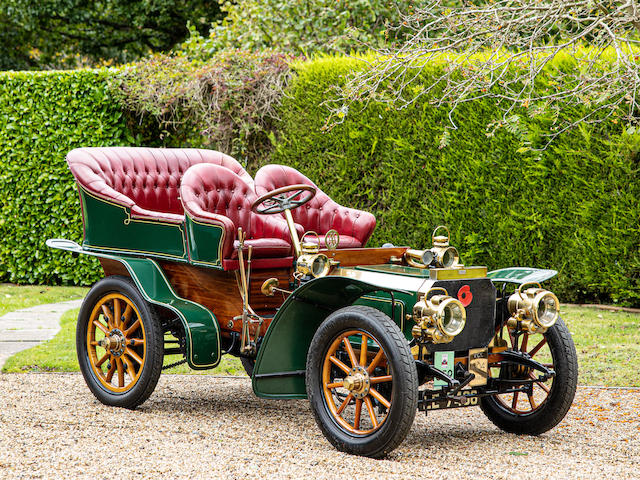 Several other cars that qualified for the Veteran Car Run's pre-1905 entry threshold also performed strongly on the auction block. A 1903 Wolseley 10hp Twin-Cylinder Four-Seat Rear-Entrance Tonneau attracted a winning bid of £161,000 ($220,000) from its new German owner, who then used it to participate in Sunday's Run.
A 1904 Brennan 14/18hp Twin Cylinder Five-Seater Rear-Entrance Tonneau, one of just four surviving pre-1905 examples, crossed the block for £115,000 ($156,400), while a 1904 Crestmobile Model D 8½hp Four-Seater Rear-Entrance went for £66,700 ($90,700).
Surprisingly, a motorcycle finished as runner-up to the 1904 Peugeot in value, albeit a very special one – a 1939 Brough Superior SS100. The pre-war bike is one of only seven examples sold to Sheffield Police in period, and secured a final bid of £253,000 ($344,000) when the gavel fell.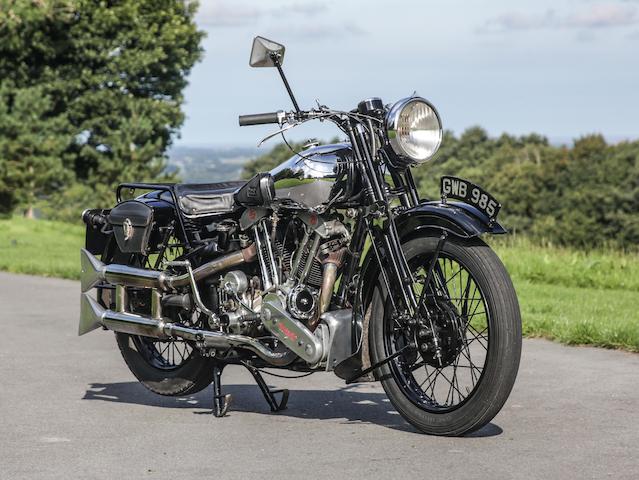 Bonhams' rival auction house, RM Sotheby's, held its own London Sale on November 6, which grossed £7.76m ($10.55m). A one-of-a-kind 2016 Ferrari LaFerrari led the way, achieving £2.14m ($2.90m) by the time bidding closed, followed by a 1987 Porsche 959 Komfort (£1.15m/$1.56m) and 1928 Mercedes-Benz 630K (£792,500/$1.07m).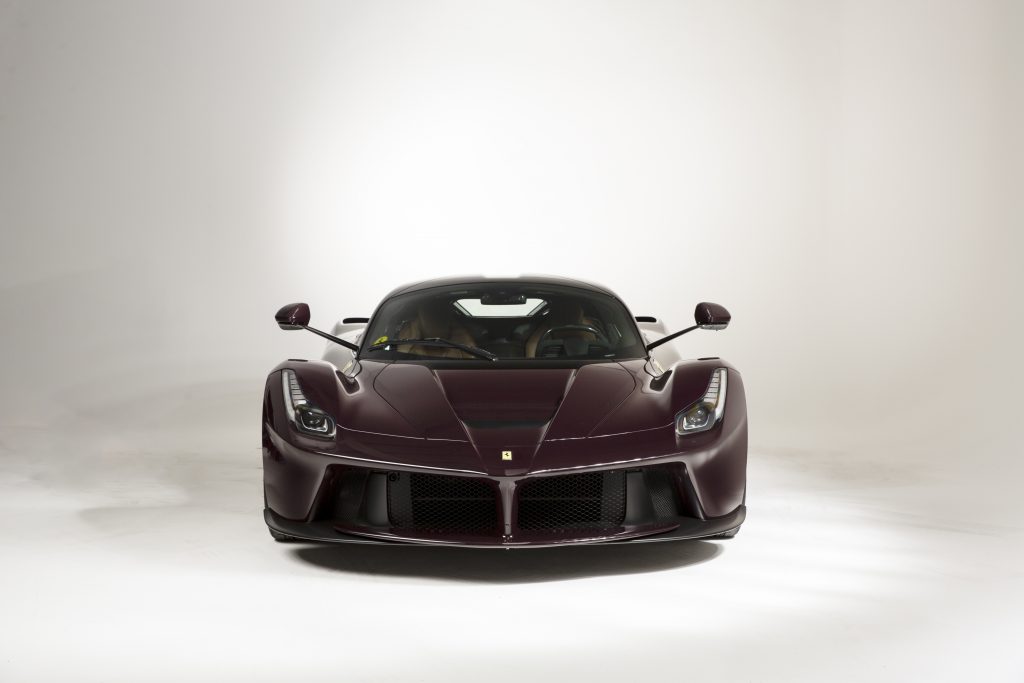 Results from Bonhams and RM Sotheby's auctions can be found below:
Bonhams The Golden Age of Motoring Sale 1866-1939, London, New Bond Street, November 5, 2021
1904 Peugeot Type 67A 10/12hp Twin-Cylinder Swing-Seat Tonneau: £264,500 ($359,700)
1939 Brough Superior SS1100: £253,000 ($344,000)
1928 Bentley 3 Litre Blue Label Tourer: £241,500 ($328,400)
1908 Rainier Model D 40/50hp Seven-Passenger Touring Car: £167,900 ($228,300)
1903 Wolseley 10hp Twin-Cylinder Four-Seat Rear-Entrance Tonneau: £161,000 ($218,900)
1904 Brennan 14/18hp Twin-Cylinder Five-Seat Rear-Entrance Tonneau: £115,000 ($156,400)
1938 Bentley 4¼ Litre Sedanca Coupé: £87,400 ($118,800)
1934 Lagonda M45 4¼-Litre Two-Seater Tourer: £69,000 ($93,800)
1904 Crestmobile Model D 8½ hp Four-Seater Rear-Entrance Tonneau: £66,700 ($90,700)
1902 Warwick 6hp Stanhope Four-Seater: £63,250 ($86,000)
RM Sotheby's London Sale, The Royal Automobile Club, Pall Mall, November 6, 2021
2016 Ferrari LaFerrari: £2.14m ($2.90m)
1987 Porsche 959 Komfort: £1.15m ($1.56m)
1928 Mercedes-Benz 630 Tourer: £792,500 ($1.07m)
1960 Porsche 356 Carrera Zagato Speedster: £455,000 ($618,700)
1993 Jaguar XJ220: £432,500 ($588,100)
1961 Porsche 356 Carrera Zagato Coupé: £426,875 ($580,500)
1928 Bentley 4½ Litre Tourer: £415,625 ($565,200)
1960 AC Ace-Bristol: £252,500 ($343,400)
1952 Mercedes-Benz 300S Coupé: £230,000 ($312,800)
1959 Porsche 356 A 1600 Super (ex-Donald Campbell): £230,000 ($312,800)
If you liked this, then why not subscribe to Magneto magazine today?