Words and PHotography: Nathan Chadwick
The London Classic Car Show returned to its traditional early-year slot, and to Olympia, where just one staging of the event was held prior to the Covid pandemic.
In that time, the organisers experimented with a summer event in Syon Park, but took 2022 off to focus on this year's return to Olympia. They had their work cut out – not only was Race Retro on during the same weekend (you can read about that here), but the financial gloom encircling the UK didn't do much to entice smaller stands to join the fray.
Nevertheless, the event was busy and, judging by the stickers in the car windows, a useful one for the primarily London-based dealers who supported it. While the show wasn't quite as feature packed, nor as big, as the last Olympia outing or when it was held in East London, it has great potential for the future. Here are a few of our favourite cars.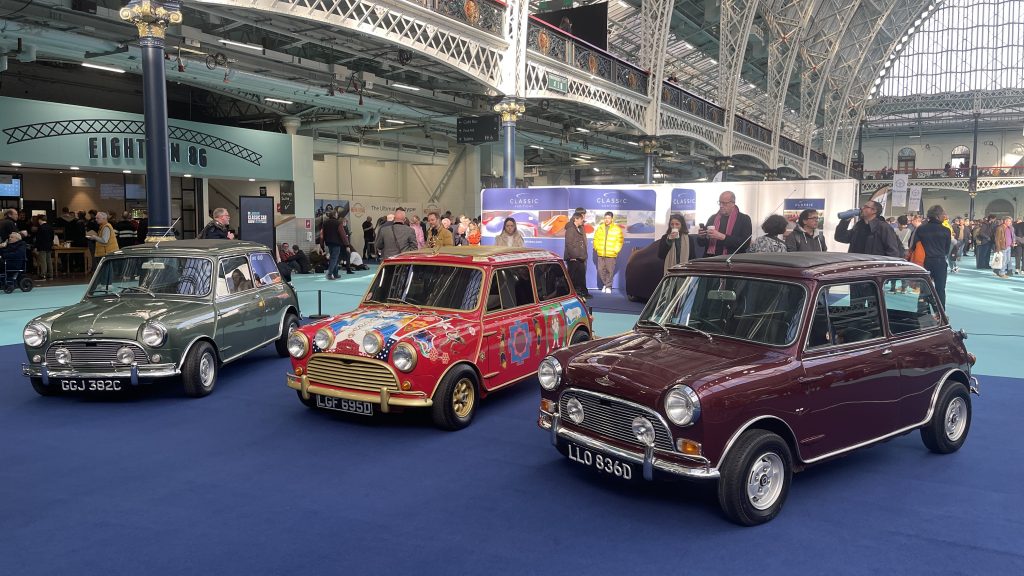 The Austin Mini Cooper celebrated 60 years of the Mini Cooper S by bringing together six notable examples, including the three surviving cars owed by The Beatles in period. The last time they were seen together in London was in 1968, when the band assembled at George Harrison's house to rehearse for the recording of The White Album.
Ringo Starr's car (LLO 836D) was customised to allow him to fit a drum kit, so the rear was converted to a hatchback set-up by coachbuilder Harold Radford; however, it also carries Hooper badging, indicating that two coachbuilders were involved in its construction. George Harrison's car (LGF 695D) was built by Radford, and features extras such as a full black-leather interior, tinted glass, VW rear lights, electric windows, a full-length Webasto roof and rally-style foglights.
Although it was originally finished in black, it was treated to the current paint job by Simon Posthuma and Marijke Koger of the art collective The Fool, inspired by the designs in the book Tantra Art: Its Philosophy and Physics. The car was later lent to Eric Clapton, who painted it in a less eye-popping manner, but when it returned to Harrison's possession it was in need of a full restoration. Using footage and photography from the Magical Mystery Tour film, in which this car starred, the paintwork was recreated. It's still in the possession of the Harrison family to this day.
The final Mini (GGJ 382C) belonged to Paul McCartney, and was customised by Radford to include a more luxurious interior, twin driving lamps, a Webasto sunroof, plus Aston Martin rear lights and custom wheels, while the paintwork is Aston Martin California Sage metallic.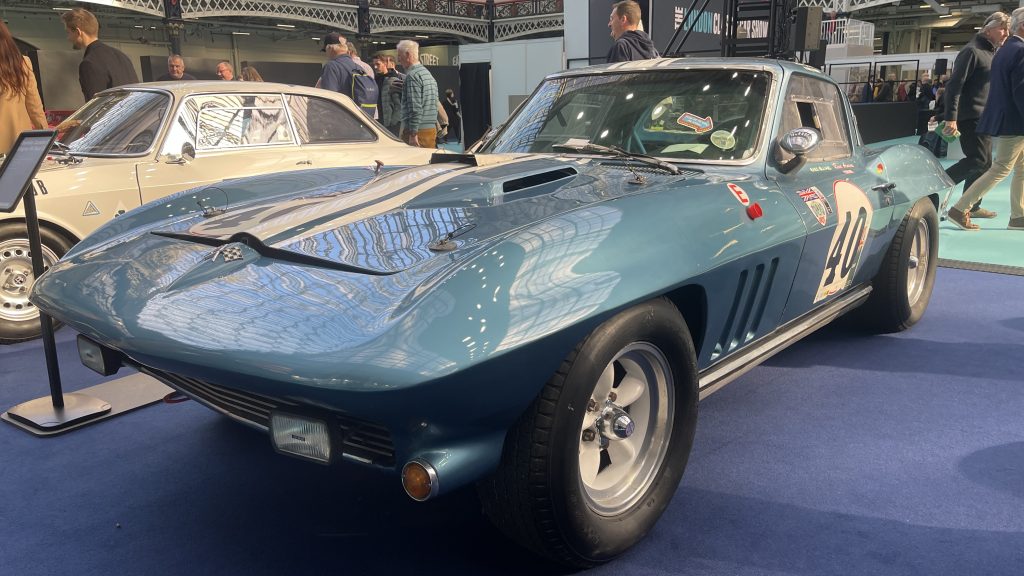 The Generations section of the show lined up every model variation of the Porsche 911 and Chevrolet Corvette, but also pulled out some special cars for extra attention. One of those was this C2 Corvette Stingray, which has competed at the Goodwood Revival with former F1 champion Alan Jones, Ferrari driver René Arnoux and touring car legend Jason Plato behind the wheel.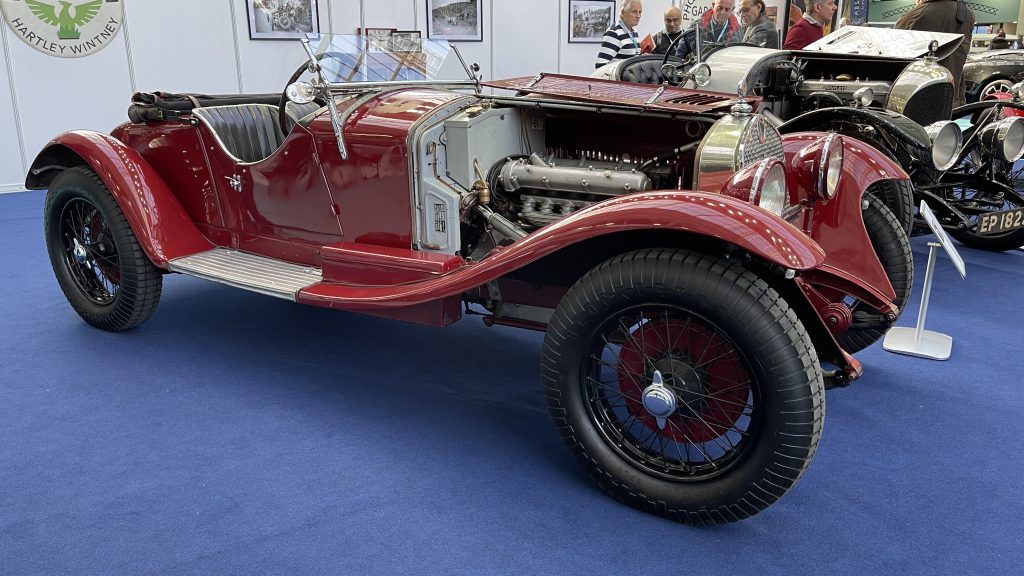 Phoenix Green Garage brought along a 1921 Bentley 3 Litre and two examples of the Alfa Romeo 6C 1750. This 1929 Super Sport still wore its original Zagato body, and had it engine rebuilt by a marque specialist. For many decades the car was in the stewardship of Michael Hirst, who discovered it in Lincolnshire in 1961. At the time its original supercharged engine had been replaced with a Ford V8. It was later replaced with a sixth-series 1750 SS engine dating from 1933 (engine number 121215071) that had been rebuilt in the UK. Hirst turned to Norway for a suitable gearbox, and once the car was completed he drove to Italy and visited the Alfa Romeo factory in Milan, where the car was identified as a third-series 1750 SS of 1929. The car became well known in VSCC and Alfa Romeo racing, and ran in an early Mille Miglia event.
This Lancia 037 is one of just 200 built for Group B homologation, and was making its show debut following a 25-year restoration. The Lancia Motor Club was one of several car clubs to provide displays, with a Flaminia 3B, Delta HF Integrale Evoluzione and Fulvia among the cars on show.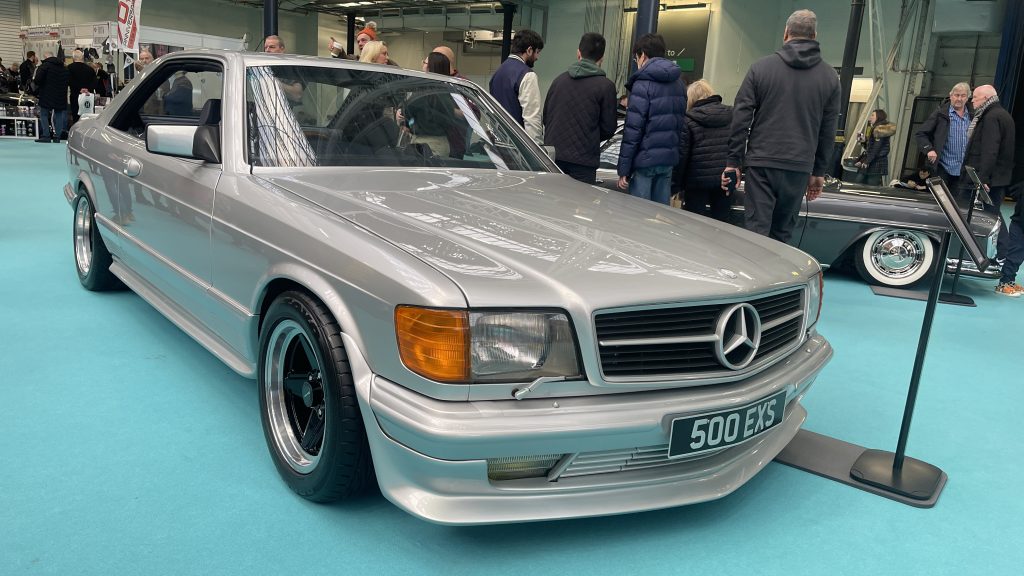 This Mercedes-Benz 500 SEC is believed to be the earliest example in the UK. It was the 2106th off the line and was optioned with a Clarion G80 stack-system radio. It's recently had a bare-metal restoration, with the drivetrain and suspension fully rebuilt before it was given some AMG treatment externally and internally.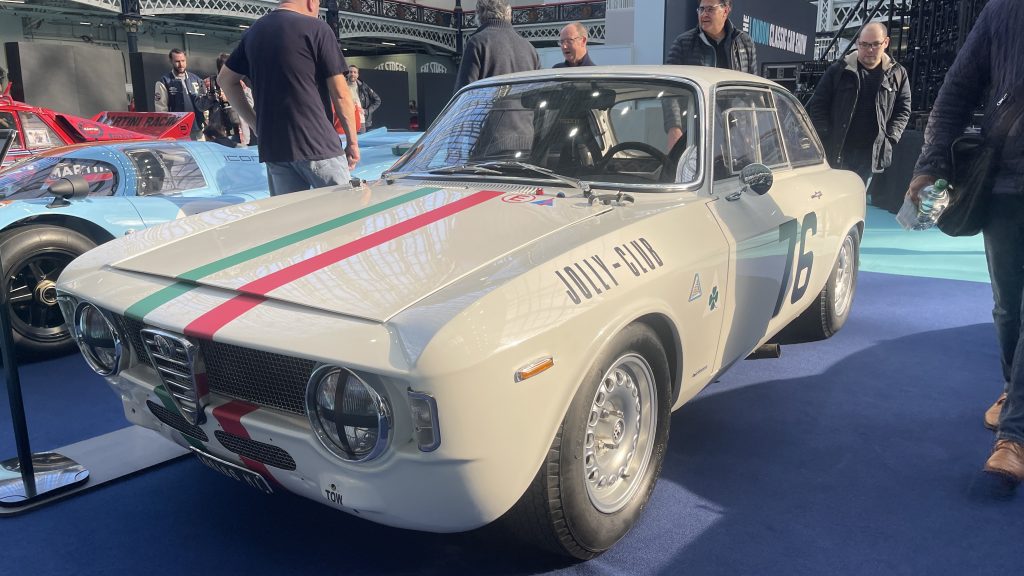 This 1966 Alfa Romeo Giulia GTA was prepared for that year's European Touring Car Championship by Jolly Club, although it also ran under the Autodelta banner. Rob Slotemaker and Ferrari F1 driver Ignazio Giunti were among the drivers, and its highlight result was fourth at Monza, when Giulia GTAs finished in the top seven places.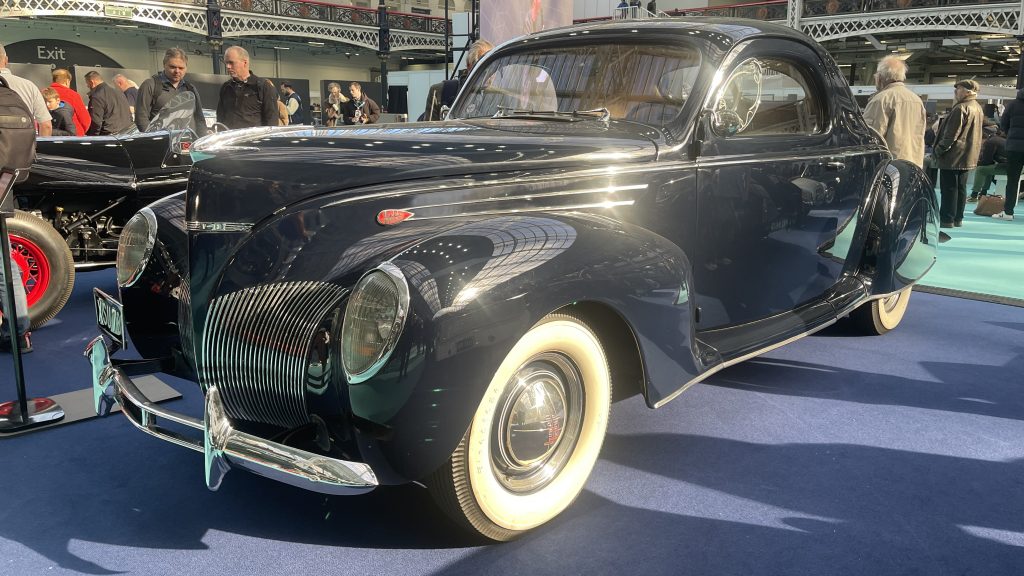 This 1939 Lincoln Zephyr Three-Window Coupe was purchased directly from the Walt Disney Museum, where it was displayed alongside Howard Hughes' Spruce Goose, the world's largest plane.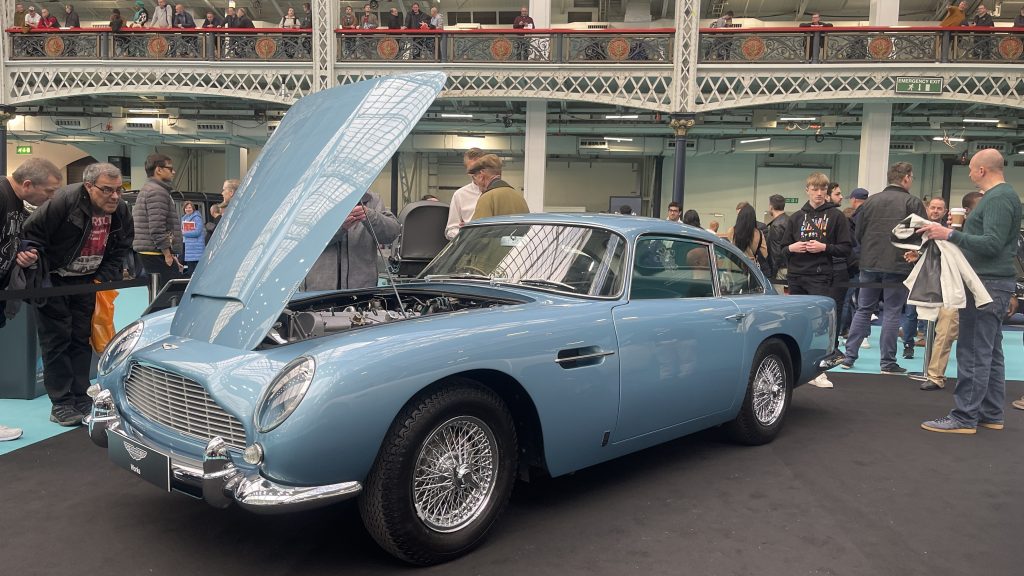 Aston Martin Works brought along a comprehensively restored 1964 Aston Martin DB5. Finished in the original combination of Caribbean Pearl with a Dark Blue Connolly hide, it took 4500 hours to get to this level.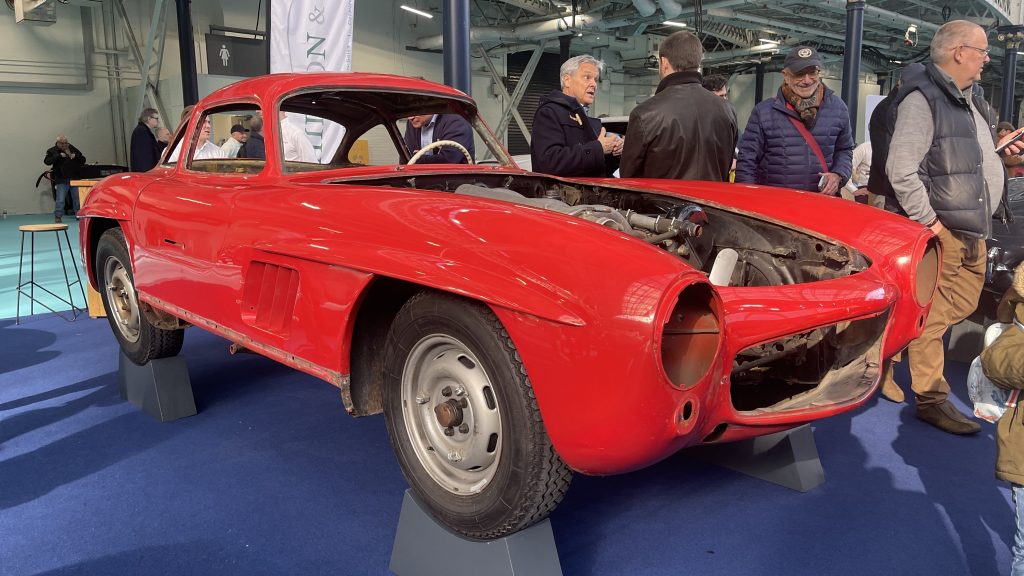 This Fire Red 1956 Mercedes-Benz 300SL Gullwing had been in a private collection for 25 years before Hilton & Moss sold the car last year. It's now being restored by H&M, and has been completely stripped other than its engine. That will be removed in the next stage of the project, which will also see the body separated from the chassis.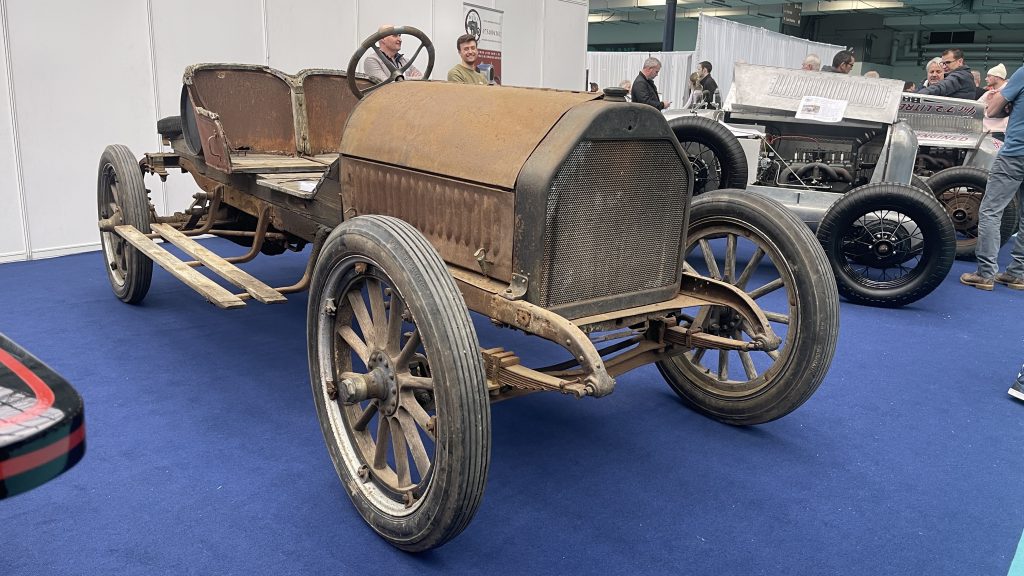 The Model A Revival Company discovered this 1916 Studebaker in a woodshed in Minnesota while buying 18 Ford Model rolling chassis. The engine is currently being rebuilt but without losing its aged charm. That's the aim of the whole project – it will be preserved rather than restored, and mechanically brought up to scratch without losing its patina.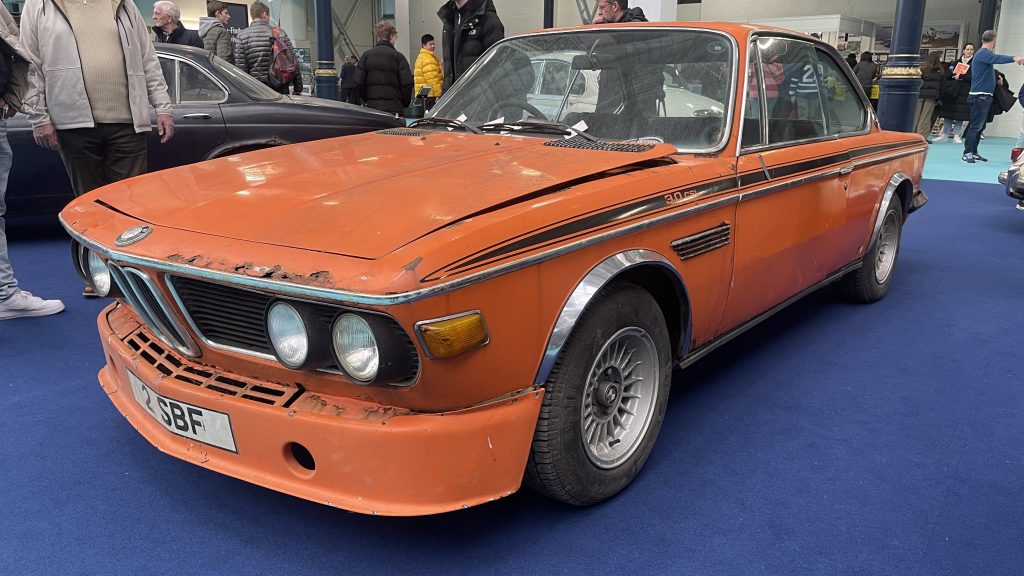 The show provided a selection of barn finds and survivors – and this 1973 BMW 3.0 CSL pulled plenty of attention. However, there wasn't a great deal of information about its story or its future – something common to a lot of display cars, and something we hope is improved for next year.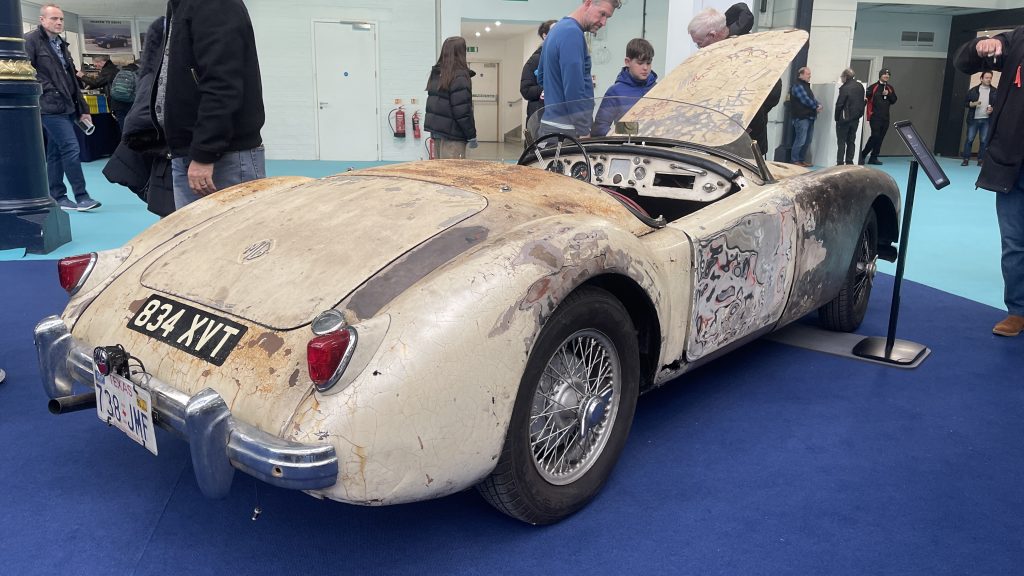 Happily there were a few more details about this 1957 MGA. First delivered to Texas, it had sat outside for more than 30 years before it returned to the UK. It's been mechanically restored and features an 1840cc MGB engine, five-speed gearbox and hidden Bluetooth stereo.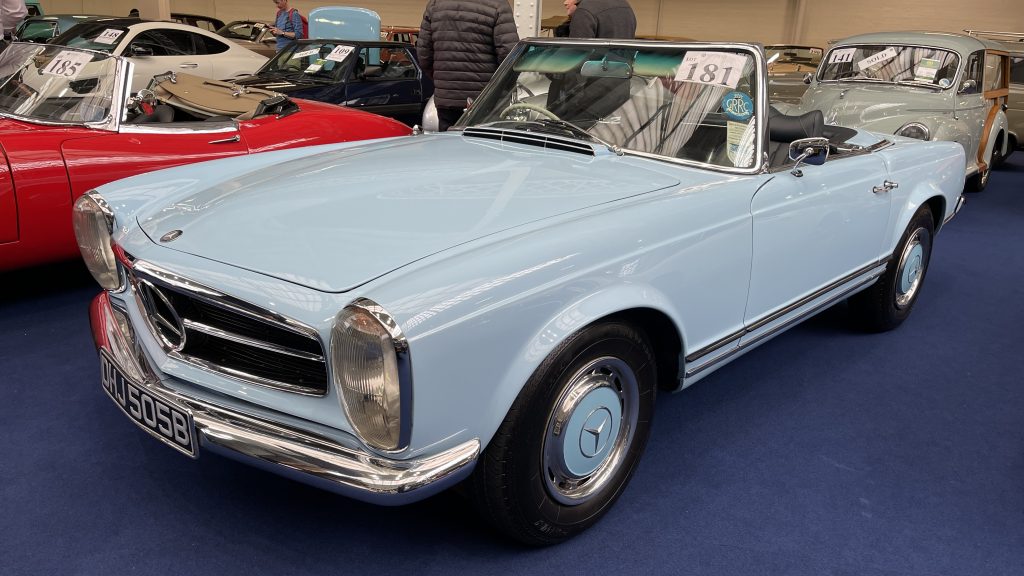 Historics Auctioneers had more than 100 cars up for sale, with a wide spread of eras available. It wasn't an easy sale at times (precise results were not available at time of writing), but our highlight was this 1964 Mercedes-Benz 230SL Pagoda, one of five in the sale. Sporting a rare colour combination, the vendor bought the Pagoda as a 40th birthday present for his wife, after seeing it on the cover of a classic car magazine. In the 14 years since, it has covered 2000 miles to reach just under 35,000, with light use for local shows and trips to Goodwood. Equipped with a Becker Mexico Retro stereo and coming with a factory hardtop, it sold for an undisclosed fee against a £52k-£58k estimate.