Words: Nathan Chadwick | Photos: Concours of Elegance
Ten Le Mans 24 Hours winners are due to be shown at the Concours of Elegance this year, which takes place between September 1-3, 2023 at London's Hampton Court Palace.
The array of winners are part of a 23-car line-up that spans the 100-year history of the French endurance race, with landmark historic machinery from Bentley, Alfa Romeo, Ferrari, Ford, Mercedes-Benz, Porsche, Matra and Rondeau lining up in the grounds of the infamous Royal palace. Here are a few highlights that you can expect to see.









As befits a brand with such a strong connection to Le Mans, there's a feast of Bentley to take in. There's the 1924 Bentley 3 Litre that John Duff and Frank Clement took to victory despite apparent sabotage from a rival team, plus the 1929 Bentley Speed Six 'Old Number One' that won Le Mans twice, in 1929 and 1930 – the latter would be the last time Bentley would win until 2003. That car, the Speed 8 driven by Guy Smith, Tom Kristensen and Rinaldo Capello, swept to victory after three years of 'nearly there' attempts.

















Italian marques have a long association with Le Mans, right up to the modern day after Ferrari's win at this year's event. The first Italian car to win the event, the 1931 Alfa Romeo 8C 2300 Zagato driven by Lord Howe and Tim Birkin, will be in attendance, as will a 1963 Ferrari 275P that won the event twice, although for much of its life it was believed to have 'only' won it once. Victorious in 1963 in 250P form with Ludovico Scarfiotti and Lorenzo Bandini, it was at the head of the field as Ferraris swept to the top six places. The car repeated the feat in 1964, with Sicilian Nino Vaccarella and Frenchman Jean Guichet behind the wheel – the last time Ferrari won top prize at Le Mans until this year.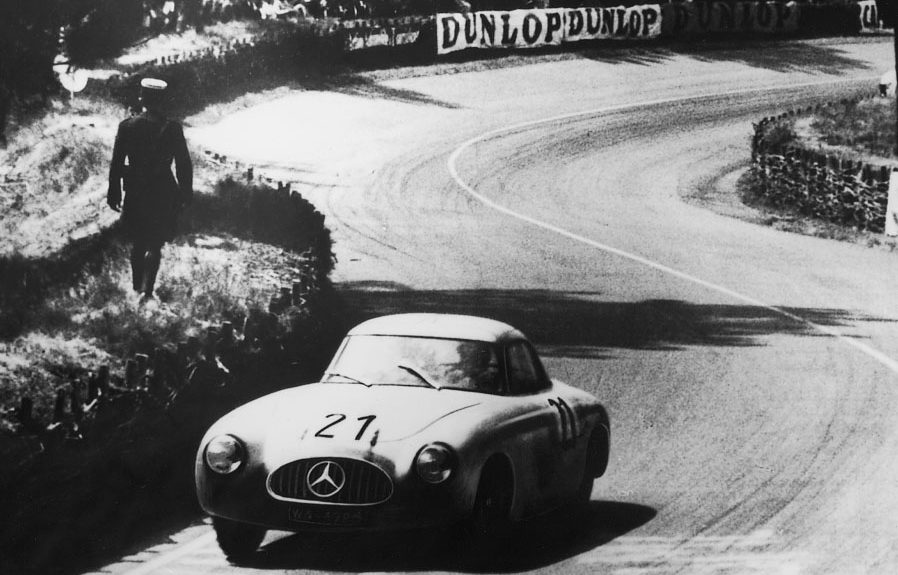 The concours also has the first German car to win the Le Mans 24 Hours – and one that would go on to influence the design of the first supercar. The 1952 Mercedes-Benz 300 SL W194 didn't have the power of its rivals, but its innovative use of an aerodynamically efficient closed body and a light but strong tubular-steel spaceframe gave it the edge. This car, driven by Hermann Lange and Fritz Riess, took the win in 1952.
The 1995 Porsche TWR WSC-95, however, originally began life as a Jaguar. Using a Tom Walkinshaw Racing chassis from the Group C programme, Porsche had intended to race itself but rule changes caused it to withdraw, although privateer Joest persisted with the project. The result was back-to-back wins in 1996 and 1997. Davy Jones, Alexander Wurz and Manuel Reuter led home an all-Porsche podium in 1996, while in 1997 Joest returned with Michele Alboreto, Stefan Johansson and Tom Kristensen to win again.


One of the most famous Le Mans cars – in fact, one of the most famous racing cars ever – will also be in attendance at the Concours of Elegance. This 1968 Ford GT40, chassis 1075, was one of two fresh-for-1968 GT40s built for JW Automotive Engineering after Ford pulled out of endurance racing. At a rain-soaked Le Mans, Pedro Rodríguez and Lucien Bianchi bagged not only the Le Mans victory but also the International Championship for Makes title for Ford. A year later, the car would play a starring role in the closest Le Mans victory ever, when Jacky Ickx and Jackie Oliver took victory on the last lap, and by only a few feet.
Other highlights at Hampton Court Palace include a 1974 Matra MS670 that took victory at Le Mans for Henri Pescarolo and Gérard Larrousse, and the 1979 Rondeau M379B that won in 1980 with Jean Rondeau and Jean-Pierre Jaussaud behind the wheel. For more details on the event, head here.