Words: Simon de Burton | Photography: Honda UK
If you need further evidence that the rise of the electric car really does seem inexorable, take a look at the latest Honda line-up. Of the nine available models, only one relies solely on an internal-combustion engine to send it down the road – all the others are hybrids or purely battery powered.
Fortunately for driving fanatics, the odd one out is the replacement for the already revered FK8 Civic Type R. And we reckon it's set to go down as a 'modern classic'.
For a start, the new FL5 is going to be rare: just 376 examples of the outgoing car were sold in the UK, and we're reliably informed that the FL5 will be imported in similarly small numbers.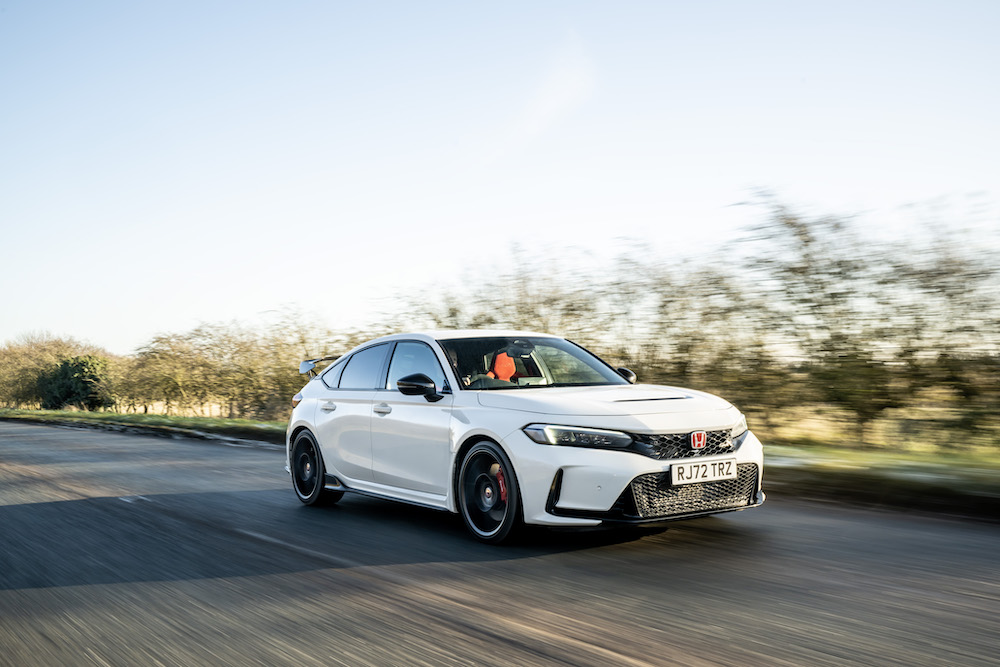 Then there's its status as the most powerful front-wheel-drive road car currently on the market. Its 2.0-litre, four-cylinder turbocharged motor is carried over from the FK8, but tweaked to give 325bhp – eight more than before.
And already the FL5 boasts record-breaking status, with a pre-production model having been spanked around Suzuka to set a lap time of two minutes, 23 seconds – the quickest ever achieved by a front-wheel-drive car.
The performance is the result of a combination of that legendary Honda engineering and a host of space-worthy electronics – but what traditionalists will really love is the fact that the new Type R can still only be had with a manual gearbox (and a fabulously slick one, too).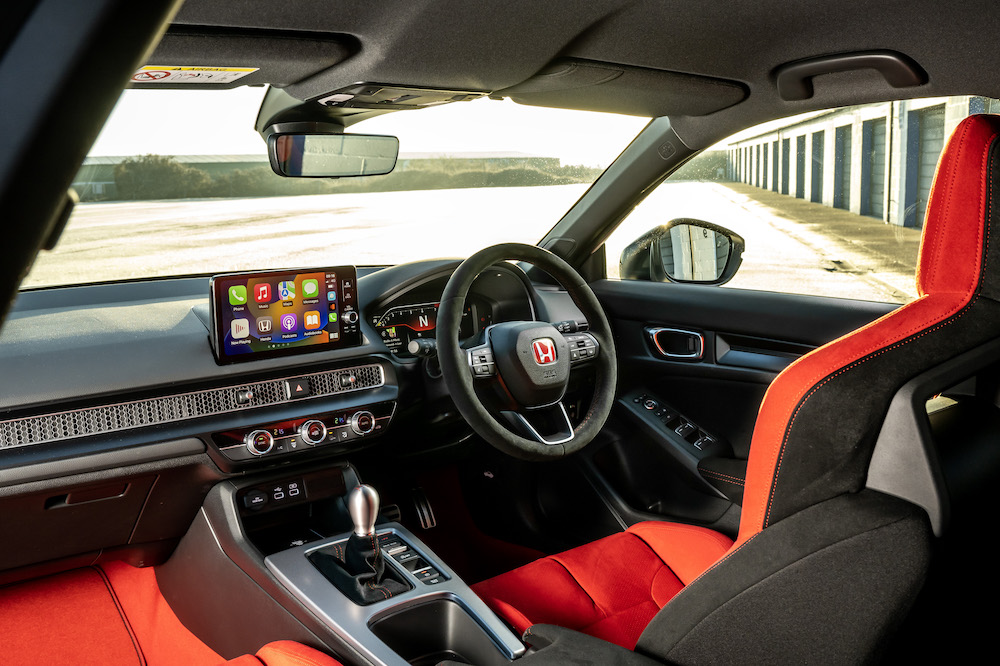 Honda launched the Civic Type R way back in 1997, basing it on the sixth-generation Civic with a seam-welded monocoque, a stripped-out interior and a hand-ported B16B engine tuned to produce 182bhp at a zinging 8200rpm. It was light, raucous, agile, quick and fun.
Power and performance increased only gradually during the next decade, to the point where the Type R version of the eighth-generation Civic of 2007 offered just 198bhp in European spec. And so things more or less remained until 2015, when Honda threw a very large cat among the pigeons of the hot-hatch world: the FK2 Civic Type R.
While its predecessor wore its sporting intentions lightly, the FK2 displayed them loud and proud, with a high-level spoiler, bulbous arches, plenty of flaps and vents – and a whole 100bhp more than before thanks to the major upgrade to the K20CI engine that prevails today.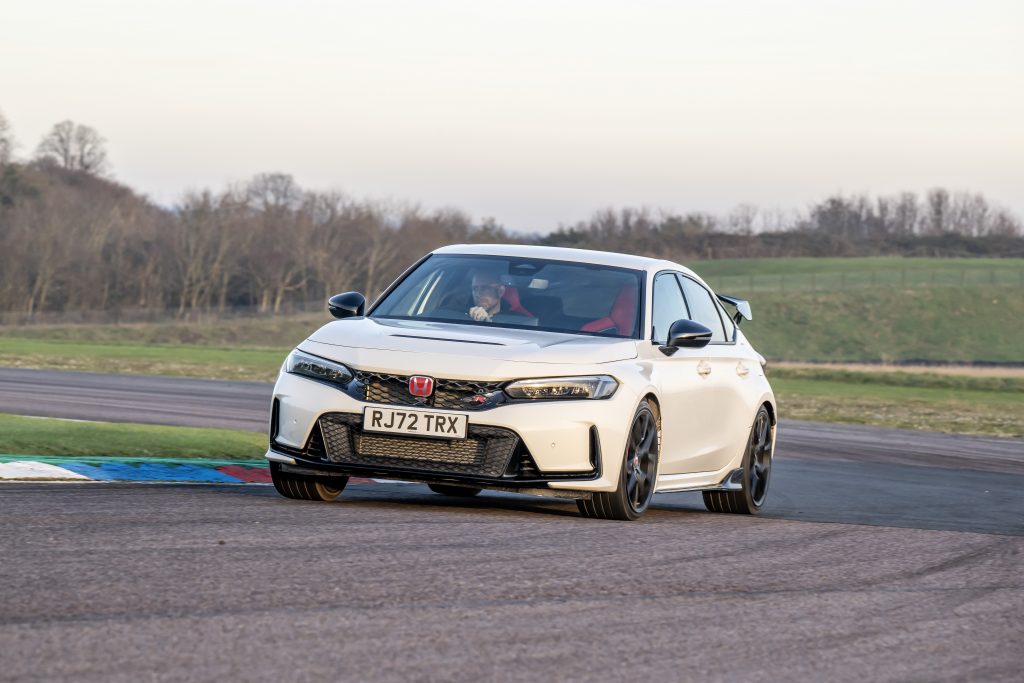 Honda is justifiably proud of how the Civic Type R has evolved during a quarter century of development, and one example of each model was brought along to the FL5's launch day at a wet Thruxton race circuit, where it was immediately obvious that the new car is a little more modest in appearance (don't worry, it still has plenty of aero kit, just fewer embellishments).
But before being allowed to sample the new arrival on the rain-soaked circuit, we were sent out in an FK8 as a reminder of just how it re-wrote the boy-racer rule book – and it felt so good to drive that I struggled to imagine how its replacement could really be that much better.
And getting behind the wheel of the FL5 wasn't, truth be told, so dramatically different. But, in ways that are difficult to explain, it just IS better. Perhaps slightly less raw, maybe not so twitchy, arguably even more confidence inspiring than its 'father'.
Remember 'torque-steer', for years the bugbear of powerful, front-wheel-drive cars? Even with 325bhp on tap, there isn't a hint of it.
Which is just as well, because the FL5's engine spins up with astonishing ease (helped by the 18 percent-lighter flywheel), meaning you can really make the most of that superb gearchange. There's an electronic throttle blipper, too, for those who don't want to blip it themselves.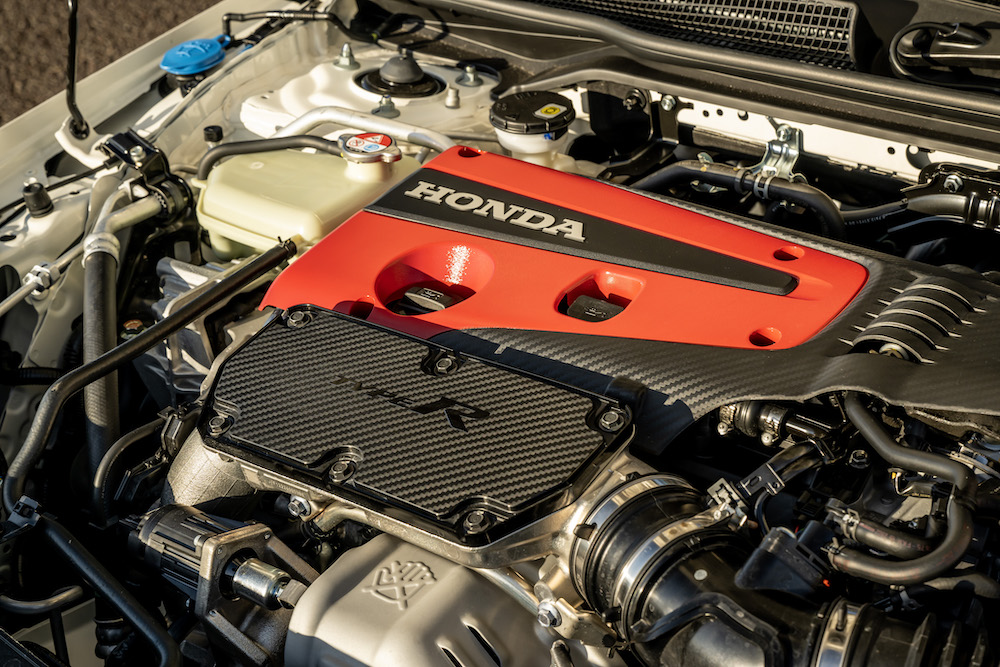 The blipper is just one of the features that can now be adjusted independently through the single drive-mode switch (Comfort, Sport, R and Individual), so unique settings can be applied to everything from engine mapping and sound to steering and suspension response, and even to instrument-panel appearance.
In keeping with the Civic Type R's intended role as a car that's as happy on the track as on the road, in R mode the instruments will tell you the points on a circuit where you've braked, accelerated or cruised, give you a lap score and log the average G-force generated on the way round.
R also gives you a dominant rev counter, a stopwatch display with log facility and a gear-position indicator – but I only had time to look at that first feature while hustling the car around Thruxton and marvelling at its even more rigid body and absolutely superb braking system.
And when you're off-track, crawling along in a tedious traffic jam, the Type R's sportily trimmed interior will remind you of what you could be doing instead. Everything in there is quality, and (to me, at least) the driving position and ergonomics seem as good as they possibly could be.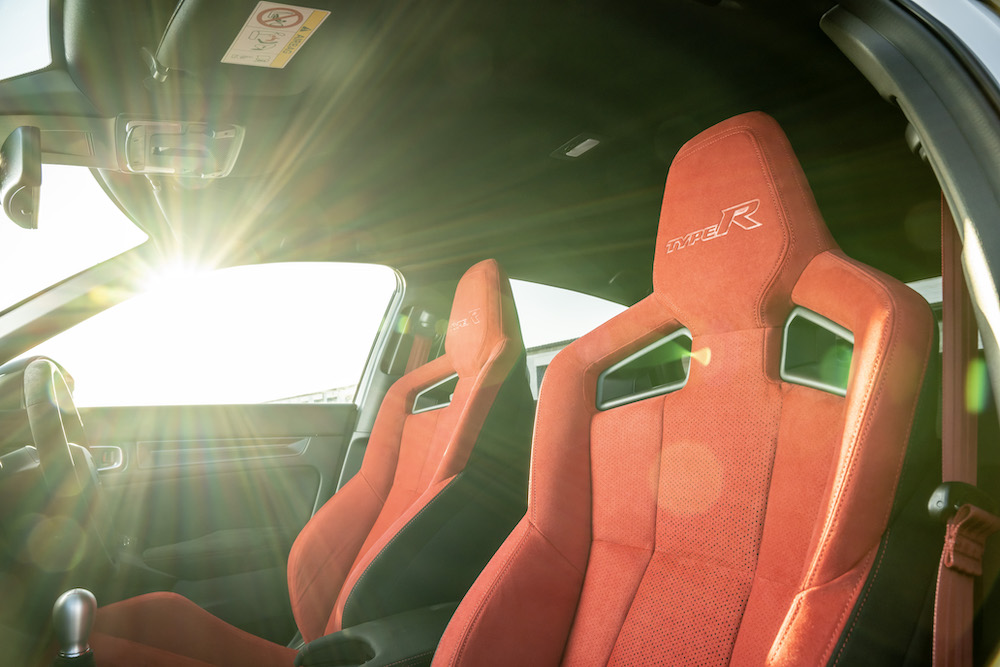 By now you're probably thinking that I liked Honda's latest hot hatch. I didn't: I absolutely loved it – and not least for offering what strikes me as a virtually unrivalled combination of epic on-track performance with genuine, daily-driver usability.
Perhaps the only drawback, then, is the price: it'll set you back a basic of £46,995, with more on top for interesting paint colours, a carbon pack and so on.
So it's certainly not cheap – but if you really like driving and you really like pure petrol power, you'll certainly feel you're getting more than your money's worth. A whole lot more, in fact….
HONDA CIVIC TYPE R FL5
Engine: 2.0-litre, turbocharged
Power: 325bhp at 6500rpm
Torque: 420Nm between 2200-4000rpm
Fuel consumption: 30mpg (overall)
0-62mph: 5.4 seconds
Top speed: 172mph
Price: £46,995