WORDS: ELLIOTT HUGHES | PHOTOGRAPHY: bonhams, rm sotheby's, gooding & co.
Bonhams, RM Sotheby's and Gooding all held major collector car auctions at Amelia Island in Florida on March 3-5, 2022, as part of the revamped 'The Amelia' weekend.
Hagerty reports the three auction houses' combined sales equated to $125m (£95m) at a 90 percent sell-through rate. While these results are undoubtedly strong, they failed to eclipse the $150m (£114m) threshold that was projected by market experts following this year's record-breaking January and February auctions.
Gooding posted the highest 2022 Amelia Island total with a record $66.5m (£50.4m), as well as the highest-grossing car sold and 19 sales that were in excess of seven figures.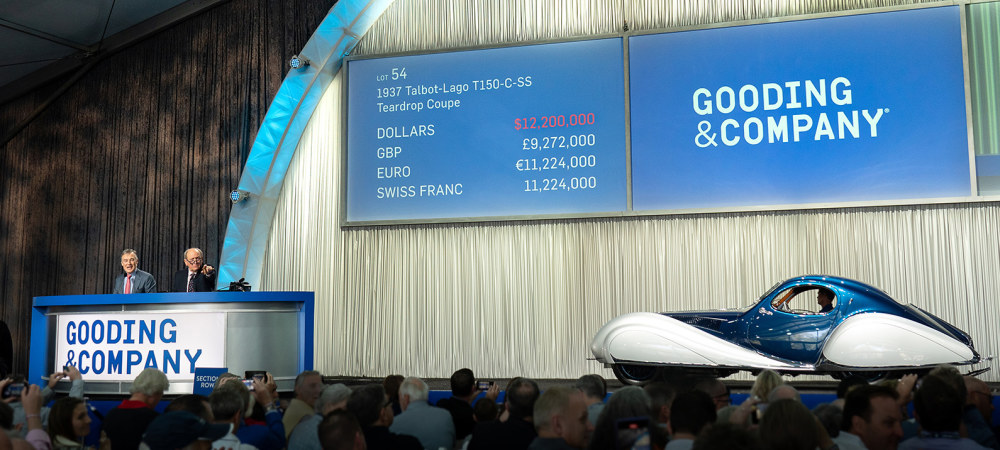 RM Sotheby's wound up in second place with $46.6m (£35.3m) and $12m-plus sales. Bonhams' $15m (£11.3m) total put the British auction house firmly in third place, although it enjoyed the highest sell-through rate at 95 percent, pipping the respective 90 percent and 89 percent rates achieved by Gooding and RM Sotheby's.
Bonhams fired the opening salvo on March 3 with its Amelia Island Auction at Fernandina Beach Golf Club. The auction was headlined by one of the rarest and most coveted models ever to wear Porsche emblems: a 1955 550 Spyder.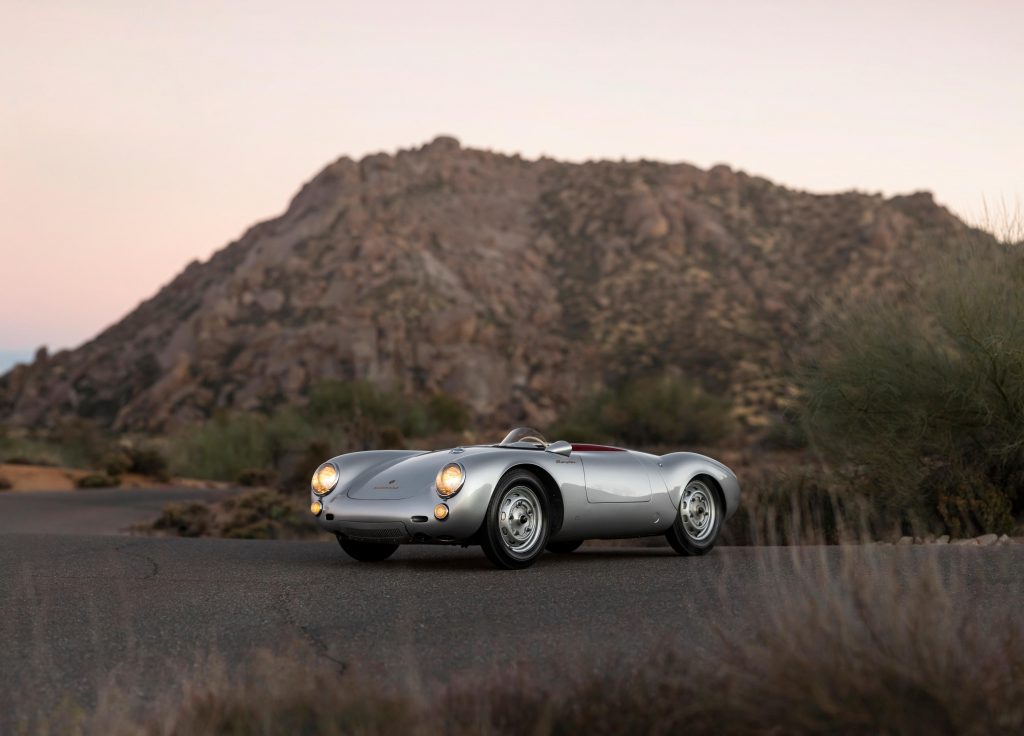 The 1500cc-engined model was nicknamed 'Giant Killer' in period for its triumphs over more powerful rivals at high-profile events such as the Le Mans 24 Hours. The example offered by Bonhams spent the first years of its life competing across Europe in the hands of its first owner, German racing driver Theo Helfrich.
An American serviceman stationed in Germany then purchased the car from Helfrich and shipped it to the US, where it was purchased by the consignor in 1972. The car's rarity, racing provenance, five-year factory restoration and 50 years of single ownership meant it fetched $4.2m (£3.1m) – the highest of Bonhams' catalogue and second-highest of the weekend.
A 1929 Duesenberg Model J Convertible Victoria was Bonhams' second-most expensive lot, achieving $1m (£808,807), followed by a Pinin Farina-bodied 1954 Jaguar XK120SE Coupé ($940,000/£712,872).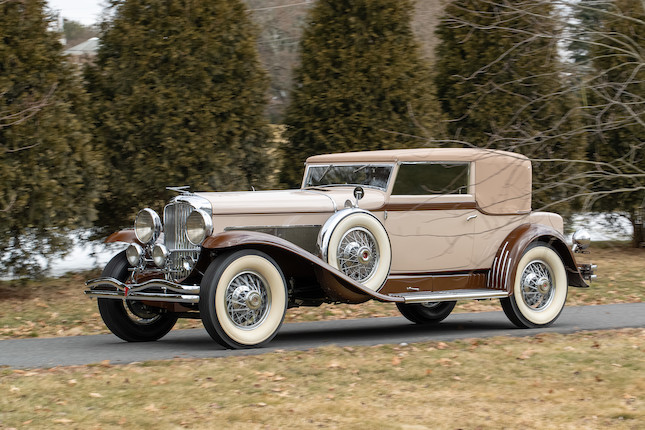 Surprisingly, the Uranium Yellow 1960 Mercedes-Benz 300SL Roadster that belonged to Princess Ashraf Pahlavi and 1938 Bugatti Type 57C Stelvio Convertible failed to sell, with top bids of $200,000 and just $25,000 short of the cars' respective low estimates.
It was Gooding's auction on March 4 that delivered the most headline-grabbing sale of The Amelia weekend, single-handedly accounting for 20 percent of the company's $66m total.
The car in question was a 1937 Talbot-Lago T150-C-SS Teardrop Coupé bodied by Figoni et Falaschi. With a sale price of $13.4m (£10.2m), the Talbot-Lago easily surpassed its $10m (£7.6m) estimate.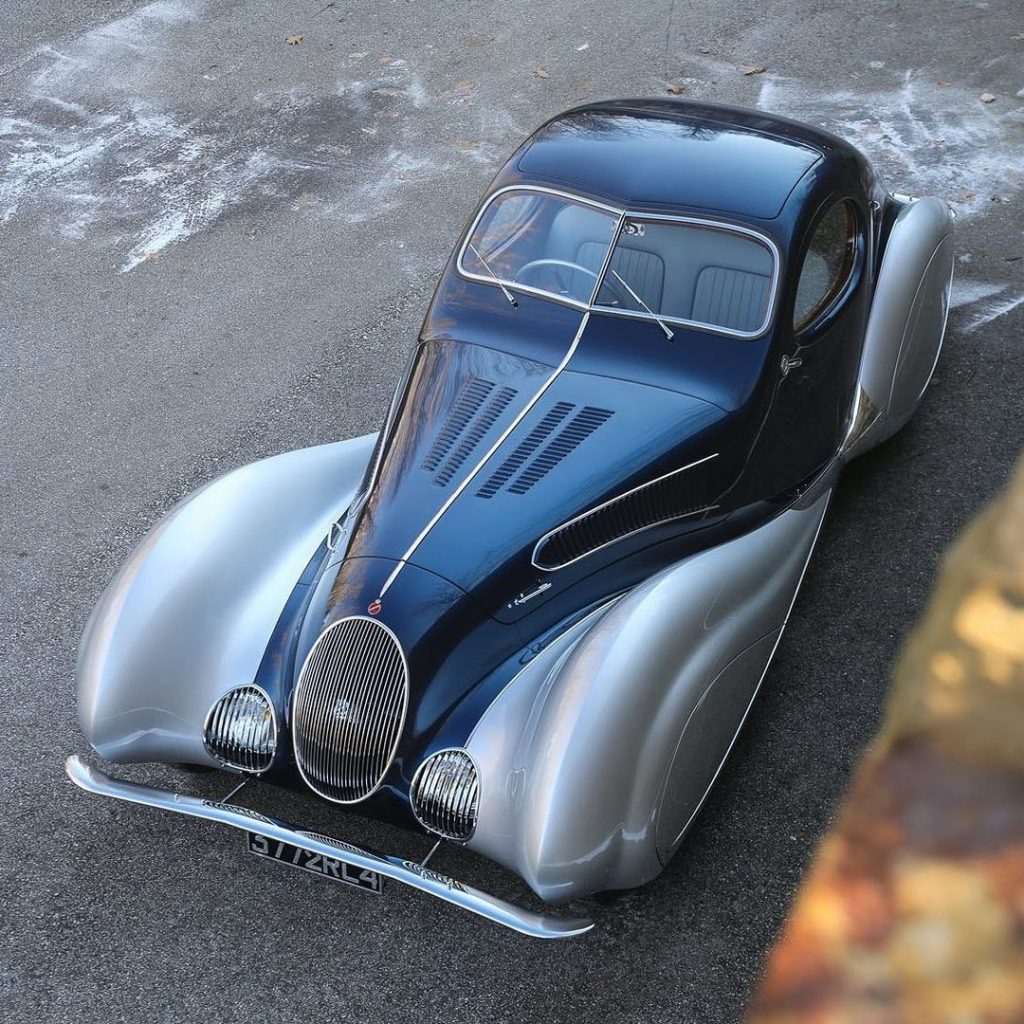 Consequently, the car set a marque record, became the most expensive French model ever sold at public auction and was the most expensive automobile of 2022 so far. It is also just the second car to attract a bid in excess of $10m (£7.6m) in Amelia Island history.
One reason for the Talbot-Lago's impressive final bid is its incredible rarity: it is one of just two built with all-aluminium coachwork and fully enveloping, skirted front fenders. It is also the only example remaining with its original coachwork still intact.
The Talbot-Lago was jointly followed by a 1959 Porsche 718 RSK and 1954 Bentley R-type, which sold for $2.9m (£2.2m) apiece. The Bentley sale marks a model record, outpacing its $2.5m (£1.9m) pre-auction estimate, while the Porsche sold at the mid-range of its forecasted price bracket.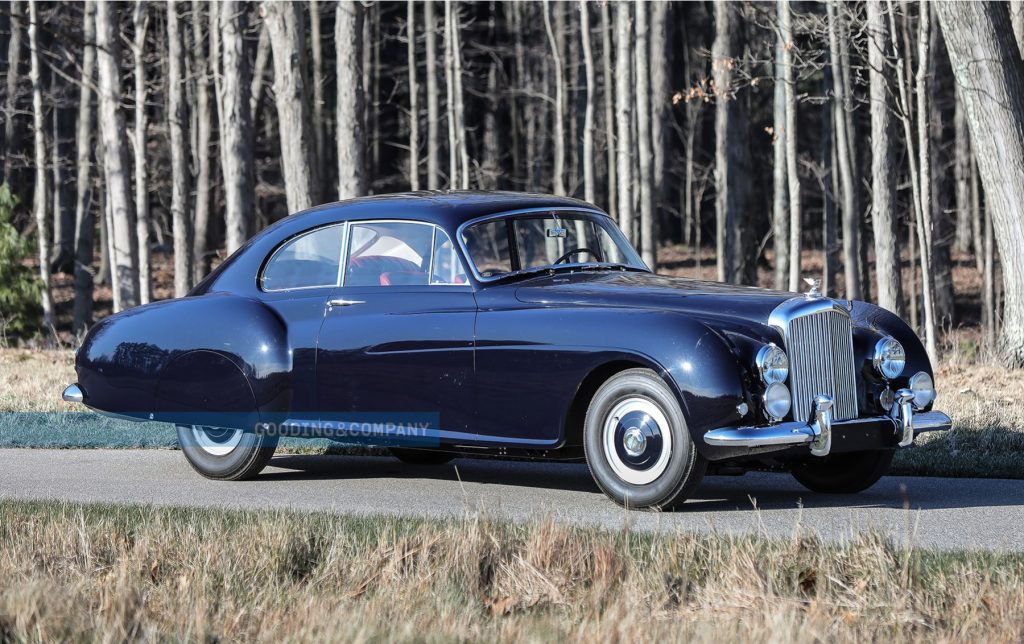 Gooding's Amelia Island Auction also included the sale of a 1967 Toyota-Shelby 2000GT. This one-of-a-kind Carroll Shelby-prepared race car was the first off the production line and was developed to campaign in the 1968 SCCA Championship.
Such rarity and provenance were not lost on bidders as the Toyota's sale price rose to $2.5m (£1.9m), setting world records for both the most valuable Japanese car and most valuable Toyota ever sold at auction. It also proved Hagerty's prophecy of a Japanese model selling for seven figures in 2022 to be correct.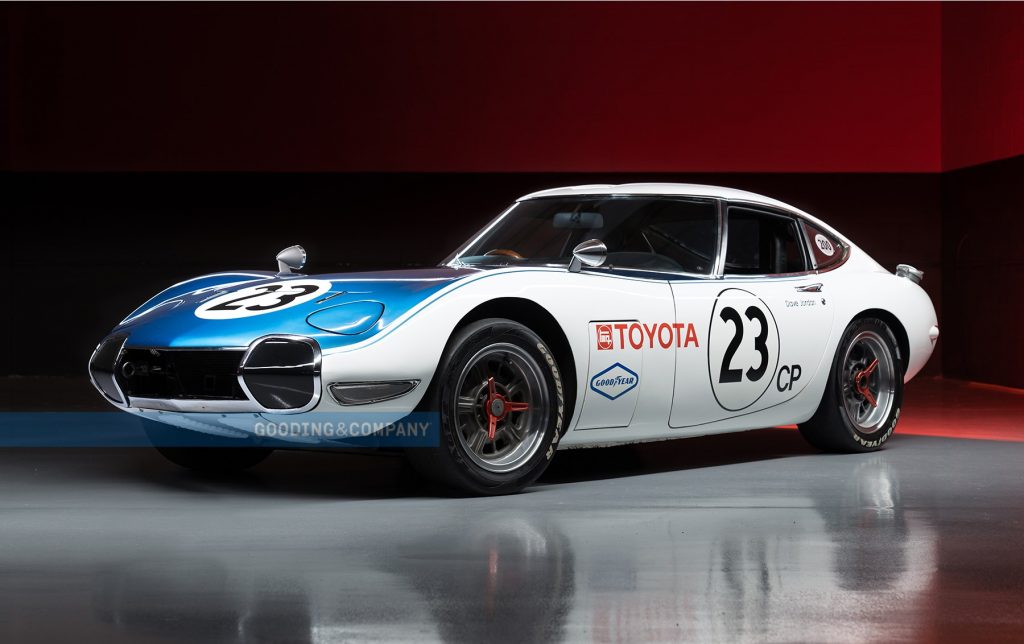 The Amelia's official auction partner, RM Sotheby's, enjoyed strong returns at the Ritz Carlton on March 5, albeit not quite to the prolific extent of rival auctioneer Gooding & Co.
A 1934 Packard Twelve Individual Custom Convertible Victoria marked RM Sotheby's highest single sale of the day at $4.1m (£3.1m). The car was a Pebble Beach Concours d'Elegance Best of Show nominee in 2014 and is one of just three known examples remaining in existence. The final price meant the car only narrowly missed out on beating the marque record set in 2015 by a 1934 Packard Twelve Individual Custom Stationary Coupe.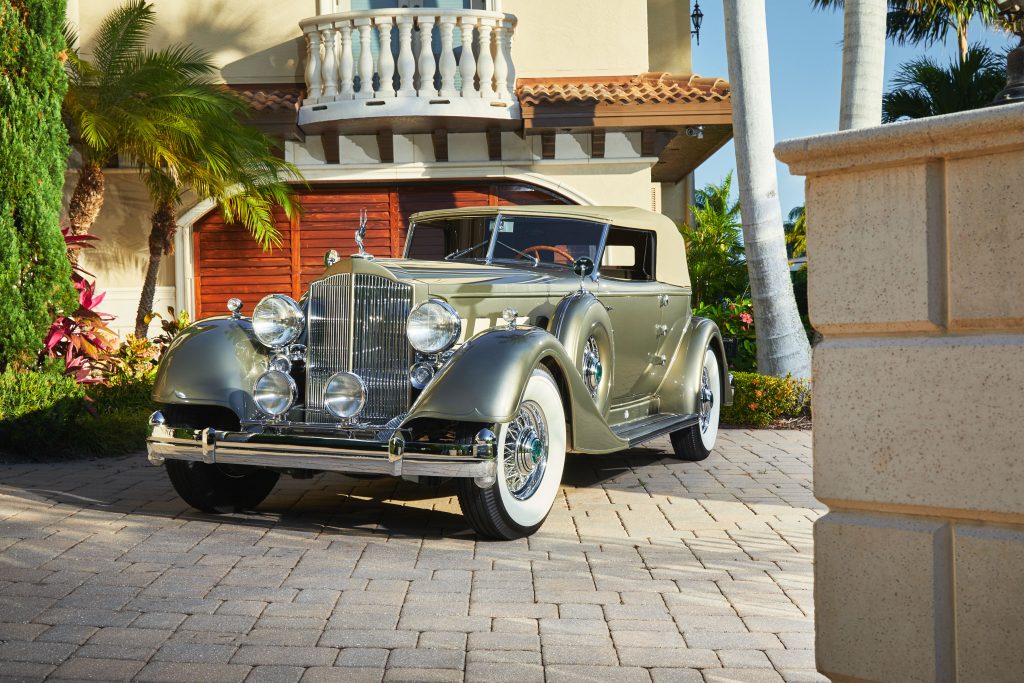 Another pre-war car – a 1930 Duesenberg Model J Convertible Sedan – created shock as it smashed its pre-auction estimate of $1m (£808,807), selling for $3.5m (£2.6m).
The Duesenberg was marginally beaten to second place by a 2015 Ferrari LaFerrari ($3.6m/£2.7m), emphasising the continued desirability of rare pre-war models in a market that has seen modern supercar values trend upwards in recent years.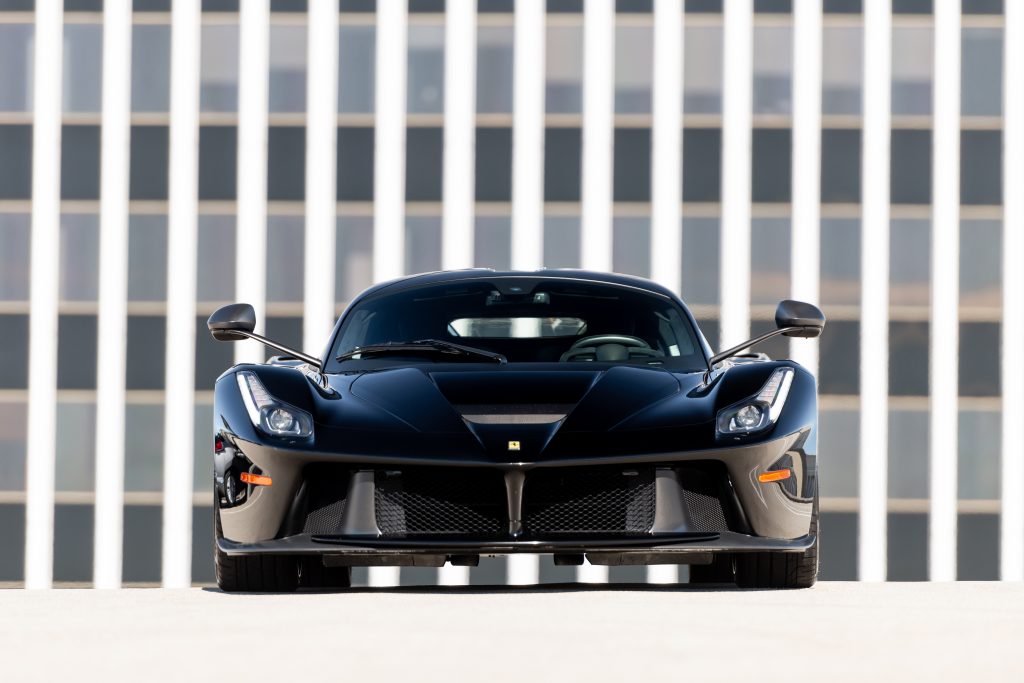 Evidence of the booming supercar and hypercar collector markets can be seen with what followed RM Sotheby's leading trio: a 2019 Bugatti Chiron Sport ($3.3m/£2.5m), 2020 McLaren Speedtail ($2.7m/£2.0m) and 1994 Bugatti EB110 GT Prototype ($2.1m/£1.5m).
The 2022 Amelia Island auctions demonstrated the continued resilience of the collector car market, although current political and economic turmoil may have contributed to a more restrained showing than what was expected after January's Scottsdale sales.
Click the following links for full Amelia Island auction results: Bonhams, Gooding & Co, RM Sotheby's.