Words: Nathan Chadwick | Photos: Tim Scott, Tom Shaxson AND Nathan Chadwick
The beautifully manicured lawns of Heveningham Hall in Suffolk, UK, played host to three days of automotive and aeronautic delights, all watched over by a parked Harrier jump jet.
The long weekend of July 7-9, 2023 kicked off on Friday, with the Heveningham Tour, which took participants on a scenic drive around Suffolk before stopping for lunch at Yoxford, under the watchful gaze of the Yoxman Statue (below). It then headed back to Heveningham Hall for a black-tie dinner, or a Firefeast, underneath the stars at nearby Sibton Park.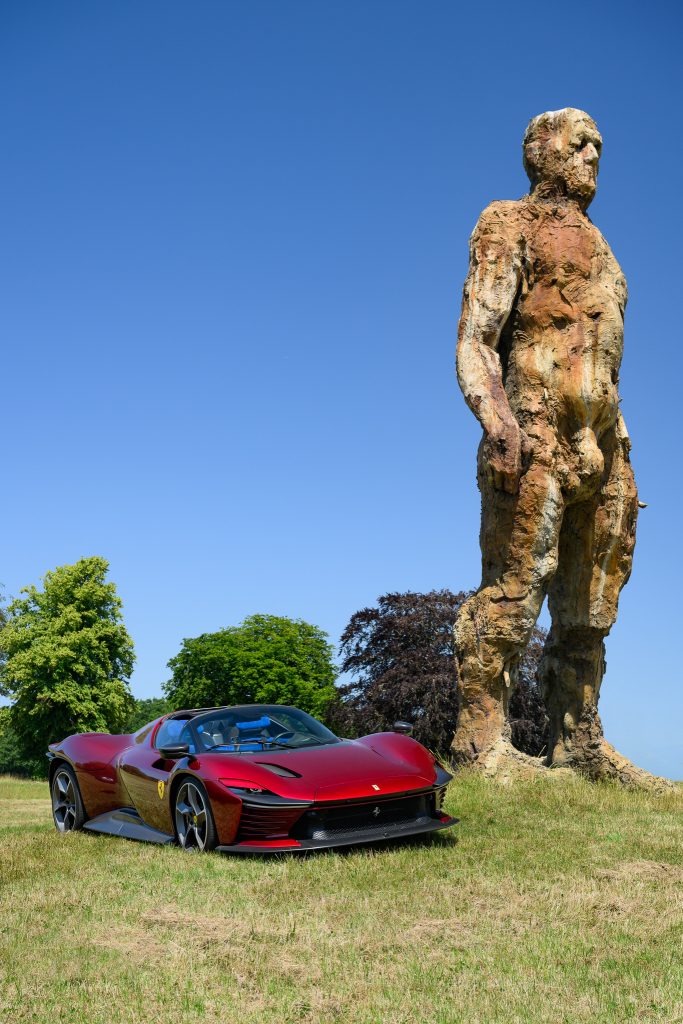 Saturday at the Heveningham Concours saw judging from a panel of experts that included Peter Stevens, Tony Hatter and Marino Franchitti, led by panel chairman Max Hunt. The supercar class was won by a 2023 Ferrari Daytona SP3, finished in Rosso Libano red. In the runner-up spot came the Praga Bohema (more on that later).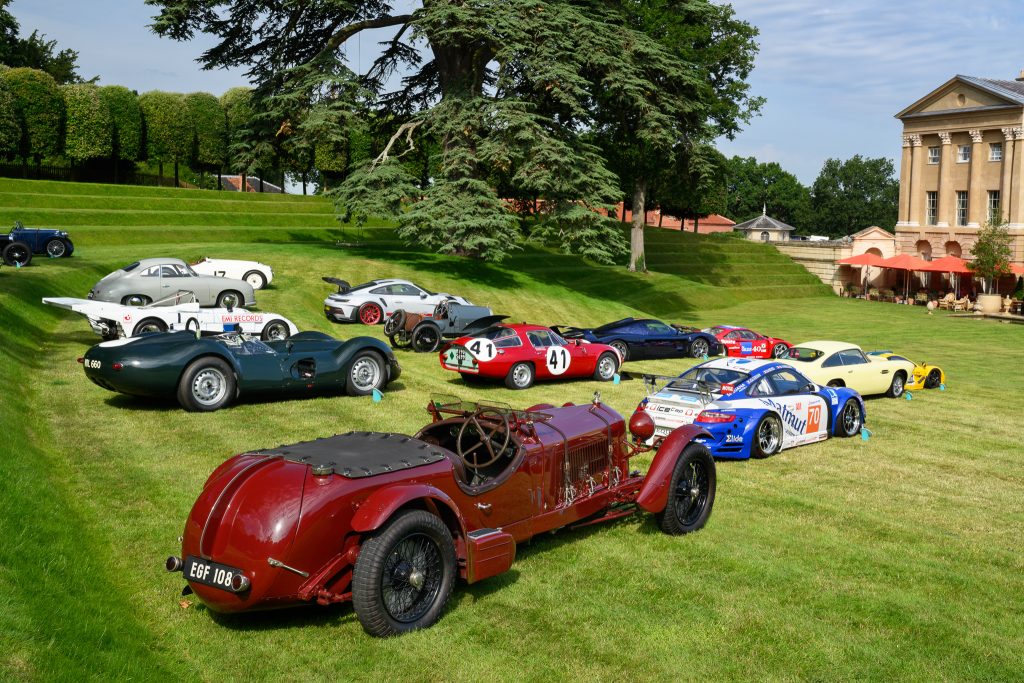 In the pre-war class, a 1933 Alfa Romeo 8C 2300 Le Mans Tourer (above) took victory ahead of a 1936 SS Jaguar 100 Special. The winning Alfa Romeo was built to the same specification as the Le Mans team cars, and first arrived in the UK via Alfa dealer Thomson and Taylor in 1937. The Touring-bodied car remains in original condition.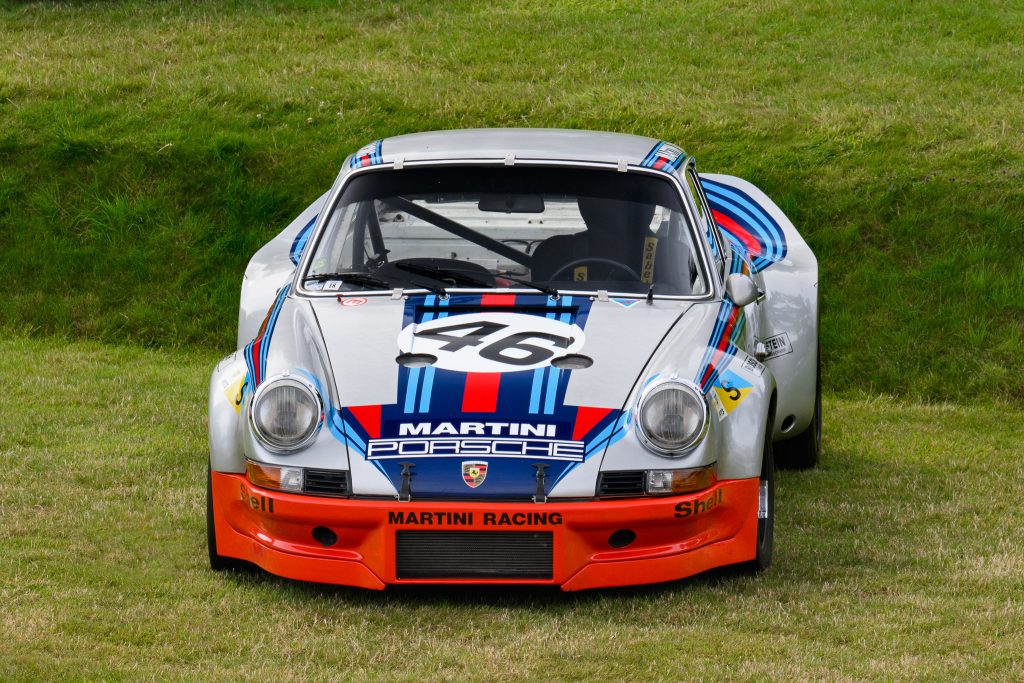 The post-war class was won by Andy Prill's 1973 Porsche 911 Carrera RSR. This particular car, known as R7, was driven to fourth place in the 1973 Le Mans 24 Hours with Gijs van Lennep and Herbie Müller. The duo also competed at the Nürburgring 1000km that year, finishing fifth. The car was later driven by Helmuth Koinigg and Manfred Schurti to ninth place at the Österreichring 1000km, before heading over the Atlantic for the Watkins Glen Six Hours. It was driven by Peter Gregg and Hurley Haywood to seventh place, run under the Brumos Racing banner. For the 1974 Le Mans 24 Hours, it was entered by Rebaque Rojas Racing, with Guillermo Rojas, Héctor Rebaque and Fred van Beuren Jr behind the wheel. Sadly the race would end in retirement, with ignition problems calling a halt to proceedings after seven hours.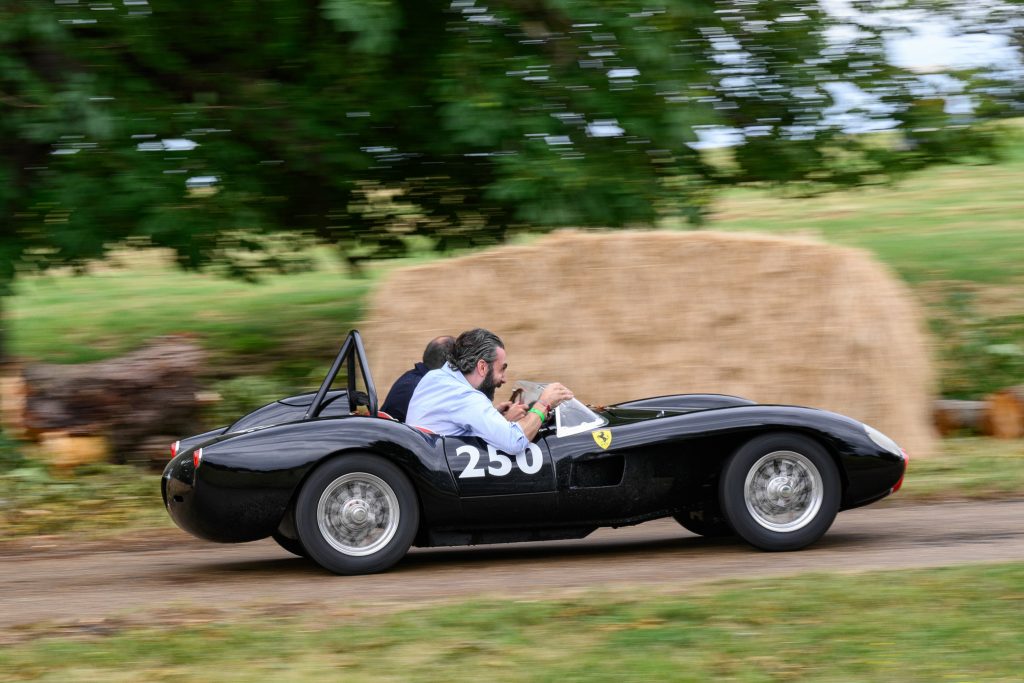 Away from the concours, several of the cars from the concours and tour could be seen taking on Horsepower Hill, with a miniature hillclimb through the grounds. James Nicholls won the title for the fastest speed achieved – 117mph in a Ferrari 488 Pista Spyder. Elsewhere, crowds could take in a display from the Little Car Company, a field where supercars could show off their doughnut skills and much more besides. In the aeroplane concours, a Supermarine Spitfire took top honours – visitors to Saturday night's party enjoyed a vibrant flypast above the house, as well as other flying spectacles (see below).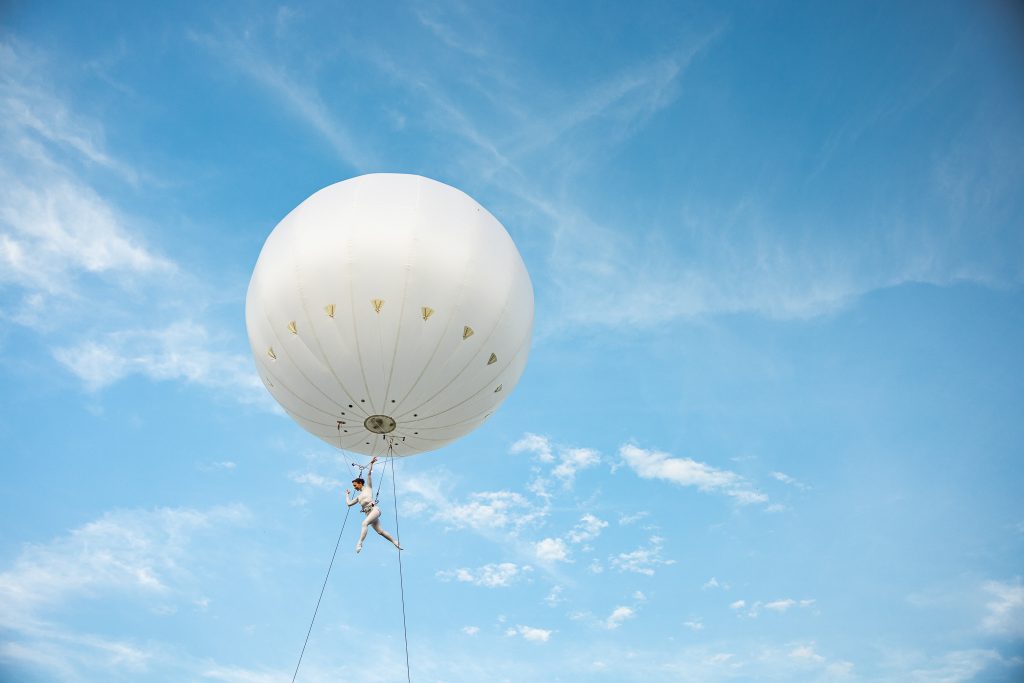 The event ran in tandem with the Heveningham Hall Country Fair, where displays of country crafts and monster trucks were featured side-by-side. The event, which is organised on a not-for-profit basis, raised £115,000 for local charities, with the money benefitting the East Anglian Air Ambulance and local dementia unit, as well as the Pear Tree Centre and other local causes including youth projects and scholarships.
We've picked a few stand-out cars from the weekend – which one is your favourite?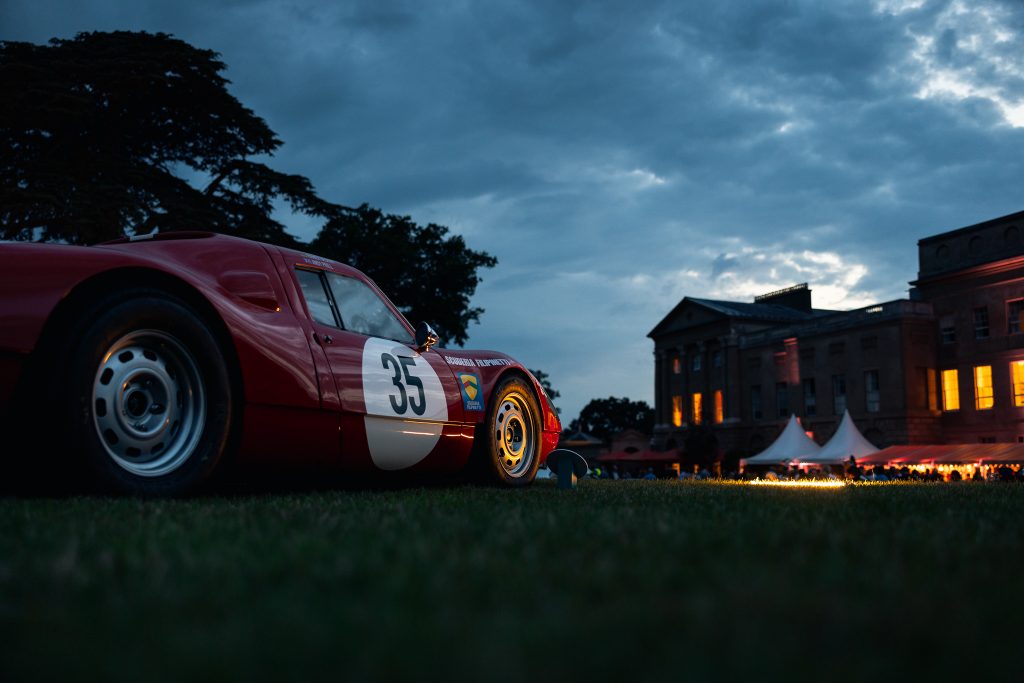 This 1964 Porsche 904 Carrera GTS was bought by Georges Filipinetti in April that year, and immediately thrust it into action at the Nürburgring 1000km. With Bertie Muller and Andre Knorr behind the wheel, it finished second in class and sixth overall. The duo shared the car with Claude Sage for an assault on that year's Le Mans 24 Hours, finishing 11th. It would be raced by Scuderia Filipinetti for only around a year, but it would compete at the highest level until 1971, having been upgraded to 906 specification.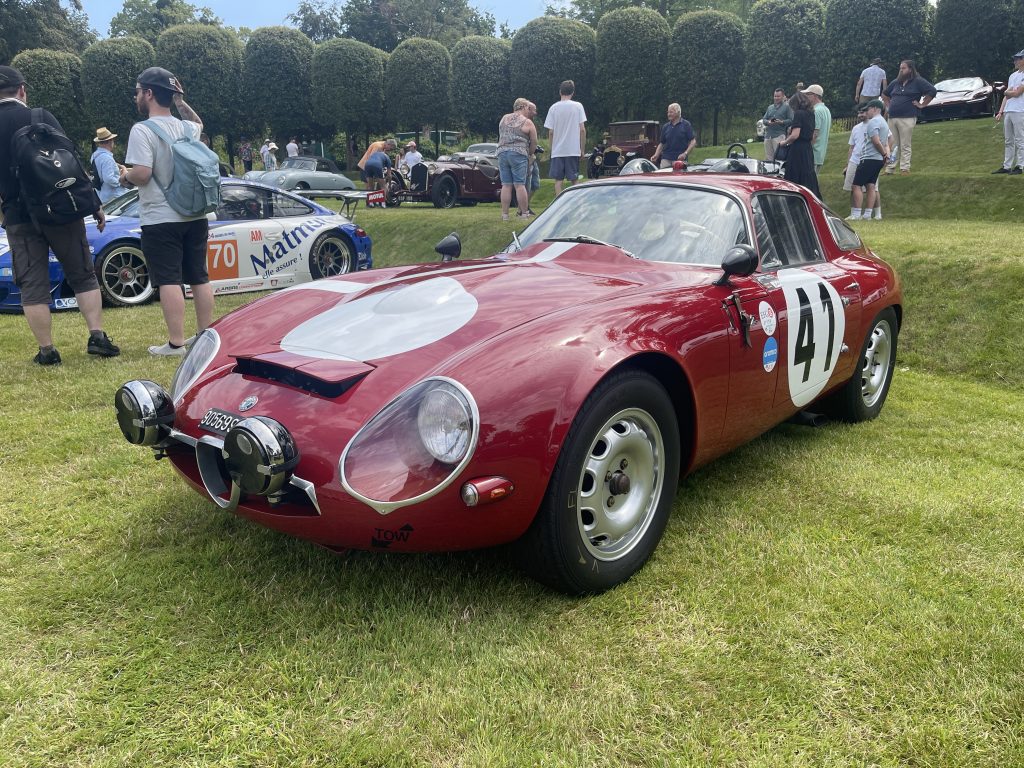 This 1964 Alfa Romeo Giulia TZ was supplied to Scuderia Sant'Ambroeus and developed by Autodelta, Alfa's racing team. It took part at the 1964 Le Mans 24 Hours, with Giampiero Biscaldi and Giancarlo Sala behind the wheel; it finished 16th overall. For its assault on the Tour de France that year, the car was stripped of its paint and competed in bare aluminium to be as light as possible. It would remain in this condition for the next 30 years, and it was restored to Le Mans specification in 2010.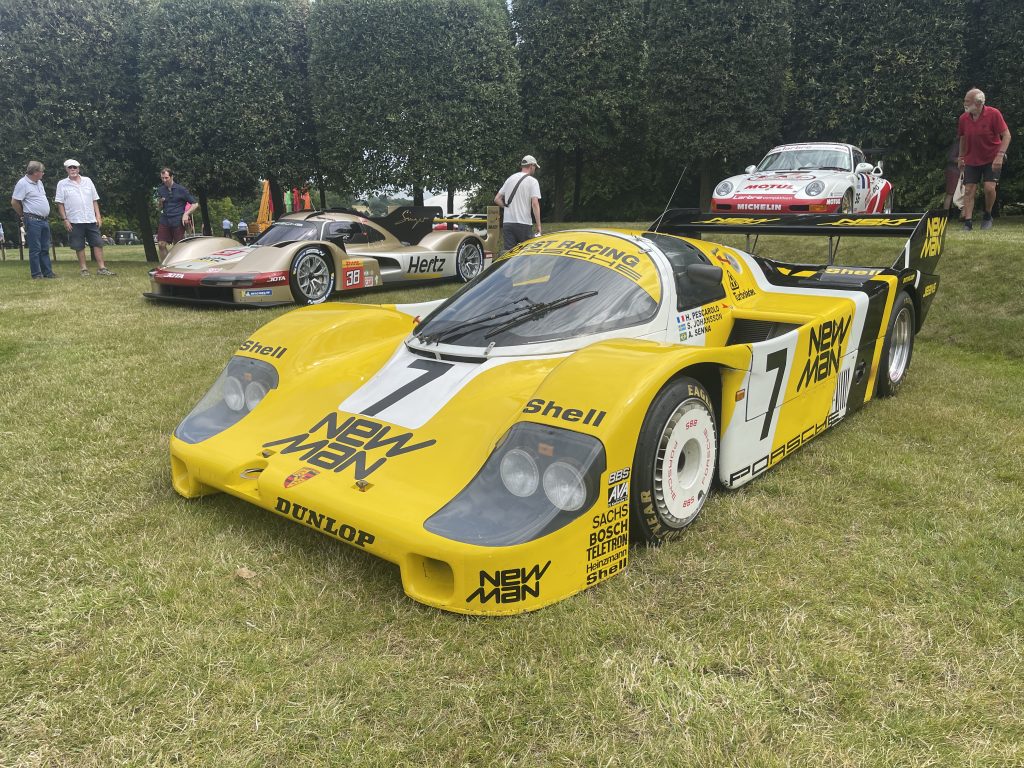 This 1983 Porsche 956 is chassis 104 – famed for being the only endurance-racing machine Ayrton Senna drove. For the Nürburgring 1000km, Senna partnered with Stefan Johansson and Henri Pescarolo in this Joest-entered machine, with the aim of learning the track prior to the 1985 German Grand Prix. He would lap quicker than his colleagues, but a clutch problem 15 minutes into the race scuppered any chances of a win. However, the trio fought back to eighth place. The car would become a veteran racer; this chassis competed in more races than any other – career highlights include a win at the Monza 1000km and third at Le Mans in 1986.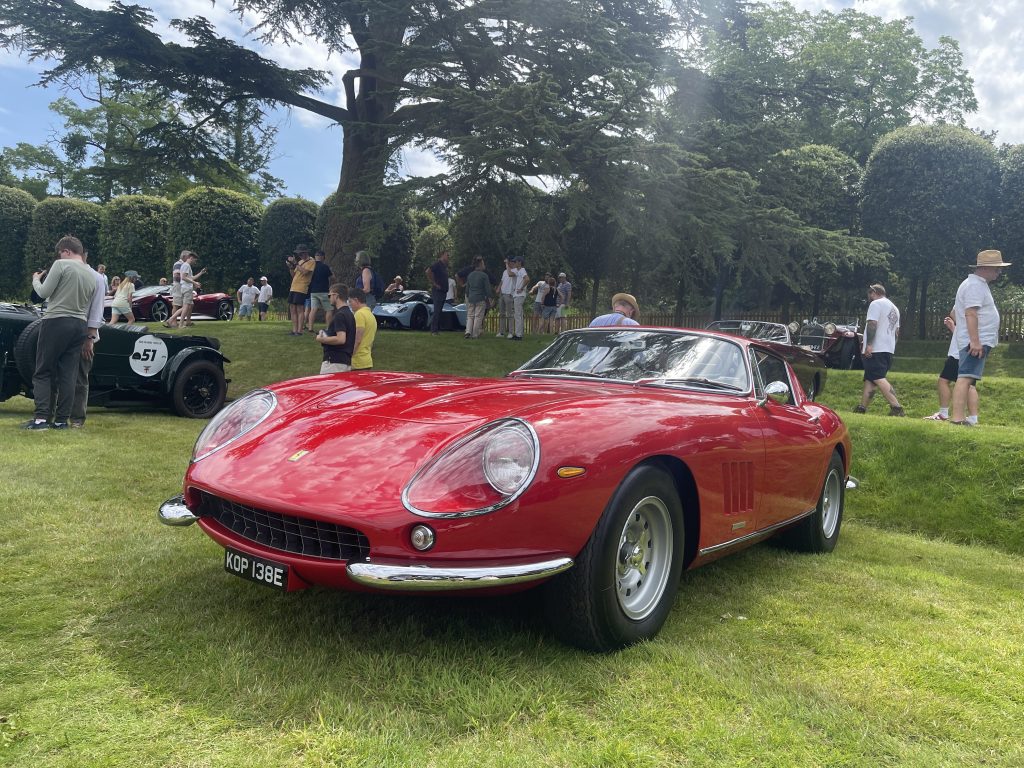 This 1967 Ferrari 275GTB/4 is chassis 09999 – the car originally owned by Alexander Onassis, and one of just 330 built. It was later part of the David Piper Collection, and was restored by Cremonini of Modena in 1989.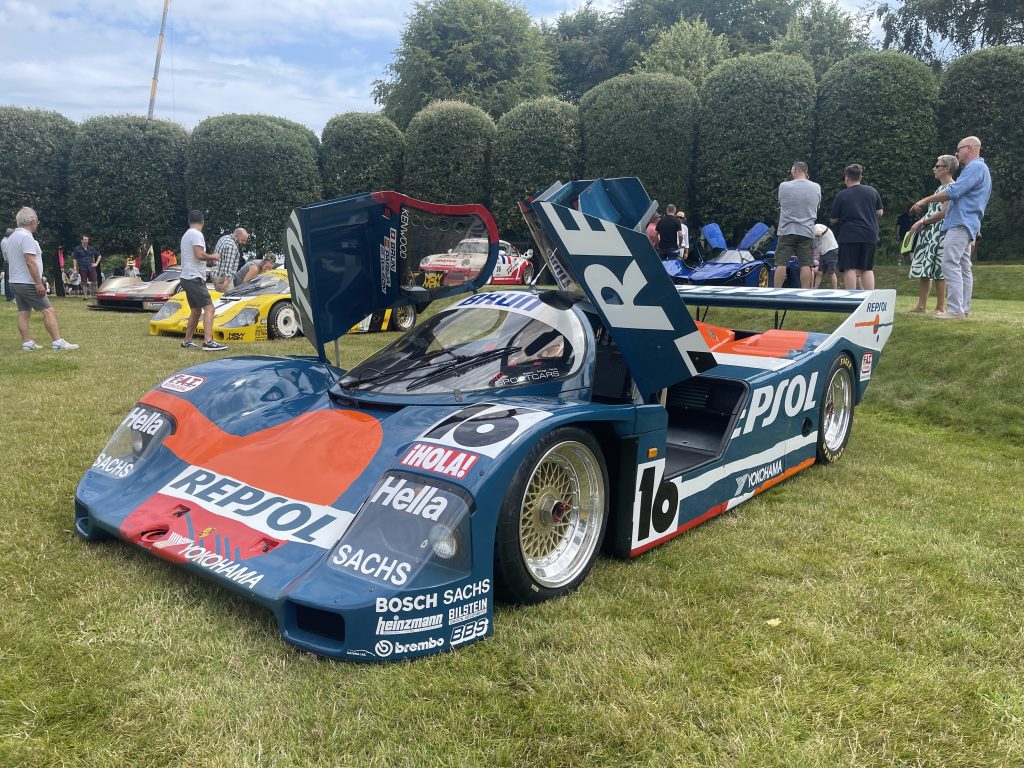 This 1990 Porsche 962C is the last factory-built 962C, and was bought by the Brun Motorsport team. It competed just twice in period, failing to finish on both occasions. It's covered minimal mileage, and is currently being restored by Group C specialist Katana Ltd.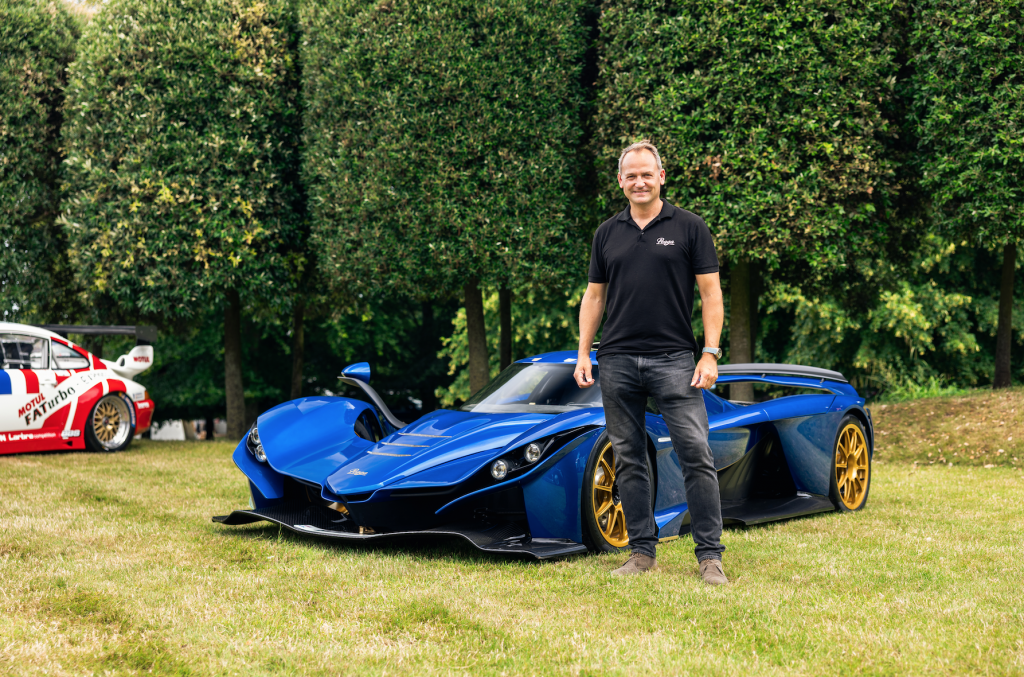 Ben Collins was on hand for the UK public debut of the Praga Bohema supercar. It was highly commended by the judging panel in the supercar class. Jury member Peter Stevens said: "The thing about the Bohema that really caught my attention is the beauty of the details. I've dragged people over to this car just to look at simple things, such as the door hinge, which is a little piece of sculpture, or the door lock, because it's not often – in fact, it's never – that you see every detail attended to like that."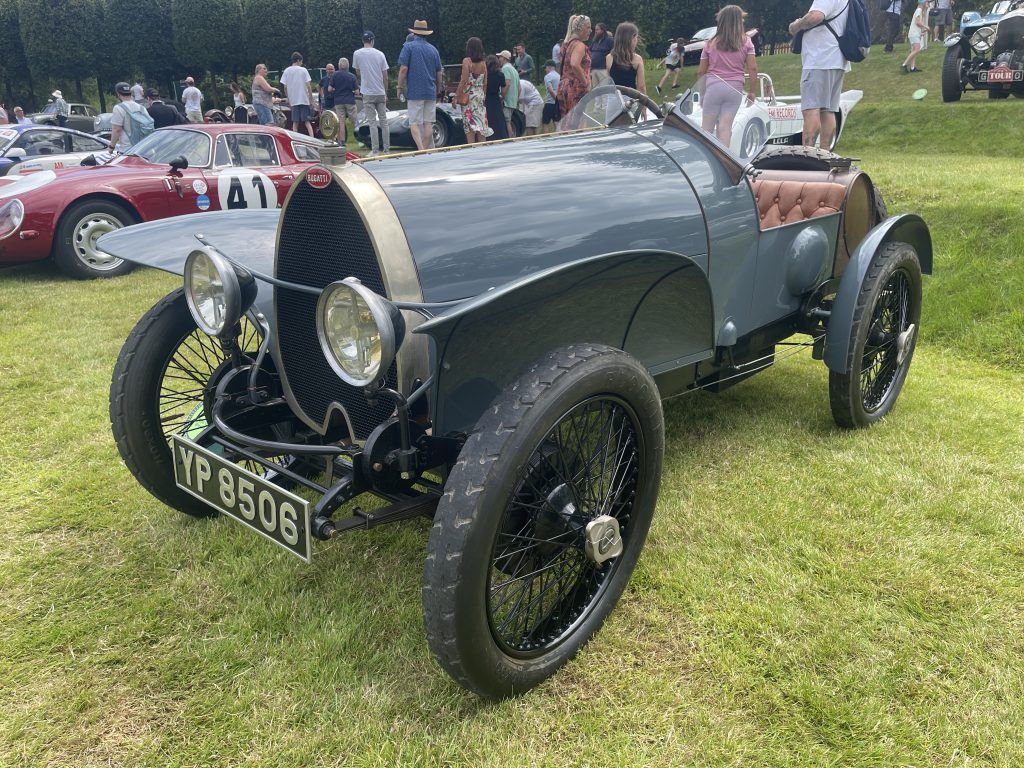 This 1923 Bugatti Type 13 Brescia has been comprehensively restored by Tula Precision after a busy competition life. It was driven by John Ogle and Hamish Moffatt in hillclimbs and speed trials in the mid 1930s. Ogle is famed for reaching 92mph in the car on the Dorking bypass, which became problematic only when trying to brake for a busy roundabout.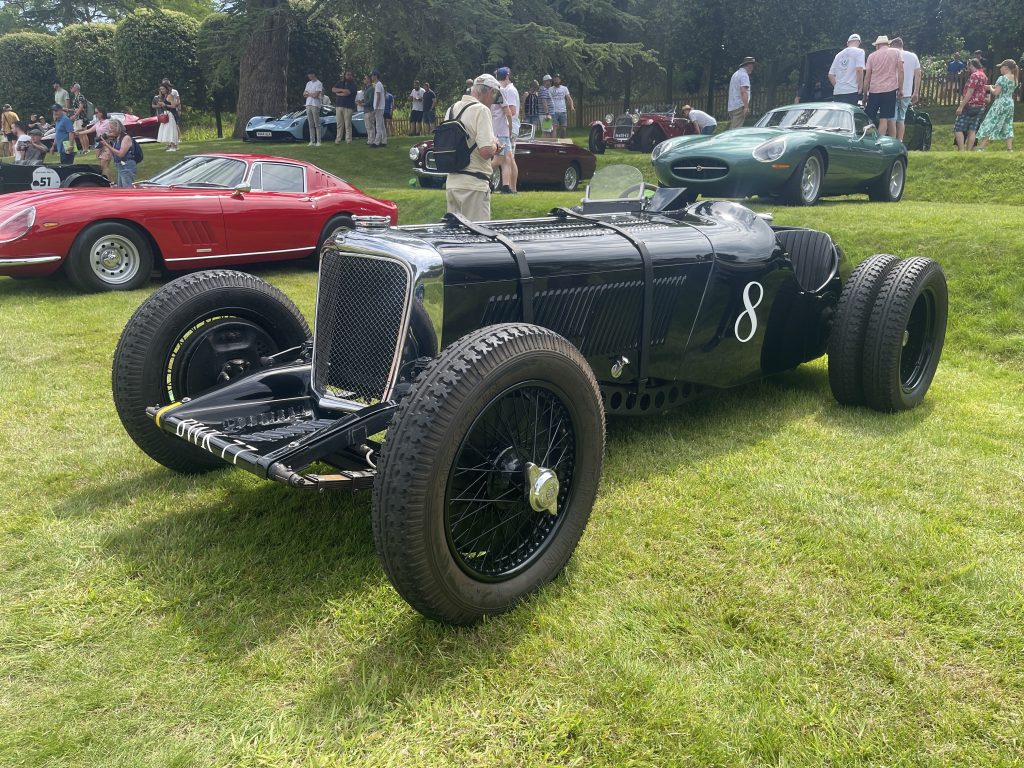 This 1936 SS Jaguar 100 special is better known as Old Number Eight – chassis 18008. It began life as a normal production road car, but was soon competing. In 1938 it was driven in the International Alpine Trial by Tommy Wisdom alongside his wife Elsie; the duo took home a Coupes des Glaciers trophy. SS and future Jaguar engineer Walter Hassan modified the car for hillclimbs and speed trials by removing the wings, relocating the axles and building a rounded tail. There was also a new, supercharged 3.5-litre engine – Old Number Eight was soon lapping Brooklands at 125mph.
This 1975 BMW 3.5 CSL 'Batmobile' was actually adapted from a 2800 CS road car that dated back to 1969. It was built by Schnitzer Motorsport to Group 2 specification for the 1970 European Hillclimb Championship. It would also prove its mettle on track, taking third at the 1971 Nürburgring 24 Hours. It was later rebuilt to 3.5 CSL specification by Alpina, and competed for the next two years. It then spent the best part of two decades in storage before it was restored by Alex Elliott.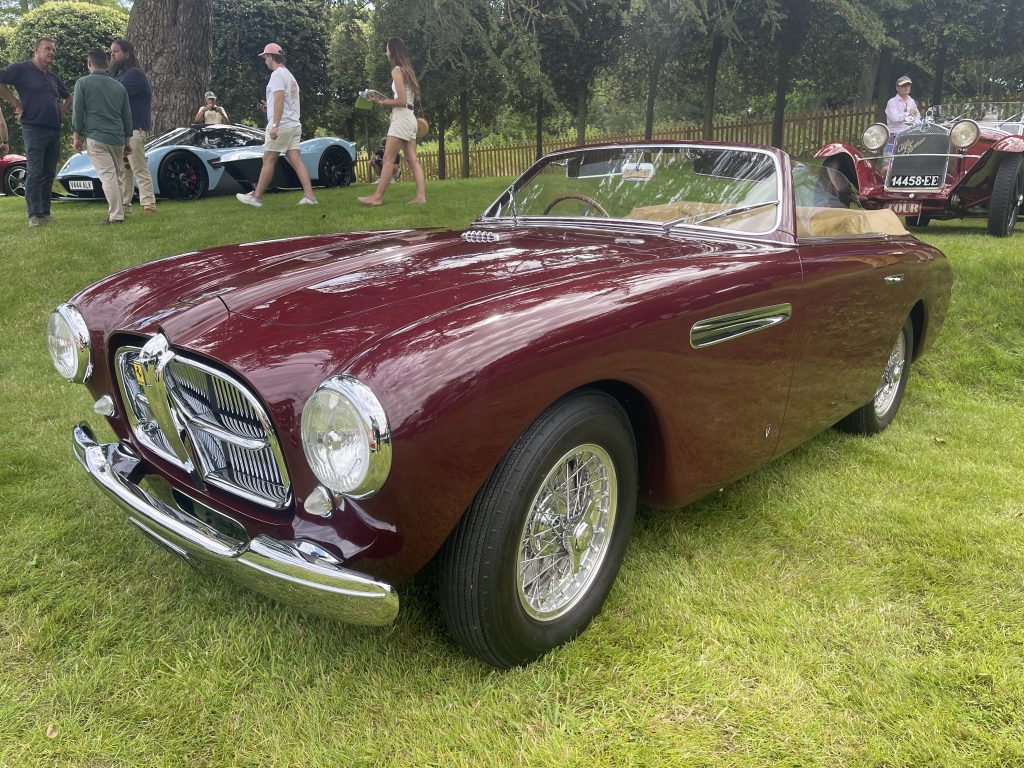 This 1951 Ferrari 212 Inter Cabriolet is one of a handful bodied largely in aluminium by Vignale. It was originally sold to a dealer in Rome, before heading to Switzerland under the stewardship of Peter Staechelin. He coaxed an extra 15bhp out of the V12 by having Ferrari upgrade it to Export specification. In 1973, the car was in the possession of racer Charles Renaud, who kept it until his death in 2006. At that point the car was in bits awaiting restoration; by 2014, the work had been completed and it duly took second in class at that year's Pebble Beach Concours d'Elegance.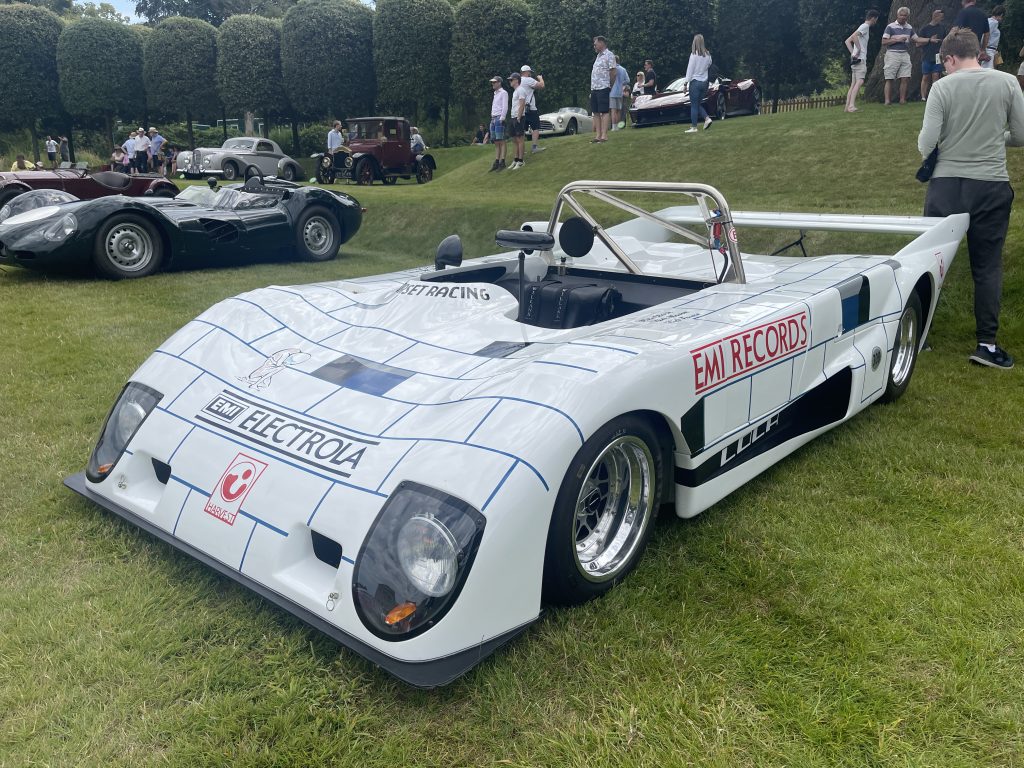 This 1978 Lola T297 forms part of Pink Floyd drummer Nick Mason's collection. It was the first modern car he'd driven – and his first race was the 1979 Le Mans 24 Hours. With seven hours behind the wheel, he finished second in class and 18th overall – and ended up buying the car. He returned to Le Mans in 1980, and finished 22nd. Ahead of the 1981 Nürburgring 1000km, the Lola was repainted in the current paint scheme, recalling the brickwork pattern used by Gerald Scarfe for Pink Floyd's The Wall.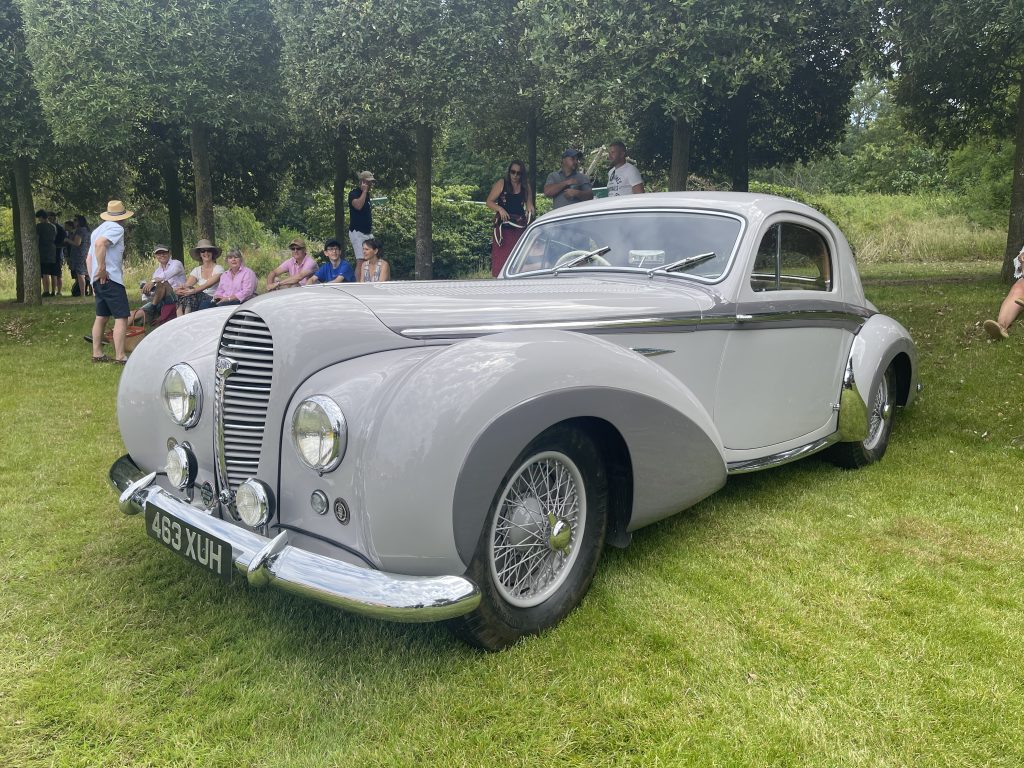 This 1948 Delahaye 135M FHC wears a Chapron body, designed by Carlo Delaisse. It's unique in having the front badge mounted on a wand rather than on a bonnet, perhaps mirroring the world in which its first owner lived. He was ballet choreographer George de Cuevas, who is famed for fighting a duel at the age of 72 in 1958, to resolve an argument with a fellow choreographer. After the Delahaye appeared at the Pebble Beach Concours d'Elegance in 2016, the engine was rebuilt to MS specifications by Jonathan Wood Restorations.
For more information on the concours, head to www.heveninghamconcours.com.
Heveningham Concours 2023
Best Pre-War Car: 1933 Alfa Romeo 8C 2300 Le Mans Tourer
Best Post-War Car: 1973 Porsche 911 Carrera RSR
Best Supercar: 2023 Ferrari SP3 Daytona