WORDS: ELLIOTT HUGHES | PHOTOGRAPHY: PETER SUMMERS, JOE HARDING & TOBY WHALE
The 79th Goodwood Members' Meeting marked the 40th anniversary of Group C with what can only be described as perhaps the greatest gathering of Group C Porsches ever witnessed at any time in history – including when they were racing in period. 
Twenty-one examples of 956 and 962 Porsche prototypes were displayed line abreast in the paddock, spanning 12 glorious years of Porsche's unprecedented successes in international sportscar racing from 1982 to 1994. Seeing so many of them in one place, up close, was fantastically surreal.
But seeing the cars in the paddock was an amuse-bouche for what occurred when the springtime sky reddened on Saturday evening and something truly remarkable happened; 16 of the 21 Porsche prototypes were awakened from hibernation and unleashed on the circuit for a magical demonstration run.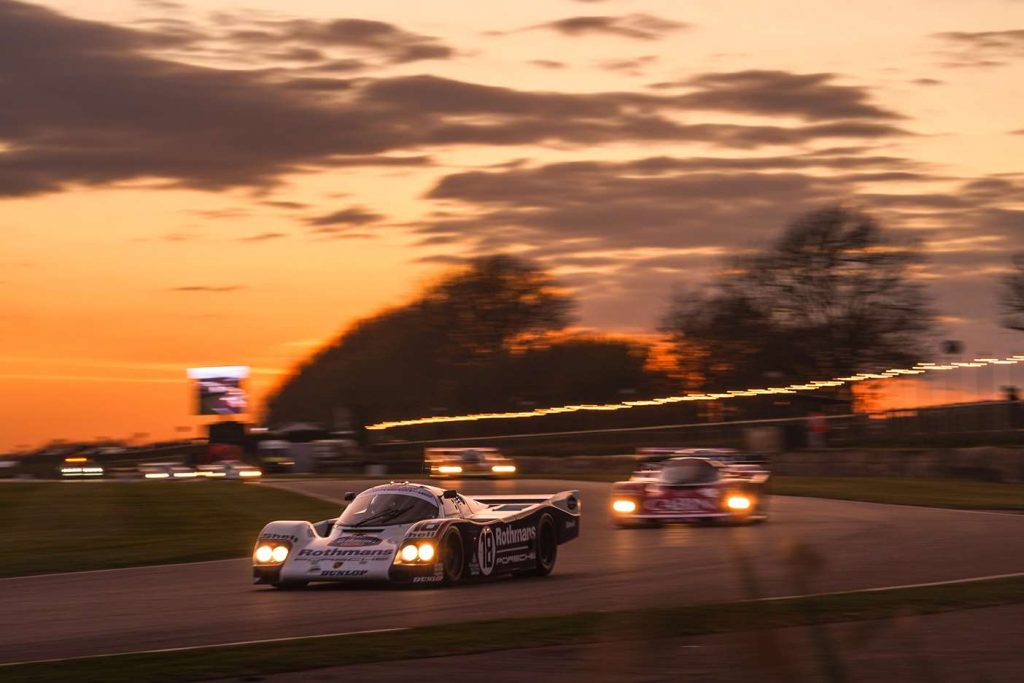 Witnessing the spectacle first-hand was like the automotive equivalent of Halley's Comet: rare, spectacular and perversely short lived. The thunderous orchestra of turbocharged flat-sixes reverberated through the English countryside, punctuated by wooshes from wastegates and staccato pops and crackles from exhausts as the armada of cars surged into Woodcote for the first time.  
The assault on the senses continued as the amber glow of halogen headlights emerged from the chicane in quick succession before each car streaked by in a vivid flash of colour, accentuated by intermittent camera flashes from the crowd as though the pit straight was a Hollywood red carpet. Then, in mere seconds, all 16 had disappeared into Madgwick with licks of flame flamboyantly erupting from their exhausts.
As the sun continued to plunge towards the horizon and the sky darkened, the phantasmagoria became progressively more spellbinding as drivers pushed harder and headlights glowed brighter as darkness encroached. 
The incredible field of cars had been arranged in chronological order, and was led by the very car that started Porsche's 1980s sportscar racing dynasty: the iconic Rothmans-liveried 956-002. 
Following a short, nine-month gestation period under the guidance of legendary designer Norbert Singer, 956-002 won Le Mans in 1982 at the first time of asking, with Jacky Ickx and Derek Bell at the wheel. Its appearance at the Members' Meeting was made even more special by the fact that, aside from a short demo run, it never turned a wheel again after victoriously crossing the line at La Sarthe. 
After effectively retiring from racing on the spot in 1982, 956-002 spent decades suspended from the ceiling of the Porsche Museum in Stuttgart to demonstrate the downforce produced by its pioneering ground-effects aerodynamics. This, alongside Porsche's first all-aluminium monocoque, made the 956 Singer's magnum opus and Porsche's modern template for race-car design. Later 956s even featured the first generation of Porsche's dual-clutch transmission.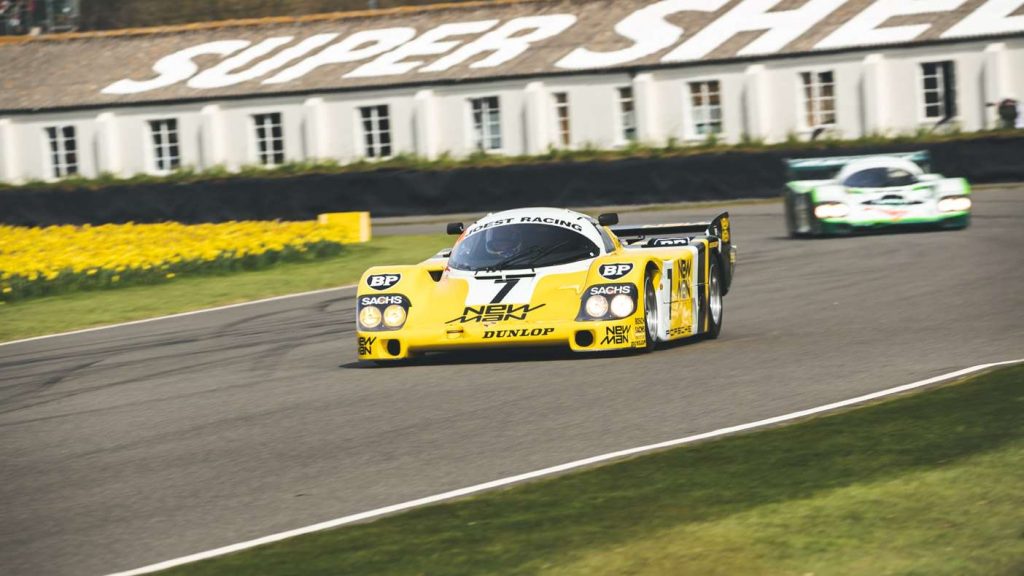 Following in the slipstream of 956-002 was another Le Mans victor: the legendary Team New-Man Joest 956-117 that took Le Mans in 1984 and 1985 – one of the few cars to ever achieve such a feat. With two Le Mans wins under its belt, it went on to win the 1986 World Sportscar Championship with a historic victory at the Fuji 1000km, and followed this up with a first place at the Kyalami 500km before retiring from competition. It now resides in Henry Pearman's prolific nine-car collection of 956s and 962s, all of which were brought to Goodwood. 
The final Le Mans-winning example in the field was the Works 962-006 that claimed victory in the 1987 race. As with the 1982 Le Mans winner, its racing career was as spectacular as it was short lived. Built in 1986, it competed at that year's Spa 1000km and Fuji 1000km before being relegated to the role of T car for the opening rounds of 1987. 
That all changed when Hans-Joachim Stuck crashed chassis 962-007 (also present at Goodwood) during a shakedown session at Weissach, which thrust 962-006 into action at Le Mans in 1987. Derek Bell, Stuck and Al Holbert proceeded to win Le Mans in 962-006 from second on the grid by an absurd 20-lap margin over second place. The car resumed its spare-car role in Dunlop colours for the 1988 season, but never raced again.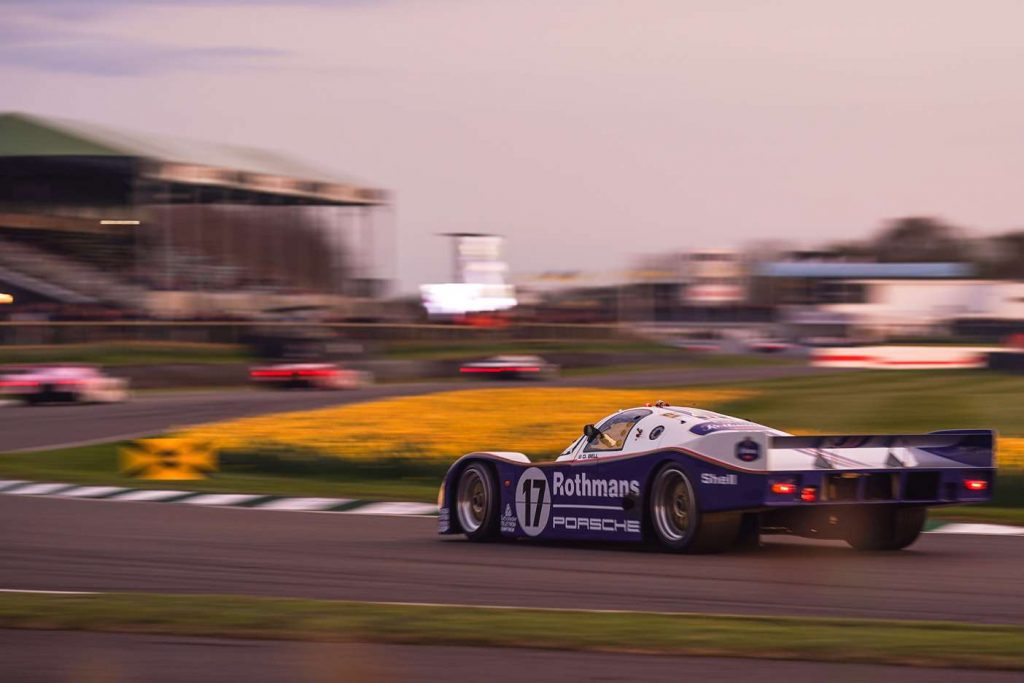 Another delight, the Shell-liveried 962-010, may not share the heady provenance of its Le Mans-winning siblings, but as the apex of Porsche's Works entries it remains one of the most exciting and important cars to be seen flashing past as the sun set on Goodwood. 
Piloted by the elite trio of Derek Bell, Hans Stuck and Klaus Ludwig, 962-010 was built specifically to win Le Mans in 1988. To achieve this, it was fitted with various lightweight parts and equipped with a high-boost engine setting that provided a colossal 880bhp for qualifying laps.
It proceeded to blitz the entire field in qualifying for Le Mans in 1988, but misfortune struck in the race as the car ran out of fuel during a commanding lead and limped back into the pits on its starter motor. The bad luck was compounded by the need to repair the intercooler later on, and the car finished runner-up behind the winning Jaguar XJR-9 of Lammers, Dumfries and Wallace.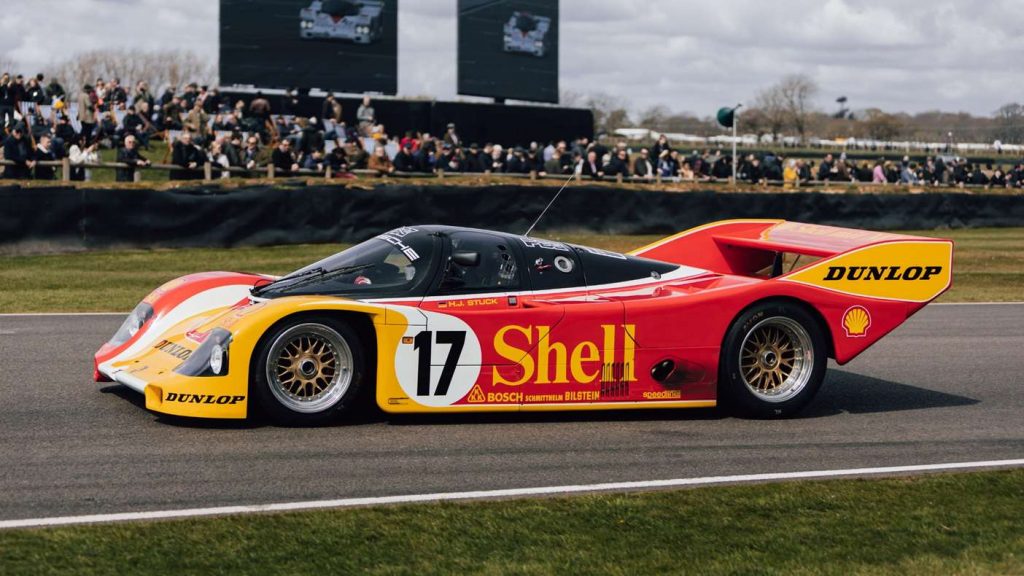 An array of privateer 956s and 962s complemented the predominantly Rothmans-liveried Works examples, providing wonderful contrasts in colour and intriguing differences in specification as many later cars were developed independently of Porsche.
Arguably the most eye-catching and memorable of these was the green Skoal-Bandit 956B-114 that finished a brilliant third at Le Mans in 1984 and famously secured Derek Bell the World Sportscar Championship in 1986 with an 11th place at the Norisring. While the Skoal Bandit car was identical in specification to the Rothmans Works entries, the same cannot be said of the privateer cars decked out in Kenwood, Trust, Italya and GTi Engineering colours. 
An excellent example of this was 962-200, which was developed for Richard Lloyd Racing with a unique Nigel Stroud-designed honeycomb chassis in 1988. The privateer Porsche was predominantly raced by Derek Bell, Tiff Needell and James Weaver from 1988 to 1989, and it also competed in 1990, but was never classified in the four races it entered that year.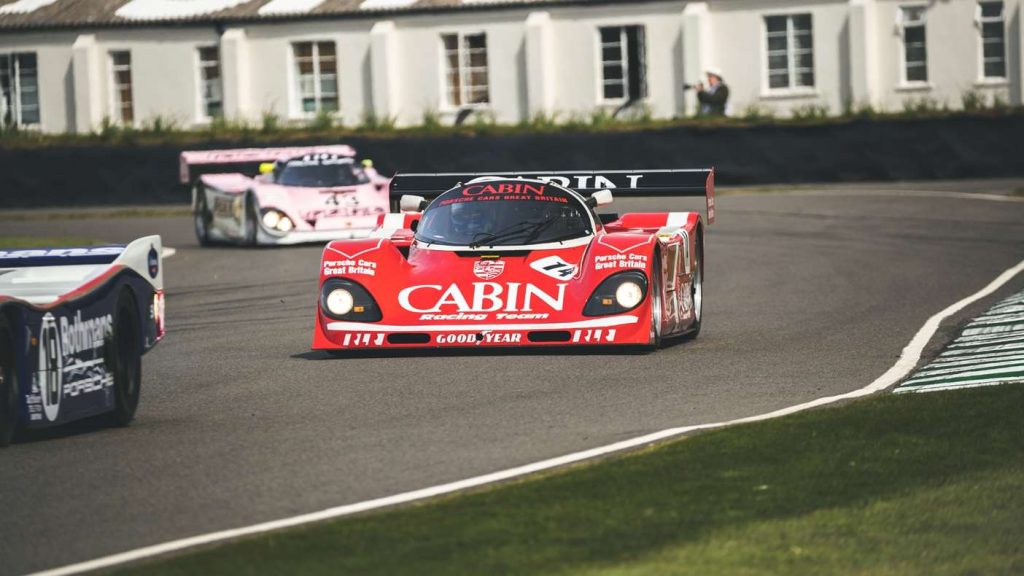 Between 1982 and 1987, the Porsche 956 and 962 won Le Mans six times, sweeping the podium every year except 1987. In 1983, 956s took nine of the top ten places at La Sarthe. In the US's IMSA GTP series the 962 won 70 percent of races held between 1984 and 1987. The 965 and 962 won a combined four World Endurance Manufacturer's and Driver's titles (1982-1985), two World Sports Prototype Championship doubles (1986-1987) and secured four IMSA GTP manufacturers' crowns (1985-1988) and three IMSA GTP drivers' titles (1985-1987).
As impressive as those stats are, seeing and hearing these racing cars in real life gives a demonstration of greatness that cannot be quantified by numbers alone. Speaking from experience, the smell of race fuel, the climactic Doppler Effect of flat-sixes surging to 8000rpm and the vibrant sight of iconic liveries blurring at speed in the sunset does a better job than numbers ever could.
For a few precious laps at Goodwood it felt as though you were standing on the Mulsanne Straight in the mid-1980s, witnessing Porsche's Group C legend unfold before your very eyes, albeit behind a safety car and not at full speed. And then, it was over – almost as if it had never happened. After 20 short minutes, the cars filed one by one into the pitlane and quite literally drove off into the sunset.