WORDS: ELLIOTT HUGHES | PHOTOGRAPHY: gma
Gordon Murray Automotive (GMA) has revealed its second all-new supercar. Dubbed the T.33, GMA's second model accompanies the T.50 and T.50 Niki Lauda hypercars that were publicly unveiled in 2020 and 2021 respectively.
As with its forebears, the T.33 is a two-seat, mid-engined, V12-powered supercar that GMA says has been "conceived, designed and engineered without compromise" to offer optimal performance without unduly sacrificing comfort, practicality and everyday usability. Production will be limited just 100 examples.
"With the T.33, our second all-new car, we gave ourselves a very clear brief: to create another timeless design," says GMA founder and automotive engineering legend Gordon Murray. "It has been designed to the same exacting standards as our T.50, with the same emphasis on driver focus, performance, light weight and superlative, pure design – but the outcome is a very different motor car."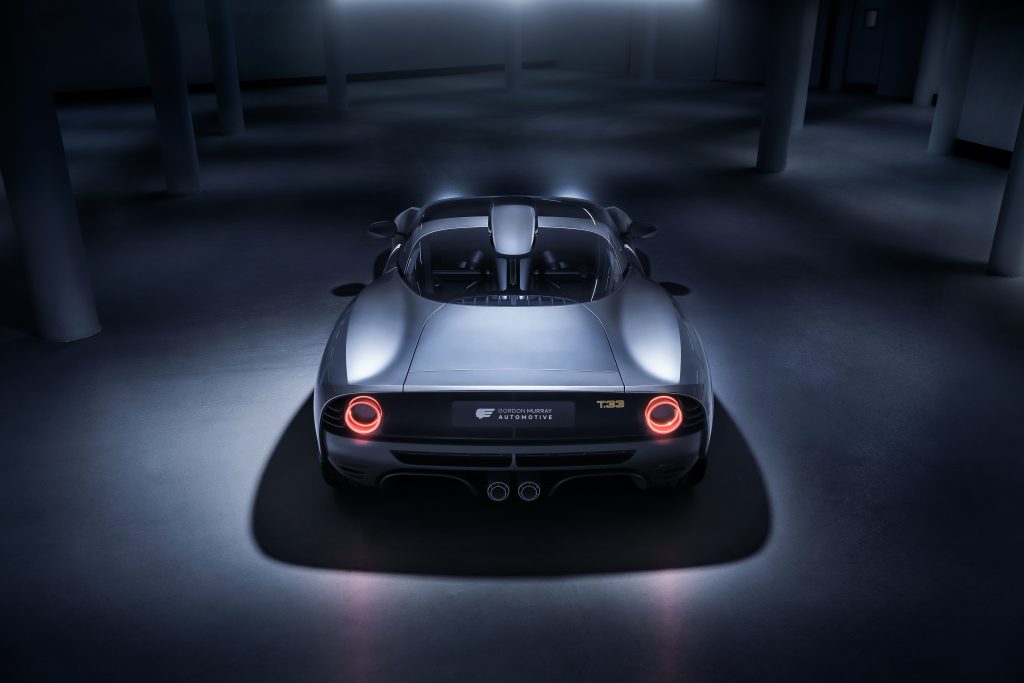 In other words, the T.33 is designed to be less hardcore and more road focused than the GMA T.50 – but don't be fooled into thinking it's merely a half-baked version of its elder sibling. This is obvious as soon as you see the T.33's engine specifications, because it receives its own version of the Cosworth-sourced 3.9-litre V12 that first appeared in the £2.36m ($3.15m) T.50 dubbed the GMA.2 V12.
GMA has made several changes for the V12's application in the T.33, which are conducive to the powerplant's new guise as a more road-focused powerplant. With this in mind, the T.33 V12 has been fitted with new camshafts, variable valve-timing system, engine-mapping, oil and water-cooling systems, ram-air intake, engine mountings and exhaust, although it retains T.50 cylinder heads.
GMA says these changes have made the engine "more accessible than the extreme T.50 V12". Even so, the T.33's engine crib sheet still reads like something you'd expect to see in a racing car: 11,100rpm redline, 606bhp and 33ft lb – no acceleration or top speed figures have yet been revealed. The GMA.2 V12 weighs in at the same featherweight 178kg as the T.50 version thanks to an aluminium block and cylinder heads, and titanium conrods and valves. It is the joint-lightest naturally aspirated V12 road car engine in existence.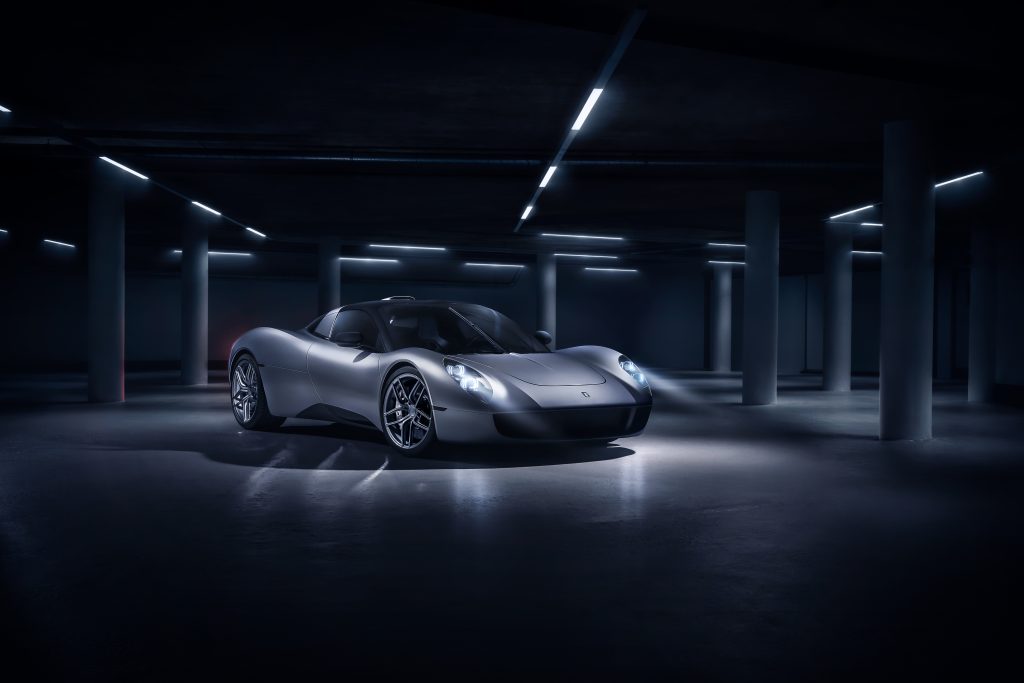 "The engine is the heart and soul of any supercar. And to ensure driving perfection, it must be bespoke, and it must be naturally aspirated," Murray explains. "We are 100 percent confident that the GMA.2 V12 provides the perfect match for the T.33's driving characteristics."
The impressive serving of horsepower is delivered to the T.33's rear wheels through either a six-speed manual or actuated six-speed paddle-shift transmission, both of which were developed by British engineering company Xtrac. In keeping with GMA's tenet of lightness, both gearboxes are semi-structural and are the lightest of their type ever used in a supercar, weighing in at just 82kg for the manual and 78kg for the paddle-shift version.   
Predictably, GMA's signature cutting-edge, uncompromising approach to automotive engineering extends to everything else under the car's carbonfibre bodywork, too. Rigidity is provided by a lightweight carbonfibre iFrame monocoque that features cored carbonfibre panels designed to provide "the perfect balance of torsional rigidity and lightness". The T.33's lightweight architecture is a key reason that its kerbweight sits at just 1100kg – an impressive 370kg lighter than a Ferrari 296GTB.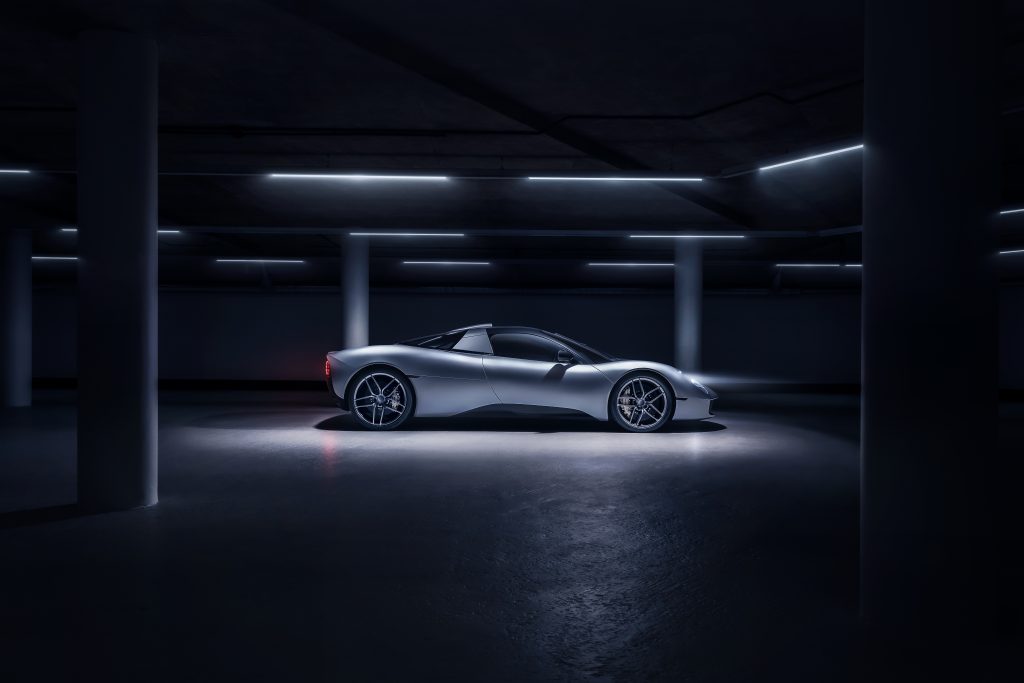 The T.33 also has a bespoke suspension set-up designed to deliver the perfect balance between agile handling and ride compliancy. To achieve this, GMA has used lightweight double wishbones front and rear, as well as aluminium uprights to reduce unsprung mass, which are paired with coil springs over aluminium dampers. Additionally, the rear suspension is mounted directly to the transmission casing, which enables torsional loads to be supported by the carbon monocoque.
Unsprung mass is also reduced by the T.33's powerful Brembo carbon-ceramic brakes and forged-aluminium wheels. The front brakes feature six-piston Monobloc alloy calipers, with four-piston Monobloc calipers situated at the rear. The ceramic brakes are resistant to fade, while GMA has also combined them with aerodynamic devices to ensure the car stops as effectively as it accelerates.
Aerodynamics are another area in which the design of the T.33 is class leading. Although the new car isn't fitted with the same radical fan-powered ground-effects system pioneered by the T.50 (and the Gordon Murray-designed Brabham BT52 F1 car before it), ground-effects aerodynamics are still achieved through GMA's Passive Boundary Layer Control (PBLC) system.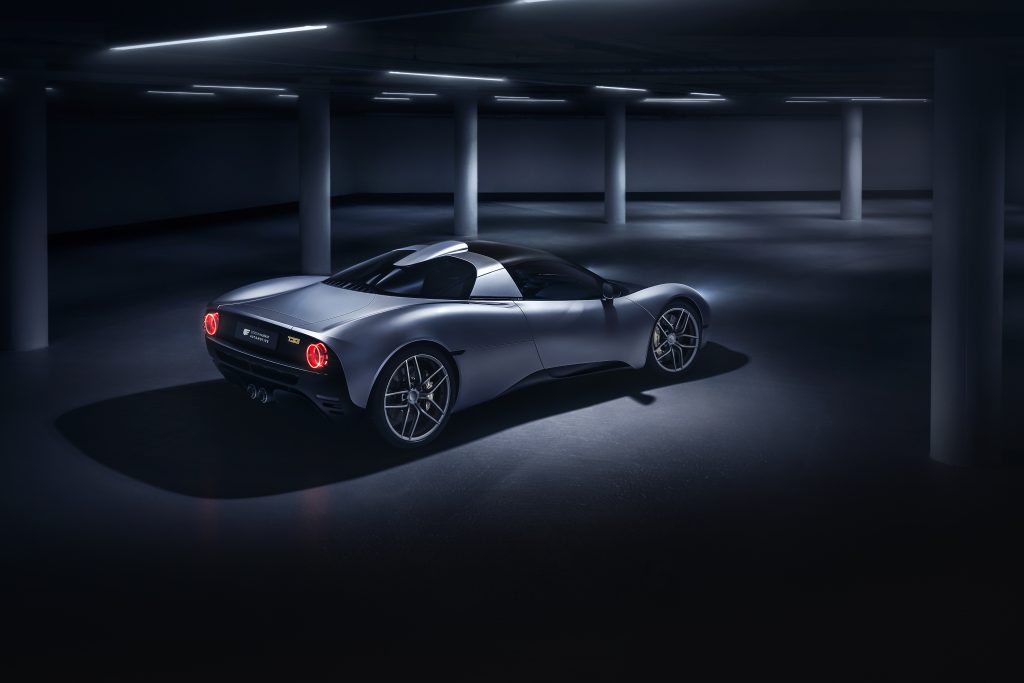 In some ways this technology mirrors Formula 1's new 2022 ground-effects regulations, where inlet channels in the floor are employed to accelerate air into the rear diffuser while the floor is sealed via invisible aerodynamic phenomena rather than physical skirts. According to GMA, this system means that the T.33 is 30 percent more efficient than a typical ground-effects supercar, and its body is liberated of unsightly wings, skirts and vents to preserve its classic aesthetics. An active rear spoiler is "the only concession" to the car's clean silhouette, and it can either deploy automatically or be activated manually by the driver.  
At this point, it's clear that the GMA T.33's drivetrain, suspension and bodywork are a tour de force in a pure, single-minded approach to supercar design. And that theme continues with its interior, which forgoes the modern trend of distracting touchscreens and digital displays. In short, nothing in the cabin is included unless it is functional and improves the driving experience. To this end, all of the car's main controls and rev counter are "defiantly analogue".
GMA has ensured that the car's main touchpoints feel tactile and high quality by manufacturing them from aluminium, and the same goes for the pedals. Complication is further reduced by the deletion of column stalks in favour of simple buttons on the carbonfibre steering wheel's horizontal spokes. The driver-centric interior design is accentuated by the contrasting trim of the launch car, which sees the driver's side of the interior and carbonfibre bucket seat finished in an arresting shade of yellow, while the passenger side is finished in black.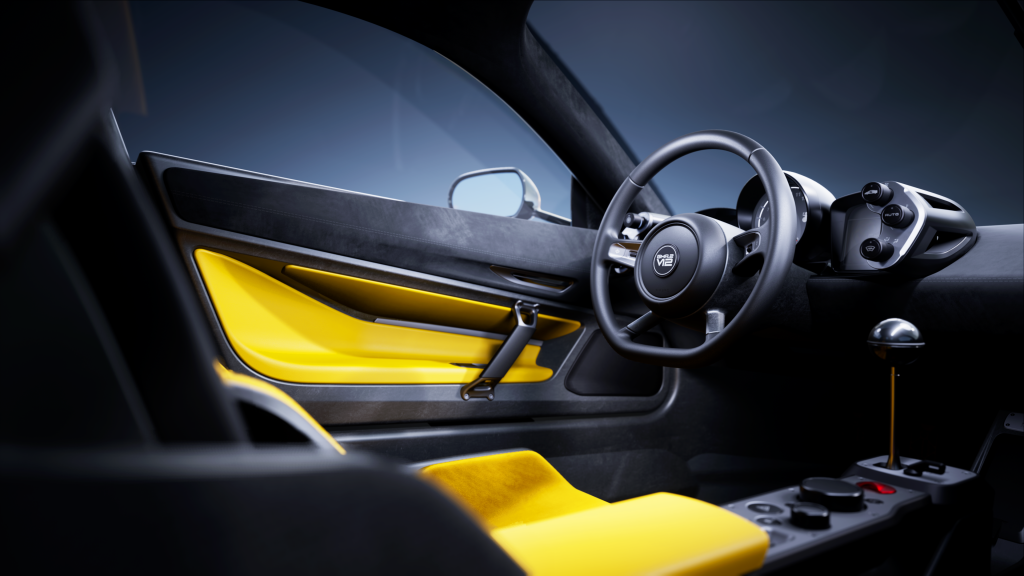 "While the engine may be the heart and soul of a supercar, the cabin and its controls provide the conduit through which the driver engages with the engine and the car's other attributes. The T.33's driver-focused cabin enables each journey, no matter how short, to be relished free of distraction, and it also provides the practicality for longer trips to be undertaken," Gordon Murray says.
Each of the 100 planned examples of the GMA T.33 will be fully hand built and bespoke to the needs of each customer, who can configure the car in either right or left-hand drive and in any combination of colours they choose thanks to GMA's Special Vehicle (SV) division. GMA has also promised a "broad range of options", including an SVS sports pack to "further expand the potential for personalisation".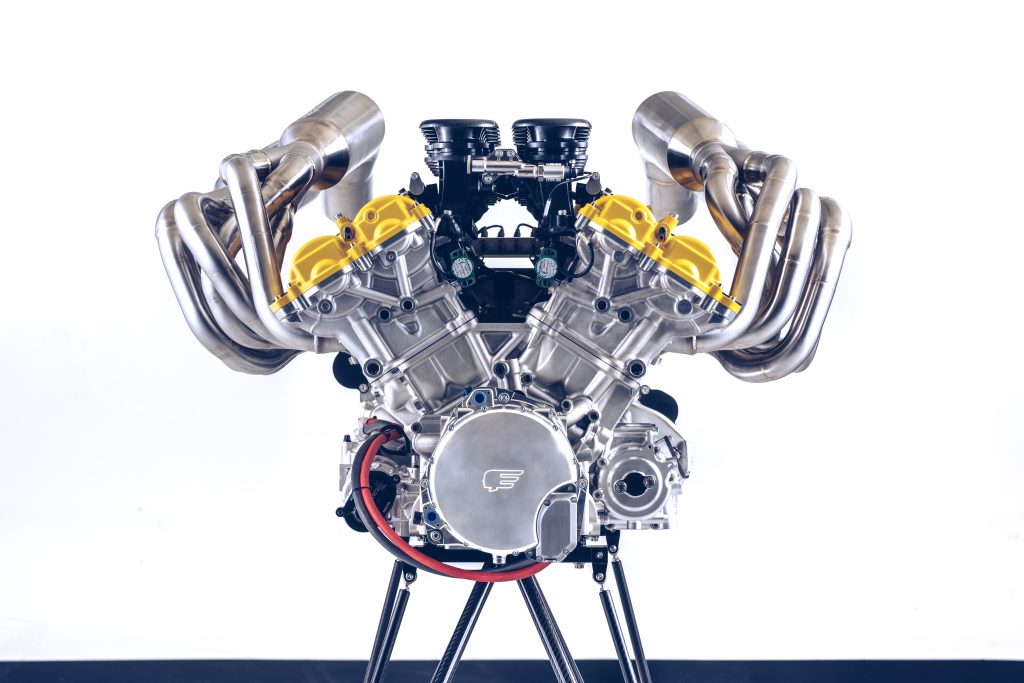 The GMA T.33 starts at £1.37m ($1.87m) and deliveries are slated to take place in 2024.
"I am extremely proud of our team, who have relentlessly applied our core principles to deliver this amazing motor car," Murray concludes.
For more on the GMA T.33 click here.
If you liked this, then why not subscribe to Magneto magazine today?