New York-based Scuderia Cameron Glickenhaus could not be accused of lacking ambition. Founded by former Hollywood director and screenwriter James Glickenhaus and wife Cameron back in 2004, the eponymous marque has competed at the highest level of motor sport in races such as the Le Mans 24 Hours and created six different vehicles.
But ambition is a difficult need to satisfy. So now that Glickenhaus has established itself in the global pantheon of motor sport, its next goal is to revolutionise the very nature of automotive transport through its latest creation: the Glickenhaus Hydrogen Boot. The new zero-emissions race car is scheduled to compete in the gruelling Baja 1000 in November.
In typically unorthodox style, the company released the following summary of its views on EVs and fuel cells, reproduced in full :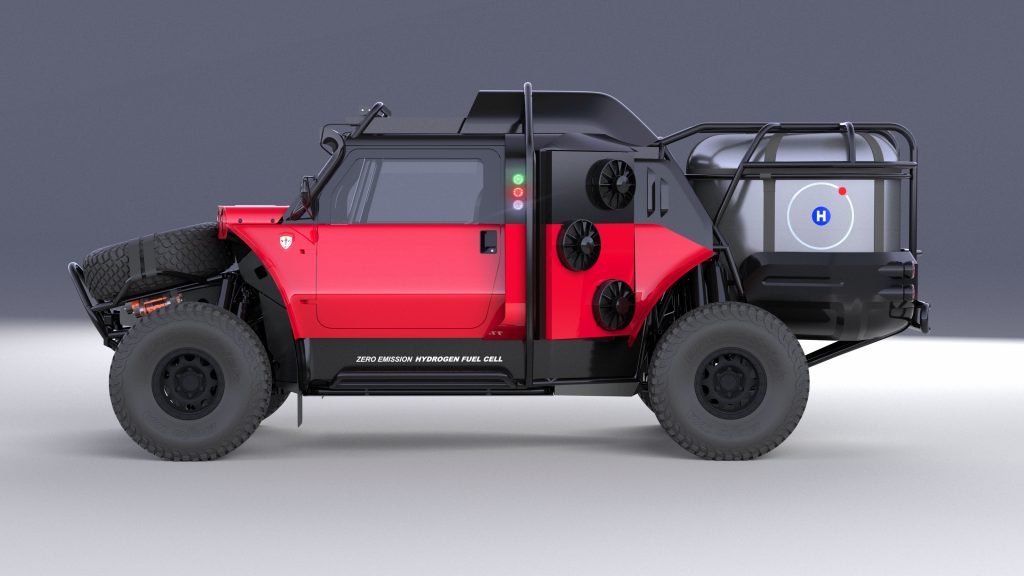 You: What am I looking at?
Glickenhaus: The beginning of the future of transportation.
Bob Dylan: And you know something is happening here, but you don't know what it is, do you, Mr Jones?
You: My name's not Mr Jones. But what the hell is it?
Glickenhaus: Did you know, when humans look, typically the brain sends signals to the eyes, and the eyes check the brain's projections against the actual information coming into the eyes? Only when there is a disconnect between your mind's projection and the outside world, will your eyes bother sending information to your brain.
You are seeing a cryogenic supercritical hydrogen fuel cell electric Baja 1000 race vehicle that we are creating to race the Baja 1000 in the first-ever zero-emissions Baja 1000.
Elon Musk: Fuel cells are fools' cells.
Markus Duesmann (Audi CEO): Fuel cell cars are absurd.
Toyota: Interesting. We, too, are experimenting with hydrogen.
You: Doesn't everyone think batteries are the future of transportation?
Ford/GM/VW/Lamborghini/Rimac/Rolls-Royce/Daimler/Mercedes/Geely/Volvo/Polestar/Aston Martin/Rivian etc: BATTERIES!
Glickenhaus: Batteries and fuel cells will likely both be part of the future of transportation. Each has strengths and areas for improvement.
From a total systems efficiency perspective, it seems more efficient to use renewable energy to charge battery electric vehicles and run those vehicles than to use that same renewable energy, create hydrogen and run the hydrogen through a fuel cell electric vehicle. Renewable energy is not the only way to produce so-called 'green' hydrogen but is the most common industrial scale. Therefore, to the extent that the world does not currently have enough renewable energy to power battery electric vehicles, we do not have enough clean energy to power fuel cell electric vehicles. I say it seems to be more efficient because this is much more complicated than many who spin sound bites would lead you to believe.
However, the proponents of batteries often forget to mention that batteries today store less than 0.5 Megajoules of energy per kilogram of battery. By comparison, gasoline has approximately 46MJ/kg, and hydrogen has around 120MJ/kg. Therefore, in energy-limited applications, battery technology is not a replacement for liquid hydrocarbon fuels. Generally, the larger the vehicle, the more energy density matters, and batteries will not work for those applications that are larger in size, such as planes, ships, trucks, pick-up trucks.
You: So, the future of transportation will be batteries and fuel cells?
Glickenhaus: Yes. Batteries work for small things: cell phones, scooters, bikes, small passenger cars. Fuel cells work better for larger vehicles. And the vehicles in the middle will likely be a hybrid of battery and fuel cells, providing energy under different circumstances.
You: What about pick-up trucks? Aren't all the major companies releasing battery-electric pick-up trucks? The Ford Lightning? The GM electric Silverado? The Rivian? The Cybertruck?
Wall Street: Any company that mentions battery electric vehicles is going to be priceless! To infinity and beyond! No revenue? Never built a car before? No problem! Here's a gazillion dollars, and you are now the third most valuable car company in the world.
Glickenhaus: Sorry about that. Maybe it is just over half a century of our contrarian investing history coming out. You are correct; virtually everyone seems to be investing billions of dollars, betting that people, and more importantly, fleets, will buy battery-electric pick-up trucks. Companies tout the number of "orders" (ie, refundable deposits often of $100) for these trucks. Ford and GM are offering incredible pricing for fleets at just a hair under $40,000 for the fleet version.
But we don't think fleets will buy them largely because of the math on energy density, and less so due to recharging times. The Ford Lightning weighs 1000 pounds more than a comparable F150. For a fleet, this means a few things. First, it means 1000 pounds less cargo capacity or many thousands of pounds less towing capacity. The charging time is substantially longer than either the refuelling time of a gasoline truck or a hydrogen truck. In real-world driving, especially when towing and in the cold, fleets will likely find their ranges less than expected. When a fleet considers the loss of cargo and towing capacity and the increased vehicle downtime from charging, fleets would need one-and-a-half or two battery-electric trucks to replace one gasoline or diesel pick-up.
You: Haven't Ford, Tesla, and Rivian got millions of pre-orders for these trucks?
Glickenhaus: They may have hundreds of thousands of refundable deposits, some held with $100. We shall see how many, if any, of those are from fleets.
You: So why is your truck the future?
Glickenhaus: Our truck is something you can drive to the Baja 1000, race 1000 miles, and drive home. The Baja is a brutal race, the longest continuous off-road race globally. There is not a battery-electric vehicle in the world that can successfully run the Baja 1000.
Elon Musk: The new air suspension in the Cybertruck will kick butt in Baja.
Glickenhaus: Bring it, Elon, let's race, and we will see. Anyway, we are creating all our own fuelling infrastructure. When people see this vehicle race the Baja 1000 and finish, with zero emissions, it can be safely driven over the most intense landscapes and refuelled in the middle of the desert, with our own infrastructure, that will change the world.
You: But will you sell that to fleets?
Glickenhaus: No, we will make a US road-legal version. We are using all the engineering, testing and development of this race vehicle to create the systems and knowledge around cryogenic hydrogen, fuel cells and our refuelling system.
You: So why are you the only people in the world working on this?
Glickenhaus: It's a question we ask all the time. I think there are two answers. Legacy OEMs spend at least $1 billion on developing a new vehicle. They are betting that they will sell hundreds of thousands of those vehicles to pay back the investment, and they don't yet see such a market for fuel cell vehicles. Also, pushing the absolute edge of possibility is a significant challenge. There are no FIA regulations for off-road hydrogen safety, no NHTSA regulations for road vehicle safety, only four or so labs that can even test at cryogenic hydrogen temperatures in the entire United States, no existing onboard tanks that meet our needs, no refuelling infrastructure. Hell, we have not yet been able to source cryogenic hydrogen for testing or run the race yet. The only organisations in the US that seem to be using cryogenic hydrogen as a fuel source are two academic labs at major universities, one testing facility, Blue Origin, NASA and the US military.
But we embrace challenges. And Glickenhaus Zero builds the future of transportation, so we don't make existing things.
You: Well, you are definitely crazy.
Glickenhaus: We shall see.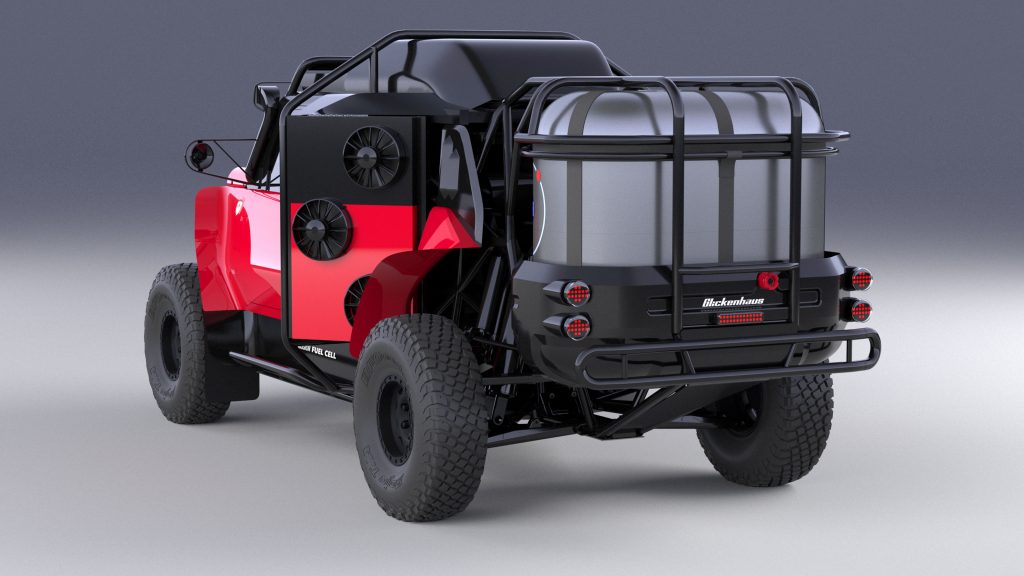 If you liked this, then why not subscribe to Magneto magazine today?