WORDS: NATHAN CHADWICK | PHOTOGRAPHY: BONHAMS
Four Facel Vegas are up for grabs at the same Bonhams sale next month, including a rare Facel II with a Max Wedge engine and Pont-a-Mousson manual gearbox.
They're all part of Bonhams' Greenwich sale, which takes place between June 4 and 5. The Facel IIs are two of just 185 built, and the blue example, chassis HK2A163, is rarer still. It's one of 22 with the 413ci Chrysler Max Wedge Hemi V8 that's good for 390bhp, transmitted to the road via a four-speed Pont-à-Mousson manual gearbox. The 64th Facel II built, it was finished in Bleu Facel Irisé and was delivered to Lebanon.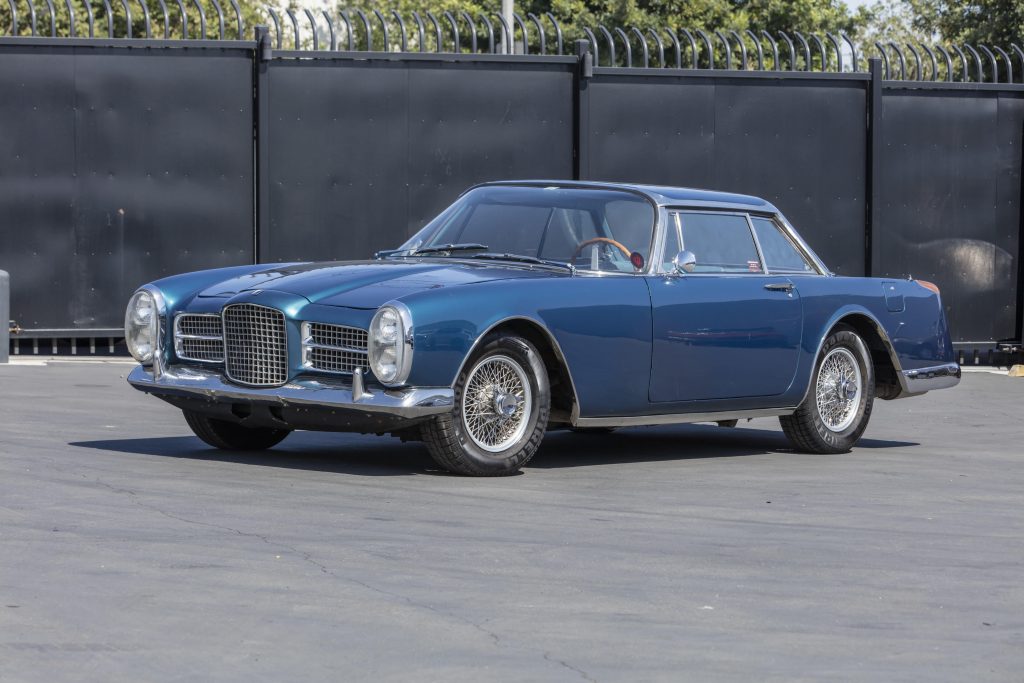 Its history in the Middle East is sparse, but by 2001 it had returned to France. Between October that year and summer 2006, its was restored by Garage Technica Auto in Paris. The current owner took stewardship 12 years ago. It's estimated at between $180k and $240k, and is offered at no reserve.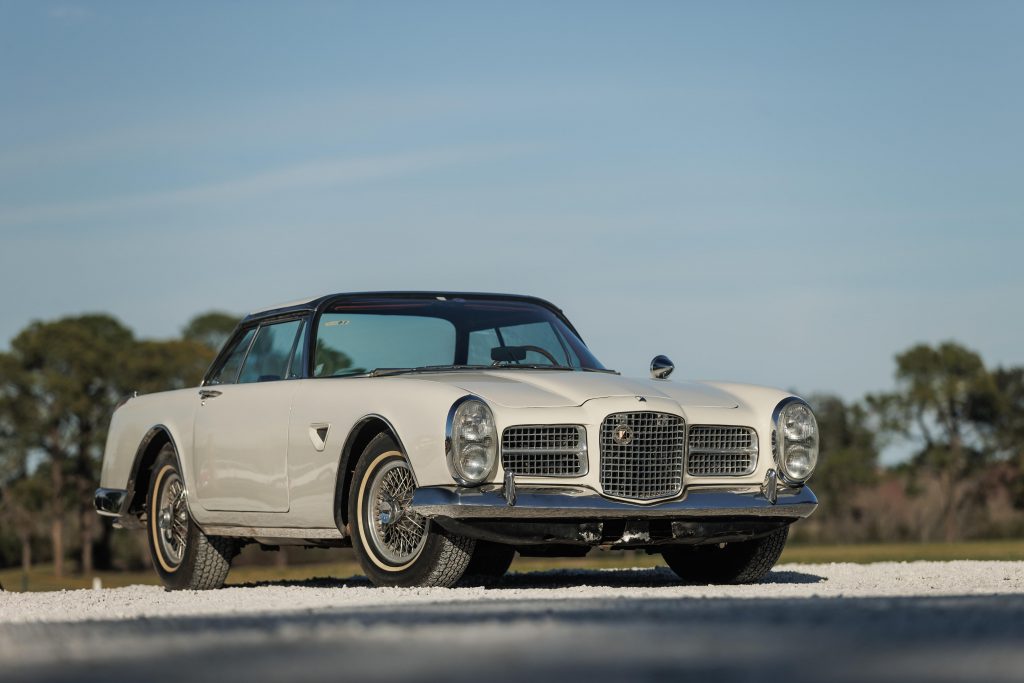 The other Facel II in the sale, chassis HK2 B141, was built in 1963 for the American market via an order made by Hoffman Motors. The 142nd Facel II built, it was finished in Blanc Mercédes with red leather upholstery, while motive power came from a 383ci Chrysler Wedge V8 matched to three-speed Torqueflite automatic gearbox.
By the 1990s the car had found itself back in France, in the stewardship of General Charles de Gaulle's son in law, Alain de Boissieu. He's reported to have had the brakes, electrical harness, power steering and air-conditioning refurbished, and the engine, gearbox and suspension fettled by marque expert Pierre de Seibenthal. The vendor has owned the car since 2010, and it has been on static display ever since. It's also being put up for sale with no reserve, and an estimate of between $150k and $200k.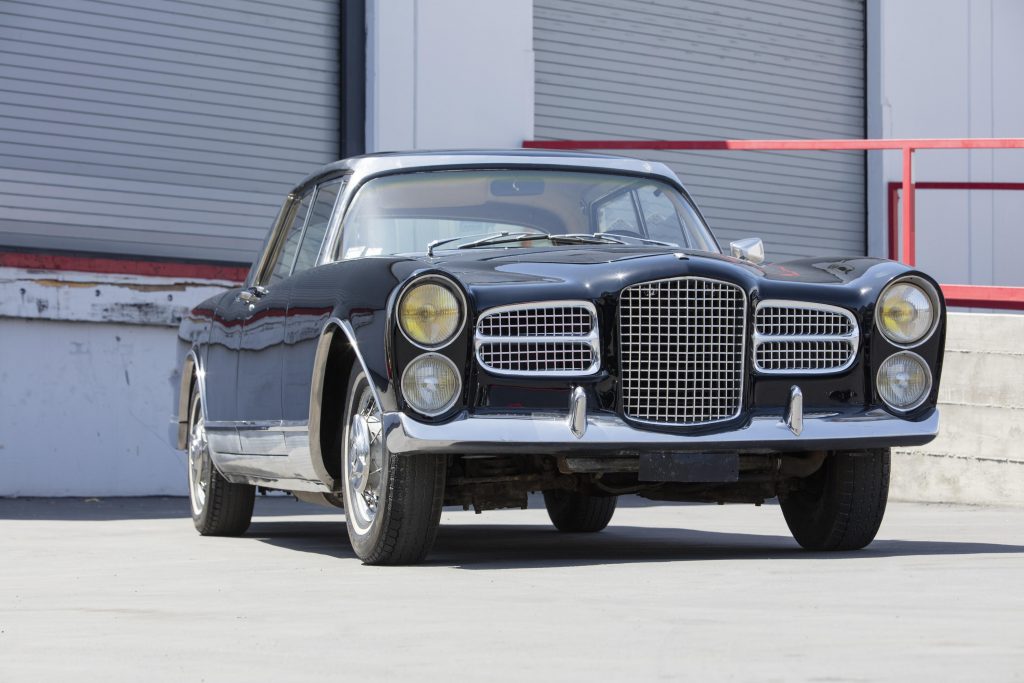 A 1961 Face Vega Excellence EX2 saloon, chassis EXIIC004, is a rare example of the sedan version of the Facel Vega recipe. Built for the American market, it was made to American dimensions – a Hermès suit in size 50, extra-long.
The EX2 was the final version of the Excellence, and dropped the wraparound windscreen, smoothed the tail fins, added turn-down door handles and, most notably, introduced chassis tweaks from the HK500 and Facel II. It was powered by a 383ci, 390bhp Chrysler engine.
This particular example adorned the 1961 Paris Motor Show stand, and was eventually sold to Roger Seydoux, the Minister Plenipotentiary and French Ambassador to Morocco. As such it was fitted with flag posts on the front wings,  air-conditioning, tinted windows, automatic transmission, power steering and power windows.
The car would have three owners before joining the current vendor's collection in the 1980s. At some point in the '80s it was repainted, and in 2007 the gearbox and air-conditioning were overhauled in France. However, it's been on static display for the past 12 years. Offered at no reserve, it's estimated at $80k-$150k.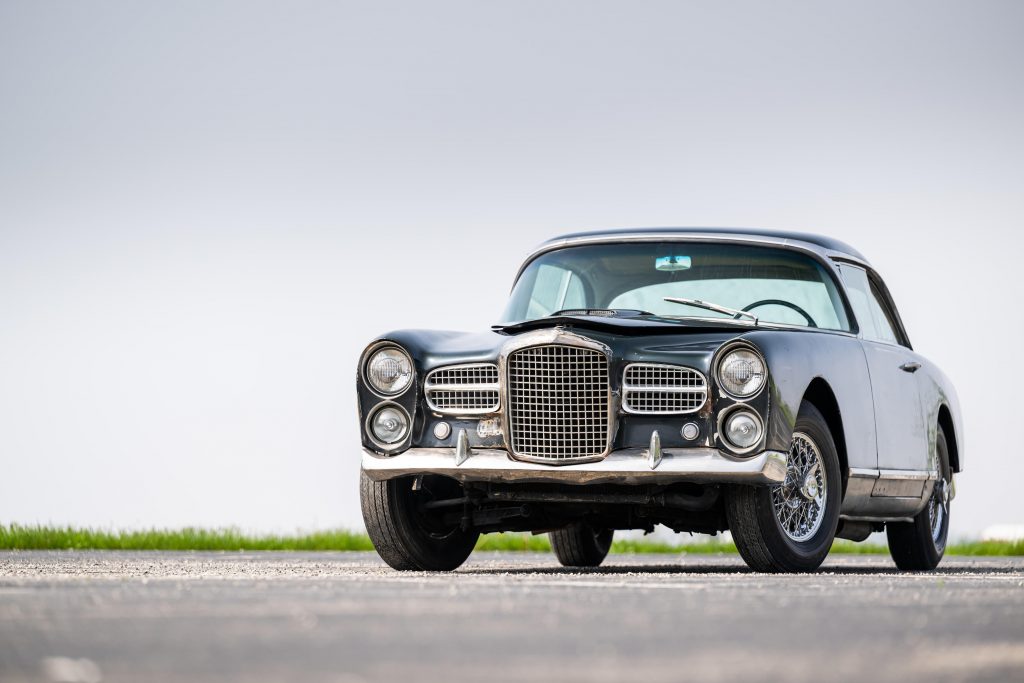 The final lot is a very special Facel Vega – at the time of writing, photography wasn't available, but we'll bring it to you as soon as we have it. Chassis FV4-58-317, built in 1958,  is one of just 36 FV4 Typhoon models, and is the penultimate car built before the start of HK500 production.
Ordered via Max Hoffman's dealership for a US buyer, it was specified with a Chrysler 300C-derived 396ci V8 and matched with a four-speed Pont-à-Mousson manual gearbox. This added an extra 20bhp over the Torqueflite automatic models, and just eight were specified in this manner. It was further ordered with knock-off wheels, tinted glass and a 2.93:1 rear axle, and was finished in dark green over beige leather.
"Today the exceedingly original machine is an honestly presented example, ripe for sympathetic refurbishment or total restoration," Bonhams says. "Where the paintwork has been knocked back on the nose and left-front wheel well, rust-free metal has been exposed. Save for tin worm near the left front headlight, the car appears very sound."
An estimate has yet to be revealed for this car.
More details on the sale can be found here.