Words: Nathan Chadwick | Photos: Silverstone Auctions/Ford/BTCC
Classic car social media was aghast this past Saturday, particularly in the UK. Flabbergasted Twitter luminaries expressing shock concerning the sale of a Ford Sierra. One prominent British journalist called it the "pinnacle of nostalgia pox".
The reason? Silverstone Auctions sold a 1987 Ford Sierra RS500 Cosworth for £596,250 against a £150k-£180k estimate, following a heated battle between a UK bidder and a pair from overseas – the winner ultimately determining that the car would stay in Great Britain. That figure is a new record, over the one achieved by Silverstone Auctions in 2017 at £114,750. That record was always likely to be broken at this sale, as a 19,600-mile RS500 was sold by Mathewsons in 2021 for £113,912, and a normal Sierra RS Cosworth with 8795 miles on the clock was sold for £132,750. This latest car had covered a mere 5192 miles.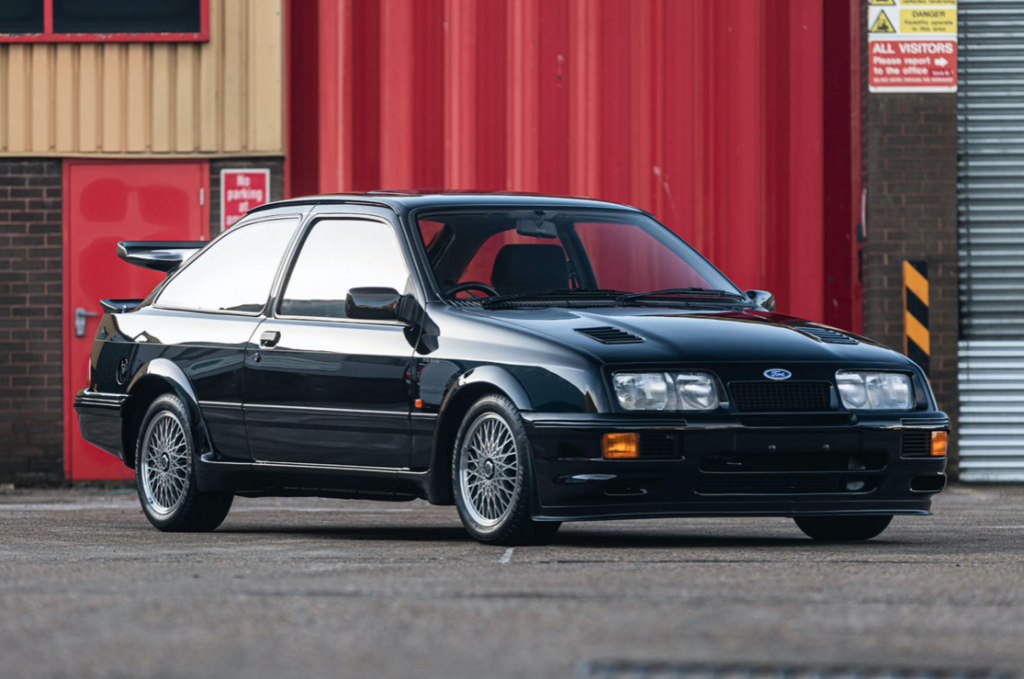 For the uninitiated, the Ford Sierra RS500 Cosworth was built with one aim only – to defeat the rampant Rover SD1s in Group A touring cars. The rules mandated that 5000 road cars had to be built, plus a 500 extra examples with modifications that could be utilised by the race teams. For the RS500, these included a reinforced cast-iron cylinder block, a bigger Garrett AiResearch T04 turbo, a larger air-to-air intercooler, oil-cooled pistons plus upgraded air hoses and oil, water and fuel pumps. A second set of four Weber IW025 fuel injectors came with the car for competition use (adding up to a total of two per cylinder), but these weren't connected to the ECU on road-going RS500s. The ECU itself was remapped, while there was also a bigger intake plenum and a secondary fuel rail; the addition of the latter two items necessitated that the battery tray be altered by Tickford, which was charged with making the conversions to RS500s. It's rumoured that the battery trays were altered by use of a hacksaw…
Further changes included a slightly different thermostat housing and alternator bracket, while the front bumper was altered with a slim air intake above the numberplate and the foglights were ditched for extra cooling ducts. The enormous rear spoiler was augmented with a thicker trailing edge and a secondary spoiler added below this.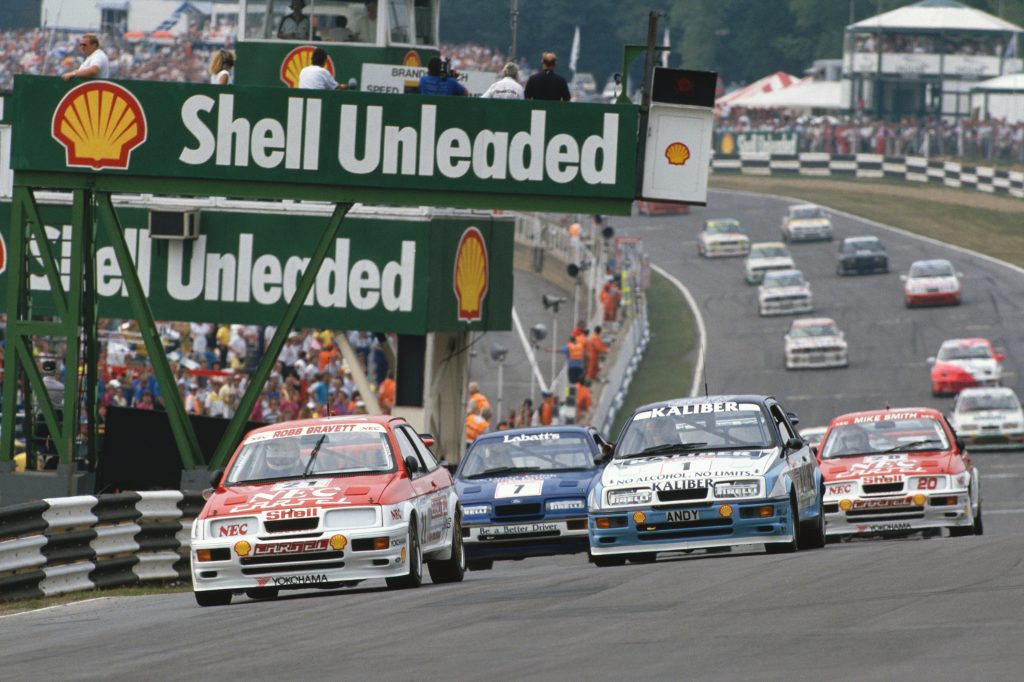 While all these changes made only a modest difference to the road machine, bringing horsepower up from 204bhp to 224bhp, the car sold out in August 1987. It pretty soon became the model to have for outright race wins in Group A touring cars. The engine, a four-cylinder Pinto, made just 90bhp in unturbocharged form. In 1987, the Sierra Cosworth was making 370bhp, but the RS500 took this to 470bhp. Further racing enhancements from the likes of Rudi Eggenberger in Germany, Andy Rouse in the UK and Dick Johnson in Australia boosted this to 500bhp and beyond in just a few years. When the RS500 finally bowed out in 1992, Dick Johnson had the motor up to a rumoured 600bhp.
It did the business on track, too – while BMW scooped more drivers' titles in the World Touring Car Championship, European Touring Car Championship and select national championships, the naturally aspirated M3 E30 was some 200bhp down on the Fords and only stood a chance of overall victory if the Sierras had a failure. The car won manufacturers' titles for Ford, and clocked up many outright victories.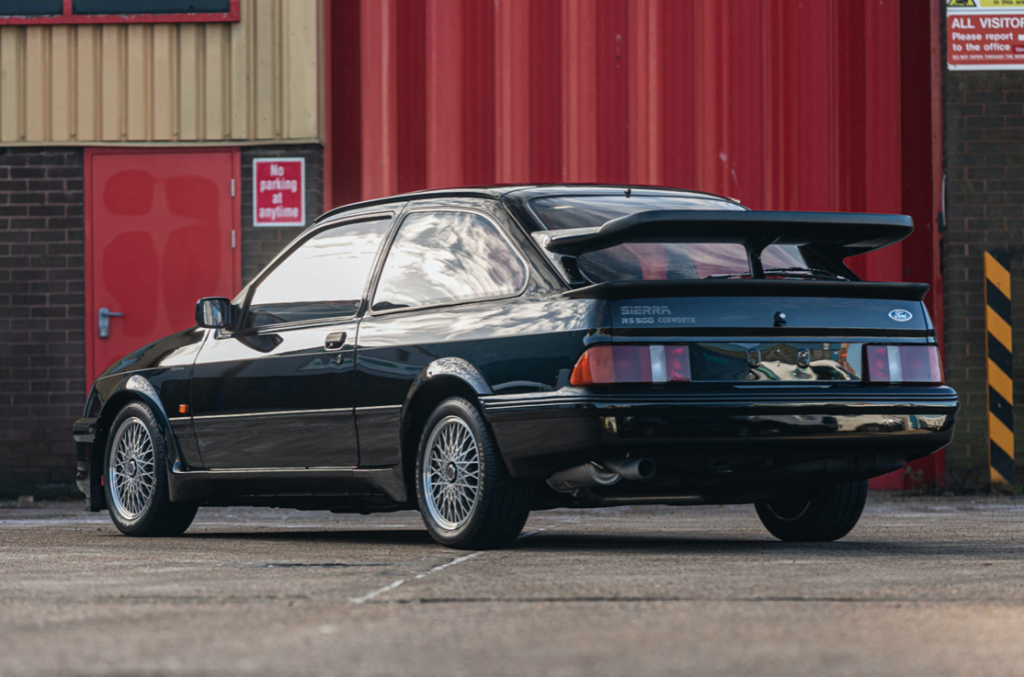 Compared with the standard RS Cosworth, the RS500's on-the-road changes were relatively minor – some contemporary journalists pointed to it being a bit more prone to turbo lag. However, although the car would become a Blue Oval motor sport legend in Europe and Australia, perhaps a bigger part of its mythology comes from the tuning scene that sprung up in the UK.
Pretty soon it became clear that with a relatively few minor modifications – primarily plugging the injectors in – a heady 350bhp could be achieved. That may not sound a great deal now, but back in the late 1980s and early 1990s, this was more than a Porsche 911 Turbo and not far off supercar figures – and all in a Ford Sierra, a model that in normal form pounded the nation's highways as a family saloon. Tuning firms would end up competing for the fastest Cosworth title, with 500bhp monsters becoming folk legends in an era before the internet. It was a true blue-collar hero – a supercar for the normal man.
It was, of course, a magnet for automotive thieves, and this, along with the contemporary penchant for modification – not all of it tasteful – means that low-mileage, unmodified, unmessed-with examples are rare. Which is where Silverstone Auctions' car comes in…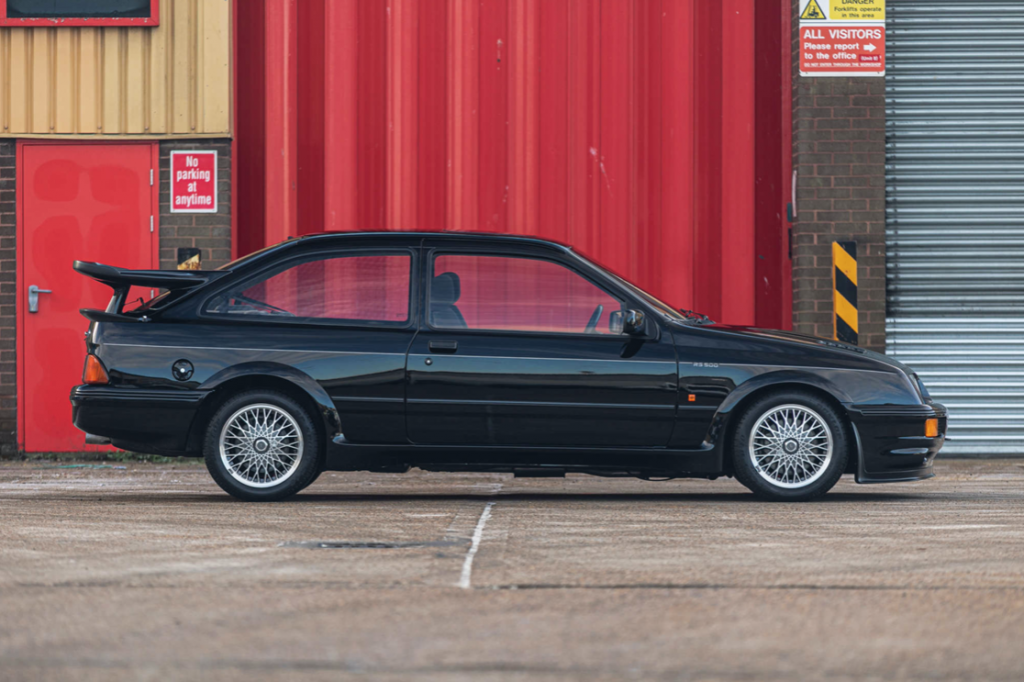 This car, reg plate E378 TKN, had been bought by the vendor 14 years ago after an exhaustive search to find the best available at the time. It was serviced and maintained during this period by Tremona Garage of Southampton, UK; new/old period stock items were used to preserve originality. Indeed, the vendor bought a set of period RS500 wheels and tyres so that the Ford's original date-stamped rims could be stored and not have to bear the weight of the car for long periods. The vehicle was fully recommissioned in 2022, with the replacement of the engine oil and filter, spark plugs, fuel filter, cambelt and a new battery. The spark plugs are original-spec Motorcraft AGPR 901C and the oil filter is a Fram PH2854 – the precise original specification. Yes, it's that detailed.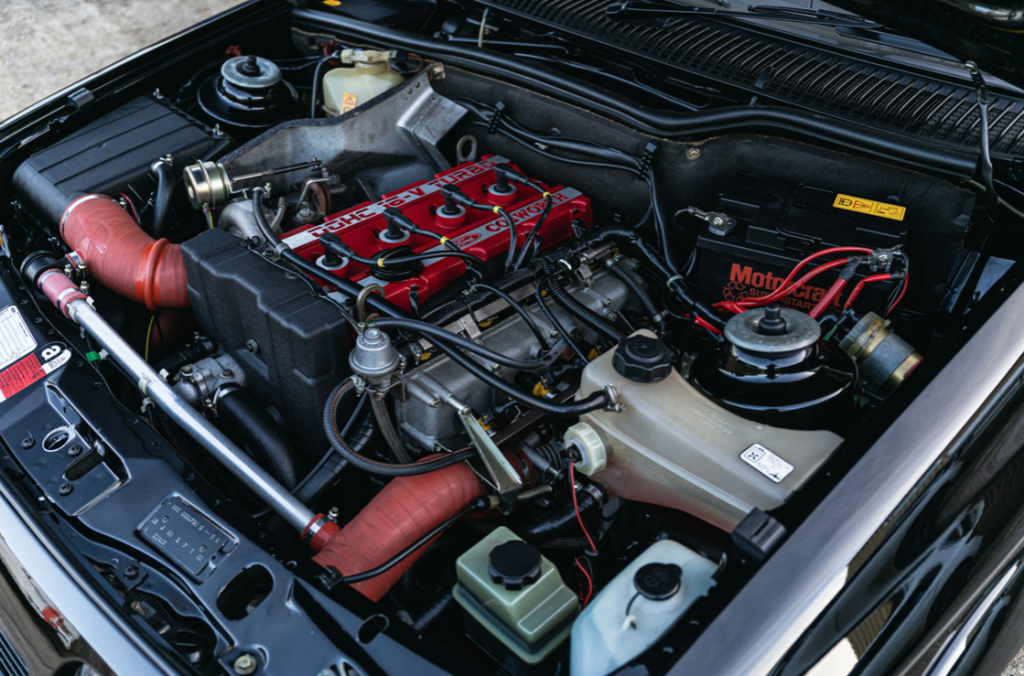 While clearly a special RS500, its final sale price still astounded many, even some marque experts. As some have pointed out, you could buy several Group A racing RS500s with racing history for the price. Black isn't even the rarest colour; of the 500 RS500s built, just 52 are in Moonstone Blue and 52 are in Diamond White. However, it has also been established that because the white and blue cars were always rare, they've been hidden away in collections from new – a low-mileage, excellent-example RS500 in black is arguably rarer to find because more black RS500s tended to be used and abused as daily drivers.
Prices languished as low as £10k in the late 1990s thanks to horrendous insurance premiums, but values have been solidly rising since the late 2000s. As recently as 2015, Anglia Car Auctions sold an RS500 for £42,000; within three years, the asking price had doubled for good yet 'normal' examples.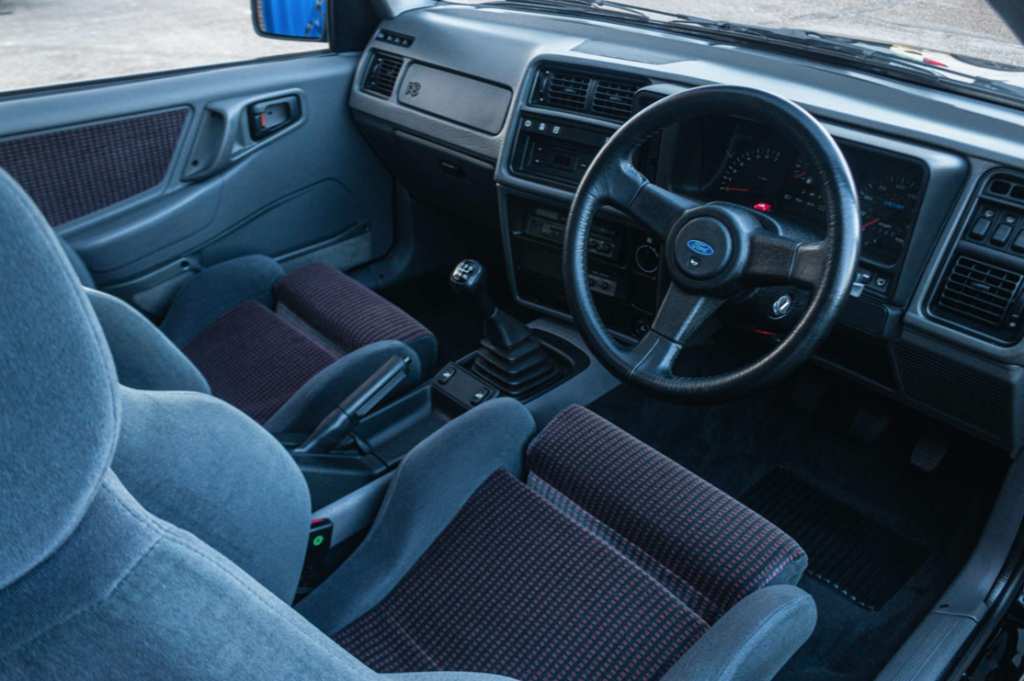 The RS500 is perhaps the biggest and largest example of the surge of interest in Group A homologation vehicles. While Group B rally cars have a huge following, the road cars are somewhat compromised compared with their rallying equivalents. Just 200 had to be built for Group B, which meant they were largely lashed together and severely detuned, limiting their road-going appeal other than in a few exceptions. In the same Silverstone Auctions, a Ford RS200 sold for £350,000.
Because manufacturers had to build and sell 5000 Group A machines, these had to work as road machines. This worked well as a marketing tool – you really could watch the cars compete on Sunday, and then roll up at a dealer the day after and buy a model that looked pretty much the same.
Cars such as the BMW M3 E30 and Lancia Delta HF Integrale have already seen huge price rises, particularly for special editions. DTM homologation specials such as the Mercedes-Benz 190E Evo II, which was an evolution of the Group A regulations, have also seen large price rises. However, these have all largely topped out at the £250k-£300k mark – the RS500's doubling of that figure is a massive line in the sand. As those who idolised these cars come to an age of increased disposable income, you can expect to see these values grow. Add in interest from around the world and from audiences who were denied the models when they were new (the US, for example), boosted by computer game and YouTube coverage of old rallies and races, and we can only see interest continue to grow.
We wouldn't expect all RS500s to suddenly be worth nigh-on £600k. Silverstone Auctions' car was not only low mileage, but the attention to detail of its continuous care marked it out from the herd. This result was always going to be special, but the size of it was a surprise.
However, this might not be the end of the story. We know of a white RS500 in Northern Ireland with delivery miles. The first £1m RS500 should that example come to market? We wouldn't bet against it – as with the Lotus Carlton, the RS500 is more than a car, it's a folk hero.